This section of our website is intended for you to keep in touch with all of your fellow colleagues who have served in the Bermuda Police. We started this column by putting all entries on one post but soon realized that it would stretch for far too long so we are doing it by each year- and this one is for 2023.
We welcome news, however brief, and would also encourage you to send us recent photos. Sadly we sometimes have to report "bad" news such as illnesses - or worse - but we are always delighted to receive positive news! We can be contacted through our email address at This email address is being protected from spambots. You need JavaScript enabled to view it. or through the comments column at the bottom of each article, including this one.
We are starting this year's "Keeping in Touch" column with an entry about all those men and women who will hopefully be celebrating their 50th Anniversary Year since joining the Bermuda Police back in 1973. Scroll down to our first entry of the year on 1st January regarding the 50th Anniversary.
10th March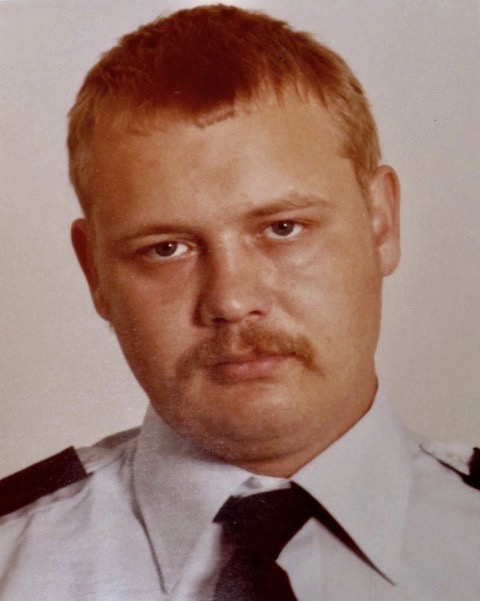 P.C. Phil Starr
Phil Starr's cruise ship passing us by! Our former colleague Phil Starr (1981-1983) had been really looking forward to stopping off at Dockyard for a quick visit on 11th March on the P&O cruise ship "Ventura" CLICK HERE to view the article we published a few weeks ago about Phil's planned arrival.
Phil has contacted us to report that due to bad weather the scheduled call in to Bermuda by "Ventura" has been cancelled and they are sailing directly to the Bahamas. We hear they have experienced Force 8/9 winds which have really slowed down the ship. Phil wrote to say, "Unfortunately, we've been experiencing exceptionally windy, blustery weather during the past week, and it's set to continue hitting us with up to gale force winds through this coming weekend."
Phil is hoping to be able to return here for a visit some time in the not too distant future.
9th March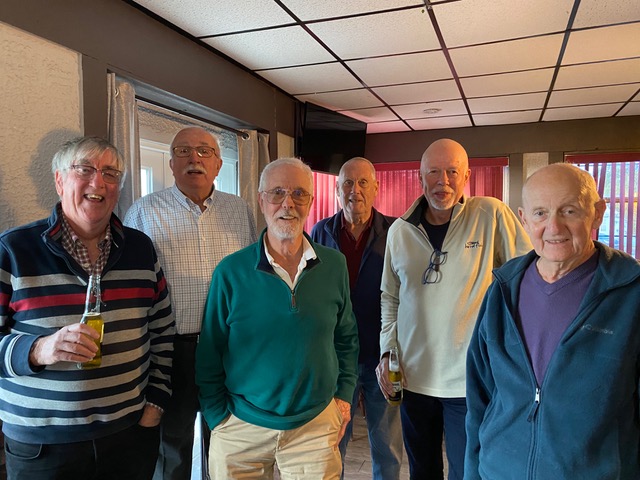 Steve Taylor visits the PRC
(l-r) Steve with Charlie Mooney, Roger Sherratt, "Moby" Pett, Mike Shaw, and Dave Cook
Steve Taylor visiting the Island - Our good friend and former ExPo President, Steve Taylor, is presently on Island for a short visit, and he paid a call to the 4 o'clock club at the PRC this afternoon where he caught up with "old" mates while keeping a watchful eye on the Manchester United game against Real Betis in the Europa Cup. Steve and his son Nick were all smiles when their team cruised to victory 4-1 against Real.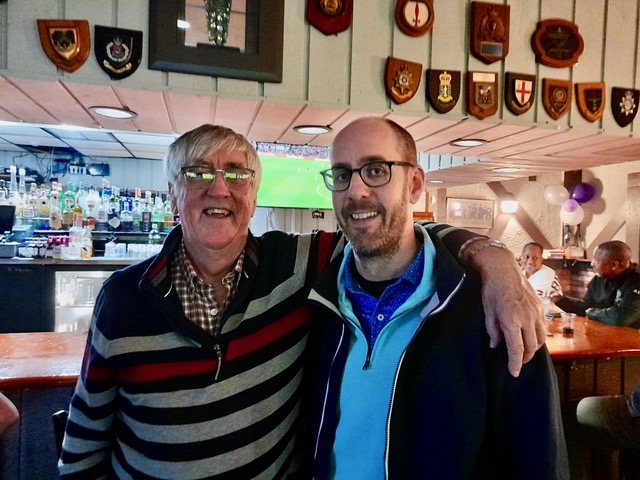 Steve and Nick Taylor all smiles after Man U win!
28th February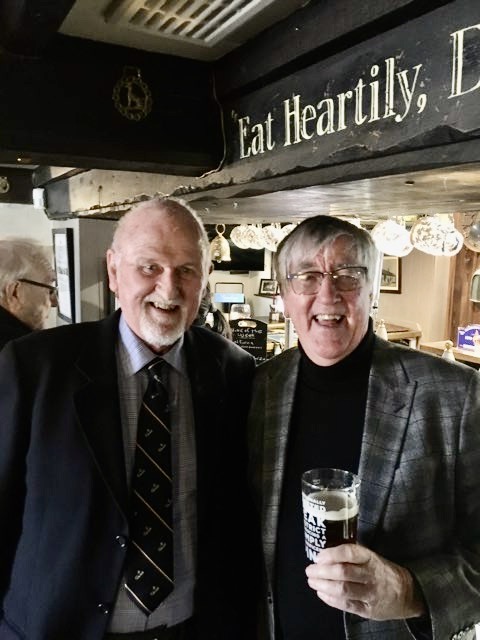 John "Coco" Eve and Steve Taylor
Steve Taylor and "Coco" Eve attend Tony Laughton's funeral in Chesterfield -
Steve and "Coco" were our representatives at the funeral of our good friend Tony Laughton on Monday 27th February 2023. Steve gave an excellent Tribute to Tony on behalf of Commissioner Darrin Simons, ExPo President Cal Smith, and our Expo members. CLICK HERE to view Steve's tribute in an article here on our

E

xPo

website.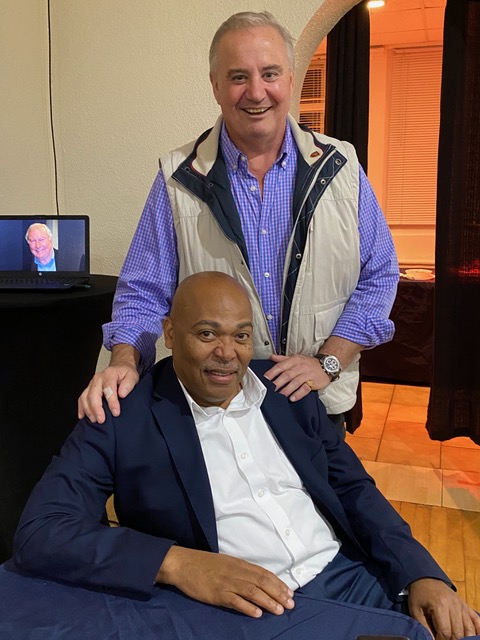 ExPo President Cal Smith relaxes now
he
has Terry Maxwell as his Vice President!
ExPo Cocktail Reception February 2023 - We were delighted to hold a well attended, very successful Reception at the PRC on Saturday 25th February, preceded by our AGM. It was a great relief to organize this popular social function, and our Committee is planning to hold more functions during the year including our annual Summer BBQ. CLICK HERE for our article on the ExPo Reception. CLICK HERE for our photo gallery of the Reception.
10th February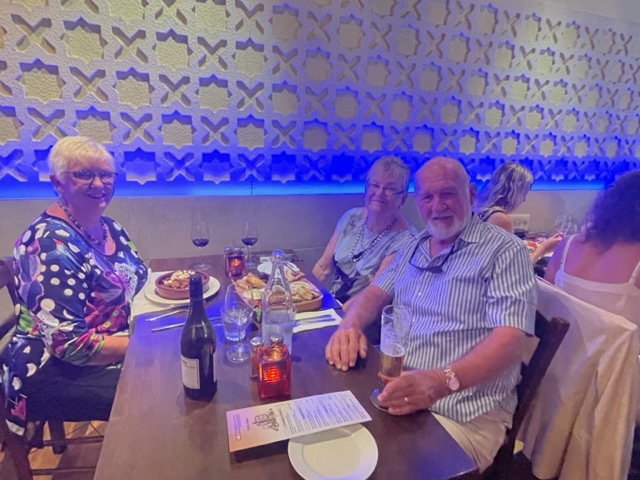 Barrie and Jenny Mancell with Fiona Chandler in Auckland, NZ.
Barrie and Jenny Mancell meet up with Fiona Chandler - We just received this photo of Barrie and Jenny Mancell who got together a few days ago with Fiona Chandler in Christchurch, New Zealand.
Barrie and Jennie are on a driving holiday in New Zealand for 2 months, having started with the New Year's fireworks display in Auckland. So far they've driven down the west coast and are now making their way up the east coast, and will be returning to the North Island in a few days time where they have tickets for the opening day of the first Test Match between New Zealand and England – weather permitting!
Barrie reports they've had really great weather - no flooding - and really enjoyed a couple of days on Stewart Island which is located south of South Island. As Barrie says, New Zealand is a fabulous country.
We were delighted to hear that Barrie and Jennie got together with Fiona, who for those of us who served here in the 1960's will well remember her father, Chief Inspector Roy Chandler who came out to Bermuda in March 1962 with his wife and their children Roxina, Fiona and Robert, when Mr. Chandler was hired by Commissioner George Robins from the Cheshire Police to set up our first Police Training School which is still going strong today.
Basic Training Course #1
March - June 1962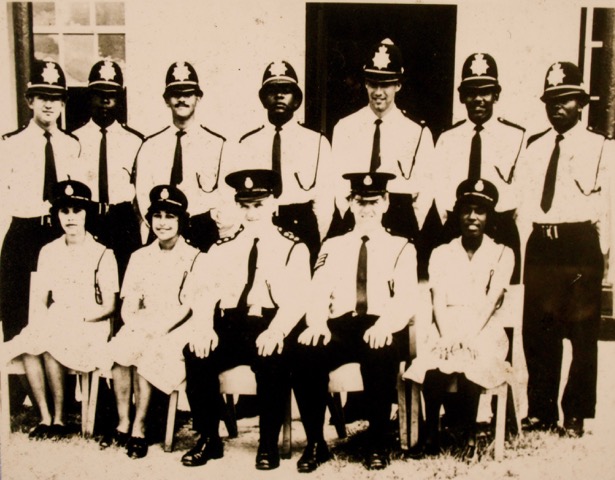 Top Row (l-r) Raymond "Sleepy" DeSilva, Calvin Christopher, Arthur Bean,
Wentworth Christopher, Jeffrey Payne, St. Clair "Brinky" Tucker, Winslowe "Socks" Dill
Seated - Gwendolyn DeGrilla, Jean Mattis, Chief Insp Roy Chandler,
Sgt James Moir, and Elizabeth "Betty" Osbourne
EDITORS NOTE - To the best of our knowledge there are five members of this historic first course here in Bermuda - Arthur Bean, Wentworth Christopher, Jeff Payne, "Brinky" Tucker, and Jean Vickers (Mattis).
27th January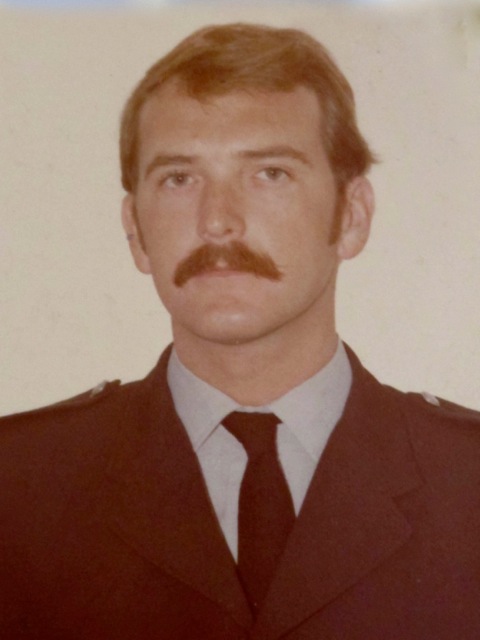 Young P.C. Tony Laughton
Tony Laughton in Hospital - We have just heard the worrying news that our old friend and colleague Tony Laughton is very unwell and has been admitted to hospital in Chesterfield. Tony had recently mentioned to Dave Cart that he was planning a trip to Bermuda in May, and his daughter, Jen, has called Dave to let him know the situation regarding her father's condition. We sincerely hope that Tony makes a full recovery, and if any of his friends would like an update on his condition they can reach Jen either by phone, text or WhattsApp at 07967 105294.
CLICK HERE to view our "Then and Now" article on Tony who served here from 1973-1980 before returning to the U.K.
EDITORS NOTE - We were deeply saddened to hear that Tony passed away on 8th February 2023 in the hospital at Chesterfield. CLICK HERE for more information in our Latest News column
17th January
Merv Dickinson visit - Our old friend (maybe not so old!) Merv Dickinson was back on Island over Christmas and paid a visit to the PRC on a Thursday afternoon where he met up with Charlie Mooney, Peter Shaw and or ExPo President Cal Smith. Merv is residing down in the West Indies these days but manages occasional visits home. Charlie and Pete are fully retired these days but play in a golf group together to keep fit. Covid had a negative impact on the Thursday afternoon gatherings up at the Police Club but things are picking up again - and long may it continue.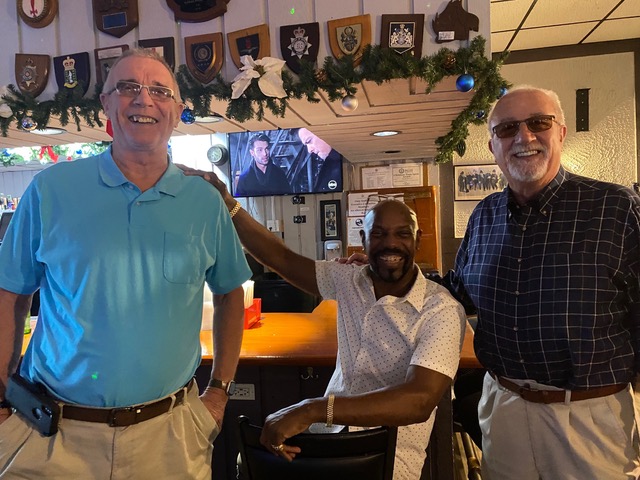 Pete Shaw, Merv Dickinson and Charlie Mooney at the PRC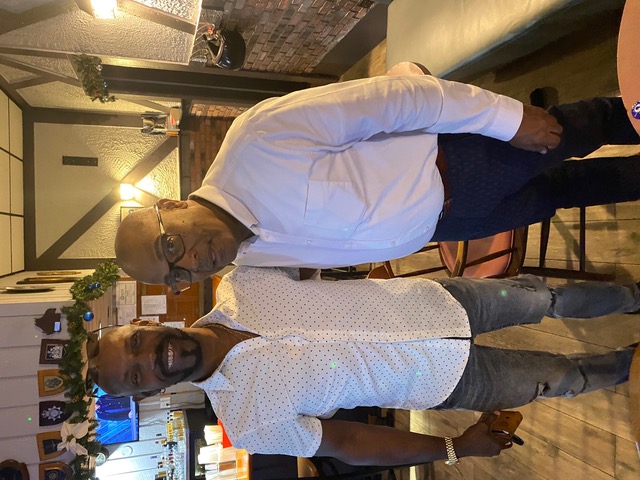 Merv Dickinson and Cal Smith
Old Timers at Divots - It's not unusual to spot Billy Butterworth in and around Belmont Golf Club - after all he practically lives on the course - and Keith Cassidy has been a member of the club for donkeys years, but what a surprise it was today to see them joined by a man from the east, "Moby" Pett, along with someone who used to be associated with cricket rather than golf, our old friend Paul Field, as they arrived for lunch at Divots restaurant at Belmont Hills Golf Club. All looked well although Keith might have been a little happier if Everton could move a few places higher in the Premiership!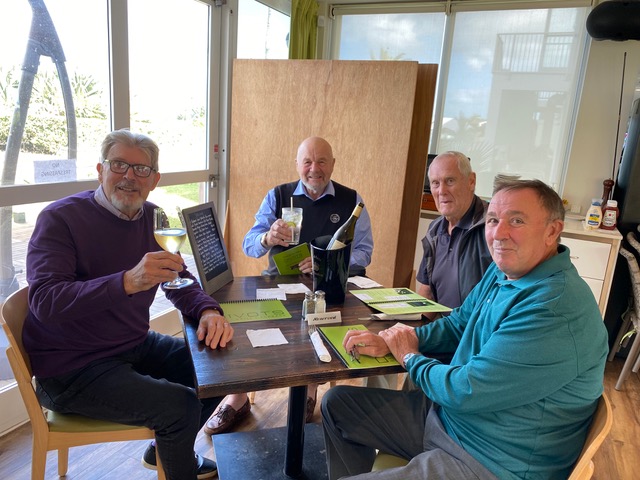 A Gathering at Divots
(l-r) Paul Field, Billy Butterworth, "Moby" Pett, and Keith Cassidy
16th January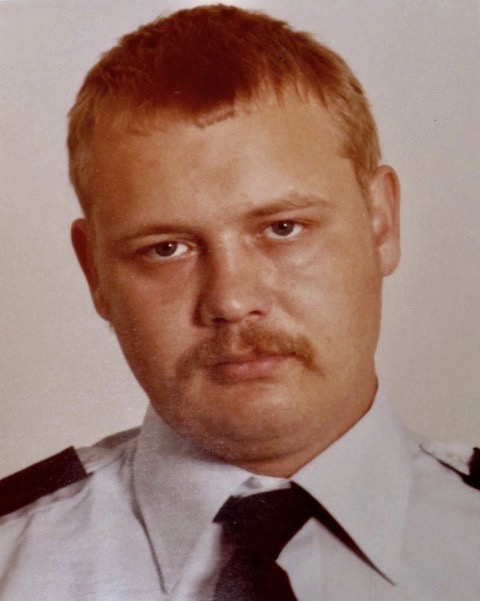 Young P.C. Phil Starr
Phil Starr whirlwind visit - We've just heard from former P.C. Phil Starr, who served here from 1981 – 1983, in Eastern Division, St. George's. Phil will be paying a brief visit to the Island on 11th March on the P&O cruise ship "Ventura" berthing in Dockyard, and he would be delighted to catch up with anyone who remembers him, especially the guys he worked with in St. George's.
CLICK HERE to read more about Phil and his visit, what he did after leaving Bermuda, and what he's doing these days.
14th January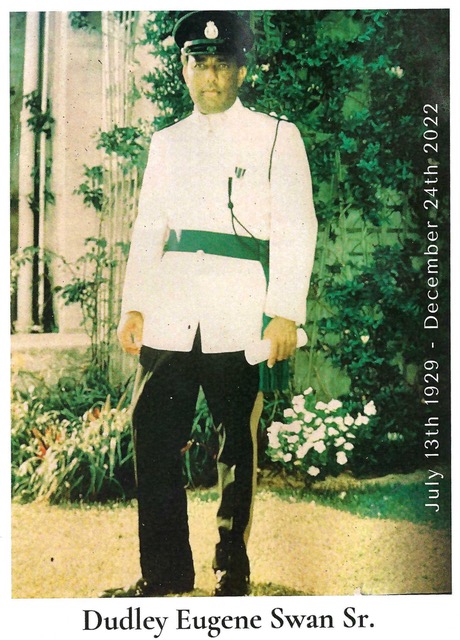 Dudley Swan's funeral held on 9th December - The funeral for our dear friend and colleague, Dudley Swan, was held at the 7th Day Adventist Church in St. George's on Monday 9th January 2023, with burial following at the Richard Allen Cemetery.
In attendance were Dudley's family and friends, along with many of his former police colleagues and BPS senior officers, including Commissioner Darrin Simons, Acting Deputy Commissioner Na'imah Astwood, Assistant Commissioners Antoine Daniels and Martin Weekes, ExPo President Calvin Smith, retired DCOP Roseanda Jones, ACOP's Carlton Adams and Wayne Perinchief, and many other serving and retired police officers.
COP Darrin Simons gave an excellent Tribute to Dudley as did Pastor Larry Smith (retired Superintendent) who spoke of the close bond he shared with Dudley who became his mentor when Larry first worked in Eastern CID when Dudley was OIC of Eastern CID.
CLICK HERE to view our article on Dudley in our Hall of Fame which now includes the report on his funeral.
13th January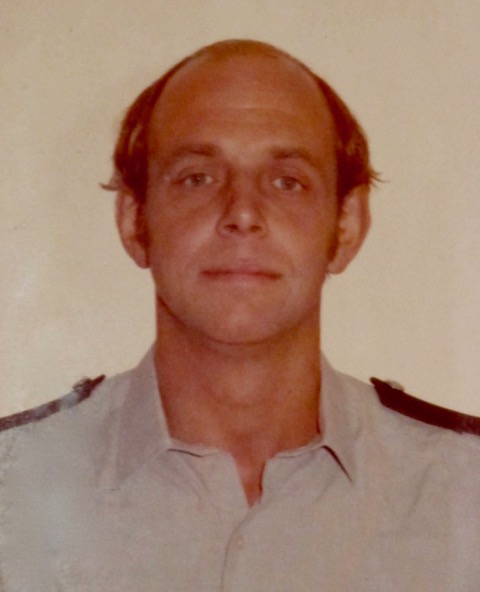 Owen Marsh
Details of Owen Marsh's funeral in UK - Further to our report under Latest News (CLICK HERE to view the article) we can now confirm that Owen's funeral will be held at 11am on Wednesday 25th January 2023 at St. John the Baptist Church, Mayfield, and a wake will be held at The Royal Oak Pub, Mayfeld, Ashbourne.
11th January
Updated List of former Bermuda Police Officers -
We have just published our updated 'List of deceased former Police Officers' under our EXPO LISTS which you can access through our ExPo website Home Page (CLICK HERE to view the list). John Skinner has spent countless hours compiling this list which is an ongoing and extremely difficult task.
Unfortunately, there is no easy way of obtaining information about former officers who have died. The BPS does record the names of those officers who have died whilst being serving officers, but with many of our former officers living abroad after completing their service, it's literally impossible to compile a fully comprehensive list because we have no way of knowing about anyone who has died unless we hear about them, either from the media, or from our fellow members.
There are times when we hear one of our former colleagues has died, and he or she may have died years ago, and we may also have only an estimate of the date of their death. Our list includes colleagues who we have been told have died but we don't have an actual date of death. John has recorded these as "Date to be Ascertained" (DTBA).
If you check through the list you will see some entries are marked with a "c" preceding the date given – and this indicates that the date is approximate.
If we have not been told of the passing of one of our colleagues, or if they completed their service in the BPS prior to 1945, then they are not included on our list.
It would be most appreciated if you can review our latest list, and if you see any mistakes or omissions, or if you know of someone who has died and is not included on the list, please let us know by contacting us at our email address This email address is being protected from spambots. You need JavaScript enabled to view it. It would be especially helpful if you are able to provide us with a scan or print out of their obituary, or a notice in the media.
I would like to sincerely thank John Skinner for all the time and effort, and research, he puts in to compiling and keeping all of our lists as up-to-date as possible.
7th January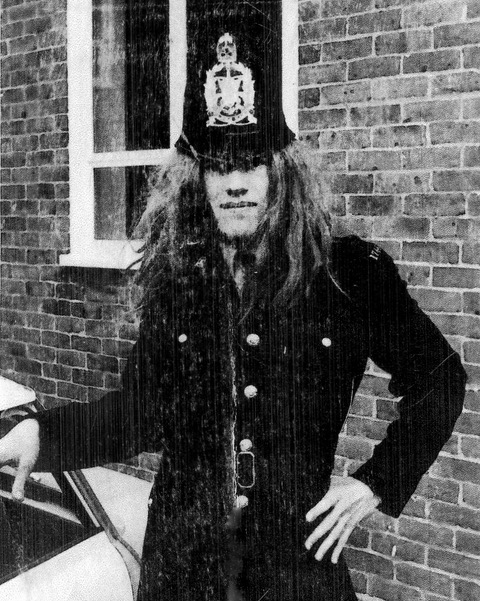 "Who, Where and When"?
Ken Van Thal - We recently ran this photo in our "Who, Where and When" column and on our Facebook page and asked our readers if anyone could identity this "frightening" very long haired young man who turned out to be our good friend and former colleague Ken Van Thal who worked here from 1971-1973. CLICK HERE to view the article and to read Ken's explanation as to why he looked like that when he was a young constable in the Hampshire Police.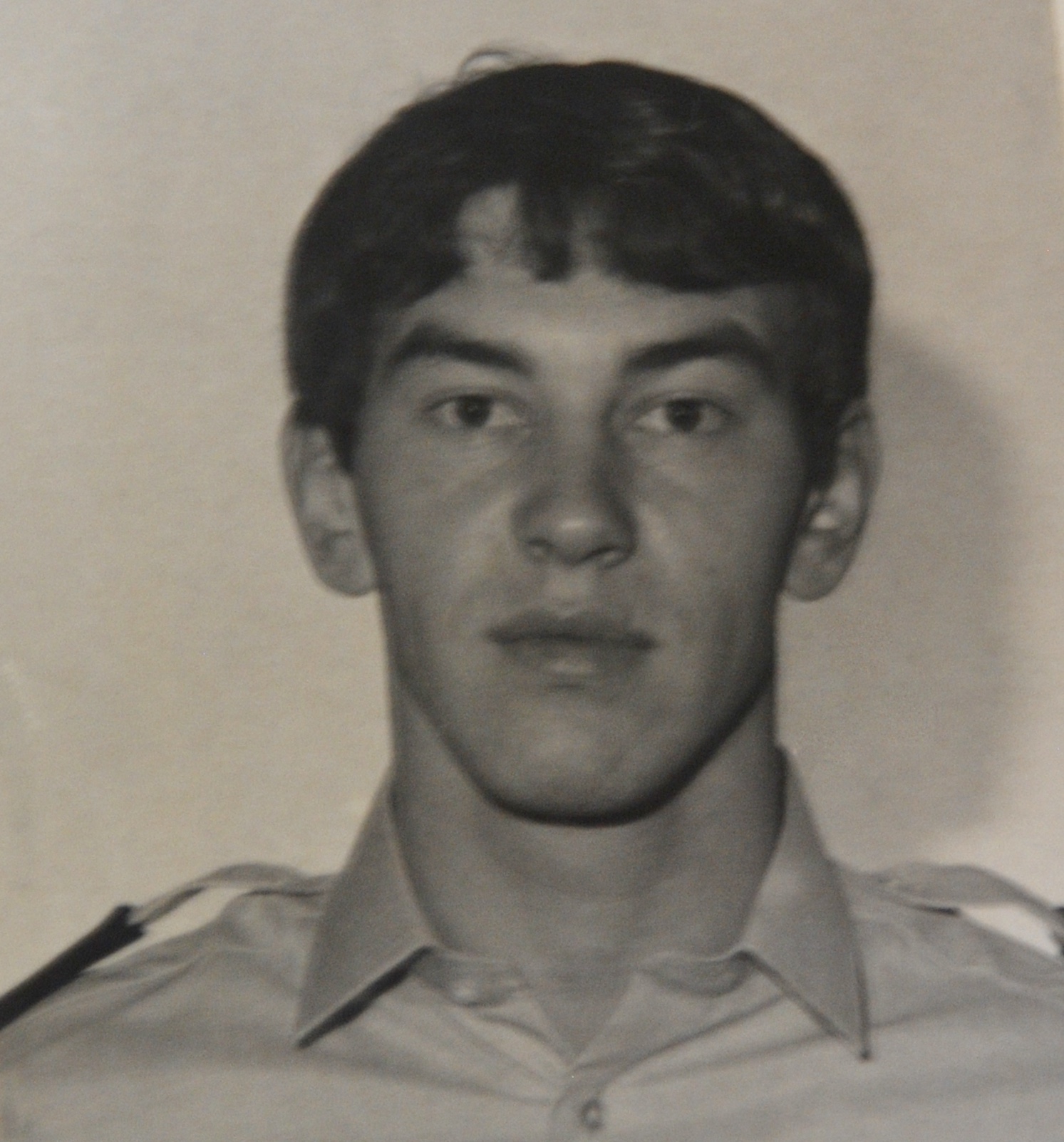 Young P.C. Ken Van Thal
After publishing the photo we asked Ken how he's doing these days and what did he do after leaving Bermuda in 1973. His reply is as follows:-
"I joined the Met Police in London when I left the Rock and retired after 20 years service. Basil Haddrell was my boss for a while. I then joined a Met Witness Protection unit to keep me occupied. Met some interesting witnesses to look after. It gave me an extra income and a pension when I finally stopped work.
I am living in Barnet north London and my son who lives near me works in a Met Firearms unit.
John Price who played rugby for the Bermuda Police lived not far from me and we both played rugby for a local team for a couple of seasons. Rugby days are now history but still try to get to the gym every day.
Sadly my wife Toni died in June last year after a long illness. I am still in touch with Mike Brown and very sadly his daughter Kendra died a couple of weeks ago in her very early 40's. Obviously Mike and Sue are absolutely distraught. Hope to see him in the spring.
Editors note - We are deeply sorry to hear about the death of Toni, and also about Mike and Sue Brown's tragic loss of their daughter Kendra.
CLICK HERE to read more about Mick Brown in our "Then and Now" column.
6th January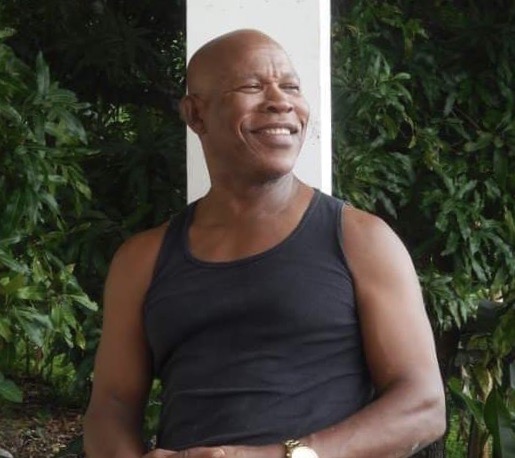 Huron Vidal in happier days
TRIBUTE IN LOVING MEMORY OF HURON VIDAL - As many of our members will be aware, our good friend and colleague, retired Sergeant Huron Vidal, went missing at sea off the coast of Dominica on 11th August 2022. CLICK HERE for our report about Huron being reported missing. We had hoped and prayed for good news that he would be found safe and sound, but sadly Huron has never been found and it is presumed that he was lost at sea.
We have just received a poignant video of a Mass for Enlightenment and Peace for his family and friends held in Loving Memory of Huron at the Dublanc Catholic Church in Dominica on Sunday 4th December 2022. CLICK HERE to view the video.
Huron joined the Bermuda Police Service in April 1976, and served for 28 years as a popular first class police officer before retiring in January 2004, during which time he had been promoted to Sergeant and had worked for several years in Marine Section.
We again offer our sincere condolences to Huron's family on their tragic loss.
5th January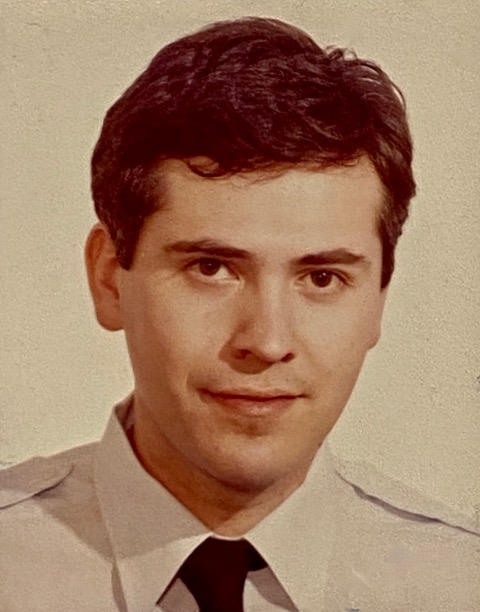 Young P.C. Mark Vincent
Mark Vincent - We have just heard from Mark Vincent who served here from 1985 – 1993, spending several years in Special Branch before returning to the UK at which time he joined the Lincolnshire Police where he had an interesting career, and passed his "police genes" on to his two sons, Alex and Josh, who followed him into the Police service. CLICK HERE to view an article about Mark in our "Then and Now" column.
Mark has written as follows:-
"My wife, Debbie and I are still living in Lincolnshire and since retirement we have travelled extensively and have found cruising, which I was totally against and now we are approaching our next cruise in 5 weeks, our 6th one. I have been doing several ad hoc jobs which has included Border Force, PSD/Corruption Investigator, IT Consultatant for a software monitoring company, Census Officer and Travelling Geneologist.
I have just finished a contract with Border Force (Passport Control), and currently a PSD/Corruption Investigator with British Transport Police, working from home 3 days per week. I still do work for Finders International which is a geneology company tracing beneficieries and heirs to unclaimed estates and assets so the HM Treasury do not get the money. The jobs basically fund our travelling.
No grandchildren as yet, both boys Josh and Alex are doing well, luckily for them we managed to open the bank of Mum and Dad and get them in properties. Can you believe Alex my youngest is living in the cottage next door, so I am on tap for issues and maintenance, a full time job. Alex works for an online eBank as Business Advisor, Josh who was a Hi-Tech Investigator with Lincs Police has moved on and has gone into the private sector into Cyber Crime, he is not allowed to speak about his job he works in Gloucester!!
Gave up squash a number of years ago due to my knees, but am well into cycling regularly riding on Zwift for those who know the smart training program.
Have been to see Kevin and Sue Reeves on quite a few occasions house sitting for him in his house near Bergerac, they are both doing well, and I look forward to staying again this year, the wine is cheaper than water. Im regularly in touch with Gary and Jane Staines now that they have finally left Bermuda, both are doing well.
In respect of Covid, managed to avoid it for 2 years, but got it July 2022, not too bad just a rough cold. All Covid has done for me has given me opportunities to work from home (except Border Force) and put us ex-cops into employment where normally the roles required travelling, the job scene has changed allowing this hybrid working.
In respect of Border Force, one of my collegues is John Hughes an ex-Bermuda officer. He spends his time between UK and France, he has a place in a ski resort.
Our plans are to spend time abroad hopefully in Portugal, but this is on hold due to four cats and a mother-in-law."
Editors note -
On checking our personnel files I see that Mark came out to Bermuda at the same time as three officers who made their careers here in the BPS. They are Gary Staines, Paul Towlson and Paul Wright.
Mark sent us this update in response to a request we made for any of our members to consider writing to us to let us know where you are, and what youlre doing these days. We would be delighted to hear from YOU!
4th January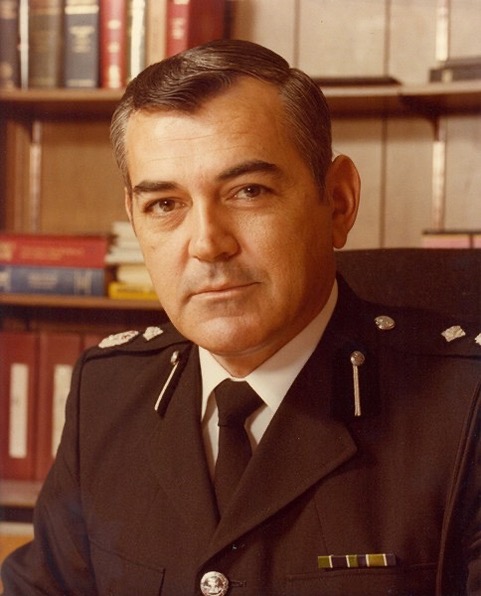 DCOP Harold Moniz
We are deeply saddened to report the passing of retired Deputy Commissioner Harold Moniz early today, 4thJanuary 2023, at the age of 83. We understand that Harold had been in failing health for some time. He proudly served in the Bermuda Police for 40 years, from 1959 – 1999.
CLICK HERE for more details in our Latest News column.
50th Anniversary Year for 1973 Intakes - According to our records, 1973 was a bumper year for young men and women to join the Bermuda Police, with a total of 78 being recruited during the year as listed below.
Looking through our Training School Course photos we found two Basic Training Course photos , for Course #16 held between June and August 1973, and Course #17 held between October 1973 and January 1974.
Basic Training Course No. 16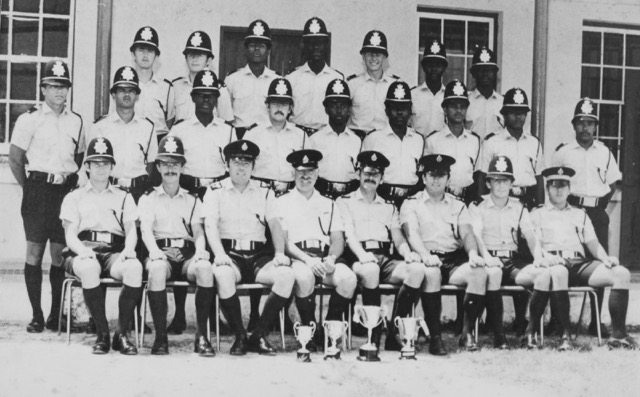 Top Row (l-r) Christopher Keen, Nicholas "Nicky" Bolton, Anselm "Earl" Kirby,
George Jackson, James Fullerton, Frank Dublin, Archibald "Archie" Husbands
Middle Row - Norman Ingemann, Ronald Smith, Albert Evans, Stanley Gough, Kenrick James,
Theodore "Theo" Providence, Leonard Crichton, Roderick Topping, Wayne Ingemann
Seated - Lyndon Lewis, Peter O'Sullivan, Sgt Dick Murphy, Insp. Dave Parsons,
A/Sgt Patrick McBride, Gerald "Gerry" Lyons, Ralph Saints (Cadet).
Basic Training Course No. 17
October 1973 - January 1974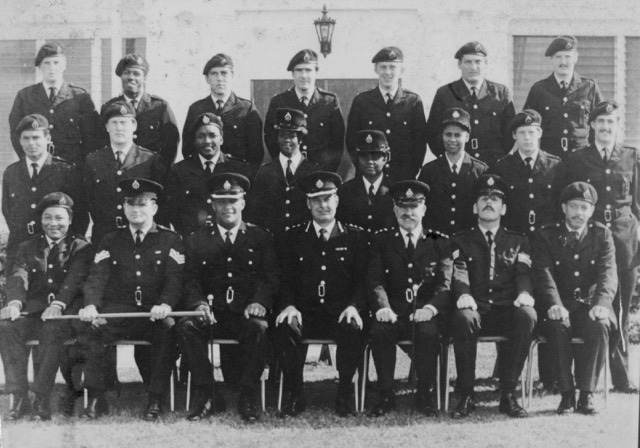 Top Row (l-r) Keith Melville, Phillip Bailey, Lincoln Pratt,
John McKay, Allen Pugh, Michael Scully, John Stewart
Middle Row - Sinclair White, Raymond Needham, Reginald Emery, June Pitt/Rhoda,
Joanna Easton, Barbara Clark, John Latoszek, Harry Messham
Seated - Vaughan Stovell, Sgt Patrick McBride, Supt Syke Smith,
DCOP Alf Morris, Chief/Insp Dave Parsons, Sgt Barrie Meade, Ralph Trott
Unfortunately, photos were seldom taken of Localisation Courses held at Training School, and to the best of our knowledge none were taken of the localization Course group who arrived on 1st and 3rd May 1973. This group comprised Neil Anderson, Roger Brydon, Paul Collins, Angus Craig, Donald "Howard" Cutts, John Dale, Stuart Donaldson, Andrew "Andy" Donaldson, Roger Hanley, John Harper, Stuart Innes, Richard "Rocky" Ironmonger, Anthony "Tony" Laughton, Malcom Martin, Iain Morrison, Christopher Moyse , Andrew Smith, David Smith, Francis "Frank" Thom, and John Walsh.
CLICK HERE for our special article about the 1973 Intake including a list of all those who joined the BPS during the year.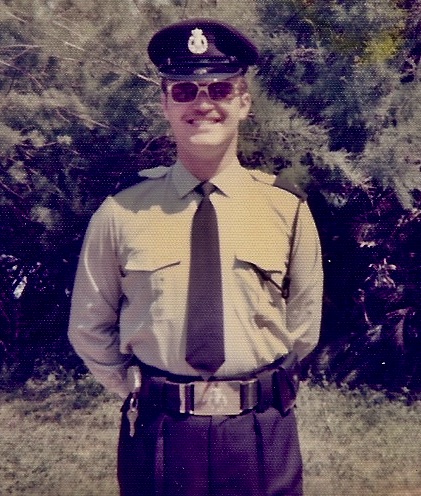 Young P.C. Steven Smedley
Steve Smedley - We were delighted this week to receive a link to an excellent video produced by the RCMP honouring one of our former police officers, Steve Smedley who served here in the Bermuda Police from 1975-1977 before heading off to Canada with his Canadian born wife, Peggy, who he first met here in Bermuda.
Several years ago Steve wrote an excellent article for our "Then and Now" column describing his life before, during and after his time here in Bermuda. Steve had previously served in the Surrey Constabulary, and after attending our Localisation Course he was first posted to Western Division and later to Marine Section where he was one of a trio of "Steve's" - Steve Petty, Steve Rollin, and himself. Steve was a keen footballer and played for Western Division and Prospect Football Club. CLICK HERE to view his article.
After settling in Canada, Steve joined the Royal Canadian Mounted Police in 1982 and served with the RCMP until his retirement in 2011.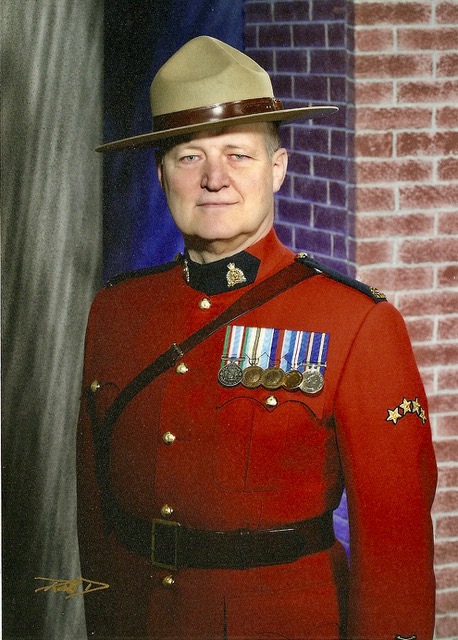 RCMP Officer Steven Smedley
I have to say that the video interview, with Steve, part of a 'Heritage in Scarlet 'award winning collection of individual stories produced by Access Communications in Saskatchewan, is absolutely first class, and includes some of reminscences of Bermuda, and if you look carefully at the introduction you will see our Bermuda Police Ceremonial sword. CLICK HERE to view Part one of the interview, and CLICK HERE to view Part 2.