I wonder how many of our ExPo friends and families were glued to their TV's last Saturday watching the Coronation of His Majesty, King Charles III, who had visited Bermuda several times when he was Prince of Wales.
By coincidence, I had just received an email from one of our former colleagues, Graham Maddocks, who served in the Bermuda Police from 1970 - 1978, mainly in Marine Section, Special Branch, and CID. Graham had a fascinating story to tell about his own personal experiences with Prince Charles here in Bermuda during the 1970's, and briefly with Her Majesty Queen Elizabeth in 1975. I also had personal contact with HRH Prince Charles back in 1970 when he visited Bermuda on the occasion of the 350th Anniversay of Bermuda's Parliament, and some years later met Her Majesty Queen Elizabeth on the front steps of City Hall in my capacity as Secretary of the Corporation of Hamilton.
There may be others amongst us who have their own stories to tell of interactions with Prince Charles and members of the Royal family, and we would be delighted to hear from you, but in the meantime, here is Graham's story, and I'll follow it with my own.
Graham Maddocks describes his
encounters with Royalty in Bermuda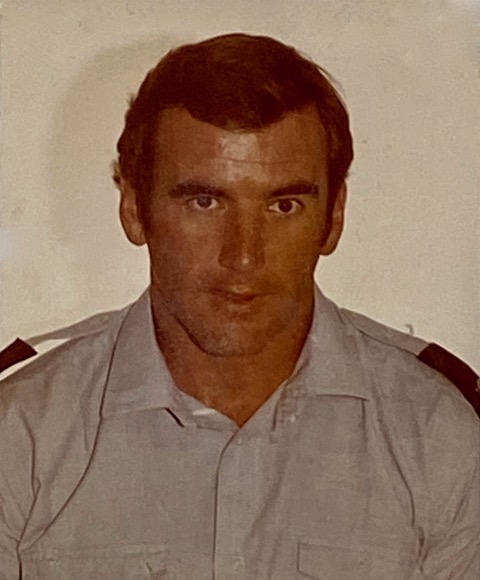 Young P.C. Graham Maddocks
"Prince Charles came to Bermuda when he was an officer on a Royal Navy ship in the 1970s. A water ski picnic was arranged with some residents. I was serving in Marine Section at that time and I went along with the police boat to do area security.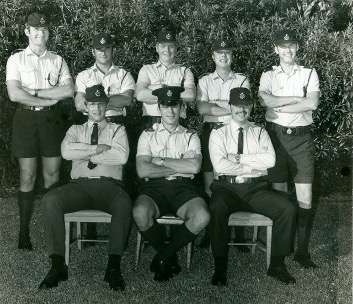 Members of the Police Marine Section - circa 1970
Standing (l-r) Alex Arnfield, Graham Maddocks,
Pete Swann, Les Tomlinson & Gerry Ardis
Seated - Paul Wakefield, Sgt Dave Garland & Andy Lavery
"When the party started water skiing the Royal Navy's launch had terminal engine failure, which put a damper on the whole picnic. I went over with the police launch and offered to take Prince Charles water skiing. He agreed and we had a pleasant conversation and a few laughs. I found him to be a very knowledgeable and decent person well suited to his role.
"I met him again on another occasion when he stayed at Government House. I did security outside his bedroom door all night (with an Uzi provided by Tim Willis) and in the morning met him again when we laughed over the water ski trip.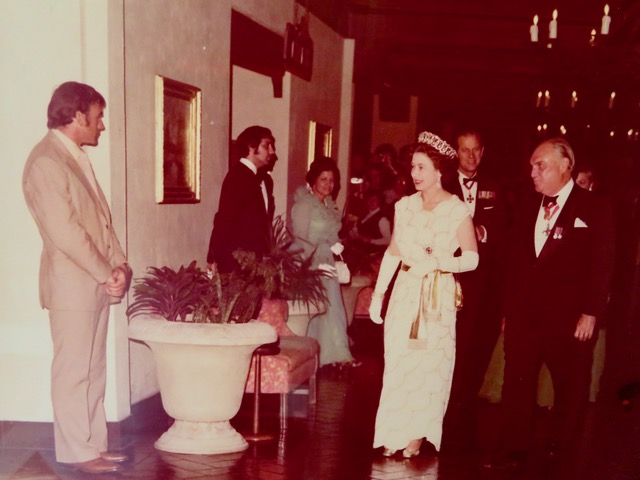 Her Majesty Queen Elizabeth 11 at Southampton Princess Hotel
during her official visit to Bermuda in February 1975.
P.C's Graham Maddocks in light suit and John Instone in dark suit on security detail
"I have a nice photo of myself and John Instone doing security for the Queen on a visit to the Southampton Princess Hotel. This time the Queen came in the Royal Yacht and myself and Mike Chitty were marksmen on the roof of the Bank of Bermuda, after the visit we went to the Police Club to debrief and Mike Chitty accidentally discharged his M16 rifle into the ground next to my foot (nobody knew about this). I went into the Club and had a triple rum and coke to recover from the experience!. "
Roger drives Prince Charles and greets Her Majesty
the Queen on the front steps of City Hall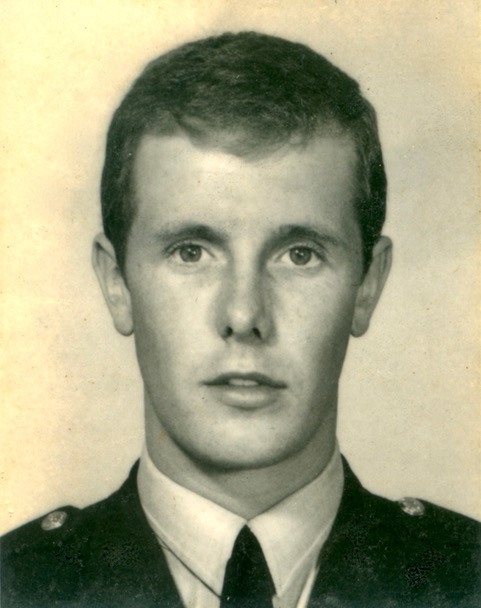 Young P.C. Roger Sherratt
"My story about Prince Charles began after I was chosen to act as temporary chauffer at Government House in early 1970 following the death of their civilian chauffer in a traffic accident in Hamilton while riding an auxiliary cycle. The Governor at that time was H.E. Lord Martonmere, and I was advised that Lady Martonmere was an extremely nervous passenger in cars. For that reason I always stuck strictly to the speed limit of 20mph, and 15mph in Hamilton and St. George's, much to the chagrin of all other traffic!
"After several months in this position I was interviewed by Commissioner Robins and offered the position full-time, but explained to him that I was keen to return to "police duties" in Traffic. My request was granted. Six months later I was called in to Commissioner Robins' office again and advised that I'd been chosen to drive H.R.H. Prince Charles who was coming out to Bermuda on a Royal Visit to attend the 350th Anniversary of Bermuda's Parliament being held in October 1970. I heard that Lady Martonmere, with Lord Martonmere, had been present when senior officials came out from the UK to discuss security arrangements for the Prince's visit, and when they discussed possible chauffers Lady Martonmere insisted that it be "Roger"!
"I didn't know until many years later that there were serious concerns about security for the Royal visit because Bermuda's Black Beret Cadre was still active and it was felt they might pose a possible threat to the Prince.
"A large sleek red American convertible car, A Plymouth Satellite, was imported from the U.S. specially for the occasion, and prior to the Prince's arrival I had to drive it to every location on his itinerary to make sure there would be no problem with its size. The only areas of concern were a few of the narrow alleys in St. George's, where the speed limit still happened to be just 15 miles per hour.
"I drove the car down to St. George's by myself early one morning just after dawn and on reaching a completely empty Causeway I had an irresistible urge to see how fast the car would travel. After rounding Stonecrusher Corner at about 50 miles an hour I hit the gas pedal and zipped along Kindley Field Road reaching a speed of just over 165 kmh which I later checked and realized was over 100 miles per hour. There was not a vehicle in sight, and no problem with narrow lanes!
"When Prince Charles arrived at the airport I was there to pick him up and drive to City Hall in Hamilton. Lord Martonmere sat in the rear seat alongside the Prince, and Inspector Les Waddell rode in the front passenger seat, no doubt armed to the teeth! I was wearing full ceremonial uniform with white uniform dress jacket, white gloves and police cap.
"We headed for City Hall in Hamilton accompanied by a motor cycle escort headed by Inspector Harold Moniz, and I was instructed to keep up with the motor cycles at all times! As we passed Francis Patton School on North Shore Road the whole school was assembled outside and the children were waving flags and were so excited, but they hardly saw a thing because we whizzed by so fast. Prince Charles was not well pleased and he leaned forward and quietly remarked that if we passed any other schools we should slow down for the children to have a better view.
"All was well until we approached the next school, Saltus Cavendish primary on Middle Road in Devonshire, where all the children were assembled around the school entrance. I slowed down as per the Royal instructions but Harold Moniz was clearly most upset! He dropped back almost parallel with the car and signaled me to speed up immediately - which I did after we had passed the school!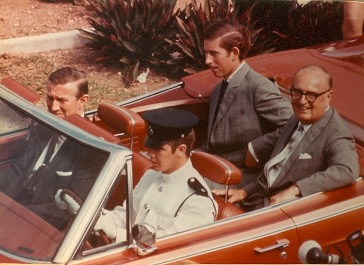 Roger drives HRH Prince Charles and HE Lord Martonmere
accompanied by Insp Les Waddell
"We arrived safely at City Hall where the grounds were packed to capacity, and as soon as the Prince and H.E. left the car Harold came storming over and confronted me about disobeying his orders. I politely explained my dilemma; 'Do I follow the instructions of my senior officer, or the commands of His Royal Highness, the Prince of Wales? ' Harold took it in good humour! The Prince also required that we travel at slow speeds whenever we passed groups of people - which was just about everywhere.
"I had a most enjoyable five days driving the Prince around the Island, and at the end of his visit I was called in to see him at which time he thanked me for my services and presented me with a signed photo of himself.
"Just one postscript to the Royal visit. Marian at that time was working for a lawyer, David Brewster at Appleby, Spurling and Kempe's law firm, and David's son was one of the young boys at Cavendish School. David told Marian that after the Prince passed them, the children all trooped back into school and had to write a story about seeing the Prince. Without exception every single boy described the handsome young Prince - 'driving his car' in his smart white uniform and cap!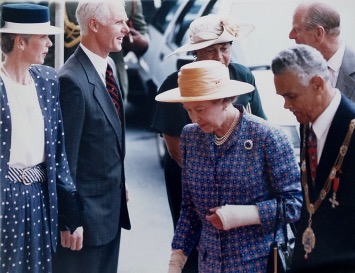 HRH Queen Elizabeth 11 and HRH Prince Phillip
arrive on the steps of City Hall and are greeted by
The Rt. Wor. Mayor Cecil Dismont and Mrs Dismont &
Corporation of Hamilton Secretary Roger Sherratt and Mrs Sherratt
"Many years later Marian and I were privileged to stand on the front steps of City Hall, in my capacity as Secretary to the Corporation of Hamilton, together with the Mayor of Hamilton, The Rt. Wor. Cecil Dismont and his wife, to greet Her Royal Highness Queen Elizabeth and her husband HRH Prince Phillip on their official visit to Bermuda in 1994.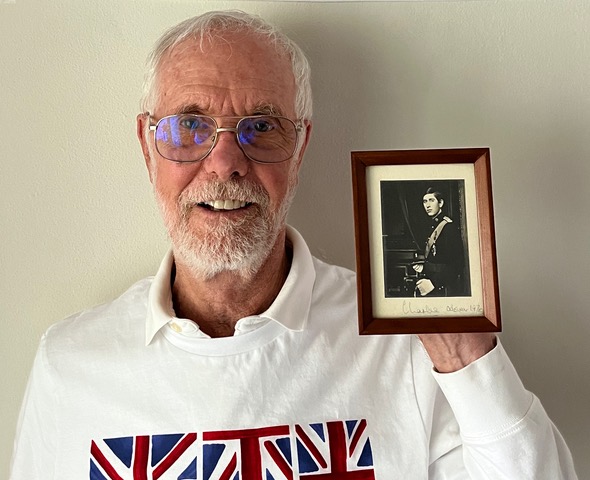 Roger with photo presented by Prince Charles
One final note - On the day of the Coronation my wife insisted that we locate the photo presented to me by then H.R.H. Prince Charles 53 years ago (It had been slightly misplaced in the wrong drawer), so she could take a photo of me with the photo - for posterity. It will not be returning to the drawer!
9th May 2023
30th May 2023
A ROYAL 'BEDTIME' STORY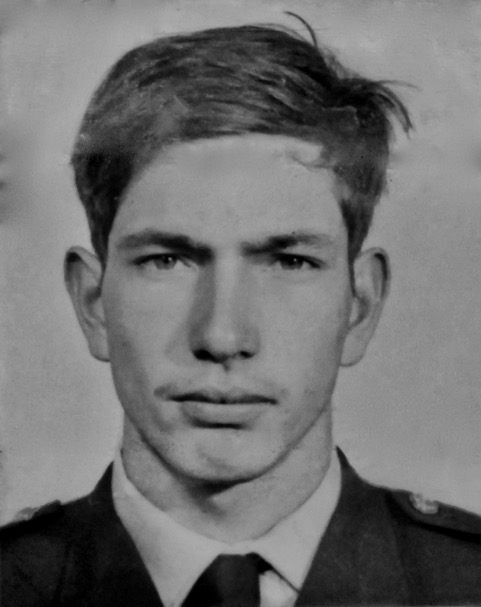 P.C. Ray Sousa
Following our publishing of the above article about "Rubbing shoulders with Royalty", we've received a Royal "bedtime story" from our old friend and colleague Ray Sousa who was assigned to guard duty at Government House during the visit of HRH Prince Charles in 1970. Ironically, Ray is sure that at the time of the following incident he was accompanied by Reese Bartley who's sad passing we heard of just a few days ago.
For those who never knew Ray, he was a dynamic young Bermudian police officer who served in the Bermuda Police from 1966 – 1974 before heading off to Australia with his wife Patricia, in the search for more adventures – and adventures he had in abundance as a Forest Ranger/Warden in Western Australia where he substituted the "fight against crime" with "fights against forest fires!"
CLICK HERE to read all about Ray's life in Bermuda and the Bermuda Police Service, and his adventures in Australia in his fascinating "Then and Now" article on our website .
Here is Ray's account of the incident at Government House just prior to the arrival of Prince Charles in October 1970.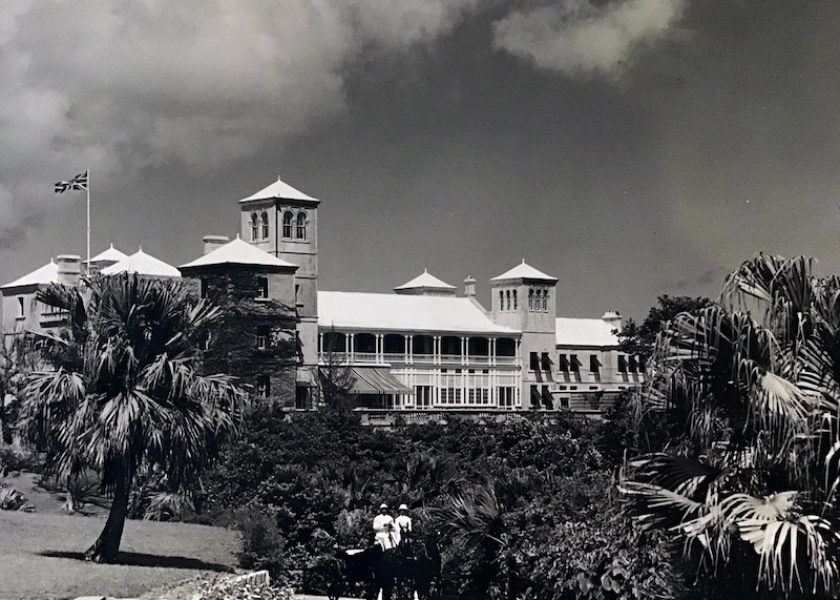 Government House, Bermuda
(photo courtesy The Bermudian Magazine)
"I was among the detectives assigned to do guard duty inside Government House during Prince Charles' visit in 1970. Rooms, including Prince Charles' intended bedroom, were searched a number times, by different Officers. Going by memory a well armed DetectiveInspector Les Waddell was in charge, but not present during this incident.
I am reasonably sure Reese Bartley,' Swany", plus possibly 2 other officers were with me. A new bed, still wrapped was in the bedroom. It was either double or queen size with 2 pieces, a base and mattress for the top of it.. I either brushed against the base or shook it. In either case I heard a rattle and saw a package inside the bottom lining.
Someone ran off to notify the staff and /or the Senior Police Officer in Government House at the time. I know one detective who I am pretty sure was Reese stayed with me.
I always carried a pen knife and used it to carefully cut the package out, then unwrap it. It turned out to be spare legs that screw into the bottom of the base. When all was clear, I heard someone shout, "Who the hell authorized you to do that?" I then felt a firm hand on my shoulder, and a loud Englishman's voice say, " Well done son. Better be safe than sorry. I am glad to see this Police Force has men with balls" or words to that effect.
I believe he was a bodyguard who was travelling with the Prince. At that time I realized I was drenched in sweat; and someone gave me a good strong drink. No one made much of a deal of the matter, and I carried on with my duties as normal.
I strongly suspect the Governor learned about it and discussed it with my uncle 'Bifty' Hayward who regularly worked as a waiter at Government House including during the visit. 'Bifty' was also a well known meter reader and served in the Police Reserves. Both men were friends.
I had a number of dealings with the Governor including before I joined the Force. I know they talked about me, and the Governor always showed me respect even after he left the job and lived in Tucker's Town for a time.
In any case, some Officers, and Bifty stirred me up a bit about the incident. Saying "Charlie" was not happy about me damaging his new bed and was going to tell his mommy. They also said if he became King he would have me beheaded. So far my head is still on my shoulders; at least for now. When I was awarded the Australian Fire Service Medal ; the old Queen's Fire Service Medal in 2008, some said she had forgiven me. Officially the Queen has to sign off on the medal, but in reality it is her local Governor.
What the present generation might not appreciate is that in those days we did not have the bomb detection equipment or dogs we have now. As history has proven, the threat to the Royal Family was real; although like everyone else I played the issue down at the time.
Over the years I have had to make some risky decisions, and have not regretted any of them. That goes with our job of serving the community.
Stay Safe,