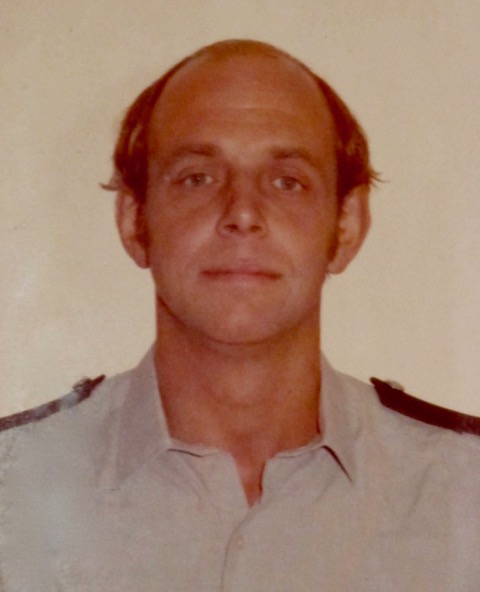 Young P.C. Owen Marsh
We were deeply saddened to hear that our good friend and colleague, retired Sergeant Owen Marsh, passed away yesterday afternoon (6th January 2023) at his home in Derbyshire, England, where he resided with Juliette, his beloved wife of almost 40 years. Although Owen had some health issues this was totally unexpected and was a shock to Juliette and their two sons, Hugo and Tristan.
Born and raised in Newport, Wales, Owen served in the Newport Borough Police as a Cadet then as a Constable from 1962-1965 prior to coming out to join the Bermuda Police in July 1967.
Basic Training Course #9
July - October 1967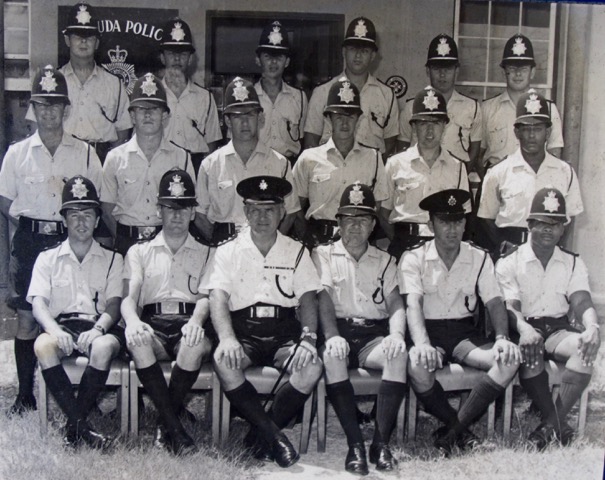 Top Row (l-r) John Van de Weg, Owen Marsh, Richard "Dick" Saunders,
Brian Hanney, James "Jimmy" Costello, Peter Irwin
Middle Row - John Balsdon, Malcolm Hall, Ian Ganson,
Joseph "Ronnie" Boggan, Cyril Plant, Hubert Swan
Seated - Ian Andrews, Sgt. Barrie Meade, Chief Insp. Roy Chandler,
Sgt John Cafferky, Sgt Mike Kelly, and Edward Edwards
He attended Basic Training Course #9 and was first posted to Eastern Division (St. George's) for a little over 12 months before he was transferred for the first and only time during his 30 year career in the Bermuda Police, to Operations, where he started work in the Police garage.
Owen had found his calling! He was a superb mechanic, working alongside Sgt Keith Pratt until Keith retired in 1990, at which time Owen was promoted to Sergeant in charge of the Garage. During off duty hours Owen would service motor bikes and cars for his fellow police officers, especially those of us in Traffic, and his reputation for maintaining even the oldest vehicles was legendary. He attended several mechanics courses overseas to maintain and enhance his skills, and would also service the Police boat fleet.
Owen was awarded the Colonial Police Long Service and Good Conduct medal in 1985, and he retired after 31 years service in February 1998.
After retirement, Owen and Juliette moved to England and settled in Derbyshire with their two sons.
Owen had a son, Julian, from his first marriage and Julian's mother had two other children.
We offer our sincere condolences to Juliette, Hugo, Tristan and their family in England, and to Julian and his mother and family here in Bermuda. We will provide funeral details as soon as we receive them
---------------------------------------------------
7th January 2023
Editors note - Shortly after notifying our members about the sad news of Owen's passing we received this note from our good friend Davie Kerr which exemplifies Owen's talent as a superb mechanic:-
"This is very sad news. I last saw Owen and Julie at the Sutton Coldfield reunion back in Sep '14, Owen and I go back a LONG way as he was responsible for keeping my little Mini Moke going for 5½ years in the latter half of the '70s, and he was definitely an ace mechanic.
Yes, Owen was a hell of a nice guy as well as being an ace mechanic, and it was sort of through him I got my little Moke in the first place. I was friendly with the late "Bubbles" Barnard of Admiralty House fame and long Regiment service, I knew that the Regiment had two Mokes, and I'd heard rumours that they were going to sell one.
I asked Bubbles, and he said "No chance: we need both of ours to keep one of them going, but PW's have a second-hand one for sale." That was good enough for me: I grabbed Owen and a spare battery, we went down to PW's, attached the new battery (with permission), turned the ignition key, and the Moke started! That did me, and I said "I'll have it!" $1000 to PW's, $100 each to Owen for getting it roadworthy and Ian McMillan for a new paint job (in "Babylon Blue", of course!), $300 to Hooper Sails on Trott Road for making up a canvas top and sides, and I'd joined the ranks of Bermuda's car owners!
Ernie Moniz, who was then OiC Ops, was scrapping his mini at the time, and he said "Kerr, anything you want off this car, take it, or it'll just go down the dump!" I did well off his old car, and my Moke changed its number from P6117 to 10200 as this was at the time ('75, as I recall) when the old vehicle numbering system was being completely re-vamped.
I never did find out the true story about how that Moke came to be available in the first place, but the story going round was that it was actually owned by some Greek millionaire who hadn't the foggiest idea about vehicle maintenance, and if one car ran out of gas he simply dumped it and bought another one!
Anyway, whatever the circumstances, I had 5½ fun years out of that Moke, and was very sad when Owen came to me one day and said "Davie, I could get you through TCD for another year, but it would cost you twice as much as you paid for the car, so my advice would be to say bye-bye to it and get something small and Japanese", so that was the end of my love affair with the Moke.
I know that sounds like a lot of extraneous woffle, but I was simply emphasising how much I owed to Owen for keeping it going for me for all that time. He was a good man, and my sincere condolences go to Julie & the family."    
Regards
Davie.
14th January 2023
Details of Owen's funeral in UK - Further to our report under Latest News we can now confirm that Owen's funeral will be held at 11am on Wednesday 25th January 2023 at St. John the Baptist Church, Mayfield, and a wake will be held at The Royal Oak Pub, Mayfeld, Ashbourne.