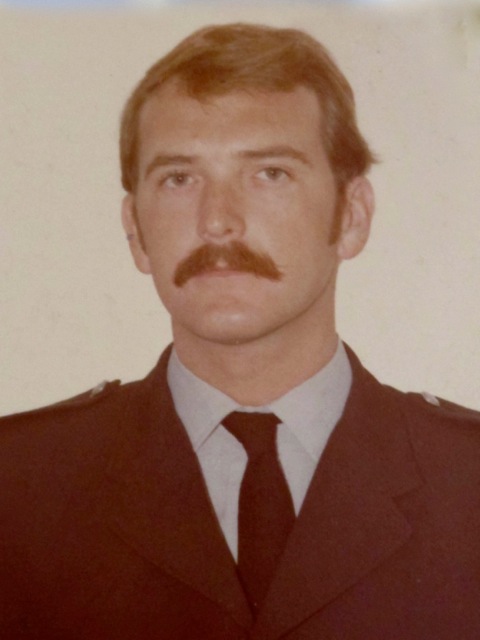 Served from 1973-1980
We recently heard from Tony Laughton who has sent us some photos taken while he was here in Bermuda. Tony also sent a photo of himself and Steve Rollin after we had enquired about Steve's condition following major surgery. We were delighted to hear from Tony that Steve is doing well and often gets together with Tony for a walk.
He has promised faithfully to write about himself for our Then and Now column but in the meantime we can tell you that Tony was born and raised in Derbyshire, and he served in the Derby Country and Borough Police for over 7 years before joining the Bermuda Police in May 1973.
While here in Bermuda he served in Central (Uniform) for 12 months and had various stints in the Murder Room, but spent most of his service in Operations (Traffic) and in MCPS.
Tony has very fond memories of Bermuda and sent us the photos posted below. In his own words:-
Here goes with my first offering - starting in early 1974. The previous website item on our Tug-of-war team caught my eye a year or so ago, as I was a member in the mid-70's and as the item proudly states: Unbeaten! And we were pitted against top sports and military teams from many parts of the world. The attached photos are of the team at The Agricultural Show, Saturday 27th April 1974. I will stand correction on some of the names:
1. (nearest the middle of the rope) Pete Swann. 2. Dave Kerr. 3. Tony Laughton. 4. Roger Brydon. 5. Paul Deans. 6. Mick Richardson. 7. Alex Arnfield. 8. Anchor, of course, Eddie "Boxhead" Foggo.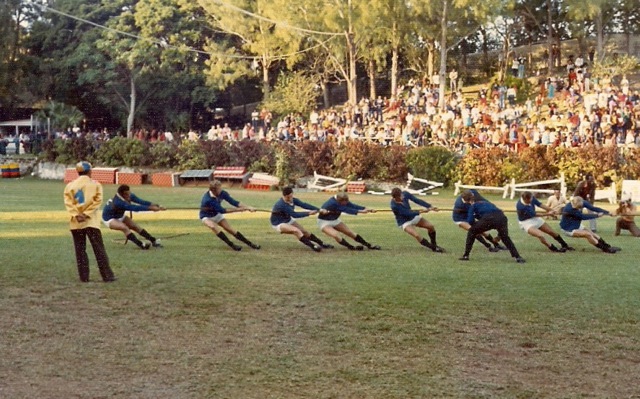 Police Tug o' War Team winning again at Agricultural Show - April 1974
(r-l) Pete Swann, Davie Kerr, Tony Laughton, Roger Brydon, Paul Deans,
Mick Richardson, Alex Arnfield, and Eddie "Boxhead" Foggo
I well remember our training on the PRC field, Pat McBride in charge! We attached the Tug-of-war rope to the tow-bar of a long-wheelbase landrover and with it in gear and brakes on, we dragged it round the field. A few weeks before competition day, we put one, then two telephone poles behind the back wheels and dragged it over those! At the end of a training session, the rope was hung in a tree and we had to jump up and hang on, dead-weight, for at least a minute. That doesn't sound very long, but after a training session, it was agony.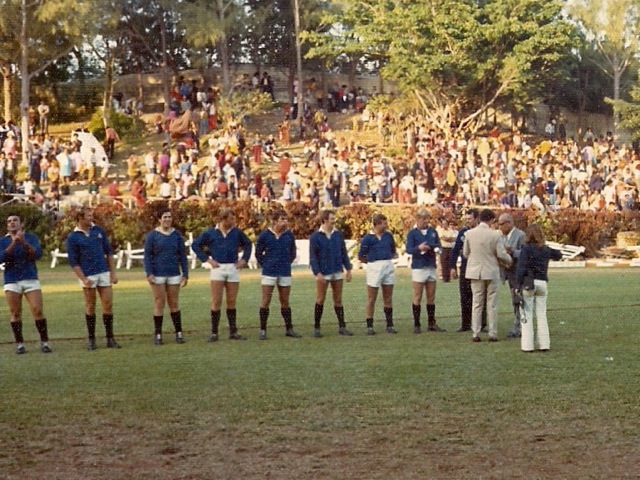 The Winning Team - Botanical Gardens 1974
I think this was to improve our grip, so that we could give that bit more on the big day. Does my memory serve me correctly or is this story embellished a little in the telling?
When we were hanging from the rope, Pat McBride would stand with a pin under our buttocks and threaten us thus, " If ye drop doon too soon, this pin goes in yer **** !" And I think it did.
This next group of photos are from a PRC New Years Day Sherry party, 1975 I think. Great pics of: Ernie Moniz, Eddie 'Boxhead' Foggo guarding the drinks, Barrie Meade, Bob McDonagh, Ray and Debbie Bell, Steve Peterson, 'Tinker' Taylor, Dave Lunn, Big Mike Parris, Carol Royer, there's one of Frankie Thom with Bruce Bingley and I think it's Mike Hale on the left, not crying over spilt sherry hopefully.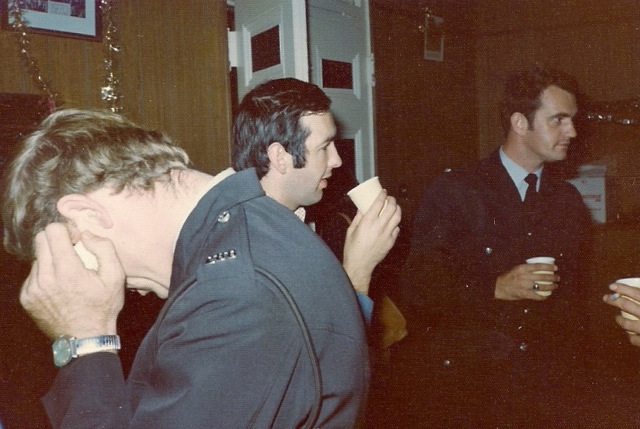 Annual Sherry Party at PRC - 1975
Frank Thom, Bruce Bingley, and possibly Mick Hale who may be upset
about having to drink sherry out of a paper cup!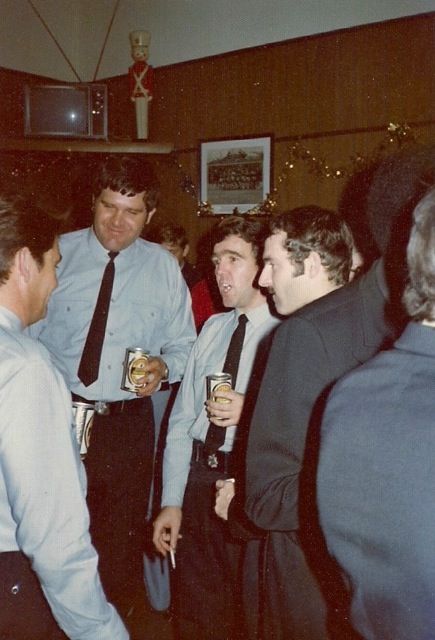 (l-r) Jimmy "The Wop" Costello, "Big Mike" Parris, Cyril Plant, & Brian Parkin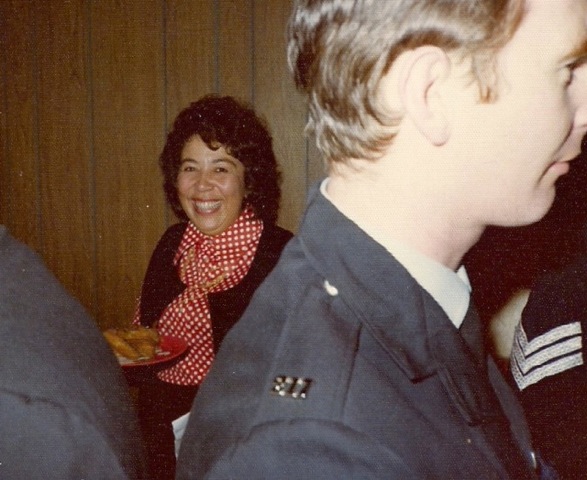 Carol Royer flashes her famous smile
Perhaps Davie Kerr can identify PC 217 from his shoulder number!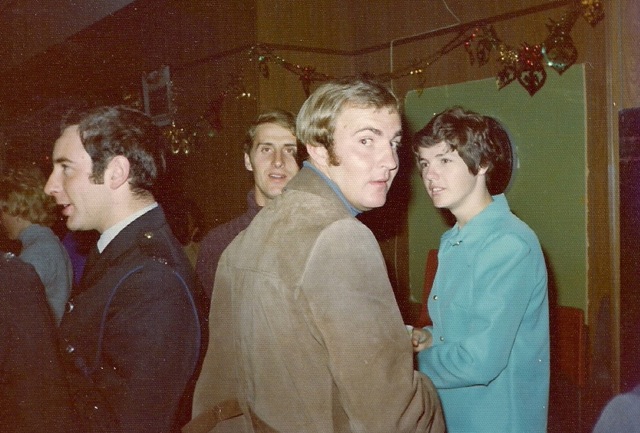 (l-r) Steve Peterson, Tony "Tinker" Taylor, Dave Lunn, and Winnie Taylor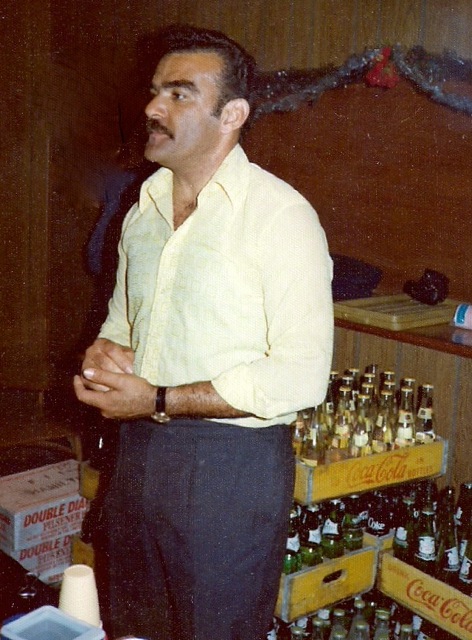 Eddie "Boxhead" Foggo guards the booze!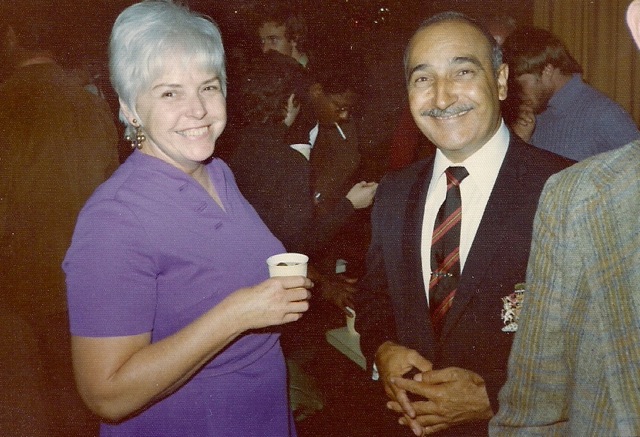 Inspector Ernie Moniz
and who is the lady on the left?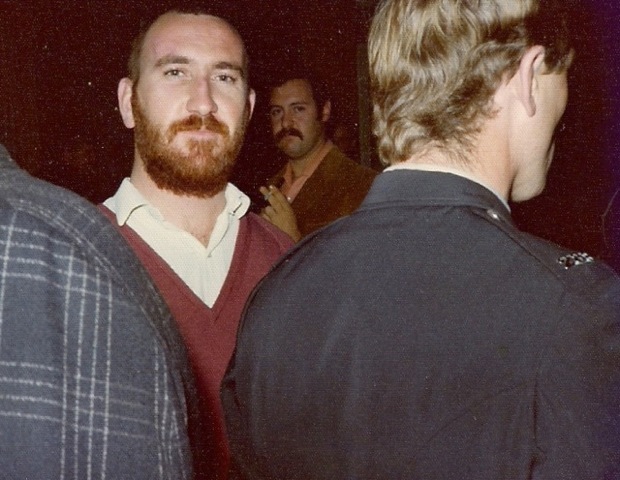 Bob McDonagh with the beard, and Reg "Buster" Brown with
moustache and cigarette. Who is the uniform officer on the right?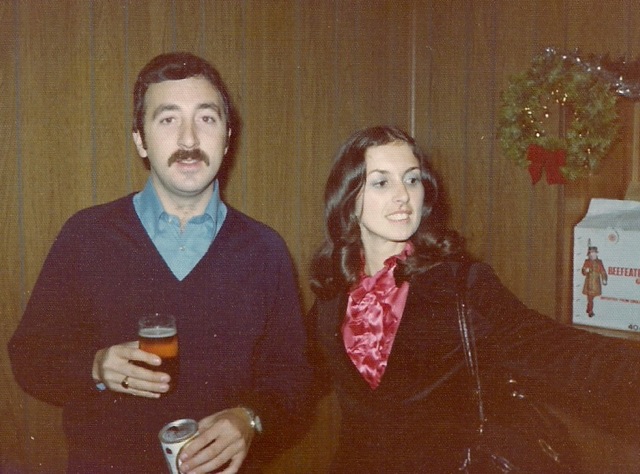 Ray and Debbie Bell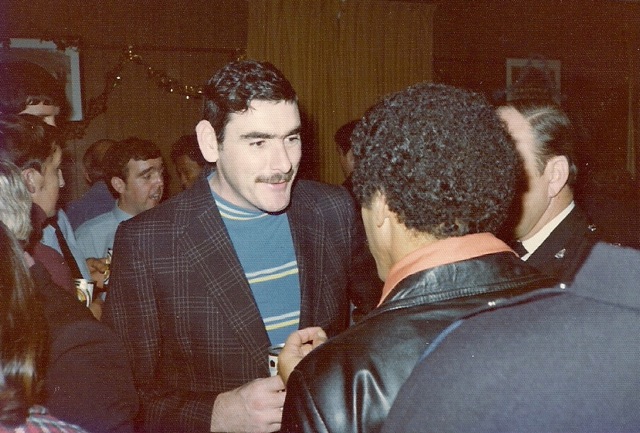 Barrie Meade (centre). On left are Gerry Lyons, Big Mike Parris and Cyril Plant, and
on the right is Jim McMaster. Can anyone identify the guy wearing the black leather jacket?
Some of my memories of those just mentioned: Ernie Moniz was one of the best senior officers I ever had. There was an official hurricane warning out. Ernie was just strolling round Ops. yard, saying, "Everybody is flapping and panicking. I've got my shark-oil in my office and there's not going to be any hurricane." There wasn't.
Eddie "Boxhead" Foggo generated a huge amount of respect in me. I'd arrived in Bermuda with only 7 years of UK experience and looking back, admittedly still a bit of a hot-head. I might be flattering myself thinking I was 'gung-ho' and wanting to give the bad guys a hard time, but Boxhead calmed me down, showed me the right way to conduct myself.
When I was on Traffic, I was often crewed with Barry Higham, it was Barry who was also a maturing influence on me. Bob McDonagh (can't believe he's no longer with us) his nickname was 'Parts', as his body proportions looked like spare-parts, a long back and very short legs. It was really funny to ride behind him on his Police motorcycle, looking very tall in the saddle, but his legs went straight down to the foot-pegs, not bent at the knee at all!
That's all for now. My next offering will be of Gerry Harmer's wedding, Roger's henchmen ("B" Watch Traffic), some members of which also had a great 'influence' on me. After meeting them, I drank more! Also coming up, is an entertainment evening at PRC, with Buster Brown dressed as a woman and Nobby Clarke singing with Dave Parsons.
Hope the editors pencil isn't given too much work to do, all the best to all."
Editors note – We look forward to hearing more from Tony and receiving his photos.