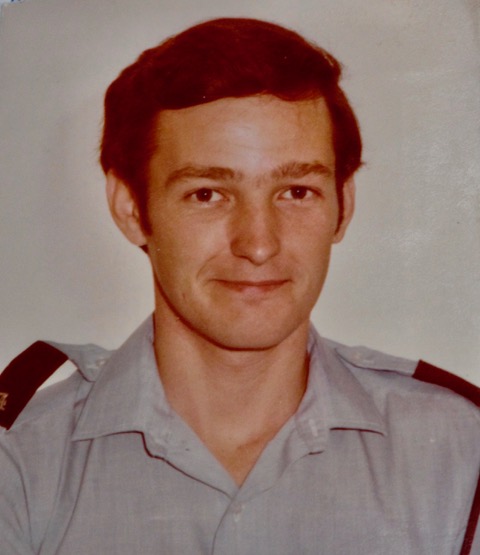 P.C. Gerald "Gerry" Harmer
We have just received the sad news that our former colleague and friend, Gerald "Gerry" Harmer died in England on Sunday 14th May 2023 after a period of illness.
Gerry had served in the Hampshire Police for 4 years prior to joining the Bermuda Police in October 1970. While here he served in Central Division (Hamilton), at Operations (Traffic), on Mobile Reserve, and he was chosen to be the chauffer at Government House for His Excellency the Governor in 1973 prior to returning to the Traffic Department. In 1975 he moved to "A" (Administration Department).
Gerry was a very efficient and much liked police officer during his time here. He met his future wife, Elizabeth, while they were both working here in Bermuda, and Gerry resigned in 1976, and returned with Elizabeth to the UK where he joined the North Yorkshire Police, but later re-joined the Hampshire Police until his retirement in 2003.
We heard the sad news about Gerry through our good friend Dave Cooper who sent us the following information published by his old Force:-
"It is with sadness that I inform you of the death of our friend, colleague and NARPO Hampshire North branch member Gerald HARMER
Gerald who was born in London 15/07/1946 died at Frimley Park Hospital on Sunday 14th May 2023 after a period of illness.
Gerald had served as a police officer for 36 years.
Gerald initially joined the Hampshire Constabulary serving at Fareham then after a short period took a secondment to Bermuda where he served for 6 years.
Whilst in Bermuda, he met Elizabeth a legal secretary and they married. Returning to the UK Gerald joined North Yorkshire Police where he was stationed at Stokesley. He transferred back to Hampshire serving at Aldershot as Station/Custody Sergeant.
He later moved to Fleet from where he retired in 2003.
Gerald is survived by Elizabeth and their son Alex to whom we send our sincere condolences.
Details of funeral arrangements will be circulated when known it is anticipated it will take place at Aldershot Crematorium."
We also extend our sincere condolences to Elizabeth, their son Alex and the rest of their family.
17th May 2023
2nd June 2023
We have just been advised that Gerry's funeral will take place at 1330hours on Wednesday 21st June 2023 at the Crematorium, Guildford Rd, Aldershot GU12 4BP
All enquiries please to Ford Mears, Funeral Directors, 67 Grosvenor Rd, Aldershot GU11 3DZ
Telephone 01252 319457
Gerald's son Alex has been very grateful for the kind words and memories shared by many of you and he hopes that former colleagues will be able to attend the service to celebrate Geralds life and bid a final farewell.