Fiftieth Anniversary for Six in Bermuda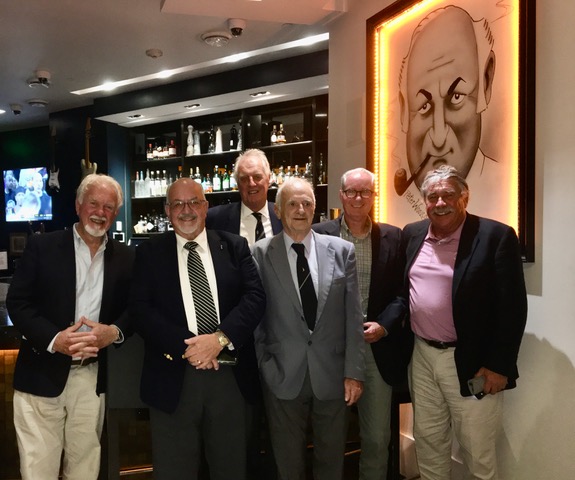 Six celebrate their 50th Anniversary in Bermuda
(l-r) John Dale, Howard Cutts, David Smith,
Neil Anderson, Iain Morrison, and Roger Bydon
We're delighted to report that six members of the group of 20 recruits who arrived in Bermuda 50 years ago to join the Police Force, got together at "Harry's at the Waterfront" Restaurant here in Bermuda on 5th May 2023 to celebrate their 50th Anniversary year since arriving here in 1973
The six former police officers are John Dale, Howard Cutts, David Smith, Neil Anderson, Iain Morrison and Roger Brydon, and we hear they all had a great time catching up, reminiscing and celebrating their 50 years in Bermuda.
Howard Cutts, Dave Smith, and Neil Anderson are all now retired and still residing here on Island, while Roger Brydon spends most of his time in Kentucky but loves to visit us quite often.
Howard Cutts is enjoying retirement and is doing some traveling, going to the gym (for cardiac training only!) and playing golf.
Neil Anderson who served from 1973 - 1999 worked in property maintenance with White Rose Management after retirement from the BPS. Employment at St. John's Church in Pembroke and its adjoining residences led to Neil becoming caretaker to Pembroke Sunday School in 2011 where he continued until getting his own "piece of the rock" at which time he finally retired and now spends his time gardening and looking after his property.
David Smith served from 1973 - 1981, during which time he worked in Central (Hamilton), Traffic and "B" Department at Headquarters. In 1982 he joined the Bank of Bwermuda and had a successful career in finance until 2009 when he started his own company working with private clients. David is an avid golfer and is a member of the Mid Ocean Cub where he's served as Captain. David has also served as President of the Bermuda Rugby Union.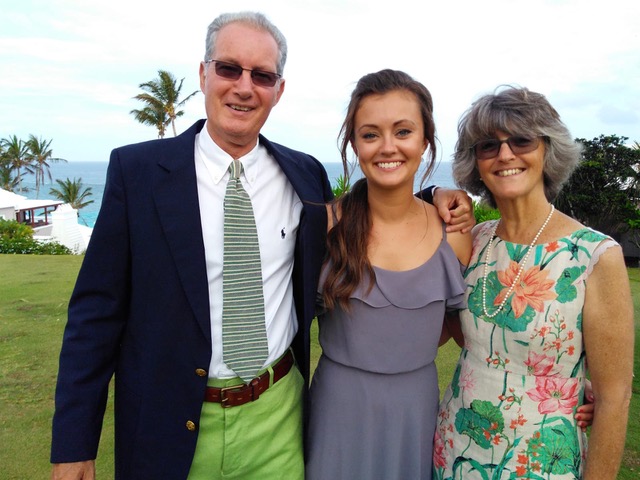 Iain and Jennifer Morrison with their daughter Alanna
Iain Morrison advised us that he and his wife Jennifer are based here in Bermuda but their time is spend between here and Edinburgh, Scotland. After spending 5 years in Spain, their son Calum now lives back here in Bermuda and works in the reinsurance industry, while their daughter Alanna works on a super yacht and during winters in based in Antigua, and in summer generally in Newport and Maine, USA.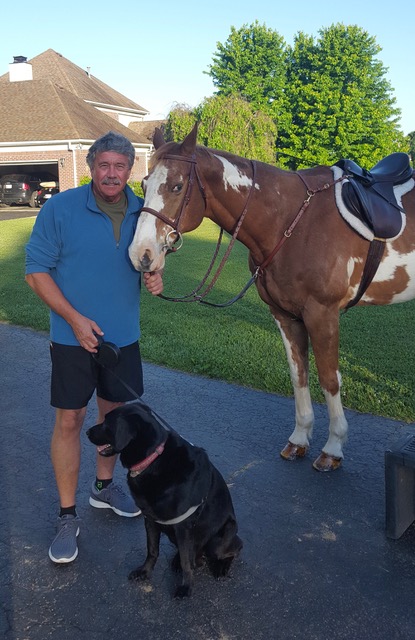 Roger has his hands full with his horse
"Pancho" officially "Kamikazi Kid", and his
black labrador Bentley or "Ben"
Karen is at home riding her
beautiful Quarter horse mare "SeaSea"
under the watchful eye of "Ben"
Roger Brydon served from 1973 - 1998, retiring as Inspector but he resided here in Bermuda for 39 years with careers in the Bermuda Police, Aviation Security, and Manager at a start-up private jet company. He re-married and moved to Kentucky in 2012 where, with his wife Karen they have a 10 acre home in a large horse community north of Louisville. Roger says they've now reduced the number of horses to two, and together with their six cats and a black Labrador they can just about manage their work load! Roger explains that Karen is the horse expert in the family while he fills the role of "Equine Effluent Disposal Technician"! Both of Roger's daughters are married and living in Bermuda (plus 3 grandchildren and one on the way) so Roger and Karen try to visit as much they are able, enjoying the benefits of Island and country living.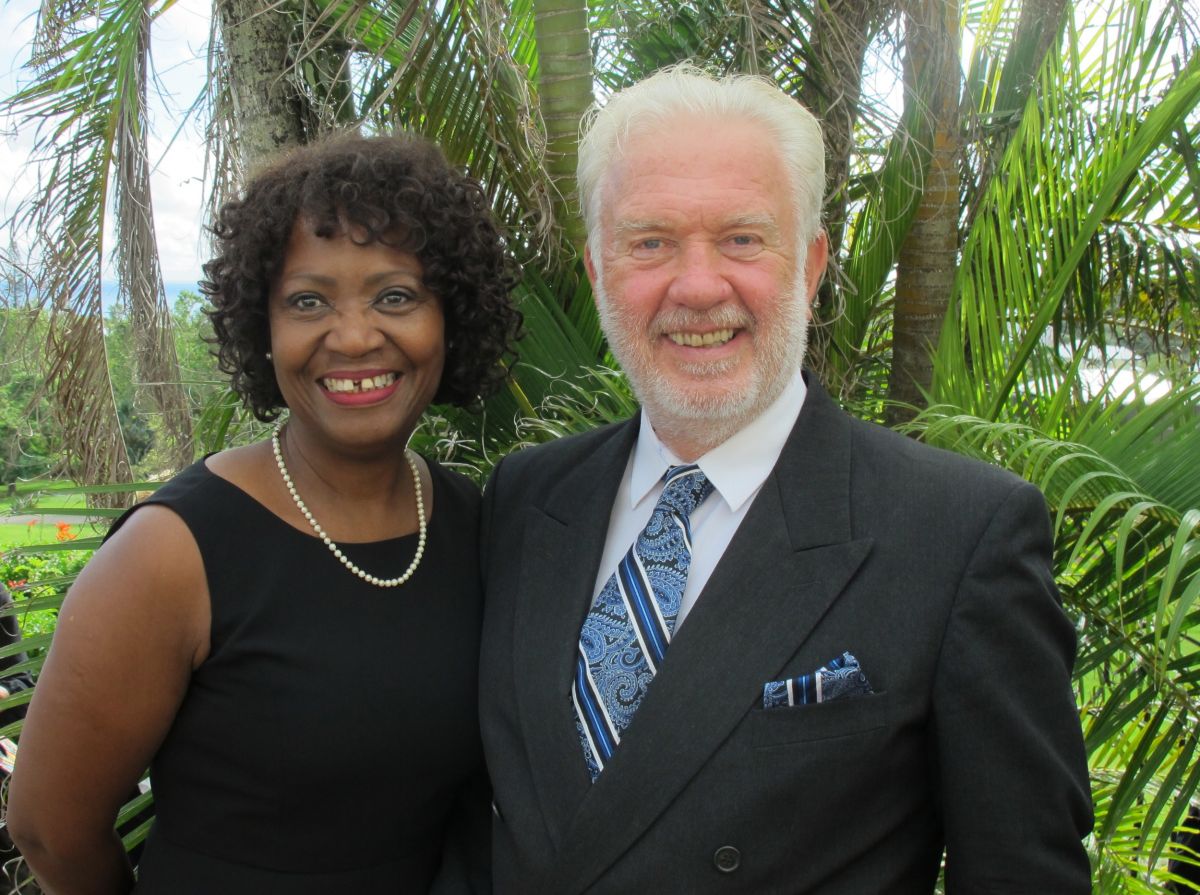 John and Betty Dale
It was John Dale who forwarded the photo of the group of six to us. John and his wife Betty both keep busy and active here on Island and although John had a 2nd knee replacement last year he and Betty like to keep fit and they swim regularly up at the National pool at Prospect. Both are active in their church, and John is still involved with Lodge activities and "acting gigs" with the Dockyard Historical Walking Tour. CLICK HERE to read more about John in an article we published here on our ExPo website late last year.
The other 14 members of their intake back in 1973, were Paul Collins, Angus Craig, Stuart Donaldson, Andrew Donaldson*, Roger Hanley, John Harper, Stuart Innes*, Richard Ironmonger, Anthony Laughton*, Malcolm Martin, Christopher Moyse*, Andrew Smith, Francis Thom, and John Walsh.
On a sad note, we lost both Stuart Innes (CLICK HERE for our article about the passing of Stuart last November,) and Tony Laughton (CLICK HERE for our article about Tony's funeral in the UK. )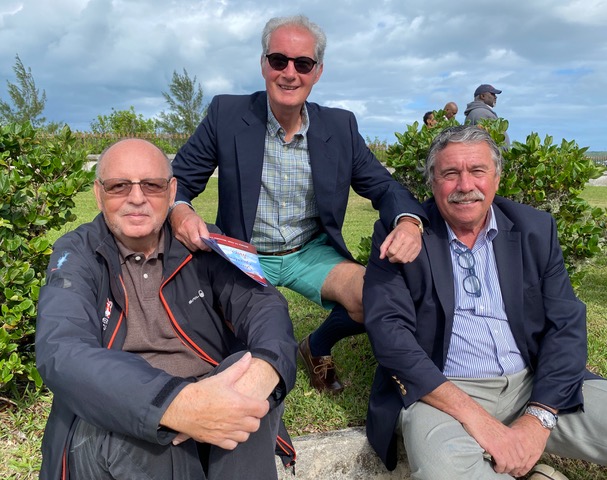 Dave Cooper, Iain Morrison and Roger Brydon at rhe
funeral for Stuart Innes at the Police Cemetery, Prospect
We had previously reported that Chris Moyse had died in 2016 (CLICK HERE for our report.
Very sadly, Andrew 'Andy' Donaldson died in very tragic circumstances in March 1994. Having left Bermuda in 1978 Andy joined the Northern Constabulary in Scotland. We heard from Iain Morrison that while serving as the Force Crime Prevention Officer, based in Inverness, Andy was killed in an RTA. He was driving south to visit his family when he was involved in a head-on collision with an American tourist, who was driving on the wrong side of the road. Iain commented "this was a terrible tragedy. Andy was a good friend and a nice guy."
On 1st January this year we published an article "Are you one of the 78 from 73? This article is about the 78 young men and women who joined the Bermuda Police during the year 1973 and it lists each of those 78 officers together with the date of joining for each one. (CLICK HERE to view the article) If you are one of those officers we would be delighted to hear from.