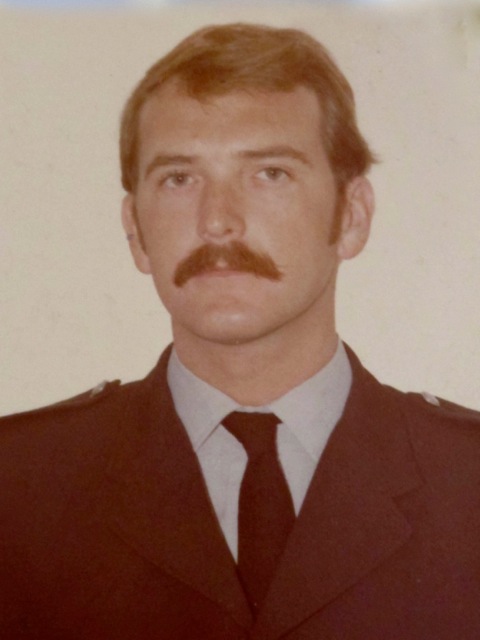 Young P.C. Tony Laughton
We were deeply saddened to report that our good friend and former colleague, Tony Laughton, passed away on Wednesday 8th February 2023, after being admitted to the hospital ITU in Chesterfield on 23rd January with a sudden health condition, having previously been fit and well. His daughter, Jen, was keeping us informed of his condition which deteriorated through the week.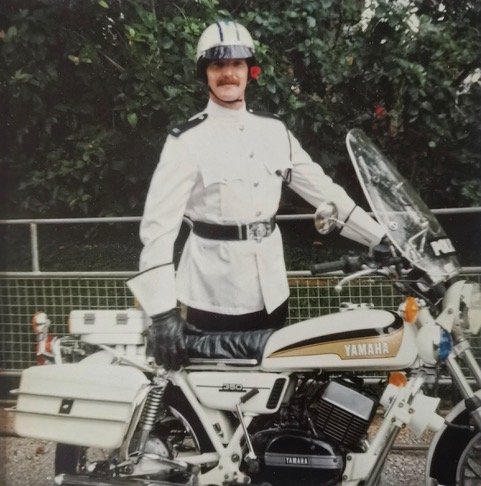 P.C. Tony Laughton on "Mike 11" in MCPS
Tony served here in the Bermuda Police Service from 1973 to 1980, starting in Central Division (Hamilton) for 12 months before being transferred first into Narcotics and then into Operations where he spent most of his service, on "B" Watch in Traffic and in Motor Cycle Patrol Section (MCPS) where he rode "Mike 11". He also had stints in CID, including Murder Room.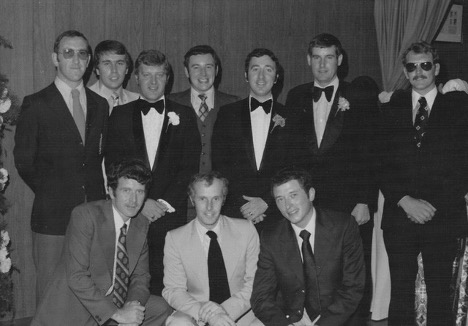 Members of "B" Watch gather for Ray Bell's wedding - 1976
(l-r) Standing - Bob McDonagh, Roger Brydon, Andy Hall,
Steve Peterson, Ray Bell, Barry Higham, Tony Laughton
Kneeling - George Rushe, Roger Sherratt and Roger Beschizza
Tony was a keen member of our outstanding Police Tug o' War Team, and in an article he wrote for our "Then and Now" column (CLICK HERE to view it) he described some of the agonizing training sessions they were subjected to by Pat McBride on the Police Field. Needless to say, the team never complained - and was never beaten!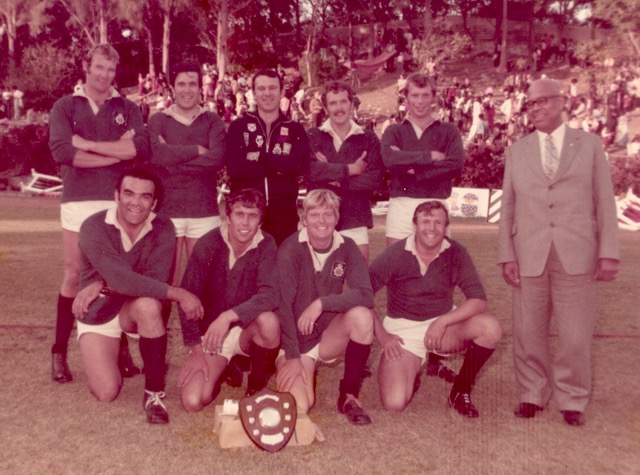 Triumphant Police Tug o' War Team at Annual Agricultural Show circa 1975
Top row (l-r) Alex Arnfield, Mick Richardson,
Dave Garland (coach) Tony Laughton, Paul Deans
Kneeling - Eddie "Boxhead" Foggo, Roger Brydon, Pete Swann and Davie Kerr
Following his return to England, Tony established his own business selling double glazed windows. He also worked for more than 25 years chauffering for Mr. and Mrs Swiffen, and also did part-time driving work. One of his passions was bellringing with various groups and friends in Derbyshire, and they travelled all over the country performing.
Tony would attend reunions of our ex-Bermuda Police colleagues who had re-settled in the UK, and he made clear that he always had very fond memories of his time here in Bermuda. In fact, we understand from his old Derbyshire friend, Dave Cart, that Tony was planning a trip back here in May of this year.
We extend our sincere condolences to his two children, daughter Jen and her husband Dan, and son James and his partner Cristina
EDITORS NOTE
We received the following message from Steve Taylor shortly after posting the sad news about Tony:-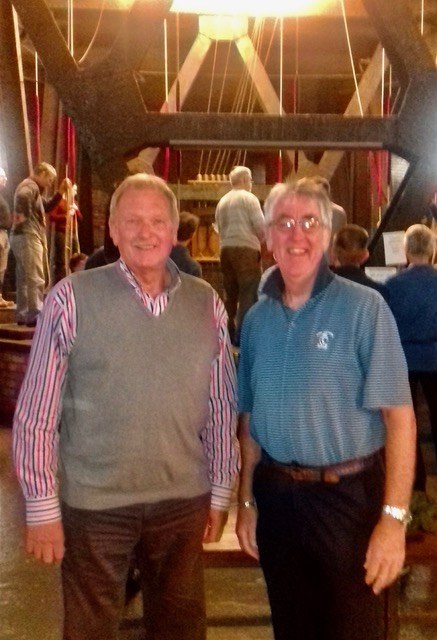 Tony and Steve Taylor get together at Liverpool Cathedral
"I was so VERY sorry to read about Tony "Bumper" Laughton as I woke up this morning, having worked with him on MCPS previously ... I got together with him in Liverpool shortly after my return to my "roots" in 2016 because what people may not know is that he was a member of his local bell ringers at his Church in the Chesterfield area and they had been invited to ring the bells in The Anglican Cathedral on Hope Street in Liverpool and he very kindly invited me to join them which was a real thrill to be all the way UP there in the bell ringing tower to experience that...Rest In Peace Bumper with sincere condolences to his family and friends - sending my very best regards to everyone...Steve Taylor"
28th February 2023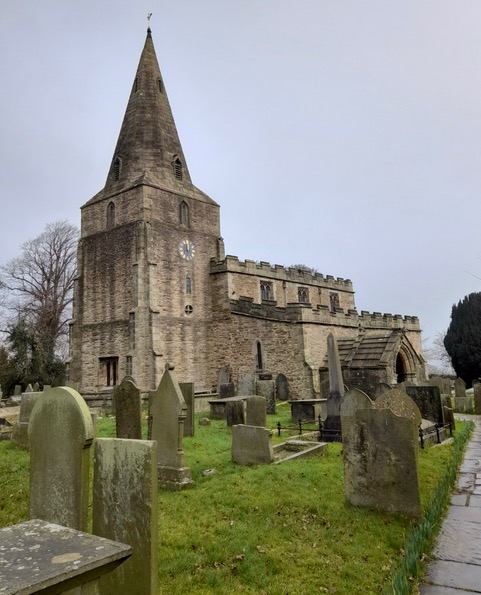 St. Paul's Church, Old Brampton
The funeral for our good friend Tony was held at St. Paul's Church, Old Brampton, on Monday 27th February 2023 with the wake following at The Fox and Goose in Chestefield. In attendance were our Past ExPo President, Steve Taylor, and John "Coco" Eve.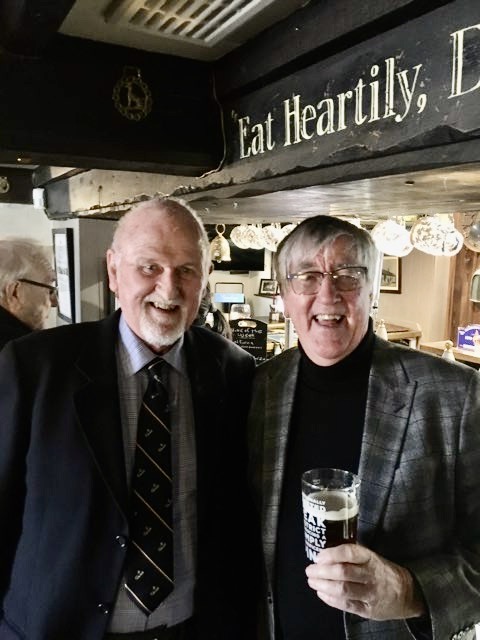 John "Coco" Eve and Steve Taylor
Steve gave the following excellent Tribute to Tony:-
TRIBUTE TO ANTHONY 'TONY" LAUGHTON
"Good afternoon everybody, my name is Steve Taylor and I worked on The Motor Cycle Patrol Section of The Bermuda Police with Tony "Bumper" Laughton for a couple of years.
It is my privilege to have been asked to say a few words today on behalf of Darrin Simons, The Commissioner of The Bermuda Police Service, and Cal Smith, The President of The Bermuda Ex Police Officers Association, and all of the others who worked with Tony and got to know him during his time in Bermuda.
Tony initially joined The Derby County and Borough Police where he worked for 8 years prior to catching that VERY contagious "Wanderlust", as MANY of us also did, and so he applied to join The Bermuda Police, was accepted, moved, and started work in May 1973 as a Police Constable with the collar number 410.
In May 1973 Tony arrived at a very busy and tough time for The Bermuda Police as we were in the midst of investigating the tragic and callous assassinations of The Bermuda Governor, Sir Richard Sharples, and his ADC Captain Hugh Sayers in March, closely followed in April by the horrific murders of a grocery store owner and one of his young employees as they were closing up for the night. These murders closely following the tragic Assassination of our very own Commissioner Of Police Mr. George Duckett, 6 months exactly to the day earlier than His Excellency The Governor."
Tony started his Bermuda Police Career walking the beat in The City of Hamilton, which most of us did initially and which could actually be quite interesting showing off our knees in our Bermuda shorts and wearing our British style "Bobby Helmet" attracting the gazes of lovely young female American tourists who would pester us with questions as they "just loved our accents."
Tony worked in Central Division, Narcotics, CID, and The Murder Room before being moved to the Traffic Division where he completed his Service as a member of the Motor Cycle Patrol Section ( MCPS ) where he was given the Call Sign Mike 11 ( there were 12 of us ) and I had the pleasure of working there with him for a couple of years.
He stayed very fit and active during his time in Bermuda thanks to the rigorous training sessions that he was put through as a member of the VERY successful Bermuda Police Tug 'O' War team, and during his lengthy time on the team they remained unbeaten winning a number of Trophies and Titles.
Tony wrote an article for The ExPo Bermuda website explaining lots more and where you will find pictures of him static in uniform, on his Police bike, and also as part of The Tug 'O' War Team.
All of us who knew and worked with Tony were very saddened to hear of his untimely passing and we all extend our sincere condolences to Jan, James, Dan, and Cristina, and to the rest of his family and friends.
MAY YOU FOREVER Rest In Peace Mike 11..."
A WEBCAST of the funeral service was recorded and can be viewed athttps://watch.obitus.com
User Name - caze4748
Password - 398723