Our Annual ExPo reception was held at the Police Recreation Club on 25th February 2023 after a long period of very little activity due to the Covid pandemic. It was a great relief to finally be able to hold a social function with no health-related restrictions and we were delighted to have over 50 people in attendance.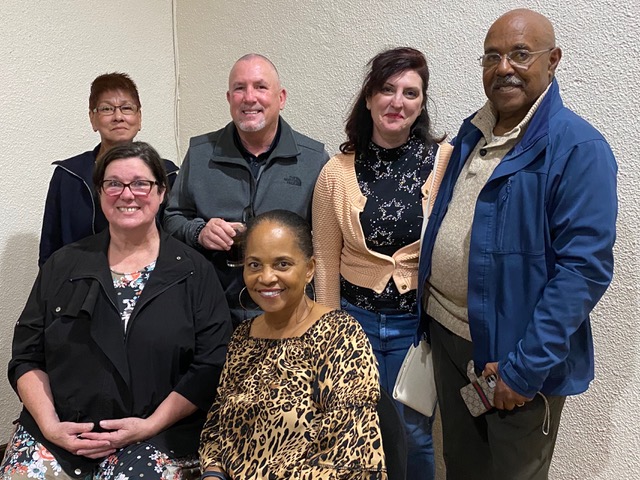 Standing (l-r) Gilda Bartley, Scott Pacheco, Mirela DeSilva, Reese Bartley
Seated - Gail Correira and Beverly Pitt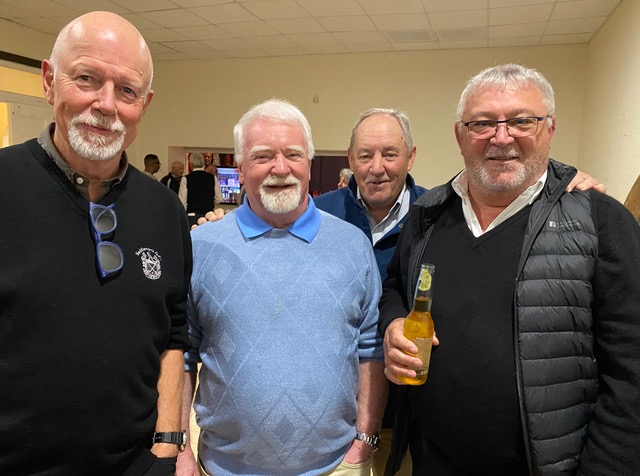 Mike Shaw, Bernie Pitman, Peter Borland and Paul Cranage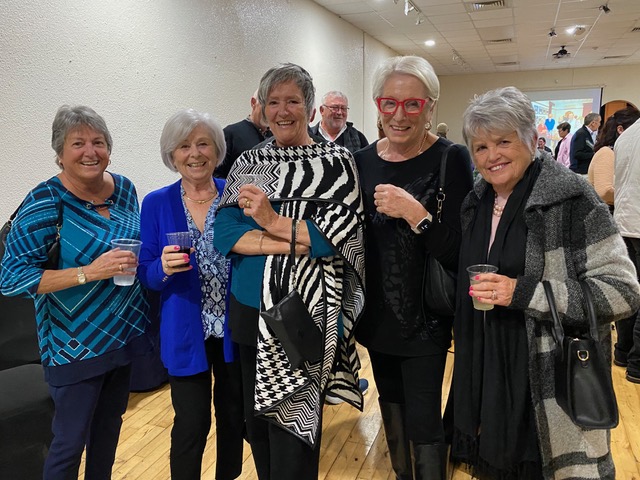 Pam Borland, Sylvia Cart, Audrey Cranage,
Anne-Marie Mooney and Barbara McCreight
I believe it's fair to say that all who attended had a really good time, and one of the highlights of the evening was an extensive slideshow of photos from the past, many of which featured those present which hopefully brought back nostalgic memories for all concerned.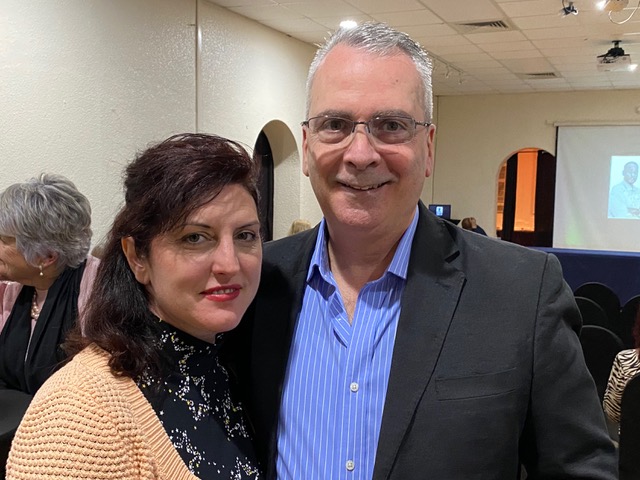 Mirela and Michael DeSilva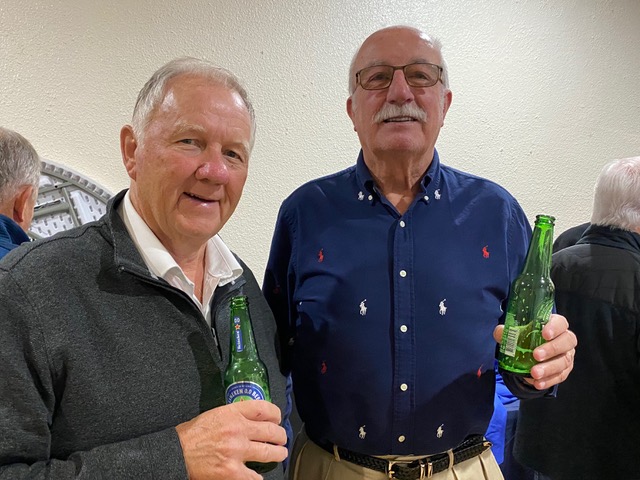 Dave Cart and Charlie Mooney
Attendees included retired Commissioner Michael DeSilva and his wife Mirela. Our two "senior seniors" on the evening were Arthur Bean and Robin Henagulph who were both born in 1939.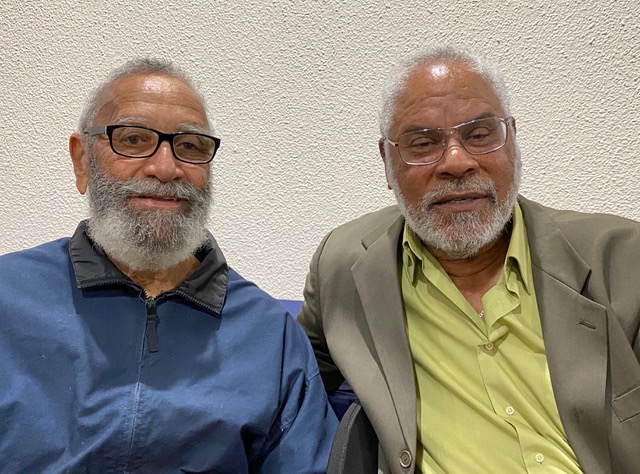 Two super soccer players
Arthur Bean and Clyde "Tango" Burgess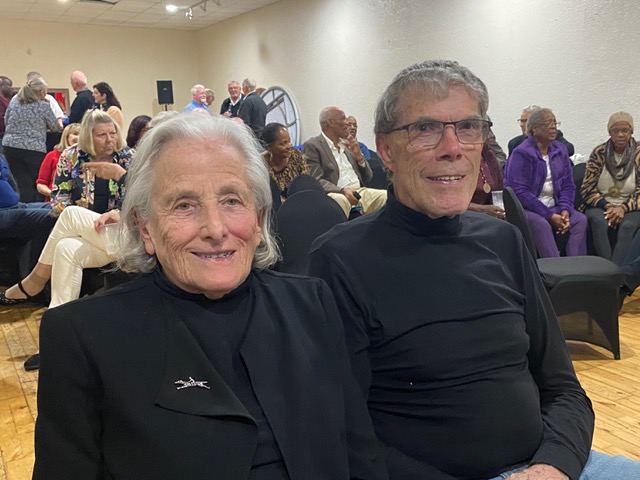 Nadine and Robin Henagulph
The reception was preceded by our AGM at which our current committee members were re-elected en-bloc with the addition of Terry Maxwell. It was noteworthy that all of our Committee members were in attendance at the reception and they are Cal Smith (President), Terry Maxwell (Vice President), Gail Correia (Treasurer/Secretary), Roger Sherratt (Past President) and Carlton Adams, Reese Bartley, Dave Cook, John Skinner, Beverly Pitt and Larry Dean.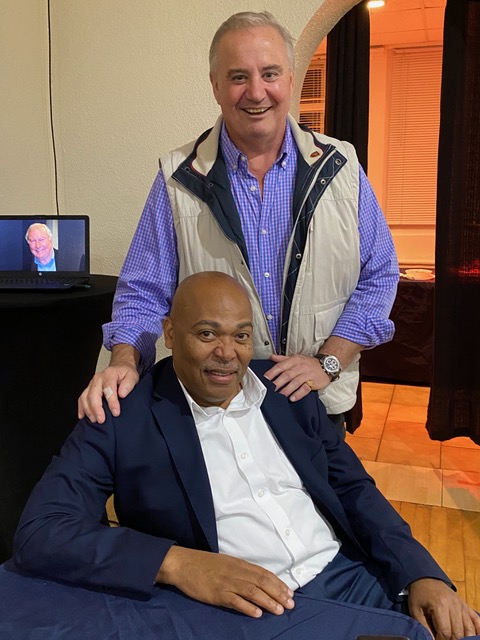 Cal Smith and Terry Maxwell
The AGM started with a moment of reflection for those of our members who passed away during the last year, which included Ralph Lindo, Tony Laughton, Harold Moniz, Owen Marsh, Huron Vidal, Dudley Swan, Chris Oldfield, Stuart Innes, Fred Beard, David Gibbons, John Mulholland, David Small, Bill Bryan, James Mackay, Ron Wallace, Vernon Young, Willie Woods, Roger Blades and Tyrone Smith, along with civilian staff - Carole Royer, Carol Holdipp and Margaret Elliott. You can read more about those we lost during the past year in the Latest News column on our website.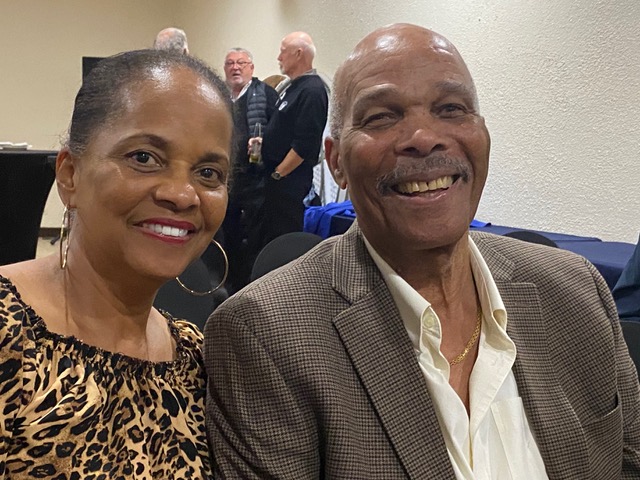 Beverly Pitt and Oliver Bain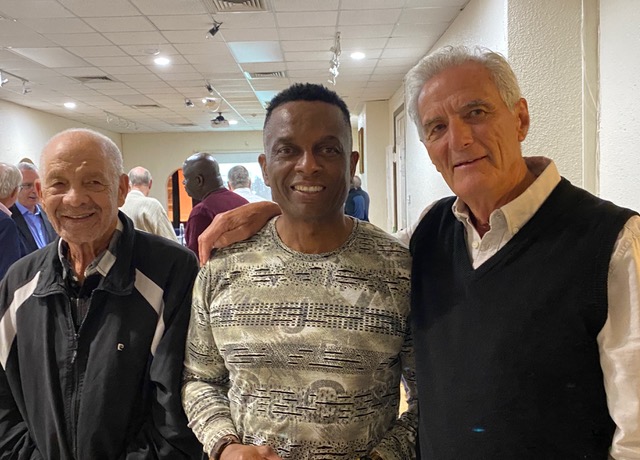 Louis Griffith, Hashim "Winston Estwick, and George Rose
It was most encouraging to hold such a well attended and successful event, and our Committee is already planning several additional more for this year. We would ask you to save the following dates:-
Summer BBQ – Saturday 15th July from 6pm-9pm

Police Memorial Service and Reception - Sunday 1st October
Social/Seminar - Saturday 4th November
CLICK HERE for more photos of the reception.