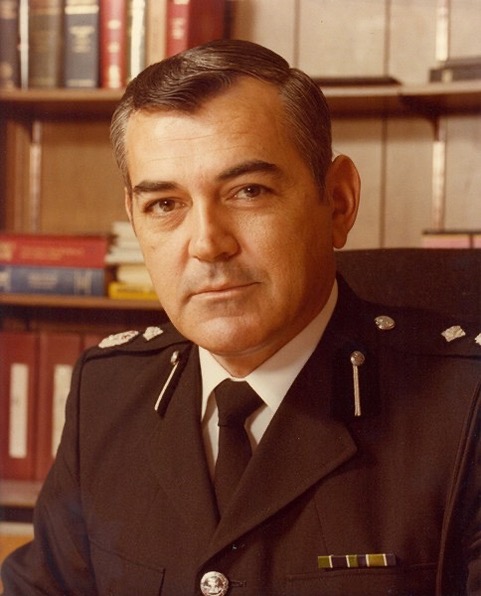 Deputy COP Harold Moniz
We are deeply saddened to report the passing of retired Deputy Commissioner Harold Moniz early today, 4thJanuary 2023, at the age of 83. We understand that Harold had been in failing health for some time.
Harold joined the Bermuda Police on 1st August 1959, at a time when the Police Service did not yet have training courses for local new recruits.
He spent the first year in Western Division (Uniform), then a year in Central Division (Hamilton) before being transferred to Central CID as a young detective in December 1961. In April 1962 Harold was seconded to Operations (Traffic), but two months later, in June 1962 he made history when he became one of the first two young men who were posted to the newly created Narcotics Department.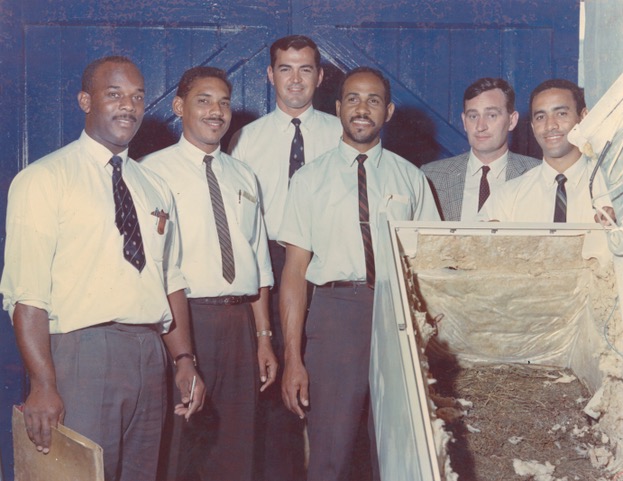 Narcotics Department Officers – early 1960's
(l-r) Fred Bean, St. Clair "Brinky" Tucker, Harold Moniz,
Neville Darrell, Ian Morrison, and Arthur Bean
In 1963 Harold moved to Operations (Traffic) for some 4 years during which time he proved to be an excellent police motor cyclist and he became a member of the Police Motor Cycle Display Team which had initially been formed in late 1961 to provide escorts for His Excellency the Governor, Major-General Sir Julian Gascoigne.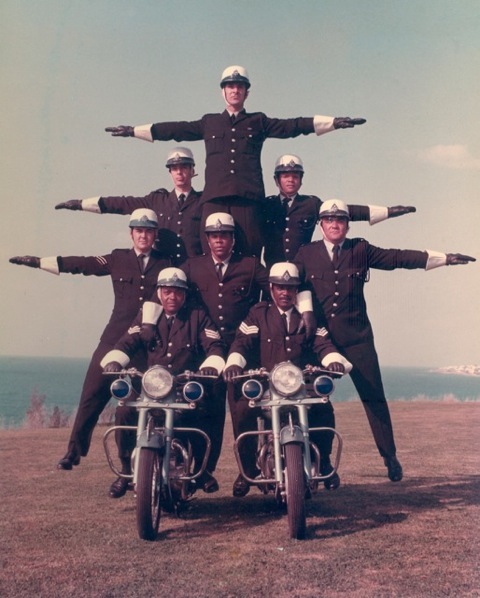 Members of the Police Motor Cycle Display Team
perform their breathtaking pyramid routine
From top (l-r) Tom Cassin, Dennis Brookes and Erskine Warner,
Sgt Harold Moniz, Campbell Simons and Eddie Foggo,
Sgt "Custy" Crockwell, and Sgt. Gerry James
A founder member of the Police Motor Cycle Display Team recalled several members of the Police Traffic Department chasing a young Harold Moniz around the Island on his Motom auxiliary cycle as a teenager prior to him joining the Police Force, and that after joining the Police, Harold had to wait until he was 21 years old before he could be accepted into the Motor Cycle Display Team because the Traffic Act did not allow anyone under 21 to ride a motorcycle with gears.
Harold later took over as the Officer in Charge of the legendary Police Motor Cycle Display Team and was a key member of the team for many years, both for public displays and for escorts of VIP's.
CLICK HERE to view our article on the History of the Police Motor Cycle Display Team.
Harold married his wife, Jill on 27th May 1965, and they had two children, Stephen in 1968 and Suzanne in 1972.
Harold was promoted to Sergeant in 1967 and several months later returned to "E" Department, Narcotics. After a spell in Central CID he returned to Narcotics and was promoted to Inspector OIC Narcotics in 1971 where he oversaw the department at a time when illegal drugs were becoming a major problem on the Island.
In 1978 Harold was promoted to Chief Inspector in charge of Eastern Division. He continued to rise rapidly through the ranks, being promoted to Superintendent in 1979 as OIC Central Division, to Assistant Commissioner in July 1981 as OIC "D" Department, and was later promoted to Deputy Commissioner.
Harold had a first class reputation as a caring and considerate senior officer who had an encyclopedic knowledge of the law, and was always willing to provide guidance to those who worked under his command.
He was awarded the Colonial Police Long Service and Good Conduct medal in 1977, and the CPM 25 year clasp in 1983. He retired as Deputy Commissioner of Police after 40 years service in July 1999.
We offer our sincere condolences to Harold's wife, Jill, to Stephen and Suzanne, and his family, and will publish funeral details as soon as we receive them.
"Very sorry to hear the news about 'H'. Working with him was an experience I'll never forget. A fair and patient man who always had the well being of his staff in mind. A sad day.
My condolences to Jill and Family."
Kind regards
Bob Allan
FROM RAY SOUSA 241
" Sad to hear about the passing of Harold. It was a privilege to work with Harold and his team in Narcotics. They taught me about the importance of team work and helped me develop skills I have used the rest of my life. When I first learned of his passing, I had a vision of Campbell [Simons] meeting him at the Pearly Gates with a brand new powerful shiny motor bike. I can imagine them roaring off as Campbell shows him around. Best wishes to Jill and the family. I often think of ' St. Jill's' fish cakes on a cold, wet Good Friday . That is another story'.