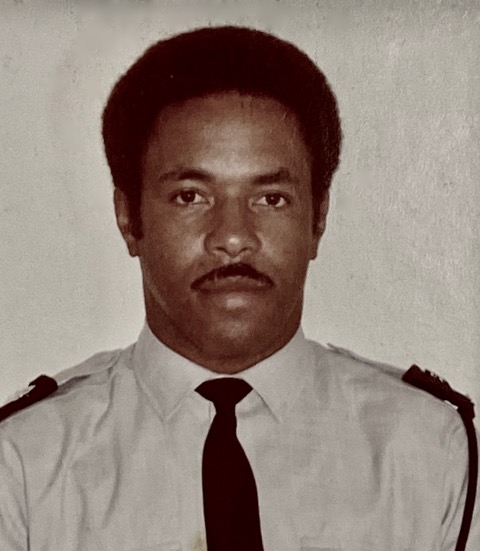 Reese Bartley
We are deeply saddened to report that our very good friend, close colleague and long-serving member of our ExPo Committee, retired Inspector James "Reese" Bartley, passed away suddenly yesterday, Friday 26th May 2023.
This has come as a shock to us all, and we offer our sincere condolences to his wife, Gilda, and to their family.
Reese joined the Bermuda Police in July 1966, and after attending Training School he was posted to Central (Hamiton) for 2 years before being transferred to Narcotics where he remained for the next 5 years.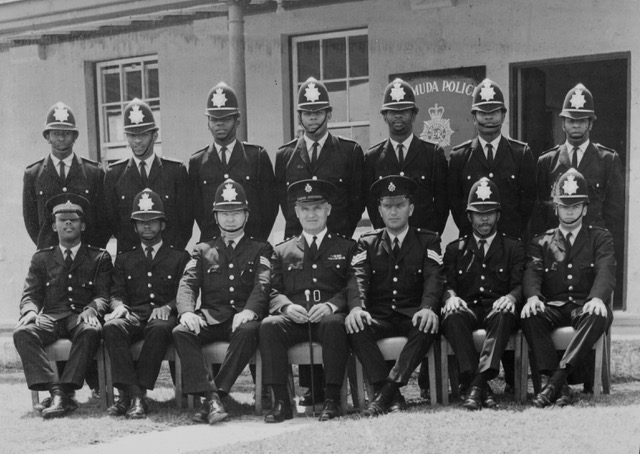 Police Training Course #8 February-May 1967
Top Row (l-r) Hoskins Caddle, Clevie Foggo, Cosbert Cumberbatch,
Bryant Richards, Carl Beckles, Clay Carter, Fred Beach.
Front Row - Larry Smith, Malcolm Hinds, Sgt John Cafferkey,
C/Insp Roy Chandler, Sgt Mike Kelly, Reese Bartley, Stan Hill.
In 1974 Reese transferred to Marine Section were he qualified as a Pilot "C" Class, He was promoted to Sergeant in 1975 and transferred to Western Division (Somerset). In late 1977 - early 1978 he attended the Metropolitan PoliceTraining School in London followed by an attachment to the Hertfordshire Constabulary, after which he returned to Bermuda, and had spells in Eastern Division, and Traffic Division (including Radar) before transferring to Central Division where he remained for 7 years before returning to Eastern Division.
Reese was promoted to Inspector in 1988 and spent the rest of his Service in Central Division until his retirement in 1991.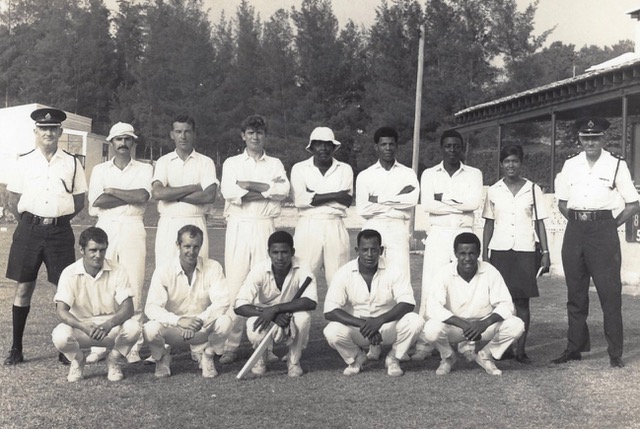 BCA Police Cricket Team circa 1969
(l-r) L.M. "Nobby" Clark, Steve Petty, Peter Stubbs, Paul Field, Cassin Taylor, Dave Purcell,
David Gibbons, Gertie Barker (scorer), and 'Chief' Oliver Trott (No. 1 fan of our cricket teams)
Kneeling - Dick Johnson, Roger Sherratt, Pat Hamlett, Hubert Swan and Reese Bartley
In his younger days Reese was a member of the Police Cricket Team and an active member of the Police Choir. For many years he served on the Police Boxing Committee even after his retirement. Reese has provided sterling service as a long term member of our Bermuda Ex-Police Officers Association Committee, including serving as our Vice Chairman. He and his lovely wife Gilda, have always been strong supporters of ExPo and have helped to organize many of our social events.
Gilda and Reese at one of our ExPo functions
Reese will be sorely missed by all of our ExPo team and all those who worked with him and who knew him.
Again, we offer our sincere condolences to Gilda and to all of Reese's family. We will keep you informed of funeral arrangements.