Assistant Commissioner Ian Morrison
Served from 1953 - 1981
We were deeply saddened to hear that our good friend and former colleague, retired Assistant Commissioner Ian Morrison, passed away on 20th July at King Edward Hospoital, Bermuda, at the age of 96.
The following Tribute has been written in collaboration with Ian's two children, Ernest Morrison and Tina Mann.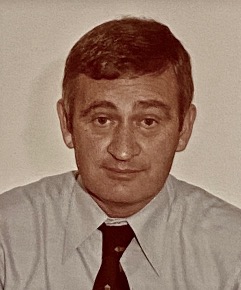 Ian Morrison
Ian Mathieson Morrison was born in Glasgow, Scotland on 27th October 1926. His grandparents were crofters on South Uist in the Hebrides, Scotland. His father Angus Morrison left the Highlands at the beginning of the First World War to join the Cameron Highlander Regiment as a piper. He managed to survive that ordeal and returned wounded to settle in Glasgow, join the Glasgow City Police and play in the pipe band.
Ian's mother, Catherine, was a tram car conductor in Glasgow who died when he was 12.
During the 2nd World War Ian was evacuated from the city to finish his schooling and then spent some time in the Hebrides working on a cousin's farm catching rabbits and harvesting peat. He learned to ride Clydesdale Horses on the farm.
Ian served in the City of Glasgow Police Force from 16th September 1947 until 5th July 1953 as a constable. He passed his Inspectors exam just before leaving the Glasgow force. Ian had a beat in the tough post-World War Two streets of Glasgow and one of his duties was guarding the soccer pitches from unruly Celtic and Rangers football fans. Many years later, when Ernest and Tina questioned their father about a scar on his leg he explained that a drunken perpetrator had attacked and stabbed him at a football match.
In late 1952 early 1953 Ian saw an advertisement for Police recruits in Bermuda and decided to apply.
Following receipt of his acceptance letter from the Bermuda Police, Ian promptly bought a "tropical weight" suit in Glasgow for his trip. The suit did not prove to be as tropical as advertised!
In early July 1953 Ian flew over to Bermuda on a Boeing Stratocruiser as did fellow recruits Donald McDonald, Bert Redford, and KB "Brian" Jones. It was Ian's first time travelling on an airplane. The four recruits became good friends. KB "Brian" Jones passed away only a few months ago here in Bermuda.
They had joined the Bermuda Police at the height of summer, and to put the date into perspective this was just 4 weeks after Her Majesty Queen Elizabeth II's Coronation in London. Ian was working in Glasgow in June when Queen Elizabeth was on her Coronation tour there, and then later that year he was working in Bermuda when the Queen came here.
On their arrival in Bermuda the designated quarters for these 4 new recruits were said to be awful. Ian later related to his family that the quarters were old police dog kennels, although they were never quite sure if that was his sense of humor - or reality! New accommodation elsewhere was found very quickly.
Ian's first posting was to Central Division in Hamilton, but within 3 months he was transferred to Operations, Traffic Department, where he served for approximately 2 years.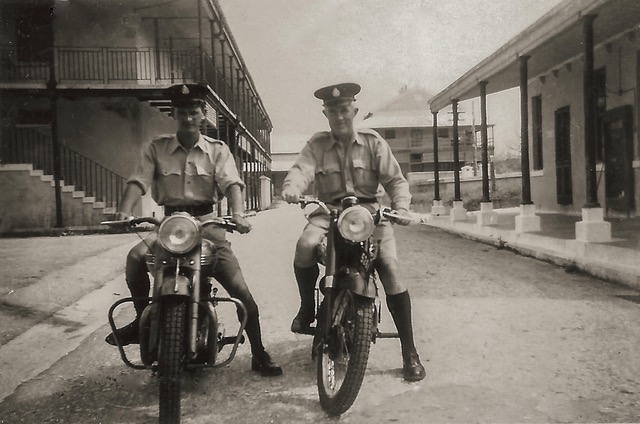 Young P.C. Ian Morrison and another officer
on their Triumph motor cycles at the former
Prospect Garrison handed over to the Police in 1959
Ian was then posted to CID. Whilst in CID he attended a Detective's Training Course at Bishopgarth Police College in Wakefield England, one of our first police officers to do so.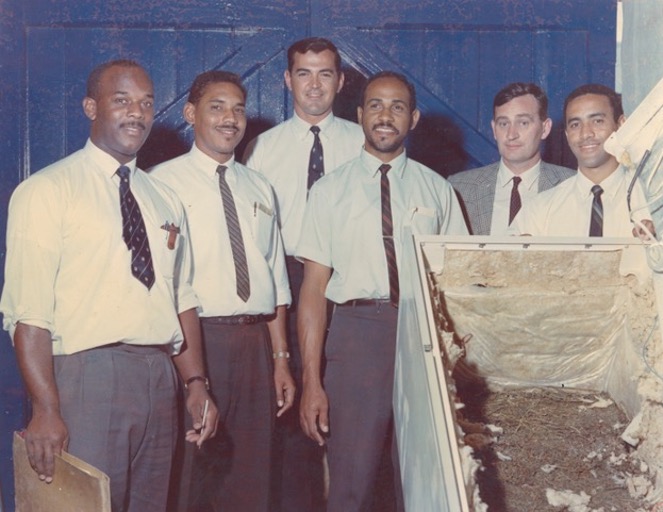 Narcotics Department Officers – early 1960's
(l-r) Fred Bean, St. Clair "Brinky" Tucker, Harold Moniz,
Neville Darrell, Ian Morrison, and Arthur Bean
While in CID he liaised closely with the newly formed Narcotics Department and is photographed here with members of the Narcotics Squad with a large drug seizure.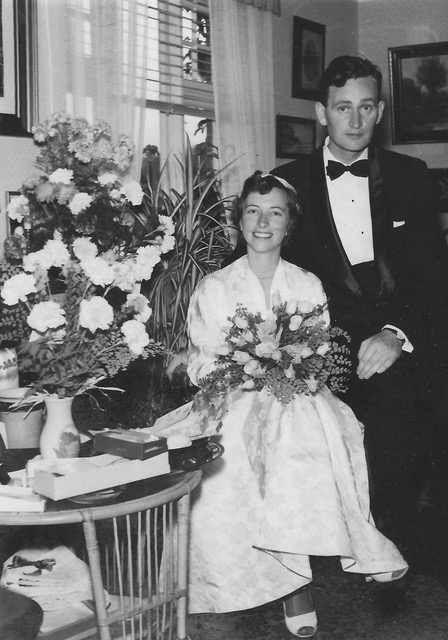 Ian and Lis on their wedding day in Denmark
It was here in Bermuda, that Ian met the love of his life, Lis Hansen, at a Police Club function. Lis came to Bermuda from Denmark as a nanny for three of the children of John and Hillary Barritt and later worked in Triminghams behind the counter and ultimately as Perfume Buyer. They married in Denmark in July 1957. Ian apparently didn't understand a word of the ceremony - or the celebrations afterwards!
Ian and Lis had two children, Ernest who was born in December 1957, and Tina who was born in February 1962.
Ian made a pivotal change in his police career when he was one of four officers to be posted to Special Branch which was officially created in 1961. He had been promoted to Sergeant in August 1960, and it was Ian who interviewed a young lady who was being hired as a secretary and whose duties would involve helping to set up Special Branch.
Diane Donald had arrived here with her husband after working for several years as a secretary with the London Metropolitan Police. Diane was duly hired, and she recalls that her first task was to help set up Special Branch with the assistance of a female member of MI 5 who came out to Bermuda to specifically advise on setting up a complicated filing system for the department in the days long before computers. CLICK HERE to view Diane Donald's article in our "Then and Now" column.
The four police officers were Superintendent John MacGregor, Sergeant Ian Morrison, Peter Stubbs and JCP "Jim" Hanlon. They were soon joined by Hubert Simmons, Mike Kelly and Harold Moniz.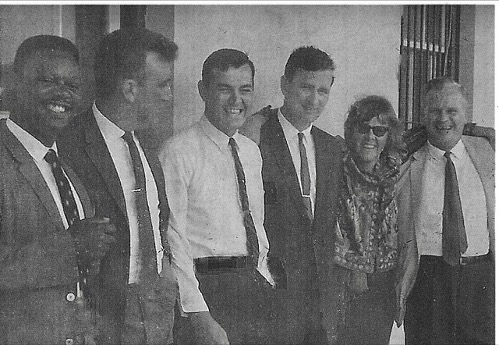 Special Branch Team
(l-r) Hubert Simmons, Mike Kelly, Harold Moniz, Ian Morrison,
Gail Endres and John MacGregor
With the departure of Superintendent MacGregor in early 1964, Ian was promoted to Inspector in Charge of Special Branch. He spent most of the rest of his service in Special Branch, and in December 1971 he was promoted to Superintendent in Charge of "E" Department .
Police squash players circa 1967
Standing (l-r) Fred Bean, Roger Sherratt, Clive Donald, Ian Morrison, Arthur Rose
Kneeling - Ian Scotland, Peter Stubbs and Gerry James
Ian's favourite sport when he came to Bermuda was golf, but he was one of the first of our police officers to take up the game of squash after the Police took over the former Prospect Garrison in 1959. There was an old squash court at Prospect which was built around 1930, and although somewhat dilapidated, a group of young policemen, with no prior experience of squash, took up the sport and found it an ideal way to keep fit. Ian played in squash matches against visiting Royal Navy teams.
It is said of Special Branch that they operated on a "need to know" basis and, of course, their work was always very confidential. Ian always avoided publicity, but in speaking to numerous fellow police officers who served under him in Special Branch, he was held in the very highest esteem, and was said to have a great sense of humor.
As a new young police officer Ian had been commended by the Magistrate in a case before the courts in 1954 for "vigilance and devotion to duty". In February 1958, he received a Commissioner's Commendation for "vigilance and persistence to duty which resulted in the arrest of a man for shopbreaking, and for the recovery of property", and in April 1960 he was commended again by the Commissioner "for good work done in the investigation of a case of obtaining money by false pretences."
While in CID Ian attended a Forensics Course in Nottingham, England in 1960, and in 1963 he attended a course at the Scottish Police College shortly before his promotion to Inspector.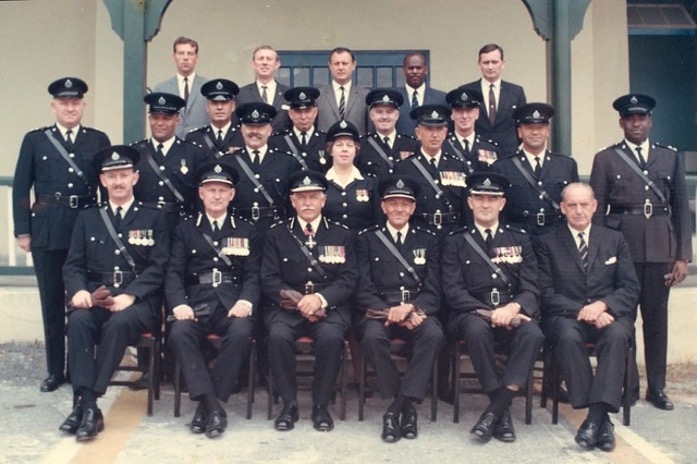 Bermuda Police Senior Officers - circa 1967
Top row (l-r) Peter Stubbs, Les Waddell, John Joe Sheehy, Fred "Penny" Bean, Ian Morrison
Middle row - Tommy Doyle, William "Syke" Smith, Derek Taylor, Dave Parsons, Jim McMaster,
Isabel Lee, John Mullan, Robert "Bob" Ball, Douglas "Red" Hebberd, Alan "Harry" Lister, Leon Bean.
Seated - Joe Nixon, Frank Williams, COP George Robins, Oliver Trott,
Leroy "Nobby" Clarke, Frank "Gruff" Hammond.
Ian was awarded the Colonial Police Medal in 1968, and in 1978 he received the 25 year clasp to his Long Service Medal. In 1976 he was awarded the Queen's Police Medal for Meritorious Service.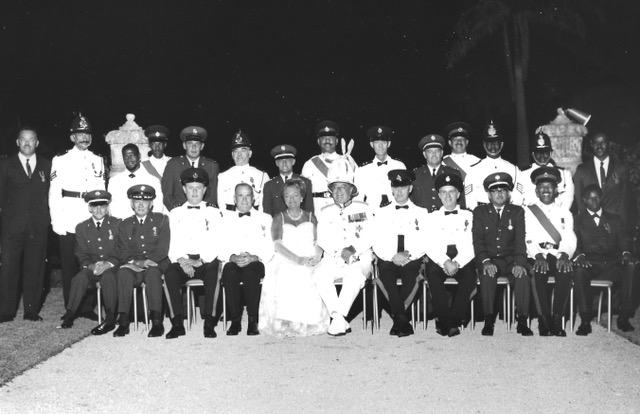 Recipients gather at Government House in 1976
to receive awards from H.E. The Governor, Lord Martonmere.
Supt Ian Morrison, who was awarded the Queens Police Medal
for
Meritorious Service, is sitting on front row next to His Excellency
Prior to his retirement in November 1981, Ian had been promoted to Assistant Commissioner, and for the last 6 months of his service he held the rank of Acting Deputy Commissioner.
Ian's children, Ernest and Tina, recall that when Ian retired, framed signed photos of Edward Heath and Henry Kissinger appeared on the walls of their parents TV Room, and a bottle of Czechoslovakian slivovitz appeared in the liquor cabinet.
Following his retirement from the Police Service, Ian became a Trust Officer with Conyers Dill and Pearman. He qualified as a member of the Chartered Institute of Secretaries and worked at CD&P for 10 years prior to his second retirement.
Ian was a great believer in continuing education. He took advantage of courses offered here in Bermuda by Queens University, Canada, during the summer months. He enjoyed learning new things and had a computer and the internet as soon as they became available. He loved his iPad and used it every day for correspondence, games and online articles. Recently he really loved being able to watch live football from Scotland and all over the world through the internet. He thought that was awesome!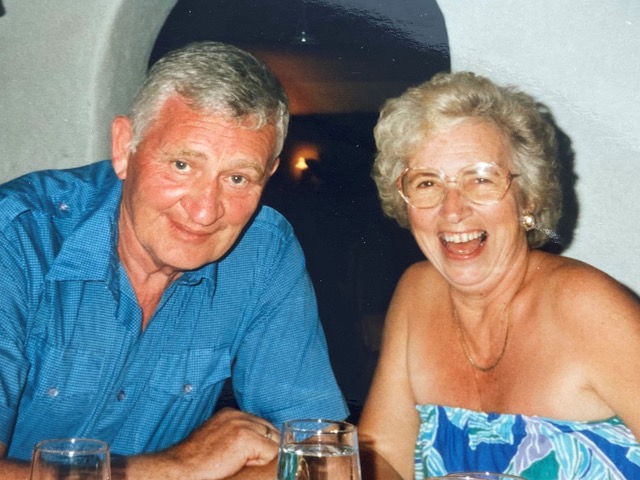 Ian and Lis on holiday in Barbados
Ian enjoyed his retirement with Lis and they spent many summers in Denmark and winter holidays in Barbados.
After Lis passed away in February 2009, Ian regularly met his grandchildren for lunch. On occasion a person would greet him in a restaurant and wish him well. When asked who the person was he would sometimes say "a former client". He never gave away any details about his work in the Special Branch to any of his family.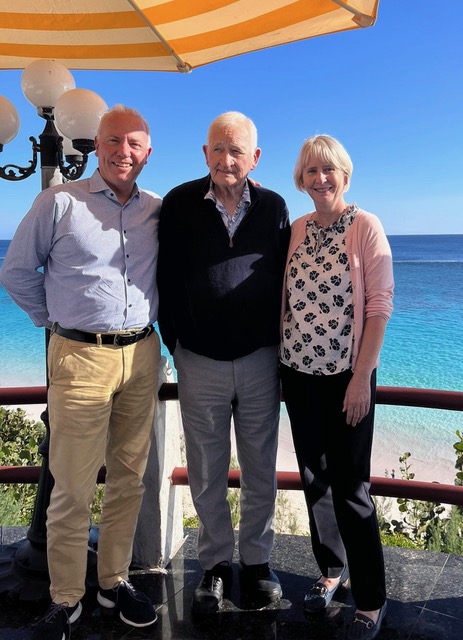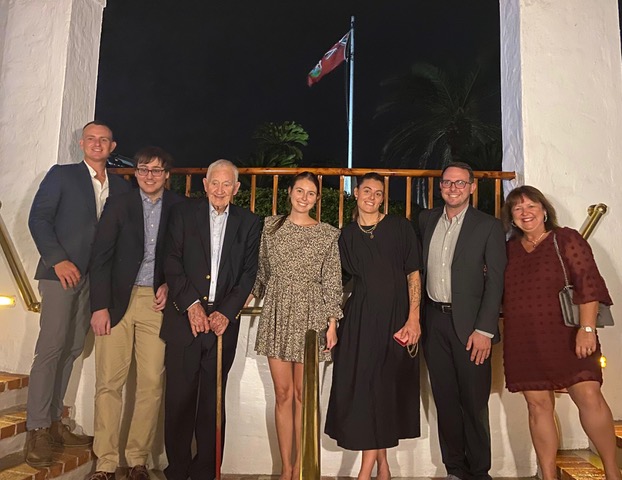 Ian celebrates his 96th Birthday with his grandchildren
(l-r) Luke Morrison (grandson), Jason Mann (grandson), Ian, Georgia Morrison
(grand-daughter), Rachel Petty (Luke's partner),
Conor Morrison (grandson), Alison Morrison (daughter-in-law)
Shortly after receiving the sad news about Ian, retired Superintendent Andrew Bermingham, who worked closely with Ian in Special Branch, wrote the following:-
"Ian Morrison served with great distinction in the Bermuda Police being awarded the Queens Police Medal and the Colonial Police Medal for Meritorious Service. He was also appointed as a JP and chaired the Police Complaints Authority.

"But it was in Special Branch he made his name, so much so that it became known as 'The Force within a Force'. An exemplary life with so many accomplishments ."
Without doubt, Ian had an outstanding career in the Bermuda Police Service and greatly contributed to the effective administration of a department that quietly played a vital and invaluable role during some of the most difficult times in Bermuda's history.
Ian's family have planted a Bermuda olivewood tree in his memory in his garden. His family also plans at a later date to inter his ashes with Lis in Lundeborg, Denmark.
EDITORS NOTE - CLICK HERE for Ian's obituary in the Royal Gazette where condolences can be sent to the Royal Gazette Legacy page.
6th August 2023