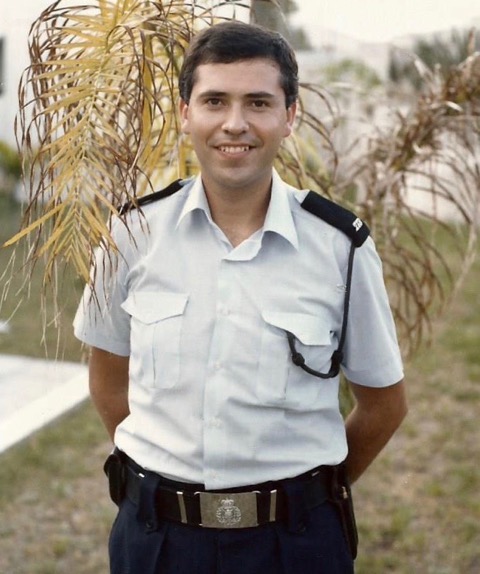 It is not often that we go to quite such circuitous lengths to catch up with one of our former colleagues, but such was the case with former P.C. Mark Vincent who served here in the Bermuda Police from 1985 - 1993.
A photo of a policeman in Bermuda Police summer uniform was recently posted on a twitter feed and mentioned that the officer would soon be retiring from his Force in the UK. The photo was spotted by Ben Caulkett, the eldest son of former P.C. Mike Caulkett (served 1964-1970). All we knew at first was that the officer was named "Vincent" and a quick check revealed that Mark Vincent had arrived in Bermuda as a young P.C. in March 1985. He was identified from the twitter photo by Deputy Commissioner Paul Wright who arrived on the same date as Mark, and happened to have Mark's email address.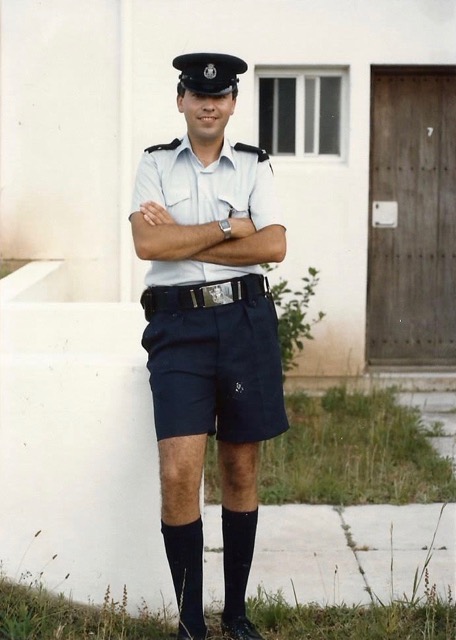 Mark in summer uniform outside Police Barracks, Prospect
Mark had joined the Bermuda Police on 7th March 1985 as one of 14 new recruits from the UK. These were Glyn Jones, Mark Allen, Alan McFall, Ian Ringrose, Meirion Roberts, John Hoefkens, David Peach, Nicholas Turnbull, Alan Johnston, Gary Osborne, Gary Staines, Paul Towlson, Paul Wright, and Mark.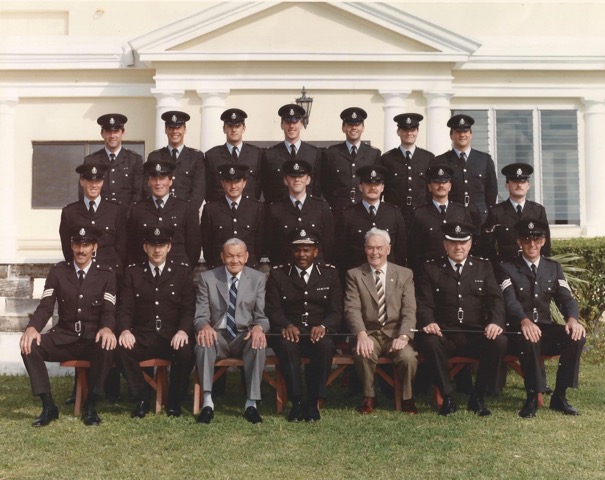 Police Training Course - 1985
P.C. Mark Vincent is 3rd from right on top row
Mark has written to say that after his Induction Course he spent two years in Hamilton (Central Division) before moving to Special Branch in 1987.
He was an avid squash player, and while here in Bermuda he met and married his wife Debbie.
Mark and Deb left Bermuda in 1993, and returned to the UK where Mark joined the Hertfordshire Police on response and control for the next 5 years before transferring to the Lincolnshire Police where he bumped into Jon Pearson who was also an ex-Bermuda "Bobby".
While in the Lincolnshire Police, Mark was seconded to Norfolk Police on a cross border Intelligence Unit in response to the shooting of traveller Fred Barras by Norfolk farmer Tony Martin (a controversial case of self defence).
Mark returned to the Lincolnshire Police in 2006, where he was promoted to Sergeant and spent the next two years in an Intelligence Unit.
He then took up a post in the Anti-Corruption Unit, conducting investigations into corrupt police and staff. Mark says, "I have a real passion for this type of work and have been recognised nationally around the work I conducted in the Unit presenting cases to College of Policing and at national conferences."
As mentioned earlier, Mark's last working day was 20th May, and he and Deb spent a weekend in London before flying to Abu Dhabi then onto the Maldives for a well earned vacation. They have two sons who both have inherited their father's "police genes"! Alex, aged 21, is with the Lincolnshire Police in their Control Room, and Josh, aged 22 is a High Tech Criminal Investigator.
Mark is planning to visit Bermuda in August of this year (2016) with his family, and is looking for a rental property for their stay. If anyone knows of a suitable home or accommodation in a good location and with good facilities we would be delighted to pass it on to Mark.