This section of our website is intended for you to keep in touch with all of your fellow colleagues who have served in the Bermuda Police. We started this column by putting all entries on one post but soon realized that it would stretch for far too long so we are doing it by each year- and this one is for 2021.
We welcome news, however brief, and would also encourage you to send us recent photos. Sadly we sometimes have to report "bad" news such as illnesses - or worse - but we are always delighted to receive positive news! We can be contacted through our email address or through the comments column at the bottom of each article, including this one.
Athough entries in this column are usually in chronological order, the article highlighted in blue below about the 50th Anniversary Year for those who first joined the Bermuda Police back in 1971, will remain at the top of the column. Just scroll down below the blue artice for the rest of our news for the year.
50th Anniversary Year - 1971 - 2021
2021 has marked a significant milestone for all those young recruits who joined the Bermuda Police 50 years ago, during the year 1971. A check of our records indicates that a total of 69 young men and woman joined during that year. Sadly, we have lost a few since then, but if you are one of the 69, or you want to check on who joined that year you can CLICK HERE to view an article in our Interesting Articles column which includes a list of our 1971 recruits.
2nd December
APOLOGIES FOR SLOW DOWN IN PUBISHING ARTICLES - For the last couple of months we have had a number of technical problems plaguing our website, not the least has been with the the facility allowing members to make comments under our articles. We were having a huge number of scam emails inundating the Comments section, which was a major cause for concern because prior to publishing any comment we have to check first to make sure it is genuine and that it does not put us at risk of being sued for libel etc.
We can now report that within a matter of a few days we should be fully back to normal, and that we should have a new facility where our members will be able to post comments in a way that should avoid all those scame emails. We will be giving youj more detais about the new system abnd about how you will be able to log in to make comments.
In the meantime we would ask that if you have any news about yourself or your old colleagues that we could share with our readers we would be delighted to hear from you. With that in mind here are two posts we have recently received, one from Bob Kinnon and one from Mike Ross.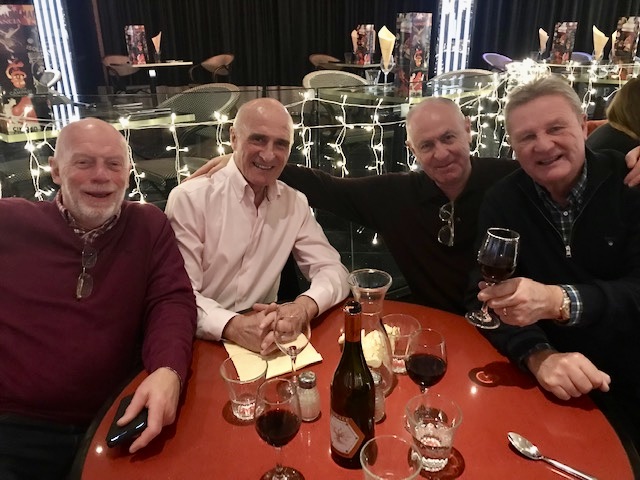 Get Together in Leeds - November 2021
(l-r) Paul Deans, Gerry Benson, Don Urquhart, and Bob Kinnon
Kinnon Strikes Again! - We've just received this photo of 4 of our former colleagues who just got together at a restaurant in Leeds to reminisce about "The Good Old Days"!
Bob Kinnon has written to say that the four guys, Paul Deans, Gerry Benson, Don Urquhart, and Bob enjoyed a great night reminiscing about their unforgettable times in Bermuda. Paul had travelled to Leeds from his home in Northampton for the reunion, while Don had travelled to Leeds from Northern Ireland where he was visiting his mother who is 105 year old. He is in the UK until February when he will be returning to Oz. Bob's home is in Leeds, while Gerry Benson lives not far away in West Yorkshire.
CLICK HERE to read more about Don Urquhart in our "Then and Now" column
CLICK HERE to read more about Bob Kinnon in our "Then and Now" column
CLICK HERE to read about Gerry Benson and his super talented children who didn't fall from the tree when it comes to physical fitness, with his son Gordon an internationally successful chamption tri-athlete.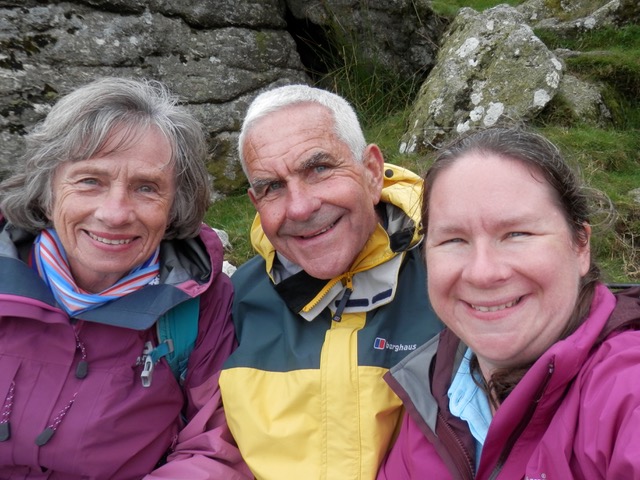 Mike Ross with his wife Rosemary and their daughter Catherine
Mike Ross - We heard recently from Mike Ross who served here in the Bermuda Police from 1975 - 1982. CLICK HERE for our ExPo "Then and Now" article on Mike.
Following his time in Bemuda, Mike returned to England with his wife, Rosemary, and their young daughter Catherine who was born here, and Mike re-joined the Hampshire Police where he had served prior to coming to Bermuda. Mike rose to the rank of Inspector before retiring in 2004, and since then they have returned several times to Bermuda for holidays, with their last visit being in 2016 along with Catherine - until then a teetotaller - where Pat Hamlett introduced her to "Dark and Stormy" at the Police Club. We hear that she is no longer a teetotaller!
Mike had written to say, "I turned 70 in 2018 and by way of a special celebration Rosemary, Catherine and I undertook a Steam locomotive driving experience, something I had always wanted to do. All day driving a real locomotive on the Severn Vally Railway, under supervision, with a full rake of 7 coaches behind for good measure. Another ambition realised was climbing Scafell Pike, England's highest mountain. Just the Fjords and northern lights cruise to make the hat trick but they can wait a year or two.
"2019 saw Rosemary's 70th birthday and our 40th wedding aniversery so in June we did a 12 day small coach guided tour of Scotland and the Northern Isles, returning by way of the most northerly road round the Scottish mainland. The whole trip was an unforgetable experience. It was as well we didn't delay it as Covid would have scuppered our plans.
"One of my pastimes, as well as walking, is Morris dancing. If you care to Google Men of Wight mixed morris dancers you might even find a picture of yours truly in a silly outfit and top hat.
"Catherine is still single and living in Columpton a small town just north of Exeter. As it is equidistant from Exmoor and Dartmoor she is well into running and hill walking and we do a fair amount whenever we visit. She is the chief archivist at the Meteorological office in Exeter and thoroughly enjoying her job."
It sounds as though Mike and his family are keeping active despite Covid which is good to hear. I should also mention that I had written to Mike a few weeks ago to remind him of the time back in the late 1970's when my young sister came out to Bermuda to visit us. She was an avid horse rider, and Mike very kindly took her for a never-to-be-forgotten ride along Elbow Beach on two horses that were partly owned by Marje Amos.
25th October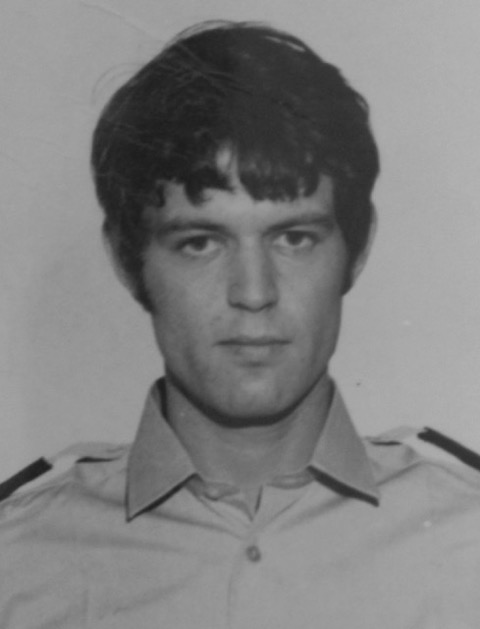 Young P.C. Pete Clemmet
PETE CLEMMET - We just heard from our good friend and colleague Pete Clemmet who served here in the Bermuda Police in the early 1970's. Pete's time in Bermuda had a very significant impact on his life because after spending a couple of years in uniform he was transferred to CRO where he was introduced to photography – and obviously took to it because after 5 years here he returned to the UK and set up his own photography business, eventually moving to Florida to set up another photographic business which proved very successful.
Petet wrote to say, "I'm still around, languishing, here in Florida. I check out the RG most days, bit of a habit, seems things there have been somewhat difficult for the past couple of years. Things in the US are far worse both politically and socially as you've no doubt read. I think our generation have had the best of lives and I don't like to imagine the future for my recent grandchild. Who would have thought that one moronic man could have so much sway?
However, I have attached a pic I found the other day of the rugby team of 1974 which I took on their way to Charlottesville where they lost every game they played against the American hosts. I remember how all the US teams arrived and camped out in the woods and immediately began training while our lot booked into a motel and went straight out to party.
My wife Josie and I have been hunkering down now for 18 months, we usually spend a few months in Italy during our scorching summers but gave it a miss this year due to travel restrictions. Come next year we will be off again. Josie has a daughter and grandchildren there and she's also a dual Italian citizen. We shall be having a good look around with a view to maybe moving there. I can hardly believe where the last 51yrs have gone since I stepped off the plane and was immediately rushed off to a riot, those were the days eh?
Pete has kindly sent us an an excellent photo he had taken while here in Bermuda which will soon be featured in our "Who, Where and When" column.
CLICK HERE to view a brief article we published in 2015 when we were asked to post a "Wanted Notice" for Peter as requested by the Police in the UK !! We wish him and his family all the best wherever they decide to re-settle.
EDITORS NOTE - It would appear that CRO or SOCO has proved an ideal stepping stone for at least 3 of our former Bermuda Police Officers who took up photography whilst serving here, and have gone on to highly successful careers as professional photographers. In addition to Pete we have Phil Bermingham and Ernie McCreight. Both Phil and Ernie have written excellent articles for our "Then and Now" column, and it's said that "A picture in worth a thousand words" Here are two such "pictures"!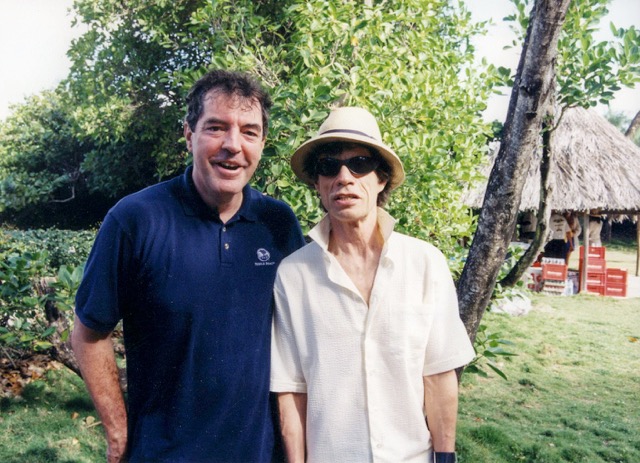 CLICK HERE to read our "Then and Now" article on Phil Bermingham
and confirm the identity of his next door neighbour in Mustique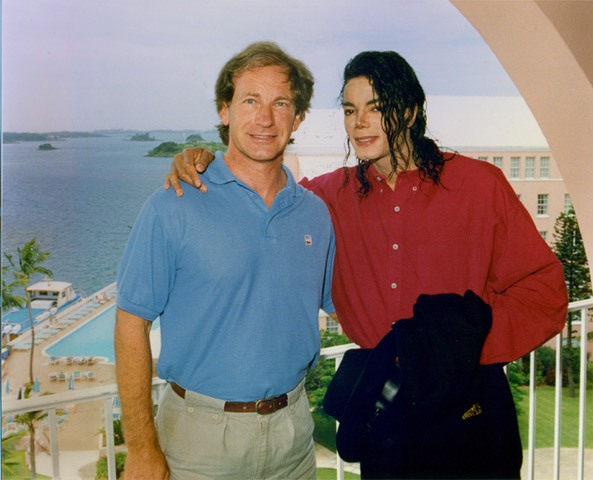 CLICK HERE to read our "Then and Now" article on Ernie McCreight,
and
"Yes" that's who you think it is with Ernie at the Hamilton Princess Hotel.
18th October
Getting Together in Calgary
( l-r) Carol and Brian Hanney with Jennie and Barrie Mancell
We just received this great photo of a get-together over in Calgary, Alberta, with two of our former colleagues Brian Hanney and Barrie Mancell and their wives.
"Moby'' Pett had been enquiring a few weeks ago about contact details for Brian because "Moby's" brother-in-law, retired Sgt. Barrie Mancell was planning a trip to Calgary and was hoping to meet up with his old friend Brian Hanney. Although we didn't have Brian's latest contact details we were aware that another of our former colleagues, Wayne Robinson, had also settled in the Calgary and had served in the Calgary City Police along with Brian Hanney. Wayne had written an article for our "Then and Now" column in which he mentioned having worked with Brian. CLICK HERE for Wayne's article.
We were able to put "Moby" in touch with Wayne who was happy to provide Brian's contact details for Barrie, and we are delighted that Barrie and his wife Jennie, were able to meet up with Brian and Carol. Brian has written to say that he and Carol had a great afternoon and evening with Barrie and Jennie. They were joined by three of their children and grandchildren, including their eldest daughter Nikki, who remembered the Mancell family from her childhood in Bermuda. Brian says they talked for hours about old times and familiar faces.
Brian had settled in Calgary with his wife, Carol, and their two daughters, Nikki and Sarah, after he had served here in the Bermuda Police for almost 10 years from 1967 – 1978, athough Brian may well have had some initial doubts about the move when he first arrived in Calgary where the temperature was minus 28 F.
Barrie served in the Bermuda Police for 25 years from 1966 - 1991, and he and Brian had worked together during their time in Traffic Department. Barrie and Jennie still reside here in Bermuda as do two of their children and their grandchildren.
Editors Note - ExPo keeps an updated list of all of our former colleagues for whom we have contact details (CLICK HERE to view the list). If you are not on the list, or if you know of anyone else who is not on it, we would greatly appreciated it if you could let us know or ask them to contact us with their details at info@expobermuda.
6th October
Steve Taylor - We just heard from Steve Taylor who saw our "Then and Now" article about Steve Peterson and wrote to say how much he enjoyed the article and also that he had the opportunity at meet up with all the Peterson family at the Southport Air Show a couple of years ago, at which time he watched Steve's "flying son" Flt. Lt. James Peterson flying his aerobatic RAF Tornado in an AMAZING and LOUD finale of the Air Show which he had also seen the peevious year at the same show at which time he had the opportunity to have his photo taken with James whose colleagues thought it was very funny when Steve explained that he hadn't seen James since he was one year old in Bermuda.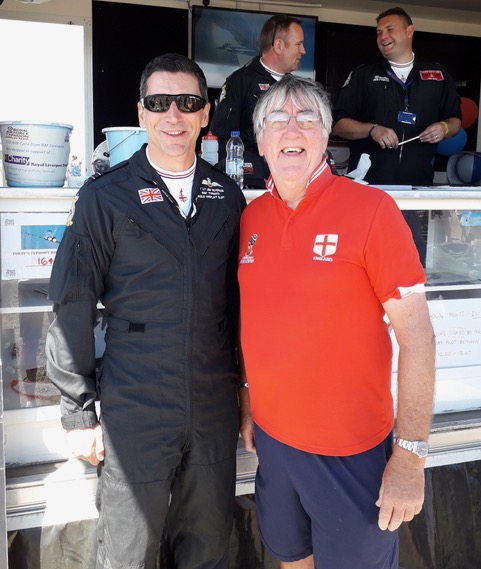 Steve meets up with Flt Lt. James Peterson
at the Southport Air Show
HOPING TO VISIT BERMUDA IN NOVEMBER - Steve Taylor happens to be one of the 69 young men and women who joined the Bermuda Police 50 years ago, during 1971, and ideally he would be love to meet up with his "old" mates up at the Police Club, maybe on Thursday 4th November. We have published an article about the 50th Anniverary Year listing all the recruits for that year and from a quick look at the list those still here include Ernie McCreight, Moby Pett, Bernie Pitman, Pete Shaw, Roddy Barclay, Dougie Joslyn, Kensley McDowall, Bryan Parkin, Chris Wilcox, Keith Cassidy, Lynette Baker, and Marje Amos. CLICK HERE to view the article and the list.
Under normal circustances ExPo would be keen to organise a function to bring our "Half Centurions" together, but these are extraordinary times and there might be some difficulty in doing so. We will look into that possibility and report back to you all.
4th October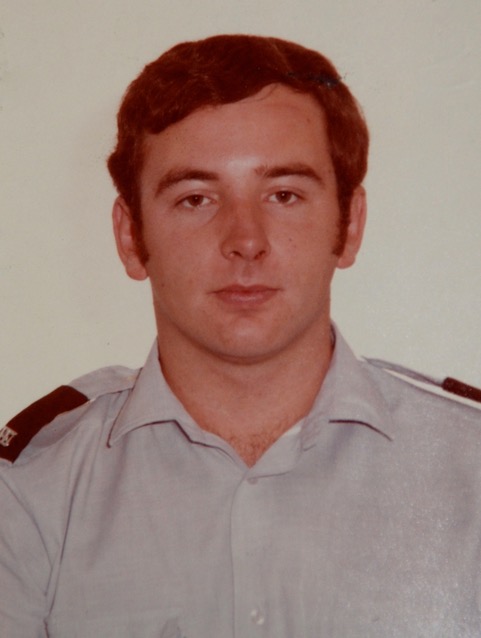 Steve Peterson and his "high flyer" son! - If you check our entry of 29th September you'll see we've recently been in touch with Roger "Shoes" Needham who recently had a get together with Bob Kinnon and Paul Anderson in Leeds. We got in touch with "Shoes" who brought us up to date on where he is these days as we reported below. While doing so Roger sent us this intriguing photo of a young lad on one of the MCPS Honda motor bikes and indicated that since then this young lad has literally become a "high flyer" in the literal sense of the world! The young lad in question is James Peterson, the first son of our old friend and former colleague Steve Peterson who served in the Bermuda Police from 1971-1981 before returning to the U.K. with his wife Liz, and their two young children, James and David.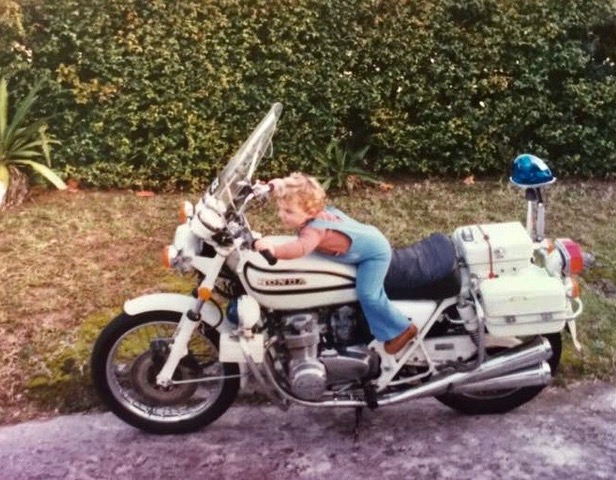 James progresses from Honda to Typhoon!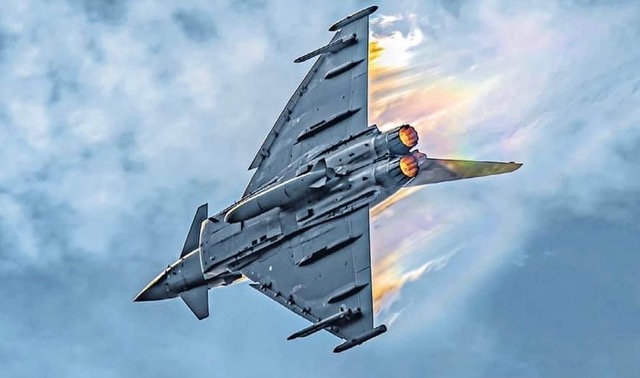 As a result of receiving this photo I made contact with Steve who very kindly agreed to write an excellent article for our 'Then and Now' column. Steve joined the Sussex Police where he served as a "Village Bobby" for many years and led a fascinating life. Young James clearly had a yen for high speed at a young age and he went on to join the RAF where he progressed from sitting on a motor bike to piloting one of these Typhoons in the RAF Typhoon Display Team. CLICK HERE to read about Steve's fascinating life and times.
2nd October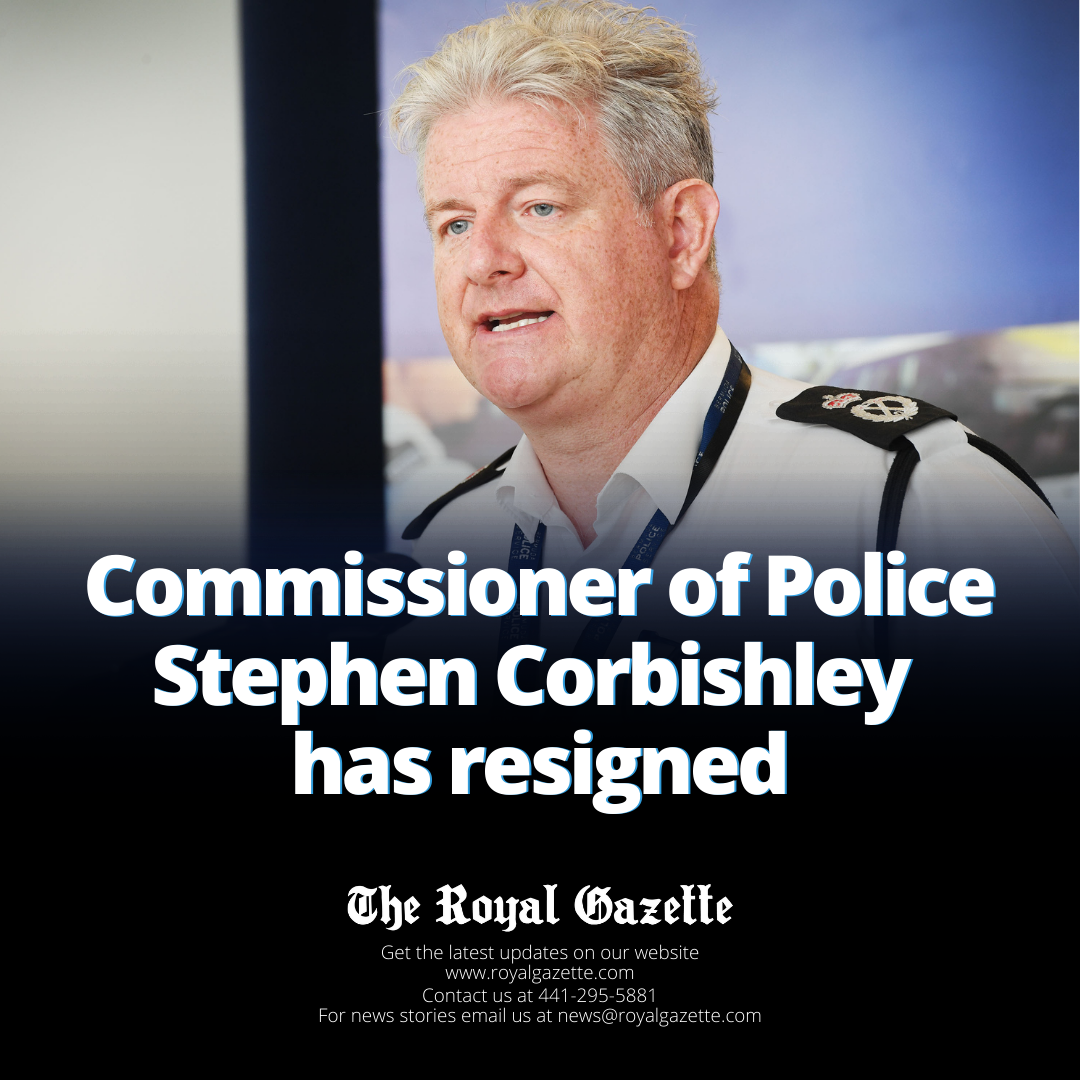 Commissioner Stephen Corbishley
Commissioner Stephen Corbishley has resigned from the BPS -
It came from right "out of the blue" to read in Friday's Royal Gazette that Commissioner Stephen Corbishley has resigned with immediate effect. We were aware that he had recently travelled to the U.K. for personal reasons but this news was a total surprise.
Following a brief article in Friday's newspaper the Royal Gazette has today (2nd October 2021) published a more in depth article about Commisssioner Corbishley's sudden depature and resignation, which reads as follows:-
Commissioner of Police Stephen Corbishley has resigned, the Governor said yesterday.
Darrin Simons, the Deputy Commissioner, will act in the top job until a new appointment is made.
The Royal Gazette reported this week that Mr Corbishley was overseas for personal reasons.
He declined to comment when contacted this morning.
Mr Corbishley said on his Facebook page he was a "former Commissioner" of the Bermuda Police Service.
He added: "Writer and academic lecturer in law."
It is understood Mr Corbishley quit to spend more time with his family and seek new career opportunities.
Commissioner wanted to focus on communities
Mr Corbishley said in an e-mail to police service colleagues: "The past three plus years in the BPS have been fantastic for me.
"Collectively we have achieved many things, been through many challenges and above all served the public, protected victims, and kept Bermuda safe.
"Whilst you may not be aware, the BPS is looked at as a centre of excellence across the overseas territory police services.
"We have achieved that together, and I am very proud to have been part of that journey."
Rena Lalgie, the Governor, said: "Commissioner of Police Stephen Corbishley has tendered his resignation, which I have accepted with immediate effect.
"I wish Mr Corbishley well in his future career.
"An open, merit-based and fair process will commence as soon as possible to recruit the next Commissioner of Police.
"In the intervening period, I will be appointing Darrin Simons as Acting Commissioner and Superintendent Na'imah Astwood as Acting Deputy Commissioner."
She added: "I have had the pleasure of meeting men and women within the Bermuda Police Service who are dedicated professionals, committed to meeting the highest policing standards and are passionate about serving the people of Bermuda.
"I am extremely grateful to those who step forward to do what is, at the best of times, a difficult job and is even more so in this unprecedented period."
Renee Ming, the national security minister, also thanked Mr Corbishley for his service to the country.
She added: "As the Minister of National Security, I've worked alongside Mr Corbishley during some very critical moments for our country, including serious crime incidents and, of course. the current pandemic.
"And as the co-chair of the Emergency Measures Organisation, we've worked to ensure an effective, coordinated hurricane and disaster response so that our community could feel safe and secure during times of uncertainty."
Ms Ming said: "On behalf of the Ministry of National Security, I want to take this opportunity to wish Mr. Corbishley the best in his future endeavours."
A police spokesman said: "The Bermuda Police Service wishes to thank former Commissioner Corbishley for his service.
CLICK HERE for the full article in the Royal Gazette.
On behalf of Bermie ExPo we wish Mr. Corbishley all the best in his future endeavours, and we also extend our full support to our new Acting Commissioner Darrin Simons and Superintendent Na'imah Astwood as Acting Deputy Commissioner."
Cancellation of Annual Police Week and Memorial Service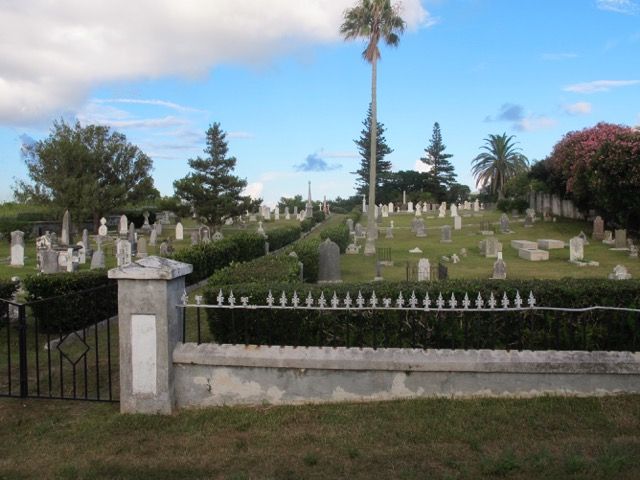 Police Cemetery at Prospect
The first week in October is usually the time when the Bermuda Police Service celebrates the establishment of the Police Force way back in 1879, with a series of community events, culminating with the Annual Police Memorial Service at which time we honour all those who served in the BPS but are no longer with us.
One of the highlights of the Memorial Service was the reading out the names of all of our retired and former police officers, reserve police officers, and civilian staff who have passed away during the preceding year, while their families would have the opportunity to lay wreaths and flowers under the memorial.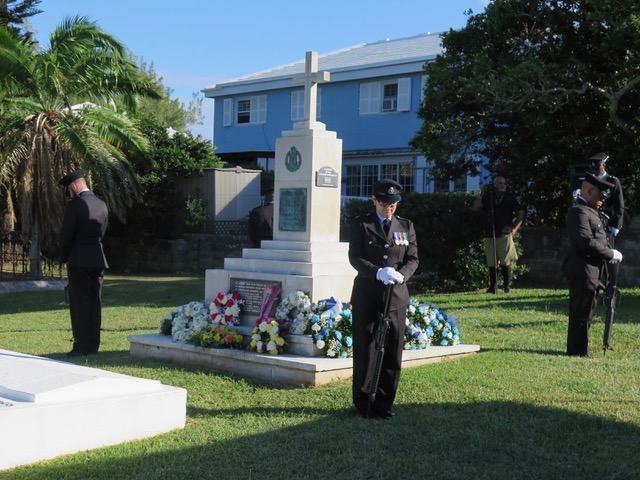 Honour Guard at Police Memorial laden with wreaths and flowers
Unfortunately, due to the Covid pandemic, all of our Police Week annual activities, including the memorial service could not be held last year, and we have just been advised that due to the present situation with Covid, Police Week has once again had to be cancelled, which includes the Annual Memorial Service which is always a popular event with our retirees and former officers because it was always followed by a reception and get together at the Police Club. Our last reception, in 2019, was very well attended and our guests included retired Inspector Gladwin "Doc" Hall, our "senior" retiree having joined the Bermuda Police in October 1950 (over 70 years ago), retired Inspector Dudley Swan, our second most senior retiree who joined in July 1951, and retired Inspector Jean Vickers who was are first Bermudian woman police officer who joined in July 1962 and retired in May 1987 as head of the Policewomen's Department. All three of these retirees are still very much with us, and would likely have attended this year's memorial service and reception had it been able to be held.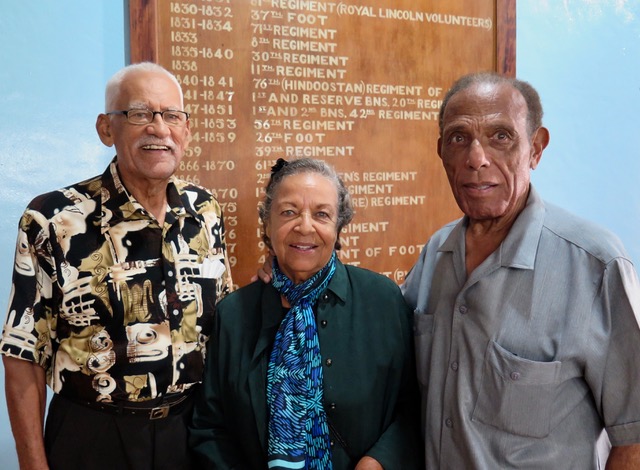 Our two senior retirees together with our first Bermudian woman police officer
Retired Inspectors Gladwin "Doc" Hall, Jean Vickers and Dudley Swan
However, the BPS has produced an excellent Roll of Honour video tribute in which all those officers and civilians who have died since the Police Week 2018 are included on the Roll of Honour. We would like to ask our members to take the time to play the video, and also take a few moments to remember our old friends and colleagues with whom we served. CLICK HERE to view the video.
On behalf of our ExPo President, Calvin Smith we send best wishes to all of our former colleagues, families and friends and hope that you are staying safe and well duering these most difficult of times.
29th September
GET TOGETHER IN LEEDS
Roger "Shoes" Needham, Paul Anderson and Bob Kinnon
Bob Kinnon, Roger "Shoes" Needham, and Paul Anderson - Leeds seems to be a hive of activity recently when it comes to our former colleagues getting together, all due to our good friend Robert "Bob" Kinnon. We've received this photo of Bob's latest get-together with former colleagues from here in Bermuda, Roger "Shoes" Needham, and their old pal, Paul Anderson, who some of our members may well remember from his days as manager of both the Robin Hood Pub in Hamilton and the White Heron from 1979 to 1982.
The three got together to celebrate Paul's 70th birthday and by all accounts a good time was had by all.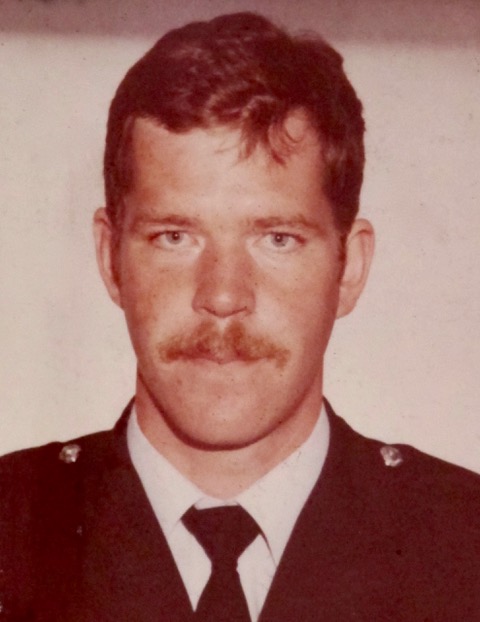 Young P.C. Roger "Shoes" Needham
We'd not heard anything about Roger "Shoes" Needham for ages so we asked him to bring us up-to-date on where he is and what's he's doing these days. He had served here in the Bermuda Police from 1977 – 1982, one of three Needhams to do so, the others being Dave "Big Joe" Needham who served here from 1966 – 1970; and the late Raymond "Ray: Needham who served from 1973-1976. We were having a few problems sorting out which was which so we published a self explanatory article (CLICK HERE to view it) "Three Needham's Sorted!"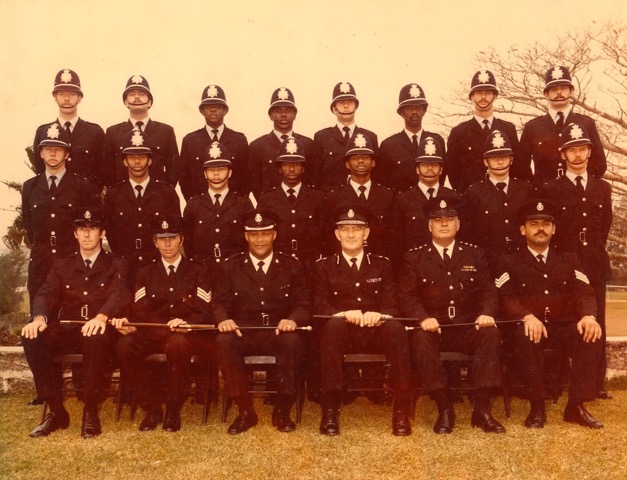 While serving here "Shoes" served in Central Division for just over a year before being transferred to Operations (Traffic) where he served in MCPS until returning to the U.K. He has sent us the following information about life after Bermuda!
"I left Bermuda in 1982 and joined the Sussex Police; being posted to Brighton uniform.
I served for a couple of years in Brighton, before getting a swift transfer to Special Branch. I later served on CID , the Regional Crime Squad, the National Crime Squad, and then had a number of secondments to New Scotland Yard.
I eventually returned to Sussex and was made head of the Terrorist Financial Investigation Unit - It was actually only me in the unit!
On retirement I was offered a financial investigators job at the Office of Fair Trading, that was not, shall we say, very exciting, although the pay was good.
I have taken on roles as a Trustee for a number of charities and am Treasurer of two.
I was an elected Town Councillor for a time, and I stood for MP Eastbourne in a General Election and stood for the County Council, but was un-elected in both.
I am married, have two sons and two grandsons.
My wife and I enjoy cruising - we have cruised into Bermuda twice.
I currently enjoy weekly virtual catch ups with: Mike 2 , Mike 6, Mike 9 and Mike 12.
Kind regards
Roger (Shoes) Needham PC 274 - Mike 7
Editors note - Not having served in MCPS I have no idea who was Mike 2, Mike 6, Mike 9, and Mike 12 so we challenge other former members of MCPS to put names to numbers, although we suspect that Davie Kerr, who fortunately for his sake was never posted to MCPS, may be the only other person who can do so!
13th September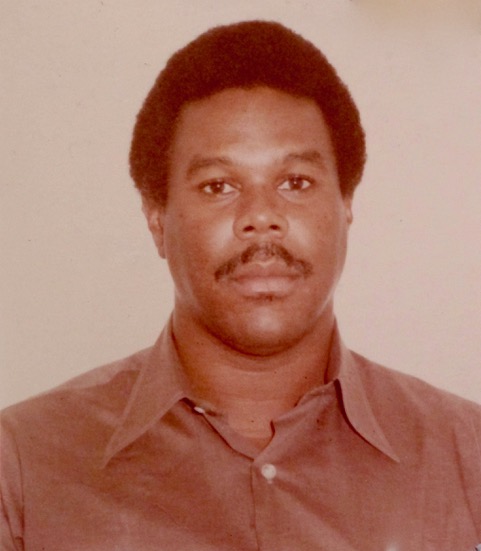 Campbell Simons - We are deeply saddened to report that our good friend and former colleague, retired Superintendent Campbell Simons, JP, QPM, CPM passed away this evening at King Edward Hospital.
Campbell served in the Bermuda Police Service for a total of 38 years, first as one of our earliest Cadets from 1960 - 1963, and then as a Constable, rising through the ranks to Superintendent before retiring in 1993. During his career Campbell served in Eastern, Western, and Central Divisions as well as in Operations (Traffic), CID, Narcotics and at Police Headquarters. He was an outstanding sportsman, playing football and cricket for the Police team, and also playing for Somerset Cricket Club where he was an excellent opening batsman and wicketkeeper who played in Cup Match for many years as a stalwart of the team who was also Cup Match captain in the mid-1970's.
Campbell continued to be a regular attendee at the Police Recreation Club getting together on a regular basis with a group of old friends.
We extend our sincere condolences on behalf of all of our ExPo members to Campbell's loving wife Judy and to their family.
CLICK HERE to read more about Campbell in our Latest News column where we will post funeral arrangements as soon as we receive them.
11th September
Making Connections - A few days ago we had a request from Moby Pett for contact details for Brian Hanney who served here in the Bermuda Police from 1967-to circa 1976. We didn't have any details for Brian but a check on our website revealed that Wayne Robinson who served here from 1972 -1974 had left here and settled in Calgary joining the Calgary Police where he met another ex-Bermuda policeman, Brian Hanney, who had also joined the Calgary Police. Wayne mentioned that he stays in touch with Brian, so a quick email from Wayne to Brian put Brian in touch with Moby.
It turns out that Moby's brother-in-law, retired Sgt Barrie Mancell, who had served here from 1966-1991, and is still residing here in Bermuda with his wife Jennifer, is planning a visit to Calgary with Jennifer, and Barrie is keen to meet up with Brian after all these years. The two were on the Central Division Tug 'o War Team together during the glory years of the Police Tug o' War team. CLICK HERE for an article on the History of the Police Tug o' War Team.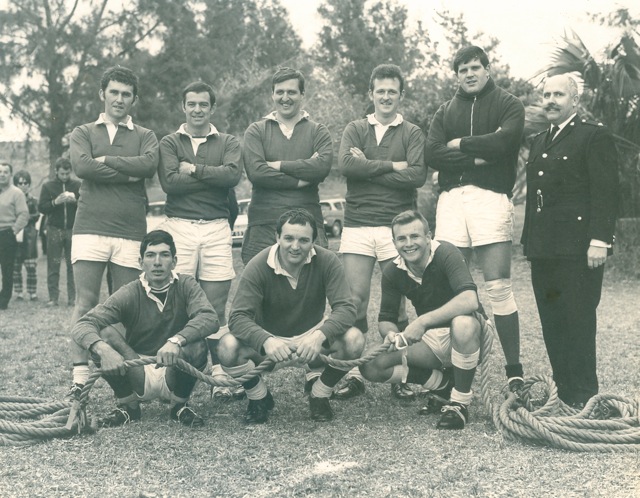 The Triumphant Central Division Team
Standing (l-r) Barrie Mancell, John Balsden, Brian Hanney, John "Cocoa" Eve,
Mike Parris, Inspector Dave Parson (Coach)
Kneeling (l-r) Ray Sousa, Pat McBride, and Davie Kerr
Young P.C. Wayne Robinson
In the meantime Wayne updates us on the Covid situation in Alberta where so far 286,000 people have been infected with 2444 deaths. This weekend in Calgary there were 10 deaths and 1473 new cases. As far as wildfires go we haven't smelled smoke for several weeks now but the one near Kamloops is still burning wetter; cold weather is helping considerably. Whole towns have been destroyed in BC, and here in Alberta there was a huge fire in Fort McMurray in northern Alberta a few years back with major destruction. Over the last ten years we have gone from one disaster to another. The gods must be angry!
I can recall the god's being angry in Bermuda back in July 1973 when I found myself alone on the Causeway in a broken down landrover during Hurricane Alice .....managed to crawl along the bridge wall for a bit and got back to the airport. No radio...nothing. Wayne added that he had knee replacement surgery in July and while he's still recovering he's also waiting to get the other knee done. Great to hear from Wayne and we wish him well with his knees! CLICK HERE for an article written by Wayne in our "Then and Now" column.
10th September
David Needham - Our thanks have to go to David Needham for spotting the obituary notice about the passing of Anthony "Tony" Carr as reported below (Once a policeman…..!)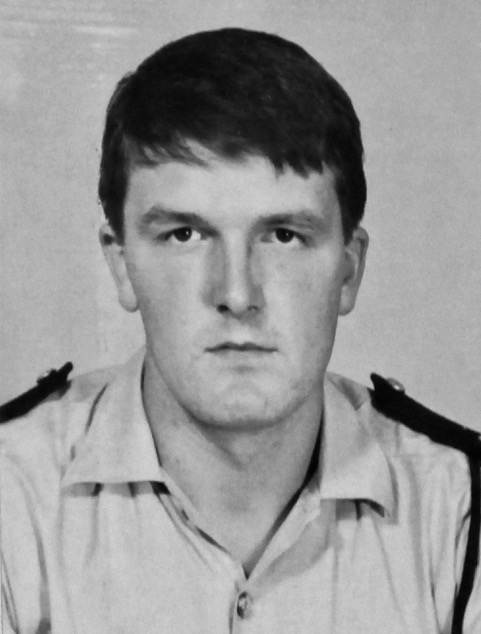 Young P.C. David "Big Joe" Needham - 1966
Following his 4 years in the Bermuda Police from 1966-1970 Dave settled in Canada with his wife Elizabeth. After hearing from Dave about Tony Carr we asked him to give us an update about the effects of Covid in Canada, and he replied as follows:-
"For everyone it has been a trying time, one of fear and trepidation.
March 2020 when WHO declared it a pandemic our business fell off the edge of a cliff. We are in the promotional business, putting logos on soft goods, clothing, and hard goods, pens, coffee mugs etc. For a few months business took a step back, people working from home, social distancing, all business gatherings canceled, as a result no convention giveaways.
After a time the gopher popped it's head out of the hole, the businesses that were going to survive and indeed prosper. Medical, obviously, housing and construction has gone crazy, people were also buying things for the home as they couldn't spend on travel and vacations.
We have an account that manufactures barbecues; they are hiring an inordinate amount of people trying to keep up with demand, even so there is a waiting list well into 2022 if you want a new barbecue. Our benefit - we supply all the employees uniforms.
My family has taken this travesty very seriously, limiting our interaction with others to a minimum. My friend and I had won a raffle to see one of the semi-finals of Euro 2020, at Wembley stadium, bucket list yes, attendance no. Very disappointed.
I live just north of Toronto and am in correspondence with Ray Banks in Vancouver, I really enjoy our interaction, Ray left Bermuda in 67, those who knew him will remember him as a tremendous athlete. At 79 nothing has changed, still pumping iron and riding has bike with a vengeance, not only has he had to deal with Covid but the devastation caused by the out of control wildfires.
In closing I can't thank you enough for the tremendous job you have done with EXPO it gives me a great deal of joy as I'm sure it does to many others
When I look back on the nearly four years I spent in the BPS it's something I will always cherish, to plagiarize that Las Vegas ad "What happened in Bermuda, stays in Bermuda!" Besides nobody would believe me.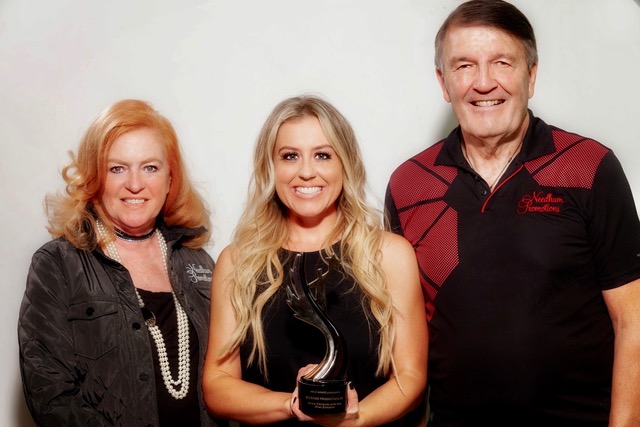 Needham Promotions Team
David with the boss, daughter Ashleigh, and his main boss, Elizabeth
As Dave so aptly says, "Estrogen Rules"!
We first reported on David, or "Dave" as we knew him when we were having a few problems sorting out our three former colleagues all named Needham following the passing of Raymond "Ray" Needham who served here from 19730- 1976 and who sadly passed away in South Wales in 2018. We also had Roger "Shoes" Needham serve here from 1977 – 1982 before returning to the Sussex Police. We havn't heard from "Shoes" for many years, but I believe we cracked the question as to how he earned the nickname "Shoes". At 6'5" in height he presumably had big shoes!
And of course we had David, "Dave" or "Big Joe" who served here from 1966 -1970 before leaving to settle in Canada. Dave went on to set up his own very successful Productions Company with his wife Elizabeth, which they since handed over to their daughter Ashleigh although we're sure Dave and Elizabeth are always there to provide support and advice – as parents do!
CLICK HERE for our article, "Three Needham's Sorted!"
Ray Banks - Dave recently heard from Ray Banks who has lives out in Vancouver for many years with his wife Sylvia and their family, We last heard from Ray in October 2020 when he sent us this lovely photo of him and Sylvia at the wedding of their daughter Jenn and husband Sean, together with their two sons, neither of whom I would ever want to argue with!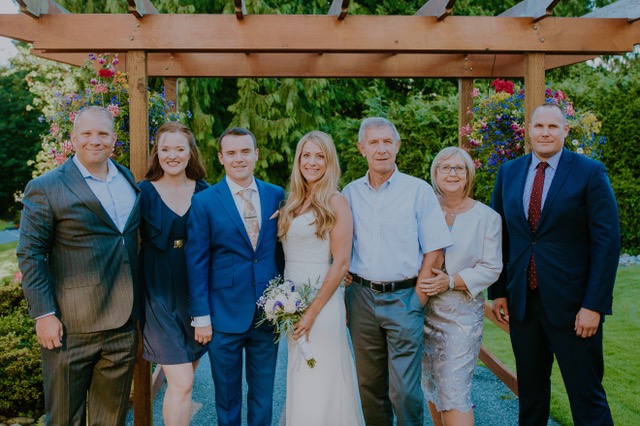 Ray and Sylvia at Daughter's Wedding
(l-r) Son Chris and his wife Nevada, Sean and Jenny (bride and groom),
Ray and Sylvia, and son Rob
Ray was delighted to hear that Dave had written the above notes for the ExPo website, and says he continues to enjoy the website as it provides some interesting articles for all of those who formerly worked on the Force in Bermuda,

Ray also wrote, "I'm very lucky to be able to keep reasonably fit but definitely going downhill. Some days the heart doesn't cooperate and I have trouble when I increase the cardiac demand. Can't complain when I see friends with Parkinson's and dementia."
CLICK HERE for Ray's article in our "Then and Now" column.
9th September
IMPORTANT MESSAGE FOR POLICE PENSIONERS
What happens to my police pension if .......
We recently had a query from our good friend, retired Inspector Mike Burke, now residing in the Jersey Islands, enquiring about what happens to his Bermuda Police pension in the event of his death before his wife. He wanted to know if his wife automatically receives a portion of his police pension, and if so, what needs to be done to arrange for the benefits to continue.
Mike added that he doesn't have any papers regarding his pension which is also of concern to him.
We believe that many of our police pensioners share the same concerns as Mike whether or not you still reside in Bermuda or you now live abroad, and you probably don't have documents to say you are entitled to your pension, except for the fact that you still receive it every month!
We have just publishedsome guidelines on our ExPo website (CLICK HERE to view) which are intended to assist you to fully understand what needs to be done in such a situation
31st August
GET TOGETHER IN YORKSHIRE -
We've just heard from Bob Kinnon about a get-together he and his wife, Helen, just had in Yorkshire with David and Rosie Smith, and Chris and Jo Pearce.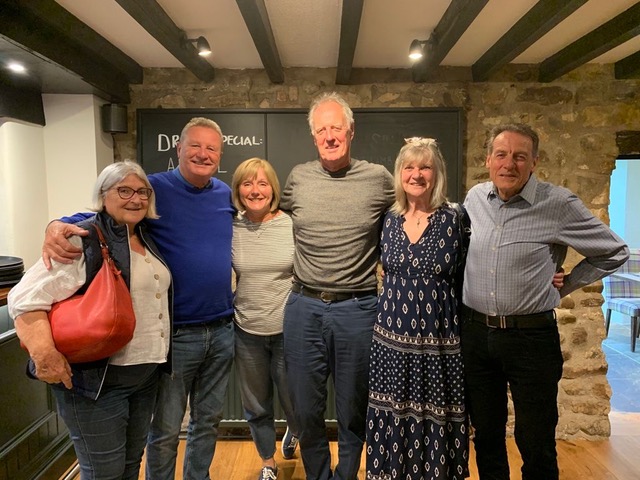 Get Together in Yorkshire
(l-r) Rose Smith, Bob and Helen Kinnon, David Smith, Jo and Chris Pearce
All three of these "young" men arrived in Bermuda in 1973 to join the Bermuda Police. Bob worked here for 7 years before returning to the UK where he re-joined the West Yorkshire Police and served for 37 years, mainly in CID, and in both Regional and National Crime Squads. We'd like to think that his grounding in CID work here in Bermuda contributed to success in his chosen profession. CLICK HERE to read more about Bob in our "Then and Now" column.
Bob is no stranger to Bermuda as he and Helen have re-visited us on quite a few occasions, and have been hosted by David and Rosie Smith. Bob and David both share a passion for golf, as does Rosie, and they play during visits at Mid Ocean Club.
David served in the BPS for 9 years before moving into "civvie street". He joined the Bank of Bermuda and now has his own Asset Management Company. He and Rosie still reside here in Bermuda.
Chris Pearce served here for 6 years and he, too eventually decided to return to the U.K. where he settled with his wife Jo, and joined the North Yorkshire Police but is now retired. Chris and Jo had not seen David and Rosie since they were here in Bermuda back in 1979.
I should mention that Bob, along with Ian Graham organized several highly successful Police reunions in York and Edinburgh in the 1980's which were tremendously successful
CLICK HERE for photos and an article about the Reunion held in York in 1983. We never did manage to identify a few of the attendees in the photos that were published in our "Who, Where and When" column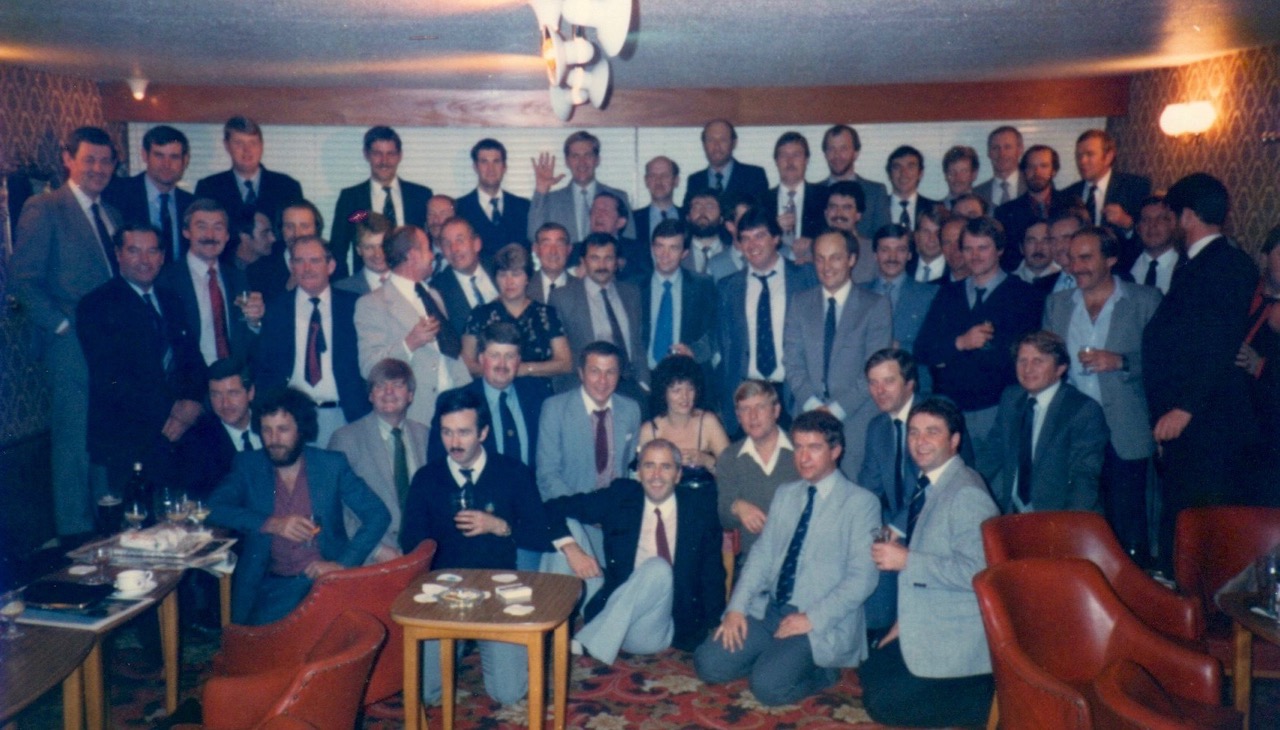 Quite a crowd at the York Reunion - 1983
Ian and Bob are front row right on their knees!
Editors note – It's always a pleasure to hear good news from our members, particularly during these difficult times, and we encourage you to write and let us know how you're doing.
31st August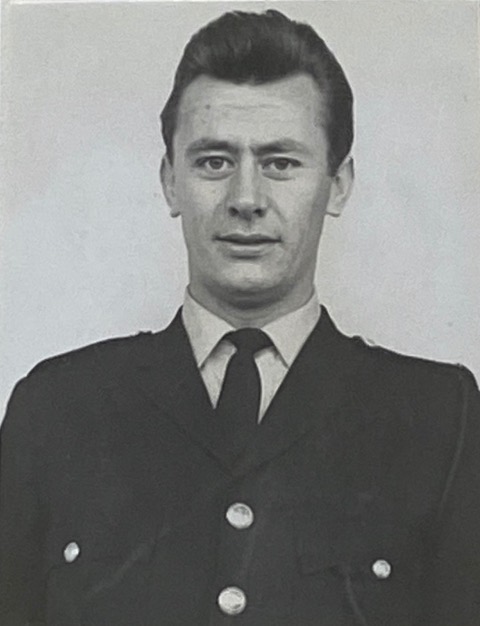 P.C. Anthony "Tony" Carr
Death of Anthony "Tony" Carr - We have received the sad news that one of our old friends and colleagues, Anthony "Tony" Carr, passed away in Canada on 20th August 2021. We received the news from David Needham who spotted an obituary in the Toronto Star and realized that it must have been our Tony because David was aware that after leaving Bermuda Tony had settled in Canada.
Tony was born in Nottingham, England in July 1944, and served in the Leicestershire and Rutland Constabulary from 1961-1965 prior to joining the Bermuda Police in November 1965. He served in Central Division (Hamilton) for the first 12 months, then in Western Division (Somerset) from October 1966 – June 1968 when he transferred to Operations (Traffic).
After Tony left for Canada we lost contact with him and would not have known of his passing without hearing from Dave Needham. We were able to confirm that it was our Tony Carr by checking the date of birth in his obituary which matched hs date of birth recorded in our police register at Prospect.
CLICK HERE for more information about Tony in our Latest News column.
29th August
Peter "Pete" Treves
Death of Peter Treves - We regret to advise that we have just heard the sad news that our old friend and former colleague, Peter Treves, died on 12th August (2021) in Monterey, California.
Pete joined the Bermuda Police in 1970 and served here for 3 years, first in Central Division, then in Operations (Traffic) for a while before being transferred to Special Branch. Pete was an excellent tennis play who played for our Police Tennis team, and tafter leaving the Police Force he became a tennis professional for several years at Sonesta Beach Hotel, before heading off to the U.S.
Pete was a good friend of Roger Kendall and the two attended the same school in South Africa as children.
21st August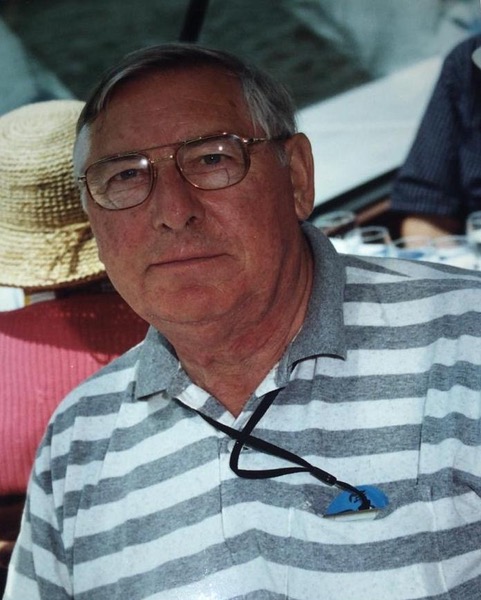 Malcolm Fletcher
Death of Malcolm Fletcher - We were deeply saddened to hear of the death of 89 year old Malcolm Fletcher who served in the Bermuda Police from July 1956 to July 1962. Malcolm passed away on 5th August 2021.
Malcolm was born in Walsall in the English Midlands and served in the RAF prior to joining the Bermuda Police along with Frank Robinson, Alex Smith and R. Jones. It is likely that these four men attended the Police Training College at Millmeece in Staffordshire for a 3 month training course prior to their arrival.
We understand that Malcolm worked on the beat in Hamilton and also had a spell in the newly formed Motor Cycle Section. Unfortunately, we do not have his file in the Police Register and would appreciate any further information about his 6 years as police officer. Malcolm was a close friend of Brian Malpas for many years, and Dave Barber recalls that Brian and Malcolm would often visit the Somerset Police Mess together.
After leaving the Police Force in July 1962, Malcolm worked as the Accountant at ZBM, Bermuda Broadcasting Company where he worked until his retirement. Malcolm married Joy Francis Boyd who he met here in Bermuda, and they had two children, Ian and Robert. Sadly, Joy predeceased Malcolm.
We have expressed our sincere condolences to Ian who has advised that the family decided to have a quiet family funeral.
3rd August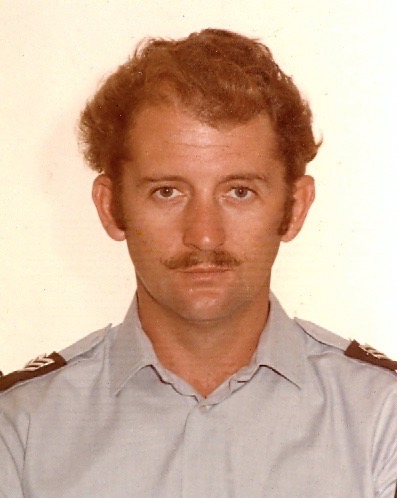 Dave Cook
Dave Cook - After reading an article we just published about Chief Inspector Ernie Moniz in our Hall of Fame, (CLICK HERE to view it) we had a great comment from Dave Cook about the time when Ernie, as OIC Central Division, turned up at Hamilton Police Station wearing his painting clothes and proceeded to whitewash the cells. As Derek Jenkinson commented, "Ernie would never ask you to do anything that he wouldn't do himself.
While in communication with Dave he advised that he's been having some health problems recently and that he has a heart condition requiring that he be fitted with a pacemaker. Dave is presently in King Edward Hospital and is due to be flown out by air ambulance to Johns Hopkins Hospital in Baltimore within the next couple of days.
We want to wish Dave all the very best with his surgery and look forward to having him back home very soon.
13th July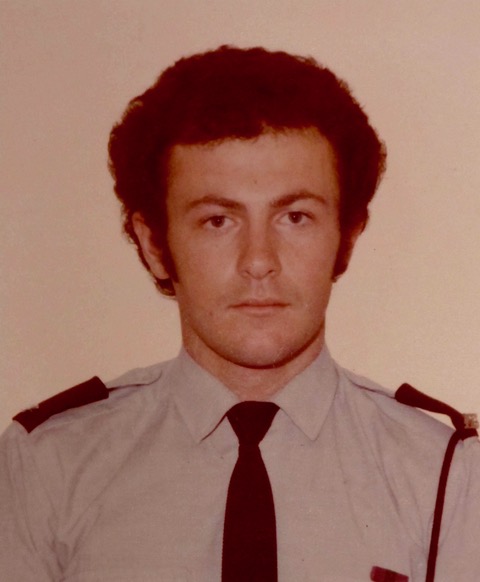 Nick Bolton is now feeling the heat!
Nick Bolton and Steve Rollison - Feeling the Heat in Canada
I'm sure most of us have been hearing reports about the incredible heat wave that hit western Canada at the end of June. There have been reports of temperatures breaking national all-time records which had stood at 45C but Lytten in British Columbia had a high of 46.6C on June 27th, the next day was 47.9C and the following Tuesday it reached a staggering 49.6C, with the intense heat resulting in wildfires "mushrooming across the area, and on 30th June the whole town was on fire.
After hearing of these staggering temperatures and the fact that hundreds of people have died of heat-related illnesses during this crisis, we reached out to two of our members who have settled in western Canada, Nick Bolton and Steve Rollison to ask how they were faring. CLICK HERE for their replies in our Latest News column.
29th July 2021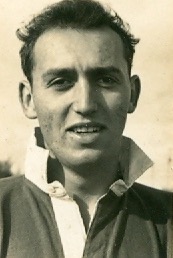 John Rawson
Sad news about death of John Rawson - We have received sad news from Anne Rawson that her husband John passed away at their home on 23rd July 2021. John served in the Bermuda Police from 1962-1965 and made an immediate impact on his arrival as an outstanding rugby player who went on to captain the Police Rugby Team at a time when our team was very successful. John served in Central Division, as an aide in CID, and then in Traffic as well as being a seconded to Training School as a PE Instructor. He married Anne, a nurse at KEMH, and the two returned to Nottingham in the the UK after completion of John's 3 year contract. CLICK HERE for more information about John in our Latest News column.
9th July 2021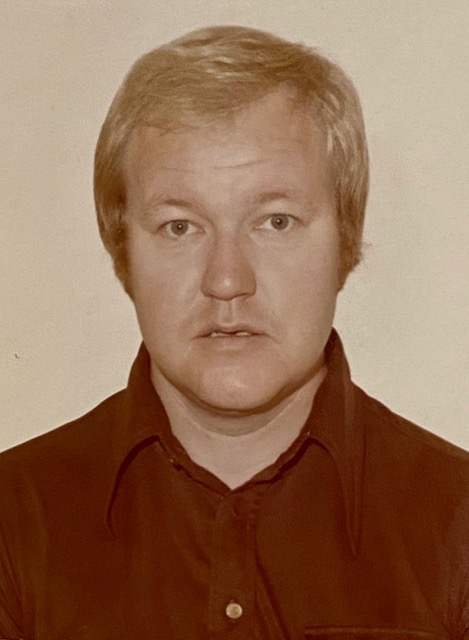 Young Willy Hart - 1978
Sad belated news about the Death of Willy Hart - We received the following report this morning from Les (Sid) Gordon which contained some very sad news about our old friend and colleague Willy Hart.
Hi Roger
Hope your back is getting better? All that bumping into walls - with Arthur Rose - on squash courts can't be good for your spinal alignment. (Editors note – Arthur Rose was always a wily squash player and a pain in the neck to get around because of his enormous "wing span" – but always a gentleman)
Yesterday I rang Willy Hart in Las Vegas because I hadn't spoken to him since earlier this year.
His wife Linda answered the phone and I asked to speak to the grumpy old scotsman.
She said, "I'm so sorry Les but Will passed away in April this year (2021)!"
She is not too computer literate and couldn't find the contact details to inform his many overseas friends.
Will had been sick for a while but was getting better - he had even given up the grog and was even eating healthy food - but he picked up a bug and died,
I asked her permission to let you publish details of his death for Expo."
Sid very kindly wrote us an article about his old mate Willy, which you can read under Latest News CLICK HERE for the article. I've added a few extra details from Willy's file at Prospect together with a copy of his "old" photo as a young man!
3rd July 2021
Colin Mackenzie
We have just heard from our old friend Colin Mackenzie who served here in the Bermuda Police from 1970-1979 before he and his wife, Laura, decided to settle in Canada and they now live in Peterbrough, about an hour east of Toronto. I would venture to say that Colin is without doubt one of our busiest former colleagues. He is an an active Rotarian who also enjoy photography, poetry, general home repairs, squash, running, biking, hiking (from his days in Scotland) and, of course, enjoying a few pints with good company!
I was wondering how our Canadian colleagues are faring with the almost unbelievable high temperaturs they have been having this summer, especially in the Western provinces where the highest ever recorded temperatures have been recorded. According to latest reports Canada broke it's temperature for a record third straight day this last week with 49.6C (121.3F) in Lytton, BC, and there have been reports of dozens of deaths as a result of the record heatwaves.
Colin has just written to report on what's keeping him busy at the moment - as you'll see from his email:-
All OK here. We don't have the high heat temps like in the western part of the country but for the past month or so we have had days with high humidity, causing the temps to be up in the high 80's. This past Tuesday the temperature, with the humidity, was 88 degrees. Cooler today but nice and sunny but humidity returns Monday. This has been quite the year so far for high temperatures and our local Government (Provincial) has received a backlash from the pubic and opposition leaders for failing to ensure that seniors in long term care homes have adequate cooling systems, air conditioning or fans, at the very least, fans. Many older seniors just cannot take the humidity and their individual rooms are very hot. Such a shame.
I'm on the local board of Crime Stoppers and we are reviewing and updating our website, at my urging, because the site was outdated, with outdated photos and info. We needed to be inclusive of our student population, how they get scammed using certain websites, mis-use of credit cards to buy stuff or on gaming sites and many parents find their credit cards have been compromised. And we have a big opioid problem here so we want to show some photos that draw attention to the problem, a message not to get involved or use. Along with that message we want to have some photos showing you what will happen, such as a set of hand-cuffs beside a packet of drugs, or a photo of a hand-cuffed person getting into the back of a police van/car with an appropriate message. Anyway, we are almost done, just putting some finishing touches to some of the info that will be displayed on the website.
With my Rotary Club, I initiated a coffee donation drive recently, where we paid for coffee for the staff in long term care homes who look after our seniors. Again, at my initiation, I have arranged for two of our music playing members to come out and play music for the seniors at a couple of homes. Both initiatives have been warmly received. I also donate food and clothes to the various homes and shelters here, donations from our members. I have been doing this for awhile now and it all started, pre-COVID, when we had in-person meetings at lunch-times and any left over food I noticed was going back into the kitchen of the hotel we held our meetings. I enquired and found that our Club had paid the hotel for preparing the lunches so I suggested that the left over food be donated to a number of shelters in the City. It was approved, I did the deliveries and that morphed into donations of clothes for the men, women and youth shelters here…and it continues to this day. Yesterday I made a delivery of 5 large bags of bedding and clothes for a man's shelter. Next week there will be a large donation of no-perishable food that I will divvy up between the shelters. During this COVID lock-down that we have endured, people have been de-cluttering, getting rid of clothes, food, shoes, you name it. Well, I can find a home for all that with the help of my contacts in the various homes and shelters.
So, taking into consideration all the work that goes into this, I need to make sure my fridge is stocked with the appropriate bevies! There has to be some consolation in the face of adversity!
5th June 2021
EDITORS NOTE - I can't tell you what a huge relief it is to be finally sitting at my desk at home on my computer, opening our ExPo website for the first time in almost 4 weeks. As some of you may know, I had travelled to Boston for a back operation at New England Baptist Hospital on 13th May, and after spending several weeks recuperating in Boston under the excellent care of my wife Marian, and my sister Josephine, I was able to return home to Bermuda a few days ago, and finally here I sit, almost comfortably, at the keyboard. Sincere apologies to our regular members, many of whom wrote their best wishes which were most appreciated.
The first two new entries in our Keeping in Touch column are I guess a sign of the times for those of us who have served in the Bermuda Police Service. One entry concerns our esteemed good friend, colleague and fellow member of ExPo who has very kindly taken over the reins of ExPo and is doing a superb job as our President. I'm referring of course to Cal Smith, who after serving for the past couple of years as the Commissioner's Staff Officer, has finally retired from the Bermuda Police Service although I seriously doubt that he will even begin to understand the meaning of the word "retired"!
I will start with a message Cal passed to all members and ex-members of the BPS in late May while I was off isIand :-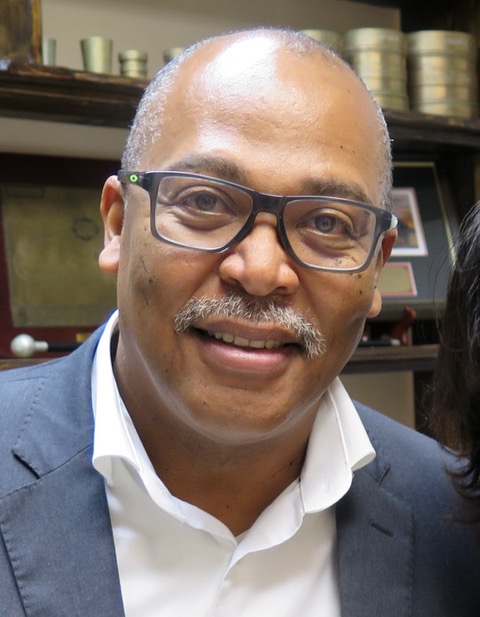 Cal Smith
The End of an Era!!!
"Monday 31 May 2021, will be my final day of service with the Bermuda Police Service. I have had a wonderful career of over 36 years and take this time to thank my colleagues, past and present, the nine Commissioners I have had the pleasure to serve under, my friends and family and particularly my Lisa, Justin (Cali), and Domonique (Solae).
Over the last 36 years there has been many broken promises, missed birthday parties, Christmas mornings and other significant family events that I have missed in support of my career. However, through it all, you have encouraged and shared my passion to Make Bermuda Safer.
Thank you for your many sacrifices over the years and I look forward to your continued love and support as I transition into this next phase of life. Thank you for the wonderful memories that have shaped me and that I will hold dear forever. To my colleagues and special friends too many to name - stay safe and continue on keeping us all safe!!"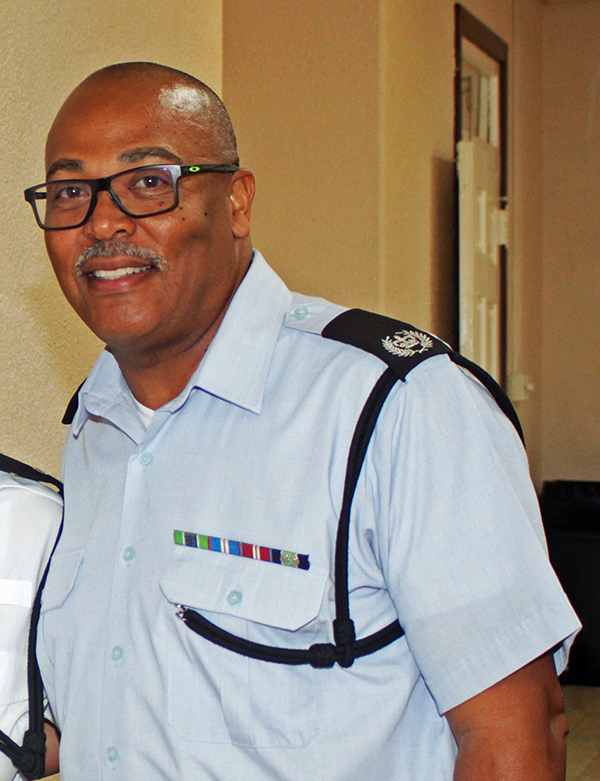 COP'S Staff Officer Cal Smith
Both the Royal Gazette and Bernews published articles this morning honouring Cal as follows:-
"A highly awarded police officer who served in almost every branch of the service has retired after 42 years.
Staff Officer Calvin Smith stepped down on Monday after a career recognised in 2016 with the Overseas Territories Police Medal.
Mr Smith said: "It was very sad to experience the final day of service in the BPS as the Commissioner's Staff Officer.
"However, I thoroughly enjoyed my policing career and wouldn't have it any other way."
Mr Smith, who joined the Bermuda Police Service in 1984, had already served in the Royal Bermuda Regiment from 1979.
His police career included extensive experience in the Criminal Investigation Department and the Serious Crime Unit.
He was also head of Special Branch and the Government Security Officer.
Mr Smith's detective work won him 14 Commissioner's Commendations.
Mr Smith was the tasking manager in the Intelligence Division from 2008 and attended several overseas courses.
Mr Smith was recognised with two Commissioner's Merit Awards, one Bermuda Reserve Police Merit Award, 30 Letters of Good Work, and the Bermuda Police Service Long Service Award after18 years in the job.

He won trophies and certificates for island and overseas sports tournaments as well as the 2007-08 Bermuda Police Service Officer of the Year Award and the 2009 Man of the Year Award.
Mr Smith has also been involved with the Police Week Committee since 2007.
In 2018 he was voted president of the BPS Ex-Police Officers' Association in 2018 and still holds the post."
CLICK HERE to read the rest of the article in the Royal Gazette
CLICK HERE for the rest of the article in BERNEWS
SAD NEWS ABOUT THE PASSING OF RETIRED CHIEF INSPECTOR DENNIS RAMSAY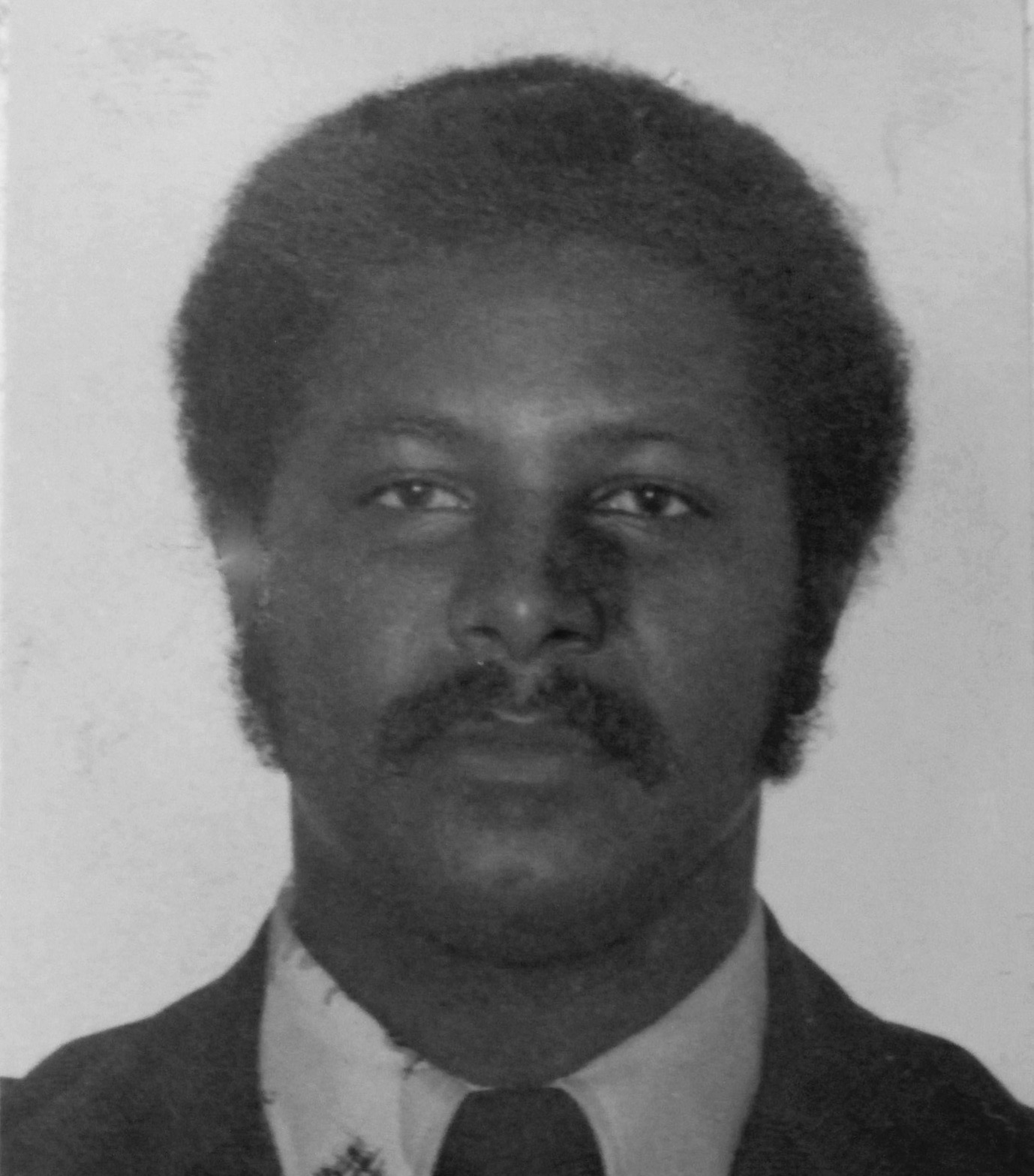 Young Detective Dennis Ramsay
We learned today about the sad passing of our good friend and former colleague, retired Chief Inspector Dennis Ramsay last evening, 5th June 2021, after a long illness.
Cal Smith has kindly provided us with the following information about Dennis's passing:-
Dear BPS Colleagues,

On behalf of the BPS Senior Leadership Team, it's with deepest sympathy that I write to express condolences to the family, friends and former work colleagues of the late Dennis Ramsey, who sadly passed last night. Mr Ramsey served in the Bermuda Police Service for approximately 25 years retiring in 1993 at the rank of Chief Inspector.

He was a well-known Bermudian police officer who was responsible for guiding, supporting and providing mentorship to many officers during his tenure and will be fondly remembered as a policeman's' policeman, particularly because of his commitment to the local community, his family and his ability to lead from the front under challenging circumstances, while enabling others to learn, develop and flourish in their respective roles.

I will always remember his famous greeting after I got to know him, "how's the brother"? One night after a large, violent fracas inside of the Spinning Wheel Night Club, he alone used his initiative, courage and influence to shut down the entire establishment, coordinated the detention of the main offenders and encouraged everyone to leave the area.

He was an extraordinary individual and police officer and I ask everyone to take a moment to pause as we give thanks for his life, his exemplary service and commitment to the community, as well as pay our respects to his family

Sincerely

BERMUDA
POLICE
SERVICE
Editors Note - CLICK HERE for more information about the passing of Dennis in our Latest News column.
26th April 2021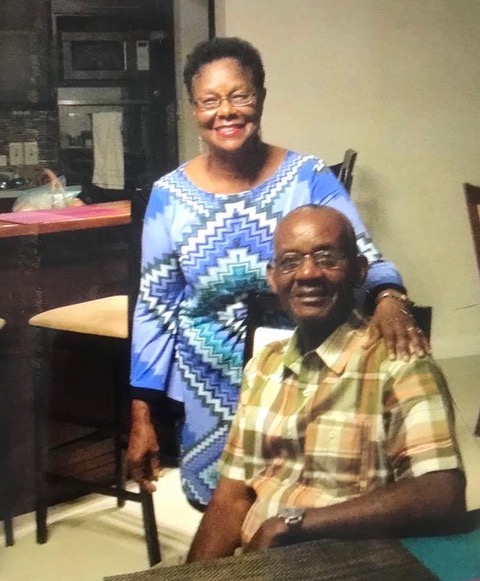 Orson and Madeline Daisley
Happy 75th Birthday to Orson Daisley - A couple of days ago we received a message from Orson's lovely wife, Madeline, who was heartbroken about not being able to organize a family gathering this year at their home in Barbados to celebrate Orson's 75th Party. Madeline had every intention of bringing all her family together but that was not to be because of the coronavirus pandemic still plaguing the world. Madeline wondered if we might post an article on our ExPo website about Orson's life in the Bermuda Police that their family can enjoy wherever they are. So, we welcome you to CLICK HERE to view our special article on Orson, who in addition to his illustrious career in the Bermuda Police Service, has also had the honour of "winning gold" in one of the most prestigious events in the World!
23rd March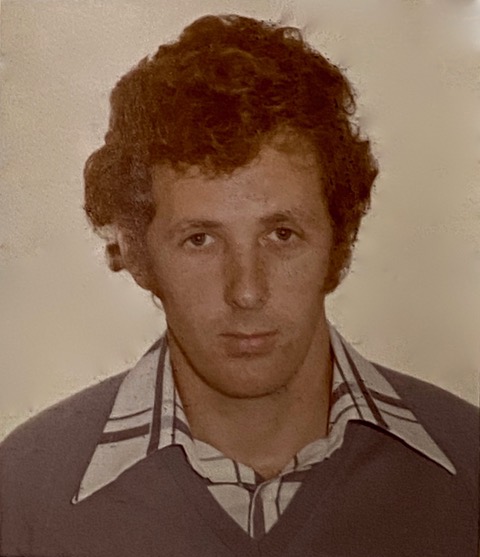 Michael "Mike" Chitty
Michael "Mike" Chitty - We just heard from Mike after posting our appeal to all those officers who will be celebrating the 50th anniversary of their arrival here in Bermuda during 1971. Mike has kindly written to us with an update on where he is and what he's doing these days, and has also provided updated information about two of his close friends and former colleagues in Bermuda, Martin Pearson and Jake Stimson. You can read Mike email to us below.
Mike Chitty arrived here on Island with the contingent of 17 recruits on 1st and 2nd March 1971, having previously served in the Kent City Constabulary for 3 years. Following his Localisation Course, Mike went off to Western Division for 2 years and was then transferred to Operations (Traffic) for a short spell before being posted to Special Branch where he remained until he decided to return to England in 1978 with his wife Wendy and their son Stephen.
Hi Roger,
May I pass information on three former officers including myself who wish to be remembered to anyone old enough on the occasion of our 50th Anniversary, which will unfortunately remain uncelebrated at least as far as any reunion is concerned.
I left Bermuda in 1978 to work in various organisations in London, eventually returning to Scotland Yards' Special Branch and taking early retirement in 1994 a few years before the Met. Police decided to disband it in 2008 (something to do with 'elitism' apparently), drawing a line under nearly 130 years of loyal service but that's 'progress' I guess.
I spend my retirement between the UK where I live on a boat on the south coast in the summer,and South Africa where I regularly meet up with my old friend Martin Pearson for travel and social occasions.
Martin left Bermuda in 1982 to settle in South Africa becoming prominent in the Vehicle Security Industry and started a successful import/export business which he still runs on a semi-retired basis. Martin and I served together in Somerset, then Ops./Traffic and later in Special Branch.
I have also recently had contact with Jake Stimson who also worked in Western Div. From 1970-72 and was Best Man at my wedding in Bermuda in 72. Jake married an American girl and left to live in New York State where he has had several businesses in his lifetime. Unfortunately, Jake suffered a stroke whilst out deer hunting last year and now has also contracted Covid. He is fighting these issues with his new wife Debra and we all pray for a recovery soon.
I apologise for the lack of any photos at this time but will look for any group photos from that era.
We all have fond memories of Bermuda and the characters we met there (too numerous to list really) but there wasn't a 'boring' one amongst them. Although we didn't realise it at the time, the 1970's would become infamous as Bermuda's 'dark' decade. I remember my wife Wendy who worked at the Supreme Court and Court if Appeal in the days of Arthur Rose, telling me how she was present when Mr Justice Barcilon donned the black cap and sentenced Burrows and Tacklyn to the ultimate penalty which, if I am not mistaken, was the last ever judicial execution on British territory?
But we remember mostly the good times like Martin and I being rescued by Alex Arnfield in the Police boat having capsized our Malpas dinghy in the middle of the Great Sound, or Jake and I fishing off the South West Breaker surrounded by surfacing whales....scarey.
So we shall be raising a glass of Goslings Black Seal on 1st/2nd March to all our friends in Bermuda.
EDITORS NOTE - We are very sorry and concerned to hear from Mike that Jake Simpson has some serious health issues, and we wish him a speedy recovery from Covid.
22nd March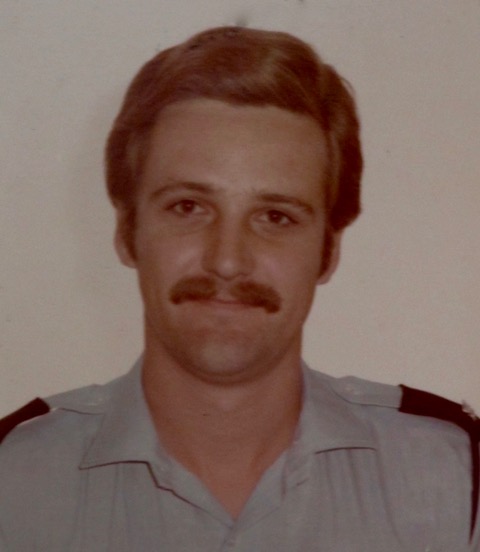 Martin Pearson
Martin Pearson - No sooner had we published the above article about Mike Chitty than we heard today from his old friend and colleague Martin Pearson, who also arrived in Bermuda on lst March 1971 and is also celebrating the 50th anniversary of his arrival on Island half a century ago. Born in Lancashire he served in the Edinburgh City Police, first as a cadet for 2 years, then for 3 years as a constable before successfully applying to join the Bermuda Police. He had a variety of postings here, serving in Central (Uniform), on Mobile Reserve, Western (Uniform), Operations Traffic, and a short spell in Murder Room before being transferred to Special Branch in 1976. He and Mike Chitty served in Western, Operations and Special Branch together and have retained their close friendship over the years. Martin left here in 1982 and settled back in the UK.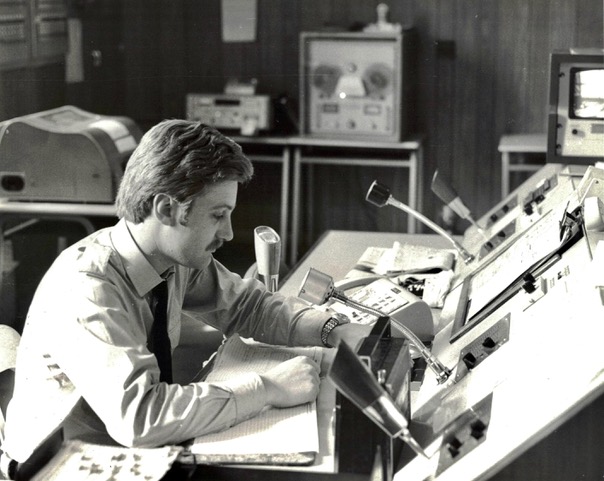 Young P.C. Martin Pearson in Operations Room - 1975
Photo taken by Ernie McCreight
Martin has written to say, "Mike and I have been good friends since we arrived in Bermuda and in recent years have shared some amazing wildlife experiences in the African bush. One such encounter was between an elephant and Mike's BMW which got a little too close and ended with a tusk through his windscreen.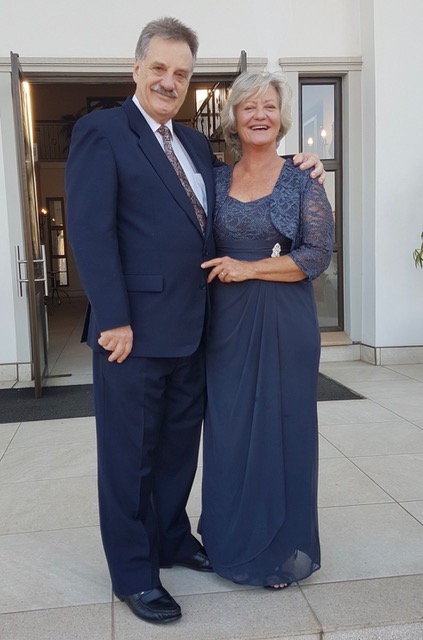 Martin and his wife Jacqui on their wedding day in 2019
We also enjoy participating in high performance vehicle track days and off-road driving. As an accomplished racing driver both here and in Europe Mike has designed and is currently building his latest racing car project."
10th March
TRYING TO CONTACT RETIRED INSP. DUDLEY SWAN - We recently received an email from retired Chief Superintendent Jack Brewer from the West Yorkshire Police in the UK who had worked as an instructor for several years when he was an Inspector at the Detective Training School at Bishopgarth in Wakefield. Jack was enquiring about our own retired Detective Inspector, Dudley Swan, who attended a CID course there in 1968. Jack had kept in touch with Dudley and his wife Marlene ever since then, and a few days ago Jack received a letter from Dudley and Marlene expressing concern that they hadn't heard from him this last Christmas.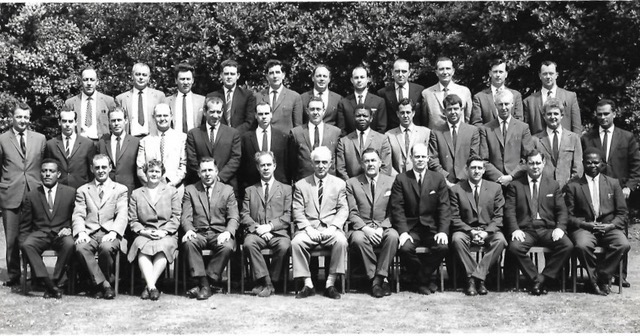 CID Course at Bishopgarth 1968
Dudley Swan is front row on far left. Jack Brewer is 4th from right on front row
Jack sent me the above photo of the course attended by Dudley back in 1968.
He was surprised to receive the letter because he had sent a Christmas card to them as usual, and asked if I could let them know that he is still around, but that sadly his wife of more than 65 years, Muriel had sadly passed away last November
I contacted Marlene by phone and she told me that she and Dudley were very concerned because they always received a card from Jack. I passed on Jack's best wishes and the sad news that his wife had passed away.
For those who may not be aware of it, Marlene has three close connections to the Bermuda Police Service. Her husband Dudley had served from 1951- 1981 and is now 93 and still driving but slowing down these days. Marlene's sister, Lillian, is married to retired Inspector Gladwin "Doc" Hall who served from 1950 -1978, and her brother is retired Chief Inspector Hilton "Jellybean" Wingood who served from 1955-1986. The two sisters live with their husbands in St. George's while her brother Hilton and his wife Brenda both reside in Somerset. Hilton has also really slowed down and seldom leaves home these days, but "Doc" who happens to be our senior pensioner, having joined the BPS on 1st October 1950 is still as sprightly as the "ever-ready battery!" These three officers between them have 89 years service.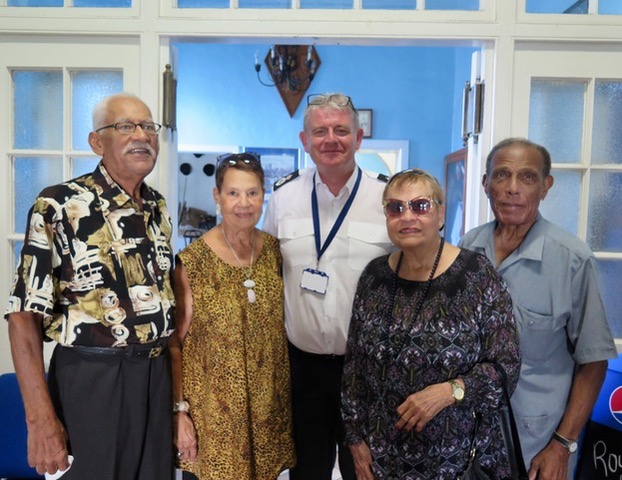 Our Senior Officer and our Senior Retirees!
(l-r) Gladwin "Doc" Hall and his wife Lillian, Commissioner Steven Corbishley,
and Dudley Swan with his wife Marlene at one of our ExPo functions
Jack remembered a couple more of our Bermuda police officers. One was Bill "Spider" MacKenzie who had also attended a CID course at Bishopgarth.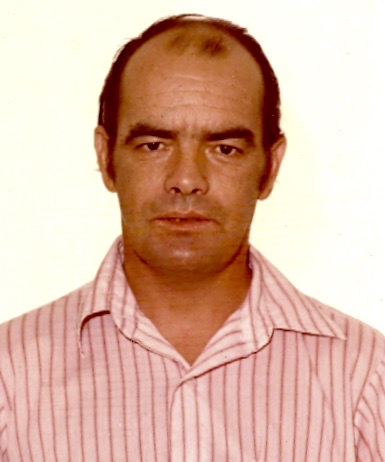 Bill "Spider" MacKenzie
The other was young Robert "Bob" Porritt who was a uniform P.C. at Dewsbury when Jack was a Patrol Inspector there. Jack recalls Bob coming to see him about working in Bermuda, and after spending 5 years in the BPS from 1970-1975, Bob returned to West Yorkshire and was a Sgt at Wakefield while Jack was the Divisional Commander. CLICK HERE for an article about Bob in our "Then and Now"column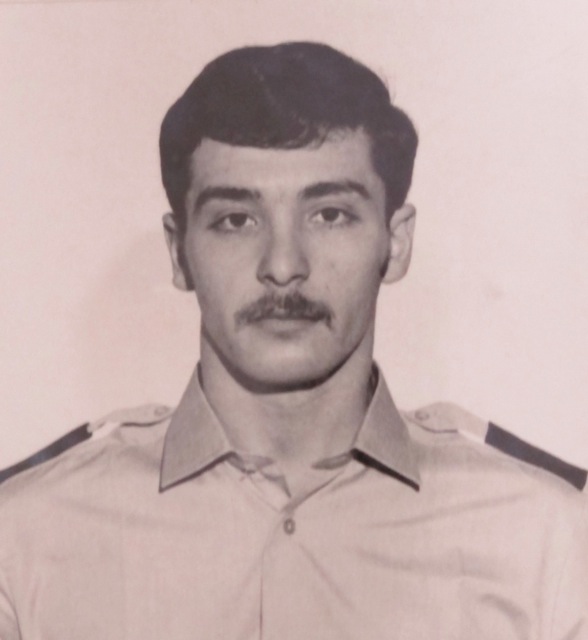 Young P.C. Bob Porritt
Sadly, Jack's wife Muriel suffered from Alzheimer's disease for 10 years with Jack as her main carer. In Jack's own words, "She supported me throughout my career, and brought up our four children. I regarded it as payback time."
9th March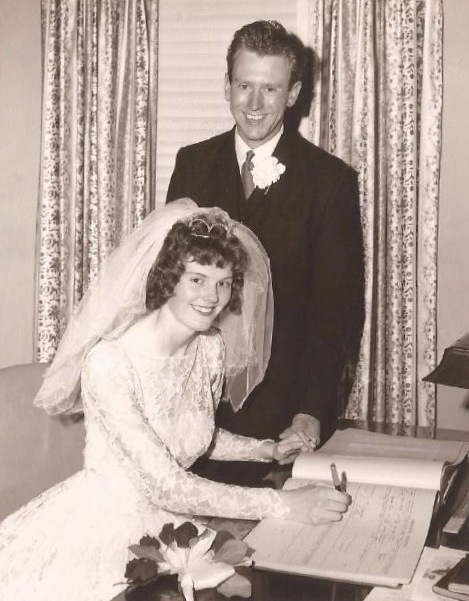 Alan and Brenda on their wedding day
SAD NEWS FROM ALAN COATES - Anyone who worked in Central Division in Hamilton from 1963 - 1968 will no doubt remember former P.C. Alan Coates who served as Central Divisional Clerk during most of that time. While in Bermuda Alan married his wife Brenda and upon leaving the Island, Alan handed over duties as Central Division Clerk to young P.C. Dave Cook, and the two have stayed in touch with each other over the years exchanging Christmas cards. Dave just received a Christmas card from Alan and was deeply saddened to read that his wife, Brenda passed away on 1st December 2020. Brenda had been living with Parkinson's disease for the last few years. We offer our sincere condolences to Alan on behalf of all his old friends and colleagues.
I should add that Alan mentions above that he came out to Bermuda at the same time as Ron Wallace. We are aware that Ron is in quite poor health and is now residing in a care home in Scotland. CLICK HERE for an article about Alan in our "Then and Now" column.
2nd March
WANTED - Information about Bernard "Bernie" Burrell - We've just received an enquiry from a retired Chief Inspector in the Surrey Police who has asked if anyone might know the present whereabouts of an old friend of his, Bernard "Bernie" Burrell. Bernie served in the Bermuda Police from 1963- 1965 before returning to the UK where he joined the Surrey Police.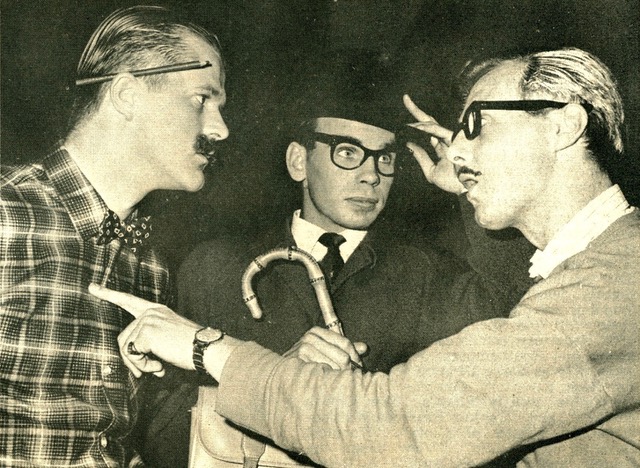 Pete Parnell, Bernard "Bernie" Burrell and Colin "Dusty" Hind
in a scene from On Monday Next. Peter is no longer with us,
but "Dusty" is alive and well and is still living here in Bermuda
While serving in the Bermuda Police, Bernie joined our Police Drama Group and performed in two plays put on at the City Hall Theatre, "On Monday Next" and "Arsenic and Old Lace". If you have any information about Bernie to help us get in touch with him it would be much appreciated. Although our Police Drama Group has since disbanded there was a time during the 1960's when it was very active on the local scene, and put on a number of stage productions at City Hall Theatre. CLICK HERE for our article on the History of the Police Drama Group.
25th February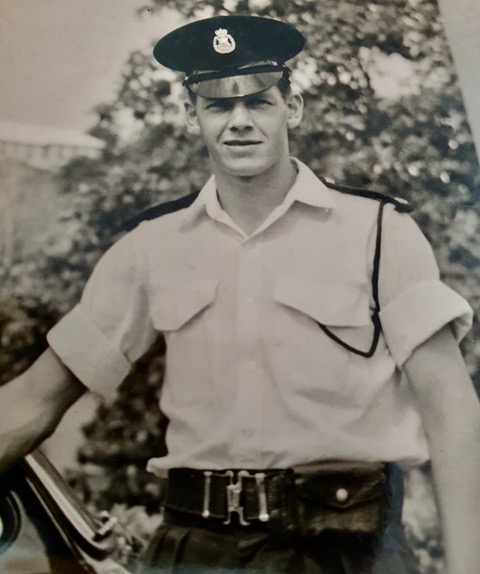 Sgt John Edwards
Passing of former Sergeant John Edwards - We were deeply saddened to read of the passing of former Sergeant John Edwards in this morning's Royal Gazette (25th Feb 2021).
John was originally from Wales and he served in the Royal Navy from 1955 - 1957, then in the Herefordshire Constabulary for 3 years prior to joining the Bermuda Police in January 1960.
John served in Central Division (Hamilton) for almost a year and was then transferred to Operations, Traffic Department. He also had a spell in Parishes before being promoted to Sergeant in May 1968. He was very well liked by his colleagues. John resigned in June 1969 to go into private business.
CLICK HERE for more information about John in our Latest News column.
29th January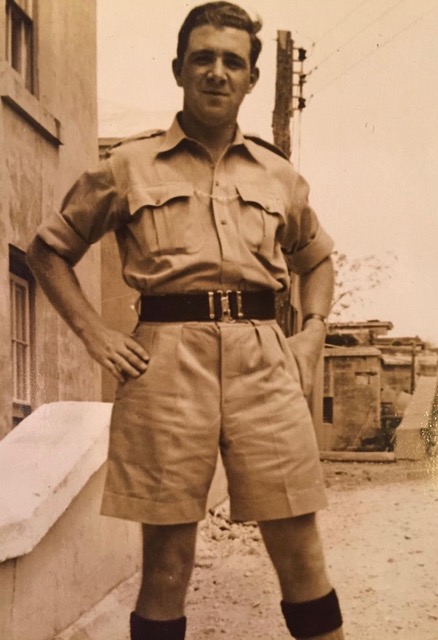 Young P.C. John Cafferkey
Passing of former Sgt. John Cafferkey - We have just been advised of the sad news that former Sgt. John Cafferkey, who served in the Bermuda Police from August 1953 until September 1968, passed away peacefully in his sleep this morning, 29th January 2021, at the age of 91 at his home in Hertfordshire, England.
John was born in Ireland and he served in the Royal Air Force prior to joining the West Riding Constabulary from 1950 until he came out to Bermuda in August 1953. Stationed mainly in Central Division (Hamilton) he was promoted to Sergeant in 1961, and was one of the early instructors when our Police Training School opened in the 1960's. He also served in the Press Liaison Office, and was awarded the Colonial Police Medal for Meritorious Service in 1966.
CLICK HERE to read more about John in our "Latest News" column.
27th January
Eddie Davies has "Gone to the Dogs" - After trying to find contact details for " Fast Eddie" Davies for some time we finally obtained Eddie's email address from John Tartaglia while we were trying to identify all the members of the Prospect Football Team in our latest "Who, Where and When" column. CLICK HERE to see the photo.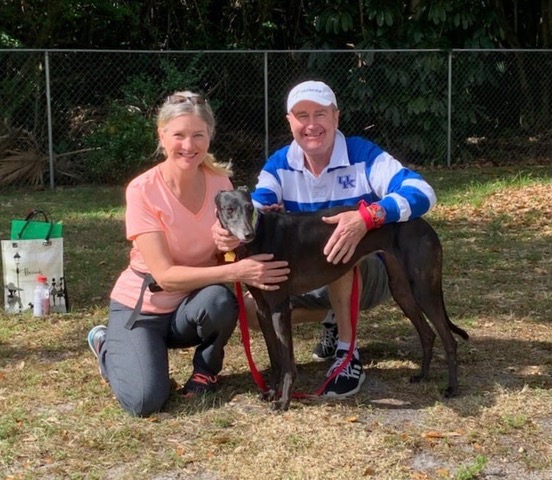 Eddie and Eileen with Zaffrina at Palm Beach kennel
As you can see from these photos, Eddie has really "gone to the dogs"down in Florida where he's settled with his lovely wife, Eileen, in the Bradenton area, although they usually visit Bermuda 4 or 5 few times a year if it wasn't for Covid. Eddie wrote to say, "We have 3 retired greyhounds that were all racers with the latest addition having raced at Palm Beach on New Years Eve 2020 when she ran 2nd.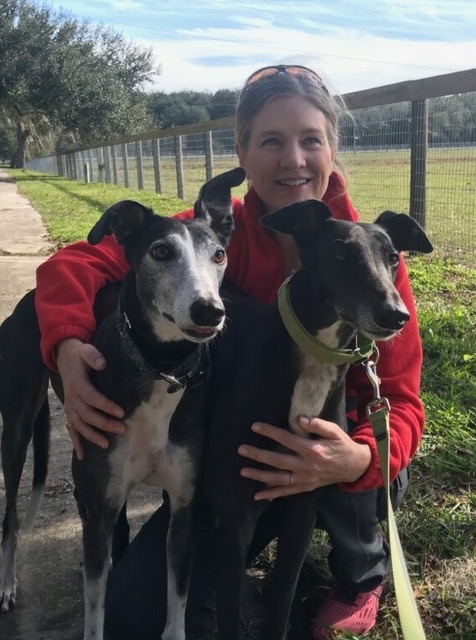 Eileen with Nina (all black) and Princess
We first adopted Nina who is now 6 from the Retired Racing Greyhound Kennel in December 2018 and Princess in August 2019. Eileen and I volunteered at the kennel a few times a week from November 2018 until it closed in February 2020. The latest addition Zafrina who is Princess's sister we adopted 3 weeks ago.
I should note that Eddie made his last formal appearance at our Annual Ex-Bobbies Bash at Mad Hatters in December 2016 where he is considered to be irreplaceable - as our resident comedian! Hopefully, when Covid is finally under control he can make a guest appearance at the "Bash"!
18th January
PRC Converted into Vaccination Centre - The Police Recreation Club has been a hive of activity for the past week but the bar is completely empty! The club had been temporarily taken over for use as Bermuda's Covid Vaccination Centre. I visited Prospect earlier today with my wife to have our jabs and the vaccination centre was operating like a well-oiled machine which is a credit to the Island. CLICK HERE to read about how it's operating in our Latest News column.
17th January
Hearing from 50th Anniversary colleagues - We're beginning to hear from some of the guys who are celebrating their 50th Anniversary if joining the Bermuda Police and we encourage you to contact us if you are one of the "69"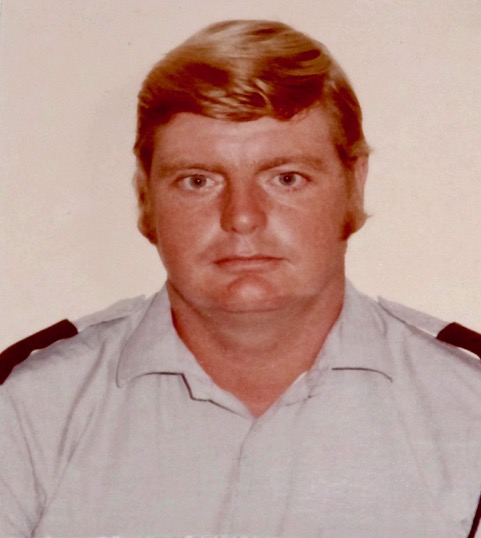 P.C. Peter Swann
Peter Swann - who served from 1st March 1971 - 1976 CLICK HERE for message from Pete in our 50th Anniversary blog.
I still live at Northallerton North Yorkshire. At the grand old age of 70 I am now retired after selling my warehouse and courier business a few years ago. I have to report I sadly lost my wife Pauline to cancer some three years ago which of course was a great loss. I frequent Bermuda at least once a year and stay with friends in Southampton but I did not travel 2020 but should be on the island again 2021. 50 years sounds an awful long time but they were very happy days on Marine Division and then cCntral CID. I am glad I experienced them.
All the best for the future to all in Bermuda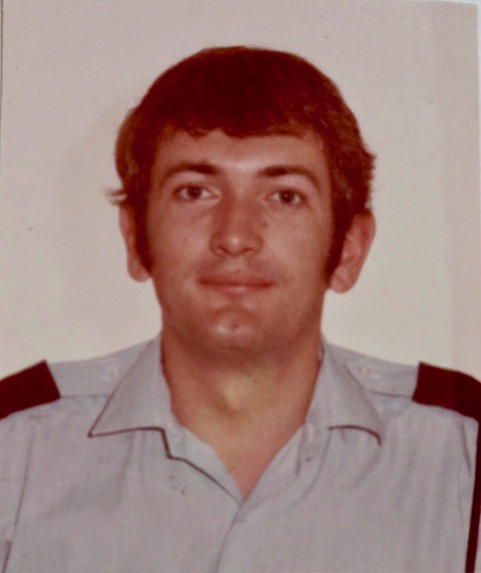 Stephen "Steve" Rollin
Stephen "Steve" Rollin - who served from 5th November 1971 - 2005 retiring at the rank of Inspector. Steve, who is presently living in England has written an article about his life in Bermuda which we have published in our "Then and Now" column. CLICK HERE to read the article.
2nd January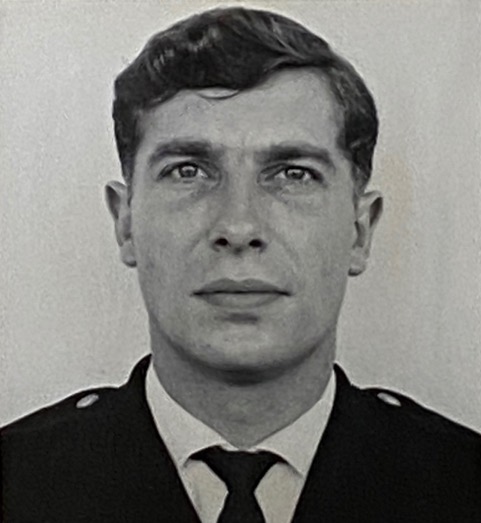 Young P.C. John Cooney
John Cooney - We have just heard the sad news from Terry Heathcote that former P.C. John Cooney who served here briefly in the Bermuda Police from September 1962 - November 1963, passed away at his home in Staffordshire on 25th December 2020. John had attended Basic Training Course #2 in 1962, and we understand that after returning to the UK he joined the Staffordshire County Police. Terry, who had been a member of the Staffordshire County Police prior to coming to Bermuda to join the Bermuda Police, had re-joined the Staffordshire Police on his return to England and then got to know John Cooney.
We had no further details of John's death at this point but will publish any further information when we receive it. We extend are sincere condolences to his family.