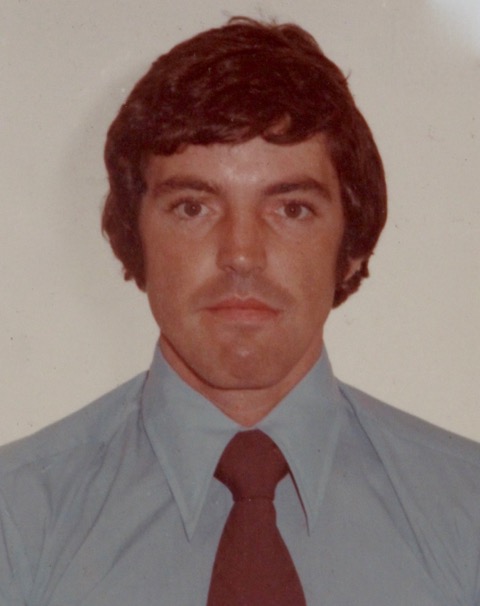 Young D.C. Philip Bermingham
I was born in Cheshire in 1951 and occasionally attended Wirral Grammar School for Boys before I joined the Liverpool City Police cadets in September 1967. My parents, Brian and Dorothy Bermingham, had three children with me being the oldest, and my younger siblings Colin and Denise.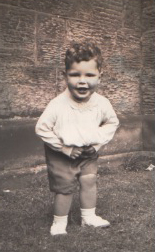 A very young Philip at age 2
During my cadetship I spent three months in London in a youth club in a really tough part of the East End as a community service volunteer. I then went to Israel and worked on a kibbutz for two months and on weekends hitchhiked around the country telling American girls that Paul McCartney was my uncle!
After serving two years on the regular force I joined the Bermuda Police in July 1972. Moving to Bermuda was the best move I ever made and I have such fond memories of my colleagues there and I am forever grateful for the grounding it gave me in my photography career in the United States.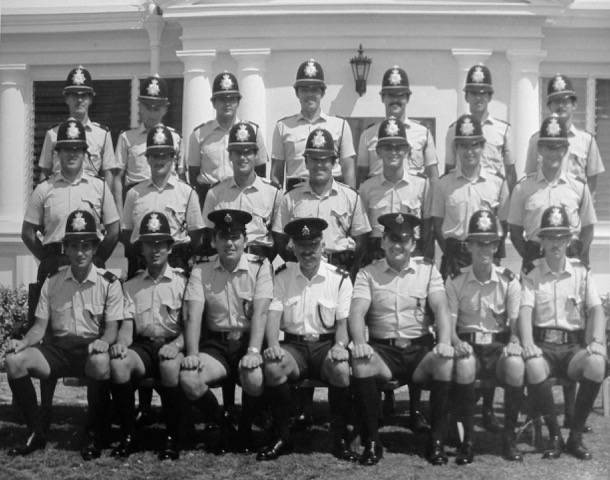 Bermuda Police Localisation Course July - August 1972
Front Row - 344 John Challis, 355 David St. John, Sgt 12 Richard "Dick" Murphy,
Inspector David Parsons, Sgt 30 Patrick McBride, 279 Robert Durman, 270 David Cooper
Middle Row - 349 Michael Richardson, 281 Michael Dewar, 284 Peter White,
272 Brian Callaghan, 351 Michael Ball, 319 John Skinner, 296 Colin Cocker
Back Row - 317 Dale Thornton, 329 John "Stuart" Craig, 396 Douglas Proctor, 309 Philip Bermingham,
299 Terence Allebone, 313 James Brodie, 297 Peter McNulty
Shortly after arriving, Commissioner George Duckett was murdered at his home in Bleak House. We were on mobile patrol that night and were in the vicinity of the Police Recreation Club (PRC) planning to pick up a case of beer for after the shift ended when we heard the call to Bleak House. I recall being with 'Stumpy' Kirkham and Leon Fubler in a Landrover and there was a traffic car and an ambulance already there on our arrival The Commissioner was lying on the floor in the kitchen and there was a general scene of mayhem.
To see the man who had interviewed me in London only a few months earlier murdered in his home had a profound effect and indeed things worsened as six months later Bermuda's Governor, Sir Richard Sharples and his ADC, Hugh Sayers along with Horsa, the Governor's dog, were shot and killed just outside Government house.
This was a case of being thrown in at the deep end. I do not think that any of the intake I joined with suspected this would be happening in Bermuda.
A transfer to "house to house" inquiries under the leadership of Barrie Meade was next. Barrie with his inimitable sense of humor renamed it the Suspect Autos Bureau and we were all designated as Detectives third grade! Our Job was to interview all the people stopped in roadblocks on the night of the murder.
Being chased by dogs was a frequent occurrence during these house-to-house visits and we adopted the practice of carrying an attache case with a truncheon at the ready for this eventuality.
In December 1973, along with Alan Bolton and Dennis Gordon on Court Street we arrested Malcolm Marsden Dears and we were converged on by a large crowd. The next four days was spent at KEMH after a whacking on the head with a billiard cue.

Rare photo of young P.C. Philip Bermingham
in Bermuda "Bobbies" uniform.
Maybe this is why he took up photography!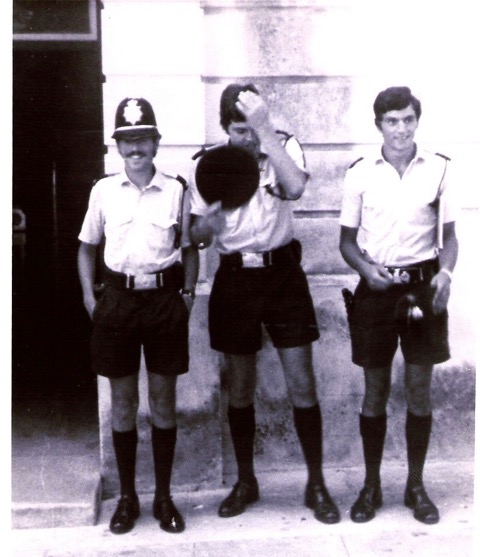 Three young bobbies on the beat in Hamilton taken in 1972
(l-r) Dave Cooper, Phlip Bermingham and James Brodie.
P.C. Cooper reports that Philip was quite camera shy back then!
I was transferred to Scenes of Crime not long after that and became seriously interested in photography. Les Waddell was the inspector and Paul Farrell and Cal Christopher were sergeants. Peter Clemett and Erskine Warner were the photographers and the amazing Merv Willey taught me the nuances of fingerprint identification and tasting rums of the islands!
One of the cases I worked on was a villain by the name of "Eggs" Smith He was a serial rapist and would on his release from prison terrorize the island with his activities. After several weeks of incidents at which he very kindly left his fingerprints at every scene, we discovered that he was living rough in the woods in Warwick above the grocery store by Riddles Bay.
Inspector Ernie Moniz took me to the location and as we were walking through the woods there was "Eggs" Smith large as life. We ran towards him and Ernie fell forward and slid face first down the side of a steep hill along with the only radio. I was reasonably fit at that time so I jogged behind "Eggs" until we got to the grocery store.
I rather rudely commandeered the pay phone from a very upset lady and called Ops to tell them that "Eggs" was crossing the road onto Riddell's Bay golf course
His several week reign of terror was rapidly coming to an end and it seemed that the entire police force was descending on the golf course. I shudder to think of the damage caused to the course by the very excited officers attending that scene. There was then a celebratory drive with the prisoner to Hamilton Police station at about 50 miles an hour during which we were fortunate not to kill anybody on the way.
At the same time I was dating an American Nurse and she was visiting when this happened. I lived on East Broadway and one night we walked down to the water and sat on the dock. As we were sitting there I saw a guy with a crowbar come to the rear of a building and he started to break into the building I very casually said to Ann just get up and slowly walk back to the apartment where I called Ops who responded immediately and arrested him.
I think it was Paul Davies who was the CID guy involved and was amused to read the report that off duty DC Bermingham was "fishing" off his dock one evening when he saw the defendant break in!
One of the pluses of Bermuda was that it hosted the Senior Naval Officer West Indies SNOWI. Whenever the Royal Navy visited with a helicopter they would assist us in photographing Bermuda from the air, and on several occasions I worked with Inspector Tim Willis from Special Branch. Armed with my camera equipment we would fly over the Island taking photographs that were extremely useful when executing search warrants, especially in the days when addresses were given as, "the white house with green shutters back of Friswell's Hill".
The Navy pilots were terrific to work with and would delight in scaring the living daylights out of me and Tim with their daredevil antics. The first one would be to take off in a WASP helicopter and immediately drop to the water as if we had lost power! Another favourite was to suddenly turn the chopper sideways so we were looking straight down, "to give us a better angle"! But the best part was being invited for dinner afterwards at the Officers Mess and experiencing their exceptional hospitaility.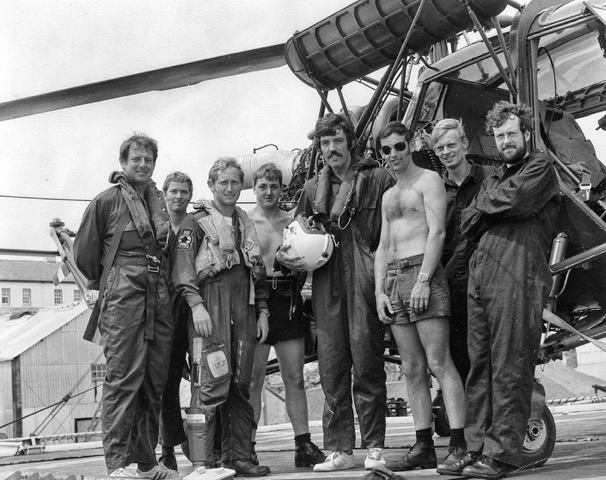 Inspector Tim Willis (left) and D.C. Philip Bermingham (centre with helmet)
preparing for a flight on a Royal Navy helicopter
I married Ann Daley from Pennsylvania USA in 1976 and we spent the first two years of our marriage in Bermuda where Ann worked as a nurse at KEMH but was quite homesick for the US.
In December 1977, I went to Casemates Prison with Deputy Commissioner Alf Morris. He witnessed the hangings of Larry Tacklyn and Buck Burrows and I will never forget his words as he rejoined us, "Gentlemen we have achieved our objective".
Ann and I left Bermuda on December 1st 1978 and located in the Washington DC area. I found it impossible to get a job as a photographer that I would enjoy and I had little interest in becoming a police officer in the U S so I started my own business. I worked for newspapers doing ad photos on a freelance basis and put the biggest ad in the Yellow pages. I was delighted to see H.A. and E. Smith's of Bermuda opened a store in Alexandria Virginia which was a few blocks from my home. I visited the manager Bill Banks who was an affable Scot and he bought about thirty landscapes I had taken of Bermuda which were framed and hung in the store.
I did the fashion and product photography for the store on the second floor of the building and one day I casually mentioned that the space would make a great studio.
For the next eight years I had my business there and I was fortunate enough to enjoy the seal of approval that Smith's gave me by having me there. They liked the arrangement as well because all my clients had to go through their store to get to me. A "win win" situation all around. I frequently had dinner with Henry Vesey and Roger Davidson on their visits to the store and kept in touch with Bermuda through them and with regular visits to Jonathon Smith's family who had semi-adopted me when I had lived there.
(Editors note - Jonathon Smith later rose through the ranks of the BPS and became Commissioner of Police.)
In 1986 our daughter Scarlett was born and shortly after that I bought a three story building in Mclean, Virginia and opened a second studio there.
I became a citizen of the USA on April 16th 1987 which by coincidence was my birthday.
During the time at Smiths I had developed a wedding and portrait business, supplemented by any job that would pay the rent, but it was portrait photography that I enjoyed the most.
In 1983 I approached the National Symphony Orchestra who performed at the John F Kennedy Center for the Performing Arts and offered to photograph the principal performers pro bono and have a display at the Kennedy Center They agreed to this and these portraits 30X40 inches would accompany the orchestra on their performances as well.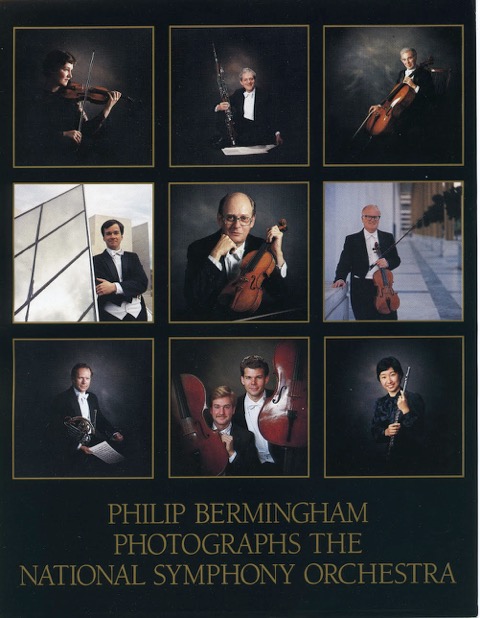 Poster for National Symphony Orchestra
Photos by Philip Bermingham
(Photographs copyright Philip Bermingham 2017)
The PR director asked me if I would photograph their president, Virginia Mars, who was part of the Mars candy family. We got on famously and she has had me photograph all of her family members as well as referred me to numerous people. I think she was the most influential person in my career development.
Another project I conceived was to approach the Dossier Magazine. They did an ambassadors edition each year and the photographs looked like police mug shots. The only thing missing was their CRO number! I offered to furnish them with black and white photographs of each ambassador if they wrote to the embassies introducing me. We traded out advertising space and any sales I made to the ambassadors would be mine.
At the time there were one hundred and thirty one embassies with credentials to Washington DC and in a three month period I had photographed one hundred and twenty six. The magazine was delighted and this project continued for the next six years until the magazine unfortunately folded.
The Department of State arranged for an exhibit of the portraits in their gallery and Sir Oliver Wright the British Ambassador did the ribbon cutting. By this time a good rapport had been established with the British Embassy and frequently I did work there.
In 1991 I photographed Sir Antony Acland the British Ambassador and his new wife Jenny. They spent their honeymoon at Cambridge Beaches. Shortly after this I got a call from Mike Price the Press Secretary at the embassy enquiring if I could check my diary to see if I was available for two dates in May.
On the first day I was to photograph Queen Elizabeth II with all of the Commonwealth ambassadors, and the second day I would photograph the Queen and Prince Philip with President and Mrs. Barbara Bush before the formal dinner at the British Embassy. Of course I was available. It was the most exciting session of my career and I was quite nervous to put it mildly.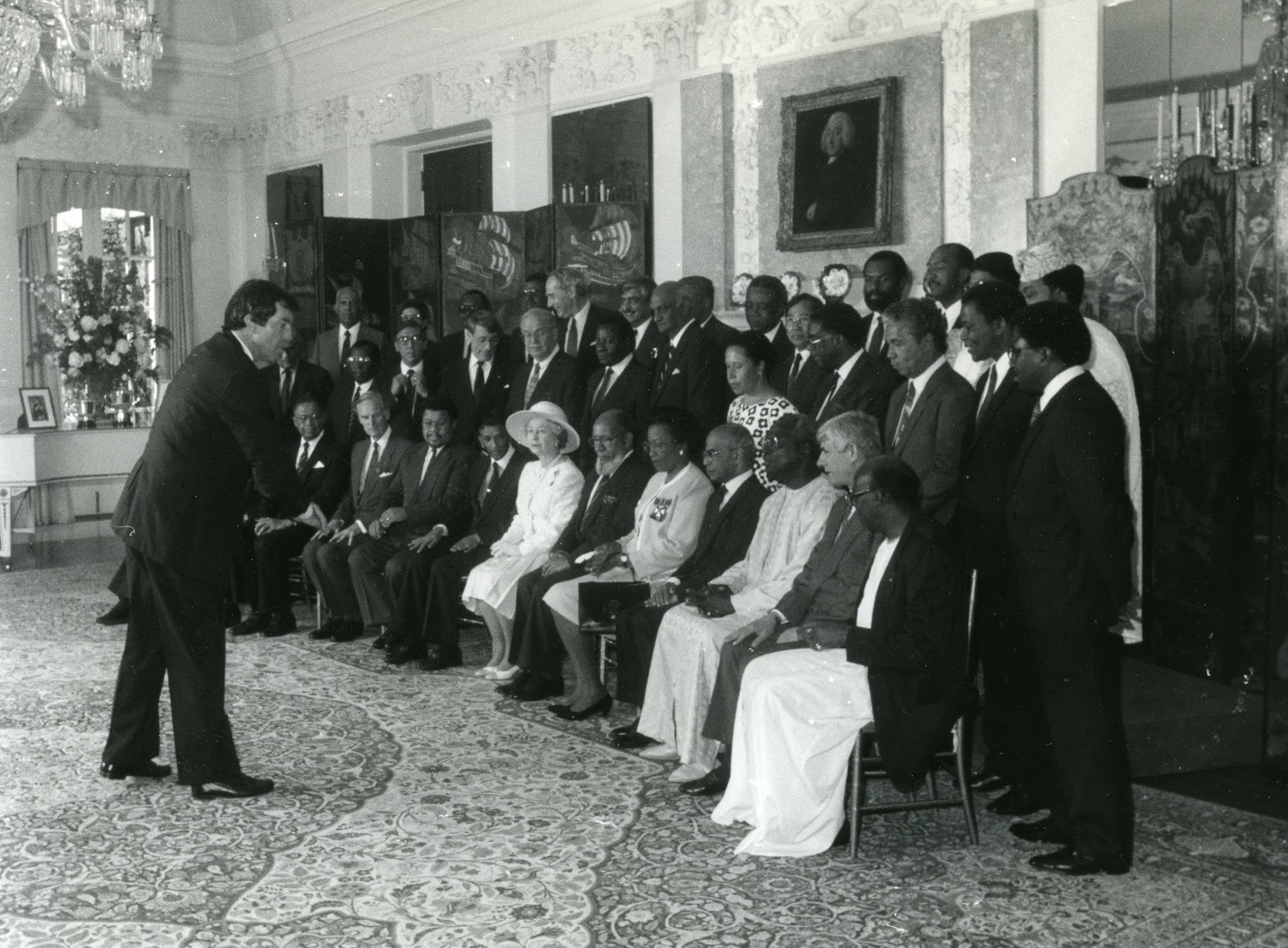 Philip organizing an official photograph of HRH Queen Elizabeth II
with the Commonwealth Ambassadors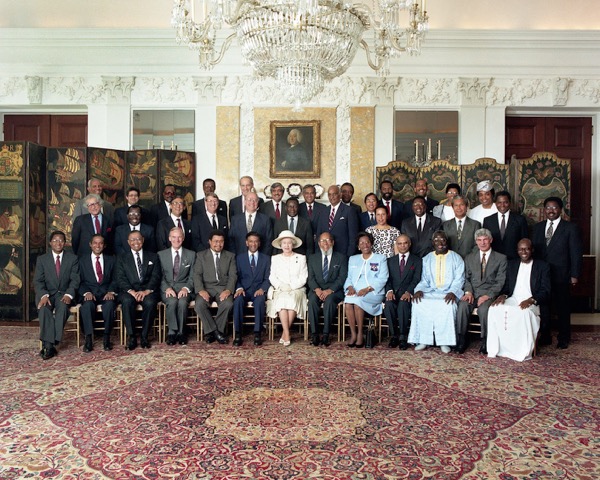 'Mission Accomplished'
Her Majesty Queen Elizabeth II and her Commonwealth Ambassadors
(Photographs copyright Philip Bermingham 2017)
I set up the venue and did a dry run with the secret service agents in place. This presented a problem because they were so much bigger than the President and the Royals so I had to rearrange everything when they arrived. We did the portrait in the embassy library and there were about forty secret service agents watching.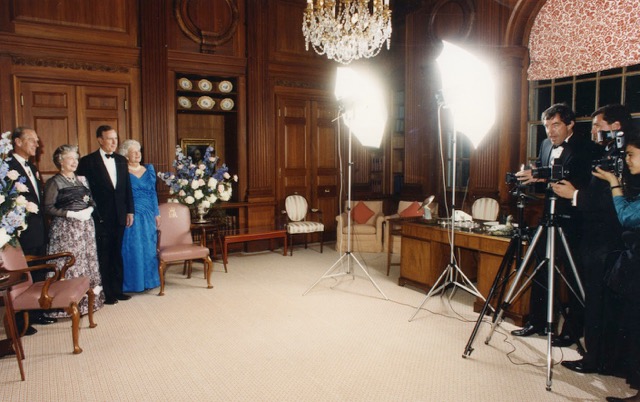 Preparing to photograph Her Majesty Queen Elizabeth and President George H.W Bush
(Photograph copyright Philip Bermingham 2017)
I asked Prince Philip to put his hand in his pocket and he said "NO" I asked him to put his hand on the chair and again He said "NO". I asked him to sit in the chair and again He said "NO".
I asked the Queen to put her handbag down and smiling she said "NO" The Bushes were amused and started to laugh but I wanted the ground to open up and swallow me.
I turned to the Queen and said "Ma'm I am so pleased to see that your dress is nicely pressed as I had a dream the other night that I had to iron it". With that they all started laughing and click click click I took about 18 photographs and captured some great expressions. They were delighted with the results.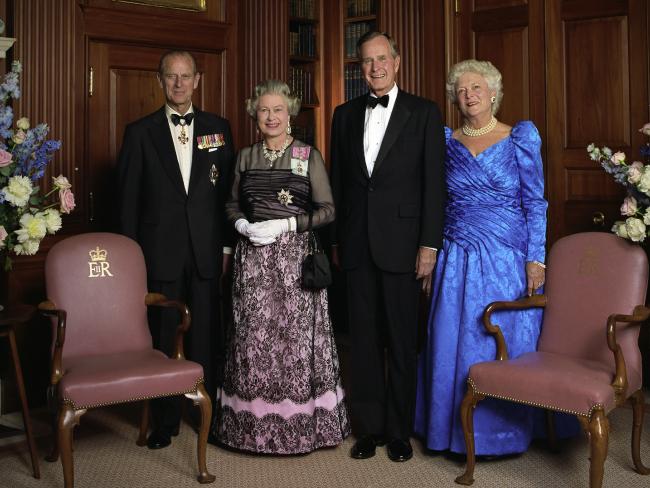 All Smiles for official photograph taken by Philip
(l-r) HRH The Duke of Edinburgh, Her Majesty Queen Elizabeth II,
President George H.W. Bush, First Lady Barbara Bush
(Photograph copyright Philip Bermingham 2017)
Not long after that the Washington Post did a two page article about me in the Style section of the Post and this generated a series of articles including the cover of the Professional Photographers magazine of Sir Anthony Acland the British Ambassador titled "Living on the Edge." The title explained that being British in America gave me a fifteen minute edge, but after fifteen minutes I had to come up with the goods and prove myself. I believe this remains true to this day and feel fortunate to have had this "advantage".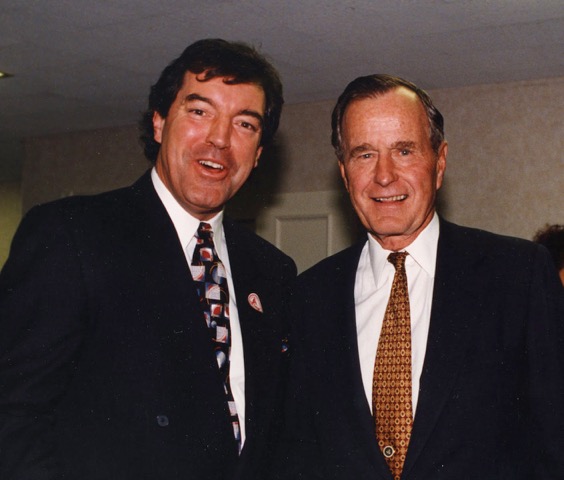 Philip relaxes with President George H.W. Bush
(Photograph copyright Philip Bermingham 2017)
I got an assignment to photograph President George Herbert Bush's Cabinet after this and David Smith from Conservatives Abroad in UK saw the album and showed it to Sir Jim Spicer who arranged for me to photograph Prime Minister John Majors cabinet at the party conference in Blackpool.
This was an entertainment in itself. Large amounts of pints are consumed at this event and each cabinet minister asked me to put in a good word for him to the Prime Minister! At the end of the week I still had not photographed Lord Hailsham, Michael Heseltine and John Major I went to London and photographed Lord Hailsham at the House of Lords. Michael Heseltine was photographed in his tiny office in a place I can't remember and I waited to hear about my appointment with the PM. I was leaving on the Monday and it was now Friday. I got a call Saturday afternoon to say the session was on at 10 Downing Street at 3pm Sunday
I had gone to Torquay for the weekend with a mentor and friend Mike Feedman to attend the British Institute of professional photographers convention. Mike loaned me his BMW to go back to London in time for the portrait.
I have to say it was a heady moment driving through the gates of Downing Street and saying to the 'Bobby' on the gate I had an appointment with the Prime Minister.
I had been told I only had fifteen minutes to do the session and when I was greeted warmly by the PM the first thing he said was, "Does this tie look a bit bland?" It did and he immediately said, Let me change it." He disappeared upstairs and I'm thinking there goes my fifteen minutes. He comes back down with an equally bland tie and I decide to go for that one. As I was posing him I lifted his chin and said "move your chin just like that!" and he quipped back Tommy Cooper style "Just like that!"
"That's very good" I responded and we launched into a Tommy Cooper exchange that ended in him telling me he had a dream last night that he ate a giant marshmallow! When he woke up in the morning he could not find his pillow anywhere!
By this time we were doubled over with laughter and his eyes were streaming I was thinking to myself if any member of the British public could see me and the PM right now they would shudder with fear! Talk about breaking the ice.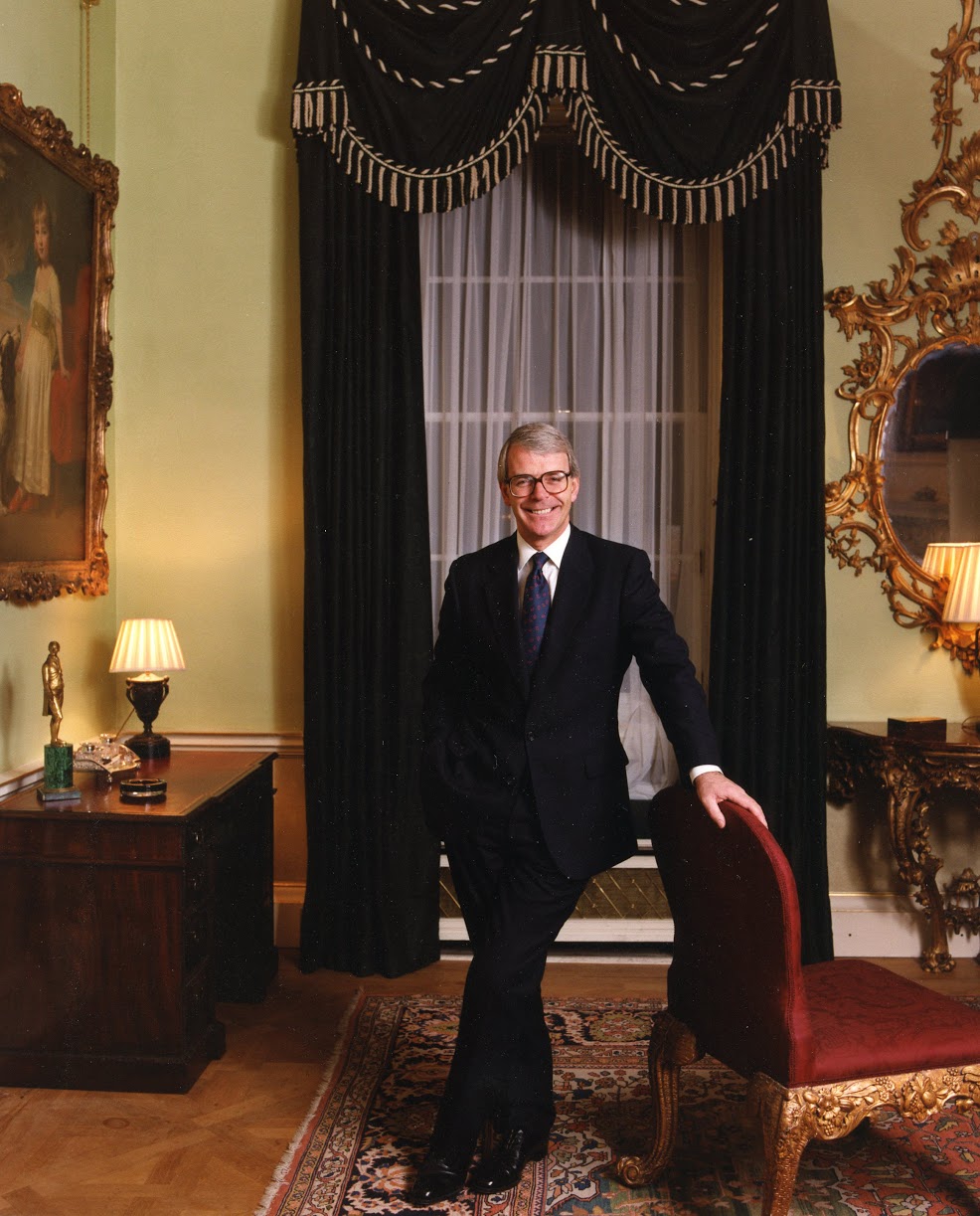 Philip's photo of Prime Minister John Major - "Just like that"!
(Photograph copyright Philip Bermingham 2017)
We spent about an hour and a half and at the end he says would you like a cup of tea? Now you do not say no to a cup of tea with the PM and I spent another half an hour pinching myself to see if this was real. He also showed me where the bomb that the IRA had launched the week before had landed and it seemed much closer than the press had reported.
What was amazing was that I had got twenty-four members of the cabinet in one week and it had taken me fourteen months to do President George Bush's cabinet in Washington DC. This shows that sometimes you cannot be a prophet in your own town.
I had also photographed some prominent conservatives that week including Lord King, Chairman of British Airways, as well as the charming former Home Secretary Willie Whitelaw and Norman Parkinson who confided that he was hoping for a lordship. Sir Geoffrey Leigh who I also photographed proposed the idea of giving leather bound albums to major donors of the Conservative party which was well received.
This project then led to US Republican Senator Thad Cochrane asking me to photograph the Republican Senatorial conference. The senate has a photography department and I was friendly with several of the photographers but the senators could not use the photographs for campaign purpose so I was hired to do the forty-six Republican senators. This was 1994 and the deal was that I would photograph any additional senators that were elected. The end result was that five or so senators were added and they now had a majority. I think that was the time that politics took an ugly partisan shift .
There was a mean spirit in Washington since that time and a lot of people attribute that to the rise of Newt Gingrich. It has never been quite the same since then and I personally lament the loss of the cordiality that prevailed on both sides back then.
In 1993 I received an assignment to photograph President Nixon and his grandchildren on the occasion of his 80th birthday on January 9th. This was supposed to be the entire family at home, Unfortunately, Mrs. Nixon was not well and the portrait was taken in his office with just him and the grandchildren.
This assignment was for the Associated Press but they did not want an AP photographer after the last one had taken Mr. Nixon to task on his foreign policy. I was considered user friendly!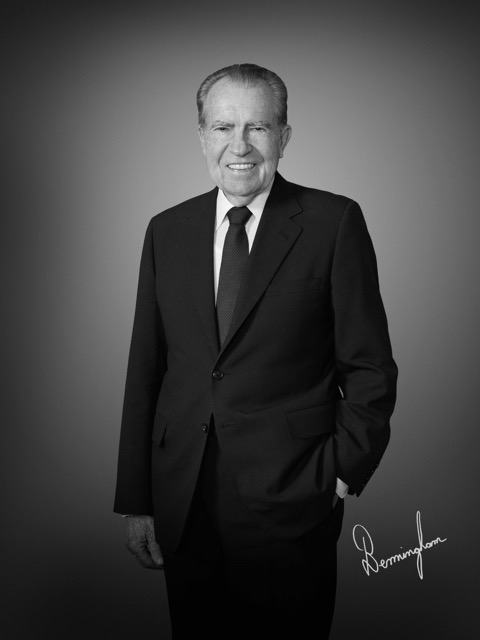 Portrait of President Nixon taken on his 80th birthday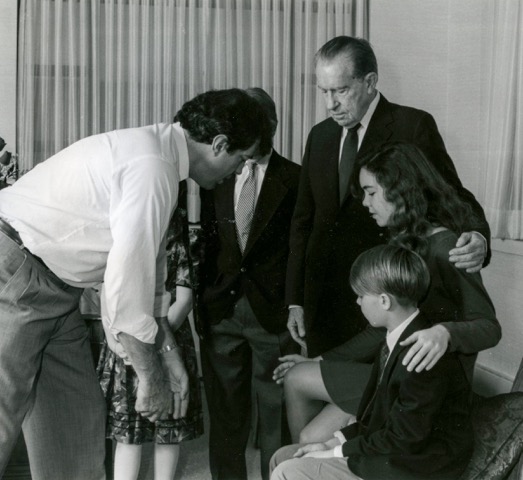 Philip arranging photo shoot with President Nixon and his grandchildren
(Photographs copyright Philip Bermingham 2017)
We photographed the grandchildren first and had arranged for a one hour lab to develop the film. As we waited we talked about his Bermuda visit and I took more photographs of him alone.
When the photographs came back Mr Nixon, who did not have secret service protection but instead was driven by the Hokonos police chief, could not find his driver and grabbed the keys of his desk and drove home to show Mrs. Nixon. To this day I have an image in my mind of Nixon's hands gripping the steering wheel at a traffic light giving the raised finger V sign to a passing motorist!
On his return the AP wire guy transmitted the selections to his office and the photographs were in more than 330 newspapers worldwide the next day.
That night after a dinner in New York City I opened the Sunday edition of the New York Times to see a half page spread of him with the grandchildren. He died a year later and the family displayed a 30 x 40 inch portrait of him with the grandchildren on the coffin.
It was around this time that I started to visit Biddeford Pool in Maine. I rented a place there from 1989 to 2005 and then I bought two little cottages next to each other on the water and spend most of the summer months up there.
When General Colin Powell was retiring as chairman of the Joint Chiefs of Staff I was commissioned to photograph him and his wife Alma at their residence in Fort Myer, Arlington.
My brother Colin Bermingham, who is also a photographer, was with me for that session and during our conversation he told General Powell that all his mates had teased him by calling him "Colon" which was the way Powell's name was pronounced. General Powell explained that he had lived on Kelly Street in the Bronx growing up and during the war the B17 pilot Colonel Colin P Kelly was the first army officer to be killed in a bombing raid against the Japanese navy after the Pearl harbor attack. The Kelly pronunciation has remained to this day.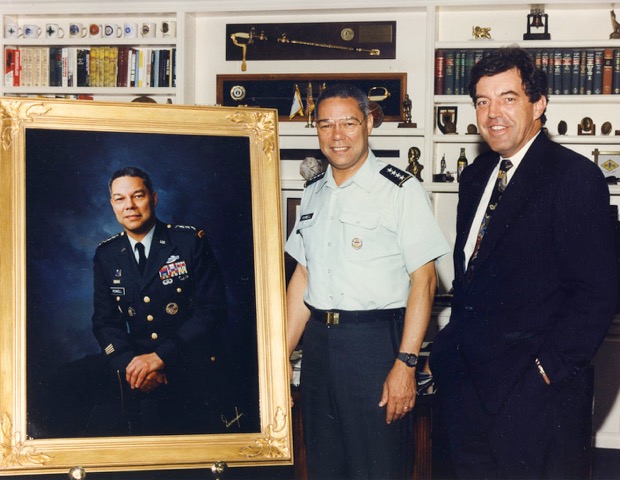 General Colin Powell and Philip Bermingham examine the portrait taken by Philip
(Photograph copyright Philip Bermingham 2017)
On completion of the session Powell said "Hang on lads I want a photograph of you two ". With that he goes upstairs and comes back with a new polaroid camera that he had just been given and takes a polaroid of me and my brother, I take one of him with my brother and my brother takes me and Powell.
This was Thursday morning and Powell then left for a meeting at the Pentagon. My brother returned to UK Friday evening and Saturday morning the US made their second strike on Iraq.That night in the pub the talk was all about the strike and my brother's mates asked him if he had seen his namesake "Colon" to which he calmly produces the polaroid saying "yes actually I did!"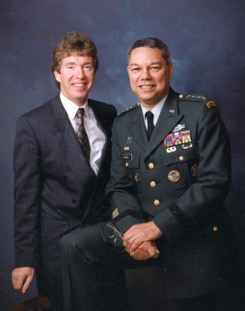 "Colin and Colin"
Colin Bermingham and

General Colin Powell,
Chairman of the Joint Chiefs of Staff
(Photograph copyright Philip Bermingham 2017)
All of these high profile sessions led to a lot more family portraits which were the more lucrative aspect of the photography business.
In 1996 a family took me to Mustique in St Vincent and the Grenadines to photograph their 5 year old and 11 months old sons. Their house was under construction so we stayed at their next door neighbors house which belonged to Mick Jagger I remember dancing on the sofa with the Rolling Stones records cranked as loud as possible doing my Mick impersonation.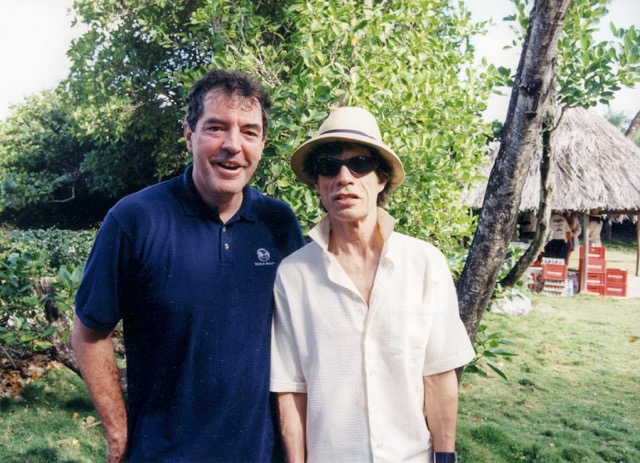 Philip chats with next door neighbour Mick Jagger in Mustique
(Photograph copyright Philip Bermingham 2017)
Mustique is the most sensational place to photograph people. The beaches are spectacular, the houses sensational and the lighting is exquisite. I have visited there on more than fifty occasions in the last twenty one years. I made a great many friends who have invited me to photograph them in some of the most exciting places in the world. One family called me on Thursday afternoon asking if I could do their portrait Sunday afternoon in Zurich at their house on the lake in front of their colossal Henry Moore Statue. I was back in the office Tuesday morning!
I have done many sessions for Peter Lynch the celebrated investor and writer of 'Beat the Street' and 'One up on Wall Street'. He has 8 grandchildren and I was asked to do a session after Christmas for him. As I flew down there the last section of the trip is a scary little puddle jumper from Barbados to Mustique. I sat in the back row which has more leg room and put my camera equipment between the seats.
There was a guy sitting next to me wearing a black tee shirt and jeans and he looked a bit like an air conditioning mechanic. He asked me if I was a photographer and I said yes. He told me he was as well and he specialized in portraits.
He then told me that he had published a book called "Exposures" and he could not believe that no photographer had ever named a book by that name before. This was an intriguing exchange and we had a very interesting conversation about style, cameras, as well who we had photographed and then I asked him where he was staying He said 'Point Lookout'.
I knew that 'Point Lookout' was owned by Bryan Adams the rockstar so I asked "Are you a friend of Bryan Adams?" He looked at me, paused for a few seconds, grinned and said, "I am Bryan Adams".
On returning to Mustique some four months later with my brother Colin who is a music aficionado and can name every singer, song, date released etc we bumped into Bryan at the Cotton House restaurant "Are you still here" he quips. My brother retorts, "He's been here as long as your record was number one!"
He was really down to earth and invited us to his upcoming concert in Washington DC.
A few nights later a friend and client from England was visiting and she asked if she could invite another friend who was staying in another house to a party that was hosted by me The party was for seven thirty but she told her friend seven so when he showed up early things were not quite ready. As we chatted he said he had done some music in the sixties and was remixing it. We talked about this for a while and we also talked photography and then I excused myself to get ready.
When my guest arrived she asked, "Have you met Nick?" "Nick who?" was my reply, and she says Nick Mason from Pink Floyd. This was the group emblazoned on my knapsack at school and I'd just had a half hour conversation and did not know who the hell he was. I photographed him after that which is shown below.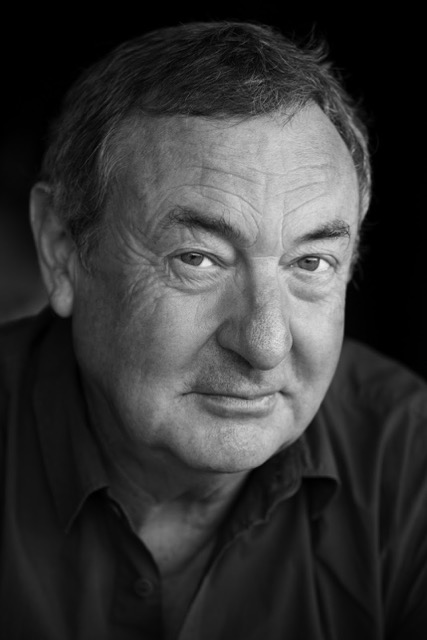 Philip's portrait of Nick Mason of Pink Floyd
(Photograph copyright Philip Bermingham 2017)
During the mid-nineties I moved to the infamous Watergate building next to the Kennedy Center and my main reason for locating there was to be next to the Kennedy Center. Over the years I had developed an avid interest in the performing arts and had shared this with my daughter Scarlett.
The Watergate was a cooperative and you had to be interviewed by the board to see if you were a suitable candidate. As I was waiting for my interview I am seated with another applicant by the name of Placido Domingo. He was somewhat confused about this interview as most people would be glad to have him and he had just been appointed as artistic director of the Washington Opera.
We discussed photography portraits and opera. Little did I know that for the next ten years I would be photographing seventy operas and more than 500 principal singers for the delightful Mr. Placido Domingo. Coincidentally our apartments were on the same floor so I ran into him quite often. He was an avid soccer fan and for some obscure reason the cable channel was unavailable on our floor. It was however available in the "Cheers" style bar downstairs in our building and you would frequently see him excitedly watching the games while sitting on a bar stool.
For the World Cup matches in Japan, Placido arranged a Three Tenors concert and also took three operas to be performed by the Washington Opera. Jose Carreras played the role of Sly in the opera by the same name and Placido performed Othello This was during the early days of digital photography and it was magic to see the images we sent to the Washington Post appear so quickly in what otherwise would have taken weeks to do.
Placido started to conduct the orchestra during his tenure in Washington so one night I was leaving my apartment to go to the opening night of one of his conducting roles. As I waited for the elevator the door of his apartment opened and he enthusiastically exclaimed, "Philip would you like a ride to the opera in my Limo?"
The distance to the Kennedy center is about two hundred yards. Nevertheless I said yes. As we reached the grand foyer entrance there was not a soul in sight. I wanted to instruct the driver to drive around again so that I could be seen by someone arriving with Placido Domingo!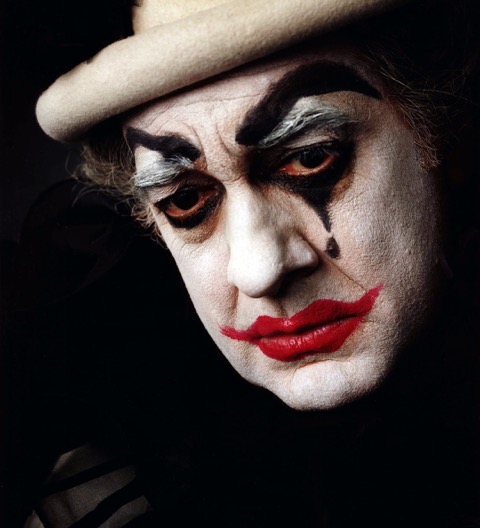 The irrepressible Placido Domingo as Canio in Pagliacci
(Photograph copyright Philip Bermingham 2017)
During his tenure I photographed him on more than ten occasions and he was always totally charming cooperative and enthusiastic - a true gentleman. When I photographed him with Jose Cura and the sensational Denyce Graves he told me I have only one request, "Denyce goes in the middle"!
On another occasion a friend saw Placido standing outside the Watergate building. He was photographing a Japanese couple in front of the Watergate sign. She said, "He sings, he conducts and now he photographs". Domingo most amusedly explained, "They came up to me and asked me for a photograph. I brushed my hair back ready to be photographed, and they handed me the camera" They had no idea who he was. He was most amused.
Andre Previn also conducted an Opera he wrote for the Washington Opera and I took a portrait of him. Shortly after I moved to the Watergate, The Royal Shakespeare Company brought a production to the Kennedy Center of Shakespeare's Midsummer Night's Dream produced by Adrian Noble. I went to a party for them at the British Embassy and was persuaded to have a cast party for them at my apartment.
This was the start of a tradition and the RSC committed to a five year residency at the Kennedy Center and every production featured a cast party at my place. We did several fundraisers there and I put together a group of people to travel to London and Stratford over the Shakespeare birthday celebrations.
I was delighted to be appointed as an Honorary governor of the RSC. I am also a member of the Actors Circle and recently became a board member of the John F. Kennedy Center National Committee for the Performing Arts.
As I developed a fun, enjoyable and lucrative family portrait business I did less political portraits, partly because they did not pay as well, and often you were very restricted by the time allowed to do the portrait. One exception was that I did Senator Mark Warner's family portrait for 26 years in a row with one exception when we could not get his three girls together at the same time.
In January of 2016 I sold my studio building in Mclean after 29 years there. This has given me the opportunity to travel more and I spent the month of August in Australia photographing more than 40 indigenous artists as well as going deep into the outback via helicopter getting sensational wildlife photographs. The Sunday Telegraph did an article while I was there which can be viewed at http://www.dailytelegraph.com.au/news/nsw/news-story/77350955e4160903beff6716bc392049
In December 2016, I had the pleasure of meeting with HRH Prince Charles and Camilla, Duchess of Cornwall, during their visit to the Folger Library in Washington DC as part of William Shakespeare's 400th Anniversary celebrations. Prince Charles was particularly interested in viewing seventy two first folios of Shakespeare which to my mind was akin to the Greeks looking at the Elgin Marbles. I took the photo below during their visit to the Folger Library.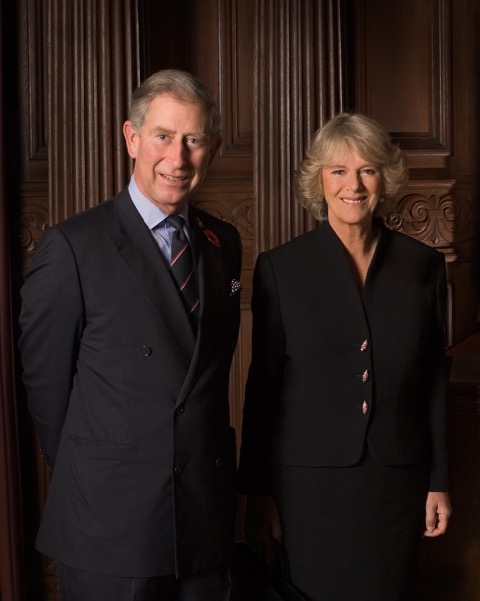 H.R.H. Prince Charles and Camilla, Duchess of Cornwall taken during
their visit to the Folger Library in Washington D.C. in December 2016
(Photograph copyright Philip Bermingham 2017)
I have returned to Bermuda quite often in the last few years and I have kept in touch with Dave Cooper and Jonathan Smith and his family as well as Andy and Jane Bermingham. Andy and my Dad were second cousins although I had never met Andy before I went to Bermuda.
Tony Diggins who ran the Police Outward Bound programmes in Bermuda is someone I keep in touch with. Tony was Best Man at my wedding.
I have also been fortunate to be invited by Nancy Scurlock who owned Summertide in Tuckers Town. Every other year she invites me to spend a week with her family and over the years I have photographed four of her daughter's weddings (she has one still unmarried) and attended her husband Arch's funeral.
I call them my four weddings and a funeral family in the nicest way because I was there for the good times and the bad times. They are very special to me and the relationships I have forged with them summarizes the character of my business.
Indeed I am a lucky and fortunate man and I am grateful for all the opportunities that the Bermuda police presented me. I sincerely believe that Bermuda still has a part of me and I love my visits and catch-ups with my old friends. Once it is in your system it is there forever. Bermuda truly is another world. Oh does that remind you of a song?
The one thing that stands out the most in my time there was the camaraderie of my colleagues and the enjoyment of working with them. Being a 'Bobby' in Bermuda is truly a unique experience. I shall be forever grateful for that opportunity.
I am also delighted that my daughter is an enthusiastic photographer which she frequently employs in her acting and movie adventures. I frequently visit LA where she spends her time when we are not in Maine.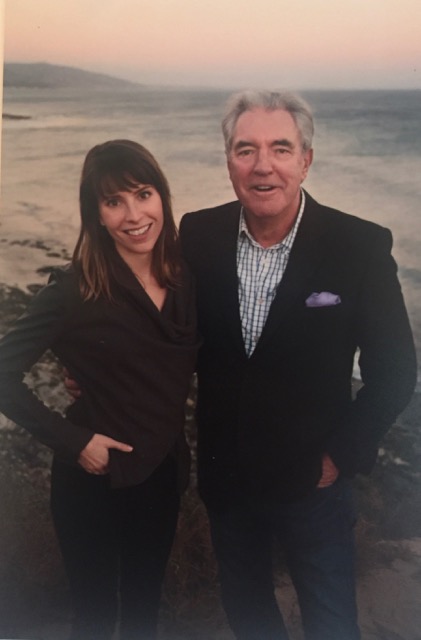 Philip with his beautiful daughter Scarlett
As of this writing (4th April 2017) I'm off to St. Lucia and Mustique accompanying a team of doctors on a medical mission to St. Vincent and the Grenadines where I'll be photographing them operating on and interacting with a group of children in need of medical care. It will be my third trip with this group, having previously been on other similar missions. These doctors are all members of an organisation called The World Pediatric Project. They are headquartered in Richmond, Virginia, and they carry out a wide range of surgical operations ranging from cleft palettes to heart surgery. It is my privilege to photograph the amazing work done by these dedicated men and women to change the lives of young children in their care.
I would be delighted to hear from any colleagues who are visiting DC.
Once you have been to Bermuda it never lets you go.
_______________________________________________________
Editors note - Although Philip has not mentioned it he is quite a keen golfer and plays whenever he has chance to do so. He has played with his former police colleagues from Bermuda when they have visited him in Washington D.C. and also when he has joined friends to play here in Bermuda.
We have previously published photos of Philip with former Bermuda colleagues who joined him for a game at the Atlanta Country Club, and here at Riddell's Bay Golf and Country Club which unfortunately, declared bankruptcy shortly after Philip's last visit in 2016. To view the golf photos together with an article about a trip he made to Australia last year, please go to our Latest News column at http://expobermuda.com/index.php/latest-news/542-international-photographer-phil-bermingham
I was not aware until producing this article that it was Philip who took several of the iconic action photos of our annual Police Boxing Tournaments including the photo below which has been on display at the Police Recreation Club for many years and is now rather faded! (I will seek to replace the faded photo) Fortunately, he sent me this photo and a couple more which you can now view here on our website in our Police Boxing Section photos at http://expobermuda.com/index.php/photo-gallery/boxingphotos#!PBboxing3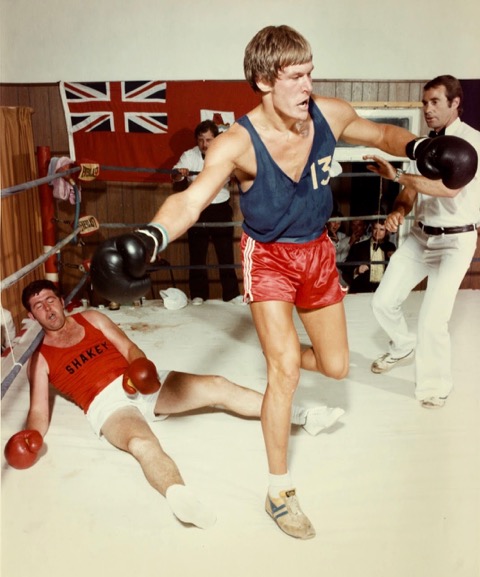 Out for the Count!
Derek Richardson knocks out David "Shakey" Shakeshaft
in their bout at the annual Police Boxing Tournament
Our lad from Cheshire has come a long way since arriving in Bermuda back in July 1972, and eventually being posted almost by chance into the Scenes of Crime Office where he learned his trade in photography. Philip has clearly enjoyed a sterling career in his chosen profession, photographing dignatories ranging from members of the Royal family, and U.S. Presidents, to the worlds greatest entertainers.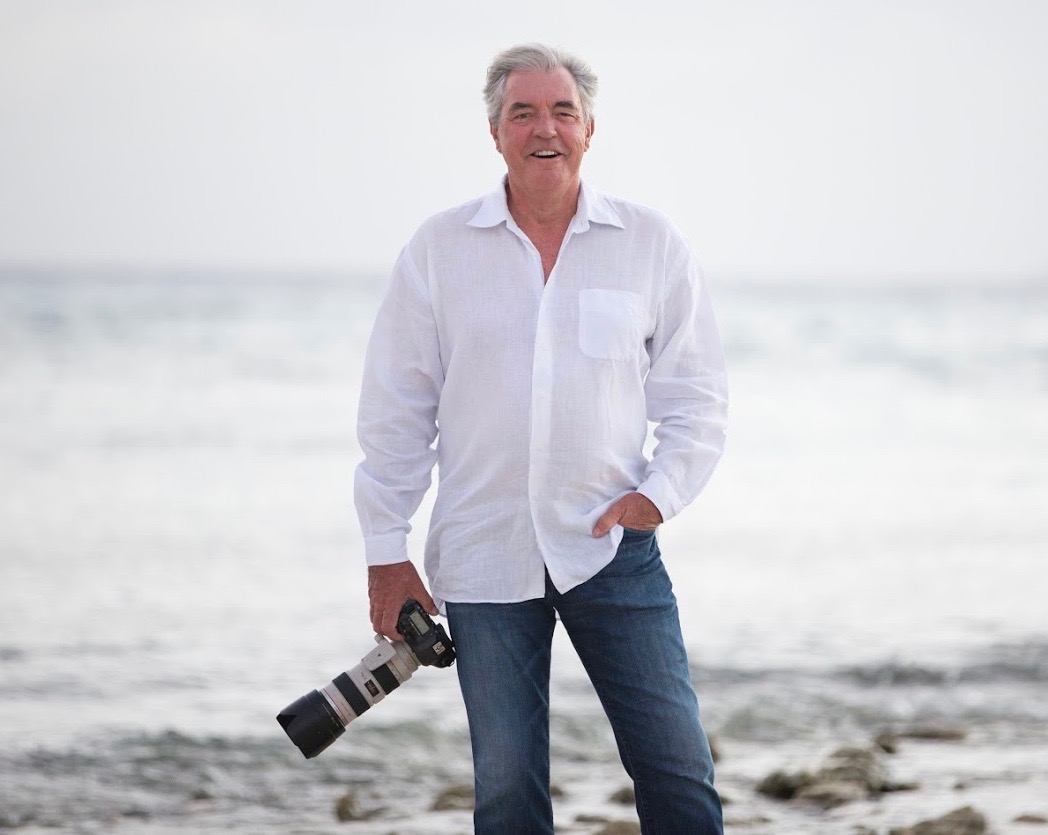 Philip with camera always at the ready on a beach in Mustique