Feeling the heat in Canada!
I'm sure most of us have been hearing reports about the incredible heat wave that hit western Canada at the end of June. There have been reports of temperatures breaking national all-time records which had stood at 45C, but Lytton in British Columbia had a high of 46.6C on June 27th, the next day was 47.9C and the following Tuesday it reached a staggering 49.6C, with the intense heat resulting in wildfires "mushrooming across the area" and on 30th June the whole town was on fire.
After hearing of these staggering temperatures and the fact that hundreds of people have died of heat-related illnesses during this crisis, we reached out to two of our members, Nick Bolton and Steve Rollison to see ask how they were faring.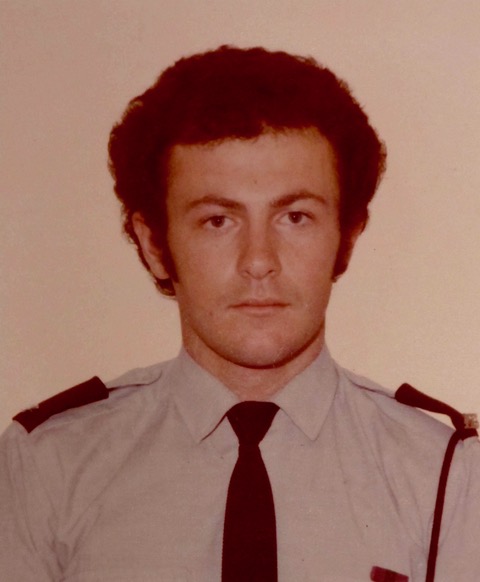 Young P.C. Nick Bolton
Nick reported as follows:-
Well, the weather is different this year, much hotter earlier in the year with very little rain, normally June is coolish with a fair bit of rain .
When I first joined the VPD I wondered why AL leave spots were available , now I know..
I am in Chilliwack which is aboutt 120 K from the coast and at 450 ft. Generally Chilliwack is 3-4 degrees hotter than the coast.
We have had the hottest days on record last week. If I remember the hottest was 41, I was watering plants in pots twice a day to stop them drying out. Leaves burnt to a crisp if they were not shaded. Generally very uncomfortable..
This hot weather breeds thunder and lightning and the lightning along with human stupidity causes fires. The fires can make the thunder storms worse and they recorded 700,000 lightening strikes in just 15 hours. That's said to be 5 percent of Canada's lightning in just 15 hours
CLICK HERE for a report on just how bad the weather has been in western Canada.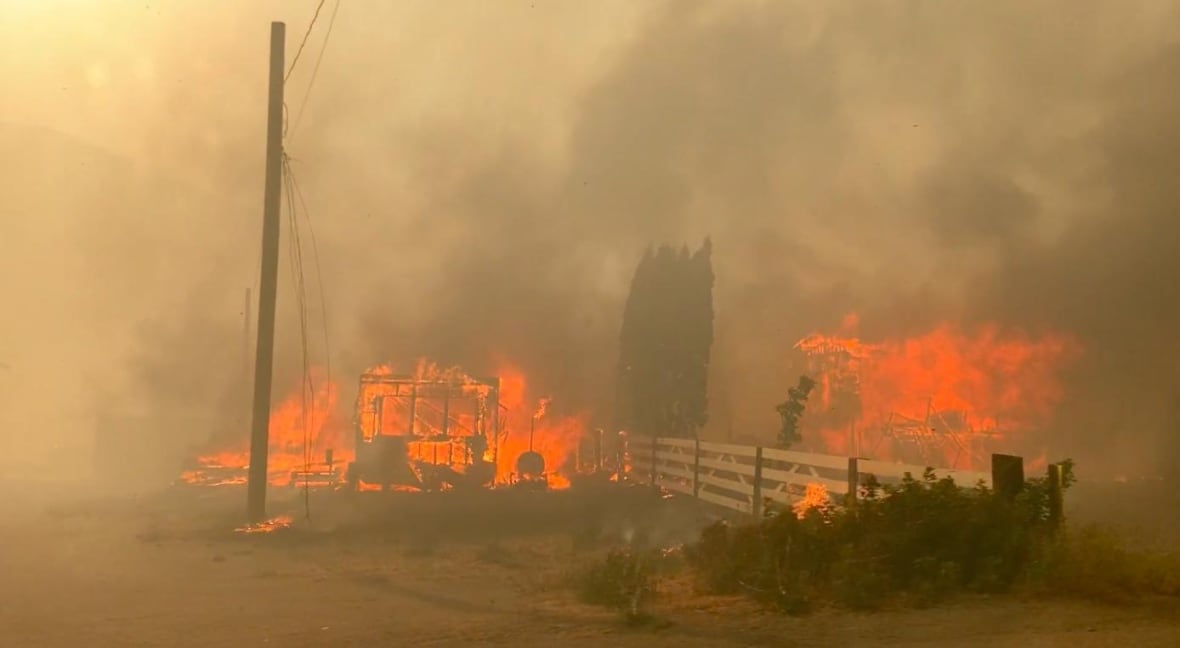 The town of Lytton ablaze
CLICK HERE for a link to The Tyee on Just How Historic WasWestwern Canada's Heat Wave? Nothing Can Compare"
Elizabeth and I are fine, we have air conditioning. The Lower Mainland is (other than smoke and that rarely) usually unaffected by forest fires where the interior can suffer terribly - such as Lytton although the info I am hearing is that the fire may have a human origin, rather than weather, one pundit is speculating a church burning started it - there have been a few churches burnt and vandalised after the "discovery" of the unmarked cemeteries at the residential schools but whether this will turn out to be the fact is not yet known.
The Covid restrictions are steadily being lifted, again not that it affected Elizabeth and myself, if I had still been working then it would have been different, a few inconveniences like wearing masks, restaurants being closed , border closed and such was not really a game changer for us., I don't even know anyone who has had the Covid..
For some reason petrol has skyrocketed and is now 1.64 a litre here, 1.79 in Vancouver. During the height of the Covid it dropped to well below a dollar.
Still hot and sunny here but not unbearable, down to 14 overnight and around 29 during the day, forecast suggests cooler temp for the rest of the week.
Just to reassure us there are places that are still cool in Canada, Nick provided us with this photo of one of his Police mates posted to the north of their Province relaxing on his snowmobile!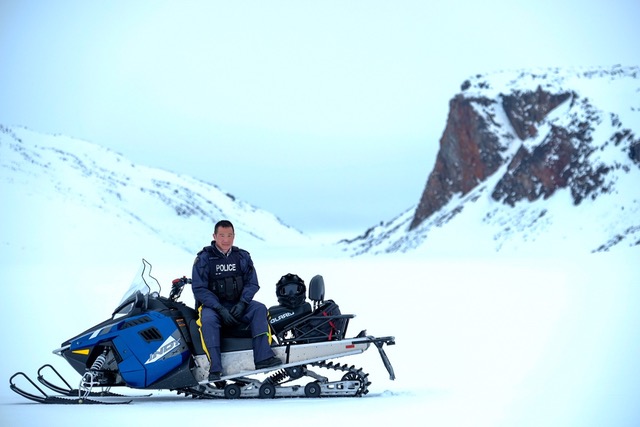 Would you believe it! Relaxing on a
snowmobile on a northern posting in July!
We also wrote to Steve who we last saw up at the Police Club with his wife during a return visit to Bermuda in 2013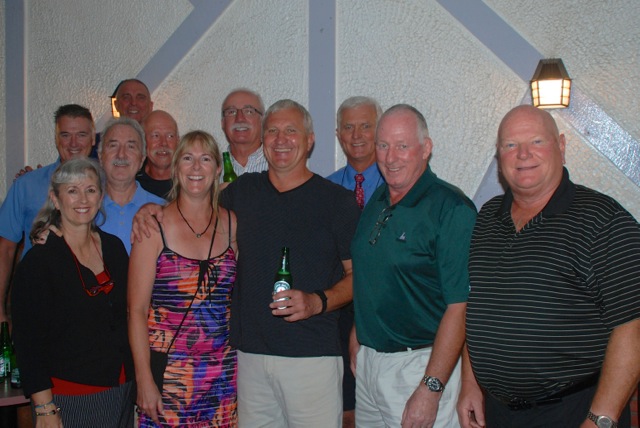 Steve and Kerry Rollison visit the PRC 2013
(l-r) Back row: Keith Senior, Ray Bell, Pete Shaw,
Mike Shaw, Charlie Mooney, Kevin Reeves
Front row: Debbie Bell, Kerry and Steve Rollison,
Norman Wilson, Phil Taylor
Steve has written:-
Good to hear from you. Our weather has been hotter then normal over the last few weeks but has now settled down to normal temperatures. It reached a high of 47C here but at least the humidity is low. The forest/grass fires have started early and we have had a few in our local area but most are further north (Kamloops& Lytton). The local fruit orchards (apples, cherries) have a lot of damage from the extreme heat. I have a gas powered water pump with a fire hose set up at a small pond behind our house and sprinklers on our roof just in case of a fire.
Steve
Editors note - I know we have more that Nick and Steve living out in Western Canada and we'd be delighted to hear from you about your summer.