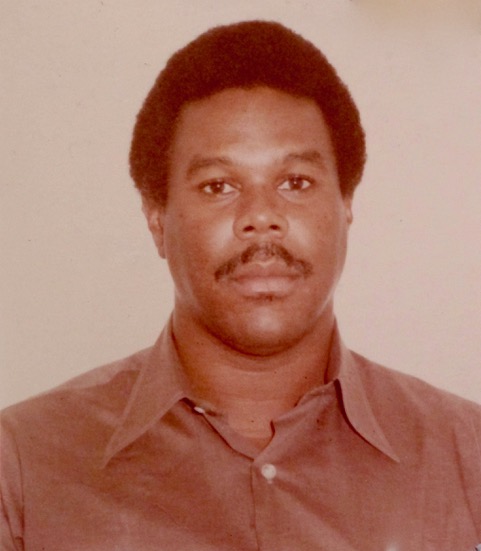 We are deeply saddened to report that our good friend and former colleague, retired Superintendent Campbell Simons, JP, QPM, CPM passed away this evening 13th September 2021, at King Edward Hospital.
Campbell first put on Bermuda Police uniform as a young Cadet on 21st September 1960, as one of our earliest Cadets. He was appointed as Constable in January 1963, and attended Training Course #3 along with 11 other young men and women.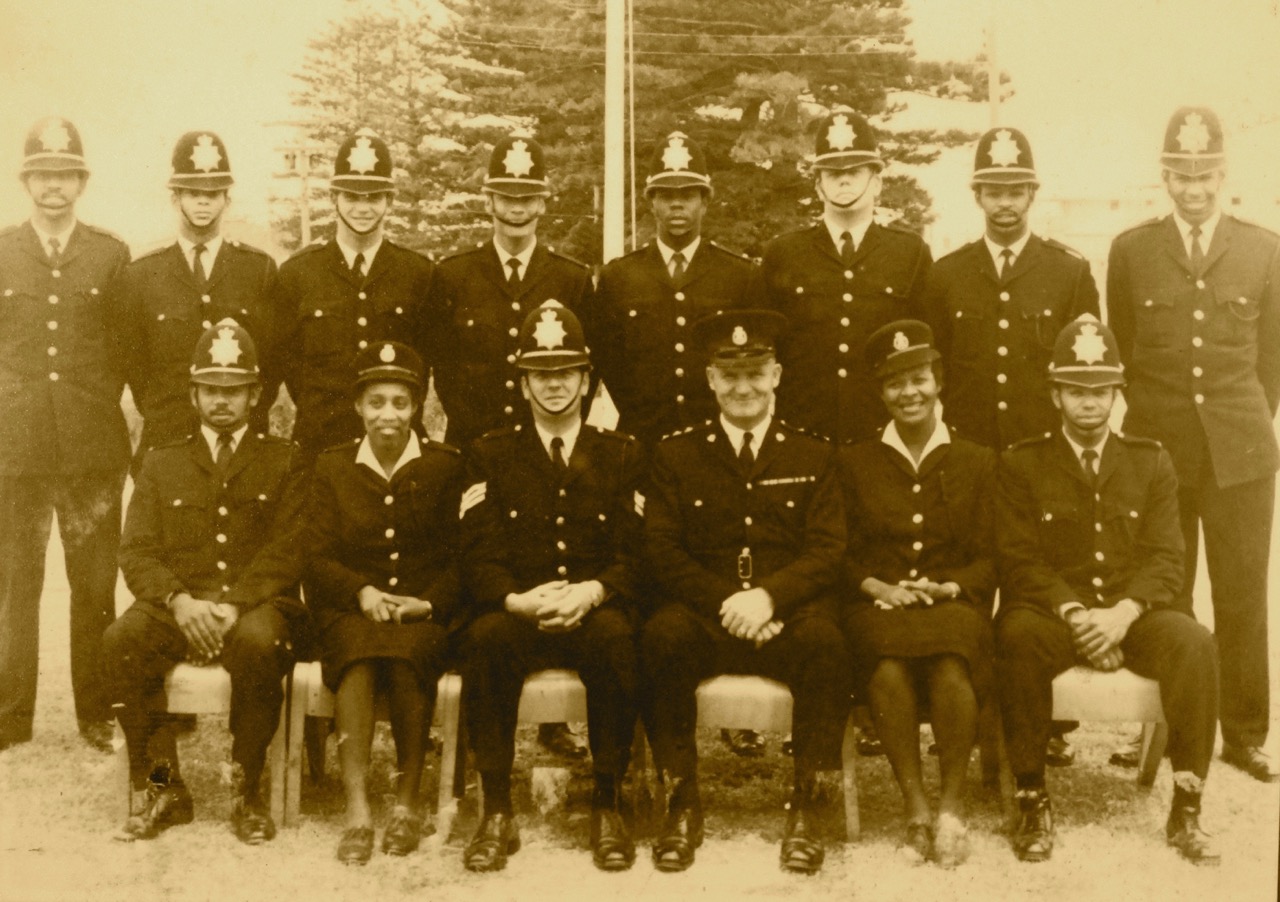 Police Training Course #3 - April - June 1963
Top Row (l-r) Neville Darrell, Gilmore "Gil" Simons, Thomas Barton,
Gary Perinchief (Takbir Sharrieff), Campbell Simons,
Christopher Fludgate, Lloyd Rhoda, Lawrence "Mincy" Rawlins
Seated - Melvin Gibbons, Marilyn Simmons, Sgt James Moir,
Chief Insp. Roy Chandler, Pearl Perinchief, and Frederick "Freddie" Aubrey
After graduating from Training School, Campbell's first posting was to Eastern Division, and 3 years later he transferred to Operations (Traffic). Campbell was an excellent motor cyclist and he was an active member of the Police Motor Cycle Display team when it was in its hay day putting on displays throughout the Island.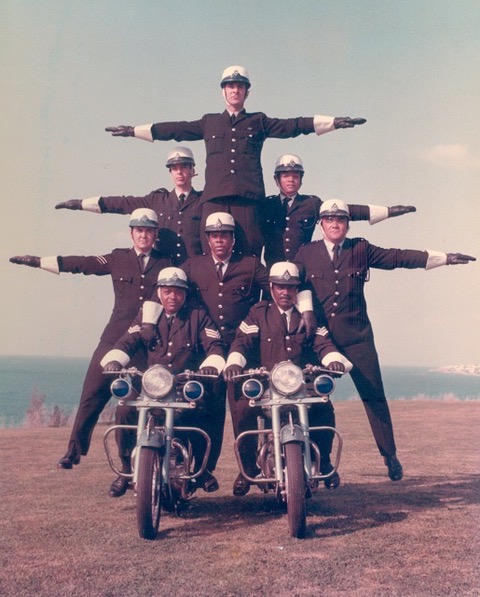 Members of the Police Motor Cycle
Display Team perform the Pyramid
From top (l-r) Tom Cassin,
Denis Brookes and Erskine Warner,
Sgt Harold Moniz, Campbell Simons, Eddie "Boxhead" Foggo,
Sgt Custerfield "Custy" Crockwell, and Sgt. Gerry James
Campbell spent time in Central Division (Hamilton), in Western Division (Somerset) first in unform and then as an aide in Western CID before being posted to Narcotics in March 1969. Whilst in Narcotics Campbell was promoted to Sergeant in December 1971 and served there until he transferred to Central CID in early 1977.
After further spells in Western CID and Central CID he was posted to Central Division as uniform sergeant and took over as OIC Central Parishes in 1979 until his promotion to Inspector in July 1981. Campbell was promoted as Inspector of "D" Dept at Police Headquarters, and on promotion to Chief Inspector he became OIC Eastern Division, retiring at the rank of Superintendent in March 1993, have served for 35 years as a police officers plus his almost 3 years as a young police cadet.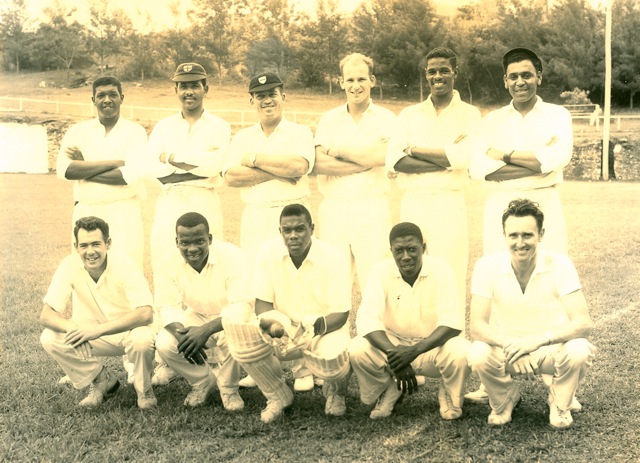 (l-r) Standing - Eugene "Buck" Woods, Neville Darrell, "Sony" Roberts,
Clive Donald, Marcus Packwood, Lynn Hall,
Kneeling - Colin Chiswell, Winslowe "Socks" Dill, Campbell Simons (WK),
Aaron Scott and Jim Lyons
Photo note - This team played and were victorious over Devonshire Recreation Club by 10 wickets. DRC batted first and scored 59 all out. The Police opening batsmen knocked off the runs without losing a wicket. We are not sure who opened the batting for the Police team, probably Neville Darrell and either Jim Lyons or Campbell Simons, all of whom were great opening batsmen.
During his career Campbell was an outstanding sportsman who played on the Police Football team at a time when it was one of the finest teams on the Island. He also played as an excellent opening batsman and wicket keeper for the Police Cricket Team in 1961, the year after he joined as a police cadet, and he went on to play for many years for Somerset Cricket Club where he was a mainstay of the "red and blues" as their Cup Match opening batsman. He also captained Somerset's Cup Match team in 1976 and 1977.
Campbell still holds a most unusual scoring record that might never be repeated in Cup Match. In his first Cup Match innings in 1966 he scored a duck, but he ended his Cup Match career in style in 1978 with a magnificent final knock 111 not out.
For many years after his retirement Campbell continued to enjoy spending time with his old friends playing cards and dominos and it is said that despite his best efforts he never actually "broke a domino!" In recent years Campbell has been a regular at several restaurants in Hamilton, including The Spot where he would join friends for breakfast or morning coffee.
We extend our sincere condolences on behalf of Bermie ExPo to Campbell's loving wife Judy and to their family.
We will post details of funeral arrangements as soon we receive them
EDITORS NOTE - Unfortunately, we still do not have our "comments" facility set up and running below these articles, but we are receiving messages of condolence for Judy and family which we will publish here as we received them. If you check our our ExPo Facebook you will see that we have already received over 90 messages about the sad news about Campbell.
17th September
CLICK HERE for a lovely article in today's Royal Gazette about Campbell and his cricketing career under the heading "A Thinking Man's Cricketer"
15th September
Message from David and Penny Long -
"Campbell was a dear friend as well as my partner in Traffic in the mid- sixties.
He will be sadly missed by all that knew him.
Penny and I send our thoughts and prayers to his family at this sad time."
Message from Ray Sousa in Australia
"In 1966 I found myself still 19, walking the beat alone in Hamilton just after completing Basic Police Training. I was requested to attend a disturbance at a club on Reid St., not far from the Police Station. I entered the club and was immediately surrounded by a group of men. Without warning I was pushed backwards onto a pool table. A drunk laughing man then came towards me with a straight razor in his hand. As he leaned over me and the razor came close to my neck ; but I managed to kick him hard in the chest pushing him away. I then ran out onto the street followed by the man with the razor and onlookers just as a Police Car was slowly approaching.
The car driven by Campbell stopped in the middle of the road in front of me. Without getting out of the car, calling the man by name Campbell shouted, "drop it and get your ass in the car !' .The drunk mumbled something. This time Campbell shouted louder, " I am not telling you again, drop it and get in the car. You know what is going to happen if you don't ! ' The drunk quickly obeyed. Turning to me Campbell said, " Ok you get the razor, finish getting details and I will see you back at the station. I need to talk to him alone " Turning to the crowd he said, "Cooperate, and make sure nothing happens to him". Someone shouted, "it's all cool". A number of men offered to buy me a drink as I got details on why the Police had been called.
That was my first real lesson on the importance of people having respect; and possibly real fear of a Police Officer. Back at the Station I spent some time with Campbell. I expressed my annoyance at myself for not standing up to, disarming the drunk and arresting him. Campbell just shook his head saying,"You have a lot to learn. I hope you calm down and live long enough to learn" Needless to say the drunk pleaded guilty and I think he got 9 months for the assault.
In the coming years, I did make mistakes and learned a lot. Late 1968 or early 1969 saw me in Unit Beat, then Parish Constables; where I really learned the skills that Police Officers like Campbell had. My next transfer was the small specialist team in Narcotics, headed by Harold Moniz. This was a completely new experience, and as pointed out by members including Campbell I might have learned to work on my own; but now I had to learn to be a part of a team. If one person stuffed up - lives, not to mention major investigations - would be put at risk. I learned from every member including Campbell who I possibly spent more time working closely with. We had a lot of laughs , did some crazy things together and got excellent results. I will just touch on a few incidents which hopefully will not offend anyone.
Whilst burning a large amount of seized marijuana at Kinley Air Force Base, Campbell started laughing and shouted, " I have just had a vision. Right now in heaven there are angels wearing sunglasses bumping into everything , saying it's cool, real cool ! "
On an occasion when driving Campbell saw a gorgeous woman, and the steering wheel came loose in his hands. He managed to quickly put it back on before there was an accident.
Doing early morning, first light Banana boat surveillance , was very demanding and at times it did not take long for Campbell to fall asleep in the car. I was criticized by some for not complaining about this. My reply was simply, I know of no better man to work with. Do you know how angry he will be if the bad guys do something wrong and I have to wake him up? It would be a case of turning a big bear on them. Campbell and I went to a number of dangerous situations and often made arrests without any violence. As I said he was both respected and feared [being big also helped] ; and I hoped some of this had brushed off on me. In the 1970's the Narcotic's Squad was expanded and Campbell was promoted to Detective Sergeant and I on occasions held the rank of acting D/Sgt.
At this time the black power movement was at its peak. Being both Police Officers and subjected to prejudice in our lives added to our special bond. We were in Hamilton when we heard of a disturbance and protest outside City Hall. We went to see if we could do anything, We were dressed in jeans [in my case bell bottoms], colourful shirts, and I believe at the time Campbell had a large afro hair do. Two uniform Officers were doing the right thing, very little, but standing between the protesters. and other street users. Campbell and I went up to the protesters and asked what was going on. There was no need to identify ourselves; they knew us and we knew some of them.
We listened to them as they listed the injustices in the community, what had happened over the years etc. In simple terms we said "Brothers we hear what you are saying and to some degree, completely agree with you! But what will be gained by causing a riot, destroying property etc? You will only give the man an excuse to send the heavies in to crack heads open. Now you have done a good job of letting the man and good people know how you feel. They have respectfully listened. Now, let's move on before any of us are hurt." Things were calm and people were dispersing, along came two newly arrived English cops to Bermuda. They waved their truncheons and shouted words to the effect, " Come on, move along or you will be arrested . This is an unlawful gathering." Pointing at us they shouted, " Boys, that goes for you two as well, move or you will end up in the cells". Mockingly, we shouted back, " Yes sir Mr. Boss man, we hear you." Turning back to the crowd we made the peace sign and shouted, " You heard the man, everyone respectfully heard you , and you respectfully heard us. Peace brothers and sisters, Peace !" No trouble arose from this incident.
Back at the station we spoke to the Inspector and duty Sergeant and requested to speak to uniform Officers in the back room when they came in. Sure enough they came to the station and smilingly reported how they sorted the protest out. With big grins on their faces the Inspector and Sergeant said, " is that so, well there are two D/Sgts waiting to see you." They came into our room and we introduced ourselves. To say the least, the men were shocked, and became extremely pale. We calmly taught them a bit about history and how to deal with locals. We made it clear we blamed the establishment not them for their attitude. We also made it clear that if they ever called us boys and showed us disrespect again, it would become a personal matter and they would wish they had never been born. We shook hands and left them sweating and shaking.
An old definition of a Police Officer is a Peace Officer! Campell was a true Peace Officer. He solved almost all issues with words and action and did not have to use violence. Besides normal Police duties he did an excellent job as a member of the MotorCycle Display Team,and Police Choir. He was also a highly respected sportsman on the Island. To me he was much more, he was part of my Police Family. After I got married, my wife remembers times being followed home at night from my aunt's home by a black car that flashed it's blue lights when she arrived. Yes, that was our family team.
Among the many things Campbell and I talked about is what type of reception he would receive at the Pearly Gates., Among the things he hoped for was a large gospel choir, and blonde-haired big bosomed angels wearing black dresses [he had this thing about blondes in black] flying around. At the gates would be an old man with long white hair and beard, who would say, " Peace brother come in, there is your special bike to ride around heaven. join the choir." Campbell was sure that St. Peter would then shout , " but I am warning you DO NOT chase the bloody angels ! ''
I hope you got your wish mate, I hope to see you soon. All the best to family and friends.