This section of our website is intended for you to keep in touch with all of your fellow colleagues who have served in the Bermuda Police. We started this column by putting all entries on one post but soon realized that it would stretch for far too long so we are doing it by each year- and this one is for 2020.
We welcome news, however brief, and would also encourage you to send us recent photos. Sadly we sometimes have to report "bad" news such as illnesses - or worse - but we are always delighted to receive positive news! We can be contacted through our email address or through the comments column at the bottom of each article, including this one.
December 21st
MESSAGE FROM THE EDITOR
What a difference a year makes! In the lead up to last Christmas we held our annual Ex-Bobbies Bash at the Mariners Club on 6th December which was very well attended, CLICK HERE for details in our Keeping in Touch Column for 2019. And the Festive Season was exactly that for most of us. We were also able to hold our annual ExPo Post-Christmas Reception at the Officers Mess on 18th January CLICK HERE to view the photos.
But the New Year started ominously with the crash of our ExPo website which at first seemed irreparable, but we were back up and running by late Match, when we were all shocked to the core with the arrival of the coronavirus pandemic and its rapid spread around the world.
Despite the devastating impact of Covid 19, our members seem to have almost completely avoiding catching the virus, with just one exception that we're aware of (Marge Amos who fortunately was asymptomatic) although it has and will no doubt continue to create great hardship until such time as the new vaccines can be distributed and administered, and hopefully, we can then gradually win the day.
Sadly, we are all being impacted by this current wave of infections putting a damper on even the idea of holding Festive Season celebratory parties and gatherings.
Nevertheless, we want to wish all of our ExPo members a safe and healthy Christmas and a much better 2021 for everyone. Please keep in touch with us through or ExPo website and our ExPo Facebook page. We look forward to keeping in touch with you.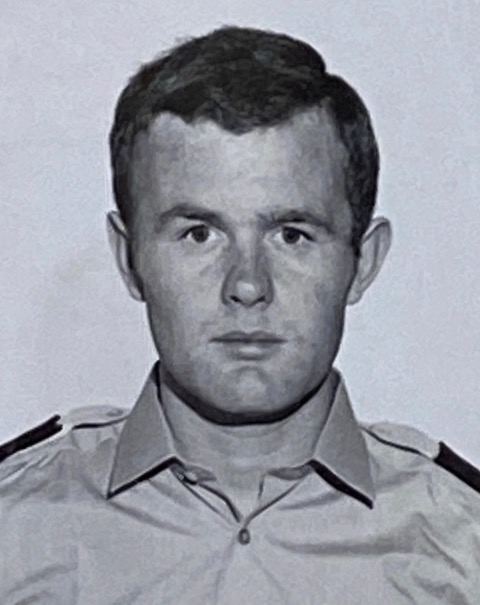 Young P.C. John Arlott
John Arlott - We just heard from John "Ard Luck" Arlott who served in the Bermuda Police from 1970-1973 and celebrated the 50th anniversary of his arrival on Island earlier this year. John was hoping to come out to Bermuda to celebrate his anniversary but the coronavirus pandemic put paid to those plans – at least for the moment.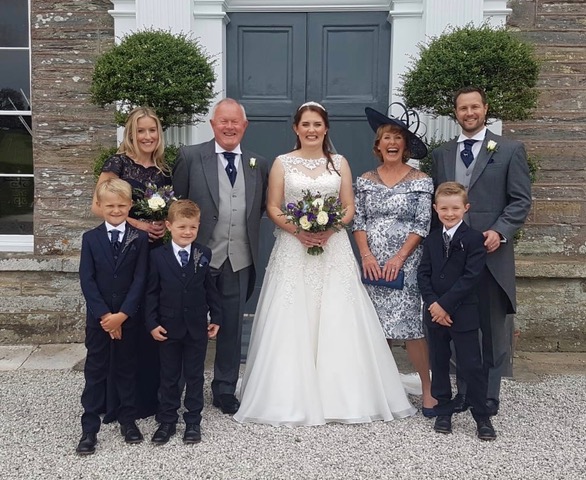 John and Cheryl at the wedding of their youngest daughter, Rosalind in
June 2019, pictured also with their eldest daughter, Caroline and her husband
Rob and their two boys, Sam and Ben, standing either side of the bride
John has settled back in Leicestershire with his wife Cheryl and has written:-
"I flew out to Bermuda on October 5th 1970 and sat next to Billy Butterworth on the flight out, who I played with in the very successful Police Rugby 1st XV. I initially was in the Riot Squad during the riots, then to Hamilton, became Duty Driver, an honour in the day, and then Cycle Squad under Tom Cassin until 1973. My wife of 46 years left that year after we had a prowler at our property, and I made the decision to follow her back to the UK shortly afterwards. I still stay in touch with Barry Higham and have been to a couple of reunions. Great days, life-changing really. God bless you all."
December 16th
In the lead up to Christmas I'm hoping you'll take a few minutes to write and let us know how you're doing, wherever you are, in these most difficult of times, and also consider sending us a fairly recent photo of yourselves (in JPEG format).
Dave Barber - To start things off I called our old friend retired Inspector Dave Barber this afternoon to get any scoops on the guys in Western Parishes, Dave and his wife Marge are still living in Somerset, and like most of us, they're not getting out much at all during this pandemic. Dave has some health issues, especially with his legs which means it's very difficult to get around except with a walking stick or walker. To add insult to injury he's been having shoulder problems, probably rotator cuff related, so he spends most of his time at home except for occasional visits to the doctor, or for a haircut, but this afternoon he was planning to go visit Roddy and Sue Barclay who live in the neighborhood.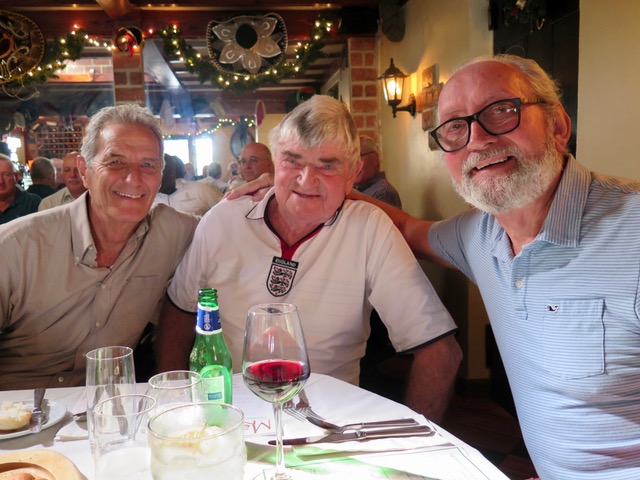 George Rose, Dave Barber and John Barnett
Ex-Bobbies Bash held at Mad Hatters in December 2019
One of the last social occasions when we've seen Dave out was at last year's Ex-Bobbies Bash at Mad Hatters which usually heralds the start of the Christmas Season, but as with so many social functions it had to be cancelled this year.
Dave's son Andrew who works locally as a tree surgeon, was unfortunately diagnosed with cancer a few months ago and has almost completed receiving chemotherapy. We wish him a full recovery.
Dave keeps in touch with Gerry Benson who is running a farm in Yorkshire where he breeds Simmental cattle, and if truth be known, we hear that Gerry's daughter Laura actually runs the farm these days with Gerry describing himself as her "stablehand". Those who knew Gerry when he was serving here in Bermuda (1975 – 1981) will recall he was always superfit and was actively involved in our annual Police Boxing tournaments, and running competitions including the Hawaii Iron Man Triathlon. He son Gordon, has taken over this mantle and is an outstanding international triathlete. We wrote an article about Gerry and Gordon entitled "Benson Like Father, Like Son" which you can view on our website at http://expobermuda.com/index.php/latest-news/363-benson-like-father-like-son-2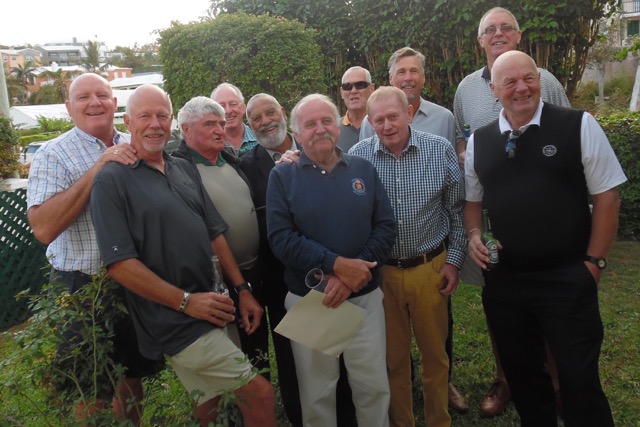 "Great Greatrex Get Together 2016"
(l-r) Phil Taylor, Mike Shaw, Dave Barber, Norman Wilson, Arthur Bean,
Roddie Barclay, Moby Pett, John Greatrex, Paul Towlson, Peter Shaw and Bill Butterworth
Dave Barber is also in regular touch with John Greatrex who is living back in the UK these days. Some of you will no doubt remember John's wife, Lynwen, who taught here while they were in Bermuda. Sadly, she died a few years ago. John apparently had surgery to his head a few weeks ago which involved having a skin graft from his leg. We don't have any more details but certainly wish John a speedy recovery. These photos were taken at a "do" hosted by Roddy and Sue Barclay when John returned to Bermuda for a holiday. CLICK HERE for our article "Great Greatrex Get Together"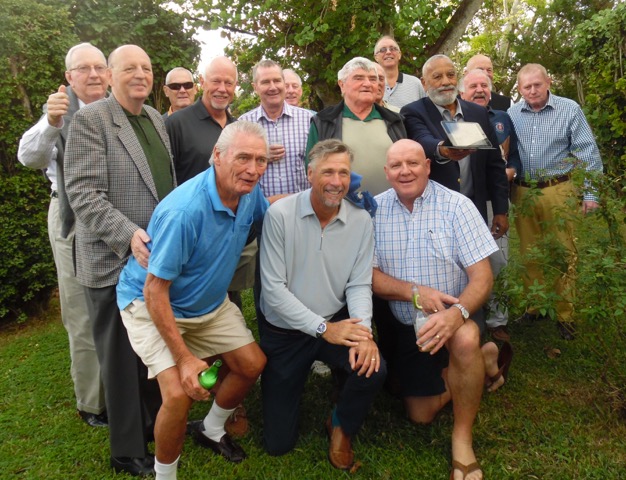 Party hosted by the Barclays for John Greatrex in 2016
(l-r) Dave Lunn, Dave Cooper, 'Moby' Pett, Mike Shaw, Jimmy "The Wop" Costello, "Fast Eddie" Davies,
Norman Wilson (behind Eddie), Paul Towlson, Dave Barber, Brian Malpas (behind DB),
Pete Shaw (behind BM), Alan Gorbutt, Arthur Bean*, Roddie Barclay,
Bill Butterworth (behind RD) and John Greatrex
*Arthur's "official" title is is "Arthur Hedley Love Gladstone Wilberforce Chesterfield Bean"
Dave usually keeps in contact with Jimmy "The Wop" Costello (seen in the above photo) who is now residing back in Somerset near Watford Bridge. The last we heard Jimmy was doing okay but we wonder who is now looking after his cats outside the PRC as Jimmy isn't able to drive to Prospect to feed then these days. We wonder if anyone is in touch with or knows the present whereabouts of "Fast Eddie" Davies who diaappeared to the U.S. a couple of years ago and we havn't heard hide no hair of him!
"Moby" Pett - It's possible the owner of Wahoo restaurant on Water Street in St. George's might have put out an "all-points-bulletin" for Moby in recent weeks, because anyone who visits St. George's will know that's Moby's favorite watering hold these days (and it's a great restaurant!). But the truth is Moby's laying low at the moment because of the worrying increase in Covid cases we're presently experiencing on Island which have included several "clusters of cases".
Throughout the Covid crisis Moby has managed to get out onto the golf course regularly with his group of golf afficionados - Billy Butterworth, Phil Taylor, Norman Wilson, Pete Borland, Keith Cassidy and Pete Shaw and Mike Shaw. They usually play every Wednesday, mostly at Ocean View but occasionally at Southampton Princess, or at Tucker's Point. But it's likely that the latest Covid stats might result in them taking a break for a few weeks which is what the Bermuda Senior Golfer's group is doing for a while.
Moby reports seeing Dave Chew up and about in St. George's from time to time and has also seen Arthur Bean who has recently sold his truck and appears to be finally retiring, and Sylvester Augustine who usually stops of for a break in St. George's while on his rounds with Pro-Serve.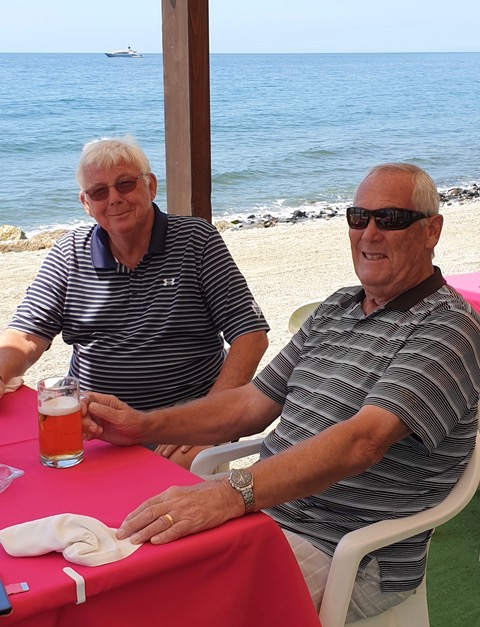 Moby gets together with Paul Hendrick
Moby keeps in touch with a few of his old mates who now live overseas, including John "Coco" Eve who is doing okay up in North Staffordshire, Ken Van Thal, Dai Thomas, John Price, and Paul Hendrick who he used to visit regularly when Paul was living in Toronto but has since moved to Spain. Moby seemed to have caught the travel bug and was whirling around the world visiting old mates such as Ken Blow down Under and Dave du Cann in New Zealand but he tells me Covid has temporary out a hold in his travel plans.
One more thing about Moby, he was one of 69 young officers who joined the Bermuda Police during the year 1971. Those who are still with us will hopefully be looking back and celebrating their 50th Anniversary since joining the Police, or arriving on Island to do so. We'll soon be publishing a list of all the men and women who joined in 1971. Organizing any kind of anniversary function next year would no doubt be completely out of the question, but perhaps we can start a "blog" on our website in which all who are still with us can write in and let us know where you are and what you're doing these days, and maybe also give us your recollections of those balmy early days.
Looking at our List we have the following guys who joined on 1st or 2nd March - Ken Blow, Dave Burley, Alexander Duncan, Cliff Harries, Malcolm Marlowe, Ernie McCreight, Martin Pearson, Frank Rogers, Peter Swann, Michel Chitty, Ian Claridge, Malcolm Edwards, Colin MacDonald, Moby Pett, Bernie Pitman, Pete Shaw, and Tony Taylor.
Out of that group we still have four on Island - Moby, Ernie McCreight, Pete Shaw, and Bernie Pitman.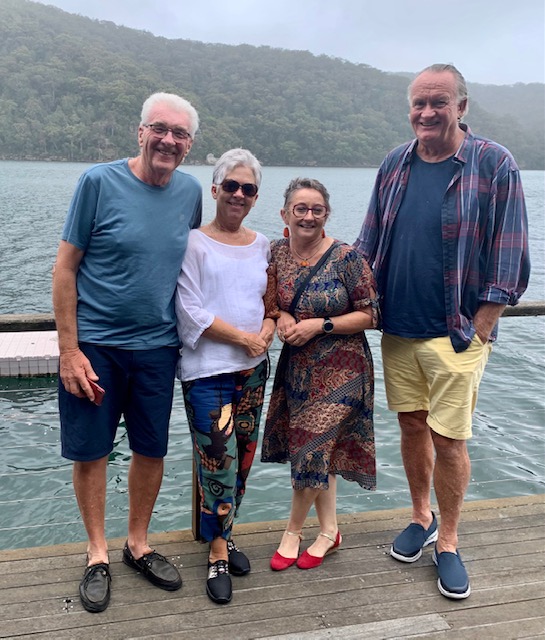 Dave and Elaine Inwood (right) with friends
And on the subject of Australia we just heard from Dave Inwood when he wrote on behalf of an old friend from Bermuda who also lives Down Under who wanted to get in touch with to ask if I might be able to locate someone who also used to work here at the English Sports Shop (yes, the English Sports Shop is still surviving on Front Street). It took just 2 minutes to find the answer in our telephone directory and Dave was delighted to pass details onto his friend. In return for the favour I asked Dave to let us know how he's doing and he promptly wrote the following:-
"Well what a year 😂 To be honest we have been so lucky down under and even more so in The Hunter Valley where we live (two hours north of Sydney!) Elaine who works for a premium wine producer lost her job for a couple of months so proceeded to renovate the house non-stop which was exhausting☹️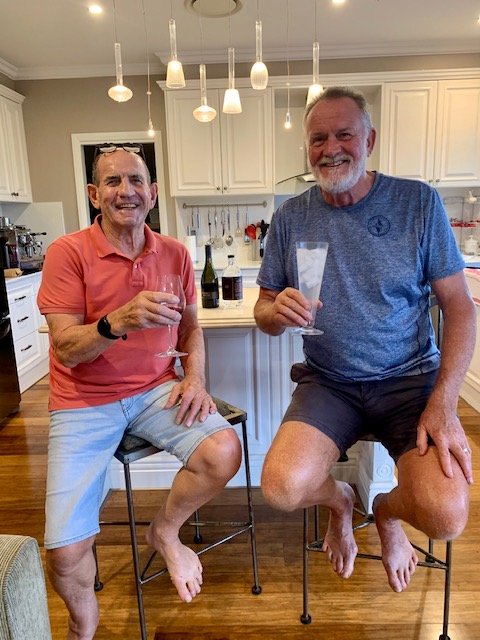 Dave Hodgkins visits Dave - pre-Covid!
This time last year we had Tony Diggins visiting but he was the last overseas visitor before COVID hit. Dave Hodgkins who played soccer for the PRC when I was there visited in February from Queensland but then the state borders closed until just recently.Still see a lot of Graham Marshall and had lunch with him and his wife yesterday in Sydney. Still keep in touch with a lot of the footballers I played with in BDA

Hoping for an influx of overseas friends next year sometime but obviously nothing definite planned yet! I was due to take my son to Bermuda last May for his 30th birthday but that got cancelled so not sure if we will ever make it back.☹️ But all the boys "down under " are all in good health do we must be grateful for small mercies 👍

All the states in Oz now have their borders open and next we can travel to New Zealand so hopefully be on the move again soon. Elaine and I have our four kids and four grandsons coming for Christmas so a real family affair this year.

I send you and your family and all my old colleagues in bda the very best for Christmas and hope for a much more normal year next year!
Thanks again Roger for your detective work much appreciated.
Cheers
Dave
December 1st
HOW TO SEARCH FOR NAMES ON OUR WEBSITE
We've had a few enquiries about how to best use our ExPo website when searching for the names of old friends and colleagues who might be mentioned in despatches! Here are a few tips to assist you:-
If you go to the home page of expobermuda.com you'll see

a little blue box

in the top right hand corner. Click on the box and type in the name you are looking for, such as "Arthur Rose" and it will provide you with a list of all pages on the website with his name.

If the person is mentioned anywhere on the website you should see a numbered list of all references to that person. In the case of Arthur Rose you will finde more than 70 entries in numerical order. If the first numbers have the letters "ar 1 or ar 2" move to the next one because this indicates that they are included in a photo album and that involves searching through the album to find the photo!

Once you find a number with the persons name highlighted in blue just click on his name and it will open to the article. In the case of Arthur Rose it is a "Then and Now" article.

When you've read it you can return to the list by going to the top left side of your screen where you should have 3 little circles (red, yellow and green) and next to the green one is < Click on this and it will take you back to the list. You can keep repeating this to go through the whole list if you wish.

In the case of Arthur Rose you will find many references highlighted in blue that do not include his name, but these are all articles in which Arthur is mentioned by name.

If you want to experiment try typing in you own name to see first of all, if your name appears on the website;

If you have a fairly common name, let's say "John Brown", then you will see a list of every location where the two words "John" and "Brown" appear.

It's often better to insert just one name if it's not too common. For example type in "Sempill" and you will only see 8 entries at the moment.

If you happen to put in the name Kerr you will find well over a hundred entries and that's because Davie is a very regular contributor to our website!

If you have ever served on the Bermuda Police you should see at least one entry in here under your name, and that should be in our List of Officers. If you are not listed then please contact the Editor via email at This email address is being protected from spambots. You need JavaScript enabled to view it.

HAPPY HUNTING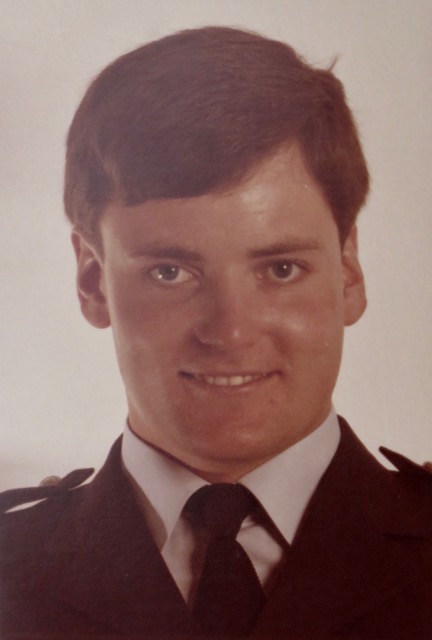 Mark Norman
Mark Norman - We're delighted to report the very good news that Mark Norman has been making an excellent recovery from his fall and has now returned to work in Hamilton.
November 30th
Making Contact with Old Mates - As you can see below we published a post here last week in the Keeping in Touch column about our good friend and former colleague, Frank Smith, who served here from 1970 - 1974, mainly in St. George's. Frank wrote to us to confirm that he was in the photo of Eastern Division personnel that we had published in our "Who, Where and When column" CLICK HERE to view the photo.
Frank mentioned that he would like to make contact if possible with his old mates, Bill Cree and Mick Sample and any other of his old mates who might want to get in touch with him.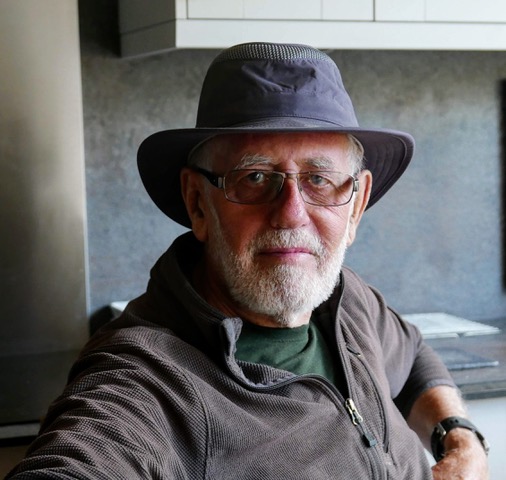 Frank Smith relaxing in Walsall
Since then we've received this recent photo of a rather dapper Frank. We put him in touch with Bill Cree (CLICK HERE for our "Then and Now" article written by Bill) and we also received several emails, one from Mick Sample, and from John Headey, who we have also put in touch with Frank. We often hear from John Headey, who served here from 1971-1977 before returning to his home town of Huddersfield, and yes, he's a staunch Huddersfield F.C. fan. Some of our readers may be aware that while here, John's wife gave birth to their daughter, Lena, who is now an internationally acclaimed actress who played the part of Queen Cersai in Queen of Thrones. CLICK HERE for an article, "Royalty and Loyalty" about Lena on our website.
John also sent us these photos taken at his wedding in May 1971 showing Frank with Arden Cato and with Laurie Jackson.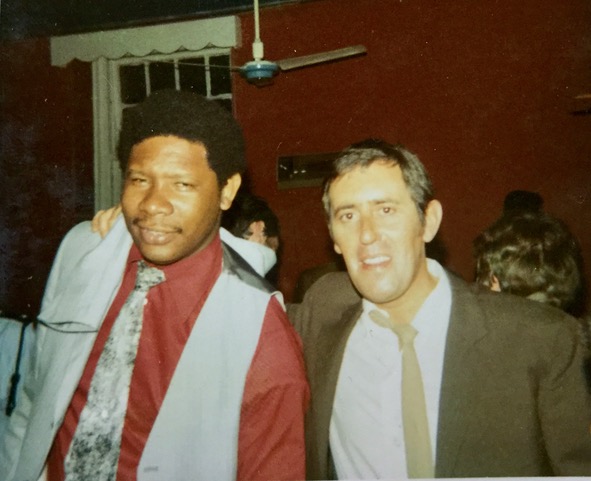 Arden Cato and Frank Smith - 1971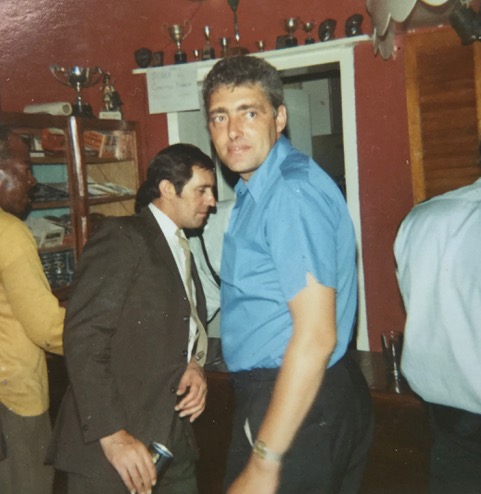 Frank Smith and Laurie Jackson
November 22nd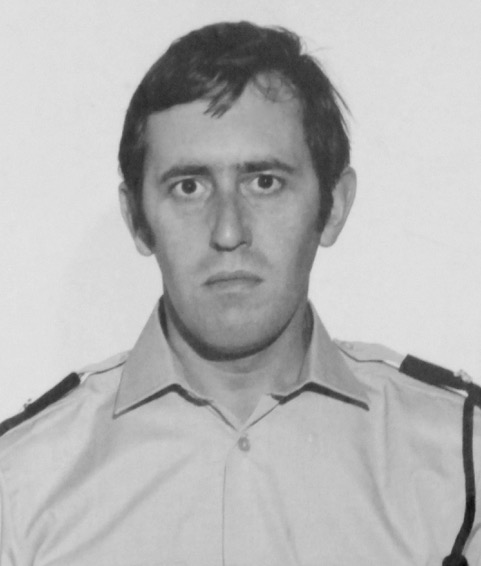 Young P.C. Frank Smith
Frank Smith - We just heard from former P.C. Frank Smith who joined the Bermuda Police in 1970 and worked in Eastern Division, on Mobile Reserve and in Traffic, before returning to his home in the UK in 1974 where he re-joined the West Midlands Police. Frank confirmed that he's in the latest photo of Eastern Division which is featured in our "Who, Where and When" column (CLICK HERE to view the photo). Sadly, Frank's wife died last August and he is now residing in Walsall, where he started his police career as a young cadet in the then Walsall Borough Police, with one of his sons and his very lively cocker-spaniel Sam. He would like to make contact with his old mates and we have passed his email address on to Bill Cree and he would also like to contact Mick Sample but we don't have Mick's contact details. If you would like to make contact Frank's just let me know and I will pass your email address to him.
November 11th
Best wishes to All from Mike and Carol Jent - We have recived this message from Mike and Carole Jent and would encourage our readers to also write to us and let us know how your are doing wherever you are:-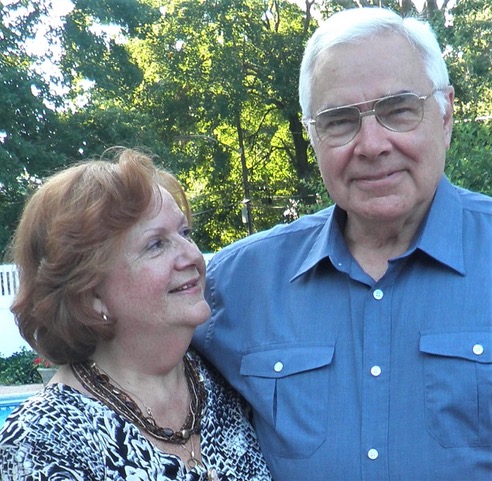 Mike and Carole Jent
"As Carole and I sit in our small home in Wiltshire, England, we are mindful of the past eight months and of the weeks and months ahead, and of what an extraordinary year it has been for us all and likewise for the year ahead . We have been fortunate in remaining disease free, although the lock-down is only now beginning to wear a bit thin. From my daily visits to the Royal Gazette and Expo, Bermuda would seem to have handled the contagion very well.
As we approach what will be a somewhat stunted Christmas Festival we would inform you all, but in particular those who receive Christmas cards from us, that there will be none this year. In the future all our greetings will be the via the electronic medium. It is our small gesture to the conservation of the world's resources which we still devour at a great rate of knots.
We both wish you all the very best for Christmas and for the fast approaching new year.
Sincerely, Mike and Carole Jent"
GOOD NEWS ABOUT MARK NORMAN - We have heard that Mark is now at home in Bermuda and is doing quite well under the circumstances. We all wish him well and sincerely hope he continues to make progress.
October 21st October
LATEST UPDATE ON MARK NORMAN - We heard from Mark's wife Lynn that he continues to make steady progress, and has been moved to a rehab facility for intensive therapy for a couple of weeks.
October 16th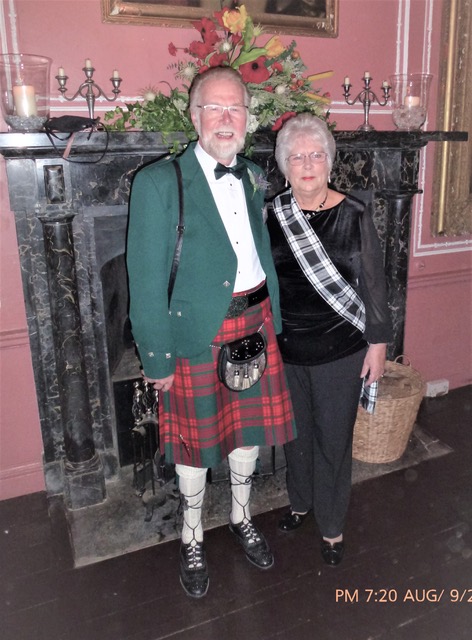 Trevor and Pauline Menzies
Trevor Menzies - We just heard from Trevor Menzies who served here in the Bermuda Police from 1965-1968 before returning to the UK where he had previously served in the Northumberland County Police. Trevor wrote as follows:-
"Still in the land of the living as shown in pic of wife Pauline and yours truly after 50 years of marriage enjoying our Clan Gathering at Menzies Castle in Aberfeldy last year.
Keeping in touch is important to me as my few years in the BPF become more meaningful as the years go on. This week I contacted John Eve and Tom Christie and reminisced at length about our individual memories of our time in Bermuda.
They are both well and managing to stay clear of this on-going epidemic. We have little choice but to follow instructions and wait patiently for better times.
I do hope that you and yours are well and that BDA is not too badly affected."
Editors note - We are always delighted to hear from our former colleagues wherever they are in the world. CLICK HERE for an article Trevor sent to us for our "Then and Now" column a few years ago.
October 13th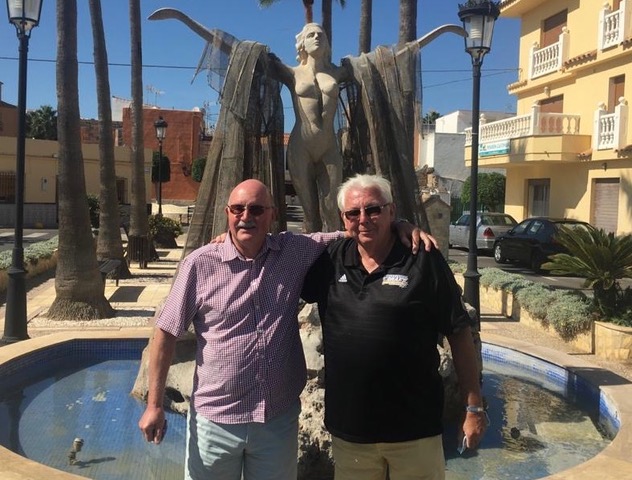 Dough Proctor and Paul Hendrick
Doug Proctor and Paul Hendrick - We just heard from Doug Proctor about a recent get together he and his wife, Finola, had with Paul Hendrick and Joelle. Doug wrote:-
"I have attached a couple of photos of a meeting between myself and Paul Hendrick, (bothex Bermuda Police officers from the 1970's) ,in the sleepy village of 'El Castillo de La Duquesa', near Estepona, on the Costa Del Sol, where we had Tapas and drinks and a good catch up, on the sunny and warm afternoon of Thursday 8th October 2020. Our good ladies, Finola and Joelle, also joined us, and we reminisced away a very relaxed couple of hours.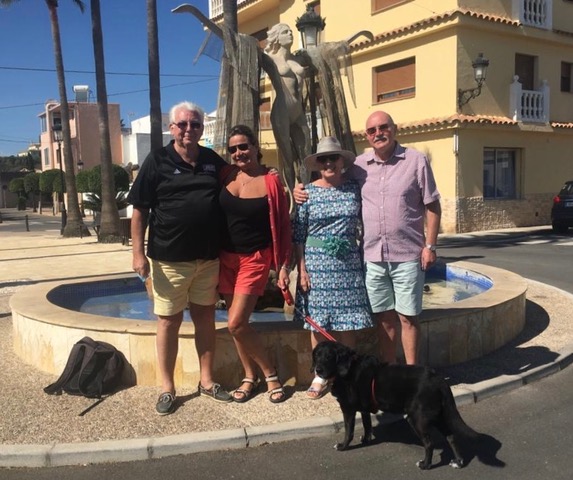 Paul, Joelle, Finola and Doug
Paul and I had contacted each other in the early part of this year, after I learnt from this website that he and Joelle had moved from Canada and were now living on the Costa Del Sol. Little did I know that he and Joelle had settled in a house on an Urbanisation literally 5 or 6 kilometres from us!!
Unfortunately, due to circumstances beyond our control - Covid falling highly at the top of the list - we were not able to meet up until this month. But we have both said that we will make up for that in the future!
I hope that the photos can be shown on your 'Keeping in Touch' section of the website,
Warmest wishes to you all,
Editors note - We're always delighted to report on the activities of our members and their travels. CLICK HERE to read Paul's article on our "Then and Now" column. CLICK HERE to read Doug's article in the same "Then and Now" column.
October 10th
Ray Banks in Vancouver – We just heard from Ray Banks who served here from 1964-1967 before moving to Canada. CLICK HERE to read about Ray in our Then and Now column. Ray has written to say:-
I moved to Vancouver in 1967 and I have lived here since that time other than a year when I worked in Worcester, England in 1978, and a year in Waga Wagga, NSW, Australia in 1988, both on teaching exchanges. My family and I have enjoyed our time here although recently, increases in crime, problems with homeless people, and unaffordable housing or rental accommodation make life less attractive,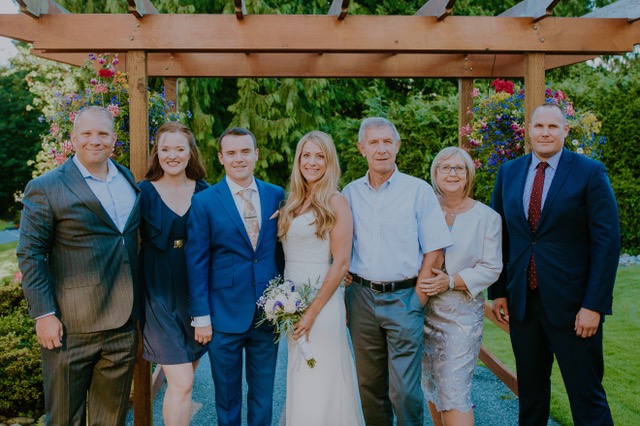 Ray and Sylvia at Daughter's Wedding
(l-r) Son Chris and his wife Nevada, Sean and Jenny (bride and groom),
Ray and Sylvia, and son Rob
I try to maintain a reasonable level of fitness with cycling, weight training, and pickleball. Enjoyed swimming at Jericho Beach this summer. It's certainly not Elbow Beach but it's warmer than the North Sea where I swam in my youth. Not surprisingly, both Ray and Sylvia's boys have played representative rugby, with Rob playing for Canada in the Under 21 World Cup in England in the early 2000's.
Editors note - Ray was always super fit in Bermuda, playing football, rugby and squash, and he clearly stays superfit in Vancouver.
My good friend from my teenage years growing up in West Hartlepool, Ken Wilkinson, lives in Kimberley, BC and he enjoys the outdoor life, rock climbing and cross country skiing in the winter. He worked at the Princess Hotel (1965 -67) before we moved to Canada. We are in touch regularly.
Due to Roger's efforts, it's good to hear about old friends and colleagues. I've kept in touch with Mike Caulkett, Dave Needham, and Rosalie and Mike Rickards.
Looking forward to a Thanksgiving dinner this weekend with neighbours.
Best wishes to old friends.
October 8th
REPORT ON MARK NORMAN - We've heard from Mark's family that he is now out of intensive care and has been moved to a step-down ward. We understand that Mark is making steady progress and is getting the best of care. It will be a long road to recovery but Mark is a fighter and his family is grateful to everyone who is rooting for him.
October 4th
LIST OF NICKNAMES FOR EXPO MEMBERS - We just received a comment from Bob Porter saying he was up till 1am cracking up reading our list of Nicknames of former officers who served in the Bermuda Police.
He was referring to our article, NICKNAMES – A BERMUDA TRADITION which contains over 200 nicknames ranging from Becks, Buster, Bloodnut, Boxhead, Casper, Mike and Spike, Cranker, Hot Chocolate, Nicholas Ridiculous, to The Mars Bar Kind, Yard of Lard, P.C. Loquat, Jellybean, and many more. Perhaps the greatest originator of nicknames was "Big Mike" Parris who could be less than kind handing them out to all and sundry!
And here's a quick question - Who has the longest ever nickname in the Bermuda Police?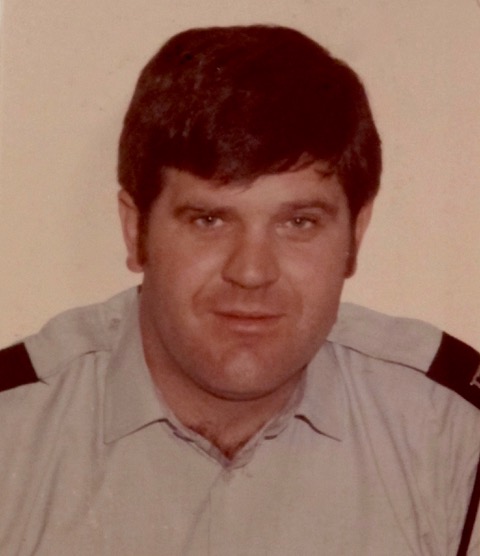 "Big Mike" "Yard of Lard" Mike Parris
CLICK HERE to view our list of nicknames and if you had a nickname and it isn't listed, or you know of someone else who had one but you can't find it please let us know in the Comments section of the List.
October 2nd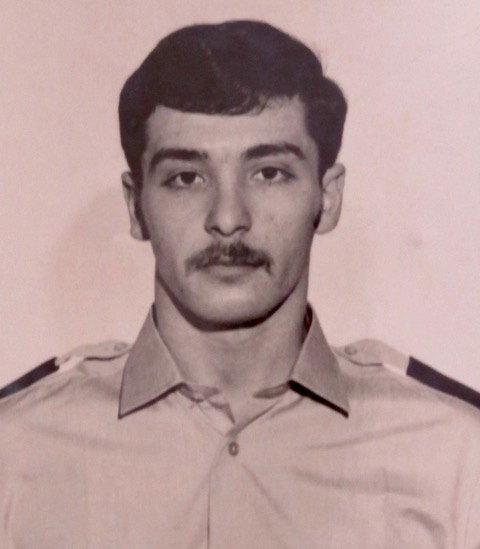 P.C. Bob Porritt
50th Anniversary of arrival in Bermuda - We've recently heard from our good friend and colleague Bob Porritt who wrote to say that on 2nd October 2020 (today), he will be celebrating the 50th Anniversary of his arrival in Bermuda along with 9 other young recruits from all parts of the UK.
When he first wrote, Bob mentioned that sadly, some of the guys in the photo and on his course are no longer with us, and he doesn't see many of them on Facebook or on our ExPo website. He suggested that perhaps we publish an article about his group together with an appeal for more information about any of those guys who may want to contact us and let us and their old colleagues know where they are and what they're doing these days.
On checking our records we discovered that we had a total of no less than 82 young officers join the Bermuda Police in 1970, and all those who are still with us have either celebrated, or will soon be celebrating their 50th Anniversary since joining the Bermuda Police. For this reason we have posted an extensive article listing all of their names and as many photos as possible of the groups who attended either Basic Training of Localisation Courses during 1970. Unfortunately, although Training School has always kept group photos of all the basic training courses held since the Police Training School first opened in 1962, there are very few group photos of the Localisation or Familiarization Courses that have been held. The photo below is one of the exceptions and shows the two overseas groups who arrived in late September and early October 1970. We should add that their course was delayed due to the fact that rioting occurred in the middle of their arrival and it was two weeks before the course could proceed! CLICK HERE to view the full article and view all the photos in our Interesting Articles column. And if you are one of the officers recruited during that year we wish you a Happy 50th Anniversary.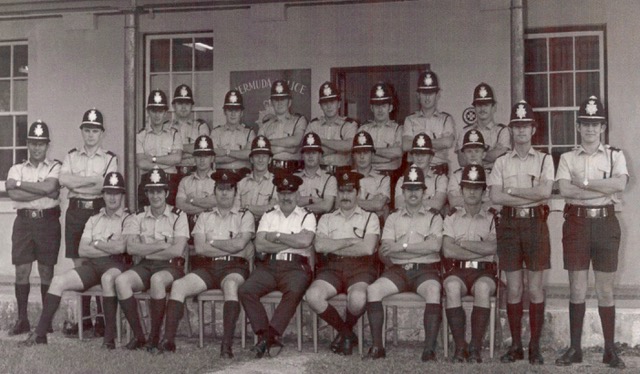 Localization Course held in October 1970
CLICK HERE to view the article and see the names of the above officers
1st October 2020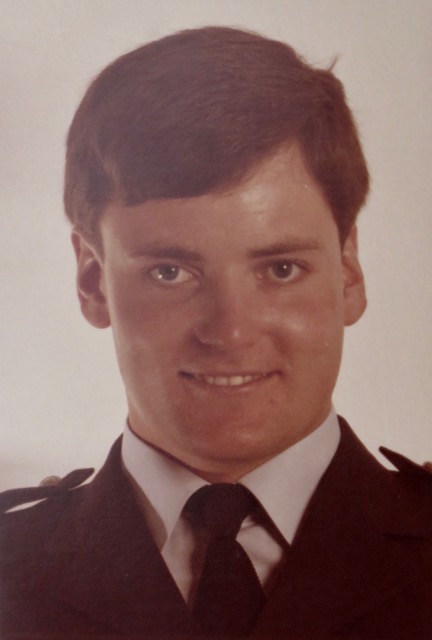 As we reported under Latest News, our good friend and former colleague, Mark Norman, sustained a nasty fall at his home several days ago sustaining a serious head injury causing internal bleeding, and he was rushed to King Edward Hospital where he was admitted to the Intensive Care Unit. Mark was flown by air ambulance to Lahey Clinic, accompanied by his daughter Laura, on the evening of 28th September 2020
We understand that Mark's condition is serious and we will report further on his condition as we receive more information. We wish him a speedy recovery.
For the latest report on Mark please see our post above dated 8th October,
Mark spent much of his Police career assisting in and then running the Police Outward Bound programme, for which he was awarded an MBE in the New Year's Honours in December 2018. CLICK HERE to read more about Mark's work with Outward Bound and his richly deserved recognition in the Queen's New Year's Honours List.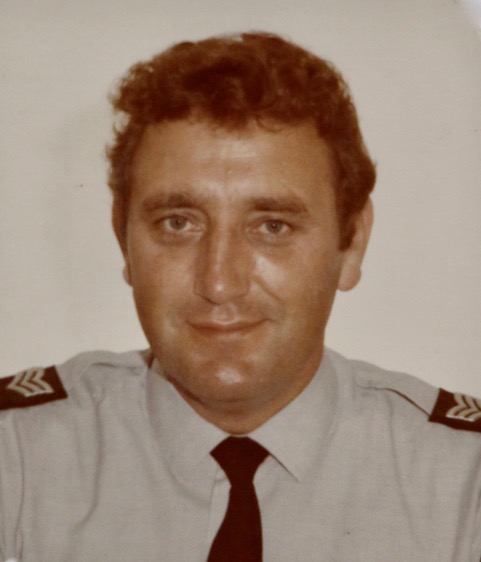 Sgt Mike Kelly
We regret to announce the death of retired Sgt. Mike Kelly on 28th September 2020, in the intensive care unit at King Edward Hospital. Mike had been admitted to hospital a few days earlier, and he had been in poor health for some time.
Mike was born in Redcar, Yorkshire in 1933, and prior to coming to Bermuda he served in the Coldstream Guards for two years before joining the Bermuda Police in September 1956. Mike served in Central Division, Narcotics, Western Division, on the Mobile Reserve and as the Officer-in-Charge of Central Parishes. Mike was always absolutely immaculate when in uniform and was often called upon to lead Police Parades at official functions.
He once made headlines when he dressed as an artist, complete with paint brush and easel, while operating the radar unit on Pitts Bay Road at a time when radar was a fixed unit.
Mike retired from the Bermuda Police in 1981, and was involved for some years in construction. Following the death of his first wife, Mary, Mike re-married in 1985 but sadly later lost his second wife, Beryl. He is survived by a brother and sister in the U.K. and his three stepsons here in Bermuda, Martin, Michael and Marc Siese to whom we offer our sincere condolences.
We have been advised that at Mike's request it is unlikely a funeral service will be held. There will be a small private family funeral.
September 8th
Inspector Mike Burke - We recently heard from Mike and Cam Burke in Jersey, Channel Islands, who had not been able to have a family get together for some time but managed to get everyone together for Cam's birthday, during which they all socially distanced except for taking this fabulous photo of their beautiful family.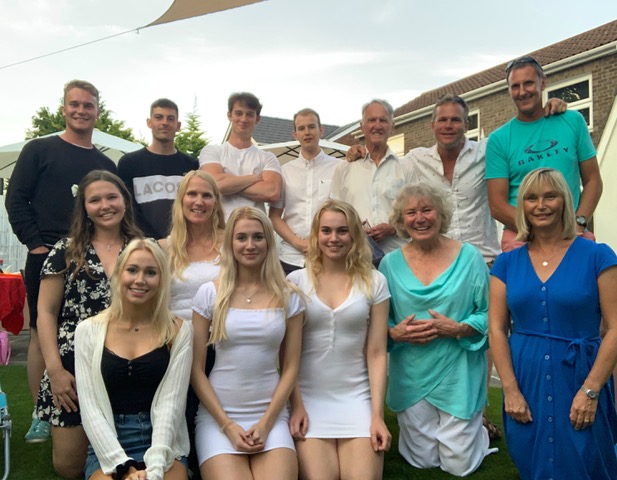 The Burke Clan
Boys (l-r) George, Michael (Megan's boyfriend), Fin (lucy's boyfriend)
Anthony (leah's boyfriend) Mike, Mark and Tom (Sally's boyfriend)
Girls (l-r) Leah, Aimee, Sally, Megan, Lucy, Carolyn "Cam", and Joanne
We asked about how Jersey is handling the Covid crisis and Cam writes, "Restrictions are easing here and they are letting tourists in, but they have to be tested on entry and self-isolate until results are returned 72 hours later (big fine if they don't). We still have to wear masks on buses and people are supposed to wear them in shops but most shops don't seem to adhere to the rules now. We're all ok over here so far.
When asked about their dancing evenings (Mike and Cam are both avid dancers) Cam says they are restricted at the moment to dancing at home.
CLICK HERE to read more about the reminscences of retired Inspector Mike Burke and Cam in our "Then and Now" column.
Poem to Viv and Nick Hall - One of our most unforgetable characters in the Bermuda Police has to be former P.C. Nicholas "Nick" Hall who served here from 1963-1969 before returning to the U.K. with his bride Vivienne "Viv". I think it would be fair to say that anyone who served in the Force during Nick's time in Bermuda will remember Nick's exploits, and nurses at King Edward Hospital will also remember Viv who worked there.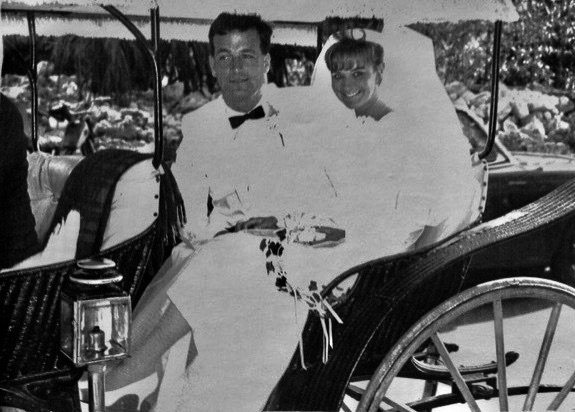 Nick and Viv on their wedding day on 15th April 1965
Yesterday, 7th September 2020, I was approached by Mr. Peter Nash whose sister-in-law had worked with Viv when they were both nurses at King Edward Hospital. He handed me a poem written by Dr. Peter Stewart who was also working at KEMH at that time and he had written the following poem to Viv and Nick 55 years ago to celebrate their wedding:-
Vivianne comes from Wigan
Which is famous for its pier,
And the fizzy, coloured water
Which the men all claim is beer.
When she left her native town
A trainee nurse was she
At the M.R.I. in Manchester
She found her destiny.
She was Sister in Theatre
To her charges was a toff
Holding up the patients bits
While the Surgeon sawed them off.
Nicholas was a lovely lad,
Pompey bred and real true blue
With mighty chest and shoulders
He's like a brick-built loo!
On Bermuda's sunny isle they met
Where Nick was on the beat
So awfully smart in shorts and shirt
And size eleven feet.
They worked as one upon the job,
Nick arrested hell-for-leather;
Each drunk or rogue that Nick bought in
Viv'ld sew them back together.
They decided on a partnership
In life as well as work
And in nineteen sixty five
Were married in the Kirk.
So best wishes to this couple
For their silver Wedding Day,
May they hand-in-hand together
Have fun along the way.
Needless to say Nick and Viv have been happily married for over 55 years so we thought it apt to publish this poem to a most unforgetable couple. CLICK HERE to read more about them in our "Then and Now" column written by Nick shortly after we created our Expo website.
28th August
EDITORS NOTE - We have not been posting articles under this column for several weeks, due partly to me being on a holiday where I had very limited access to the internet, but we're now up and running, and I would be delighted to receive information and comments from you about Whats Happnin' with you these days, wherever you are, and to start us off here is some news from the far side of the globe.
Ray Sousa - Our old friend Ray Sousa who served in the Bermuda Police from 1966-1974 wrote to us in July to say they had been really quite busy in the previous 6 months with all the volunteer work associated with bush fires and storms, and extra volunteer work with restrictions due to Coronavirus. Ray's wife Pat has undergone two operations for knee replacement so a little more help was also needed at home. Ray says, "Considering what is happening in the rest of the world we are doing OK. In fact I had to do some tests when I had my latest medical examination, and my new doctor was surprised how fit I was for my age!"
On another note Ray, commended Commissioner Corbishley and all members of the Bermuda Police Force for their excellent work. The race riots in the USA gave Ray a few flashbacks to the 68 riots and " 40 days of terror". "I was expecting to see reports of riots in Bermuda, but instead the Commissioner stood by and even marched with protesters. This kept the community on side. I have also noted that former Officers have been involved in searches for missing people during the "shelter-in-place" . It is fair to stay in some areas the Force has come a long way since 1968."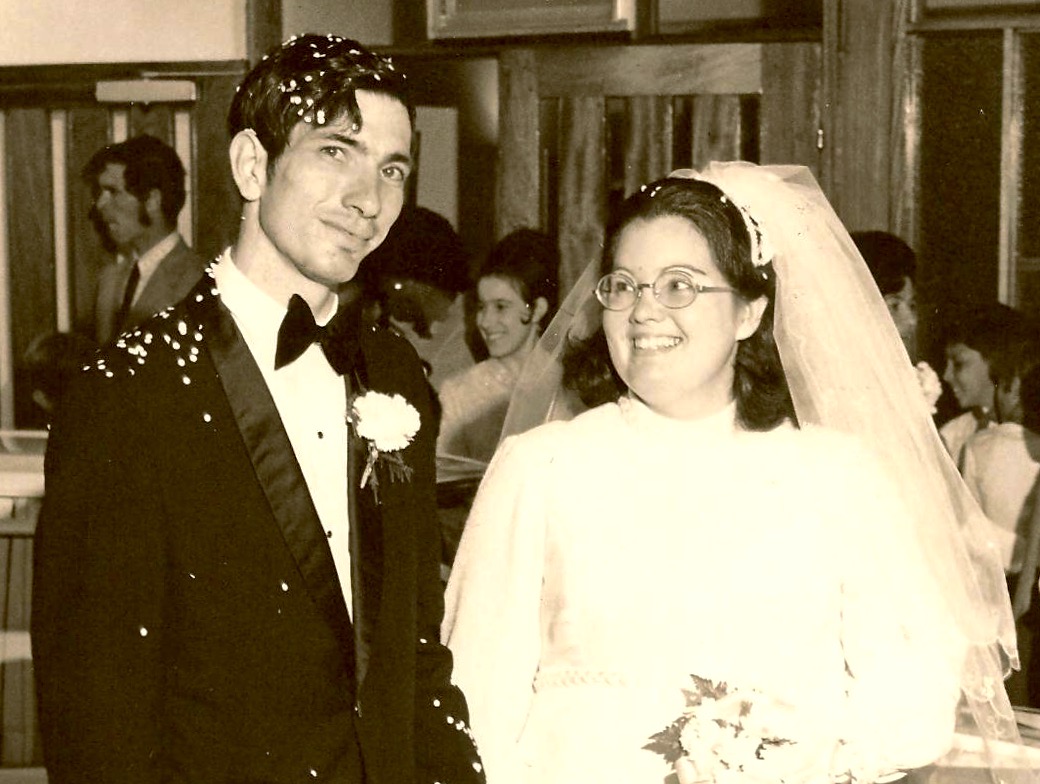 Ray and Pat on their wedding day - April 1972
I had recently found the above photo in my files of Ray and Pat on their wedding day and sent them an email congratulating them on being happily married for 48 years. Ray contacted us again this week to ask how we are doing here in Bermuda and hopes the virus restrictions aren't causing too many problems.
He wrote, "They have been a bit of a nuisance to us here, but we are better off in the West than in the rest of Australia. Officially winter ends in Australia next week. On Friday we are having our first 2020 /21 Bush Fire Season Managers' Training exercise. I have been requested to take part to show how our support team can help them. It seems that even with all the computers and technology it is realized that experience is still needed. A worst scenario is an early start to the (bush fire) season and a second wave of the virus hitting us at the same time. Whatever happens we will be ready and do what we can. Other volunteer work is also keeping me busy."
Ray wishes all the best to all his old friends and sends his regard to all.
Editors note - Ray has devoted his life to his work having started his career in Australia as a volunteer bush fire fighter and he rose through the ranks to become a Chief Bush Fire Officer with specialist training in dealing with emergencies of all kinds with Emergency Management, Australia. CLICK HERE for a fascinating article written by Ray about fighting bush fires what we have previously published on our website.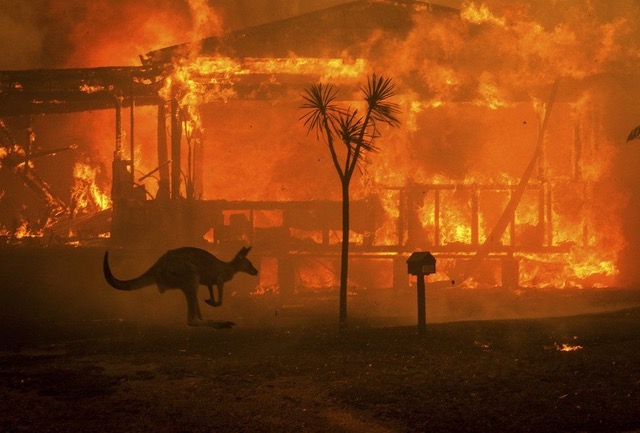 Ray was also one of the very first of our former Bermuda police officers to write his life story for our "Then and Now" column back in 2010 which you can read by CLICKING HERE.
Richard "Dick" Coulthard - We just heard from our good friend Richard "Dick" Coulthard who served here from 1970 - 1976 before heading off to Canada with his wife Jenny where Dick joined the Peel Regional Police. In 1988 Dick attended a course in Australia during which time he was offered a position in the Royal Australian Air Force which he accepted, and his family have all settled Down Under. CLICK HERE to read an article Dick wrote for our "Then and Now" column in 2017.
I recently wrote and asked Dick how Australia was doing during the Covid crisis and he wrote as follows:-
Australia has been quite lucky to avoid the ravages faced by many countries. So far we have had about 25000 cases and 550 deaths out of an population of 25 million. In response, each of the six states and two territories have implemented differing responses. Victoria has been hardest hit with two thirds of the cases and 80% of the deaths. As a consequence the bordering states of South Australia and New South Wales have implemented strict no-entry to Victorians. Queensland has stopped all traffic entering from New South Wales and Western Australia, Northern Territory and Tasmania won't let anyone in at all. Here, in South Australia, returning South Australians have to quarantine for two weeks. Naturally, some difficulty has also been experienced by the border communities of Victoria as many work or attend school in South Australia. As a consequence many have had to arrange South Australian accommodation for some of their families while the rest stayed in Victoria.
Signs of improvement are there though. Some sports allow social-distance spectators in the less-affected states and secure hubs with no spectators are allowed in all except Victoria. In South Australia bars and entertainment centres are slowly opening up so I took advantage of the opportunity to use a gift certificate to attend an Escape Room in Adelaide with my son, daughter and grandson. I got to choose one of six challenges and as one was called 'Bermuda Escape' that challenge was a no-brainer. Sadly, we failed to complete it within the allotted sixty minutes so it's back to uniform for me!
When asked about what he is doing these days, Dick wrote, "I retired about eight years ago, and for the past five years, have involved myself in role playing for the South Australian Police Academy. However, due to covid, all volunteer work has been suspended since February. Family wise I have a son and daughter in the South Australian Police Force and a daughter and grandson in the Royal Australian Air Force.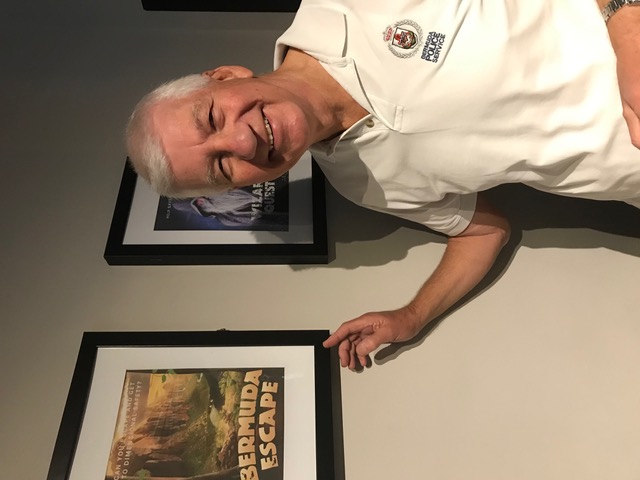 Dick accepts the "Bermuda Escape" challenge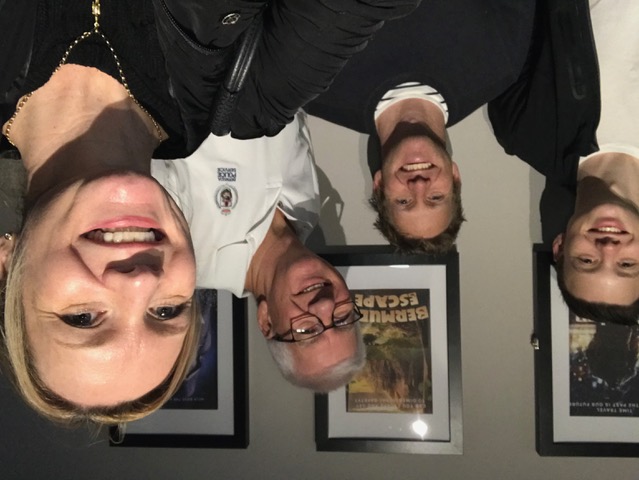 Dick with his nephew Hayden Kay, son Aidan Coulthard,
and daughter Claudia Sherwood
We were intrigued to hear how Dick could conceivably FAIL a "Bermuda Escape" challenge and decided to make discreet enquiries. Here's the result of our investigation:-
On Saturday 22nd August 2020, Richard and his son Aidan, daughter Claudia and nephew Hayden booked in to do the 'Bermuda Escape' at the Mindshift Escape Rooms in Adelaide, South Australia.
Despite being told in the initial briefing that the props in the escape room were not to be forced or damaged in any way, 'Detective Dick' knew better and decided that a fountain in the corner of the room which wasn't operating at the time needed to be disassembled, anyone who knows Dick, knows that he is definitely not known for his handyman skills and this could only lead to disaster!
He didn't locate any clues during the disassembly, however later in the game a clue lead his team to an 'on/off' switch which, when flicked, turned on the fountain! This must mean there was a clue there. The team all studied the fountain for a few minutes but were unable to locate anything. They carried on with the game when a voice came over the loudspeaker directing them to a key which should have been floating in the fountain once it switched on… a key that was now jammed down in a pipe due to the earlier disassembly!
We hear from a reliable source that although they weren't successful in solving the Bermuda Escape in the 60 minute time limit they all had great fun trying. (Thanks Claudia!)
25th July
John Headey not well pleased with Bob Kinnon! We have it on good authority that Bob is openly gloating over his team's success in gaining promotion back to the Premier Division as can be seen in the photos we posted here yesterday. To make matters worse he's been rubbing it in with poor old John Headey who doesn't sound too optimistic about his beloved "Terriers" as he explained:-

"Our season (at Huddersfield) has had a dramatic late twist. Almost as soon as we knew we had survived, our Chairman decided to dismiss the Manager! - two actually, as we had the Cowley brothers in charge. He had poached them from Lincoln City only 10 months ago amid considerable publicity. There are various rumours circulating as to the reasons but the official line is 'we had differing visions as to how the club should progress'. There are stories that they were causing ill feelings amongst the staff and were generally disliked but I guess we'll never really know. We have now appointed a Spanish coach, Carlos Corbera, who has been at our close and 'much-hated rivals Leeds' for 3 years. (No wonder John is more than a little envious about Kinnon's ecstatic celebrations although maybe Corbera may be the coach to restore glory to the Terriers.)

"Your boys (Stoke City) have been an enigma have they not? From ridiculously bad in the early stages, they have produced some excellent results recently. I'm glad you survived too. Michael O'Neil may prove to be an inspired appointment. At least you still have owners with some financial clout, which seems not to be case with us.

All good here thanks. We have had our exhausting but delightful Grandchildren with us for a week or so. I had forgotten what a relief it is when they finally go to sleep! We hand them back on Monday and plan a couple of nights in a nice Hotel to recover. A few table service pints are in order !

I wonder where this Pandemic is going to take us? Infection numbers seem to be on the rise again where lockdown has been eased. The latest numbers from the US are pretty scary. The prospect of a British winter alongside Covid-19 is not something to look forward to, especially for we pensioners. Do you have a spare bedroom for a few months? We are very good at cleaning up after ourselves!"
Editors notes - John appears to be clutching at straws going through some football results from a few years ago at times when Huddersfield were a force to be reckoned with. Unfortunately the cuttings he sent don't copy well on our website, but you can CLICK HERE for a link John sent us giving scores from matches played when Huddersfield completely trounced Leeds 6-1 in a Yorkshire derby, and Stoke City squeezed by Port Vale 2-1 in a Potteries derby game. Maybe I should mention that these matches were played quite a few years ago - in 1928!
CLICK HERE to view photos of John's two grandchildren which we have posted in our "Grandparents" column. If you have photos of your grandchildren we are always delighted to post them in this column.
How many of our members are aware that John's daughter, Lena Headey was born here in Bermuda and gained international fame, or is it infamy, as one of the stars of the blockbuster TV series, "Games of Thrones" in which she played the part of Queen Cersei. We have posted several articles about Lena including the time when Queen Cersei met Her Majesty Queen Elizabeth. CLICK HERE for that article
24th July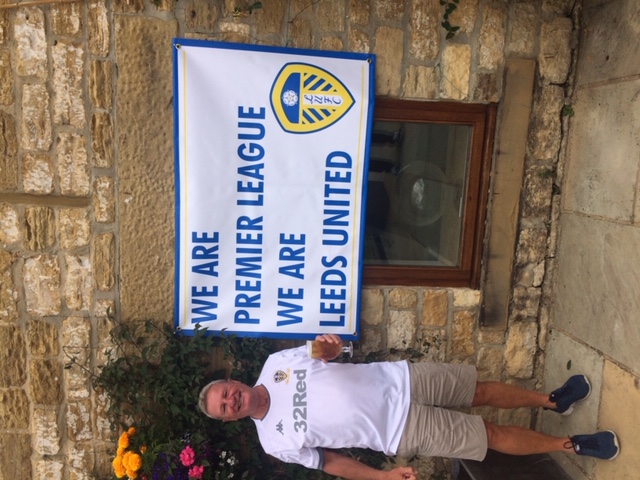 Bob loves Leeds United
Bob Kinnon loving Leeds United Promotion - We just received these two photos from our old friend Bob Kinnon who is over the moon with the performance of Leeds Unitd this season having earned automatic promotion to the Premiership when they finished off the season with a most impressive ten point lead at the top of the Championship. His two sons, Steven and Matthew, are equally happy with their team as we see in the second photo.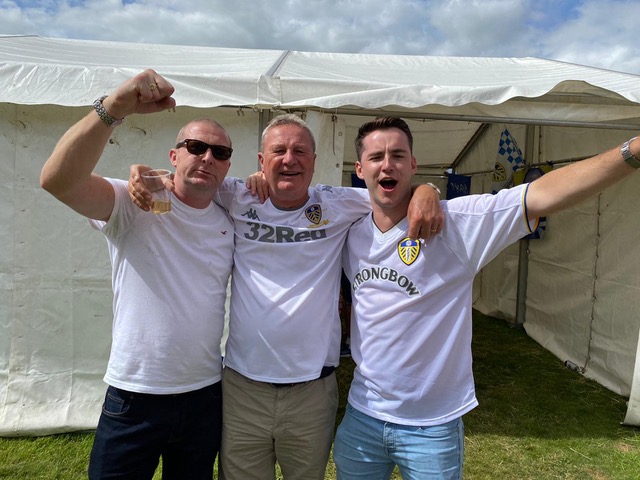 Bob with his two sons Steven and Matthew
23rd July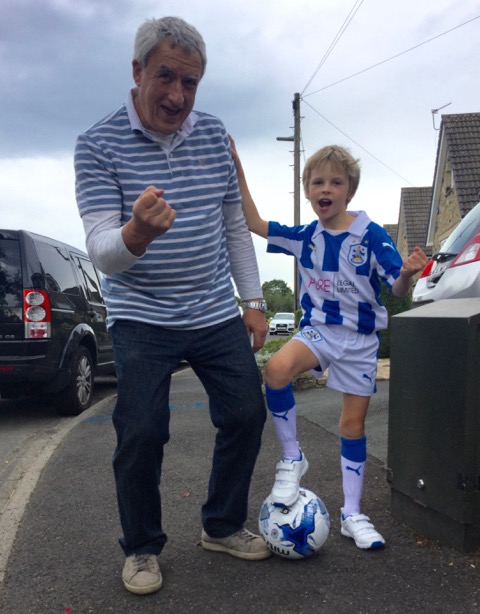 John Headey and his "Terrier" grandson Wylie
John Headey finally breathes a sigh of relief - John Headey has shared the same concerns as me - Roger Sherratt - throughout this finally finished football season. John is a staunch Huddersfield Town supporter, and I'm a Stoke City fan, and we've both been on tenterhooks all season when it was looking like both our teams were destined for the drop after we had enjoyed a few heady days (pardon the pun) with our teams playing Premiership football.
It all came down to the last few matches of the season, and Huddersfield pulled out a spectatular surprise beating West Brom for a much needed 3 points that saved them from demotion against a team that is heading for the Premiership next season. Stoke City also left it late but a few excellent results the last couple of weeks, including a 4-1 trouncing of Notts Forest in the last game of the season, saw the Potters finish 15th in the league and well clear of the relegation zone.
Not sure how much we're looking forward to next season but we all have to have faith that we can do better. I have to wonder how many Liverpool fans we have amongst our ExPo members, but what an incredible season for The Reds with a glorious 5-3 win against Chelsea to top it off.
Let us know about your team's fortunes during this strangest of seasons.
6th July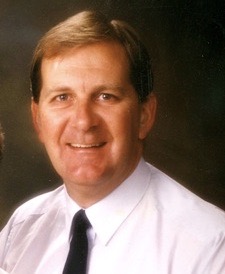 Robert "Bob" Payne
Robert "Bob" Payne - We just received the following from Robert "Bob" Payne - "45 years ago I arrived as a new boy in Bermuda, and we all know how our lives were changed by the Bermuda experience. I have never forgotten those days. Pat and I were married at Stella Maris in St.George in 1972, so nearly 50 up. I served until 1975 and returned to UK where I served in Dorset Police and subsequently with Devon and Cornwall until retirement in 2002.....37 years in total.
As we enter the ' beginning of the end' after 14 weeks in ' Lockdown' ( we hope) that everyone in our great circle is fit and well, and for those who have been less fortunate, a swift return to rude health. The 14 weeks will be stained on our minds forever but, the consolation was the fantastic weather we experienced here in UK, a glorious Spring.
I will be talking to the two colleagues I keep in touch with , namely Ray Lloyd and LP Brown, that they might update you.
Editors note - Hope Bob doesn't mind us questioning his "maths skills"! According to our records he arrived here in Bermuda as a young constable on 15th April 1970, along with John Baxter, Graham Maddocks, John Broadbent, Terry Warrilow, Peter Treves, Alan Barker, and Les Pearson. Of this original crew we are aware that Terry is no longer with us; John Baxter is the only one still on Island and now retired (he often attends our ExPo functions when we can hold them), we had a beautiful former Miss World trying to track down Pete Treves but we we weren't able to locate his resent whereabouts; and we know that Alan Barker is now living in Nova Scotia.
We have encouraged our members to contact us and let us know how you are faring during this pandemic, and we have devoted a column to those who reply. CLICK HERE for the article in our Interesting Articles column. We would love to hear from you.
4th July 2020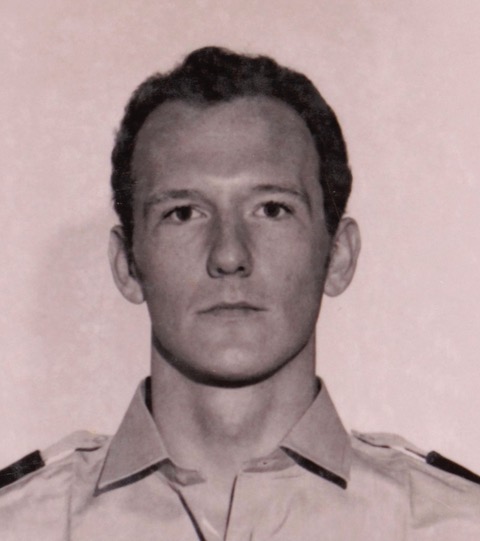 Young P.C. John Freeborough
Death of John Freeborough - We have just received sad news from Des Peters that former P.C. John Freeborough, who served here in the Bermuda Police from 1970-1975, passed away in the U.K. on 24th March 2020. Des served in the Birmingham City Police prior to joining the BPS. While here he served mainly in Eastern Division. CLICK HERE to read more about John in our "Then and Now" column.
John met his wife Sue here in Bermuda and after they returned to England John joined the West Midlands Police where he served for a total of 35 years, his last 22 years as a Sergeant. John and Sue were divorced a few years ago and we understand that Sue has sadly since passed away.
We extend our sincere condolences to John's two daughters, Fiona and Helen and the rest of his family.
Unfortunately, we have no further details of John's funeral or contact details for his family.
3rd July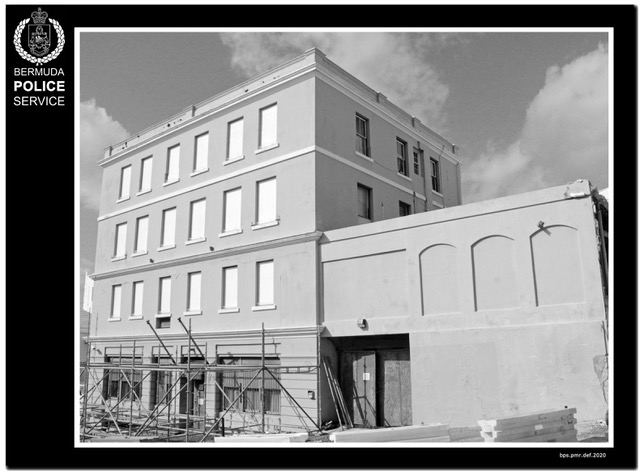 Photos courtesy of Dexter "Fudge" Flood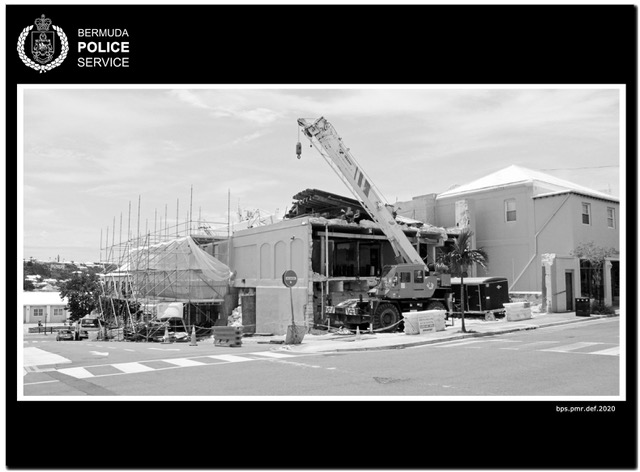 DEMOLISHING THE OLD HAMILTON POLICE STATION - If you ever worked out of the old Hamilton Police Station near the bottom of Parliament Street you may be interested to hear that it's finally being demolished. Our good friend and former colleague Dexter "Fudge" Flood has provided us with a series of excellent photos of the demolition in process and he wonders whether you might want to share your memories of working there.
We've just posted an article in our Interesting Articles column about the history of the building and we would like to hear from you about your memories of working in the old police station which was in use from 1978 to 2011. CLICK HERE for the full photo album and the article.
18th June
Ken Van Thal just sent us this "poster" for Peel's Police circa 1839, and we wonder how many of us would have answered in the positive especially when you read the last condition! Many thanks Ken.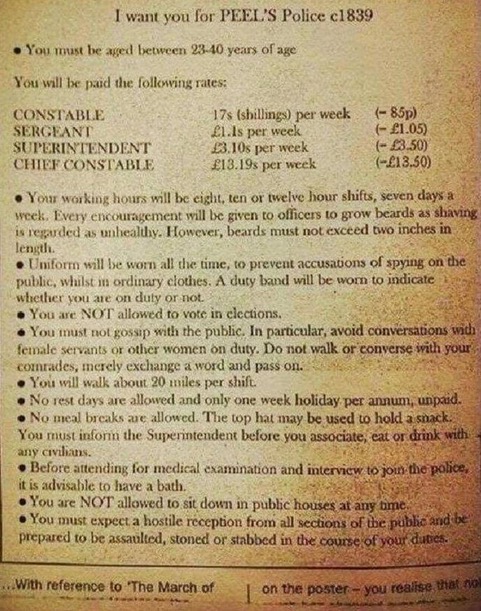 5th June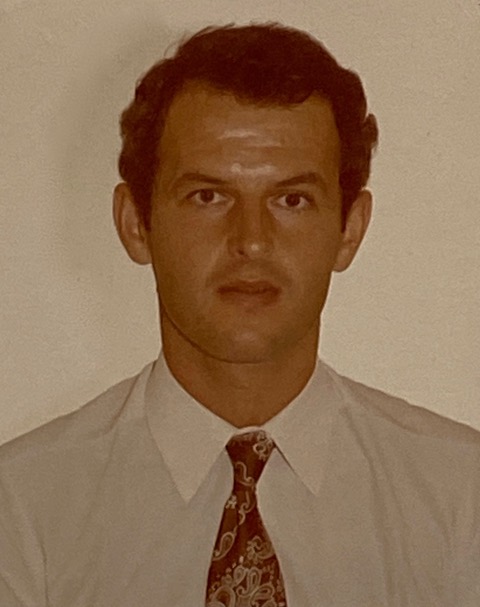 Young P.C. Alister Reid
Alister Reid - We heard from our old friend and colleague Alister Reid a few months ago and I must apologize for not publishing his message well before the coronavirus pandemic hit the world. Alister served here from September 1970 until 1979. He came out in the same intake as Iain Begg, Steve Shaw, John Freeborough, Stuart Lambert, Peter Brown, Daniel (is that Brian) Foster, Norman Galbraith, Peter Blogg, Mick Hale and Lewis Gwynfryn. The only two still here in Bermuda are Stuart Lambert who was actually Bermuda born, and Steve Shaw who served in the BPS for over 30 years and retired as a Chief Inspector.
Alister sent the following information:- "I've been retired now for 12 years. Had sold my businesses and went to work in Bahrain for two years which was great. Then returned to Scotland and after nearly forty years decided to play golf as I hadn't had time before.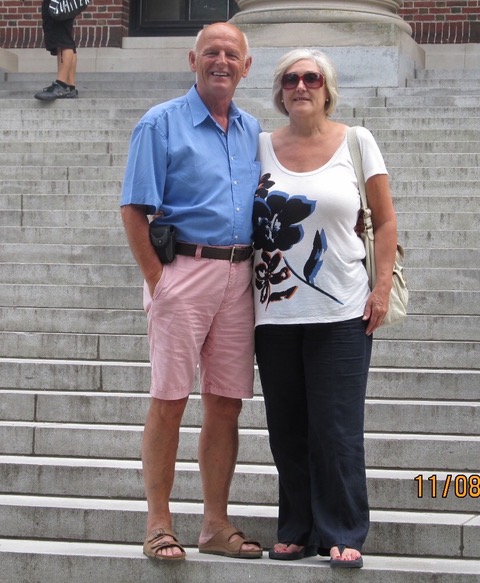 Alister and his wife
Please note that even after 40 years of leaving Bermuda,
Alister still wears his Bermuda shorts - in pink!

We live in Crieff, Perthshire which is about seven miles from Gleneagles where the Ryder Cup was held a few years ago it's also the home town of Ewan McGreggor the actor.

Life is good, everyone is healthy and I have two lovely daughters who have worked hard and are now lawyers so can't really complain the way it's all worked out.

I keep up-to-date by reading the Royal Gazette monthly and checking on your site so well done for all of the work that goes into it and keeping us all in contact. Seems like yesterday I got off the plane to start work in Bermuda and have my eight years there and now here I am forty years after I left in 1979.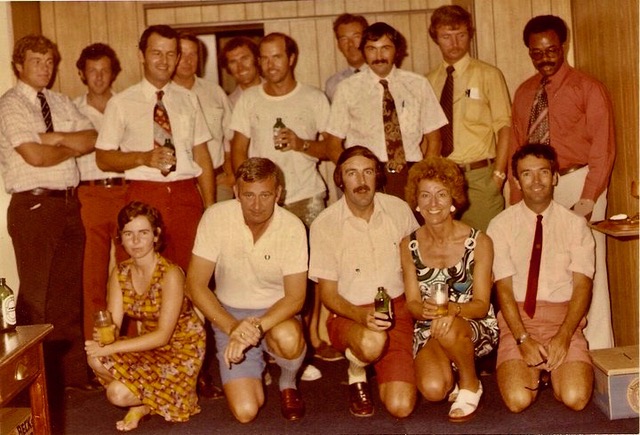 Alister and his "Team" enjoying a social occasion
We are featuring this photo in our 'Who, Where and When' column if you think you
can assist us in identifying members of the group and where and when it was taken.

All the guys feel the same - we had a great time there and the right age to enjoy it all and often think of the good times - being at Bailley's Bay when Dave Du Cann was having a barbecue etc., etc., haven't been back in all that time despite having been really everywhere else but using Google Maps I can travel up and down the Bermuda streets and see that not much has changed in that respect.
1st June
It is very rare indeed for police officers to make public statements about anyone who is suspected of a crime but has not yet been brought before a court and convicted, but this morning's Royal Gazette (1st June 2020) reports on a very strongly worded "from the heart" statement posted yesterday on Facebook by Bermuda's Commissioner of Police, Mr. Stephen Corbishley, about the killing of George Floyd by a Minnesota police officer last Monday. The article reads as follows:-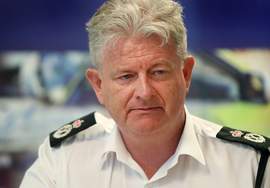 Commissioner of Police, Stephen Corbishley
Bermuda's Commissioner of Police said he was "appalled and saddened" by the killing of a black man by a police officer in the United States.
Stephen Corbishley posted the "from the heart" message on Facebook yesterday about the killing of George Floyd by Minnesota police officer Derek Chauvin last Monday.
He said: "I cannot imagine the heartache of George's family and whilst I have met many many families who have lost loved ones, to lose someone at the hands of the police, who should be there to support and protect, is truly devastating.
"I can understand the protests now taking place across the United States and whilst I do not condone the associated violence I can understand it.
"Black communities are angry."
Mr Corbishley said the killing of Mr Floyd "resonates within black communities across the world, including Bermuda".
He added: "Black lives do matter and I am committed to that as the Police Commissioner.
"Yes, I am a white guy, however my mum taught me to love my neighbour and that is one of my core values."
CLICK HERE for the rest of the article.
EDITORS NOTE - It is surely only in exceptional circumstances that a police officer would ever express such strongly held views on any criminal matter that is likely to go before the courts, but I firmly believe that these are exceptional circumstances, and anyone who believes in true justice cannot be anything but appalled and disgusted at the sight of what happened to Mr George Floyd last Monday 27th May 2020. There has been strong reaction across America and around the world at what so clearly appears to be complete disregard for a man's life by those responsible for law and order in their community.
We have also reported on this matter under Latest News and we would be interested in hearing your reaction to what took place in Minneapolis last Monday. CLICK HERE for the article in Latest News.
12th May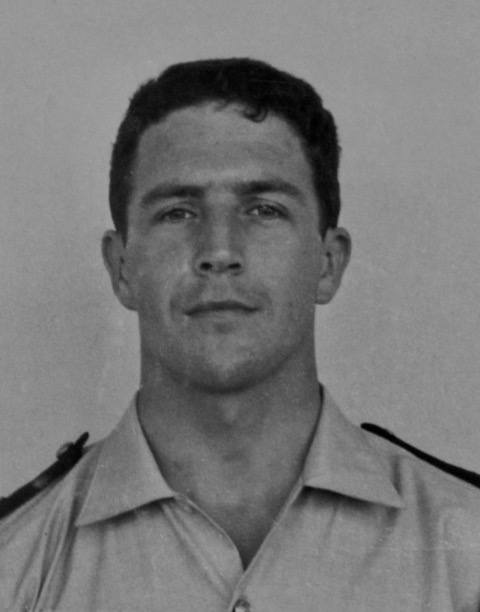 Young P.c. 143 John McQuaid
John McQuaid - Our old (80 years old) friend John McQuaid was due to be here in Bermuda about now for a well earned trip but the best laid plans of mice and men have been scuppered by the dreaded coronavirus epidemic, so instead John has sent us the following missive about life under lockdown in the UK :-
A SPOILED SOJOURN AND LIFE IN LOCKDOWN
On Friday the 13th March of this year I reached what was for me one of the most gratifying birthdays of my life, my eightieth; coincidentally it was on the dreaded - some believe - Friday the 13th, but I was born on a Friday in 1940 and it has ever been my lucky number. But why would the number '80' be so special to me? Well for sure, I don't have a scientific or biographical explanation, but somehow I believe it was the fact that I was by now growing older with less and less of the people I have known during my life who are still alive and that through all of my trials and tribulations over the decades, I had somehow 'cracked it'. Odd I suppose, but that is who I am.
This 'special' 80th celebration of my advent was ostensibly planned to be marked as the unmitigated 'holiday of a lifetime', which was to be spent alone, sans wife and hopefully without guilt, in Bermuda. I should perhaps explain here, that my lovely wife Lynn whom I married in Bermuda many years ago, has recently lost the use of her eyesight and with increasing and full-body pain from a very cruel and debilitating arthritis, has by now lost any interest in travelling abroad. Knowing how much I loved and indeed, was ever involved in the country which I once fell in love with, she felt that I should take up the chance that was being offered to me, as she opined, perhaps for my last time: "No", she insisted, stressing that I should "go and not to even think any more about whether I could safely leave her or not."
My plans then, were that through contacts on the Island I had been offered an opportunity to 'house sit' in a magnificent large house in Bermuda whilst the owners were away on business elsewhere and this came, complete with the housekeeper who had volunteered to make my stay 'less onerous', to cook and clean up after me. Whilst there, I was to socialise, do some research and assist Edward, (Dr Harris) with a couple of books we are getting behind with and especially, spend some time in your magnificent Ocean. But it doesn't need the jungle drums or the dogs on the street to tell you that our dear Coronavirus was lurking and ready to pounce from the far side of the world. With transport arranged, Hawaiian shirts and Bermuda shorts purchased for my sojourn at the end of May, all was boshed in a heartbeat and my dreams gone up in pink smoke. What did I say about the number 13!
Philosophical, as I usually am, I took my bad news on the chin and accepted my loss and we are now preparing for a garden party at home at the end of the summer to mark my anniversary - which will please Lynn no end. Like the rest of the world, us mere mortals just had to move on with whatever we were to be presented with and of course, in March we were to all learn of our fate when it became apparent that more than three-quarters of the planet had been scarred with this dreadful scenario of potential doom.
LOCK DOWN - A PERSONAL VIEW
From being daily aware of the comings and goings of your small island, it is clear that many of your emergency arrangements and restrictions are based on a similar scale and fashion to that of the UK; this apart from the night curfew which we have not yet attempted. From day one, the message was poorly understood or even blatantly ignored by a sizeable section of the general population and the police moved in as the ultimate authority to maintain supervision and/or control. Social distancing was such a novelty, that not to greet a friend closely only became acceptable after two or three days. As bars remained open clandestinely until threats of prison were administered, the lessons being learned within them revolved around the best 'loopholes' to try with the police if caught out of doors unlawfully. Our police, of course vastly denuded over the recent decade of Austerity and only rarely seen out in public, were all of a sudden out in numbers attempting to make something of the new rules. Twitter and Facebook then ripped the feckless Chief Officers to shreds for days for their 'heavy-handedness', until they seemed to conjecture that it was not worth the candle to create such animosity and returned to their stations.
As the father of a Bermuda-born son - who is a mental nurse - who goes to his daily work involving long days caring for 40 geriatrics (like myself) and mostly Alzheimer patients in a care-home near Bristol, I feel particularly protective towards those who share his desperate and intrepid occupation, especially so in these scary times. When he left us from his last visit home to return to the commencement of the pandemic, he turned to me and said, "Come on Dad, I'll be OK, its you, just do what they tell you to and stay at home." I promised him I would. He called yesterday to tell us that a good friend and work colleague of his had just died and another was pretty poorly from the CV: his words returned to me like a bolt from the sky!
My treasured Saab has not yet moved from the garage for more than two months and being an automatic, I won't be able to roll it down the hill for a bump start should the occasion arise of a flat battery. Those early days of incarceration were very taxing and it all seemed to me, having been a police officer for more than a half of my working life, very strange indeed to have such harsh restrictions placed on my natural liberty.
Let me confess here though, to just one little aberration from my promise to my son. It occurred on about the third day of restrictions and we had run out of bread. Getting groceries was nigh on impossible and Lynn was getting quite distraught as getting her hands on some bread seemed to be more important to her than life itself. I think that Queen Victoria once famously said of her wretched subjects up North who were in such desperate times, "Let them eat cake!' Well, we didn't have any cake either. After some awkward domestic discussion and at about ten o'clock at night, I slipped out through the back door, the garden gate and out into the dark streets. Like a thief in the night, in soft-soled shoes and with a fair measure of trepidation, I set off for the all-night filling station. I actually felt a growing fear of discovery by the authorities, not even to mention a large dose of disturbed conscience as I remembered my promises each to my Queen, the Prime Minister and to my son, but I was by now in forward motion.
How odd it was during that small journey with hardly a sound to be heard, no suggestion of the human beings nearby ensconced in their safe homes, the usually busy roads now devoid of moving traffic, birds singing seemingly much later into the darkness than normal and all I supposed, much to the glee of the local cats which scuttled out of the path of my determined progress. In a short while, I was alarmed to hear the sound of an approaching car, then twin white lights moving towards me: I froze. Was it a police car? No, possibly a nurse going home? I immediately fantasised a practice response in relation to the possibility of a check by the health-police:
"Good evening sir, and what are you out and about for at this time of day, are you over 80?"
"Er, no, not quite, but look officer, I have got to be honest, I am a most respectable citizen and I am aware that I don't have a legal reason to be breaking the law, but my wife desperately wanted a loaf of bread. Could I just pay you the £30 fixed penalty ticket, if that's what they cost. Gosh, you officers really do a wonderful job at times like this"
No? of course, I was musing on the assumption that he would be a reasonable guy, hopefully in his later years and who had heard all the BS before and would allow me to slide off to get my bread. Well. I never met him and back in the real world I did eventually arrive unmolested at the filling station, where I again got nervous when at least one police car passed slowly as I waited. Hiding myself behind a couple of young students - a boy and a girl - who each went off with a six-pack into the dark night, I fleetingly recalled my younger days in Bermuda. But, I did get my holy grail, 'A large, medium sliced toastie', soft and fresh, through a slot in the window which took my money first and then returned with my loaf. I recall that on the return journey which remained as silent as the grave and almost weirdly deserted as I clutched my coveted prize, I did duck into at least six driveways on the approach of random motor vehicles, but as usual in Melton Mowbray these days I never saw another police car, so it was indeed, toast and strawberry jam for supper that night and with a double dose of marmalade and oodles of butter for breakfast the following morning; life was good in the world once more.
Grocery shopping is definitely taboo for the likes of us oldies, as you probably experience there and at times like this, good friends do indeed appear from out of the woodwork. We have an old friend of my daughter who does a regular shop each week for us and is at the end of the phone if required. This is the part of lockdown that I do really hate, as the idea of asking someone to do our grocery shopping - a job I loathe anyway - when I am as fit as a fiddle, just hurts. Boris has just given his talk for the next four weeks and little has changed and much to the chagrin of the proletariat, he seems to have confused everybody even more. So we now see an extended bleak future, at least into June: hold the front page! That is now October and the picture is now even more blurred to say the least, with the politicians disagreeing over policy and a plethora of alleged experts all seemingly singing from their different hymn books in a desperate attempt to arrive at something useful to tell the public. All of this is notwithstanding the crippling and sky-rocketing invoice which we will all struggle to settle over the next few years; but of course, you Bermudians are well au fait as to what I refer! - I'm keeping my beady eyes you!
Outside my front door, a once busy road is now deserted, but because driver vision is thus enabled to calculate the road ahead much further, there is the great temptation to go faster, in that the bad boys are out in groups seeing what their posh motors really can achieve, giving one the impression on occasions that we are resident in Monte Carlo 'sans la mere'. I just lie in bed and await the potentially glorious sound of hard-braking tyres squealing, the scrunch of the loose gravel beneath and hopefully a good resounding 'THUD' of contact. I then like to anticipate the presence of the wonderful smell of spilled hot engine oil which might indicate that it is a good one! Sadly, I have not yet been so lucky.
By now it is clear that I am wandering into the realms of the ridiculous and although lockdown is a very serious and potentially disastrous threat to all of mankind, I know that we must move on come what may. Eighty years is a long time after all and we oldies have experienced many of the better years; if I can get just another ten, then I will be more than chuffed, but I will leave you here at 80.
Take care, be safe and do the penance.
PC 143 John McQuaid
Melton Mowbray.
May, 2020.
10th May 2020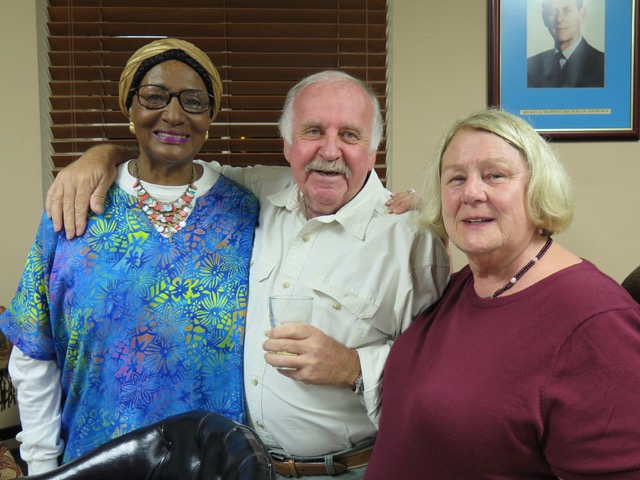 Relaxing at our annual ExPo Reception - January 2020
(l-r) Juanita Shaw, Roddie Barclay and Marj Amos
A Positive Test - We saw our good friend Marj Amos at our Annual ExPo Reception at Prospect in January as shown here with Juanita Shaw and Roddie Barclay, and we understand that Marj then decided to head south and spend some time in the sun in Fort Lauderdale, Florida. Unfortunately Marj was still there at the beginning of March when the travel restrictions hit, and was not able to return home until she managed to book a flight on a repatriation charter flight organized by Traveledge 7th April.
By that time it was a requirement that anyone returning home had to go into mandatory quarantine for 14 days.
During her quarantine they were starting to test everyone who had arrived on Island. Marj was tested and much to her surprise was found to be positive for the virus. She then had to spend a further 14 days in quarantine and would not be "free" until after she could undertake a second test and only then if it proved negative.
In the meantime Marj was totally asymptomatic with no sign of the virus, and it wasn't until just a few hours before that extra 14 days of quarantine was up that she finally received the good news that she had tested negative and was clear to go home on 5th May.
All in all a most stressful experience but Marj was resolute throughout. She would love to throw a celebratory party but that's not an option so we may organize one for her at our next annual ExPo Reception in January 2021.
30th April

Sad passing of Junior Durrant's wife Julie - We were deeply saddened to hear of the passing of Naomi Juliette "Julie" Durrant, the wife of our good friend and colleague P.C. Junior Durrant who served in the BPS from 1977 – 2012. Junior was an amazing badminton player whose ability belied his appearance because, despite his stature, he was phenomenally fast on the badminton court, and I understand that Julie was also an excellent badminton player.
We offer our sincere condolences to Junior and their son Ryan, and to all of their family and friends.
CLICK HERE to view Julie's obituary in the Royal Gazette. A private graveside service will be held, and a memorial service will be held at a later date.
29th April
We have been asking our members to keep us informed about how they are coping with the Covic-19 pandemic wherever you are, and we try to keep you in touch with our own news here in Bermuda as well as abroad. Here are a few such reports:-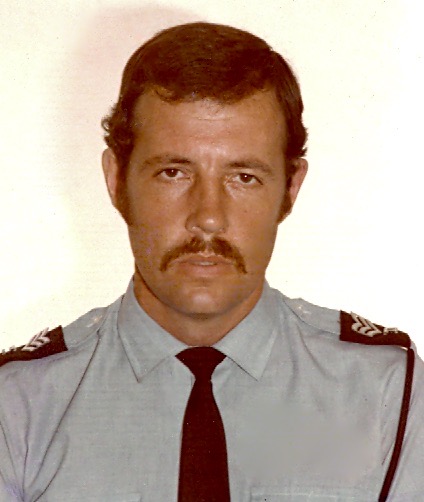 Sgt. Ron Wallace
Ron Wallace – We just heard from Ken Van Thal who very kindly got in touch with Ron Wallace's wife in Scotland to enquire how Ron is doing in these very uncertain times. She advised that Ron is still in a care home a short distance from his wife's house. He is apparently keeping well but they are currently on "lockdown". She is able to occasionally speak to him on the phone and Ken asked if she would pass on best wishes from his former colleagues in the Bermuda Police which she is going to do. Many thanks to Ken.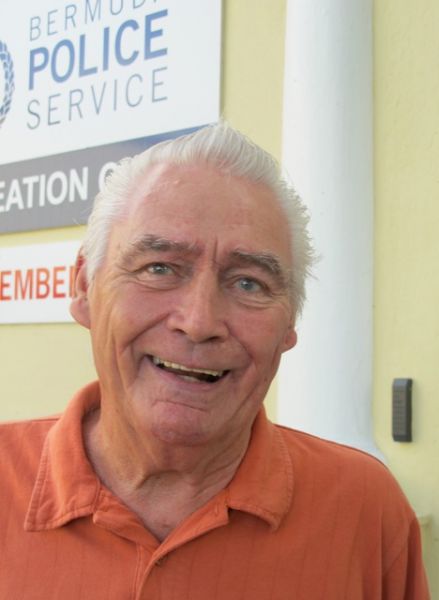 Jimmy Costello
Jimmy "The Wop" Costello - Gerry Lyons reports that Jim is still at Westmeath Care home and he has spoken with Jimmy in the last couple of days. He's doing okay and will no doubt be looking to find himself as new abode once the present restrictions are reduced. As those of you living here in Bermuda will be aware, there have been quite a few cases of Covid-19 at Westmeath, but Jimmy is not one of them and it's a case of "so far so good".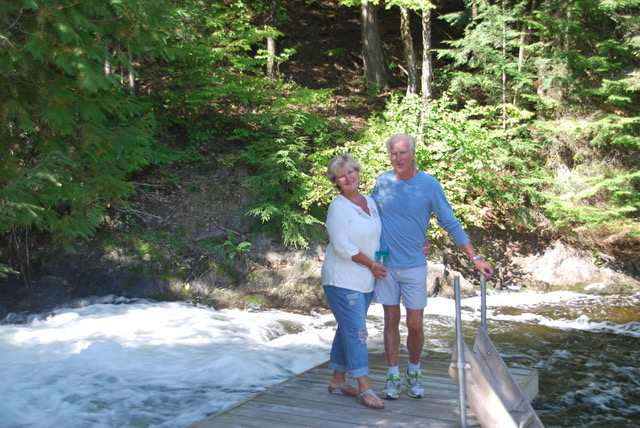 Colin and Laura Mackenzie relaxing in an ideal location
Colin Mackenzie - We asked members to let us know how they are doing in the midst of this coronavirus pandemic and just received this update from out good friend Colin Mackenzie in Peterbrough, Ontario, Canada:-
Thought I would provide you with some news from this side of the world as to what's happening during this pandemic.
My wife and I live in Peterborough which has a population of about 84,000 and is located approximately an hour east of Toronto.
First, my family are all well and we don't know anyone who has been affected by the virus but it has certainly taken its toll with seniors who have been in nursing homes and that is a shame. Their immune systems have been compromised in the first place but support workers in these homes have been left without proper safety equipment to help them in their jobs because the virus spread so quickly in those homes. The Government is now looking to overhaul the entire nursing home industry and, first, that will mean pay raises for those employed in nursing homes, followed by an overhaul and review of all safety equipment and all health and safety protocols.

The Premier of Ontario has indicated that the Province will slowly get back to business but it will be a very slow process, with only certain businesses to open first, and with caution because of the fear of a second wave of the virus, if the back to work process is not done correctly or too soon.

We are still under orders to stay at home unless one needs to go out for groceries, medication, go to the hospital or for any other urgent need. Many people are walking, bike riding, walking dogs, playing in their gardens, there are line-ups outside some grocery stores, but people are getting out for fresh air and exercise. We are not under orders to wear masks…yet…when we are outdoors, but many do wear masks when shopping in grocery stores.

Being a Rotary member, myself and about 30 others have helped make masks for our local hospital, not for the Doctors or Nurses, but for visitors who visit friends/family in the hospital. Doctors and Nurses have special protective equipment provided for them but it seems not enough PPE's (personal protective equipment) have been available because no-one ever thought the virus would cause so much concern about so many issues related to personal health and safety. It seems the virus caught everybody off guard and not enough preparation has been done in the years past, to help combat this virus. With respect to the masks, my wife and I cut many pieces of cloth from sheets and any other 100% cotton cloth to make the masks, and those pieces were delivered to other Rotary members who sewed them into masks. Then, with some fanfare outside the hospital, the masks were delivered and with a lot of appreciation from the hospital administration. I was a cutter and a driver and a great job done by all but we are continuing to make masks to ensure the hospital has an adequate supply. Our Rotary Club is just one of many service clubs making masks and the general public is also involved in mask making as well.

The virus has made us all think about the future, that our lives will never be the same again in terms of how we look after ourselves from a health and safety aspect, how businesses will conduct themselves, how we will interact with each other from now on, how schools, Universities and Colleges will operate in the future and how we will travel on vacation to places all over the world. We are in for a lot of changes and my grand-kids will be facing a different world, that is for sure. The other day my 12 year old grand-daughter asked me if we can never hug each other again! Something so personal as a hug is going to be a cause for concern with many, many people from now on and that is a shame. We have had a lot of Zoom chats and meetings with friends and family out of town but it will never take the place of sitting around a dinner table with friends and family. Thankfully, my wife and I and our family are well and healthy and I wish all my former colleagues and friends and their families best wishes and good health.
Cheers!
Colin.
Editors note - The photo of Colin and Laura was taken at the home of close friends who live about 40 miles away. As you can see, there is a picturesque waterfall in a creek and Colin is hoping to be back there for BBQ's and swimming later in the year if their "social distancing" eases off by August.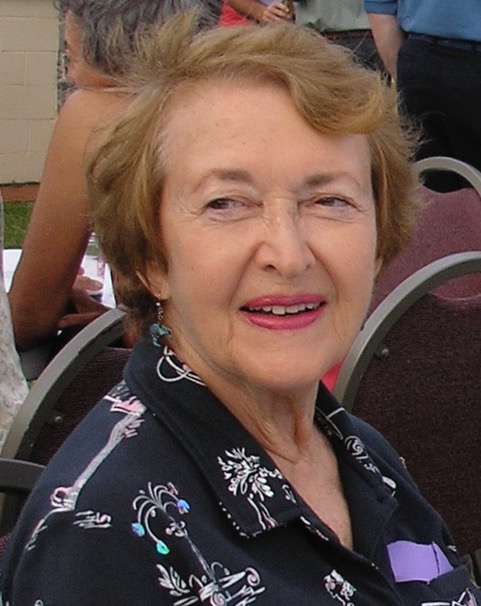 Passing of Jill Logan - We were deeply sorry to hear of the passing of Jill Logan at the age of 88 at Westmeath Care Home as reported in this morning's Royal Gazette (29th April 2020).
Jill was married to the Late Sergeant John Logan who had served in the Bermuda Police from 1956-1967 and spent much of his service as a photographer in CRO. John sadly passed away some years ago, and Jill attended several of our ExPo functions at the Police Club.
We offer our sincere condolences to her son John, daughter-in-law Clare, and grandsons Sam and Alex in Auckland, New Zealand, and Jill's sister Jackie in London.
CLICK HERE to view Jill's obituary in the Royal Gazette.
27th April
STEVEN SMEDLEY - We just heard from Steve Smedley for the first time in a while, and he's resolved to write an article for our Then and Now column in the coming weeks - not a bad idea for anyone else if you're looking for something to do to pass the time of day these days! We asked Steve how things are going in his part of Canada and he wrote the following:-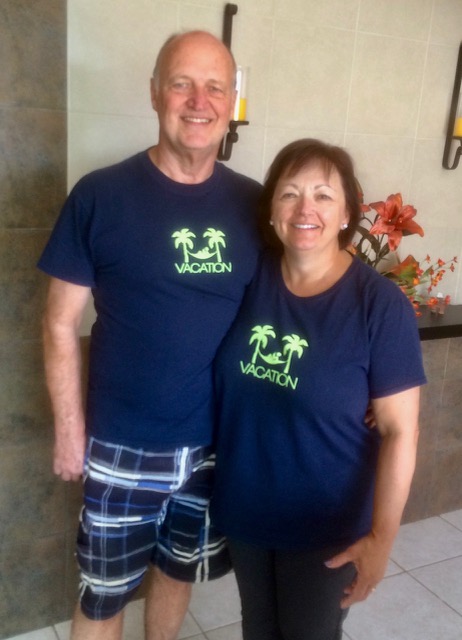 Steve and Peggy Smedley
Since my retirement from the RCMP in 2011, I've kept myself busy with a variety of volunteer activities in the Regina area - at one point I was busier than during the last year of my policing career! I've scaled it back a bit these days but still help out in the community where I can.

Peggy, for whom I left Bermuda to marry in '77, retired from nursing in 2018 so we've done a little bit of travelling. To Chicago for a week to celebrate her retirement and, last year, to her native Nova Scotia for a month. Bliss.

We're in our sixth week of social distancing in our apartment and Peggy hasn't throttled me yet! Now that the sun has arrived we've been able to enjoy outdoor walks and cycling. There's light at the end of the tunnel as Saskatchewan plans to relax the isolation rules incrementally from 4th May.

Stay well.

Steve
Ex-PC 131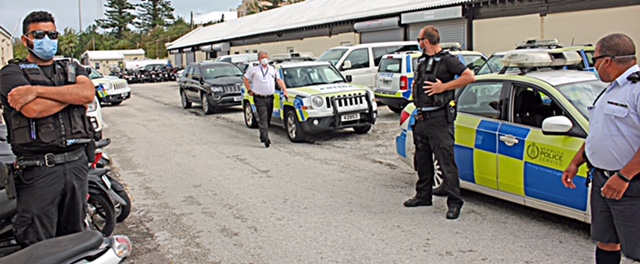 The search party gathered at Operations
Does this area look familiar to anyone except for the masked men!
(ALL PHOTOS KINDLY COURTESY OF DEXTER 'FUDGE' FLOOD)
EXPO MEMBERS VOLUNTEER TO SEARCH FOR MISSING SENIOR - Several days ago our Expo President, Cal Smith, put out a call from the BPS for our ExPo members to volunteer to assist in the search for an elderly gentleman, Mr. Robert Douglas, who is missing from his home. Mr. Douglas was reported to have Alzheimers.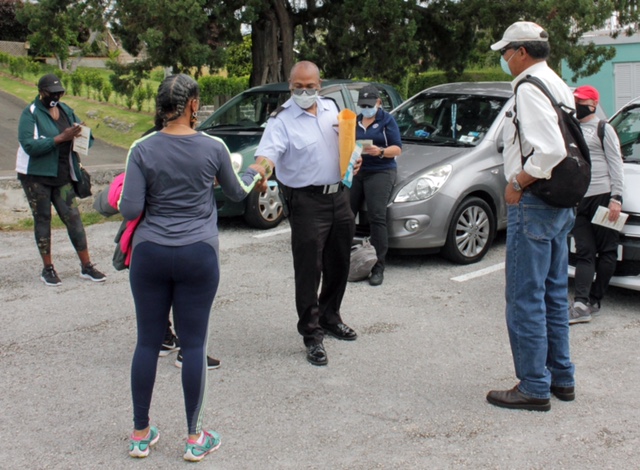 Volunteers were all provided with PPE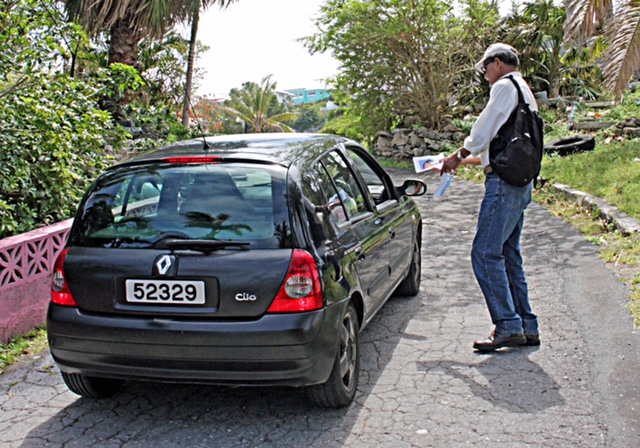 Passing motorists were asked re sightings of the missing man
Cal reports that there was an excellent response and the following members quickly volunteered to participate in the search party - former Assistant Commissioner Carlton Adams, Inspector Beverly Pitt, Inspector Linda Perry, Sergeant Jeff Baron, Sergeant Hatten Phillips, Reserve Inspector Dexter Flood, Police Constable Rosalie Pearman, Police Constable Andrew Wright, Police Constable Cammie Simmons and Police Constable Kevin Cabral, with two additional ExPo members also heeding the call - Police Constable Michelle Simons and Inspector Leroy Haynes.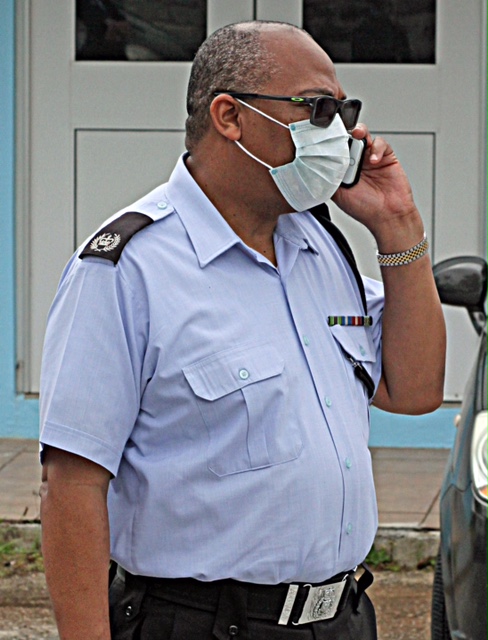 A familiar face - if he wasn't wearing a mask!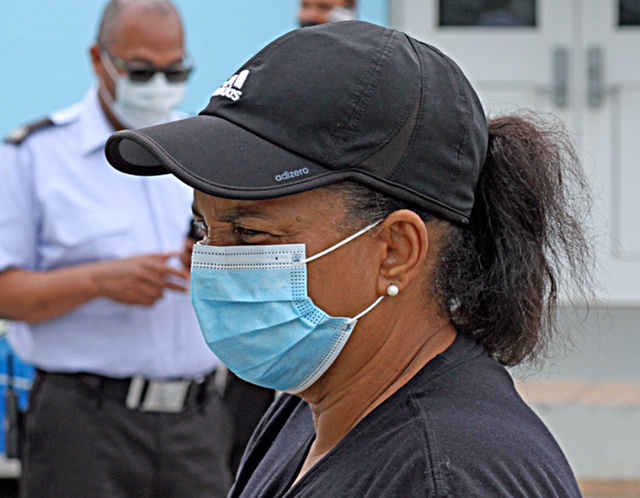 Whoever thought police officers would have to masks!
The Royal Gazette subsequently ran a story about the search party and named all those taking part in it. CLICK HERE for the Royal Gazette article of 26th April
I would like to take this opportunity to commend these men and women who gave of their time to assist he BPS. Their actions are summed up by Cal who said, "We stand at the ready to assist whenever the need arises and we consider it an honour and a privilege to volunteer our support to the BPS and the family of Mr Douglas."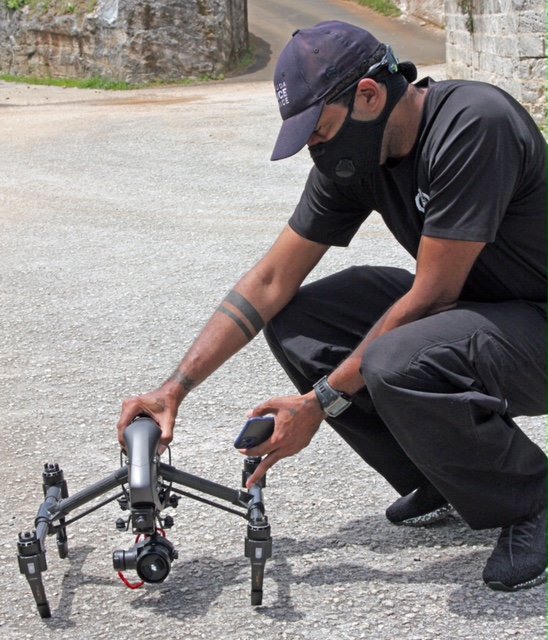 Policing in the 21st century!
Young P.C. Llewellyn Simons is Vice President of the
Bermuda Aerial Drone Flyers and kindly
brought along this drone to assist in the search.
14th April
UPDATE ON OUR EXPO MEMBERS IN BERMUDA - We are still experiencing some technical difficulties with our ExPo website which we hope to fix in the coming weeks, but we thought it was better to come back online even with the faults, than to leave you all in the dark about what is happening during this coronavirus pandemic both here in Bermuda, and wherever you are in the World. We'll try to keep you up-to-date with the Bermuda scene by posting links to articles in the Royal Gazette and on Bernews which you can view under Latest News, and in Press Releases.
We would also be interested in how you are doing in other parts of the world so please feel free to write and let us know how your country, and you and your family are coping during these most difficult of times.
Our Expo President, Cal Smith, suggested last week that we try to make contact with as many of our former and retired local members to see how they are coping and if they need assistance. Here's a brief summary of our findings:-
Howard Dill - has not been well for some time and is presently in Curtis Ward at KEMH where he's been for many months;
Jimmy "The Wop" Costello - Was not doing well a few months ago and we had major concerns about him, but after a spell in KEMH he is presently residing at Westmeath Home and by all reports is doing much better, He was apparently scheduled to leave Westmeath soon but that will no doubt have to wait until the crisis eases;
Bill Bryan - Has also had major health issues but we were just in contact with his son Chris who reports that Bill has been living in a Care Home in Southampton, and despite a nasty fall last October he is presently doing quite well and is following "doctor's orders" and enjoying a medicinal glass of Guiness every day!
Mel Gibbons - Has also had health issues but is at home being well taken care of by his wife Carolyn. When we called he was outside doing a little gardening;
Mike Kelly - Also has serious health concerns but is still living at home, with neighbors and friends checking on him
Gilmore Simons - Is living in an apartment at Prospect and says he's doing okay apart from being stuck at home, but he gets out for a walk every day in his neighborhood. The rules here are that we can go out for walk or exercise with no more than 2 together and must be within half a mile of home;
Hilton "Jellybean" Wingood - When I called him yesterday he was in fine form and informed me he was celebrating his 88th birthday. He is normally well taken care of by his wife Brenda at their home in Somerset, but Brenda is presently in KEMH having recently had an operation on her foot. We understand she'll be home soon, and in the meantime his daughter Lisa is taking good care of him;
Dudley Swan - lives in St. George's and his wife, Marlene, takes very good care of him. He's slowing down these days and quite forgetful but otherwise doing okay;
Gladwin "Doc" Hall– Doc is our senior pensioner, having joined the BPS way back in 1950. He and his wife Lillian live in St. George's and Doc still manages to keep busy. Again, wives come to the forefront, and Lillian takes good care of him. For those not aware of it, our three senior pensioners are "Doc", Dudley and Hilton, and they are all connected! Lillian Hall, Marlene Swan are both sisters to Hilton, and they all love to come out to our ExPo functions. We hope that "normal service will be resumed as soon as possible"!
We have also made contact with at least 20 of our ExPo members living on Island and by all reports they are doing okay under these very difficult circumstances. We sincerely hope that you are also staying well and staying safe.
By all means feel free to drop us a line to let us know how you are coping.
I'll close with mention of a most disturbing report in today's Royal Gazette to the effect that a man taken into custody last night by four police officers who were "deliberately coughed on" during the arrest by the man who announced that he had coronavirus. He is expected to appear in court later today.
On behalf of Expo I would like to pay tribute to all of the members of the BPS who are working to keep us all safe under very difficult circumstances irrespective of the incident last night. We understand that one of our serving police officers has been diagnosed with Covid-19 and at latest report he was doing fine and has not been admitted to hospital. Our thoughts and prayers are with all the members of the Bermuda Police Service.
7th April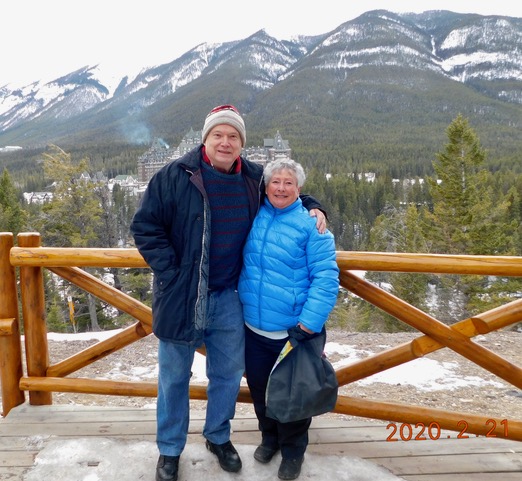 Wayne and Marilyn Robinson
at Banff, Alberta - February 2020
Wayne Robinson - We have just been in touch with Wayne Robinson who served here from 1972-1974 before emigrating to Canada where he joined the Calgary Police.
Wayne recently sent us a photo of a group of "tee-totallers" who went on an IPA tour organized by Dave Barber while Wayne was working here, and we have featured the photo in our "Who, Where and When" column. We had no problem identifying most of the guys in the photo, but one was giving us some difficulty. I thought it was Chris Moyse but Dave Barber couldn't remember if Chris went on the trip so Wayne was asked and he confirmed it was indeed Chris Moyse. CLICK HERE to view the photo.
Wayne was asked to give us an update on where he is these days and he wrote the following:-
"I live in Calgary, Alberta, Canada where I've been since 1974. I'm married to Marilyn who is from Quebec. I served in the City of Calgary Police for 25 years retiring in 2003. Since then I have driven fuel tankers and buses, completely shutting down in 2018 . We are both dual citizens Canadian and British. I skied downhill until aged 65 when arthritis took its toll.
Until this virus outbreak I swam almost daily to alleviate the pain from arthritis. I'm still in contact with Colin Cocker, John Bradford, Desmond Waithe, Brian Hanney, Colin Mckinnes and John McQuaid.
I'm a member of the Calgary Police Veterans Association
CLICK HERE to learn more about Wayne in our Then and Now column.
6th April
We have just received this advertisement from the BPS inviting applications from retired and former police officers to assist the BPS during the current crisis. As you'll see they are offering initial contracts on a 6 month basis at a salery of $6,062.17 per month (flexible hours can also be considered). Applications should be submitted by Wednesday 29th April as detailed below. We urge our members to give this opportunity your consideration.
POLICE INVESTIGATORS (6 Month Contract)
PA 4 - $6,062.17 (per month)
Bermuda Police Service
The Bermuda Police Service is currently inviting applications from retired or former police officers to assist the Bermuda Police Service in ensuring resilience in its resources to deliver services to the public. Applicants with backgrounds in criminal investigation, financial investigation, and intelligence management are particularly welcome. Contracts are offered on an initial 6-month basis for full-time duties (flexible working arrangements can also be considered). Contracts may be extended subject to operational needs.
The application should be via the submission of a career resume to Mr. Michael Trott, head of Human Resources via (This email address is being protected from spambots. You need JavaScript enabled to view it.), to be received by Wednesday 29th April 2020. Suitable applicants will then be invited for an interview.
________________________________________________________________________________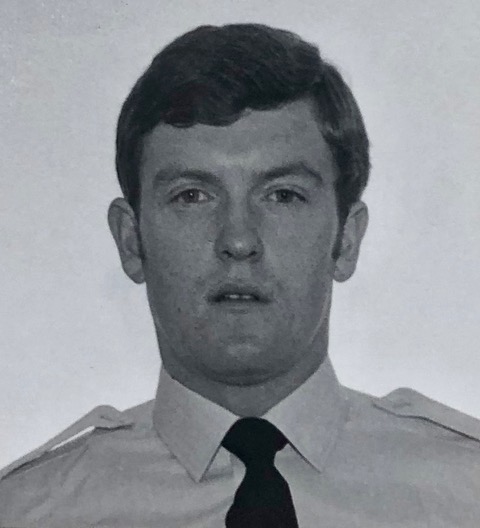 John Riordan
John Riordan - Sitting here during our enforced self isolation, browsing through umpteen emails about masks and online deliveries I was suddenly cheered up by the email stating Expo website was back up and running.

I have been reluctant over the years to compose anything for the 'where am I now ' section simply because I only stayed a short time in Bermuda, just under 1 year, so my experiences of the island, whilst indelibly etched in my memory, are few in comparison to the majority of your contributors and I probably won't be remembered as vividly. Save perhaps by the Police football team members.

One of my memories involved Pat McBride having me hook, line and sinker.He told me about the upcoming boxing tournament where it was black tie, champagne only and cigar only event and did I fancy being involved? As a keen sportsman I said yes. The next two days I spent asking around about where to hire a dinner suit for the evening. I didn't drink alcohol or smoke so that part of it didn't bother me.
I was about to tell Pat that I'd not yet gotten the suit when he came to me and said "don't worry I've found you an opponent". His idea of involvement was taking part in the boxing. Naivety to the last!

I do recall that there were pictures taken of that match and the Governor was present so if anyone has any copies I would be grateful to see them. I actually won my match and was asked to represent the Bermuda Boxing against an upcoming event against a team from the American base on St David's. I triumphed in my bout there but decided I'd rather use my feet at football rather than hands so retired. Undefeated, 2 bouts 2 wins!!

Bermuda gave me quite a few 'firsts' during my stay. Kentucky Fried on Queen Street, first time riding and owning a motorbike, armed guard duty at government house and swimming in the sea to name a few. All memories etched against the beautiful island.

My short stay was purely down to the fact that I couldn't find work for my new wife on the and she was extremely homesick. It was decided to return to the UK.
It was only after my wife had returned that I was told that I could have gotten her a job easily, providing I joined the Hotels International Football team.

Having played at professional and England u18 level football before joining the police in the UK, I had already been approached by Devonshire Colts and Hotels for me to join them early in my time on the island but I had promised the Chief Constable to help get PRC back into the top division at my interview! C'est la vie as they say.

Anyway, I had contacted my former force and they had agreed to let me rejoin on my return, which I did, serving in uniform and the Western Area Task Force of the West Yorkshire Metropolitan Police. I resigned from the force in 1979 to enter a new career in the financial services industry, spending the next 16 years advising on pensions, investments and life assurance rising to regional director of a large national brokerage.

Having spent most of my life either playing, coaching or managing football I got my dream job in the sport that I love as the General Governance Manager at one of the countries County Football Associations in 1999. I continued to work there until taking retirement in 2015.

I have 4 children, a daughter and 3 sons and 5 grandchildren. I still live in my home town, Dewsbury, in West Yorkshire and like one of our mutual colleagues, Bob Kinnon, I am a keen golfer, although not as good a handicap! Bob Porritt also lives nearby and as you've seen over the last few years, we have had an annual get together with some of the PRC football colleagues, which we hope to continue as long as possible.

It would be nice to hear from anyone who remembers my short stay in Central Division. I remember meeting Sinclair White whilst he was on an overseas course in the 70's so would appreciate you passing my regards to him.

I dream a little of a return visit someday, I know Ernie McCreight is still there and it would be great to play 18 holes and chat of days gone by. Here's hoping.


Sent from my iPad
John Riordan
Editors note - Great to hear from you John. After receiving this email I contacted Police HQ, in the middle of our "Shelter in Place" situation and they kindly located John's old warrant card photo above. When I get a moment I'll look through our photo albums to see if I can find any of the Boxing Night that he performed in, and any photos of the season he played football for the Police team. If anyone can assist with photos please send them to me at This email address is being protected from spambots. You need JavaScript enabled to view it.
1st April
UPDATING OUR CONTACT LIST OF FORMER
BERMUDA POLICE OFFICERS AT HOME AND ABROAD
John Skinner recently sent out an email to as many of our members as we have contact details for, requesting that they confirm their details or update them so we know how to contact you. John received replies from the following which we are posting here so you now know that we have their contact details.
If you received John's email and haven't yet responded we would appreciate you doing so, but if you havn't received it, it means we either have outdated contact details for you - or none! We would be most grateful if you can contact John directly at This email address is being protected from spambots. You need JavaScript enabled to view it..
Please note that we have not included any of your contact details here because we have a policy of not publishing them on the website. However, if you ever wish to contact anyone listed here or on our List of Colleagues for whom we have contact details, which you can view at http://expobermuda.com/index.php/colleagues, we are always more then happy to pass your request onto the person or persons so you can keep in touch.
Stephen Rollison
Thanks for contacting me. I enjoy catching up with the news on the Expo site and appreciate Roger's hard work in keeping it going. I hope to be visiting Bermuda at the end of June if this virus mess is over (the flights are already booked) and will sort out the full membership then.
Stephen Rollison
Andy Hancock

Hi John- good to hear from you and trust you are all keeping safe- happy for you to use this email. If you get bored check out our website…we are actually expanding and looking for global partners for international due-diligence, asset tracing and fraud work.

I've copied my business partner Chris in as he is building up this capability so feel free to cc us both in.

Also, my LinkedIn profile link is below if you want to connect to me or have any other operatives who want to make contact.

Cheers from self isolation in Buxton in the Peak District….it's actually snowing here at the moment!

Regards to my ex-colleagues
Kind regards
Andy Hancock
Prontac Intelligence Ltd
Roger Needham
Dear John Henry Skinner,
It's Roger Antony Needham here.
Shoes PC274
1977 to 1982 Bda
1982 to 2008 Sussex
Retired in Sussex and doing loads of voluntary work.
Hope all is 10 4 witch chew.
Kind regards
SHOES
Cliff Harries
Great to hear from you!! I am former PC 340 Bda Police Cliff Harries. I served at Hamilton as Duty Driver and Pembroke East Parish Constable between 1971-5. Roger Kendall visits the UK every year and we meet up for a chin wag. I'd love to join the ex Bermuda Police association Every blessing, Cliff Harries
Richard Parker
Hi John,
We are all good here in Summerland, BC, Canada.
Thanks for asking.
Parker. R, Ex PC 131
aka: Steaming Hot Dick
James Fullerton
Thanks, John. We are in lock down and have been for the past two weeks. I live with my wife and Glenda on a small farm in the Andes Mountains near Cuenca, Ecuador. It would be great if there is a solution to all of this before the end of the year.
May God bless us all
Best regards to you and your family, plus all ex colleagues.
James Colvin Fullerton
Steve Smedley
Hi, John.
Wonderful to hear from you after almost 43 years!
Clearly, you have my current email address.
All the best in these difficult times.
Steve Smedley
Ex-PC 131
Frank Wood
Hi John,
As per your request I am Frank Wood who served in Bermuda Police as PC453 from Oct 1973 through to July 1980.
I currently live in Stocksfield, Northumberland, having retired from Northumbria Police as an Inspector in 2007.
(Contact details included)
Hope this helps your research.
Regards
Frank
Brian Marlow
P.C. 221, 02/06/1976 - 14/05/1979.
Now living in Blandford Forum, Dorset.
Don't know what other details you need, but happy to supply any.
Good luck with the project.
Brian M
David Doak
Hello John,
Thanks for the information. This E-Mail is correct for me. P.C. 201 Doak. I was on Gail's shift at Operations with Dave Cook.
I look forward to see the site up and running again.
Best Regards,
David.
Hiram Edwards,
Good morning John Henry.
Is this a new section of the ExPo association?
Maybe, you can send out an Application form that identifies the pertinent info you are trying to capture for you records.
In that way the information will be consistent throughout.
I think it's a great idea
Hiram Edwards.
Lincoln Pratt
John
Thanks for this
My details as follows
Lincoln Pratt
October 1973 to October 1978 (actually finished Aug + leave & time owing)
Served ..
Somerset briefly
St George
Scenes of Crime HQ
Epaulette number 465
Married in Hamilton April 1974
Lived mostly in St George
(Current contact details provided)
Regards
Lincoln
Jimmy McIlwain
Hi John,
Thanks for your letter, and I am a former Police Officer in Bda 1965-1968, and yes my E mail address is correct. So far all is well with myself and family during these most horrific of times, but we can only do what we are advised to do, and so that is what we are doing.
Hope this finds you in good health, and wish you all the best.
JIm McIlwain Ex PC 230.
1st April 2020
Dave and Jan O'Meara and Dave and Sylvia Cart - Here's an email from Dave and Jan O'Meara who met up with Dave and Sylvia Cart on New Year's Day in Dubai after the O'Mearas were finishing a cruise to Singapore, while the Carts were just about to embark on the same cruise ship for a cruise to Singapore. Dave O'Meara is a keen follower of our website:-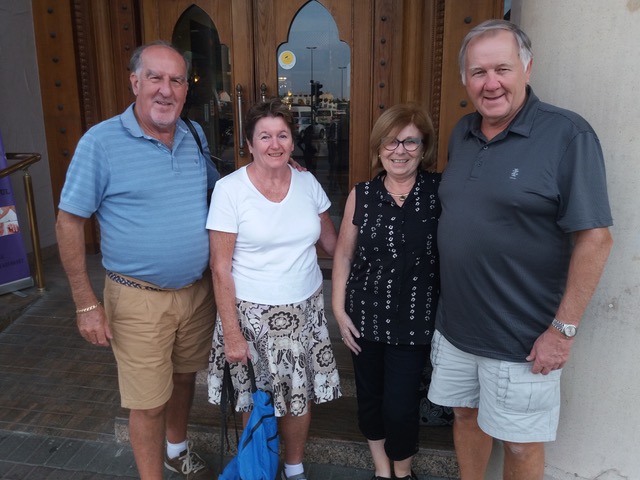 Dave and Jan O'Meara with Sylvia and Dave Cart meet in Dubai
Hola, glad to see that the web page is back up and running, it has been missed. Currently in our 3rd week of lockdown here and once you come to terms with it, it is not too bad although both of us miss being out and about but are spending a lot of our time building our language skills. Photo was taken on New Years day earlier this year outside a hotel bar in Dubai when we met up with Dave and Sylvia Cart for a few drinks and a catch up. We were just finishing our cruise from Singapore and were leaving the ship the next day to fly home while by coincidence Dave and Sylvia were staying at the hotel before joining the same ship for it's return journey to Singapore. The cruise for Dave & Sylvia had been arranged by Sylvia's sister and she had no idea we would be on the ship when it docked in Dubai until details of our cruise was mentioned to Dave & Sylvia during a Skype call a few weeks earlier.

Hope you are coping OK with the lockdown in Bermuda where it is only during night time. Here it's 24/7 and heavy on the spot fines if caught out without a good lawful reason. One person per vehicle, shopping at nearest shop/supermarket once a day and 6ft clearance between all other persons. Hope it passes soon and all our families and friends are OK.
Regards and keep safe.
Jan and Dave
Mike and Cam Burke in Jersey Islands -
Wonderful news to have expobermuda.com up and running again! A huge 'thank you' to you and Bob MacLean, Roger.

Mike and I and our family are all ok so far. The whole island is now in 'Lockdown'. All but essential businesses, like supermarkets, hospital, funeral directors are closed; everyone else only allowed out for 2 hours daily for exercise and necessary shopping; not allowed to get close to anyone not in your own household and to stay 6 feet away from anyone we meet on walks and in supermarkets, which have lines of tape marking 6 foot spaces. Due to our ages, Mike and I are in the 'vulnerable group' so Mark will do any shopping for us weekly. All very much like the UK rules.

Keep well!
Best wishes to everyone.
Mike and Cam
LATE POSTING OF OUR ANNUAL POST-CHRISTMAS
RECEPTION HELD AT THE OFFICERS MESS
The following article about our Annual Post-Christmas Reception at the Officers Mess should have been posted shortly after the reception was held on Saturday 18th January 2020, but unfortunately, our website crashed during that same weekend and was out of action for approximately 6 weeks. We apologize for the delay in its publication.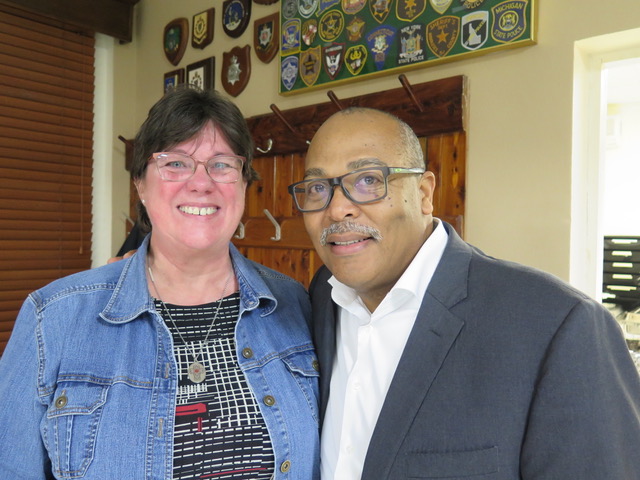 Organizers of the ExPo Reception
Gail Correia (Treasurer) and Cal Smith (President)
We held our annual ExPo post-Christmas reception at the Officers Mess on Saturday 18th January 2020, and despite rather blustery conditions we had an excellent turnout with about 50 people in attendance, and a good time was had by all.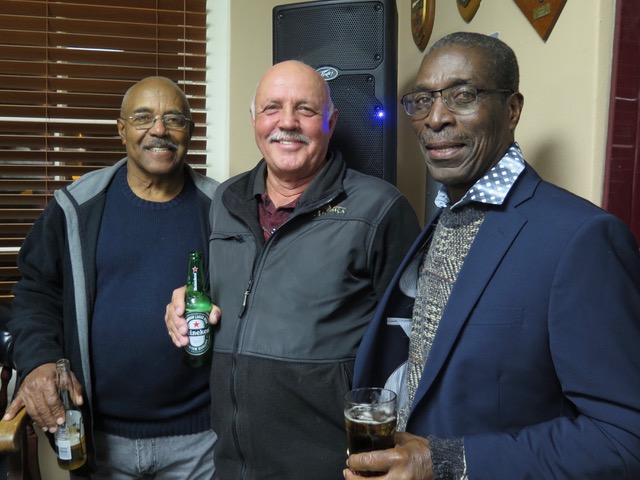 Senior Wine Tasters!
Reese Bartley, Ralph Lindo and Vendal Bridgeman
The Officers Mess is an ideal location for this event because it is not only the perfect size, but it is also now being used to house the Police History Museum which most of our members had not seen before.
Commissioner Stephen Corbishley was in attendance and warmly welcomed everyone to the Mess. He made a special point of recognizing the valuable contribution our ExPo members have made, and continue to make to the BPS.
Commissioner Corbishley also kindly awarded Police commendations to three of our members, George Rose, John Skinner, and myself (Roger Sherratt).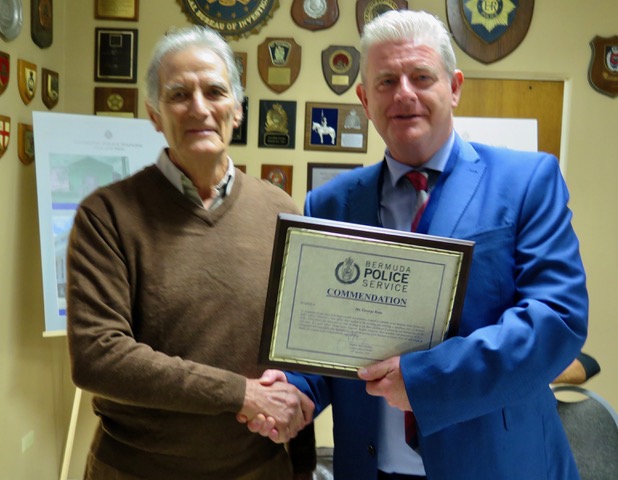 George Rose receives a Commendation from COP Stephen Corbishley
George was commended for his outstanding work in researching the life of Edward "Bosun" Swainson, the first cricketer to score a century in Cup Match and also the first black officer promoted to the rank of Inspector. George spent 2 years conducting his research and wrote an excellent article about "Bosun". CLICK HERE to view the article on our website. As a result of George's work on this project, a member of the Swainson family very kindly donated the cricket bat and cricket pads used by "Bosun" along with a cricket ball, and a trophy awarded to him, to the BPS and which are now on display in a room set aside specially for Police History items* at the Officers Mess.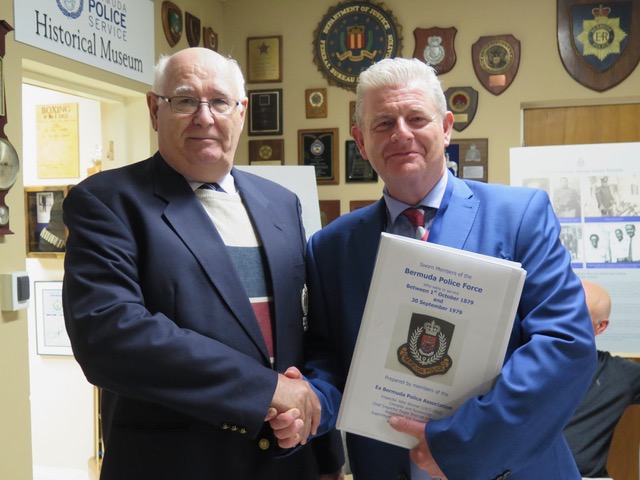 Presentation to COP Corbishley by John Skinner.
After John received his Commissioner's Commendation he in turn
presented ther Commissioner with a hard copy of his extensive
List of Police Officers 1879-1979 for the Police Museum
The commendation awarded to John Skinner was for his outstanding work in compiling a list of all those men and women who have served in the Bermuda Police during the 100 years between 1879 (the date of the official founding of the Police Force) and 1979. This amazing list, comprising over 3,000 names, can be found on our ExPo website, and John presented a hard copy of it to Commissioner Corbishley at the reception. It has taken John countless hours of research and cross-checking to produce the list, and he has pointed out that some of the official police records, particularly those for the 1950's are not 100% accurate with some names missing. CLICK HERE to view John's list.
Editors note - We would ask you to please check the list and let us know if you discover that any names are missing. The beauty of John's list is that it can easily be added to or corrected if mistakes are ever found.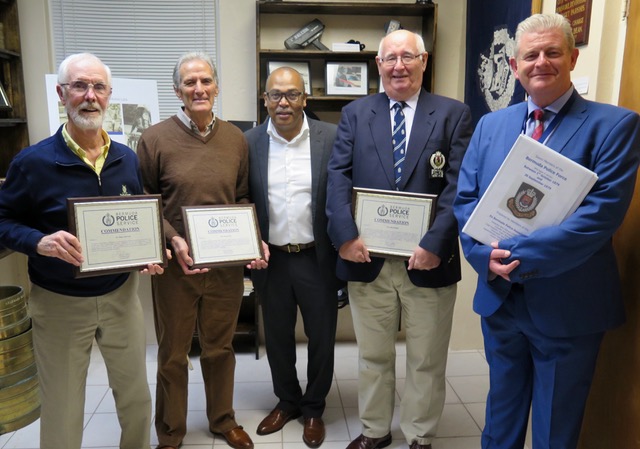 Awards Galore!
(l-r) Roger Sherratt, George Rose, Cal Smith, John Skinner and COP Corbishley
Commissioner Corbishley also presented yours truly with a commendation for close to a decade of being the Editor-in-Chief of our ExPo website which has always been intended to provide former and retired members of the Bermuda Police Service with a means of "keeping in touch with each other" in addition to recording our collective history for future generations. Ironically, the website happened to go down over the week-end of the reception because of serious technical problems! Fortunately, it is now operating again as you will know if you are now able to read this article.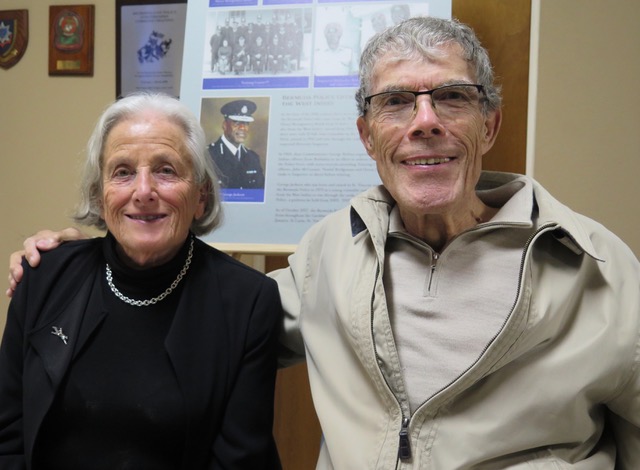 Nadine and Robin Henagulph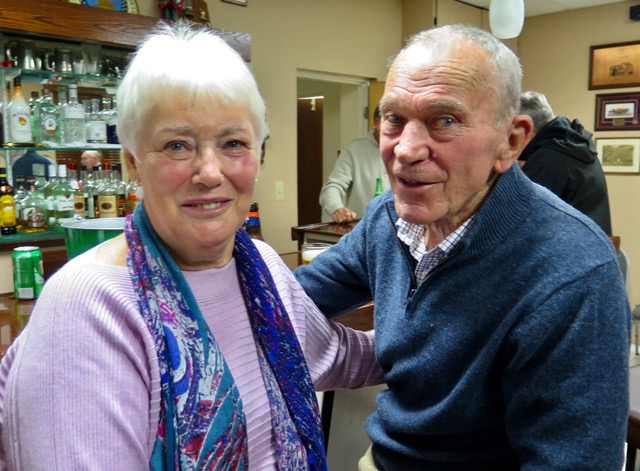 Sue and Dave Garland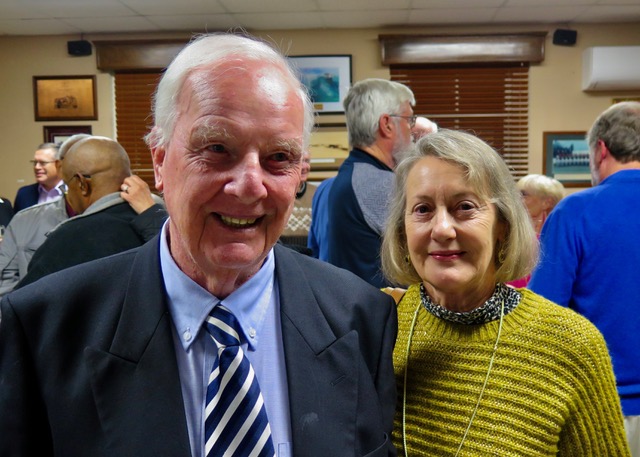 Bob and Susan Stewart
It was great to see some of our senior (age-wise) colleagues at the reception, including Robin (joined in 1962) and Nadine Henagulph, Dave (joined in 1961) and Sue Garland, Arthur Bean (joined in 1960), Bob (joined in 1959) and Susan Stewart, and Keith Lovell (joined in 1959).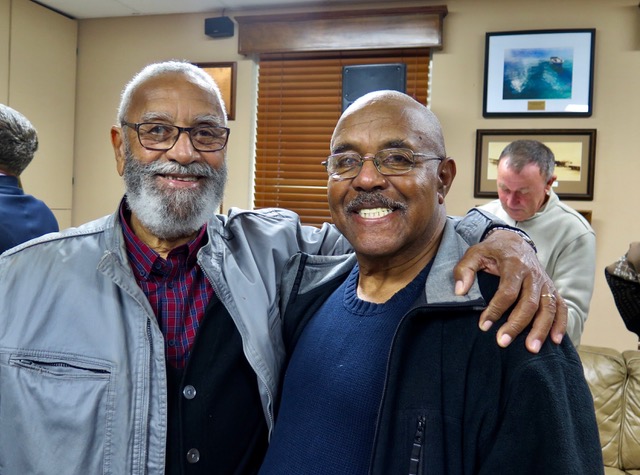 Arthur Bean and Reese Bartley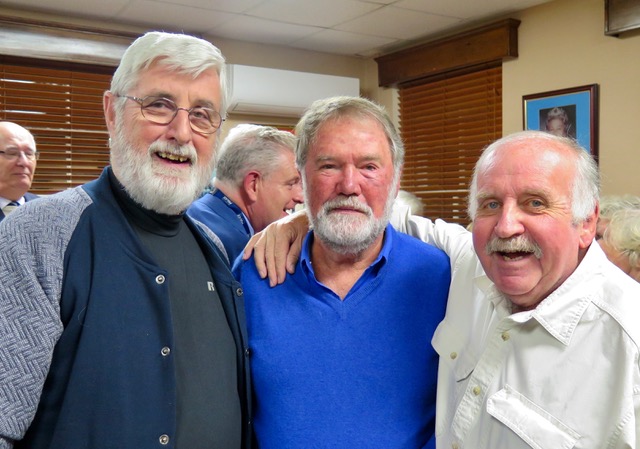 Steve Shaw, Dave Ashurst and Roddie Barclay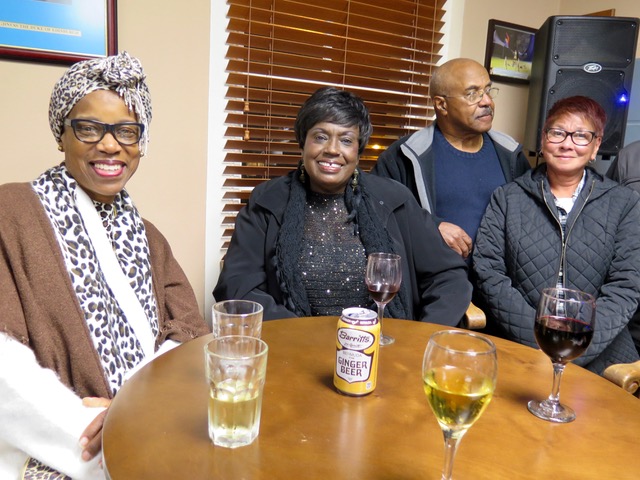 Carolyn Haynes, Rose Pearman, Reese and Gilda Bartley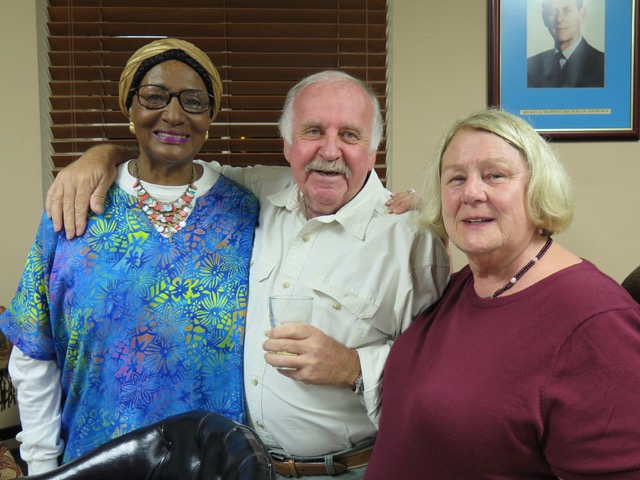 Juanita Shaw, Roddie Barclay and Marj Amos*
Editors note - * CLICK HERE for an article in our Keeping in Touch column (dated 10th May) about a major shock Marj Amos had following a trip to Fort Lauderdale not long after our Reception, during which she had problems returning to Bermuda because of the coronavirus pandemic causing severe disruption to airline schedules.
Our ExPo President, retired Inspector and presently the Commissioner's Staff Officer, Cal Smith, welcomed everyone to the reception and asked for a moment of reflection in memory of those of our members who have passed during the past year. They were:-
D.C. Franklyn "Frank" Deallie January 2019
Insp Neil Cox January 2019
P.C. Stephen Foster January 2019
C/Insp Peter Stubbs January 2019
C/Insp David Parsons February 2019
P.C. Frank Dowie May 2019
P.C. Michael Parris May 2019
P.C. Frank Thompson July 2019
Sgt Laurie Phillips July 2019
C/Insp Gerald "Gerry" James July 2019
P.C. Leroy Jones August 2019
PS Crawford "Crow" Rae September 2019
PC Kevin John Brennan October 2019
Insp. Stanley Colin Hill November 2019
PC Brian David Malpas January 2020
All in all, this was a most enjoyable evening even if many of the stories told were somewhat embellished, and many of those who were not present were subjected to the kind of gossip specially reserved for such gatherings.
Finally, a sincere thanks to Inspector Grant Tomkins, and to former P.C. John Sweeting who was visiting the Island, for kindly agreeing to man the bar for the evening.
CLICK HERE to view our complete Photo Album of this ExPo Reception.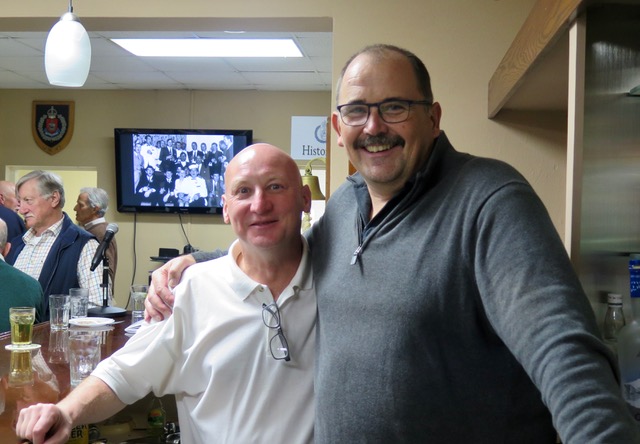 John Sweeting and Grant Tomkins
31st March 2020
WELCOME BACK TO OUR EXPO WEBSITE
The past 6 or 8 weeks have been a nightmare in many ways, and it began with our ExPo website crashing, and for a while it looked as though we would never be able to recover it. Our only back-up copy was from back in October 2018 so all of the postings after that date we seemingly lost and might never have recovered but for the hard work and determination of our webmaster Bob MacLean.
As you can see we are now back up and running, albeit in a slightly different format at this point. Hopefully, you will have very little difficulty manouvering through the website where you will find literally all of our articles and content has been recovered except for all of the "Comments" in our comments column below each article published since November 2018. It would appear that they are permanently lost and for which we apologize to our readers. These comments often provide much valued information about the articles. We have re-installed the comments column although we have our suspicions that the website may have been maliciously attacked through that part of our system.
We will soon get back to reporting on our members in this column, and invite you to write and let us know where you are and what you're doing these days because this column is reserved mainly for news from YOU! In the meantime I want to draw your attention to two articles under our Interesting Articles column.
The Saga of the Rubber-Soled Shoes - We have now published the long awaited "Saga of the Rubber-Soled Shoes" as recounted and written by our old friend and colleague, the inimitable Davie Kerr. For those of you who have heard of the saga I'm sure you will be rushing to read it. For those who have never heard of it I can only suggest that you give it a read at your leisure.
ExPo Lists - We have created a special section under the menu at the top of our Home Page entitled ExPo LISTS. This comprises a total of four lists, three of which were on the old website but might have proved somewhat difficult to find so we decided to consolidate them into one column. These are:-
Nicknames - A Bermuda Tradition - Bermudians are famous for giving just about everyone a nickname, and we have compiled an extensive list of those names we are aware of. If you check through the list and know of anyone not listed please let us know at This email address is being protected from spambots. You need JavaScript enabled to view it.
List of Deceased Members of the Bermuda Police - We are now keeping a list of former Bermuda police officers who are no longer with us, but our list is by no means complete, so if you know of anyone who should be added to it please let us know.
List of Names of Colleagues - This is a list of those former Police officers for whom we have up-to-date contact details. We are happy to add any names to the list but you will need to provide us with your contact details (either email or home address). If you have changed your email address recently please let us know.
We have now added what I can only describe as a phenominal list which is the result of an enormous amount of research by John Skinner as described below:-
List of Police Officers 1879-1979 - This list records the vast majority of those police officers who served in the Bermuda Police during the 100 years between 1879 – 1979. It also includes their rank and their dates of service. We know some names are missing, so we ask that you please check through it and let us know if your name, or the name of anyone else you know who ever served in the Bermuda Police is missing. Please contact John at This email address is being protected from spambots. You need JavaScript enabled to view it. with any corrections. John has just written an excellent article for us describing his List in detail and explaining what it contains. You can read the article at http://recovery.expobermuda.com/index.php/lia/830-john-skinner-s-amazing-list
13th January
Steve Taylor, Dave Cook and Bob Kinnon - We just received this great photo from Steve Taylor who is now settled back in England, in the Wirral to be precise, but he still loves to visit Bermuda and did so in September/October last year. He explains the surprise he had while on Island and also sends his best wishes:-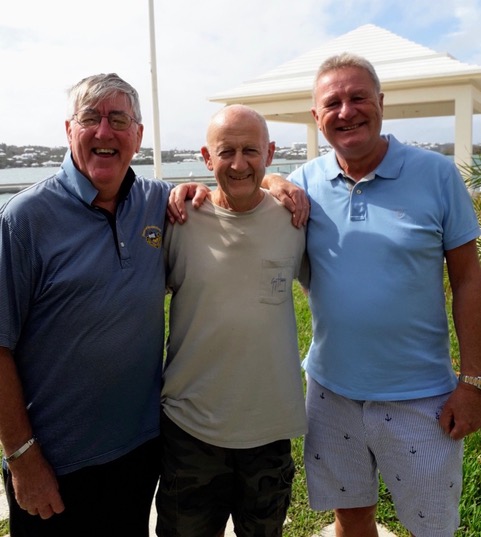 A chance get together at the Fairmont, Hamilton - October 2019
(l-r) Steve Taylor, Dave Cook and Bob Kinnon
I am not sure if Dave Cook forwarded this picture to you which was so unbelievable with me and Dave having a chat and catch up over a coffee at The Fairmont Hamilton on October 1st 2019, where I was staying, when I was over there to celebrate my BIG birthday at the end of September/early October with my Bermuda kids, when all of a sudden, and unbelievably, who walks across the patio in front of us but Bob & Helen Kinnon who were in Bermuda staying with David Smith and had just arrived the evening before and were having a wander around The City.
So sorry to hear about Malps passing, and others suffering medical problems right now and hoping that they are all back to full health again soon, and please give them my very best regards.
Very best wishes to Cal Smith and his Committee, and everyone else who may remember me.
3rd January 2020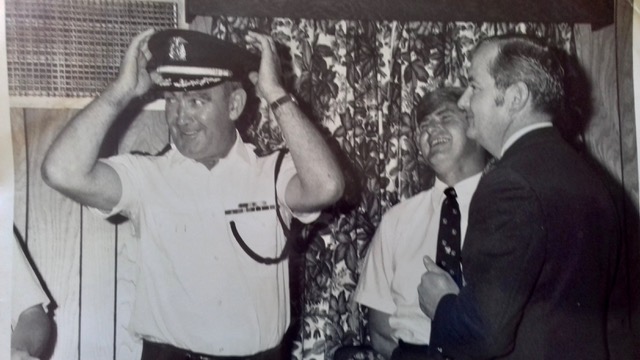 Det/Sgt Edward Goutink of the Nassau Police Department presents Commissioner L.M. "Nobby" Clark
with a Nassau County Police Commissioners Cap at one of the I.P.A Receptions held in
Bermuda circa 1974. Also present is Inspector Dave Barber who was very active with the
Bermuda Section of the International Police Association (IPA)
Death of D/Sgt Edward Goutink of Nassau Police Department - We have received the following information from retired Inspector Dave Barber:-
I regret to inform our ExPo members of the passing on New Years Eve of Edward Goutink retired Detective Sergeant of The Nassau Police Department, Long Island New York.
In the 1970's to 1980 Ed worked tirelessly in liaising with myself and other members of our Bermuda Section of The International Police Association (I.P.A.) in bringing to Bermuda large groups of Police Officers from the Nassau County Police Dept. Suffolk County Police Dept. and N.Y.P.D.
There were numerous social events which resulted in many lasting friendships between ourselves and our visitors. I was informed of the sad passing of Ed by his wife Mary.
Very Sincerely
David (Barber)
Editors note - On behalf of the Bermuda Ex-Police Officers Association we extend our sincere condolences to Mary Goutink and the members of her family on their sad loss. Ed was a very good friend of the Bermuda Police and will be fondly remembered by those who enjoyed the friendships created through the hard work of Ed, Dave Barber and other members of the IPA.
4th January
Dave and Jan O'Meara - Dave O'Meara is like the proverbial Scarlet Pimpernel – 'they seek him here, they seek him there'! Dave and Jan certainly get around whenever they leave home. Says Dave, "I've discovered that with retirement comes plenty of time to do whatever you want and Jan and I are no different in that respect to many others. Most of our our time is spent playing golf, socialising and of course travelling which we do whenever we can.
"In 2019 the most notable journeys we undertook were to visit Cuba where we then took a cruise that visited Honduras, Belize, Costa Maya and Mexico before returning to Havana. In July we travelled to Edinburgh to see the Tattoo, - brilliant and a must see."
We received a photo of them attending the Edinburgh Tattoo where they reported that it was very cold but very enjoyable. By coincidence my wife and I visited Edinburgh Castle in June and walked through the empty Tattoo stadium on a hot sunny day!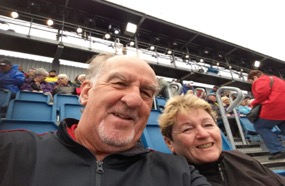 Dave and Jan O'Meara "cooling out" at the Edinburgh Festival - 201

9
Dave and Jan must have decided to seek warmer climes because Dave reports that "In September we were off to Bilbao in Northern Spain famous for its Guggenheim museum and old town area for tapas.
"Most recently in December we went on a cruise from Singapore to Dubai calling at Phuket in Thailand, Colombo in Sri Lanka, Cochin, Goa and Mumbai ( Bombay) in India before ending in Dubai
Upon arriving in Singapore for our cruise we had a great four days pre-cruise exploring the city. What a wonderful and exciting place. Lots to see, to do, or to visit and the people were so friendly. It is another place we would like to return to. On the day of boarding our cruise ship and while waiting to reach the embarkation desk, I spotted four faces I remember from Bermuda.
"One used to work in tourism but could not remember his name and then I could hardly believe it, one of others I was convinced was one of my fellow classmates from course #19, back in 1975, Clancy Charles. I had not seen Clancy for over 30 years and he looked taller than I remember so I began to have some doubt that it may be him. Although I kept looking at him, he showed no sign of recognizing me and it was not until he walked passed me at the embarkation desk that I called out to him, " Clancy is that you" that is when the penny dropped as to who I was.
"We were only able to talk for a few moments but did bump into each other a few times during the cruise and had a bit of a catch-up chat. I was only able to take one photo of us together while both of us were visiting a site in Goa, he was on a shore excursion and just leaving while our excursion had just arrived."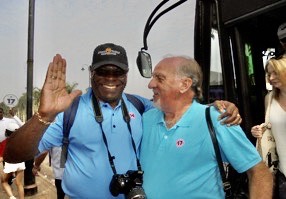 Clancy Charles and Dave O'Meara meet up with each other in Goa - Dec 2019
Dave and Clancy had both joined the Bermuda Police on the same date, 1st March 1975, and both attended Basic Training Course #19 held in 1975. Clancy had served here from 1975 – 1983, while Dave served from 1975-2000.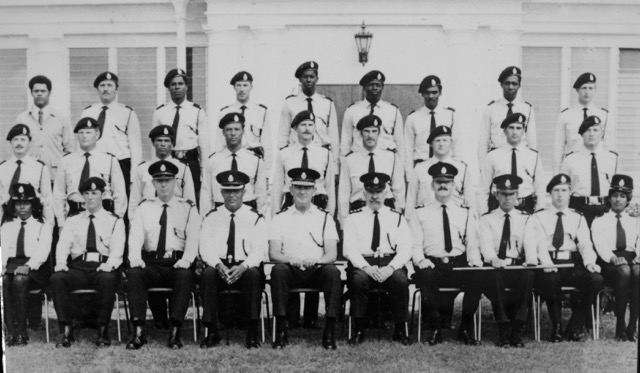 BASIC TRAINING COURSE #19 - March - June 1975
Top Row (l-r) James "Big Bird" White, Terrence "Terry" Perry, Clancy Charles,
Phillip Hammond, Terry Hodgson,
Augustine "Bob" Anthony, Volney Welch, Benfield Alexander, Benjamin John "Johnboy" Hayward
Middle Row - Byron Lewis, Phillip Taylor, Sylvan Musson, Lennox Alvis, Edward Davies,
Harold "Dave" O'Meara, Calvin Carvel, Kendrick Lewis, Nicholas Dunn
Seated - Cherie Butler (Bean), P.C. John "Stuart" Kirkpatrick, Acting Sgt. John Van de Weg,
Supt. Syke Smith, COP L.M. "Nobby" Clark, Chief Insp Dave Parsons, Sgt Barrie Meade,
Sgt Ian Scotland, Colin Griffiths, Juanita Allchin (Shaw)
"For details of the other two familiar faces from Bermuda I'm afraid you'll have to wait until after the 14th Feb 2020, the person and fellow officer and his wife are off island until that time so I will send you more details after they have returned to the Island."
While on board the "Celebrity Constallation" Dave spotted our latest Who When and Where photo and he promised faithfully to write and let us know what he could remember about our photo. Dave was as good as his word and he just forwarded his answers to our questions which you can view at http://expobermuda.com/index.php/who-when-where/784-narco-photo