We had just recently received these photos of a gathering of our colleagues held quite some time ago. We wanted to know where and when this gathering was held, who attended, and perhaps where are they now?
We also requested that if you happen to have more photos of this get-together please send them to us by email at info@expobermuda.com or to me personally.
The event was a reunion for ex-Bermuda police officers organized by Ian Graham and Bob Kinnon back in 1983 and held in York. Trying to correctly identify everyone in the photos has proved to be a nightmare, partly because this bunch had no idea of how to line-up in straight lines, and in some cases we can't see their faces, but we've received excellent input from Mike Caulkett who had previously sent us a second photo (see below). Mike may have taken the first photo because he appears in the second photo just below the young lady who has so far remained unidentified. Davie Kerr also provided many of the names even though he wasn't even there! Bonus points for Davie.
We know for sure that Roger Brydon attended becauase he appears in a separate photo with Bob Kinnon. We also know for sure that Mike Burke attended because he read out a letter from the Commissioner of Police, and also Jim Lyons. We have no idea of the identity of the guy in a light jacket and dark tie standing just to the left of Chris Muspratt.
I should add that we also don't have any contact information for many of the attendees, and I will try to compile a list of all those not on our list and ask those of you who are to let us have their details so we can touch base with them.
I would also urge those of you who have not been in touch with us to write and let us know a little about where you are and what you are doing these days, along with a fairly recent photo of you and maybe your family. All it needs is a few lines for our "Keeping in Touch" column, or you can write a more in-depth article for our "Then and Now" column.
Have tried to list as many names as possible in the captions below the main photos but please feel free to let us know where we have made mistakes or missed you out.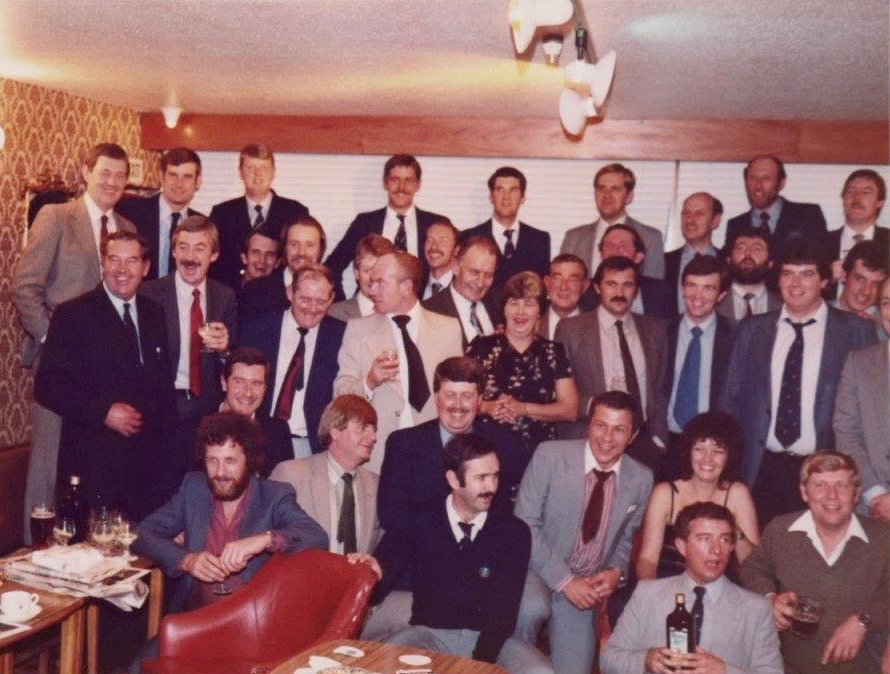 Reunion in York - 1983 (Photo 1)
Top row (l-r) Kevin McCarthy, Barry Higham, Pete Gimson, Unknown?, Brian Marlow (I think it's
Rocky Ironmonger), Bob Payne, Ray Lloyd, Bob Porter, Colin Griffiths
2nd row (sort of) Alan Wilkinson, Alf Hagar, Bruce Bingley, Robin Stuart, Unknown and half hidden,
Phil Hammond, Sean Sheehan, Bill Sherwood, Gordon Farquhar, Dave Shakeshaft, Chris Pearce
3rd row standing - Frank Sykes?, Unknown in light jacket, Christine Muspratt, Unknown with moustache, Alan Bolton, Martin Connor
Seated or kneeling - Mike Chitty, Martin Bowe, Pete Swann, Andy Donaldson,
Frank Thom, Paul Davies, Unknown lady, Ian Graham and Tom Barnes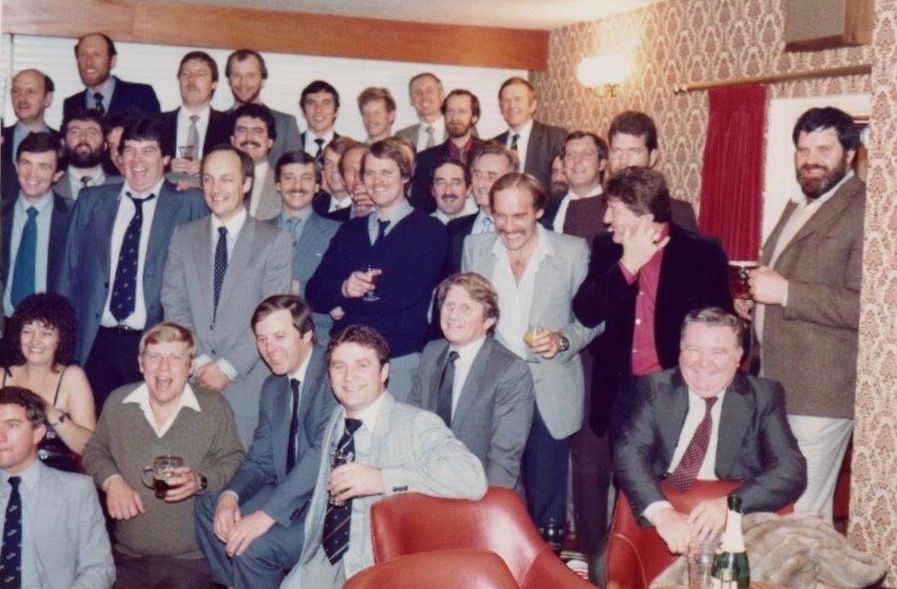 Reunion in York - 1983 Photo 2
Top Row - Ray Lloyd, Bob Porter, Colin ?, Paul Deans, Linc Pratt, Pete Stratton, Les Brown, Doug Rogers, Peter Brown
2nd row conglomeration! Alan Bolton, Dave "Shakey" Shakeshaft, Unknown and hidden, Martin Connor, Mike Neilan, Unknown with moustache,
Two unknown partially hidden, Pete Moore, Bob Mitchell's beard, Unknown, Roger "Shoes" Needham and Mike Parris
3rd row and still standing! John Napier, Bob Porritt, Clive Dewhurst, Unknown,
Jim Woodward, Bill Buchanan, Unknown in red shirt, and Mike Parris grasping his pint
Kneeling or sitting - Ian Graham, Unknown lady behind Ian, Tom Barnes, Bill Pritchard, Bob Kinnon, Tony Watson and John Cafferkey
After posting these two photos which looked vaguely familiar, I checked our ExPo photo files and found this one taken at the same time, and this one includes Mike Caulkett sitting at front and centre. It may help you to identify all those present who all seem to be having a great time. If you were there please tell us more about it.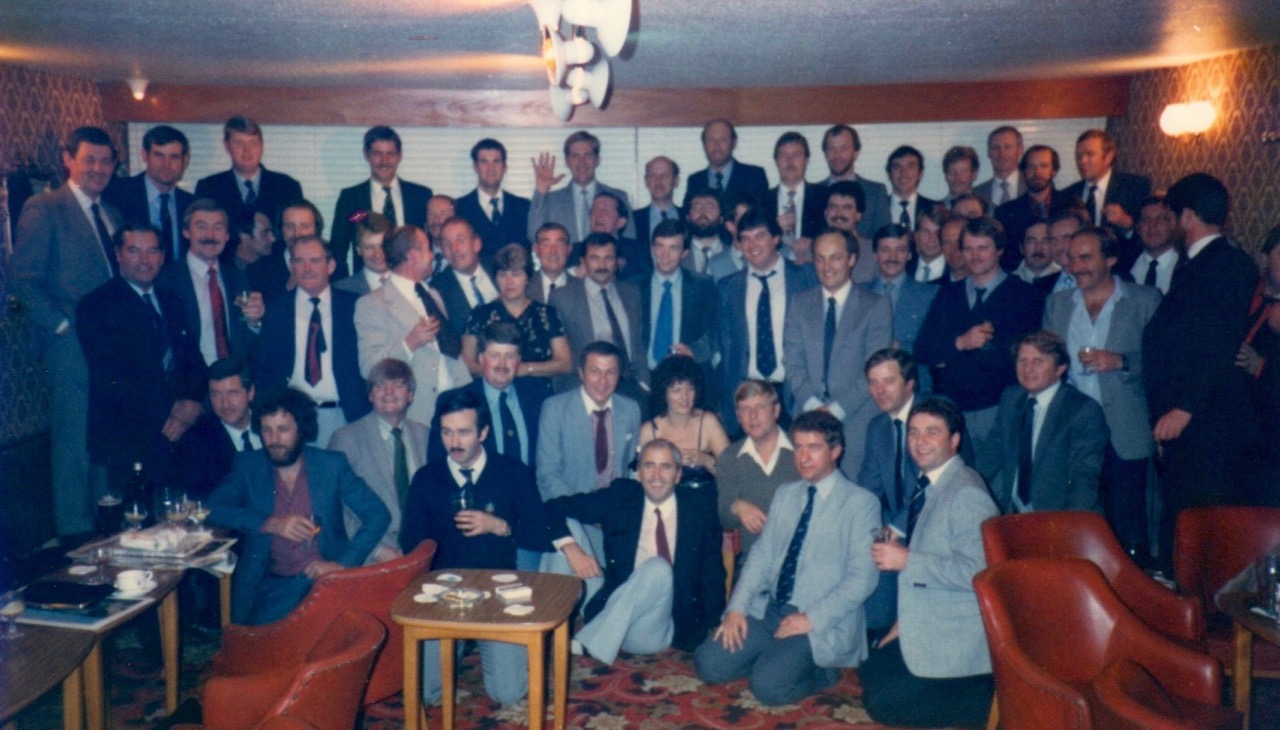 Photo 3
IAN GRAHAM AND BOB KINNON - We have now heard from both Ian Graham and Bob Kinnon who organized this reunion in York and both agree that it was very well attended as can be seen from the photos.
Bob says it was held at the Newington Hotel in York, although Ian remembers that they were so many attendees they had to call on 3 nearby hotels for extra accommodation.
Ian recalls that, "Most people stayed two nights as many were travelling a distance. The hotel owner made sure the ingredients for Dark and Stormies were behind the bar.
Paul Davies complained, tongue in cheek, that he had to share a room with Peter Blogg (since deceased). Mike Burke came from Jersey to attend the reunion, and he read out a letter from the then Commissioner of Police in Bermuda.
We had a raffle for prizes which included Birdsey prints and bottles of Black Seal Rum.
It was a great reunion. "
MIKE CAULKETT writes:-
"I travelled up to this reunion with my good friend Tom Barnes, sadly no longer with us, and Tony Watson of whom I have heard nothing for several years now. Would have thought he was the sort of person who would have enjoyed the expobermuda.com website.
As the reunion was arranged by Bob and Ian, who both arrived in Bermuda after I left in 1970, most of those attending this reunion were contempories of Bob and Ian and were unknown to me.
I think that the enlarged split photo without me in it were taken by me on my camera but not sure who took the one with me in it, obviously not me!!
I have done my best to name those of my era and place them in the photos. I will start on the extreme left and roughly move right. All positions are as you look at the photo.
Kevin McCarthy – standing extreme left.
Allan Wilkinson – in front and slightly to right of Kevin
Syd Gordon – standing to the right of Allan with moustache
Dave Barber? – kneeling in light suit behind chap with full beard. Based this on hairstyle mainly. Probably not Dave.
Christine Muspratt – centre of picture.
Sean Sheehan – head and shoulders to left of Christine
Bill Sherwood – Just his face to right of Christine
I know very well the two people standing to the left of Christine but just can't name them. One in very light suit and chap to the left of him.
Me - Mike Caulkett – seated in centre front of one photo in light trousers and dark jacket with knee up
Tom Barnes – kneeling to the right of me in V neck jumper and open neck shirt
John Napier – standing behind Tom in grey suit
Bill Pritchard – in suit sitting to right of Tom
Tony Watson – low down to the right of Bill Pritchard and directly in front of Bill Buchanan
Bill Buchanan – standing with drink in hand in light blue jacket and wide open neck shirt
Les Brown – third from the right in top right corner of photo
Roger Needham – standing partially hidden in right hand enlarged photo behind chap with pink shirt and dark jacket.
John Cafferkey – broad smile in bottom right corner of right hand enlarged photo
Mike Parris – black hair and beard standing with beer in the extreme right side of enlarged photo.
I recall chatting with Jim Lyons at this reunion but can't see him in any of the photos.
Extra Photos provided by Ian Graham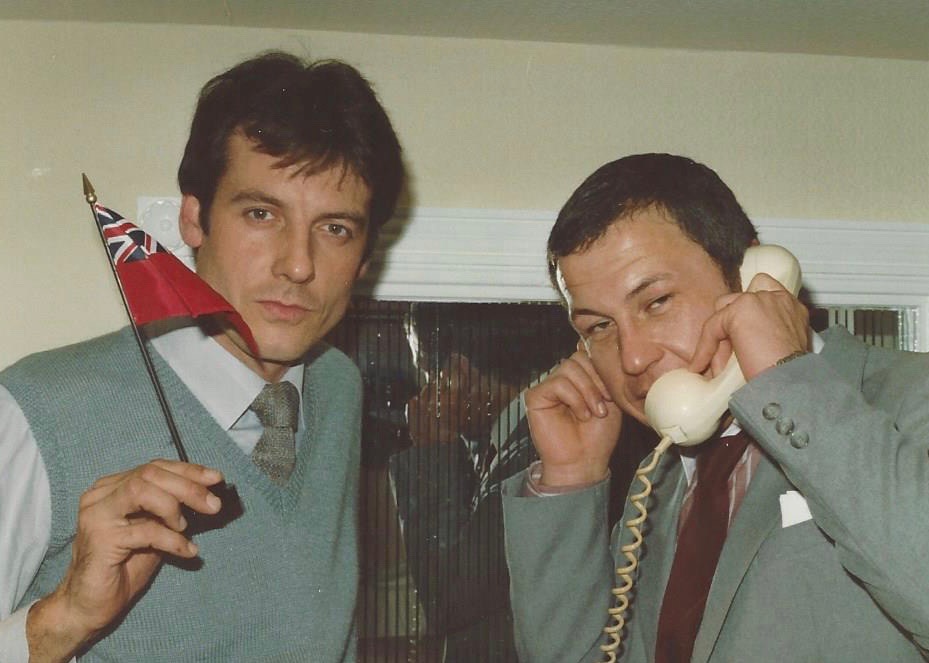 Chris Pearce displays the Bermuda flag while Paul Davies takes a call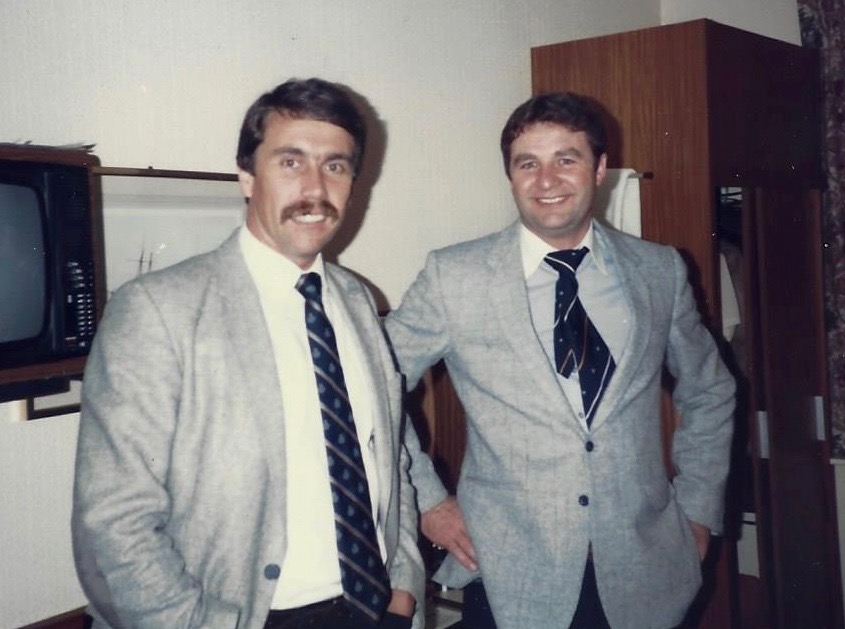 Roger Brydon and Bob Kinnon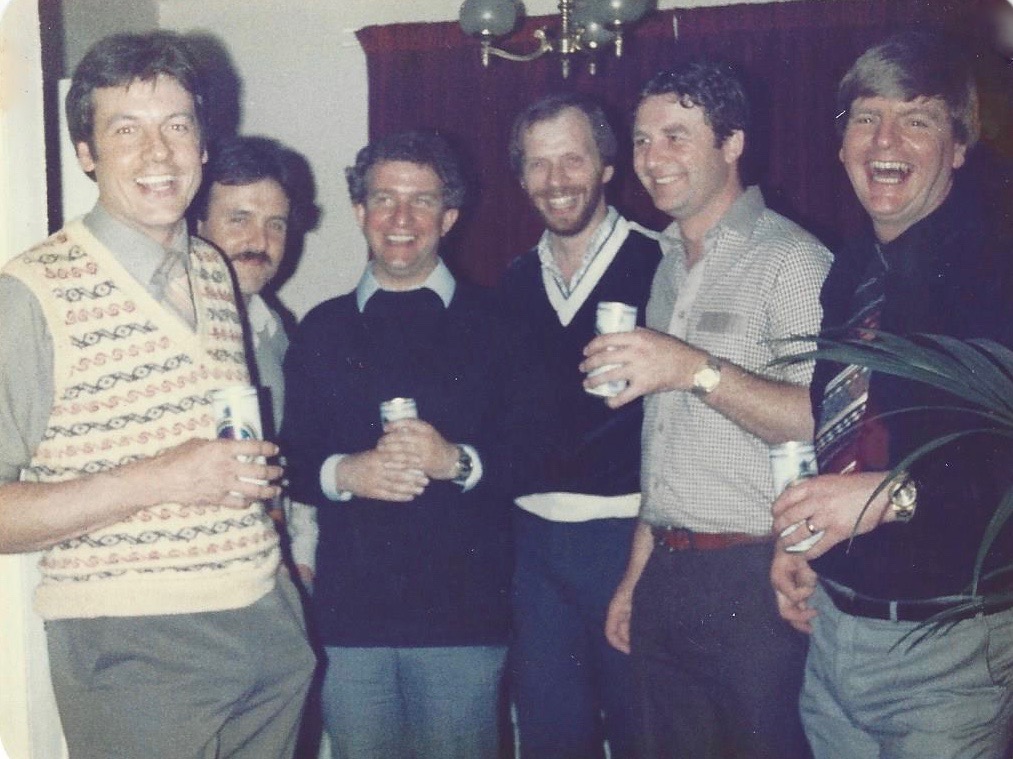 (l-r) Chris Pearce and his brother John, Ian Graham, Paul Deans, Bob Kinnon and Peter Swann