This section of our website is intended for you to keep in touch with all of your fellow colleagues who have served in the Bermuda Police. We started this column by putting all entries on one post but soon realized that it would stretch for far too long so we are doing it by each year- and this one is for 2019.
We welcome news, however brief, and would also encourage you to send us recent photos. Sadly we sometimes have to report "bad" news such as illnesses - or worse - but we are always delighted to receive positive news! We can be contacted through our email address or through the comments column at the bottom of each article, including this one.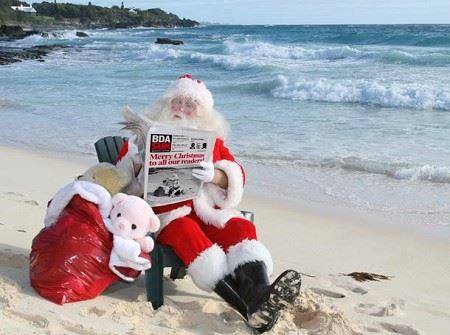 Santa takes a well earned break in Bermuda
It's very early on Christnmas morning and I would also like to extend holiday greetings for a Merry Christmas and a Happy and Healthy New Year from our ExPo President, Cal Smith, our Executive Committee, and from myself, to all of our readers, friends and colleagues.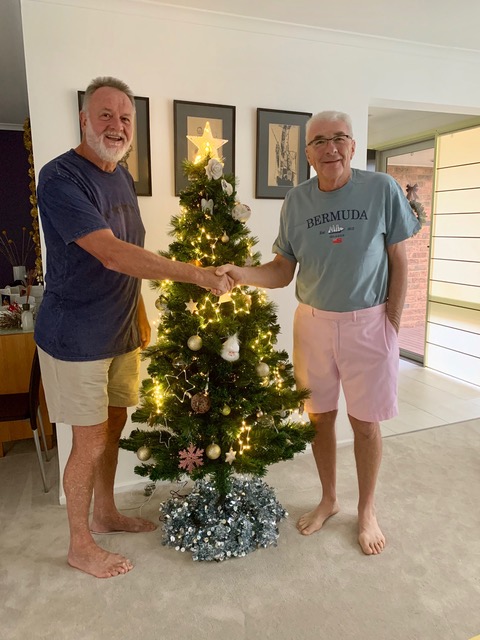 Dave Inwood and Graham Marshall
Christmas greetings from Dave Inwood and Graham Marshall - Our good friend Dave Inwood has just had this photo delivered, courtesy of Santa Claus judging by the time of night it arrived, sending Christmas greetings to all of their friends and ex-colleagues of the Bermuda Police Service!
20th December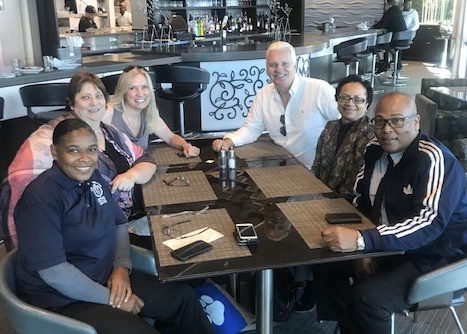 Happy to be Home
(l-r) Kimberley Spring, Patricia Flood, Angela Wright, Paul Wright, Marie Ford and Cal Smith
Get Together with Paul and Angela Wright - We recently received this photo of retired DCOP Paul Wright and his wife Angela, who met up on 16th December with our ExPo President and Commissioner's Staff Officer Calvin Smith, BPS Media Officer Kimberley Spring, BPS Senior Command Executive Administers Mrs Marie Ford and Mrs Patricia Flood for lunch. An afternoon of good food and good friends catching on the adventures of the Wrights who have returned to Bermuda for the holiday season and wish everyone a Merry Christmas and a Happy New Year .
18th December
Updates on Health Issues - As reported below, we have recently had concerns about four of our colleagues with possible serious health issues, Dave Ashurst, Jimmy "The Wop" Costello, Willie Woods, and Brian Malpas. For the latest update on their conditions as best we can ascertain please go to Latest News at http://expobermuda.com/index.php/latest-news/803-updates-on-health-issues
11th December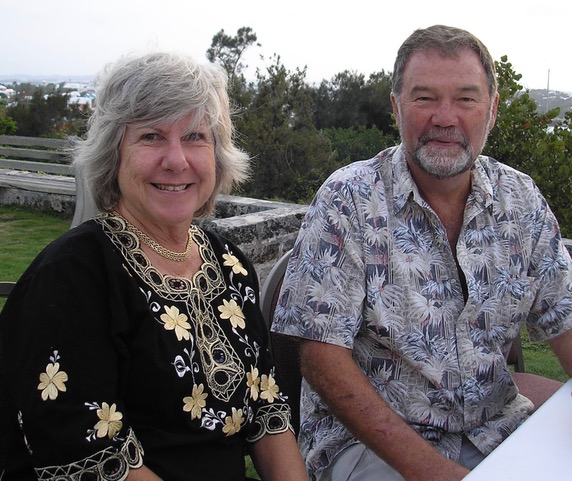 Dave and Liz Ashurst
Good News about Dave Ashurst -
At last week's Ex-Bobbies Bash we heard the news that Dave Ashurst had had a nasty fall at home and had been admitted to hospital with potentially serious head injuries.
I'm delighted to report having spoken with Dave this morning who did indeed have a very nasty fall and was apparently unconscious for a couple of hours. He was taken by ambulance to hospital suffering from bleeding on the brain, and was diagnosed with severe concussion. He was in hospital for 6 days but is now back at home and well on the way to recovery. He's able to get out and will actually be attending a function at the RHADC tomorrow with his wife Liz to celebrate his 75th birthday. We wish him many happy returns.
We understand that Dave is having to take extra care of Liz who hasn't been so well recently, and we wish them both all the best for a speedy recovery, a Merry Christmas and Happy and Healthy New Year.
10th December
We have received the following greetings from old friends and colleagues:-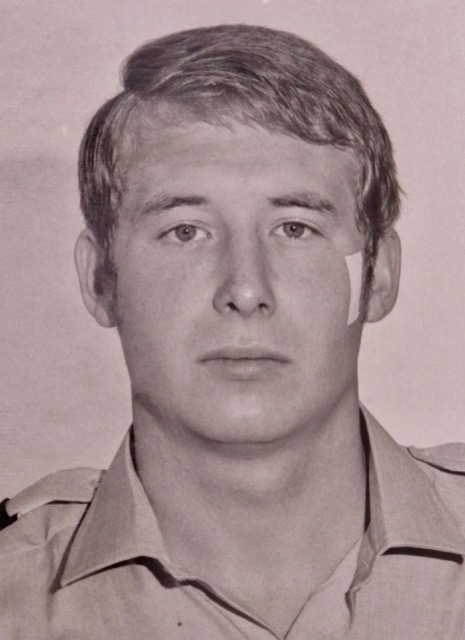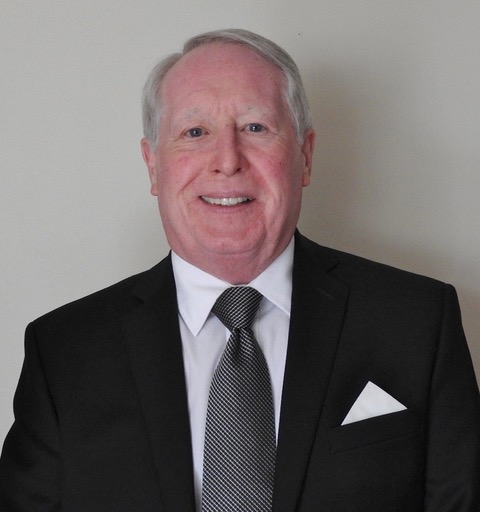 Young Bill Cree - 1970 Bill Cree - 2019
Bill Cree (served from 1970-1971) -
"I am alive and well on the Eastern Shore of Maryland, small town of Easton, where the quality of life is very enjoyable.
For employment, I am still active in the Real Estate business - Meredith Fine Properties.
71 next birthday in Feb of 2020, with no health issues, so truly grateful for that !
I read with interest all the news from the Ex-Police FB page and check the site on a regular basis to see what's new.
All the best for Christmas and the New Year.
Editors note - Bill, someone has identified you on a photo of Eastern Division's Finest taken during your time here. Can you confirm that it's you? You can view the photo at http://expobermuda.com/index.php/who-when-where/747-eastern-division-s-finest Would you also be able to confirm when it was taken?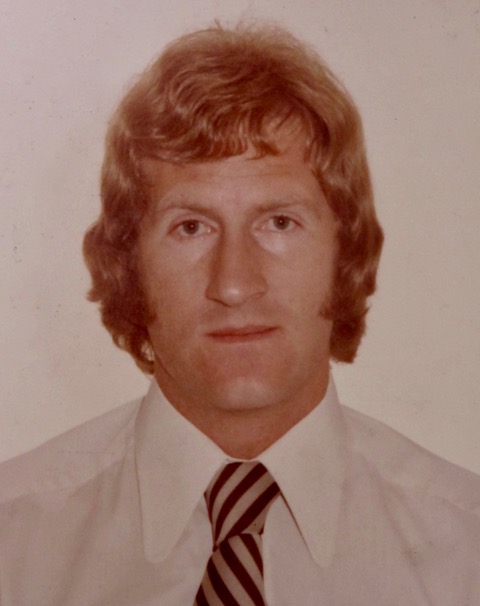 Young Colin MacKenzie
Colin MacKenzie (served from 1970– 1979) - Colin is married to Laura and they have two children and 2 grandchildren. They now reside in Peterborough, Ontario. You can read more about Colin in an article he wrote for our "Then and Now" column at http://expobermuda.com/index.php/tan/76-cmackenzie
Colin just wrote to say, "I heard about the passing of Tom Smith - very sad. I remember him well from the rugby matches at Nationals and some of the hilarious comments he made over a pint about one thing or another. A great character. Morag is such a nice person and some of the "functions" on White's Island will always have a soft spot with me.
Best wishes during the Festive Season."
Colin.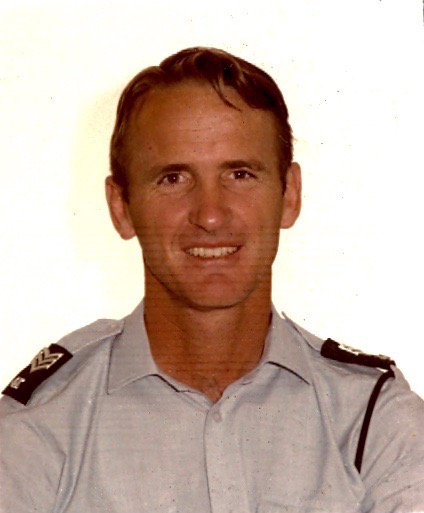 Sgt Mike Burke
Mike Burke (served from 1958-1983) - Mike and his wife Carolyn and their family settled in Jersey in the Channel Island after Mike retired from the BPS. Mike and Carolyn are still active, no doubt due to their lovely large family keeping them busy, and Mike is in regular touch with our website. He wrote an excellent article for our "Then and Now" column which you can view at
http://expobermuda.com/index.php/tan/199-mikeburke
Mike writes, "What a fine bunch of great ex-colleagues at your Ex-Bobbies Bash. Many happy memories of them all. We're so sorry to hear about those who are not well.
So pleased that your hip operation went well, Roger, and to see you there at the gathering.
Merry Christmas to you and your family and to all my old colleagues and best wishes for a happy, healthy and peaceful New Year 2020."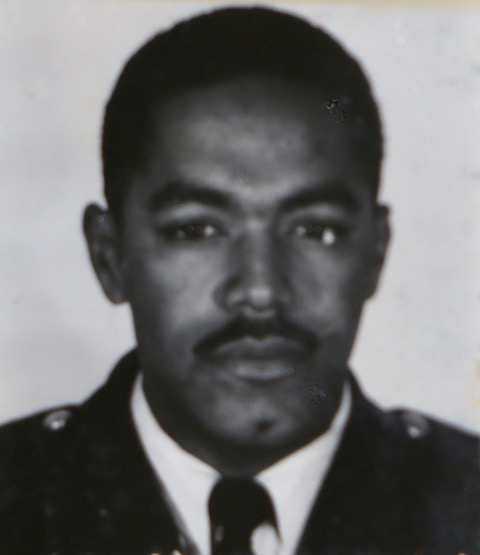 Young Freddie Aubrey
Fred Aubrey (Served from 1959-1967) - Fred served in Eastern Division, Operations (Traffic) and in Central Division during his time in the BPS and was also a member of the Police Motor Cycle Display Team. After leaving the Bermuda Police he has spent many years living abroad but returns home from time to time. Will try to catch up with him while he's home next week to ask where he's living and what he's doing these days. Fred wrote -
"I will be in Bermuda from December 14th thru December 22nd 2019. I will be sure to check on Willie Woods and Bryan Malpas. I knew them well.
My best regards to everyone.
Freddie."
Lincoln Pratt (served from 1973-1978) - Lincoln recently wrote to say, "I had seen Harry Mesham comment on a photo of Western Division suggesting John MacKay was one if the unidentified officers. John and Harry are the only two UK officers from my intake who I have not been able to get in touch with. Does anyone have their contact details? I regularly browse the Royal Gazette online and seems Bermuda is doing okay. Expo Bermuda is a great site thanks to you and others. Best regards to all. "
Lincoln Pratt
Editors note - Lincoln arrived in Bermuda on 23rd October 1973 along with Allen Pugh, John Latoszek, Keith Melville, Mike Scully, Ray Needham, and the two guys he's trying to contact, Harry Mesham and John MacKay. We would be delighted if anyone can provide us with contact details for Harry and John.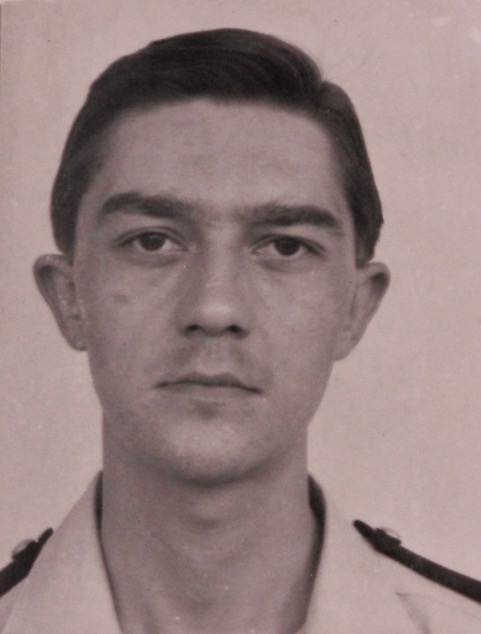 Young David Long
David Long (served from 1964-1967) - Dave and his wife Penny write to us regularly from their home in Florida, where they settled after Dave retired from his career as an airline pilot. Dave wrote an article about his time in the Bermuda Police and his career as a pilot for our "Then and Now" column which you can view at
We just heard from David and Penny who wrote, "We really enjoyed your update that we received yesterday. It was good to catch up with news of everyone. Especially enjoyed photos of the Ex-Bobbies Bash function and to see many friends. George Rose looked amazingly well and had not changed.
We are doing well, both of us having had surgery this year. My back surgery results are kicking in and I have had more and more days completely free from pain. David had a total knee replacement recently and is doing well also. Both our surgeries were robotic!
All is well with our family, we had Brandon here over Thanksgiving and he will be returning at Christmas time. Sandra and Victoria are full of the joys, we hear from them almost daily which is a blessing. Aren't grandchildren the best!
We trust all your family are doing well and you are enjoying all the Christmas festivities.
Best wishes to all of our old friends."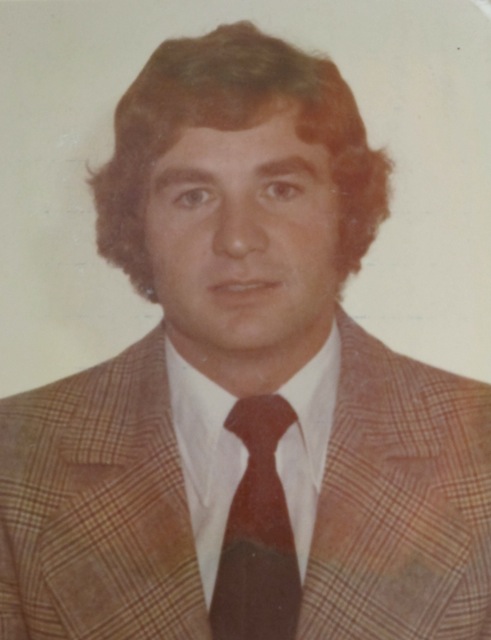 Young D.C. Bob Kinnon
Bob Kinnon (served from 1973-1980) -
After leaving Bermuda where he gained valuable experience in CID, Bob returned to Yorkshire to work in Leeds where he put his CID experience to good use and went on to work in both the Regional and National Crime Squads. You can read more abour Bob's life in our "Then and Now" column at
http://expobermuda.com/index.php/tan/112-bobkinnon
Bob and his wife Helen have visited Bermuda several times and Bob always makes sure to play golf at every opportunity. He
has written to say, "
I regularly check the Expo website and get a lot of enjoyment from reading it and keeping in touch with old colleagues. I must say that you do a 1st class job Roger. It was great to see you when I was over in October at the police Memorial Day. Also pleased to hear that your hip operation has gone down well and that you will soon be running marathons !!!!
Sorry to hear about the guys in hospital so if you visit them please pass on my best wishes to them all. I bumped into Dave Ashurst while I was over. I don't have a great deal to tell you from this end as we're all getting ready for Xmas. I'm hoping to meet up with Don Urquhart in March so will let you know how that meeting goes. Finally I wish you and all your family and all our Bermuda friends and colleagues the very best for Christmas and New Year. All the best.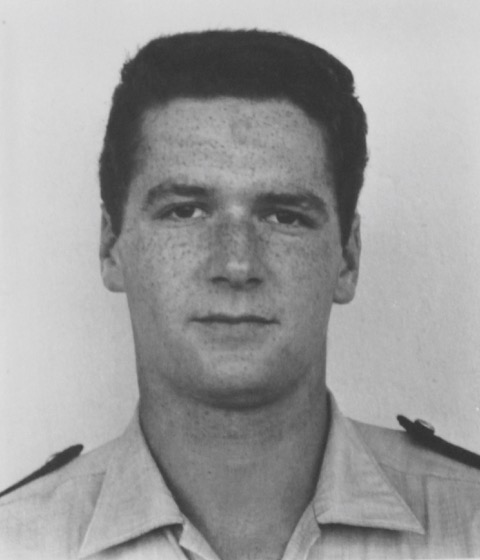 Young Len Mustard
Len Mustard (served 1963-1965) - Thanks for the update Roger. I must apologise for my lack of response....best laid plans of mice and men........BUT I will remedy that early in the New Year.....I promise. Part of the reason for my tardiness is due to the fact that my life is just great, but that seems to aggravate some folk when I start to give details, so I usually keep quiet.
Please convey my best wishes to all for a merry Christmas and a healthy and happy New Year.
Thanks again Roger, and the very best to you.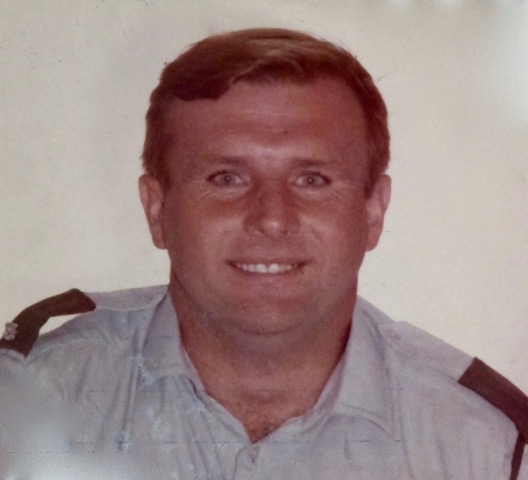 Young P.C. Davie Kerr
Davie Kerr (served 1966-2000) - Davie has kindly sent us a Christmas message but I'm not able to convert it onto the website so he will try to send it in a different format. He sends all the very best to all during this Festive Season. Dave has written a two-part story of his life and time in the Bermuda Police for our "Then and Now" column which you can view at http://expobermuda.com/index.php/tan/16-dkerr
Davie adds, "Sorry to hear about Brian, Jimmy, Willie and Dave, and I wish them all a speedy and complete recovery.
Cheers.
Davie K.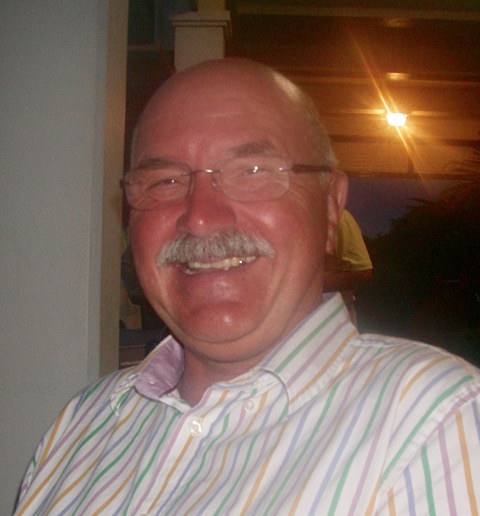 Doug Proctor
Doug Proctor (served 1972-1978) - Doug writes to say, "I always keep up with the news on your excellent web site, and follow the tales from my contempories with huge interest, now I am 'old' and retired.
My last visit to 'paradise' was in August 2010, for my 60th birthday, and I am now contemplating my 70th in August 2020. Where does the time go??
Finola and I are in Spain, close to Marbella, living the 'expat life' to the full (Paul Hendricks may be interested to know that we are fairly close neighbours?? Please can you pass on my email and we can meet for the proverbial 'cerveza pequena' or 'dos') (Editors note – Done!)
We now have 4 grandchildren!! Olivia, our eldest daughter, and Mark, our son in law, now have little Max (1 year old on 11th December this year) as a brother to our wonderful grandson Theo who is 4 in Jan 2020!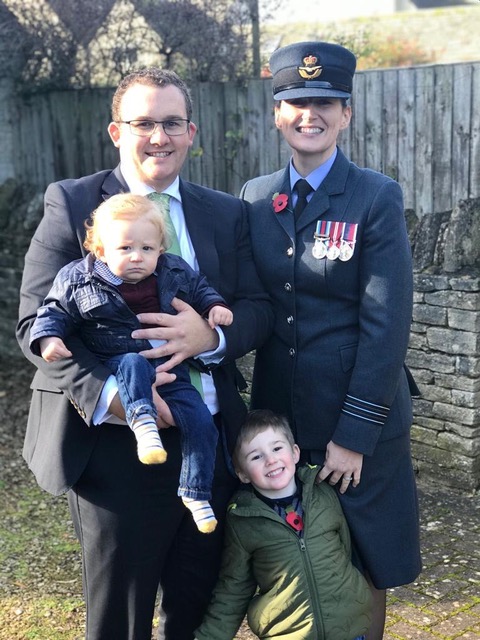 Doug and Finola's daughter Olivia with her husband Mark with
children Theo (4) and little Max taken on Remembrance Day
2019 when Wing Commander Olivia participated in the Parade.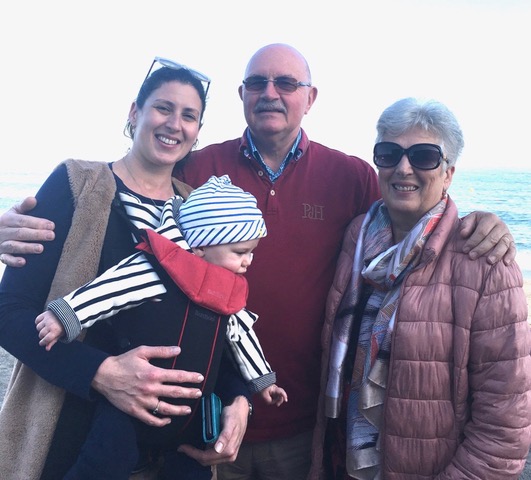 Doug and Finola with their daughter Stephanie and grandson Feargus
Stephanie, our youngest daughter and Chris, our Son in Law have little Feargus (born 5th June 2019) as a brother to our delightful granddaughter Fianna, who is 6 (going on 16!!) in March 2020.
Both youngest grandsons and our daughters have been out just recently to be with Finola as she fought with breast cancer, and WON!!, and is now on road to recovery.
We are spending Christmas at home in Spain this year - Steph, Chris, Fianna and Feargus are off ski-ing somewhere in France (although I think the ski's for Feargus will be somewhat cut down) and Olivia, Mark, Theo and Max will spend time with Olivia's Mum in law, Sue in Chichester.
Spain has proved to be a haven for us, what with all the 'Brexit' news etc. The Euro has gone up and down like the proverbial fiddlers elbow but we have managed to survive for the last 11 years. We await the result of the election in the UK with curiosity - I don't think either way it will affect us as we are 'residents' here, but who knows??
Anyway, a very Merry Christmas again and our very best to all those in Bermuda who remember Finola and I from the 1970's.
6th December 2019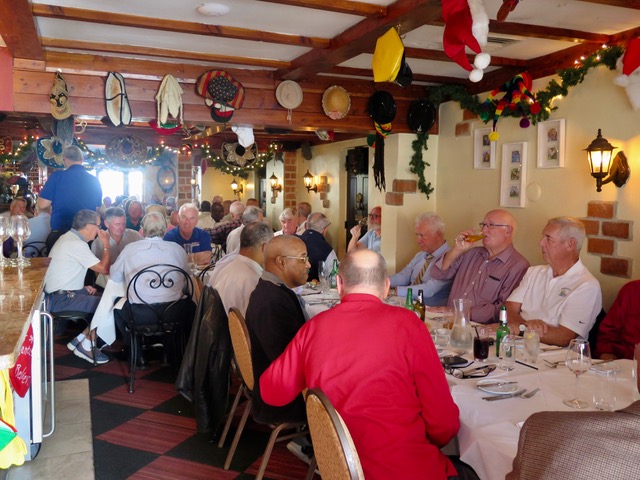 Ex-Bobbies Bash at Mad Hatters
Ex-Bobbies Bash - One of the most popular and successful social events of the year for our Bermuda ex-police officers is the annual Ex-Bobbies Bash which has been held for many years at the Mad Hatters Restaurant. This year was no exception, thanks to the organizers, Dave Cook and Billy Butterworth. The Christmas lunch was held on Thursday 5th December at Mad Hatters which is located at the Mariners Club.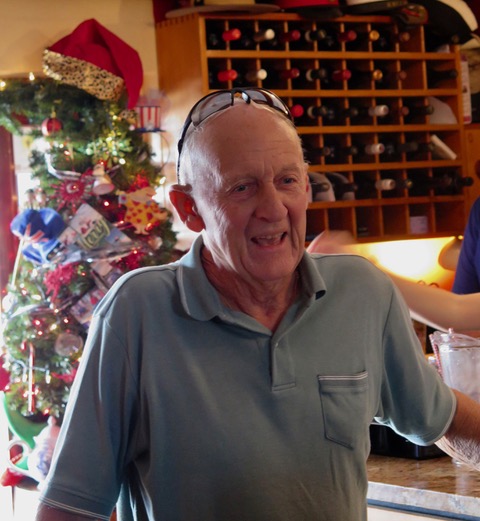 Dave Cook welcomes everyone to the Ex-Bobbies Bash
Dave Cook welcomed everyone to the lunch but was only able to stay for a short while because he's having treatment for a back problem. We wish him a quick recovery.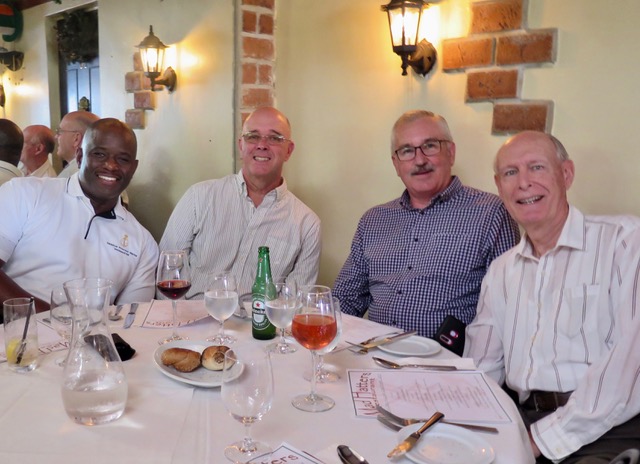 Larry Dean, Mark Bothello, Ian McMillan and Roger Kendall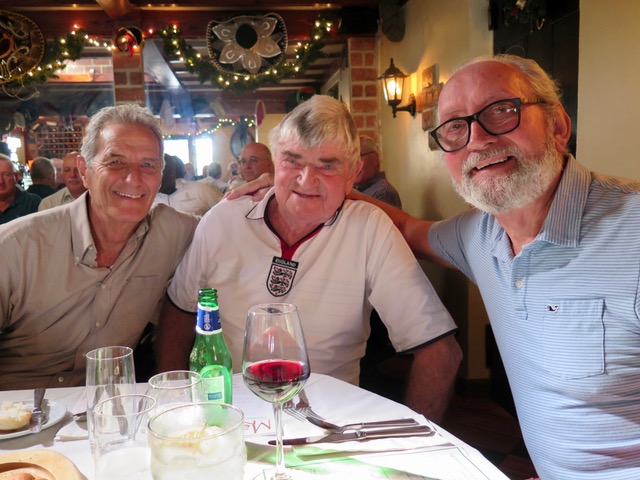 George Rose, Dave Barber and John Barnett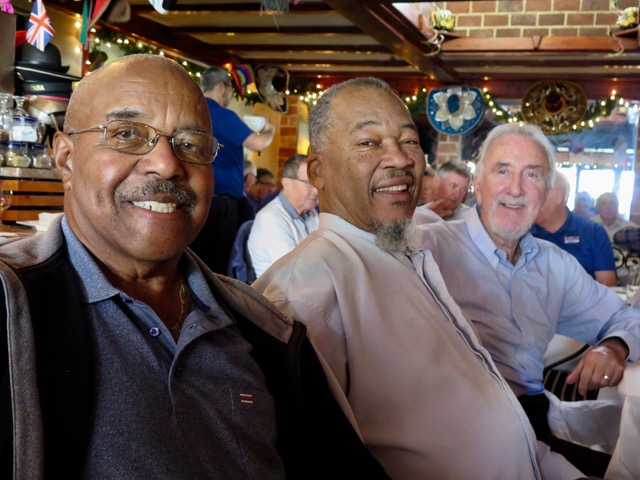 Reese Bartley, Hiram Edwards and Ray Bell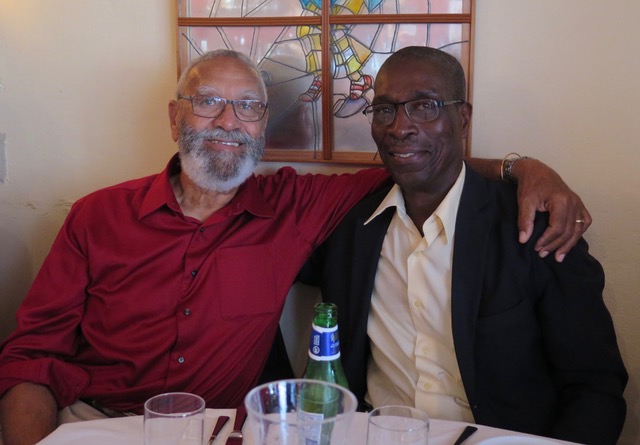 Arthur Bean and Vendal Bridgeman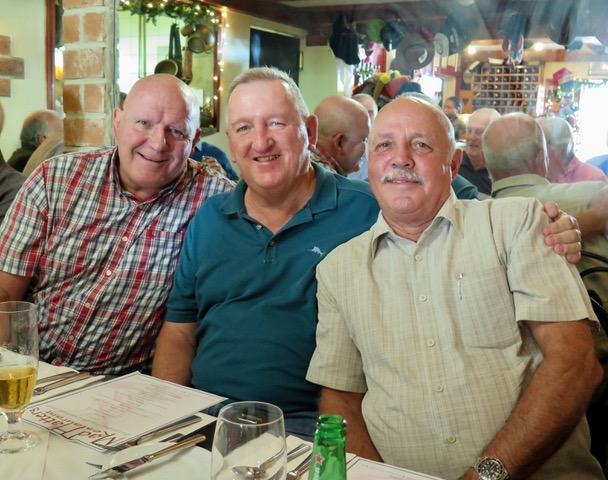 Alan Gorbutt, Larry Fox and Ralph Lindo
This is an ideal time of year to get together to swap stories and recollections of our times serving in the BPS and judging by the noise level alone it was a great success with a good time had by all. As usual, Mad Hatters, was an ideal venue and we all enjoyed an excellent meal. For more photos of the Bobbies Bash go to our Photo Albums at
http://expobermuda.com/index.php/photo-gallery/ex-bobbies-bash-2019#!IMG_2634
On a more somber note, we also heard that several of our colleagues are currently hospitalized at KEMH. Brian Malpas, Jimmy 'The Wop" Costello, and Willie Woods are all said to be in quite serious condition. We also heard that Dave Ashurst, had a very nasty fall a few days ago and sustained head injuries. We have no further details at the moment but will keep you up-to-date on the conditions of all of the above as soon as we hear anything further.
We are
also aware that Dave is looking after his wife Liz who is said not to be too well at the moment.
We are now entering the Festive Season and would be delighted to hear from you wherever you are in the world whether you're basking in the sun or freezing in snow and ice. Please feel free to write to us, and send a recent photo
On behalf of all of our colleagues here in Bermuda we wish you all a Merry Christmas and a Happy and Healthy New Year.
EDITORS NOTE - I must apologize for very little activity on our expo website during the past month. I had to have hip replacement surgery earlier this month which put me out of action for a few weeks, partly because the most uncomfortable position after hip surgery is to sit at a desk!
Paul Dellanzo has just written to us and he comments about the often sad news of our fellow colleagues passing on. We do try to keep you abreast of the loss of our old friends, but we love to receive positive news of any kind for this column. We would encourage you to let us know where you are and what you're doing these days, and whether you are having to put up with miserable winter weather wherever you are, or if you're managing to escape from the snow and cold to visit warmer climes.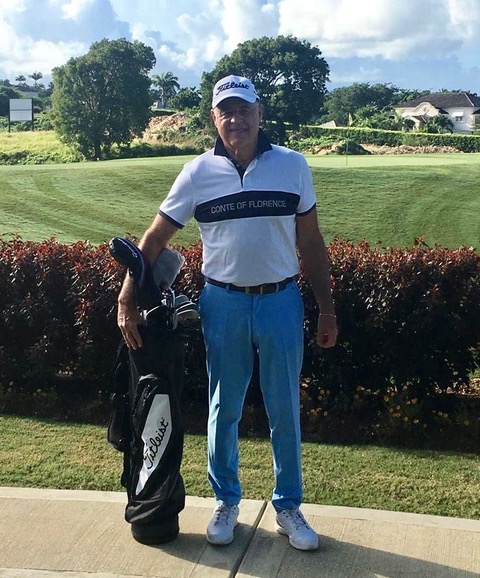 Paul enjoying golf in Barbados
Paul and Susan Dellanzo visit Barbados - We just heard from Paul Dellanzo who served here from 1975 – 1977 (see article about Paul in or Then and Now column at http://expobermuda.com/index.php/tan/717-paul-dellanzo)
Paul wrote as follows:- "I keep seeing all the sad news about ex-colleagues passing on. I had planned to visit Bermuda but we got married in Barbados so decided to visit there for our 33rd wedding anniversary at Sandy Lane where we had our reception.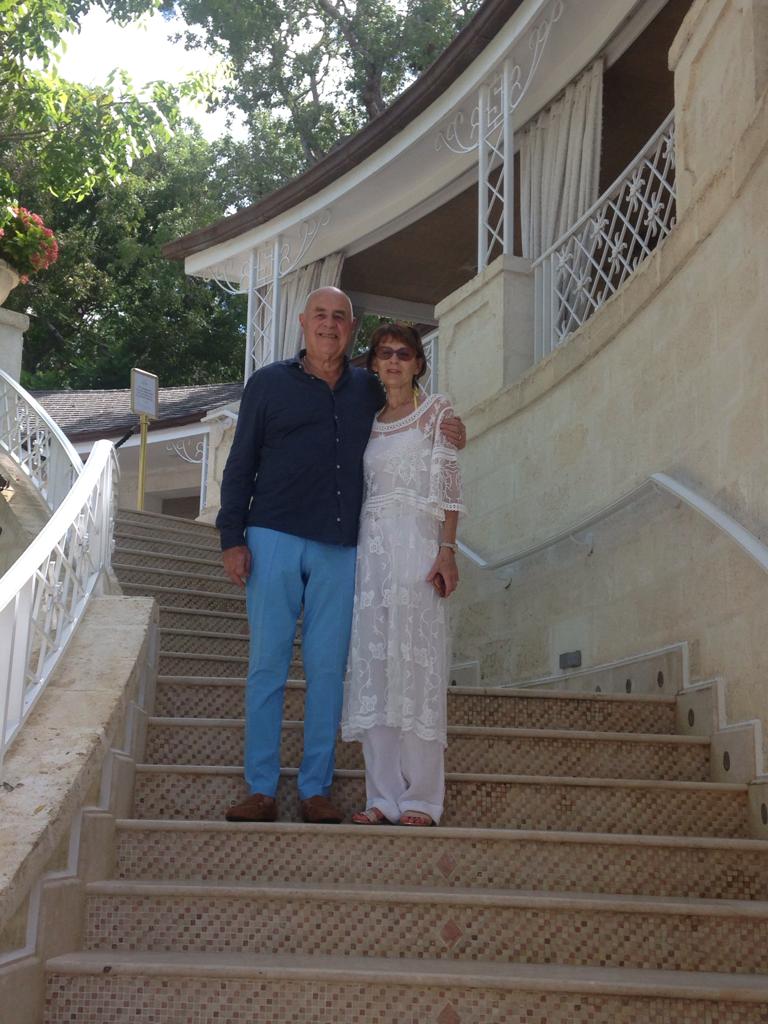 Paul and Susan having a well earned break from the weather in England
"Back playing golf finally and played Royal Westmoreland which is a world clas designed by Kyle Phillips. We had nine days and I had a few rum punches , cigars and lots of beach time. Nice break before Xmas. Got lots of brownie points for this trip. Probably go back in February to break up the winter. Beautiful island and great Bajan hospitality.
Hope everyone is well there and sincere best wishes to you and yours for Xmas and the holiday season."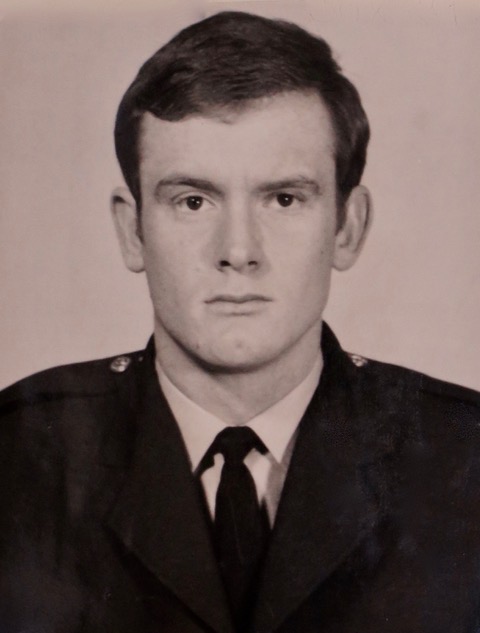 Young P.C. Dave Inwood
Dave "DB" Inwood - We have just heard from Dave Inwood who joined the Bermuda Police in December 1968, on the same day as Les Gordon, Graham Marshall and Tony Diggins. It was Dave who indirectly let us know about the recent passing of Kevin Brennan after Dave had passed that sad news onto John Headey who, in turn passed it on to us.
I then wrote to Dave who kindly sent us a photo and some information about Kevin, and I suggested to him that he write and let us know what he's been doing and where he's been living since he left Bermuda. Dave promised to do so and he was as good as his word in providing the following to us.
"After leaving Bermuda in December 1973, I spent a short spell living in my home town of Oxford, then in October 1974 I headed to Sydney, Australia, with two close friends, Graham Marshall and Les Gordon, to seek our fortunes. Forty-five years later we are all still in OZ.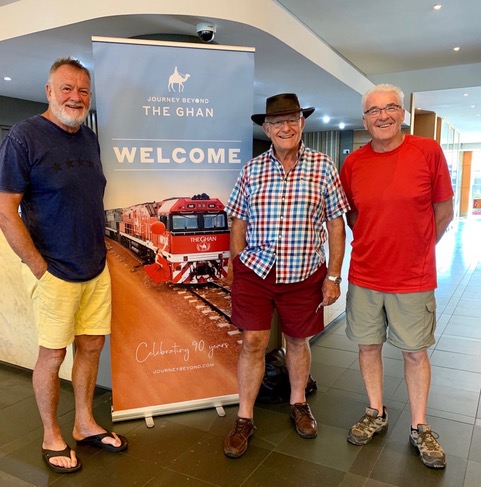 Dave Inwood, Tony Diggins and Graham Marshall
on recent holiday together in Northern Territory.
(Not sure if the yellow and red attire qualify as traditional Bermuda
shorts even though the navy blue knee socks are missing!
Graham and Les both ended up in the banking industry and retired a few years ago. Both are married and live in Sydney with sons, daughters and grandchildren.
I ended up in Publishing and after a few years working for a major Book Publishers, I started my own business in 1985, importing books from Publishers in the UK and USA. I closed this business in 2016 due to the downturn in the book industry and retired at the age of 70!
In 31 years my company sold over 125 million dollars worth of books to Australian bookshops and I was lucky enough to travel the world whilst doing business.
Dave and Elaine at Brokenwood Winery
When I retired I moved from my home on the outskirts of Sydney to the Hunter Valley, one of Australia's premier wine areas, where my wife runs the Cellar Door at the prestigious Brokenwood Winery.
I married fairly late in life at 41 and after a couple of unsuccessful marriages now have my third and final wife Elaine! We have been together for 16 years and celebrate our tenth wedding anniversary in March 2020.
I have a son (Matthew) and a daughter (Nicola) who have given me 4 beautiful grandsons.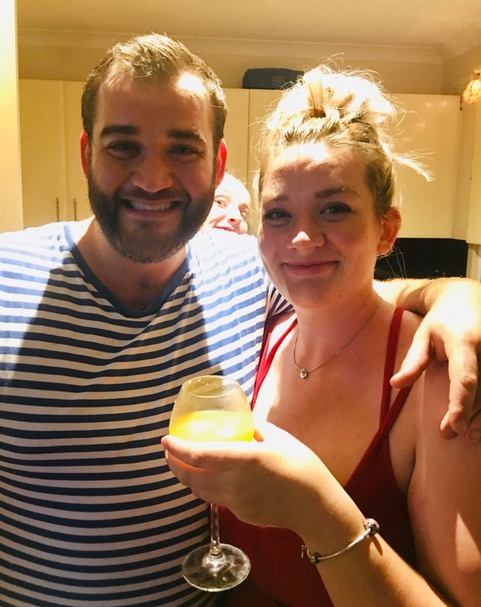 Dave's two children, Matthew and Nicola
These days I spend most of my time in the garden or the kitchen as food & wine is a major interest.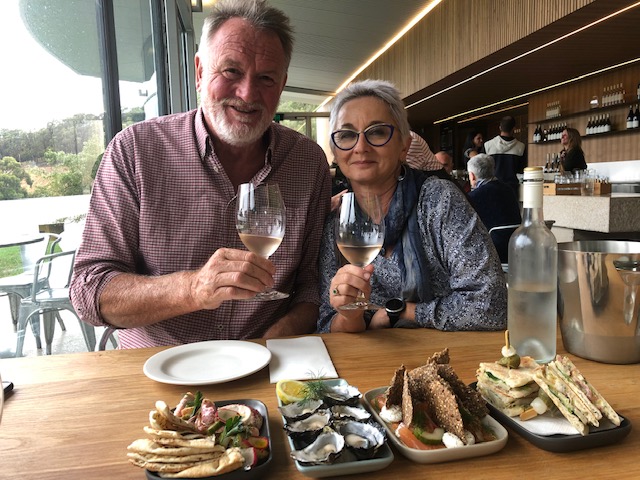 Dave and Elaine doing what they love most
Over the years I have kept in touch with a number of Bermuda Police colleagues who often visit down under. I have been back to Bermuda three times since I left and plan another trip next May with my son."
Editors note - On checking our files I see that in December 2017 we reported on a get together in Sydney with Dave and Elaine, Les Gordon, and Bob and Pam Porritt when Bob and Pam were cruising between Singapore and Sydney to celebrate Bob's 70th birthday. The Bermuda Police may not be the largest police force in the world but our former colleagues sure do get around.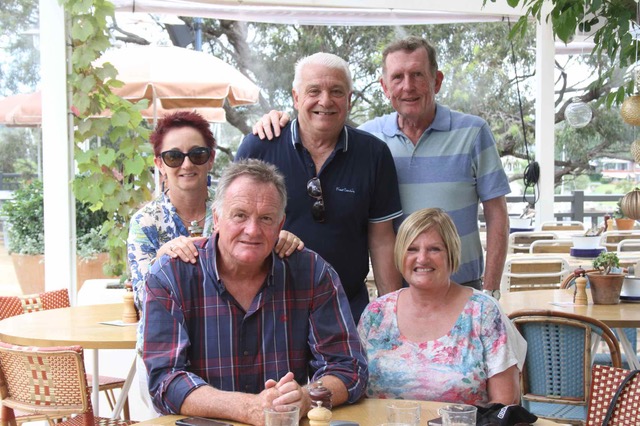 l-r Elaine Inwood, Dave Inwood, Bob Porritt, Leslie Gordon Pam Porritt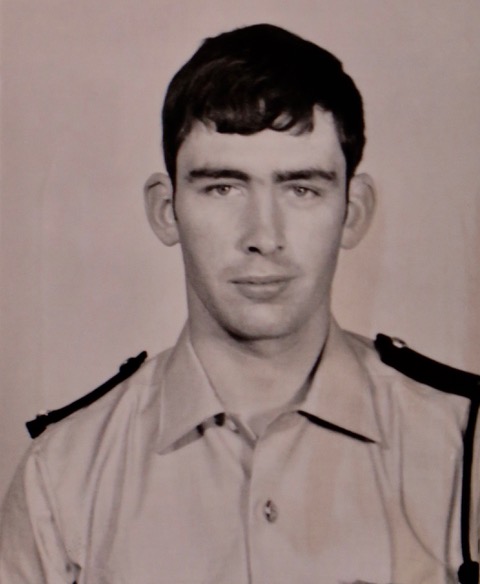 P.C. Kevin Brennan - 1969
Tim Roper - We recently heard for the first time from former P.C. Tim Roper who served here in the Bermuda Police from January 1984 - January 1991, in Central Division (Hamilton), in the Traffic Department, and in Special Branch.
While here in Bermuda Tim met and married his wife Kathy who was a nurse at KEMH and their first son, Jack, was born here in Bermuda. Time marches on and Jack is now a Captain in the Royal Marines.. Tim and Kathy have a daughter Torie who is a primary school teacher, and their youngest son, Thomas is presently studying to be a teacher.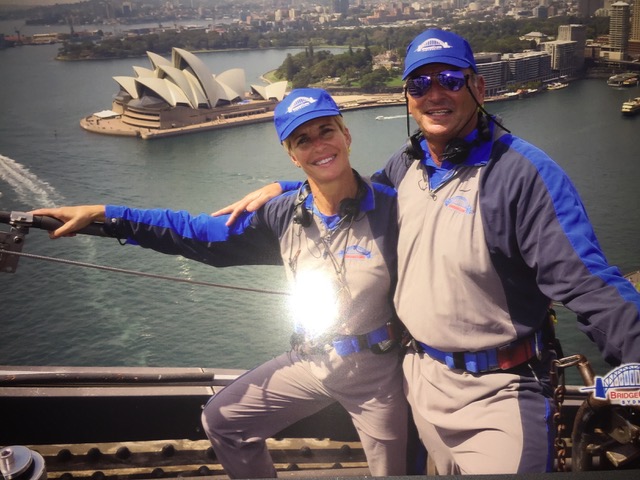 Tim and Kathy Roper atop the Sydney Harbour Bridge
Tim sent us this spectacular photo of him and Kathy both of whom had climbed the Sydney Harbour Bridge wearing the required iconic blue and grey boiler suits. He described the experience as "Great fun and great views". It's now on my bucket list!
After leaving Bermuda Tim and Kathy moved back to Tim's home in Plymouth and he went on to obtain a law degree. He now runs his own firm of solicitors, Roper James Solicitors.
Tim attended his first Bermuda Police Reunion earlier this year at Bristol. Some of those attending were Alan Earl, Steve Parkinson, Kev Buxton, Steve Tully, Steve Taylor, Stuart Mason, Glyn Brown and Chris Thompson.
Tim wrote to us initially to ask if we could add his name to our List of Former Colleagues which we are delighted to do. Perhaps I can point out that this list comprises of all those of our former colleagues for whom we have contact details so if you check out the list, which you can view at http://expobermuda.com/index.php/colleagues, and you are missing from it, all you have to do is to write to us at This email address is being protected from spambots. You need JavaScript enabled to view it. with your contact details and we will be pleased to add you to our list.
Tim and Kathy still have fond memories of Bermuda and still miss the Island and the people they met whilst here. They returned to the "Rock" when their eldest son, Jack, was 18 and he happened to receive his outstanding "A" Level results on the beach at Grotto Bay where they were staying.
Tim has promised to write a more detailed article about his time both here in Bermuda and in the U.K. for our "Then and Now: column, and we would encourage anyone else who has served here in the Bermuda Police to follow suit.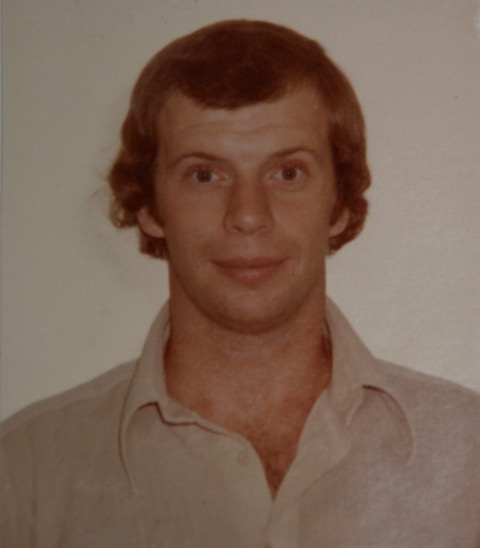 Young P.C. Paul Deans
Paul Deans looking to celebrate his 70th Birthday in style - On 19th August we reported a Get Together (see below) in Leeds when Gerry Benson, Paul Deans and Paul Dellanzo all met up to reminisce about the good old days in Bermuda and to catch up on their lives post Bermuda. Their Get Together obviously stirred up fond memories of Bermuda for Paul Deans who served in the BPS from 1973-1978, and who has just written to say that he's approaching his 70th Birthday in the summer of 2020 and he and his wife Mary are planning an extended vacation to Toronto, Bermuda and then Vancouver. Paul's dates are still tentative but he and Mary would love to visit the Island for 10-14 days any time after 18th July and before 1st September in 2020.
They would love to do a house swap here, ideally in the Central Paishes anywhere between Flatts and Warwick Long Bay, although they are very flexible re location.
Paul and Mary have a lovely four bedroomed house on the northern edge of the English Lake District which is available at any time as a House Swap. This is their second home and they don't rent it out but would be extremely happy to offer it as a house swap.
If anyone is interested please let us know at This email address is being protected from spambots. You need JavaScript enabled to view it. and we'll be happy to put you in touch with Paul via email for more details. Having spent part of our honeymoon in the Lake District almost 50 years ago I can attest to the fact that it is a most beautiful part of England and a perfect location for a holiday.
Cal Smith, Terry Trott and Stuart Kirkpatrick Get Together - We received this photo from our President of ExPo, Cal Smith, who was on a trip to Toronto recently with Sergeant Terry Trott, the current ERT Firearms Instructor for the BPS. The two met up with Terry's former ERT Firearms Instructor Stuart Kirkpatrick who has been retired for the last 7 years and is now living in Toronto.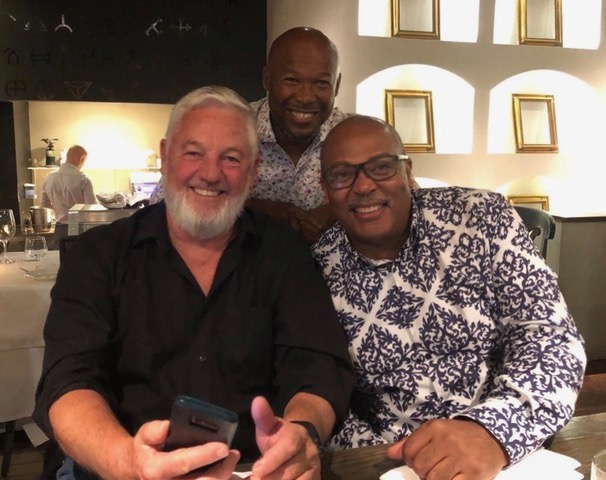 Happy Trio in Toronto
(l-r) Stuart Kirkpatrick, Terry Trott and Calvin Smith
The trio met up for dinner together with a group of officers from the Halton Police, and by all accounts a good time was had by all.
Just for the record, Cal is currently the Commissioner's Staff Officer while also being President of the Bermuda Ex-Police Officer's Association. As the immediate Past President I can report that Cal is doing a great job for Bermie ExPo and that we continue to have an excellent relationship with Commissioner Steven Corbishley and the BPS.

WPC Gloria Jean Trott - We also just heard from former WPC Gloria Jean Trott who served in the Bermuda Police from August 1966 – February 1971, and attended Basic Training Course 7 in 1966, which included our first contingent of recruits from Barbados along with two other policewomen, June Dickenson and Gertie Cannonier (Barker).
BASIC TRAINING COURSE No. 7 - 1966 *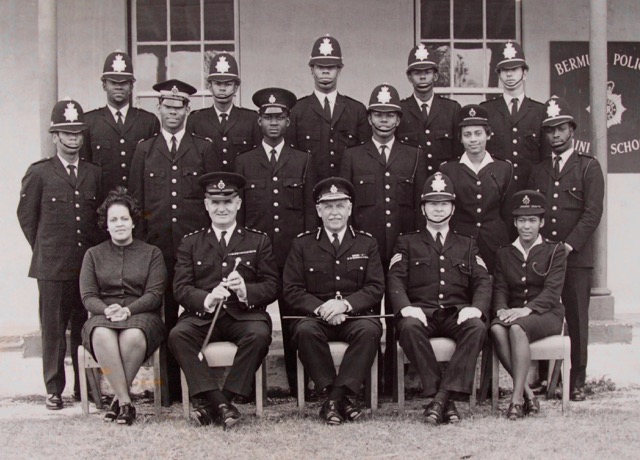 Top Row (l-r) Anthony Timothy, Ralph Sealy, Clyde "Tango" Burgess,
Algernon "John" McConnie, Raymond Sousa
Middle Row - Erskine Warner, Steven Dean (Cadet), Orson Daisley,
Robert Strickland, Gloria Jean Trott, Vendal Bridgeman
June Dickenson, Chief Insp. Roy Chandler, COP George Robins,
Sgt John Cafferky, Gertrude Cannonier
Jean has been living in Florida since 2010 but manages to visit home here in Bermuda occasionally. Jean sent us these two "Then and Now" photos of her as a young policewoman in 1966 and a recent photo when she was celebrating her 71st birthday. She has written to say she enjoys her voluntary and mission work which she finds richly rewarding.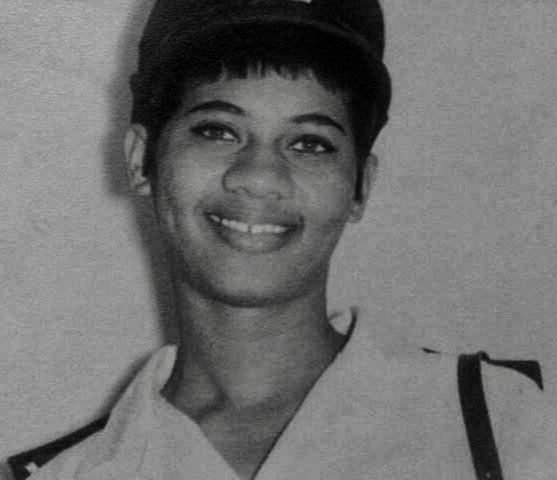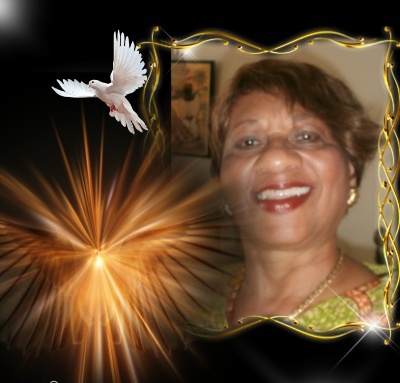 Young WPC Jean Trott in 1966 Jean Trott - Happy and Healthy at 71
Jean often reads the articles on our website and asks if we have a link that she can receive whenever items are posted on the website. I don't have such a facility but I've heard that a few of our readers may have some mechanism that lets them know when new entries are posted on expobermua.com
If anyone can explain what to do to receive automatic links to new articles please let us know and we'll pass it on to all of our readers.
* If you are searching for your Basic Training Course photo you should find it under Training School at http://expobermuda.com/index.php/training-school Unfortunately, photos were not usually taken of Localisation Courses, Driving Courses, Refresher Courses etc although there were a few exceptions.
3rd October 2019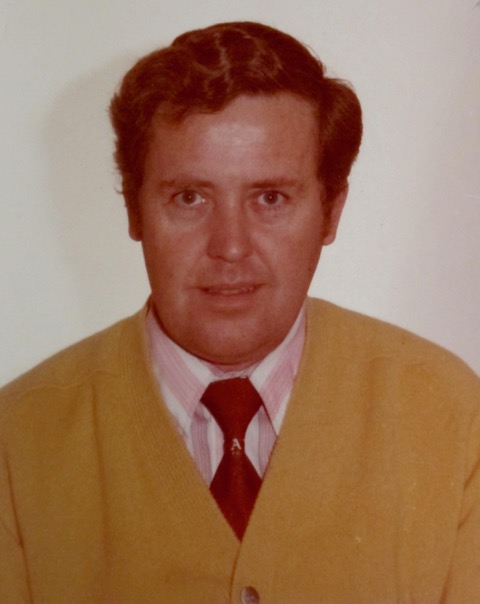 Sgt. Crawford "Crow" Rae
Death of retired Sgt Crawford "Crow" Rae - We have received the sad news that our good friend and former colleague Crawford "Crow" Rae died at his home in Laurencekirk, Kincardineshire, Scotland on Sunday 8th September 2019, at the age of 84. His funeral took place on 18th September.
Crawford first joined the Bermuda Police in 1957 after serving in the Royal Army Pay Corps from 1953-1955. He served in Central Division (Hamilton). in Central Parishes, and Operations (Traffic) but for most of his career he worked at Headquarters ('A' Department) and for a number of years as Manager of the Police Recreation Club, then in Eastern Uniform, retiring in about 1982. He was a popular and well liked member of the Bermuda Police.
Crawford married his wife, Mary here in Bermuda in 1962, and they had two children, Martin and Siubhan. We understand that after retirement Crawford and his family moved back to Scotland.
We offer our sincere condolences to Mary, Martin, Siubhan and to all their family on behalf of all or us who knew them while they were with us here in Bermuda.
12th September
Alan Earl, Brian Howard, Brian Russell, and Tim Stuckes - The PRC was a hive of activity on Thursday 12thSeptember during the Thursday afternoon get together of our regular ExPo crew with the arrival of four of our overseas members who were back to re-kindle fond memories of their years in the Bermuda Police. We had reported their impending arrival in our Latest News column at http://expobermuda.com/index.php/latest-news/771-brian-howard-brian-russell-alarn-earl-arriving-soon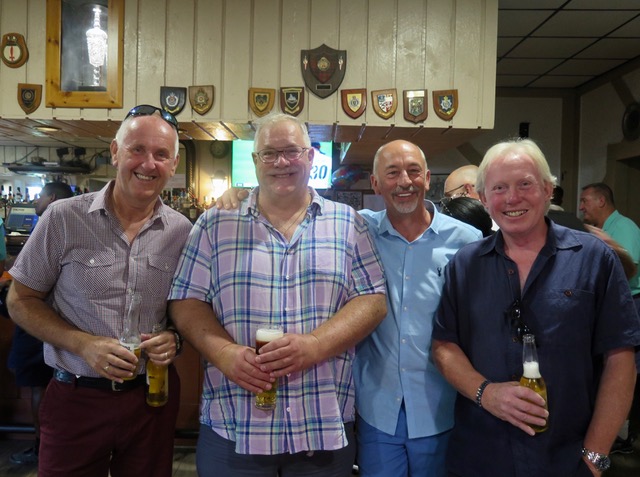 Relaxing visit to the Police Recreation Club - September 2019
(l-r) Alan Earl, Brian Russell, Brian Howard and Tim Stuckes
The four are Brian Howard who served from 1982-1993, Alan Earl and Tim Stuckes who both joined the Bermuda Police in April 1983, and Brian Russell who served from 1983-1987. For three of the four it was their first return to the Island since they left here and joined Police Forces in the U.K.
Tim Stuckes has relatives here and has returned a couple of times, and his daughter Hattie recently started work here as a nurse at King Edward Hospital so Tim plans more frequent visits in future.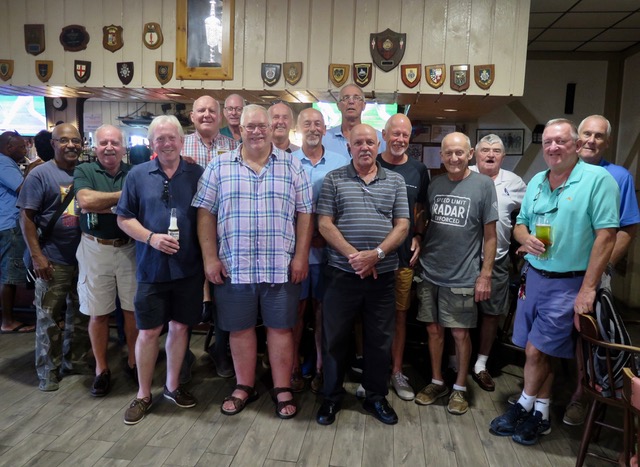 Thursday afternoon gathering at the Police Recreation Club
(l-r) Reese Bartley, Roddie Barclay, Tim Stuckes, Alan Gorbutt, Norman Wilson, Brian Russell, Alan Earl, Brian Howard,
Pete Shaw, Ralph Lindo, Mike Shaw, Dave Cook, Dave Barber, Larry Fox, and "Moby" Pett.
They certainly brought out a crowd of their old colleagues and all four reported they're having a great time here, and have really enjoyed getting together with their old mates while on the Island. All four have promised faithfully to write an article about themselves for our "Then and Now" column so we can bring you up-to-date on what they did and where they have settled after leaving Bermuda.
9th September
Police Week Annual Memorial Service and Reception -
The BPS will be holding their annual Police Week activities during the first week of October, culminating in the annual Memorial Service at the Police Cemetery,

which starts at 4.30 pm on Sunday 6th October.

The Commissioner is hosting a Reception at the Police Recreation Club immediately after the service. All of our ExPo members and their spouses are cordially invited to attend along with relatives of those of our colleagues who are no longer with us.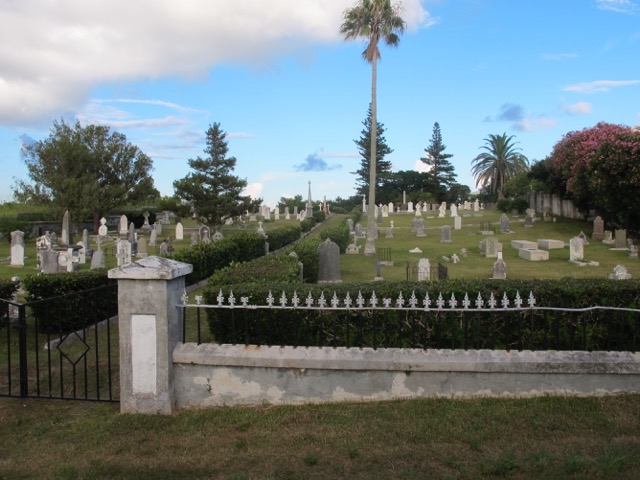 Police Cemetery at Prospect

The annual Memorial Service provides us with a special opportunity to remember old friends and colleagues who have gone before us. During the Memorial Service Commissioner Stephen Corbishley will be reading out a list of our ExPo members, together with serving police officers, and members of the BOS civilian staff who have passed in the past 2 years.

These will include the following colleagues we have lost since last years' Memorial Service:-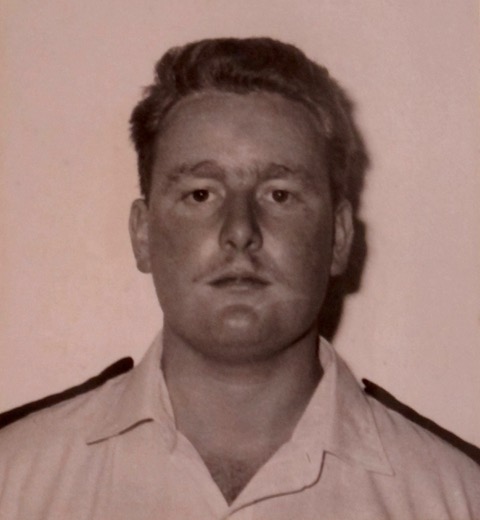 P.C. Terry Warrilow - October 2018 P.C. Barry "Tim" Burch - November 2018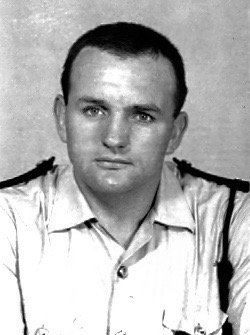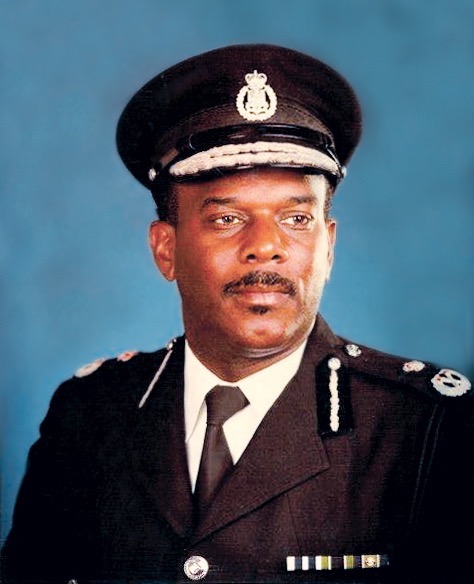 Sgt Patrick McBride - November 2018 COP Frederick "Penny" Bean - December 2018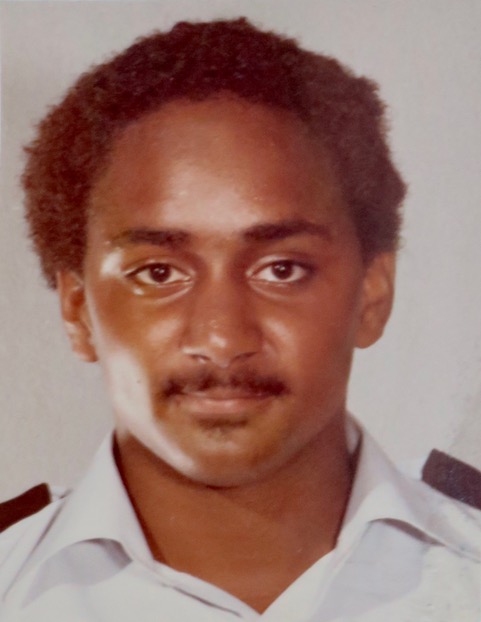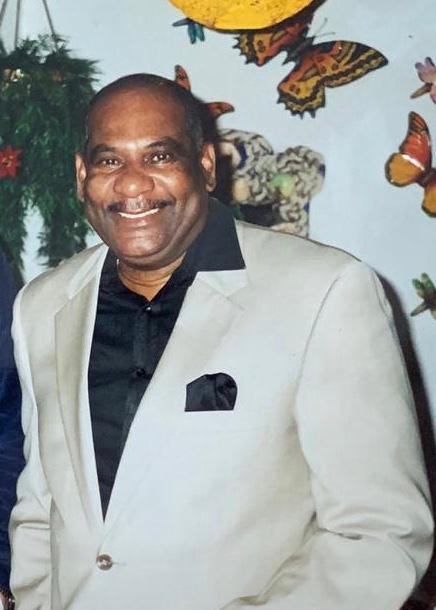 P.C. Marvin Washington - December 2018 D.C. Franklyn "Frank" Deallie - January 2019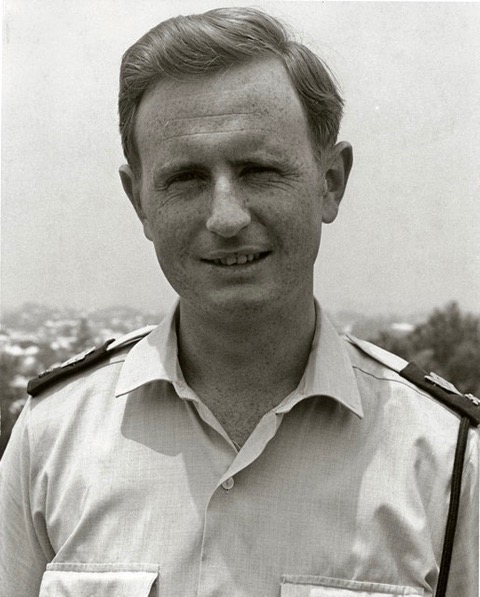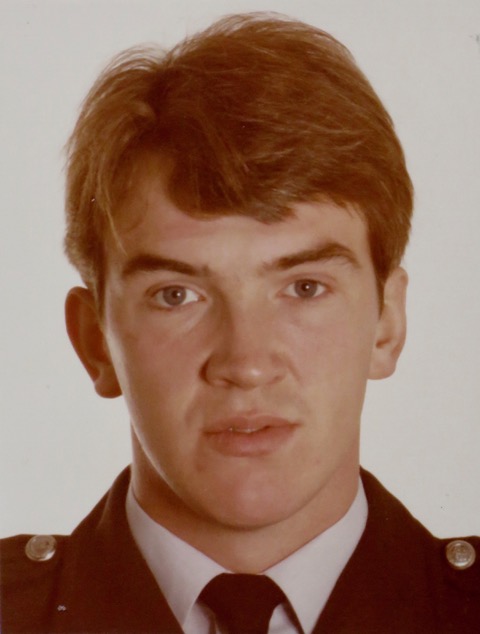 Insp Neil Cox - January 2019 P.C. Stephen Foster - January 2019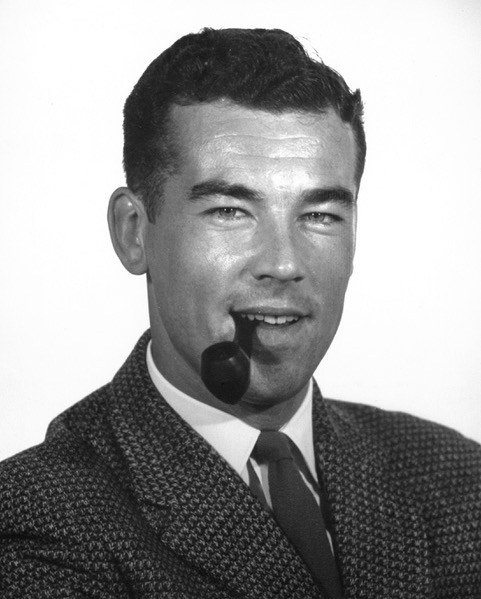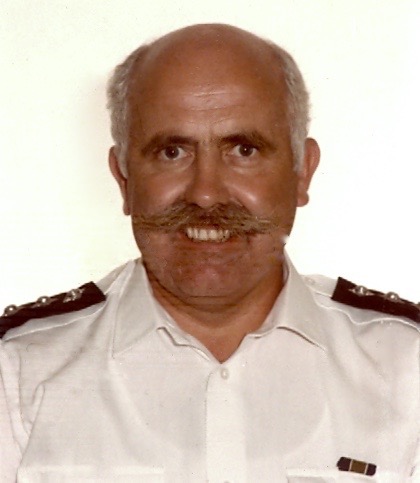 C/Insp Peter Stubbs - January 2019 C/Insp David Parsons - February 2019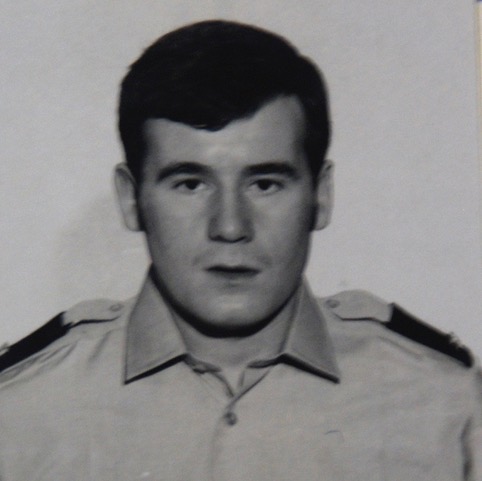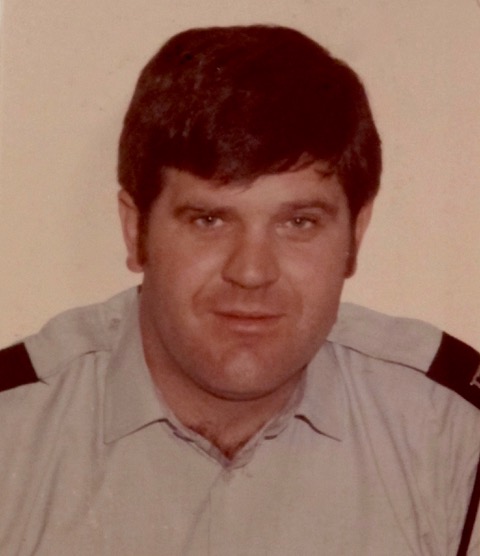 P.C. Frank Dowie - May 2019 P
.C. Michael Parris - May 2019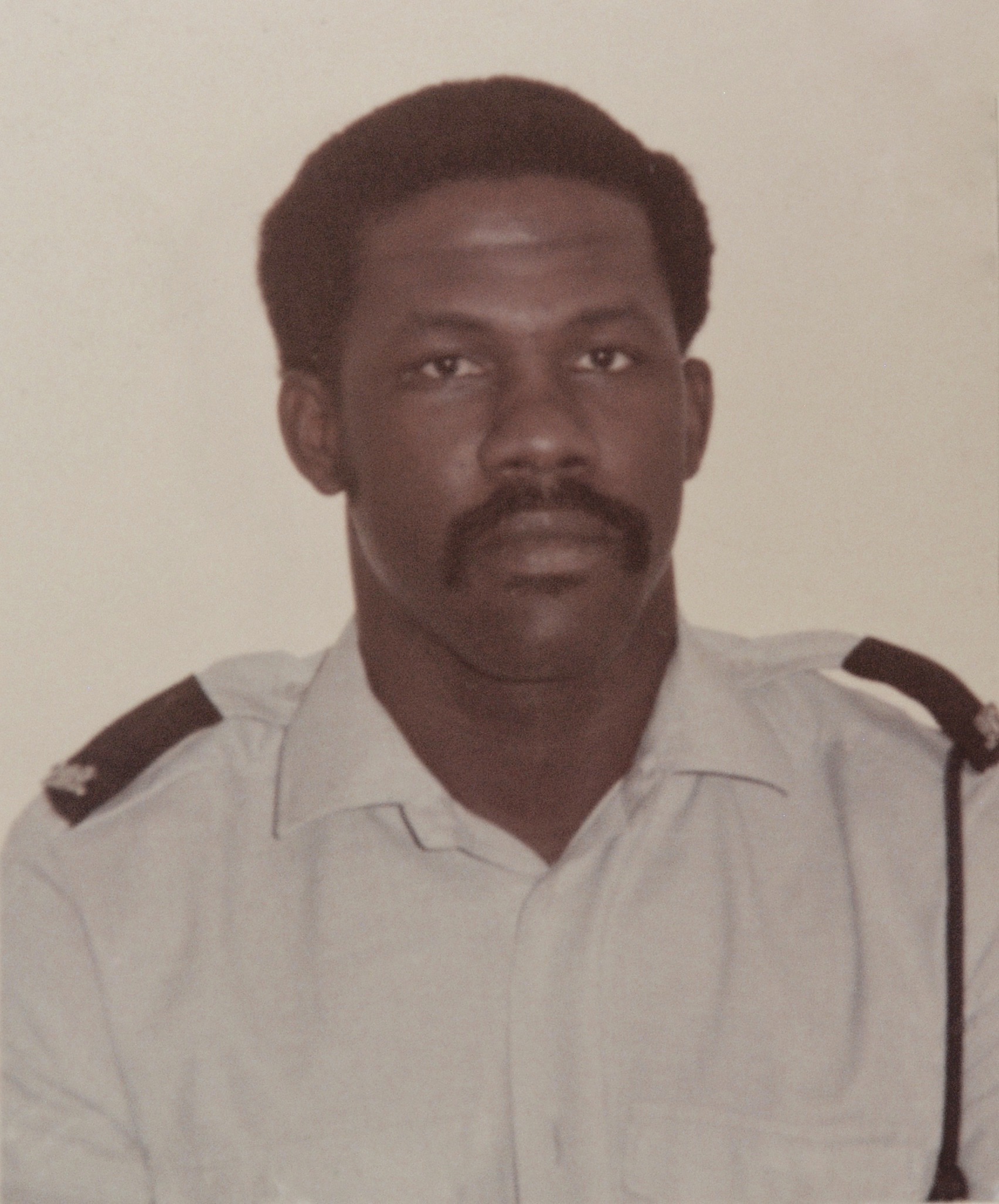 Sgt Laurie Phillips - July 2019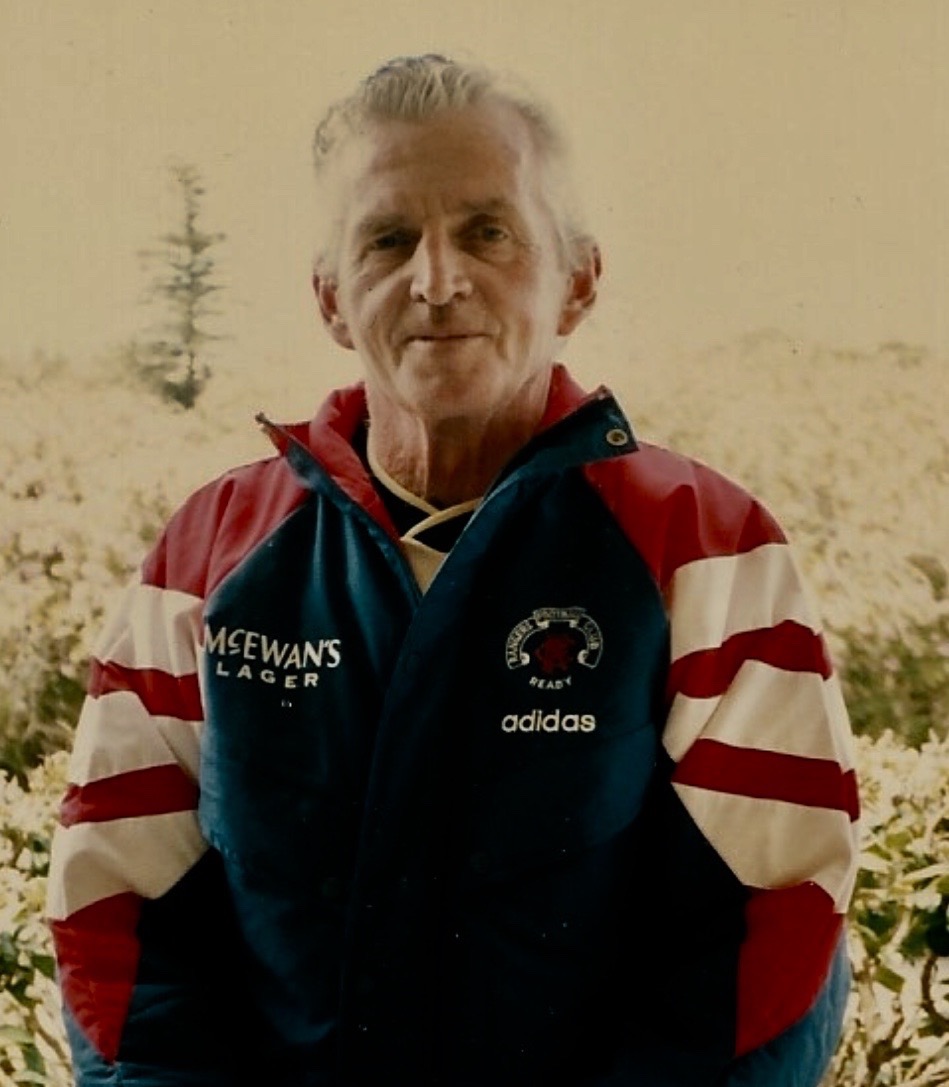 P.C. Frank Thompson - July 2019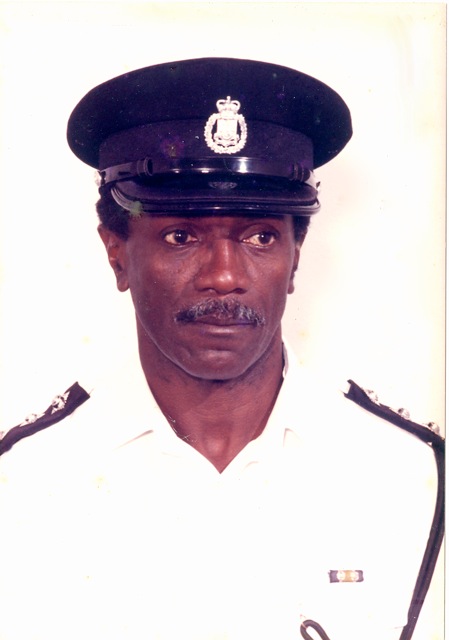 C/Insp Gerald "Gerry" James - July 2019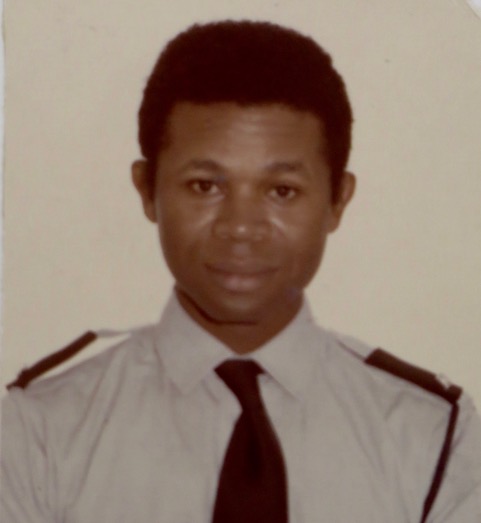 P.C. Leroy Jones - August 2019
Family members of any of these officers and any other of our former colleagues are welcome to attend and to place a wreath, or flowers during the Memorial Service.
To read more about the annual Police Week activities please go to our Latest News column at http://expobermuda.com/index.php/latest-news/773-you-are-invited-police-week-activities-2019
19th August
Get Together in Leeds - We just received this great photo of three of our former colleagues, Gerry Benson, Paul Deans and Paul Dellanzo, along with their respective wives Elaine, Mary and Susan, who all got together on Saturday 17th August in Leeds, Yorkshire, to reminisce about the good times they had in Bermuda back in the 1970's.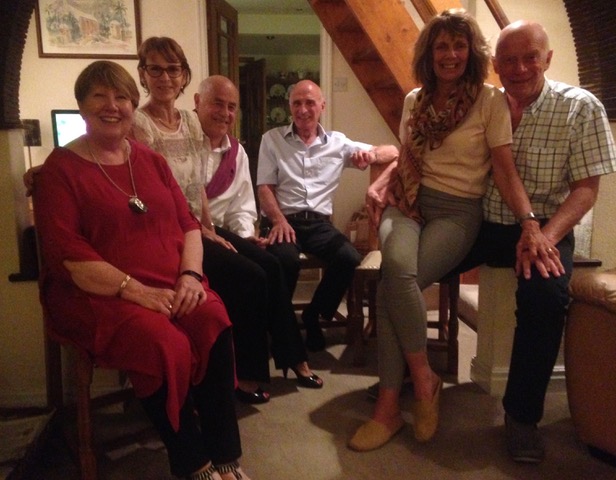 Get Together in Leeds - August 2019
(l-r) Elaine Benson, Susan Dellanzo, Paul Dellanzo, Gerry Benson, Mary and Paul Deans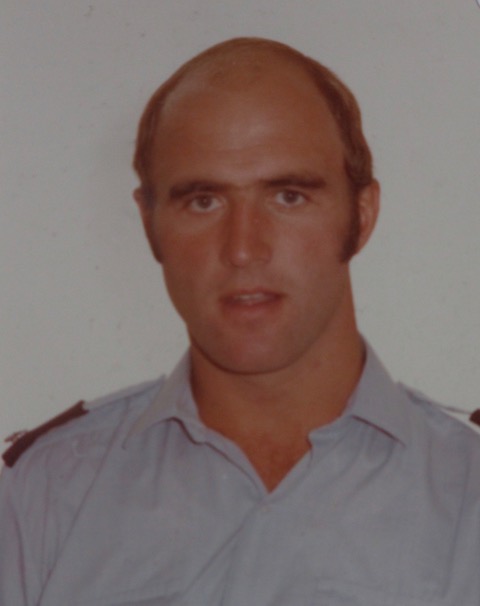 Young P.C. Gerry Benson
Gerry served here in the Bermuda Police from 1975-1981 and established his reputation as an exceptional athlete and sportsman having competed in many sporting endeavours including one of the first Hawaiian Iron Man Triathlons, and as a regular member of our Police Boxing Team. Apples don't fall far from trees in the Benson family, and Gerry and Elaine's children, Gordon and Laura, are both competitive athletes as we wrote about in one of our Latest News article which you can view at http://expobermuda.com/index.php/latest-news/363-benson-like-father-like-son-2 . Gordon went on to win a gold medal in the European Games and also represented England in the Rio Olympics in triathlon.
Gerry joined the Leeds Police after returning to the UK and he and his wife Elaine served in the Leeds Police. They are now both "retired" and are breeding Simmental cattle on a small farm near Leeds where Gerry says, "I work as a stablehand for Laura!"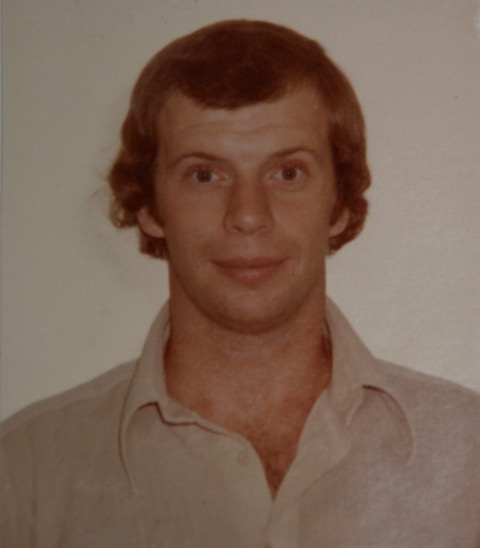 Young P.C. Paul Deans
Paul Deans served here for 5 years from 1973-1978, in Central Division and in Central CID, and he met his wife Mary while they were here in Bermuda. On their return to the UK, Paul first joined the Cambridgeshire Police before transferring to the Metropolitan Police and then the Northamptonshire Police where he rose to the rank of inspector before retirement. Paul and Mary were on their way from their home in Northamptonshire to a home they have near Keswick in the Lake District where Paul is originally from, when they stopped off in Leeds for this Get Together with the Bensons and Dallanzos.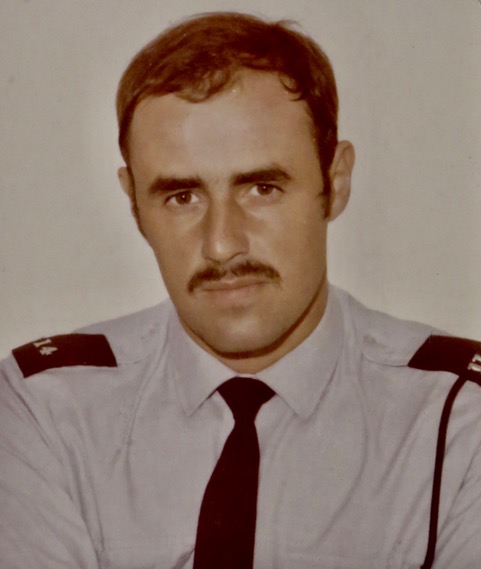 Young P.C. Paul Dellanzo
Paul Dellanzo started his police career as a Cadet and then as a P.C. in the Merseyside Police before coming out to join the Bermuda Police in 1975. Paul served here for 3 years before heading off to Canada where he served in the Toronto Metropolitan Police for a while, but he was always drawn to golf, having played here in Bermuda with the likes of Ron Wallace. We wrote an article about Paul entitled "Have golf bag will travel" which you can read at http://expobermuda.com/index.php/tan/717-paul-dellanzo
Paul's love of golf won out over his love of being a policeman and he made a strategic career move when he became involved in the golf industry in Canada, first as a Class A member of the Canadian PGA and gained valuable experience at various clubs and resorts, becoming Head Pro and Director of Golf at Whistler Resort Course. Paul married his lovely wife Susan in 1986 and they have two children, Emilio and Francesco. Paul has been involved in numerous major golf and development projects in the Middle East and around the world, and he operates his own highly successful company, Dellanzo Design.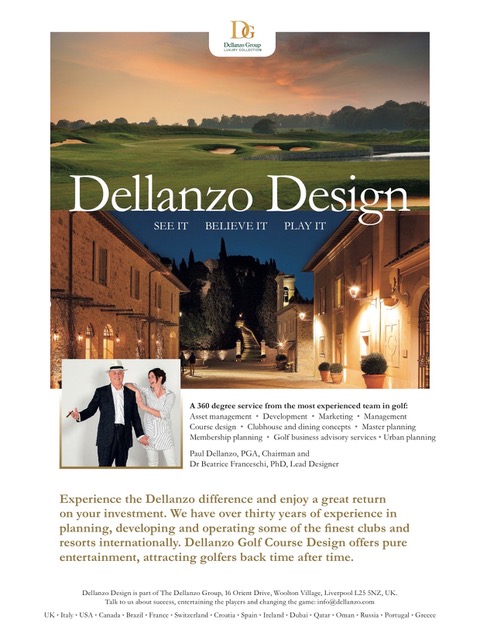 Paul is keen to bring Susan out to Bermuda at some point - sooner rather than later. Perhaps the next get together of these three couples should take place right here in Bermuda!
5th August
Passing of retired Sergeant Laurie Phillips - It was with deep regret that we heard the sad news that our old friend and colleague, retired Sergeant Laurie Phillips had passed away on 16th July 2019, as reported in our Latest News column at http://expobermuda.com/index.php/latest-news/768-sad-news-of-the-passing-of-sgt-laurie-phiilips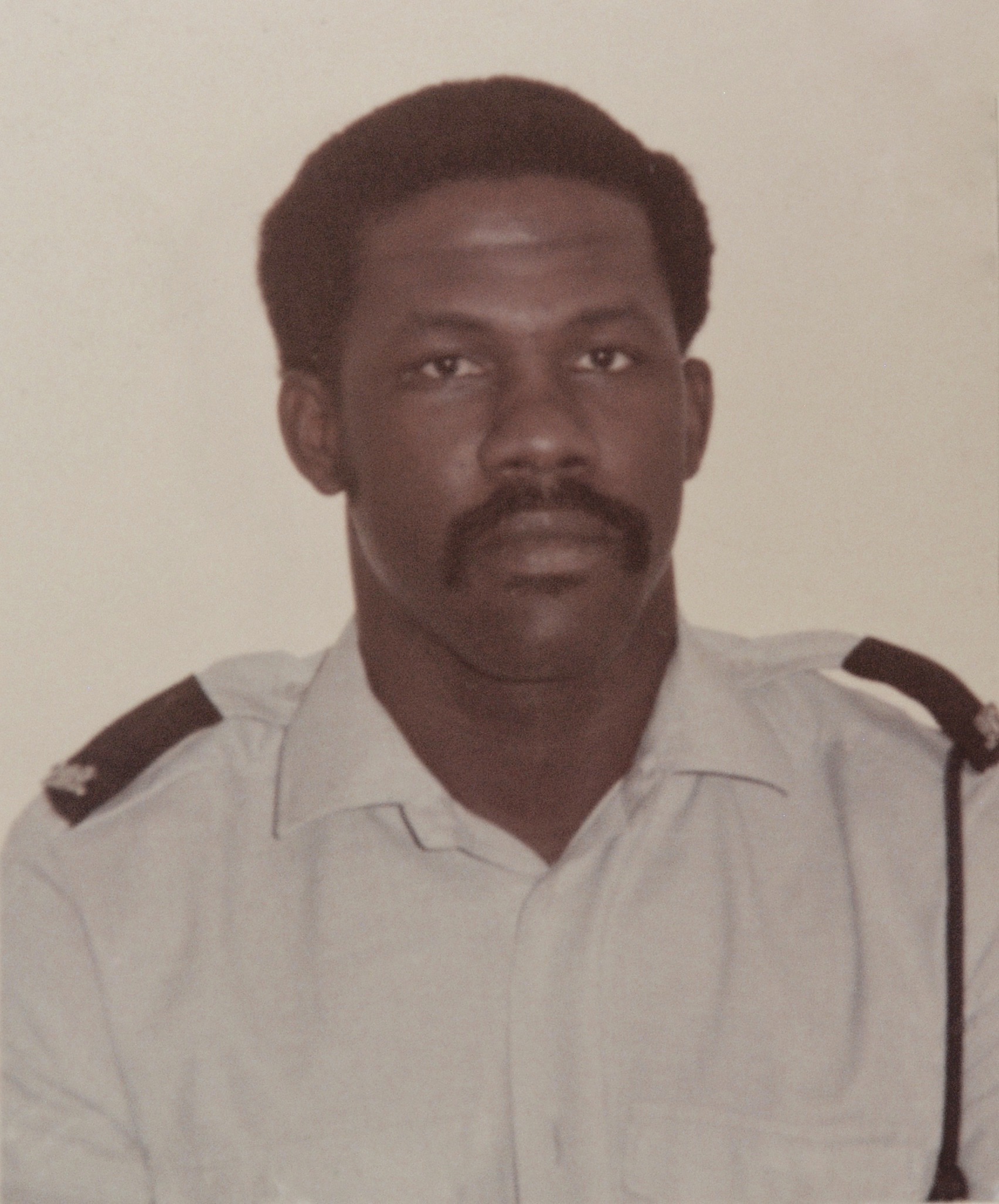 Sergeant Laurie Phillips
We were initially advised of Laurie's passing through the following message sent out by Commissioner of Police Stephen Corbishley on 16th July:-
"To All Members of the Service,It is with deep sorrow that I inform you that Former Police Sergeant Laurie McMellan Phillips, passed away earlier today. Sergeant Phillips is remembered fondly as a helpful, quiet, and conscientious member of the Bermuda Police Service . News of his death today is heart-breaking, and his loss will be deeply felt by our longer serving BPS colleagues. Sergeant Phillips commenced his employment with the BPS as a Constable on 19 January 1969 and was promoted in July 1981. He retired from the BPS in February 1995 after serving twenty six years of service. Please keep Sergeant Phillips' family and friends in your thoughts and prayers at this sad time.Funeral announcements will be made at a later time.
Stephen M. Corbishley
Commissioner of Police for the Bermuda Police Service"
We have been advised that a Memorial Service for Laurie will be hosted at St. Ann's Church in Southampton at 6pm on Tuesday 6th August 2019, immediately followed by a reception at the Police Recreation Club to which all friends and colleagues of Laurie are invited to attend.
An obituary for Laurie was published in the Royal Gazette and can be found at https://www.legacy.com/obituaries/theroyalgazette/obituary.aspx?n=laurie-m-phillips&pid=193414194&fhid=12136
30th July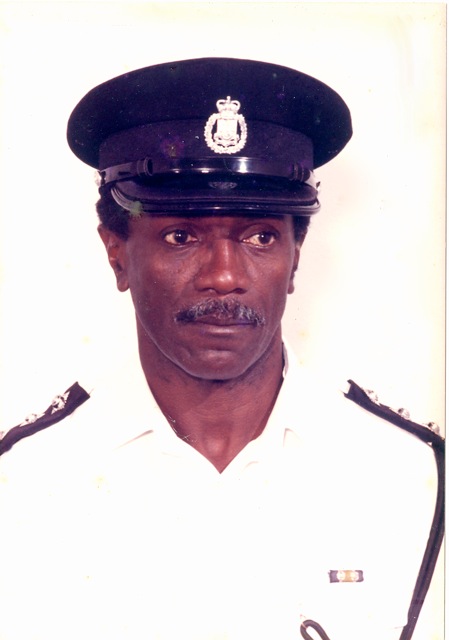 Chief Inspector Gerald "Gerry" James
We were deeply saddened to report on the passing of retired Chief Inspector Gerald "Gerry" James who died on July 19th 2019, here in Bermuda. Gerry had served with distinction in the Bermuda Police from October 1960 - November 1985. We posted the news of Garry's passing in our Latest News column on 19th July, which you can find at http://expobermuda.com/index.php/latest-news/769-sad-news-about-pssing-of-chief-insp-gerry-james
Gerry's funeral was held at Holy Trinity Cathedral in Hamilton on Monday 29th July, attended by his family, friends, and members and former members of the Bermuda Police Service, many of whom had served with him and held him in the highest regard. We had previously written an extensive article about Gerry's lifestory in our "Then and Now" column, and we have now added details of his funeral to the article which you can read at http://expobermuda.com/index.php/tan/23-gjames
29th July
Mike Caulkett on the Mend - We had previously reported on the death of Mike Parris on 24th May this year in hospital in Worthing, and we were having problems obtaining information about any arrangements for his funeral. Fortunately, Mike Caulkett lives near Worthing and he quickly made enquiries to assist us in obtaining details of "Big Mike" as a result of which we were able to publish funeral details, and we were delighted that the guys below were able to make it to the funeral which we reported on in our Latest News column, along with some details from John "Coco" Eve.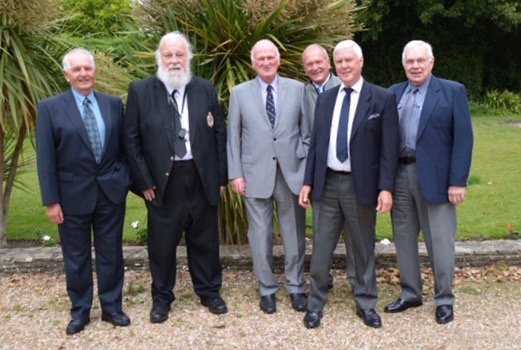 Attendees at Mike Parris's funeral
(l-r) Howard Parris, Nick Hall, John "Coco" Eve, Tony "Bumper" Laughton, Dale Thornton,
and Mike Jent. Roger "Shoes" Needham attended but had to leave after the Service.
Mike "Cool Cat" Caulkett had every intention of attending the funeral but most unfortunately, he was taken quite seriously ill shortly before the funeral and had to be admitted to hospital for an operation to remove a cancer, which included the removal of one of his kidneys. Mike also suffered from an infection following the operation so he's fgone through a rough patch but he's just been in touch with us to say he's recovered from the infection, he is slowly but steadily making progress, and his surgeon has been able to advise that the operation was a success although Mike will continue to need to have regular check-ups in the months and years ahead.
Mike has had to take it easy since the operation but he might have had some trouble doing so while watching the England cricket team going through a rough patch before qualifying for the World Cup semi-finals, despatching Australia in fine style in the semi-final, and then beating New Zealand by the thinnest of thin margins in one of the most closelt fought and exciting cricket matches ever players anywhere. Not exactly the sport to be watching when you're supposed to be relaxing and taking it easy. To make matters worse Mike must have been on the edge of his seat when our brilliant England team was dismissed for just 85 runs against, of all teams, Ireland in a one-off Test Match at Lords. It looked for all the world like our World Cup Team was going to be subjected to a trouncing by the fighting Irish, but when Ireland went into their second innings needed just 182 to win the match, England finally got their act together with Chris Woakes and Stuart Broad dismissing them for just 38 runs - the lowest score ever in a test match played at Lords, Mike will now have to watch England playing against the Aussies for the Ashes starting bext Thursday, and that will no doubt involve some serious nailbiting.
25th July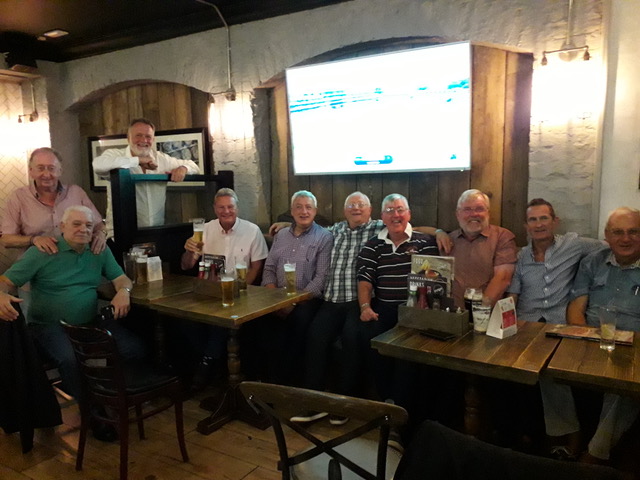 Get Together in Manchester – July 2019
(l-r) Dave Walker (standing), Bob Porritt, Dave Inwood. Bob Kinnon, John Headey,
Matt Taylor, Steve Taylor, John Riordan, Graham Blackshaw, and John Price

.
Grey haired "old gits" Get Together – We just received this photo from John Headey who explained that, "these grey haired "old gits" got together in Manchester earlier this month. John admits that the football link for the get together is a little tenuous now but there was lots of beer and lots of bull flowing, together with a little lunch.
John says everyone really enjoyed meeting up, especially Dave Inwood who is visiting the U.K. from Australia. They may all be grey haired but they look to be in fine fettle!
24th July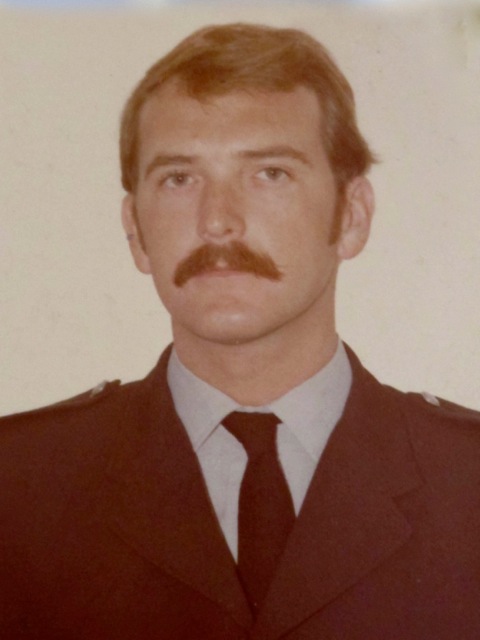 P.C. Anthony "Tony" Laughton
Planned visit by Tony Laughton - We have heard from former P.C. Tony Laughton, who served here in the Bermuda Police from May 1973 - Marcgh 1980, and worked in Central Division, Operations, MCPS, CID and Narcotics, during his 17 years on Island. Tony is planning to visit Bermuda early in October this year with his wife Yvonne. During his time in Bermuda Tony often looked after homes while their owners were off Island and prided himself on taking care of not just their homes but also caring for pets, pools and boats.
Tony is looking to find a home to take care of during his stay, or for reasonably priced accommodation. If you have any suggestions regarding accommodation please let me know and I'll be happy to pass it on to Tony.
10th July
TWO FRANK THOMPSONS -
We were deeply saddened to report on the recent passing of former P.C. Frank Hollindale Thompson who served in the Bermuda Police for several years having joined the Force in late 1959. You can find a detailed article about Frank in our Latest News column at http://expobermuda.com/index.php/latest-news/766-sad-news-abut-thre-death-of-frank-thompson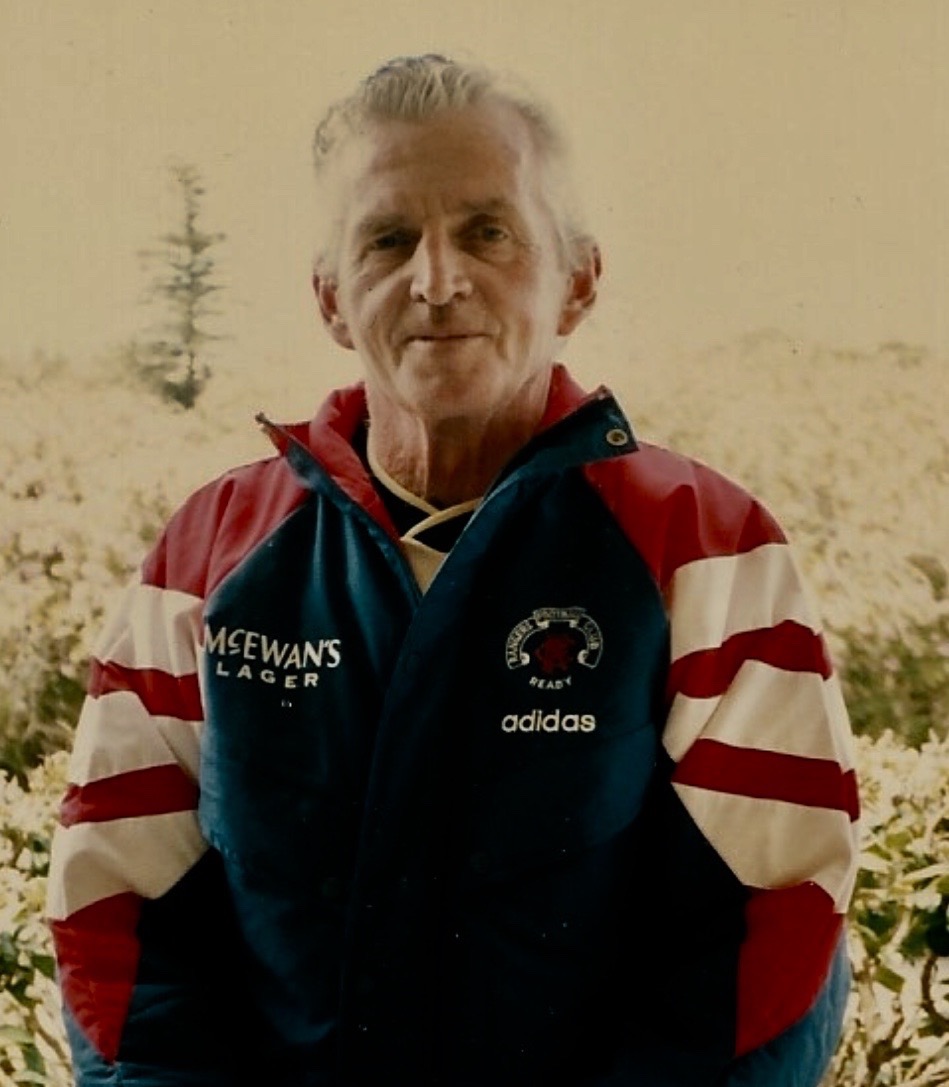 Former P.C. Frank Hollindale Thompson
We received several calls and enquiries about whether Frank was the same young Scottish officer who joined the Bermuda Police on 29th May 1964 and served here for just over 2 years. This was Francis John O'Grady "Frank" Thompson who hailed from Leven in Fife, and had served in the Fife Constabulary as a Cadet and Constable prior to arriving in Bermuda on the same date as John Charlewood and myself Roger Sherratt). This Frank Thompson served for a few months in Eastern Division and was then transferred to Western Division but he left after 2 years, and we believe he returned to Scotland. Retired Chief Inspector Dave Barber remembers him as a very nice quiet young man who was quite a good footballer. In checking his file I note that in 1964, the annual starting salary of a new recruit with previous police experience was £850 per annum.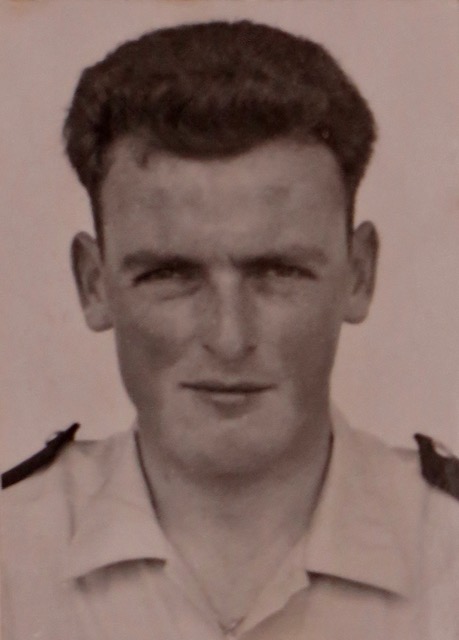 P.C. Francis John O'Grady "Frank" Thompson
There was initially some confusion because Police HQ could not find an entry in the Police Register for Frank Hollindale Thompson who was also Scottish having been born and raised in Glasgow, and he had proudly served in the Scots Guards prior to joining the Bermuda Police. We established that Frank arrived in Bermuda in late 1959 having attended Henden Police College on a police training course. He also served for just a few years before leaving the Force but he married a Bermudian, Patsy (nee Repose) and remained here for the rest of his life, working first as an engineer on board the Queen of Bermuda and later in the engineering department at BELCO.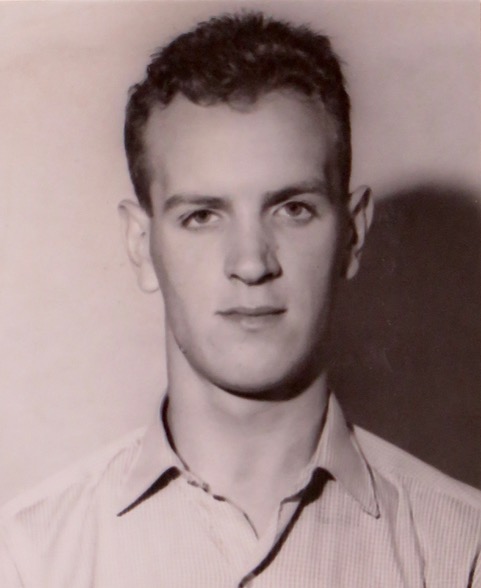 P.C. Clive Thompson
We also had enquiries about another P.C. Thompson, this being Clive Thompson who was born in Tynemouth and had served in the Royal Air Force for 5 years prior to being recruited into the Bermuda Police in August 1960. Clive was an avid sailor, and he worked in Central Division (Hamilton Police Station) and as an aide to Central CID before leaving the Island in February 1964, having married his wife Ann Rosemary in November 1963.
As this is our "Keeping in Touch" column we would be interested in hearing what happened to Francis "Frank" Thompson and Clive Thompson after they left Bermuda. If you know of anyone who stayed in contact with either of them we would be delighted to hear from you.
13th June
2.15pm
UPDATE RE FUNERAL FOR 'BIG MIKE'
We received news at 2.15pm (Bermuda time) from Jill Caulkett who has been contacted by Mike Parris's brother, Howard, who has advised that the funeral service for "Big Mike" will be held at the Worthing Crematorium at 12 noon on 20th June 2019 followed by a reception afterwards at Findon Manor. Friends and former colleagues of Mike are invited to attend.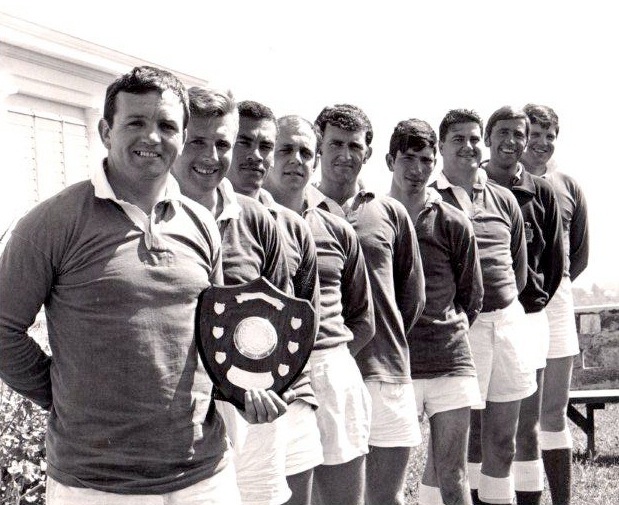 "Big Mike" Paris (far right) was the anchor for our Police Tug o' War team
Victorious Bermuda Police Team - 1969 Agricultural Show Tug o' War Champions
(l-r) Pat McBride, Davie Kerr, Gary Perinchief, Owen Marsh, Barrie Mancell,
Ray Sousa, Keith Pratt, Mike Caulkett and Mike Parris
11th June 2019
INVITATION TO JOIN EDDIE SPENCER'S FAMILY AT POLICE BEACH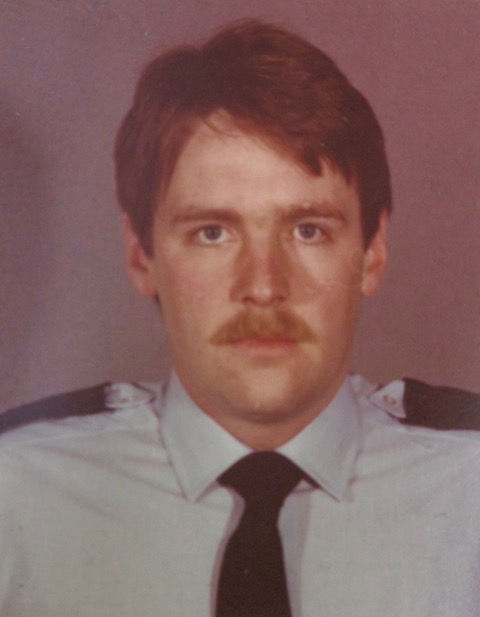 Police Beach has been in the news just recently and we're sure that many of our colleagues and their families will have the fondest of memories of wonderful times spent at this beautiful beach.
It certainly must have held fond memories for former P.C. Eddie Spencer who passed away in Scotland in July 2016, because his Glaswegian wife Anne, has just arrived on Island to make a very special visit to Police Beach.
Anne will be accompanied by Ed's sister and brother-in-law, along with Ed's daughter Amanda, who has great memories of being at Police Beach with her dad, and they would like to invite any of Ed's friends and colleagues to join them at Police Beach on Sunday 16th June 2019 at 7.00pm for the scattering of Ed's ashes.
We're grateful to Kevin Knights for bringing this to our attention and would encourage anyone who knew Ed or worked with him to join his family on this special occasion.

Eddie Spencer in happier days
Eddie was a most popular and well-liked member of the Bermuda Police who served in the BPS for 10 years, from 1978 - 1988 during which time he worked in Central Division (Hamilton), in Operations, and latterly in 'E' Department. You can read more about Eddie in the article we posted back in 2016 after hearing of his sad passing which can be found at http://expobermuda.com/index.php/latest-news/503-sad-passing-of-eddie-spencer
8th June 2019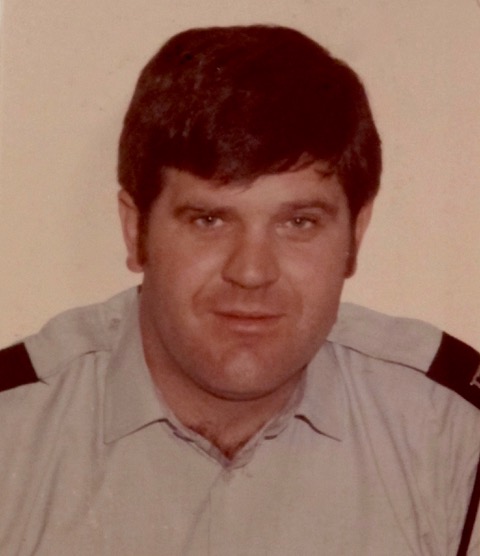 P.C. Mike "Big Mike" Parris
"Big Mike" Parris - We have already reported on the sad news of the death "Big Mike" Parris' death in Worthing Hospital on 24th May 2019 in our Latest News column at http://expobermuda.com/index.php/latest-news/758-death-of-big-mike-parris We have received numerous enquiries about funeral arrangements etc. and have been actively trying to obtain information but this is proving to be rather complicated to say the least. Mike Caulkett has been in touch with Worthing Hospital where we understand Mike's body is still located. We know that Mike's partner, Deidre, is apparently the person who is dealing with any arrangements but has so far not been forthcoming in this regard. Mike Caulkett has been able to make positive contact with Mike Parris's brother, Howard, who is checking on the situation and will hopefully advise of any progress. We are also still in touch with Judy Parris (Mike's first wife) but she too is having difficulty obtaining any information.
As soon as we hear anything definite we will provide you with an update.
31st May 2019
Paul Hendrick and "Moby" Pett - We heard from our old friend Paul Hendrick earlier this week. Paul now resides in Los Arquerios, Benahavis, just a little north and west of Marbella in Spain. He wrote to tell us of a five day visit to his home by Maurice "Moby" Pett, during which time they managed to play some golf and visit a number of great restaurants, and believe it or not, Paul assures us that "a beer or three was drunk as we reminisced about Bermuda in the early 70's."
Paul sent us the attached two photos, one of which was taken on the boardwalk in San Pedro and the second in the village of Benahavis which is just a little north and west of Marbella.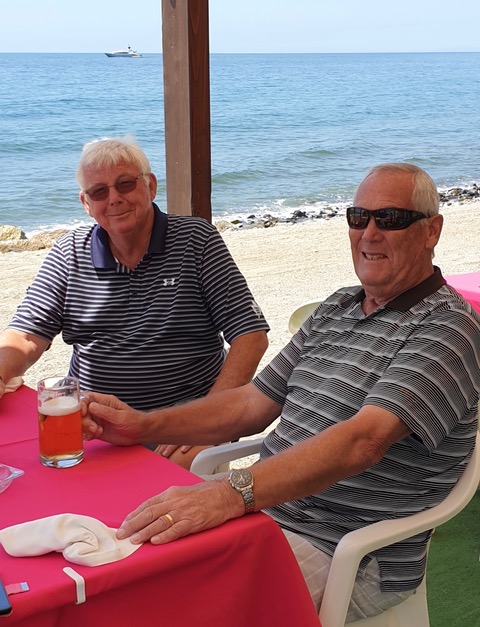 Paul and "Moby" chill out on the boardwalk in San Pedro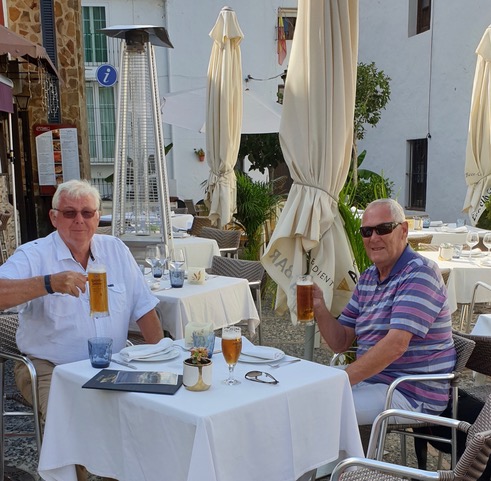 Paul and Moby reminiscing i

n the village of Benahavis
Paul had served here in the Bermuda Police from 1970-1975, and made the crazy decision to move to the cold climes of Canada where he worked for the NHL until he retired in June 2017.
Paul then decided that , "I didn't want to see another ice rink or any more freezing weather so I moved to Spain in August 2017 and now reside in Los Arquerios, Benahavis. Have a great view of the Med and the Rock of Gibraltar, play some golf and soak in the beautiful all year round weather." Not bad for a lad raised in Huddersfield!
You can read all about Paul's escapades in our "Then and Now" column at http://expobermuda.com/index.php/tan/130-phendrick
We can officially deny any rumours that Wahoo restaurant in St. George's put out an 'APB' for "Moby" during his holiday in Spain, but we hear that he was sorely missed! For those not in the know, Wahoo on Water Street is a great restaurant with an indoor and outdoor bar. Not to be missed if you're visiting the east end on vacation.
26th April
April MUST be reunion season for our ExPo members - We just received this photo of Peter Brown and Colin MacKenzie who recently had a reunion in Peterborough, Ontario. Peter and his wife Sue were on a tour of eastern Canada and met with Colin for a couple of drinks.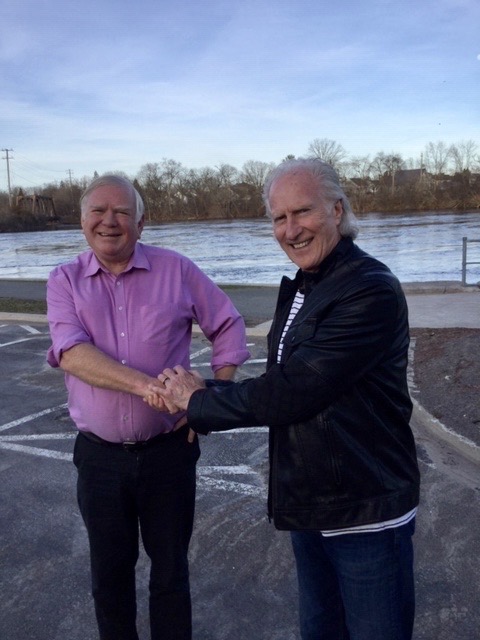 Peter Brown and Colin MacKenzie
get together in Peterborough, Ontario
Colin wrote to say, "It was good to catch up with Peter and we talked about some of the training he went through as part of a VIP Protection Unit during his police service in south-west England. Like minded reminders of why we still do certain things we were trained to do as body-guards gave us a flash back in time and we chuckled at some of the lighter moments of doing protection duties.
"His lovely wife Sue took the photo in the Peterborough Holiday Inn parking lot and in the background is the Otonobee River where in the summer there are always kayakers and canoeists enjoying themselves. There is also a cycle path all along the river for quite a number of miles and it makes for a great ride, great scenery.
"Peter and his wife were on their way to Ottawa and Quebec and I hope he managed avoided the heavy flooding in Quebec."
Peter and Sue are looking forward to visiting Bermuda in July for six weeks to look after the Barclay's Dog in Somerset.
Colin says, "It was good to see Peter and, if anybody is passing through this area in the future, then please contact me, happy to meet and chat. Best wishes to you and to my former colleagues everywhere."
Editors note - We are always happy to receive good news of our members meeting up with each other and remembering their good old days here in Bermuda.
24th April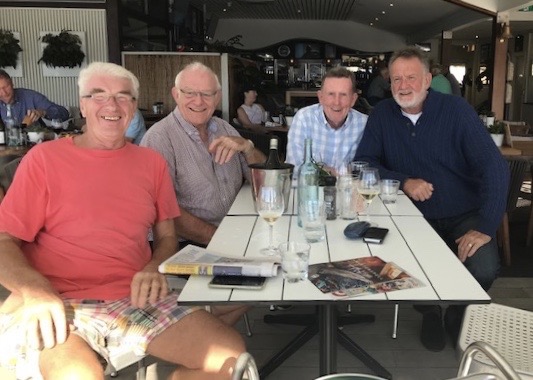 50 year reunion in Manly, Australia
Graham Marshall, Tony Diggins, Sid Gordon and Dave Inwood
Another April Reunion: This time in Australia - We've received ths photo of a reunion that took place in Manly, Australia a few days ago when our good friend Sid Gordon met up with Tony Diggins, Graham Marshall and Dave Inwood, at the Manly Skiff Club, in Manly, Australia.
These four guys were all graduates of the Basic Training Course class of 1968 and have remained close friends for the past 50 years. The foursome had lunch and shared experiences but Sid explained that "What happens in Manly stays in Manly!" Oh to be a fly on the wall!
As a memory tester Sid wants to know if anyone can recall the names of all TEN recruits who arrived in Bermuda in December 1968.
20th April
Reunion in Bristol - We have just received this great photo of the VI 80's reunion of our guys in Bristol in April. We understand that it was organized by Kev Buxton and that a good time was had by all. You can also view the photo on our ExPo website page. If you can provide any more information about the get together we would be delighted to hear from you. You can view the photo and comments on our ExPo Facebook page at https://www.facebook.com/photo.php?fbid=10157238264824275&set=a.10150387726969275&type=3&theater
ExPo Reunion in Bristol - April 2019
Sitting from L:- Glyn Brown, Mark Richardon, Steve Taylor.
Standing from L:- Steve Parkinson, Keith Senior, Kev Buxton, Brian Howard,
Nigel Brock,
Tim Stuckes, Chris Thomson, Neil Smith, Alan Earl, Neil Topping,
Peter Scobey, Bill Webster, Tim Roper, Stuart Mason.
We wrote to Keith Senior who attended this reunion to ask about how the group gets together, and he sent us the following:-
This year marks the sixth reunion year. Each year some make it some don't, some new faces also appear as the group grows, thanks to social media.
We all had our individual stories and service levels in Bermuda, and all have their stories which are shared over a beer.
The event is open to anyone who ever served during the 80's. It is usually organized by Kevin Buxton along with Stuart Mason. Organizing usually entails setting a date and venue and that's pretty much it!
Because of the numbers now involved, a few sub-groups get together, Divisional colleagues etc. It's never a problem and everyone just has a laugh and shares stories of what they are doing now as well as Bermuda stories.
Many lads enjoy the expo site as it gives an insight as to what Bermudian and Caribbean ex-colleagues are up to. Everyone asks after Cliff and send regards. A few are coming to Bermuda in September, as will I to visit my grandaughter.
Did you know my son Tommy is PC 2529?! (Editors note – No, I didn't, but will try to contact Tommy to ask what he's doing and where he's posted.)
I think Kevin has sent you a photo of the group with names. There were two newbies this time. Steve Tully and Brian Howard. Both said how they were a little apprehensive of the get-together after all these years, but both also said how glad they were to have attended and met up and shared time together.
To a man, everyone said how they enjoyed their time and service in Bermuda, and getting together with old frields over a 'dark and stormy' was a great way to spend a couple days.
Julie and I are kept busy day to day, and we enjoy travelling in Europe, as well as caravanning.
Warmest regards to all in Bermuda.
Death of Frank Dowie - On a sad note, we have just received news that Frank Dowie passed away on 19th April. This news came from Sid Gordon who read a note from Frank's family on his Facebook page.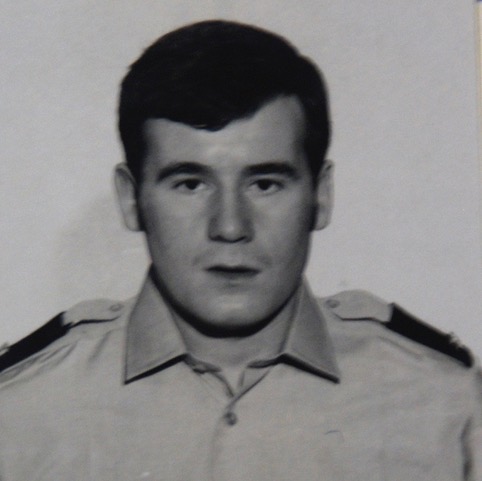 P.C. Frank Dowie
Frank, who was Scottish to the core, served here in the Bermuda Police from October 1970 - June 1974 having previously served for 4 years in the Lanarkshire Police. He worked for a while in Central Division before being transferred to Oerations and then to Cycle Squad.
We extend our sincere condolences to his family.
We will post more details as we receive them.
14th April
Ray Sousa writes to us about Jimmy Costello in the article below -
That was an excellent photo of Jimmy Costello with Keith Lovell, and Brian Malpas. I enjoyed working with Jimmy at Central [Hamilton] Station. He always saw the funny side of life and he still has that mischievous smile. As I remember, Jimmy could never tan and at times became a bright pink if he spent too much time in the sun.
He was possibly the best Station Officer I worked with.
I believe it was near the end of 1968 at the height of the Race Riots and issues following the assassination of Martin Luther King. Late at night, Jimmy was at the front desk of the station, I was in the back room doing a report. Due to the racial tension I kept an eye on the front door in case any trouble makers showed up.
An American woman in her 60's came in and had a long conversation with Jimmy. It was obvious that she was from the deep south of the USA. I heard her say, "Bermuda is a lovely, pretty Island, but there are so many black people. Can I ask you a question? Are you prejudiced? "
Jimmy replied in his especially sincere voice, "Of course not! I love white people."
"O God, I am so sorry. I didn't mean to offend you ", came the lady's sincere reply. When I left the Station some time later the woman was still talking to Jimmy; no doubt having her first long conversation with a "black man".
I often think of Jimmy when I hear the word " prejudice ". I have used the line myself when accused of been prejudiced. Of course, in my situation I have an advantage, I get dark in summer with some people believing I am Aboriginal, American Indian, from the Middle East etc. I don't challenge this believe because it often helps me get their cooperation.
Believing Jimmy is "black", is pushing the boundary of intelligence just a bit too far! Please give my regards to Jimmy and mention this e-mail to him.
All the best,
RAY SOUSA [P.C. 241]
Editors note - Ray served in the Bermuda Police from 1966 - 1974 and he then emigrated to Australia with his wife Pat. They settled in EWestern Australia where Ray worked as Ranger, and later as a Community Emergency Services Coordinator which often involved him in fire fighting. You can read more about Ray's fascinating lifestory including his action filled time in the Bermuda Police in our Then and Now column at http://expobermuda.com/index.php/tan/40-rsousa
9th April
Brian Malpas, Keith Lovell and Jimmy Costello - A quick visit to the Police Club last Thursday lunch-time revealed that at least three of our "old-timers" usually meet at the Club around 1pm every Thursday - Brian Malpas, Keith Lovell, and Jimmy "The Whop" Costello.
Getting together at the Police Club
Brian Malpas, Keith Lovell and Jimmy Costello
Jimmy was spotted outside the old HQ Building feeding his cats before heading into the club! Most of us will remember the years with Jimmy was in charge of Stores. In fact literally hundreds of us will have been issued with uniforms by Jimmy who served in the BPS from July 1967 until his retirement in August 1995. Jimmy always fed the cats while he worked at HQ, and even though he now lives in Somerset, he visits HQ just about every day to feed his cats. Unfortunately, Jimmy has an unfortunate accident in his car outside the Club (no he had not been drinking) but he has been advised not to drive his car for six months because of a medical condition.
Also present at the club was Brian Malpas who joined the Bermuda Police way back in 1957 after serving for a couple of years in the Birmingham City Police. Brian spent most of his service in Western Division plus a spell in Marine Section, but he's devoted much of his life to diving on Bermuda's wrecks and is considered to be an expert in the field! Brian has some health issues but he often comes out to our ExPo functions.
Keith Lovell also joined the Force in the 1950's - in October 1959 after first serving in the Royal Military Police. Keith spent some time in Western Division and in Central Division, then in Marine Section until he left the Force in 1970. An excellent darts player who played regularly for the Police team, Keith went into business himself doing construction projects where he excelled because of his excellent carpentry and do-it-yourself skills. Keith and his wife Jade caught the travel bug many years ago and they have travelled around the world making a point of visiting exotic and unusual destinations.
The trio are often joined on Thursday lunch-times by Jerry Lyons.
30th March
Bobbies BEFORE the Birdcage - On 12th March we published this photo of a "Bobby" at Heyl's Corner in this column and also in our article on the history of the Bobby in the Birdcage which you can view at http://expobermuda.com/index.php/lia/219-bobbiesinbirdcage
It was one of a series of colour enhanced postcards some of which can be found on the Facebook page "Old Bermuda; Our Island, Our History" which provides a nostalgic glimpse into some of the hay days of Bermuda's tourist industry. This particular card was posted by Derek Mitchell who has included specific details as to how and where it was produced on the Facebook page at https://www.facebook.com/photo.phpfbid=2063662883670760&set=p.2063662883670760&type=3&theater
I had hoped we might someone who could identify the constable, and lo and behold, I just discovered that the question had been answered, by Jimmy Amos, who was very familiar with it because the constable in question was his father James Amos who served in the Police Force for many years and retired as an Inspector. Jimmy has been drafting some notes about his father for an article in our Hall of Fame which we look forward to publishing soon.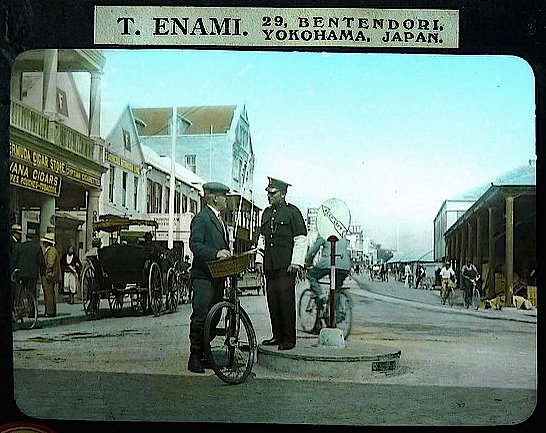 The Police Officer in this 1932 photo is young P.C. James Amos
29th March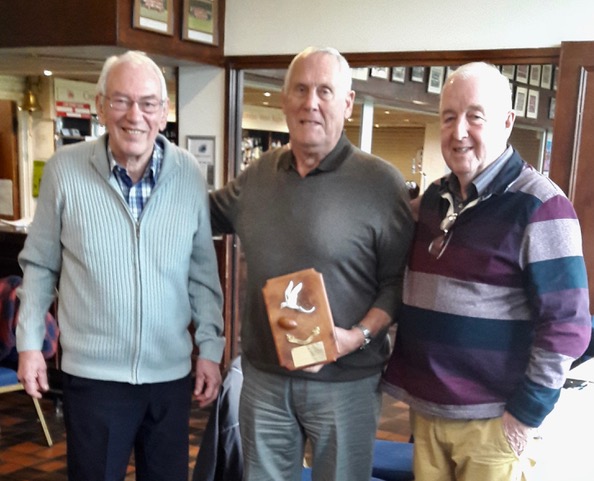 Ken Van That, "Moby" Pett and Dai Thomas
at the London Welsh Rugby Club
Dai Thomas, Ken Van That and "Moby" Pett - We just received this photo of Ken Van Thal, "Moby" Pett and Dai Thomas at the London Welsh Rugby Club with a plaque that was presented to the club by John Williams during the one game "tour" by the Bermuda Rugby Team back in 1999. The plaque still has pride of place in the club's trophy cabinet.
Dai was writing with regard to the article we just posted about Mike "Dagwood" Rickards who was featured in a great article in the Royal Gazette
This week. You can view the article at …..
Dai was recalling the time when he, Eddie "Boxhead" Foggo and myself were the "Radar Team" for at least a year while we were in Traffic, and we booked literally thousands of speeders during a time when the Magistrate's Court held two radar courts every week, each of which dealt with about 60 radar cases, that is, about 120 speeders per week. I remember one particular occasion when we booked 45 speeders in one day which was some sort of record. We were only restricted by the number of cases that could be dealt with in court, and we tried to stay within the limit of not giving speeding tickets for court dates more that 6 weeks after the date of booking!
A great advantage of working with 'Boxhead 'was that on the days when oiur two-way radio wasn't working 'Boxhead' could shout out to us the vehicle numbers and speeds recorded from at least 100 yards away!
'Dagwood' was working in Operations at that time and he would frequently interrupt us on the Police radio to remind us, "No breaks!"
Dai recalls doing a lot of running with Mike and our other Police runners and says he's still keeping active – but no more running!
12th March 2019
Brian Foster - Almost in the Birdcage! We just spotted this postcard photo in an album of photos on the Facebook page of "Old Bermuda: Our Island, Our History" which has a fascinating collection of old Bermuda photographs that is well worth visiting for anyone who has spent time any time in Bermuda. You can find "Old Bermuda: Our Island, Our History" at https://www.facebook.com/photo.php?fbid=10157408600406424&set=oa.10158071664923306&type=3&theater
There is also a great photo of Lynn Hall and Andy Dryburgh in the same album on Facebook which is featured in our website article on Lynn Hall in our "Then and Now" column.
Most of us who served in the Bermuda Police from the early 1950's through to the 1990's will no doubt have spent a few hours directing traffic, and answering endless questions, as the "Bobby in the Birdcage" in Hamilton. What many may not realize is that the "Birdcage" was very aptly named in honour of the then Hamilton City Engineer, Geoffrey Bird, who came up with the design as a way of providing shade and shelter from the blazing sun and rain. You can read all about the Bobbies in the Birdcage, and see a collection of photos of some of those bobbies on our website at http://expobermuda.com/index.php/lia/219-bobbiesinbirdcage
If you happen to have a photo of yourself in the birdcage please feel free to send it to us. You may also be able to assist us in identifying several of those "bobbies" featured in the article.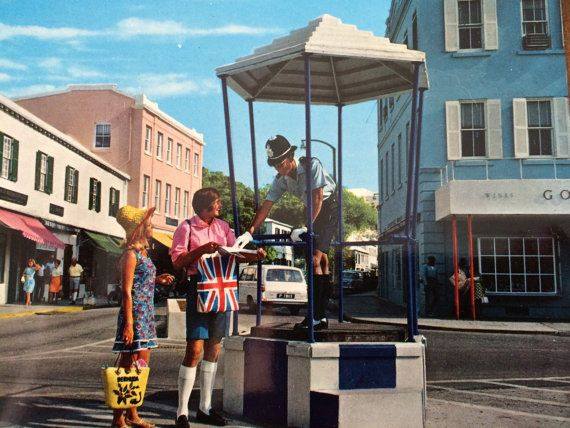 Brian Foster - Almost in the Birdcage!
Can you help us identify the Bobby in the Birdcage?
At the beginning of the article on "Bobbies in the Birdcage" we suggested that police constables had probably been directing traffic at Heyl's Corner since at least the early 1950's. On checking through several photo albums published on

the "Old Bermuda; Our Island, Our History" Facebook page we found the following black and white photo of a constable

directing "traffic"at Heyl's Corner which was probably taken in the 1950's. No surprises there!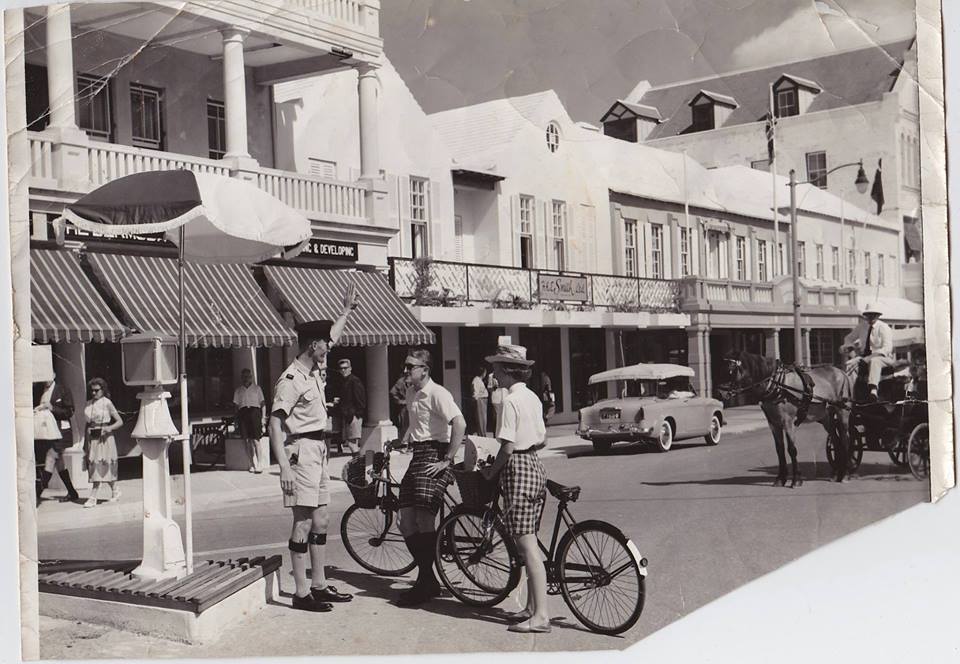 Can anyone assist in identifying the officer "directing" all that traffic!
However, we then discovered the following two additional photos which are dated circa 1932. The second photo is exactly the same scene as the first but with more detail. It was posted by Derek Mitchell who has kindly provided the following information about it:-
Unknown Photographer (Source: T Enami / Okinawa Soba)
After c1928 replacement of Trimingham's balcony and c1929-1930 installation of Front Street railway tracks, and also after the 1931 removal of original storage shed to west of No 1 Shed, this photo shows work completed to the western extension of No 1 Shed by 1932. The photo was hand-coloured by T Enami of Yokohama, Japan: while the original photographer has not been identified it is clear that Enami had access to at least some Rutherford photos.
The dais shown here was upgraded with a lighted 'keep left' sign apparently after 1932 and before 1935.
Bermuda produced many of these colour enhanced postcards and it appears that some were produced on the other side of the globe - in Japan. There is a great collection of these postcards on the "Old Bermuda; Our Island, Our History" which provides a nostalgic glimpse into some of the hay days of Bermuda's tourist industry.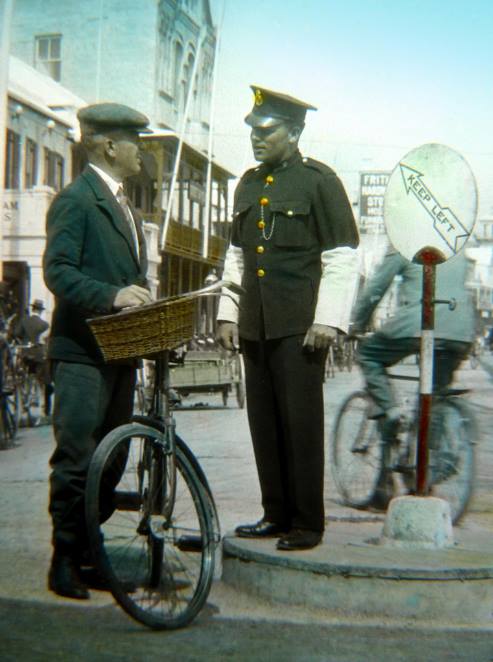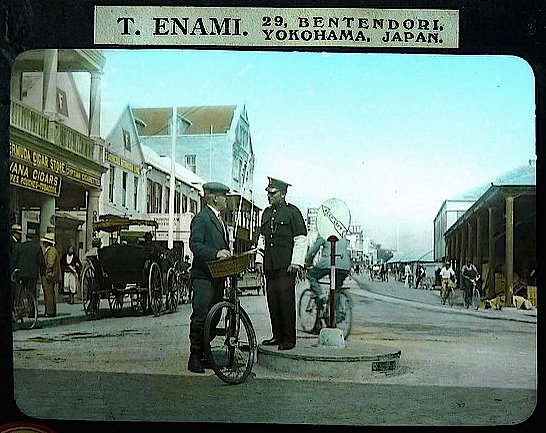 The chances are remote but can anyone help us to identify this police constable from 1932?
11th March 2019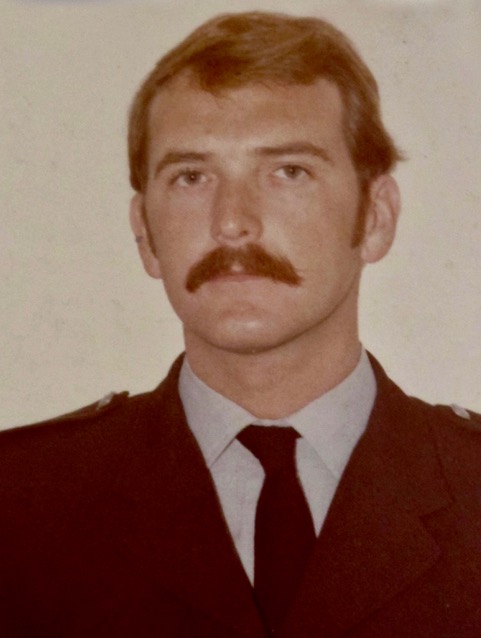 Young P.C. Tony Laughton
We recently received the following photo from Tony Laughton taken at his home in Chesterfield, Derbyshire, when he and his wife Yvonne hosted a get together from a group of Tony's old mates from the Derbyshire Police, including Dave and Sylvia Cart who were on holiday in the U.K.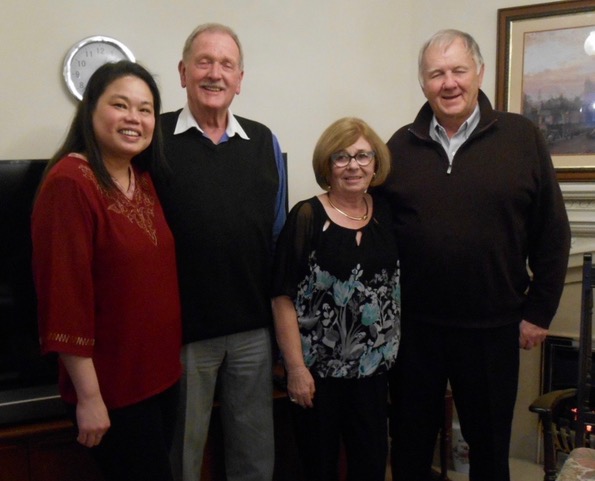 Get Together in Chesterfield
(l-r) Yvonne and Tony Laughton with Sylvia and Dave Cart
After getting together in a local bar, the group of 11 were invited back to Tony and Yvonne's home for lunch where Dave met up with some former colleagues who he hadn't seen in some cases for 45 years.
Tony and Yvonne attended the Bermuda reunion organized by Bill Nixon and held in Birmingham in 2014. You can read all about this reunion at http://expobermuda.com/index.php/lia/334-birminghamreunion
Tony was also in touch with us recently because he and Yvonne are planning a possible vacation here in Bermuda in July this year.
I must apologize to Tony who sent me the following humorous snippets a while ago about one of our most unforgettable characters, former Sgt. Willy Woods
"Willie Woods once said, on being invited to Government House to be given his Long Service Medal by H.E. The Governor, "Awfully sorry, I have another engagement". What a character he was - used to walk around with a large mug with a tea-bag label hanging down the outside. Of course you'd assume he was drinking tea. The label string was cellotaped to the inside and there would be beer in the mug! On his annual medical, Dr. Blackwell, concerned about his alcohol intake, once asked him, "Do you like to drink?" Willie replied, "Well, it's a bit early, but I'll join you if you like" Memories.....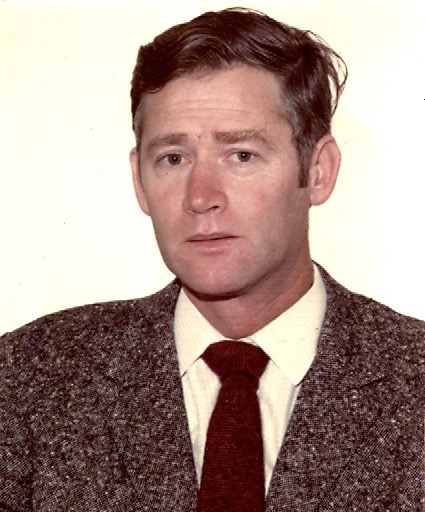 Retired Sgt Willy Woods
Just in case you were wondering, Wllly is still residing here in Bermuda near Wilkinson Avenue in Bailey's Bay. I often see him on the pink and blue heading into or out of Hamilton. He keeps very much to himself but still has that Irish twinkle in his eyes!
21st February 2019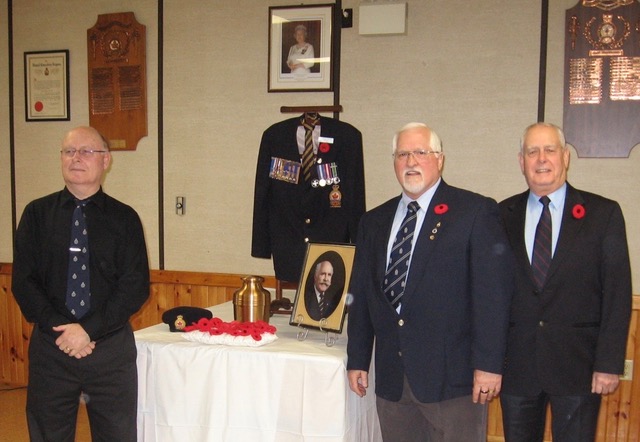 Celebration of Life/Memorial Service for David Parsons at the Elmira Legion
(l-r) Former Bermuda Police Officers - Ian Kittle, Jeff Baker and Colin Fairbairn
On Wednesday 20th February 2019. Three ex members of the Bermuda Police Service, who now live in Canada, Ian Kittle, Colin Fairbairn and Jeff Baker, were able to travel to Elmira, a small town in Central Ontario, Canada, to join in the celebration of Life/Memorial Service, of one of our dear departed members. Ex. Chief Inspector. David Parsons, who had settled there on retirement. David on taking up residence in Elmira, became the Towns By-Law officer. He became very active in the Royal Canadian Legion and his Memorial Service was held at the Elmira Legion. He attained the highest offices in the Ontario Command and by his distinguished service was afforded a full Legion Memorial Service, resplendent with a full colour party.

From the amount of people who attended the service, and eulogised David, it was evident he was held in the highest esteem, and it became obvious in talking with people, that he had held court at the Legion on numerous occasions and regaled them with numerous incidents of his Bermuda Police experiences. Members of the Family who were present were very appreciative of our attendance. May he rest in Peace.

Best wishes,
Jeff Baker
18th February 2019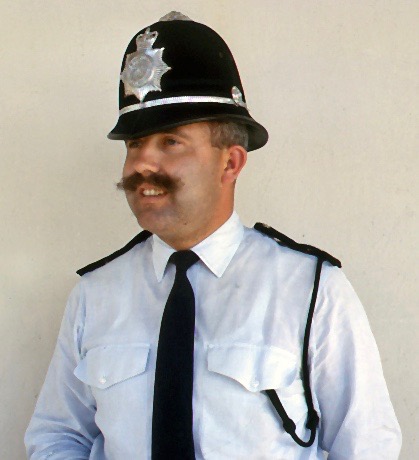 Young Constable Dave Parsons with his legendary moustache
OBITUARY FOR DAVE PARSONS - We have previously reported on the sad death of retired Chief Inspector Dave Parsons who died in Ontario, Canada, on 10th February 2019. You can read more about Dave in our Latest News column at http://expobermuda.com/index.php/latest-news/745-sad-death-of-dave-parsons
Jeff Baker very kindly sent us the following obituary which has just been released by Dave's family:-
Mr. David Parsons, resident of Elmira, Ontario, formerly of Worthing, Sussex, Great Britain, passed away on Sunday, February 10, 2019 at St. Mary's General Hospital, Kitchener, at the age of 86 years.

Dave came to Canada in 1979, when he left his job as Chief Inspector of Police in Bermuda, with his wife Lilian. They bought a home in Elmira where David became the "distinguished" by-law enforcement officer. He was affectionately known as "Mr. Whiskers" by the little ones he safely saw across the road.

His passion, besides policing, was playing and watching soccer. This love of "the game" was manifested with him becoming a FIFA referee, and refereeing many international games.

"I don't get mad, I get even," was one of Dave's mantras, which gives us all a little concern as to what might be taking place on the other side! This character of our family will be sadly missed.
Dave was predeceased by his wife Lilian, his mother and father, and his sister Margaret. Survived by his children Andrew (Ann), Nigel (Sue), Fiona, and Lois. Also survived by his grandchildren Philip, Elizabeth, Adam, Nigel, Justin, Jacob, Erica, Carly, Matt, Simon, Rachel, Cory, Nikki, Kami, JJ, and special friend Barry.
A celebration of his life will be held at the Elmira Legion, 11 First St. E., Elmira, on Wednesday, February 20, 2019 with a memorial service starting at 1:45 p.m. and a reception from 2-5 p.m.
At Dave's request, in lieu of flowers, donations to the Royal Canadian Legion Br. 469 Poppy Fund would be appreciated.
Donations:
Poppy Fund, Royal Canadian Legion, Branch 469
11 First Street East, Elmira, ON N3B 2E3
We offer our sincere condolences to Dave's children Andrew, Nigel, Fiona and Lois, and to his 15 grandchildren and all his relatives and friends.
Jeff Baker is hoping to attend the funeral in Elmira and we know that any of Dave's former colleagues would be welcome to do so.
11th February 2019
We 're having a tough start to the New Year with the passing of quite a few of our old friends and colleagues. Following the passing of retired Inspector Neil Cox on 2nd January (as reported below) we have since lost former P.C. Tim Burch who had featured in the BELCO riot of 2nd January 1965 during which he was quite seriously injured (see our Latest News column at http://expobermuda.com/index.php/latest-news/744-sad-news-about-the-death-of-tim-burch for details of his passing.) Tim death was also covered in an article in the Royal Gazette which can be viewed at ihttp://www.royalgazette.com/news/article/20190209/policeman-injured-in-belco-riots-dies-at-79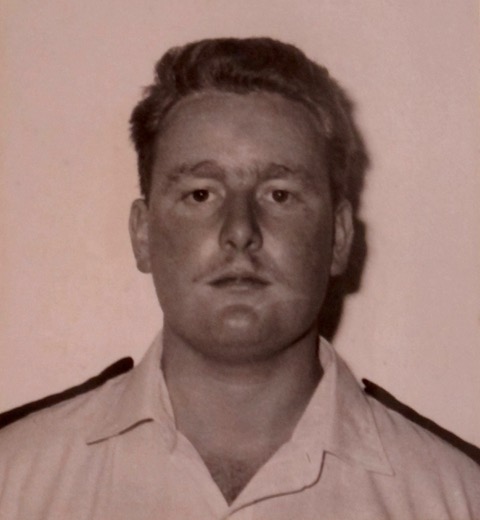 P.C. "Tim" Barry Burch
And during the past week we have lost two of our outstanding characters with the death of retired Chief Inspector Peter Stubbs on 31st January 2019, which we reported on our ExPo website athttp://expobermuda.com/index.php/latest-news/743-sad-news-about-passing-of-peter-stubbs and yesterday we received news of the death of retired Chief Inspector Dave Parsons in Ontario, Canada at the age of 86.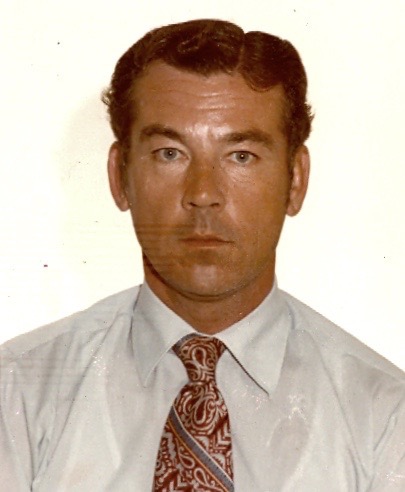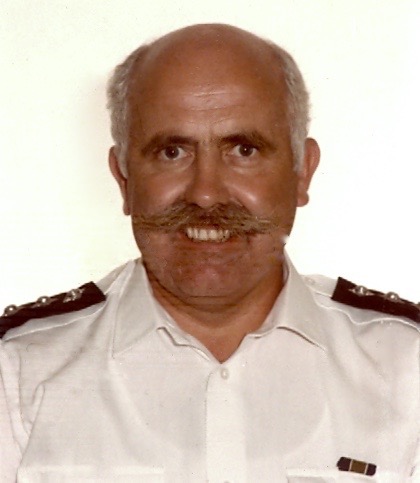 Peter Stubbs Dave Parsons
By coincidence, I came across this photo taken at the Officers Mess some years ago, showing both Peter Stubbs and Dave Parsons behind the bar taking care of another legendary Inspector - the Late Sean Sheehan. We have now lost all three of these great characters two of them in the last couple of weeks.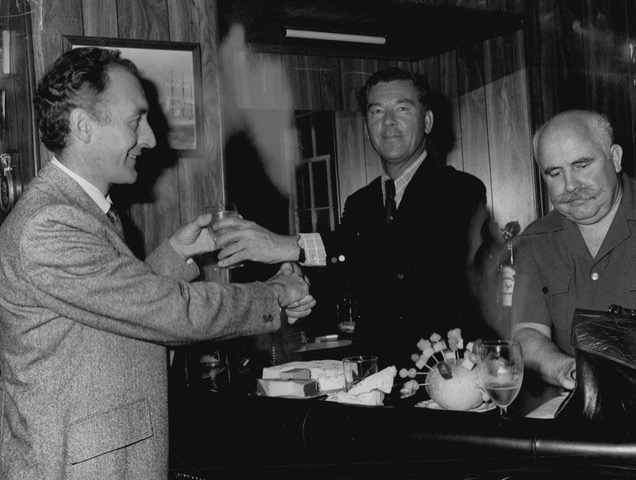 Sean Sheehan accepts a drink and a handshake from Peter Stubbs
who is being assisted behind the bar by Dave Parsons. What a trio!
22nd January 2019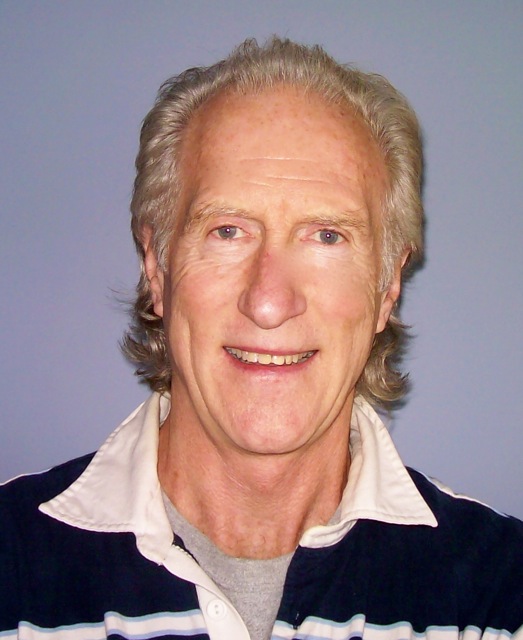 Colin MacKenzie - still active
Colin MacKenzie - We've received several emails from our old friend Colin MacKemzie over the Christmas period and I suspect that when you've lived and worked in Bermuda, as Colin did from 1970 – 1979 before heading off to Canada, you might begin to think back to fond memories of sunny days on the beach in Bermuda compared to the freezing cold of Canada in mid-winter!
Colin has always been sports crazy - rugby being his passion here in Bermuda where he was a regular in our Police Team, but he was also introduced to squash by Crawford "Crow" Rae at the Police Squash Court at Prospect.
Colin has continued his squash career in Canada and he recently wrote the following about his continued involvement in the noble sport where he now concentrates on coaching:-
"I have given lessons for the past 5 years or so and as with working in any environment where you come in contact with students and adults, the YMCA is no exception and I had to have a criminal background check done.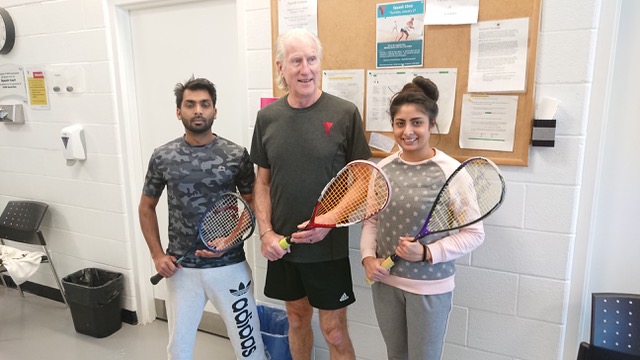 Colin and two of his squash students
The brother/sister combo in the photo are originally from India, both working here and have been coming for lessons for a couple of months now. First timers always get a gift of some kind from me, on behalf of the YMCA.
Once players have progressed in their lessons, then I recommend that they join a ladder group where they play other people on their ladder for points. The top two point-getters on a ladder get promoted and the lowest get demoted to one ladder down. The brother and sister are not quite ready for ladder status yet but getting there. The red "Y" on my T shirt signifies the YMCA and the back has the word "Volunteer."
On Thursday I give a lesson to a 14 year old high school student who is already playing others in his ladder but he has a weak backhand so we will be working on that. He is the son of Tara Sharpe, a one time Ontario juniour girls champion.
Everybody has to do a warm-up/stretch with me before going on the court and every person coming for their first lesson gets a hand out of the rules, as well as an explanation of terminology like " a let" and "a stroke." I am also on the ladder (Ladder 1) and often my opponents are 30/40 years younger than me so I have to use every trick, deftness, dirty drop shot, deception I can muster to get my points but it is fun and a great cardio work-out.
Before I offered to give lessons 5 years ago, there were no lessons available and in the past 5 years the YMCA has seen a marked increase in requests for lessons which is a good sign there is significant interest in the game. In addition, the 40 minute workout suits many, preferring this type of a workout rather than go to the gym. I am sure at some point my body will say enough is enough, but until that day comes I say….."Squash On!"
Colin and his wife Laura have settled in Peterborough, Ontario,and they have two children and two grandchildren.
Sad to hear the passing of Neil Cox, one of my Sgt's in SB when I was at Travel Control and body-guarding. A dry wit and sense of humour but always there for guidance and leadership which I appreciated.
I wonder if you could pass on my e-mail address to Winston Esdaille. I have some questions and information for him. I know he was at the Hamilton Princess Hotel some years ago but my e-mail to him there was not delivered.
Best wishes to my former colleagues on the Island.
Colin.

Editors note – Have forwarded Colin's email address to Winston who I see from time and he still always looks smart and debonaire!
Colin wrote an article for our "Then and Now" column a few years ago which you can view at http://expobermuda.com/index.php/tan/76-cmackenzie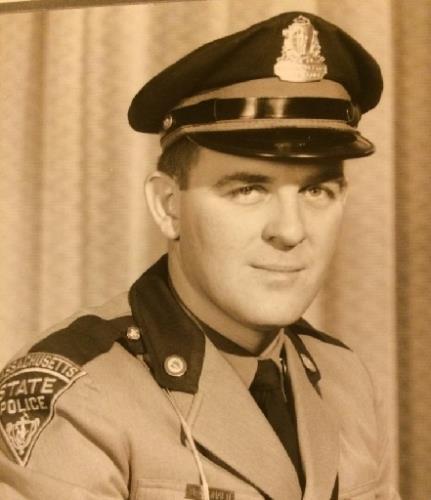 Lt. Fred MacDonald
Death of retired Lt. Fred MacDonald - We have received sad news from Ken Lewis in England about the passing of Lt. Fred MacDonald who was a regular member of the Massachusetts State Boxing Team. Fred was a very popular member of the Massachusetts Team which held annual boxing tournaments in Bermuda and Massachusetts between our Police Boxing Team and the Massachusetts State Troopers for the Dewars White Label Trophy. Fred saw action in the ring against Ian Coyles and he later became an active member of their committee during the 10 years or so when this popular event was held, and which resulted in forming close and lasting bonds between our two police organizations.
We understand that Fred, who was 81, had been unwell for some time. We extend our sincere condolences to his family and to all the members of his team.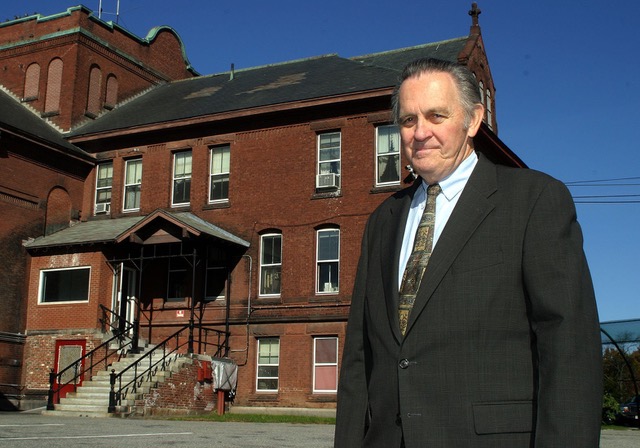 Retired Lt. Fred MacDonald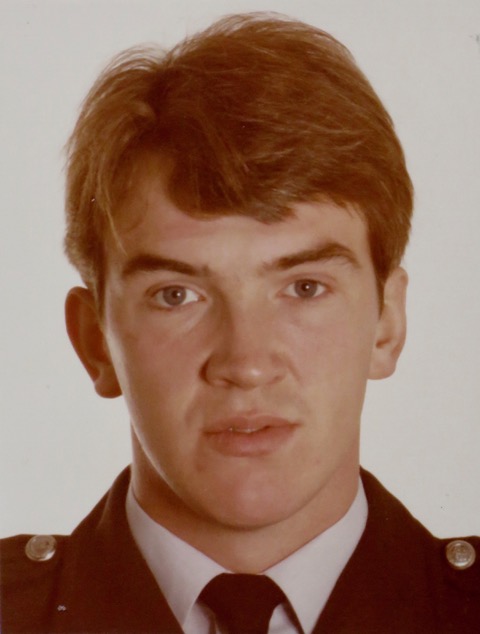 P.C. Stephen Foster
Stephen Foster - We were deeply saddened to hear of the death of former P.C. Stephen Foster who passed away a few days ago at the age of 60 at his home in Garswood near Wigan. We have been advised that a funeral for Steve will be held at 1.15pm on Thursday 31st January 2019 at St Mary's Church, Billinge near Wigan WNS 7QJ. Steve joined the Bermuda Police in October 1980 and served for about 12 months before being transferred to Eastern Division. He resigned and returned to England in January 1982 and joined the Mewrseyside Police in uniform and later in CID
We received the sad news from former P.C. Steve Owen who joined the Bermuda Police in 1981, as an experienced officer who had served in the Lancashire Police from 1972-1974, and then in the Merseyside Police for 7 years. While here in Bermuda he served mainly in Western (Uniform) until he returned to the U.K. in 1983. We greatly appreciate Steve Owen taking the time to write and let us know the sad news about his old friend.
16th January
Battle for Duckett Memorial Trophy - This annual rugby match has been taking place between our Police Rugby Team and a team selected from The Rest of Bermuda since 1973 in memory of The Late Commissioner George Duckett and is always hard fought. You can view an article under our Interesting Artickes about the history of this tournament at http://expobermuda.com/index.php/who-when-where/348-historic-ruby-phot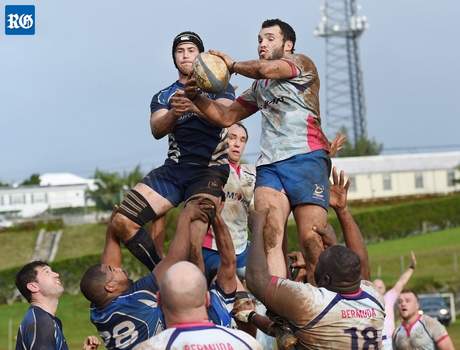 Rugby Action for Duckett Memorial Trophy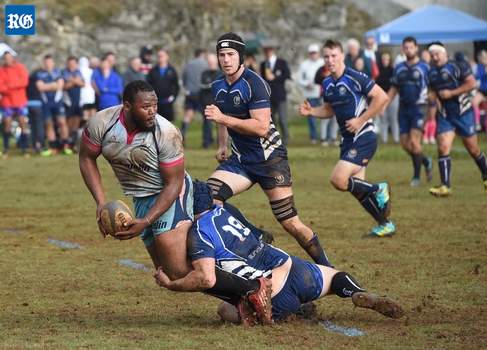 Photos courtesy of the Royal Gazette
(Photographer Akil Simmons)
This year was no exception as our Police Team fought an exceptionally tough match against the Rest of Bermuda team on Sunday 13th January 2019. You can view a full report on the match in which our team emerged victorious in the Royal Gazette at http://www.royalgazette.com/rugby/article/20190115/police-lay-down-law-in-memorial-match
Police Rugby and rugby in general has certainly evolved over the years as there were no less than 4 matches between Police teams and the Rest of Bermuda teams at the weekend with matches played by both the Police First and Second Mens teams, and the First and Second Ladies teams. And the Police teams did well this year as you can read in the Royal Gazette report.
15th January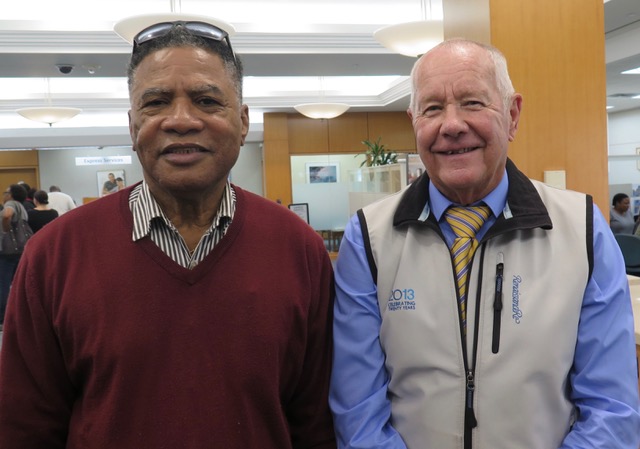 Pat Hamlett and Robbie Aldred
Pat Hamlett and Robbie Aldred - I recently bumped into these two hard working guys in the Bank of Butterfield on Bermudiana Road, and I say hard working because they are both still hard at work, putting their previous police experience to good use.
Pat was recruited into the BPS from St. Vincent back in 1969 and worked in numerous departments, including Eastern Uniform, St. David's Parish Constable, Eastern CID, Central CID, and Central Uniform, but Pat spent over 10 years in Narcotics Department as a D.C. then as D/Sgt before retiring in 1995. Pat was always active, playing cricket and rugby for the Police teams, and he's still active at the Bermuda Credit Association where he's been working since shortly after retiring from the BPS.
Robbie Aldred joined the BPS in 1980 starting in Central Uniform, and then transferred to MCPS for the rest of his service till he resigned in 1989 and started a new career in the security business. He worked for 17 years for Island Wide Security, which became the Bermuda Security Group, and he held the position of Vice President for 4 years until the company was bought out in 2007. Robbie is now Head of Security for the Waterfront Properties.
7th January 2019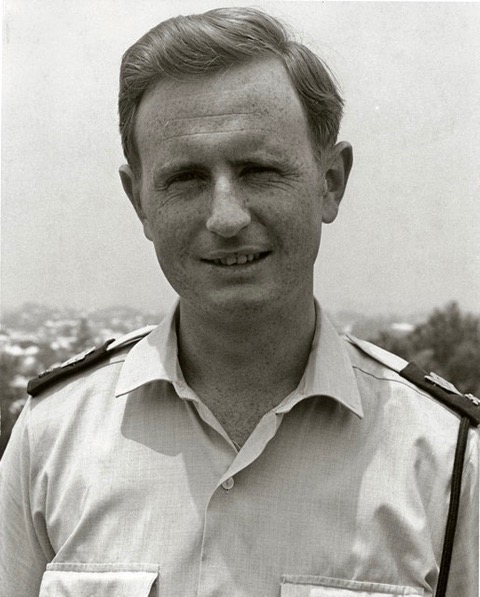 Newly promoted Neil Cox
Sad Passing of Neil Cox - Unfortunately, our first news of the year in our Keeping in Touch column is sad news about the death of our good friend and former colleague, retired Inspector Neil Cox, who passed away in the Cayman Islands on Wednesday 2nd January 2019. Neil served in the Bermuda Police from 1963-1989 and eventually settled in the Cayman Islands with his wife Marion and their two daughters. We featured Neil in a "Then and Now article which you can view at http://expobermuda.com/index.php/tan/37-ncox
Having only just received this news today (7th January) we can advise that a Funeral Mass for Neil will be held tomorrow, Tuesday 8th January 2019 at St. Ignatius Catholic Church in Cayman.
We offer our sincere condolences to Neil's wife, Marion, their two daughters and their children and his extended family and friends.
Editors Note - Neil was a first class police officer who spent the latter part of his career in Special Branch. I spent many hours walking the beat in Hamilton with Neil when we first came to Bermuda. He had a dry but rather 'wicked' sense of humour and one abiding memory I have of him was on an evening he was on guard duty at Government House at a time when we were required to stand outside a small hut all night except for hourly patrols of the grounds which we had to record in a diary in the hut. One evening Neil noted in the diary, "Out on patrol of grounds". 15 minutes later he recorded another entry, "Returned from patrolling grounds. Government House still in original position!"