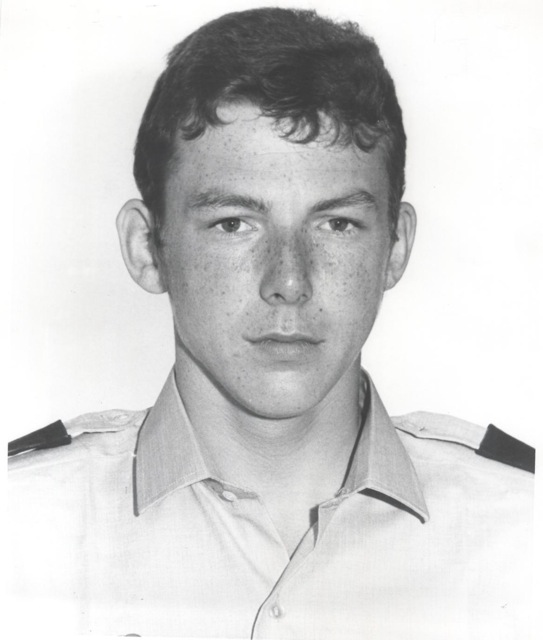 I was born in the earlier part of the last century in Leeds, West Yorkshire, and moved to Huddersfield when only a few months old.
In October 1965 I joined the Huddersfield Borough Police. Whilst on early turn one rainy March morning, I sat in the refreshment room with three other colleagues, one being John Headey, and I saw a full page advertisement for the Bermuda Police. I turned to them and suggested that this would be more scenic than walking around Huddersfield town centre bottom checking out all the mills.
They all agreed and I submitted my application that afternoon. About three weeks later, I received a letter inviting me to an interview in London. I called the other guys to see when they would be going for their interviews only to be told they would wait and see what happened to me! John did eventually apply and followed me out 15 months later.
I arrived in Bermuda in June 1970, along with a number of reprobates who are pictured below.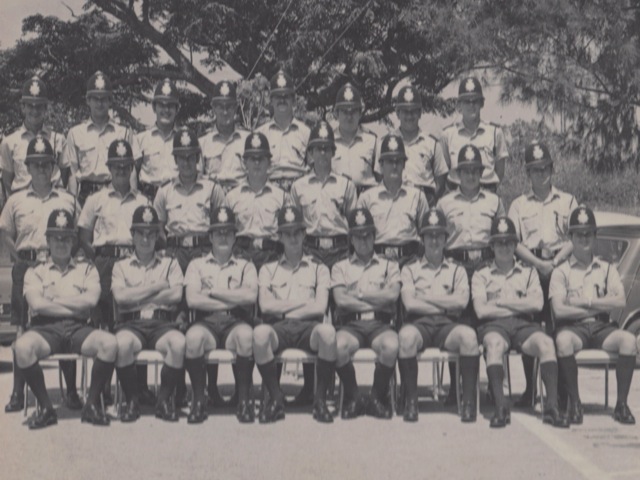 Paul's Localisation Course - June 1970
Back row (l-r) Bruce Bingley, Barry Higham, John Bradford, Colin Mackenzie,
Reg "Buster" Brown, Roy "Hong Kong" Haynes, Mick Cresswell, and Paul Hendrick.
Middle row - Pat Hathaway, ?, Ian "Paddy" Ackroyd, Gwilym Williams,
Richard "Dick" Coulthard, John "Gypsy" Jake Stimson, Ian Fraser, Mick Goode.
Front Row - Mick Collingridge, Frank Martin, Stan Parr, Malcolm "Ted Loon" Irvine,
Jim McInnes, Ray Bell, Bill Cree, and Roger Hind.
At the end of the localisation course they asked for volunteers for both the east and west end of the island. I had met some Yellowbird employees at a party given by John Sharp (BOAC) who all suggested that if I had a choice, to work in St George. This was the beginning of my introduction to rum and ginger and the green goddess for which I am still quite partial to the odd bottle. After a brief spell in the St. George's Police barracks, I met a man who became my best friend up until his death in 2002 - the infamous Ronnie Boggan. We shared Wainwright (Tavern) House until I completed my five-year contract in May 1975. I could write a book just on Wainwright Tavern alone!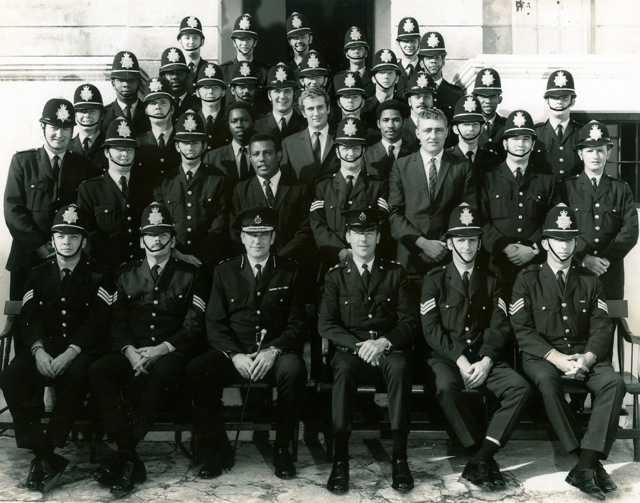 Eastern Division - November 1970

I served in uniform in St George before doing a brief spell in Narcotics for College Weeks 1971. Paul Field and Clive Donald were the Sergeants and the DC`s were John Williams, Ray Sousa, Campbell Simons, and Reese Bartley, just to name a few. I was expecting to go back to Eastern uniform but went to Eastern CID.
I have very fond memories of my time in Eastern CID working with Laurie Jackson, Dave "Silver Tongue" Chew and Cuddly Dudley Swan. Again, there could be a book written on this era but, it would have to wait until all had passed away. The boys in the office were all characters and second to none as partners. AJ Smith, Bob Porritt, Perry Fox, Pat "what is a cheque" Hamlet, Stewart Lambert and Terry Cabral.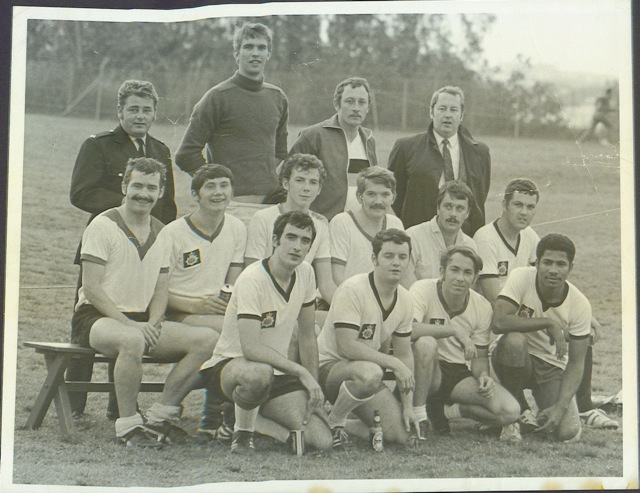 Eastern Division Football Team - What a group! Paul is seated, 3rd from left
Everything was going swimmingly until September 1972, when Bermuda as we knew it changed. The murders of the Commissioner and the Governor of Bermuda saw radical changes. The Murder Squad was formed and many others and I spent the next few years working out of Prospect. I returned to Eastern CID at the beginning of 1975, and returned to the UK at the end of my contract.
I rejoined the North Yorkshire Police and after a brief spell in uniform, I served in Scarborough CID and No. 2 Regional Crime Squad.
But Bermuda had given me itchy feet, and my then wife had relatives in Canada so we decided to immigrate. Upon arrival in Canada in April 1982 I knocked on the door of the Toronto Metropolitan Police expecting them to welcome me with open arms only to find there was a hiring freeze. OOPS.
I was fortunate to find a job with the provisional government as Director of Security and Fire Safety of the Metro Toronto Convention Centre. I remained at the MTCC until August 1988 when, I realised that the CEO and I were both at the top of our pay grade. I decided to go into business for myself, which I am still running today. I also hold positions with the National Hockey League (NHL) and Department of Homeland Security.
Paul has become a familiar sight at NHL events and was featured in a fascinating article about him published in the March 2006 edition of the Canadian Security magazine in which he is aptly described as "The Leafs' Defence Man."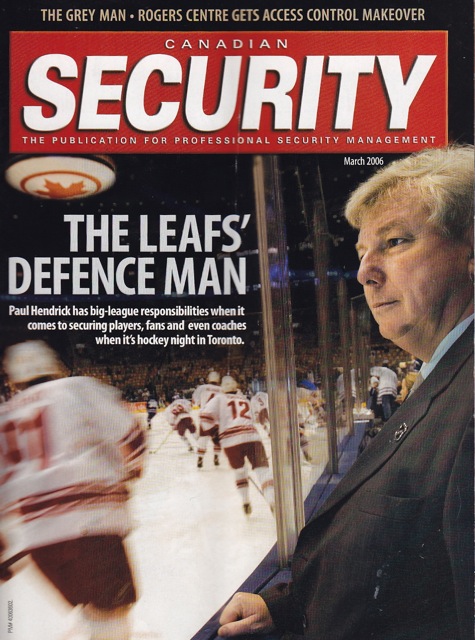 I reside with Joelle a wonderful girl and soul mate, and both of us enjoy travelling which is a good thing as she works for WestJet Airlines.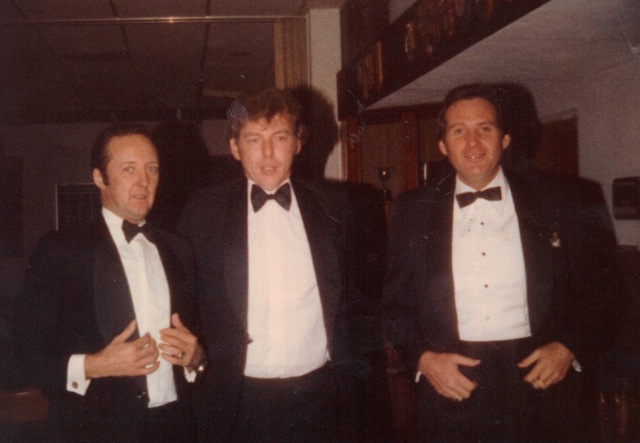 Paul (centre) returned to Bermuda in 1984 to attend the annual Police Boxing
Tournament
with his good friend Ronnie Boggan (left) and Kevin Hamilton
My five years in Bermuda were special and I have been fortunate to be able to return on numerous occasions, staying with Ronnie up until his passing. I used to smile every time I walked into the house as it is a time warp for me. Barbie Benton and the tennis player scratching-her-behind poster up on the wall. My claim to fame is the visitor's book from Wainwright Tavern and the original St Georges Police Club sign, both of which are proudly displayed at my residence in Canada.
In recent years, I have stayed with Moby and Bron Pett who are the ultimate hosts.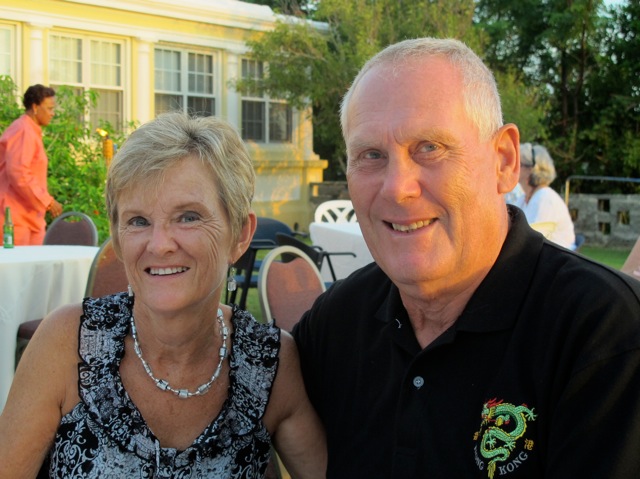 Bron and Maurice "Moby" Pett
My best wishes to all in Bermuda. I hope to see some of you on my next trip.
13th February 2017
Very sadly, Bron Pett passed away suddenly and unexpectedly in December 2016. "Moby" and his family held a "Celebration of Bron's Life" at the Police Club in February, and Paul had no hesitation in flying to Bermuda to be there for his old friend "Moby" at the reception. Also attending were several other old friends from abroad, including John Price and Colin Mackenzie.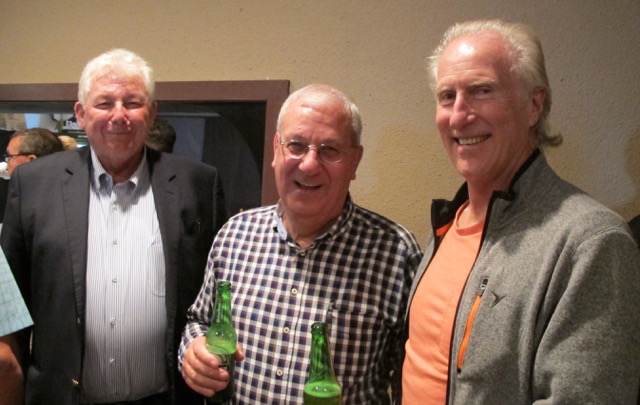 Paul Hendricks, John Price and Colin Mackenzie all travelled from abroad to attend
the Celebration of Bron's Life at the Police Recreation Club