This photograph made history for what it was used for, rather than for the match being played. We asked if you could tell us when it was taken, which teams are playing, who are the players, and what is the special historical significance of the photo?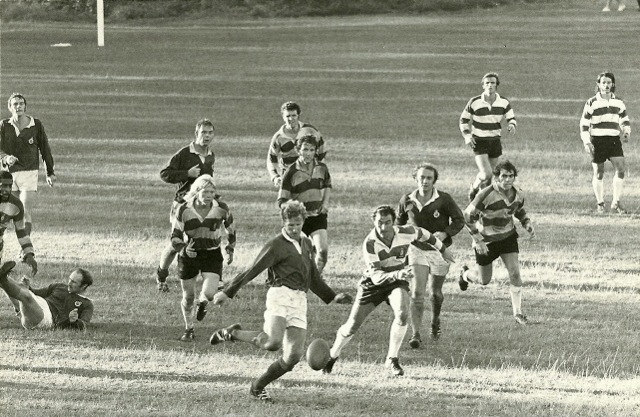 Rugby match at Nationals Sports Club between Police and Teachers 1972
Believed to be the first game of the season, with Police winning 25-9
Players (l-r)
Teachers in stripes -
Derek Hurdle, Bobby Moulder, Glen George,
Colin Davies, John Morbey, Geoff Bentley, Vaughan Evans*, and Harry Patchett.
Police players - Bill (Butcher) Nixon, Ron Beech, John Van De Weg, Colin Mackenzie, Norman(Raj) Rennie.
*John Morbey believes that the player Jeff identified as Vaughan Evans may be Eric Jones
As you may have gathered from some of the comments below, there is a connection between this photo and the Duckett Trophy. Anyone who was involved with rugby in the early 1970's will know that the Late Commissioner George Duckett, along with his wife, was an avid rugby fan and an ardent supporter of the Police rugby team. Jeff Baker recalled that Commissioner Duckett was murdered on Saturday 9th September 1972, and shortly afterwards it was decided that a trophy should be created in memory of Commissioner Duckett, to be played for annually between the Police rugby team and The Rest of Bermuda.
Several members of the Police team, including Colin Macdonald and David "Dai" Thomas, helped to organise fund raising and Colin and Dai were also involved in negotiations with Crisson's to design a silver plaque to be mounted on a cedar shield. The cedar shield was, of course, made by Malcy Smith, and our photograph (see below) was provided to Crisson's as a suitable illustration for the engraving by Jim Kempe although it has to be said that Mr Kempe also used a little artistic licence!
The following photo shows Colin MacDonald officially receiving the completed trophy on behalf of the Police from Jim Kempe of Crisson's.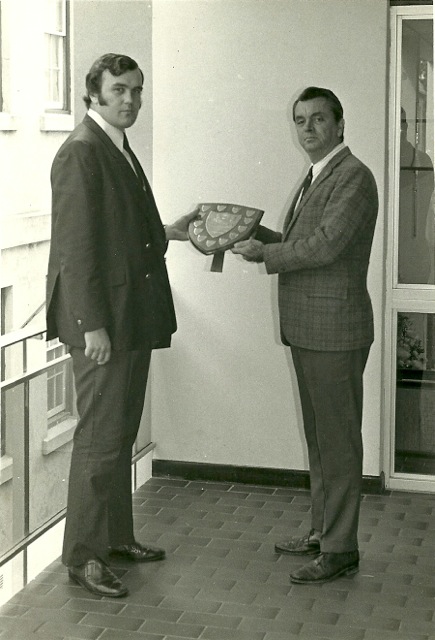 Colin Macdonald receives the just completed Duckett Memorial
trophy from Jim Kempe who engraved the plaque
And here is the official programme for the first Duckett Memorial match played at the National Sports Club on Sunday 4th February 1973. Although we don't have the exact score we understand that "The Rest" won that first match in a closely fought encounter after a penalty try was awarded in the dying moments of the game.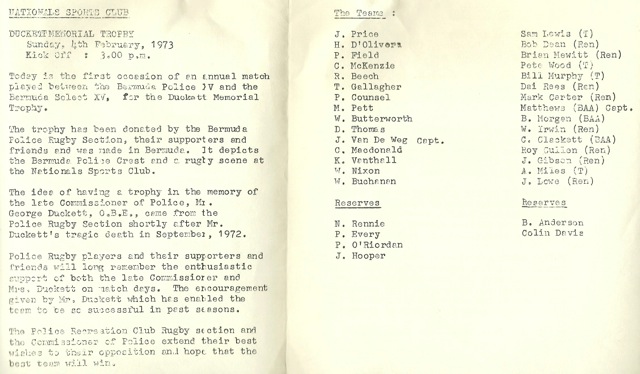 Sincere thanks to Dai Thomas for providing this information and the photos.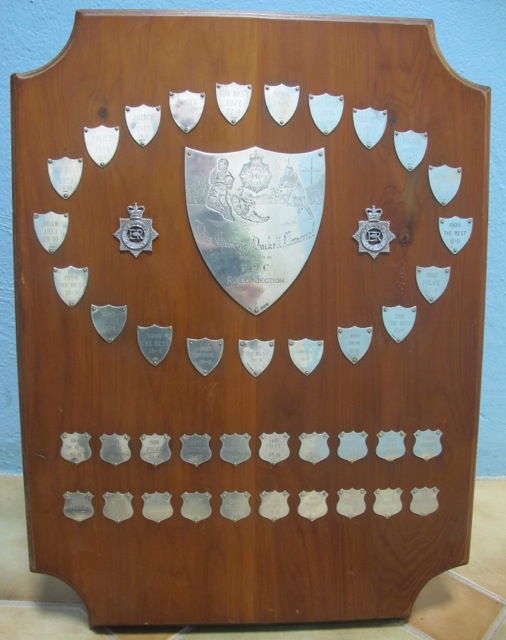 The Duckett Memorial Trophy
Those with eagle eyes may notice that the trophy was originally a shield with a limited number
of small plaques for the annual winning team. This photo was taken on 30th March 2015
at the Police Recreation Club and the original cedar shield has obviously been replaced
with a larger cedar plaque to provide more space for the winners.
If

anyone has any personal recollections of this or any other Duckett Memorial trophy matches, including photos, please send them to us and we would be happy to publish them with this article. I had hoped that we could post a few photos of the Duckett Trophy winning teams but unfortunately all but one of our photos appear to be of Nichol Shield winners. Can anyone assist in this regard? The one exception is a photo provided to us by Keith Cassidy below which we believe was the team competing for the Duckett Memorial trophy in 1975 -1976 season. We do have a list of the players and officials but we encourage our rugby players and enthusiasts to see if you can identify them. Below the photo you will find two blow-ups to assist you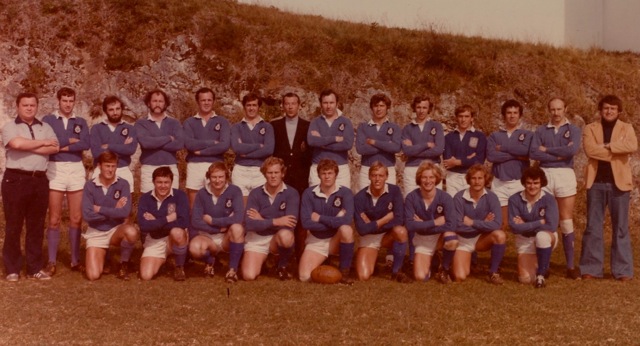 Duckett Memorial Team 1975-1976 season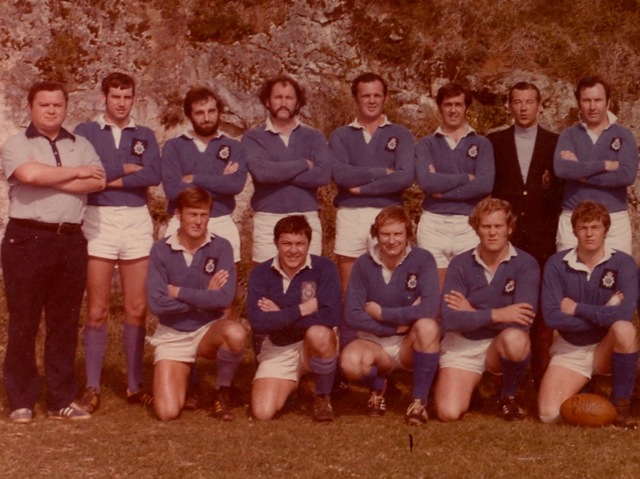 Blow-up 1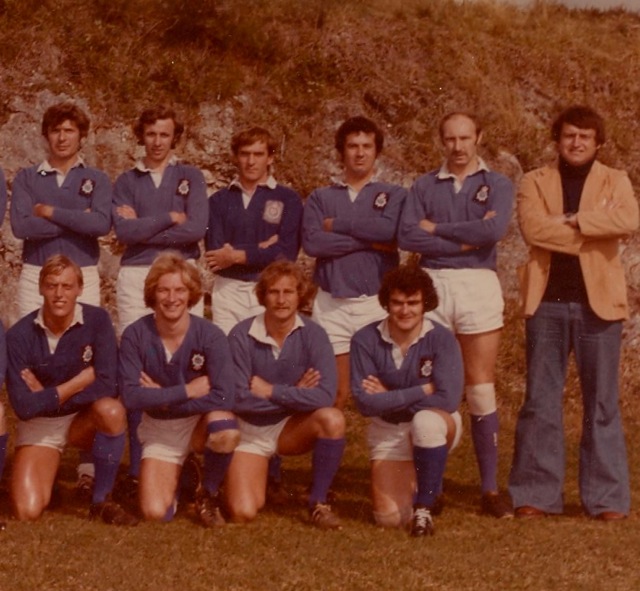 Blow-up 2