Life in Bermuda and on the Force
Served as Constable from 1966 - 1974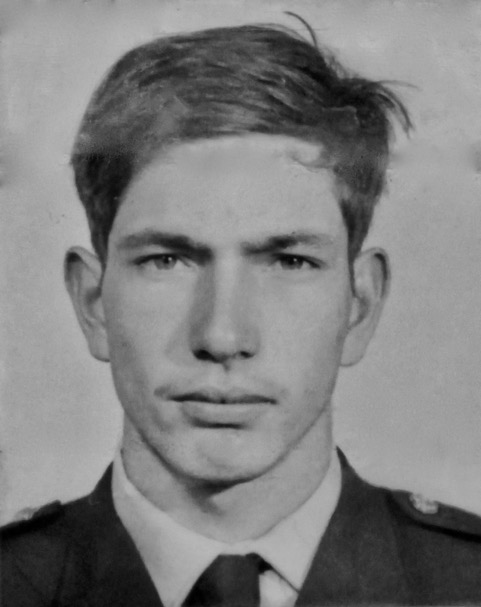 Young P.C. Ray Sousa
Introduction
The following is my history in Bermuda and on the Bermuda Police Force, as I remember it. I wish to stress that in no way do I intend to offend anyone. I was brought up in a different society than exists today. During the 50s, 60s, and 70s there were people who sincerely believed they belonged to the superior race. It took a lot to gain their respect and to prove to them that all people are equal. To the people to who put obstacles in my way, thank you. The challenges made me a better person. To the people who believed and supported me, thanks for being true friends.
Heritage
During my interview to join the Bermuda Police Force and again at my sergeant's interview, I was asked, "Are people born leaders or is it a gift that is passed from one generation to another?" My answer then is the same as it is today," Some people are born with the gift of leadership, which they still have to develop. Others become leaders because their environment forces them to do something to survive." It is only in recent times that I have given some thought about how my genes and environment have affected me. Equally important could I have done better in life? So let's look at my history.
Parents
Both my parents were born in Bermuda, but from different backgrounds. My father's parents came to Bermuda in 1914 from the Azores. My mother was born at Glebe Rd [42nd Street]. Her family arrived from St. Kitts and Nevis in the West Indies in the early 1900s. Although both had Portuguese names, they were both from different cultural backgrounds. This was to cause conflict in my later life. They say that the Portuguese are the most stubborn race on earth, although I have met Irishmen who have disputed this. The Sousa coat of arms has 4 sets of bulls horns, which are supposed to represent chieftains. Some will argue it means they are 4 times more stubborn than everyone else. The family trait is to charge into things and think later. The Ferreira's [my mother's family] crest has 3 horse shoes. Besides the official meaning, it means you have to be 3 times luckier than the average person just to survive. The Ferreira trait is to also search out the truth before making a stand. As you can see I inherited some interesting traits that would affect my whole life. As well as being a blessing, they would also be a burden.
Childhood
I was born in a mid-wife's house in Pembroke in 1946. I was told that it was a stormy night and this was a bad sign for me and the poor world that I would likely upset. My first memory of my childhood was living with my parents and Grandfather Sousa in a house off Harrington Sound. There were large vegetable gardens and a cow. On one occasion I remember my grandfather and parents screaming at my baby brother Jimmy, who was helping the cow eat its food. The cow chased the adults and I got beaten for laughing. Jimmy had long curly blonde hair.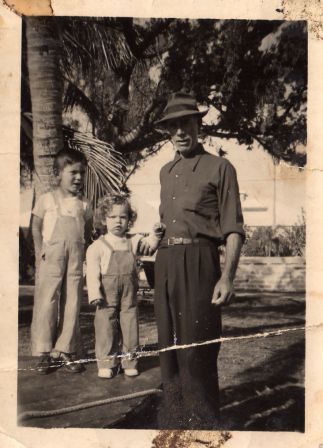 Young Ray on left with brother Jimmy
and Grandfather Alfred Sousa
One day a church group delivered a package of girl's clothes, because they believe my parents could not afford to buy dresses for their daughter. That resulted in a haircut for me. Looking back even at an early age we did a lot of walking; only the rich had cars. I remember walking around Flatts both day and night, even seeing glow worms in the water, long before they became a tourist attraction. We walked to Devil's Hole where they used to have outdoor movies on the water's edge. Sometimes we would get caught in a rain shower. I remember my grandfather dying of tuberculosis. He was buried at St. Mark's Church graveyard. For months we got painful needles to prevent us getting the illness. We had to move to another house. My mother liked the first house we looked at. It was old, no ceilings, primitive electric lighting, and as we found out later had a number of leaks when it rained. The house belonged to the Bourne's family and was at Blue Hole near the entrance to The Causeway. A test of suitability my mother conducted was to go half way to the nearest [only] house. On her signal I screamed as loud as I could. She wanted to make sure the neighbours could not hear us if we played up and she beat the hell out of us!
We moved at night using a horse and wagon with kerosene lanterns.
In the morning we met the neighbours, an American family. The father was stationed at Kindley Air Force Base. They had two daughters, one the same age as Jimmy, the other, Connie Allan Rice, was my age. Connie immediately asked me to marry her. She showed me the differences between little girls and boys. We kids had a ball playing in what was a jungle with some farming. There was a lot of decaying American Army trucks, covered in vines and other plants. The only dangers we really had was poison ivy which grew wild, and caves, which we could fall in. By Bermudian terms the Rices were rich. The kids had their own movies, and they introduced us to their friend Mickey Mouse. Being friends of the Americans meant we could go with them to the base and buy goods not available to Bermudians, or if available a lot more expensive. I remember the first present my "wife" gave me, two polo shirts. 43 years later my American niece gave me 2 shirts with the identical colours and markings. Connie promised me she would always love and never leave me. Unfortunately, about 2 years later "Uncle Sam" had other ideas, and transferred the Rices back to the USA. I was broken hearted for 2 or 3 months when I started at the Lyceum School, the present Mormon Church at the entrance to the Crystal Caves. The school had mostly American students from the base and some Bermudians. Three girls from St. Georges, and later the Post Mistress's daughter and my cousin Margaret became good friends of Jimmy and me. We travelled even greater distances. As far as Coney Island, around the Perfume Factory, around Mount Wyndham, where my Aunt Lena and Uncle Bifty Hayward were caretakers. Just when my new girlfriends had helped me from the sorrow of losing my "wife", another disaster occurred. My grandmother Ferreira became sick and we started to spend a lot of time with her. She sounded different than other Bermudians; I now realize she was West Indian. She had some strange drinks, made strange noises in a room with candles burning [possibly praying]. I felt that she was some type of witch and was frightened of her. We moved and stayed in another house in Baileys Bay. Then came the bad news, grandmother had died and we were moving to her house. "But what about my girlfriends?" I protested.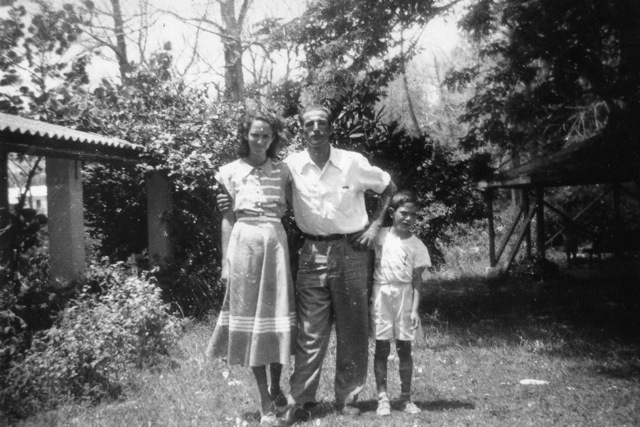 Young Ray with his father Archie and mother Elsie
Even in the 1950s Glebe Rd, also called Pond Hill, was a rough district. I did not realize there were so many coloured people [not black in those days] in the world until I moved to my new home. My mother warned me what to expect, "you will be tested. Don't back down from a fight; but always be respectful." I was immediately tested when surrounded by a group of boys, pushing me and calling me "white cod fish". I eventually lashed out punching some of the boys in the face, after been hit a number of times. The kids immediately backed off. "That will teach you black bastards," I shouted. Big mistake!! My mother was on the scene, and told the boys not to go anywhere. My mother had a knife in her hands, passing it to me and pointing to an oleander bush, she said cut me a stick and bring it here. I did. " Now peel the skin off", she ordered. After I removed the skin, my mother took the oleander stick, pulled down my pants and belted me half a dozen times across the backside. Only a person who has received such a punishment knows how painful it is. The welts remain for a few days and hurt like hell. Turning to me my mother said, "This is just a warning. Your grandparents had children both sides of the blankets. If someone calls you brother, they probably are." Turning to the other kids my mother shouted," He's here to stay, and he will not be taking any bull from you. There's no black, white or yellow people, just proud Bermudians. You can have your fights, but be respectful, or I'll see your parents and tell them to give the same punishment to you ". An area where my mother worked closely with other adults to slow down and stop, was rock throwing. I remember hearing of a number of cases on the island of children losing an eye due to such incidents. There was an incident involving a kid in the neighbourhood where a child almost lost an eye. This resulted in the crackdown.
There were more fights, but the fear of "oleander stick justice" removed the risk of racist remarks. We quickly made some good friends; the Williams, Postlethwaite's, Binns, Jones, Griffiths, Wilson's just to name a few. If we went to the shop, we were told to see if a neighbour needed anything. Despite a reputation as being a tough neighbourhood, the unwritten rule was if you stole, it had to be outside the neighbourhood. As a result, it was for a time considered to be an insult to lock the doors to your house.
I was quicky educated about the discrimination of the governing class against coloured people and yellow people [those with Portuguese names]. This applied to jobs, education/ schools. Even as a kid I could sense there would be trouble, as a Black and Proud movement developed. Unfortunately, some people became black extremists, and just as bad as the worst of white society.
Dellwood School
I was 7 when I started at Dellwood School which is just outside Hamilton City. It was then a "yellow "and low class white school. The thinking was that like the black kids we were not as intelligent as the white upper class kids. Having said that, we had some wonderful teachers. The head master was Tommy Wyatt, better known to us as Wyatt Earp the cowboy hero. He could draw his strap from his coat pocket and wack you across your backside, without you seeing his hands move. He was a very caring Englishman. I recall ripping my pants. He saw it happen and he took me to his house next to the school, and his wife, also a teacher, sewed the pants for me. He taught my mother and her generation. During the Second World War, as well as normal school, he ran night classes for Bermudians who wanted extra education to join the US and Canadian Armed Forces [particularly the Air Force].
Even getting to school some days was a challenge. We had to cross Bernard Park. Unofficially, Saltus Grammar School [a rich white boy's school], Central School [blacks], and Mt. St. Agnes [the Catholics] all claimed a part of the park as their turf. On some days I had to fight my way to and from school. At first we were one of the few schools that did not have a uniform. When Mr. Wyatt retired we got a new headmaster. Part of his plan to civilize us was to introduce a school uniform. White shirts, maroon ties, khaki shorts, long maroon socks. The first day I wore the uniform I got beaten up from boys from the three schools. I staggered home to my mother, hoping for words of kindness. No way. She gave me the knife to cut the oleander stick and gave me two smacks. The next day dressing me in a clean uniform she warned me, "Don't come home clean or tell me you lost the fight. Sure enough the kids from the other schools were waiting for me in my sissy uniform when I crossed the park. The Catholic boys were the first to get my revenge, then the blacks and whites. I could see my mother looking down on the park from Marsh Folly Rd. She got home before me and said, "That's more like it." After that day and for some weeks the Nuns started to patrol the park. We were warned that nuns were in fact witches and they used their rosary beads to choke kids before taking them away to be cooked. All kids stayed well clear of the witches!
Although fights stopped in "Blood [Bernard] Park", they did not stop at school. There was a wood and metal shop next to the boys' sports oval. The workshop was used by the Catholic School, Saltus and ourselves. The rule was that if anything came over the fence it belonged to us. One day I got out of school for lunch early and ran to the oval. A Saltus boy kicked a ball over the fence into the oval. I ran out and grabbed the ball. The class of Saltus students jumped the fence, kicked and punched me in every part of my body. I refused to let go of the ball. Just as I had given up and accepted I would die, I heard screams as the Dellwood boys came charging at us. There was nowhere for the Saltus kids to hide. They were beaten up and thrown back over the chain link fence. After running out of Saltus boys to fight, some of our boys turned on each other just for the fun of it. I was black and blue all over. Out of the corner of my swollen eyes I could see Tommy Wyatt on the hill. The next morning at assembly, Tommy dismissed the girls but kept the boys back. He read out a list of complaints from the Head Master of Saltus. He wanted those "Devil Wood savages" punished. "But I told him straight that I was proud to see my boys protect the school's honour. Only cowards would try to kill one of my boys over a ball. I am very proud of you, well at least most of you. I have noted the one student who was not prepared to come to assist a student who was in trouble. All except that student, you know who you are, will have a half hour extra lunch break today," said Mr. Wyatt. The rivalry between the schools would continue for many years, but the word was out; don't mess with the "Devil Wood" kids as they called us.
Challenging Teachers and Adults
My mother made it very clear to me that adults and other people her age were not always right, and it was my moral obligation to express my views, particularly if the wrong views affected other people. She also insisted that I always be respectful. To prove the point she would say things she knew were wrong to see my reaction. So it came to a few challenges in the class room. A teacher was trying to teach us about weather. According to the book the hottest month in Bermuda was July. I insisted it was August. She kept me back behind after school and told me to think twice before questioning her again. I did. I told my mother and she said there is one way to prove if you are wrong or right, "let's go to the library". We did. We walked from Pond Hill to the city and she left me at the library where they had old newspapers which listed the temperatures of the day. I went back to school, and in front of the school told the teacher I had thought about what she had said. "And?", she said. I immediately read out the results of my research. She sat down in a state of shock. I had had a small win in my life and became a bit of a hero to the other kids.
On another occasion, Maurice Hankey, a teacher I highly respected, marked one of my maths question wrong. I challenged him. "Ok Mr. Sousa come out front and show the class how you got your answer on the white board". I did. "You know you are right, the book is wrong. Well done." Mr. Hankey said.
Social life at school was mixed. There were bullies who beat me up, but they quickly learned that I would fight back, and questioned the value of also getting injured. One bully got me at the wrong time and the wrong place. Without warning, I flattened him. Hearing footsteps, I pushed him into a steel rubbish bin and sat on it just as Mr. Wyatt was walking past. "Good afternoon Sousa", said Tommy with a big smile. "Good afternoon Sir", was my reply. I have no doubt he heard and saw what happened. He knew that justice had been done. Although we were poor, I was invited to a number of girls' birthday parties. I think the boys must have been poorer than the girls. My mother, despite the fact she did not have a car, always tried to get me there, and always found the money for a gift that the girls liked. I fell in love a number of times whilst in school. Years later some girls said they felt the same way, and it was a shame we lost contact when I left school. I made a lot of good friends in school, my best friend being Nick Tavares from Spanish Point. Another boy became a Senior Fire Fighter, Bobby Davis, and stuck up for me in a number of incidents when I became a Policeman. Sadly, I also ended up arresting some of my school mates, girls and boys, for crimes when I became a cop.
On the Home Front
On the home front we were poor but reasonably happy. I remember getting used sugar bags from soft drink factories near our home. My mother made clothes, and bed sheets out of them. I had pet rabbits, which I fed with wild fennel that grew in the area. I had a vegetable patch and grew peanuts, beans, corn and other crops. We had banana trees. What we did not use, I sold or gave to neighbours. I collected drink bottles, including rum bottles from the side of the road; and sold them to stores and factories. Any money I got I was allowed to keep, but always ended up spending it on gifts. We went to the St. David's Island, Flatts, and Bailey's Bay county cup cricket matches. We went to Cup Match to support St George's. In those days Cup Match, Easter, and Christmas was the time everyone got new clothes, even if it was just a shirt. We spent a lot of time visiting friends at St David's Island in particular. I remember during my youth walking in large fields of Easter Lilies, which were sold locally and exported to the States. During Easter churches had an unofficial competition as to which was the best decorated with flowers. We would visit them. There was the annual Easter Parade, with floats made of flowers. I recall one year trying to get flowers for our school float. We really cheesed off the rich schools when we won the competition for the best school float. I remember the street decorations during the Queen's first visit to Bermuda. We always had food on the table, and as far as my father was concerned, rum to drink and share with friends. We helped each other build water tanks, houses and boats. My father always had a boat, which at times was costly to keep. It was rare for me to be taken out on the boat, but I accepted this was my father's escape from the problems of life. Despite being a rough neighbourhood, neighbours were always friendly and helpful. We got ready for school to the sound of Marching Music on the radio. During the day we had Calypso music, in particular the Talbot Brothers. The exception was Sundays when it was usually black gospel music. In every way we were truly a Bermudian family. My brother Bobby was born in the Glebe Road house.
Death and change of culture.
Just when you think that life is going well, disaster strikes. My Aunt Lena was the luckiest person I knew. At fairs and at raffles she won a lot of prizes including overseas trips and furniture. My mother was the complete opposite and never won a thing. One night we went to a Fair and she won a lot of cook wear, dishes and other small prizes. She was extremely happy. The next day she was rushed to hospital with "lockjaw". She knew she was dying. She requested to see me, although due to my age and the thinking at the time I was prevented from visiting her. My father managed to sneak me into the hospital. She grabbed my hand and mumbled, "Look after the boys". She died within a week. I refused to accept that she was dead. I was only 11. On the day of the funeral, I hid and refused to go. Something I would always regret. Today a child in my position would have received counselling. I then became big brother, housekeeper, and cook and had to grow up quickly. For a short period neighbours helped out with cooking, and looking after Bobby who was one. Fortunately my mother had trained me to perform these duties. My father then managed to get part-time carers for Bobby. The main caring of Bobby, cooking, washing, ironing and cleaning rested with me. My school performance immediately fell. I had no time for homework. By Christmas, I was completely washed out. Bobby was sick the week before Christmas which meant I was up all night with him. I also had the worst possible cold. Christmas Eve, I told my father he would have to spend the night monitoring the baby, I was going to die. I made a drink consisting of strong black rum, lemon and honey. I remember putting the glass on the table after drinking the contents and collapsing. About 10 hours later, Christmas Day I woke up with the worst possible hangover imaginable - especially for an 11 year old.
My father decided that something had to be done. He knew a friend who had a single sister in the Azores. After an exchange of 2 letters they decided to get married. Then there was a mad rush to prepare the house for the new bride. Plumbing was installed. Before this, we had to get water with a bucket from the tank under the house. An indoor toilet was constructed for use by my new step-mother only. There was a hot water system installed, new stove; the house was repainted inside and out. My father, with the help of my Uncle Arthur, accomplished a lot in a very short period of time. Within a year of my mother's death, my father was remarried. They did not go anywhere for their honeymoon but when my father and stepmother woke up the first morning, I had a cooked breakfast ready for them.
My step-mother, who could not speak English, immediately started changing things, even the way the curtains were hung and the location of furniture. We became Roman Catholics, which I do not regret. My vegetable patch was replaced with a pig's pen and chicken coop. For Christmas, Jimmy and I had to help kill and pluck chickens, not just for our family but for my stepmothers' family and friends. I spent hours with my hands in hot water pulling feathers out of chickens. The smell embedded in my hands drove me crazy. Even today I cannot eat chicken soup, because the smell reminds me of those days. I even remember spending all night helping make sauguses after we killed a pig.
Before I went to school I had to wash the clothes and hang them out, then sweep and wash the floors. Just when I was ready to leave my step-mother would get out of bed and test the corners with a white glove. If she found any speck of dirt I had to do the whole lot again. Then of course, I would regularly be late and had to run flat out to school. At school I had to explain why everyone else could be on time but not me.
At the time on TV was a show called "The Toppers", about a middle age man, his wife and a St. Bernard Rescue Dog. They were all killed in a snow avalanche in Switzerland. They returned to their home in the USA, but could only be seen by the new male owner. The 3 ghosts were continually getting into trouble doing things and the poor new house owner had to try to explain what was happening.
So I started coming late and I had to find an excuse each day. No one would believe the truth. I would sit down. The door would open to the annoyance of the teacher. After been closed, it would open and be closed 2 more times. The teacher shouted, "What the hell is going on?" I believe it was Bobby Davis who shouted back, "It's Cosmo's 3 ghosts". From that day the nickname stuck with me. No one could explain why the door always opened 3 times. After a while teachers and students, just accepted it was waste of time to start the class until my ghosts were also in the room.
School Sports
I loved sports, but did not have any natural ability. When my mother was alive I was allowed to stay back at school to practice; but this changed when my stepmother came on the scene. On one occasion during school hours, I was allowed to represent my school at cross country racing. Our best runners had become sick at the last moment. We had no hope of winning, especially against Saltus. Without checking with teachers we came up with a plan. I charged off leading the pack, followed by the Saltus kids. I "must have taken a wrong turn", before realizing my mistake and turning back. That was a shame, because when I got back on track the rest of my team were miles ahead. A lot of people wanted to kill me that day.
Boxing was introduced to the school at that time. Travers, a rich white boy who just arrived in Bermuda, had to come to our school until there was a vacancy at Saltus. He hated everyone in this low class school and developed a special hatred for me. This kid had done boxing training before and was extremely good. At gym, he stood up and said he wanted the first boxing match in the school and wanted to fight me. Not being a coward, I put on gloves for the first time of my life and faced him in the area marked out as a ring. When the bell sounded, Travers hit me in every part of my body before I started landing hard wild punches. I came to in a running shower alongside Travers. We both had black eyes and bleeding noses. We shook hands before leaving the shower and became good friends. He went on to represent Dellwood School and later Saltus in boxing competition. He requested I attend his first competition, but suspected that I could not afford the ticket and my father would not let me go. I think he spoke to teachers, because they presented me with 2 tickets. Being a sports lover, my father was happy to go with me and had a great time. Travers introduced us to his parents. His father turned to my father and said, "Your boy is the only one to have ever knocked my son down. I hope you are proud of him". If I had not known better, I would have sworn I saw a tear in Dad's eyes. He was not the type of man to show emotion.
From the day I started school, my dream was to put on the school's red and white shirt and be part of their soccer team. I kept missing out. Then came my one and only opportunity to wear the school colours. I was warned by my stepmother to come straight home after school to work around the house. Later one afternoon, the word went out. Some senior members of the soccer team had taken ill. Volunteers were needed for the game against Saltus. I was happy to die knowing that at least one day in my life I had worn the red and white jumper. Dellwood field was like a swamp. On this day a lot of it was covered in 2 inches of water. We used leather balls which became extremely heavy when wet. I played right back, protecting the goal. Before the match we were mocked by the opposition. There is no doubt that Saltus had a better trained team than us, but I was determined to stop them from scoring. I continually got in the way of the opposition, and managed to safely pass the ball to other team members. The Saltus team kept on getting sucked in, sending their players to surround me. I would say that 80% of the game time the ball was in our part of the field. When the ball did get to the other end of the field my team scored. I would not say the other team played dirty, but the ball regularly hit me in the face; and a lot of players accidently kicked me in the legs. We did the impossible and won 11 to 1. I was covered in mud which helped cool down the bruising. We were heroes. I could hardly move and it was a slow walk home. My father got home before me and I could hear my stepmother screaming. My father took one look at me and asked what happened. With my then limited knowledge of Portuguese he told her, "You want me to kill him? Look he's already half dead!!" Turning to me he said, "Get washed up and stay away from her." This is what I did.
As you can see, overnight I had a complete culture change. One moment we were Bermudian, the next we were Portuguese. Our diet also changed. Some of the meals made me sick; I received a number of beatings for not eating the food given to me and upsetting my stepmother. I did all I could to adjust to this new lifestyle. I did some stupid things to try to get along. At times I believed I was making progress only to be disappointed later.
Jimmy found a solution to stop my stepmother annoying us. She was frightened of mice. Jimmy somehow got his hands on a grey rubber mouse, which could be stuck in hallways, doors, even the fridge. She refuse to walk pass it. She could be stuck in a room for hours, until we heard her and chased the mouse away. We set traps, but somehow never caught the mouse that caused so much terror in the family. Eventually, my father caught the mouse stuck on the fridge. I got the blame, and beating, but it was worth it.
In the Work Force
Shortly, after turning 12 there was talk about I should consider my future and obligation to help support the family. "But Dad, Mom wanted me to go to college when I finished school,'' I said. "Don't back answer" was the reply. "You will do what you are told." At this time Bermudians were been encouraged to get into the hotel industry. Along with other students I visited the Hotel College and was offered a 2 year scholarship. "No for now, but I will think about it", my father said. To ease the pressure from the family, I got a part time job as a bar porter at Castle Harbour Hotel. I worked weekends and most week nights to midnight. Most nights I got a lift to and from work; sometimes not getting to bed until nearly 2am. I had to be up again 6am to do housework before going to school. I just turned 13, when one day I blacked out in assembly. Teachers were upset about this incident and my marks in school. They said they would get the authorities involved. Before this could happen my father took me out of school. I got a job as an apprentice carpenter with Burland Conyers and Mareira Construction Company. The main site I worked on was the Purvis Building. I learned a lot but was not particularly good. About this time there was a lot of work and big money to be made on the American Military Bases as they geared up for World War 3 and the Sputnik Race. When I came home one day my father said, "Give your notice, you are working with me starting Monday." "But dad you have to be 16 to work on the bases, " I said. "You are 16. Shut up and do as you are told ", was the quick reply.
Working for the Americans was both interesting and demanding. They honestly believed, or at least made us believe, that the Russians would use weapons in outer space to destroy us. During the Cuban Missile Crisis we had bomber aircraft flying 24 hours a day been refuelled in the air by tankers. The idea was if the Russians started the war and hit American bases, the remaining ones would still be able to respond. Although it was denied, fishermen saw submarines off Bermuda and we were warned that we possibly only had ½ hour warning of an attack. Air Raid Shelter drills were carried out. There were weeks we worked 7 days a week from 7am to midnight. I was the lowest paid person on the base and had an average wage of 45 pounds a week. The average wage on the Island was less than 20 pounds a week. My father and stepmother took all my wages other than enough money for fuel for my bike when I got one at aged 16. Our bosses were Jewish and we had a religious group of construction workers. We were given paid time off to get washed up, have a meal and go to church services at the base chapel. Some weeks men would be Jewish, the next week Protestant, followed by a week of being Catholic. Whilst on the bases we had an influx of Jamaican workers who were brought to the Island by a religious group. They were great to work with. Then we had Portuguese, local blacks, Polish and my good friends from St. David's Island. I used to give one Islander a hard time. In winter I would say, "Mr. Pitcher, I'm coming to see your daughter tonight" His standard reply was,"If any white bastard sets foot on my property, I'll blow his head off". In summer when I was tanned, I used to say that I was coming to see his daughter and he would say, "I will shoot any black bastard that sets foot on my property."
The Scout Leader
When I was 17 the Catholic Church tried to get a Rover Scout [17 to 25] crew going. Against my father's wishes I put my name down. We started off with over 30 nominations. Within a month I was the only one left. Police Sgt. John Cafferkey was the leader of the new Catholic Scout Group, St. Michaels. Father Tony Mancini was the chaplain. They asked me to help run the group. I said I was not interested. How could I help others when in fact I had my own problems? They listened to my conflict of interest, of trying to respect my father yet completely disagreeing with his thinking. I admitted examining ways of sneaking aboard a ship to get off the Island and possibly becoming a freedom fighter in South America. Tony and John became like big brothers to me. John made his views clear to me. I could be a valuable citizen or a pain in the arse to the community. I did not have to become a Scout Leader, but if I did not, and he caught me doing anything wrong, I would find his size 11 boot stuck up my backside. So it was that before I was 18, I became an Assistant Scout Leader with a troop of 36 boys. In 1965, the week of the BELCO Riots I got injured at work at the American Submarine Tracking Base. We were moving crates of heavy soundproofing material when a chain broke. The box pinned down one of my big toes. George Garrison, who was a friend of a number of policemen, was my boss. He produced a bottle of scotch and told me to drink all I needed to kill the pain. It took possibly ½ hour and ½ the bottle of scotch before I was freed and taken to hospital. That is when the pain hit. My big toe looked like a mashed banana. I was told I would have trouble walking and have balance problems for some months. My stepmother did not make my recovery at home enjoyable. I regularly walked from Glebe Rd on clutches to the doctor's offices in Hamilton. So it was that I was walking around in rough black areas where white men were not welcomed, immediately after the riots. I wrongly went back to work far too early. The first day back, I fell off some planks with a wheelbarrow full of concrete, when I lost balance. No major new injuries, but a hell of a lot of pain. The second day back, they gave me a safe job, helping to fix an incinerator. It blew up sending me flying across a room. Again no major injuries, but more pain. I asked myself is someone trying to tell me something.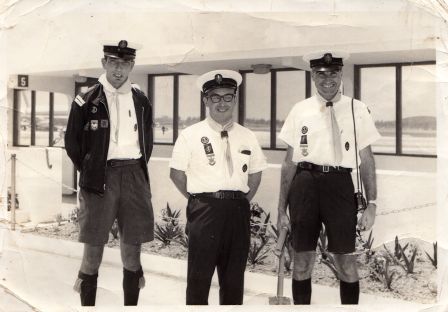 Ray (left) on Scout Visit to Canada in 1967
When I caught up with John after a Scout Meeting, we had a heavy discussion about the riots. He was one of the Policemen who stood up to a crowd that was bashing an injured policeman who was lying on the ground. I sensed a lot of emotion in John's voice. He possibly confided things to me that the public did not know and was not supposed to know. I expressed my inner conflict regarding the incident. The Bermuda Industrial Union [BIU] had done a lot of good for workers. I was a member, had attended meetings, and was considering putting my name forward as a possible future official. Having said that, I found it hard to support some of the actions of officials. Turning a wages issue into a race issue, and attacking police was wrong.
A few weeks later there was an incident of a youth riding his bike at a Policeman, who then jumped out his way and hit the rider with a flash light. This was another example of race getting in the way of right and wrong issues. It was at this stage that I felt my mother saying, "If you believe the Police, despite all their faults, are trying to do the right thing, then support them." I questioned John about the possibility of me joining the Police Force. He was honest and open about problems and conflict I would face. My family would be a challenge, and there were Policemen who did not trust Bermudians; just like Bermudians not trusting the Police. My lack of basic education also had to be considered.
After a lot of soul searching, I bit the bullet and went to Police Headquarters in Prospect to fill in an application forms to join the Force. Even this was not easy. The question of sex and race annoyed me. "How much sex must you have to be a Policeman?", I asked. Ok, they must mean, male or female I learned. Under race I put Bermudian. "No", I was told "they want you to put down Portuguese or yellow." When I questioned this I was told I could try to get the forms changed, if I got into the Force. I readily admit that I felt uncomfortable in a place full of uniformed officers, and in particular the large Union Jack on the flag pole. If this was Bermuda, then why was England's flag flying here? The inquiry into the 1968 riots was later to ask the same question.
In November 1965, I got an official letter notifying me of the date I was to sit my entry examination. My stepmother and father were not happy, but felt sure I would fail the test. It was hard just holding a pen because of the rough condition of my hands, due to 6 hard years in construction work. I knew my writing was terrible, and at best gave myself 50% chance of passing. I then had a long wait to learn the results. I never pushed my friendship with John to see if he could find the results. Just before Christmas I got called into my boss's office to take a phone call. "You are in. You start in January. Your orders are in the mail", said John. This was the second best present I ever got. The best I will mention later. It was hard not to say anything during Christmas. I believe it was the first week in January I got a letter ordering me to report to Police Headquarters 20th January 1966. A week before officially joining the Force I gave my notice at work. As I knew would happen I was accused by some of selling out to the enemy. The big surprise was the reaction of my bosses. They were very supportive. They felt I was wasted as a construction worker. They said words to that effect that they would not want their children doing such work and wished me all the best.
On The Force
I entered 1966 with a lot of mixed feelings. Had I made the right decision? What if I screwed up? Was I educated enough? Was I tough enough? There were many unanswered question. On 20th January 1966, after collecting my gear from Police Stores, I was told to come back on Monday for my official swearing in. I immediately made an idiot of myself by going home, putting my uniform on and wearing it around the house and in front of the property. This upset people who saw me. The following Monday I met Gertie Cannonier [later Barker] who had also just joined. She looked comfortable in uniform, whereas I felt like and, at times, looked like a hillbilly. We were given more forms to fill in, told about the Official Secrets Act, then sworn in. Then came the fingerprinting. "What the hell have you been doing", I was asked. My knuckles were rough and swollen. My hands were hard as concrete, and they could not get a set of prints. The Officers made a note to chase me up in 6 months if I was still on the Force. I was told I would be visiting stations, doing odd jobs, and helping in traffic whilst waiting for the Training School to start.
I immediately started arresting people. My first was a drunk on a stolen bike, when I was off duty in Devonshire, then a drunk who was being a nuisance near my home. I was politely told that unless urgent do not make an arrest until after training. My first shift with the Traffic Boys started at 8 am. After our briefing we got a call about a man who had broken into a store at the back of Hamilton. Two Police cars with emergency lights and sirens went speeding out of the compound, then hit brakes. "Where the hell are we going?" asked my driver. I gave directions and we caught the man on the property. At first I felt uncomfortable working with the officers, but quickly realized how professional they were. We dealt with traffic accidents, domestic disputes, etc. The best thing was stopping at cafes for coffee breaks. That was the first time I had ever done that. The best part was that in most places we were not charged so we usually ordered pie or cake which we did pay for. The businesses liked to see us in the area keeping crime down. One incident with the Traffic Boys stands out. We were patrolling late at night in the Southampton area. The car in front of us was acting a bit strange, slowing down, speeding up etc. Without any warning the car sped off at high speed. We gave chase, with flashing lights and siren on. Going round a sharp bend, the offender lost control flipping the car onto its roof. I could not belief my eyes when I saw a large man with an Afro hair-do crawl out of a car window and started running. I ran after him. As I caught up I could see he was wearing dark shades and was clicking his fingers saying, "Can't stop now man, I ain't got my licence." We arrested him. In the vehicle we found marijuana.
Police Academy
The day came when I was ordered to report to the academy for training. The class consisted of the first batch of West Indians recruited for the force, and Bermudians. Gertie Cannonier, Clyde Burgess, Cadet Steven Dean, Jean Dickinson were among the local recruits. I was surprised to see that Sgt. John Cafferkey was going to be our main instructor. As recruits were taking their seats, the Sgt called me to the front of the class. Supt. (Roy) Chandler was with him. In a low voice John said," Do not expect any favours. In fact I am likely to be harder on you than the rest. If you can't survive the training you will not be able to survive on the street". I thanked him. That was the way I wanted it. I wanted to be judged strictly on my own merits.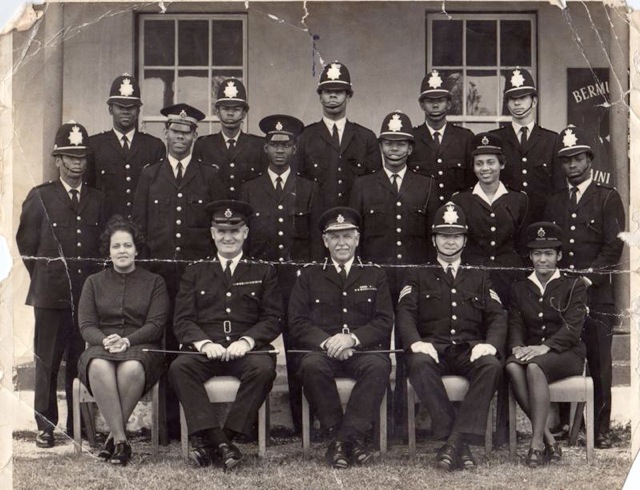 Police Training School 1966
Then when everyone was seated we were told what to expect during the coming 13 weeks, namely law studies, court procedures, First Aid, swimming, drill and self defence. I believe that 15 people started, but 2 dropped out at the beginning of the course. It became very obvious that I was the least educated and would have to work hard just to keep up with the rest of the class.
Marching was extremely challenging. I was born with two left feet, and although I did not say anything I had not recovered from the foot injury I got the year before. I believe our instructor was named Sgt (James) Moir and he was a former soldier. He stated that by the time we had finished training we would all be efficient at marching. I think he bit his tongue when he said this looking at me.
We did swimming once a week. Again I could hardly swim. I recall one cold afternoon we were ordered into the water at Admiralty House. We protested and were told that unless we immediately got in the water we would not be allowed to continue on in the Course. The water was extremely cold, and then it felt like someone was putting pins in us. When we got out of the water we could see the problem. We were swimming among a school of baby gar fish and their beaks were breaking off when they came in contact with our bodies. I really felt sorry for the girls. They had more delicate parts. There was no polite way to offer to give First Aid to ladies. Being ladies they did not ask for help. Whilst feeling sorry for ourselves, one of the West Indians looked down his swimming trunks and screamed, "Man I jump in the water a man and come out a woman. There is nothing there. Back home we don't have water this cold in the fridge!". It was a test of our professionalism that we did not kill the instructor that day. In all fairness, Admiralty House was on most occasions a good place to train. I believe we used a hotel pool once or twice, including for our final test. One of the ladies in our class was rather big and could float with very little of her body under the water line. She was an excellent "victim" when it came to towing. She helped us all pass our test.
Our Self Defence Instructor was a local Black Officer, Sgt Neville Darrell, well known for his toughness. He trained us in how to disarm people with knives and guns, break grips people might get you in, how to throw a person who grabbed you from behind, how to restrain a dangerous person etc,. This training would be extremely useful to me on the street. It has to be appreciated that in those days the only weapon we had was a small truncheon. We had padded mats to train on. On one occasion the instructor was not happy with the way Gertie was throwing me when I grabbed her from behind. He told her what he planned to do to her front of the class, unless she showed more aggression. When I grabbed Gertie the next time, she threw me so hard that I cleared the mats and landed hard on the floor in a sitting position with my feet against the wall. I had extreme pain to my tail bone, and had trouble walking for a week.
The First Aid Training was also excellent. I was pretty good at the basics, although a bit untidy, possibly due to the number of injuries I'd had in the construction industry. Theory was my weakness. I still do not see the importance of knowing the name of every bone in the body.
I found law and court procedure to be fascinating and really enjoyed it. On the street I was to use my studies in conjunction with the "Ways and Means Act"! If a person is causing problems and you look hard enough, you will find something to charge them with.
The listed subjects are just some areas we covered in the intensive 13 weeks of training. We used to have Friday afternoons off and a weekly test on Saturday morning. At first I studied all Friday afternoon into the early hours of the morning in preparation for the test. I found that often my mind went completely blank and I got low scores. Then I tried something completely different. On the Friday afternoon I would go running, canoeing, a bit of swimming practice and get myself physically exhausted. I would go to bed early. I would wake up 5:30 or 6 am have a good breakfast, followed by one or two hours of studying. My test results improved drastically. During our training we developed into a team and tried to help each other with our weaknesses. Sometimes I caught up with fellow students on the Sunday for a short study period or just to relax. We were determined that we would ensure that every one would pass with flying colours.
Sexy Legs!
I mentioned that we all had weaknesses. I had far more weaknesses than anyone else. Gertie's was the distance she had to travel from St. David's Island to Prospect each day. She occasionally fell asleep in class. On one occasion, an instructor walked to the back of the class where she was sitting, raised some thick law books in the air and dropped them on Gertie's desk. The whole classroom shook! Now Gertie knew how to make a Police uniform skirt look good. I believe she shortened hers. It was hard for any red blooded male's eyes not to be attracted to her good looking legs. We tried to encourage Gertie to sit in the middle of the class. That way we regularly looked at her legs and in turn the rest of her. If we saw her dozing off we would try to wake her before the instructor saw her. I know, as a person who sat behind her, it helped me to keep my eyes focussed to the front of the class. I appreciate that this does not sound politically correct today, but I have no doubt this was a factor in improving some of our marks in our final examinations.
The End of Training
The final week of training came. We all gave everything we had to get top results. Our marching drill seemed to get worse. Even if I got it right, someone else got something wrong. We sat our final examinations and waited for the results. I was shocked when the results were posted. I came 6th out of the class of 13. I requested Supt. Chandler to double check my examination papers; surely there must have been a mistake. "There is no mistake" he stated. "Your spelling is terrible but you know your law."
Then came the Passing Out parade. We had a number of marching drills to perform in front of the Commissioner and other senior officers. I am sure the whole class was thinking the same thing. We have come so far, let's not stuff this up. Sgt Moir screamed out his commands. "Class! Attention! By the left quick march, left wheel, right wheel ..." We were switched on and everything went well. The only mistake made was that we were given a right wheel, which would have resulted in us walking into a building, rather than a left wheel. We knew what was meant and turned left. The Commissioner commended the Sgt. for the standard of marching. He then officially welcomed us into the Force. After the official dismissal, Supt. Chandler and Sgt. Cafferkey spoke to us as brother officers rather than recruits. We had come a long way in a short time. Mr. Chandler's last words of wisdom were, "Remember two things. Now go into the real world, forget everything I have taught you and learn to do the job on the street. Also remember to be a cop you have to be a bastard. To be a good cop, you have to be a fair bastard". A lot was said without words when I shook both men's hands. In later life when Mr. Chandler retired, and worked as a security chief at a major hotel, I was to deal with him as a detective. John and I continued to work together as we ran a Scout Troop.
On the Beat
I was assigned to the Central Station in Hamilton. I was 19, fresh out of Training School, believed I knew everything, and was ready to take on the world. I was in for a rude shock. Most of the officers I worked with were excellent but it took some time to win them over. I heard remarks like, "What is the world coming to when they take Portuguese on the Force? Name one good cop?". My quick reply was, "DC Harold Moniz and Sgt Ernie Moniz". I believe the same officer was with me when I attended my first breaking and entering at a shop in town run by an English lady. When I introduced myself, her first reaction was to say, "I know who you are, they hung your uncle (Harry Sousa) for murder. They should have hung the whole no-good family. Now you have turned your back on them, and become a traitor ". I made it clear that I cannot control what other people, including family, do. "Everybody probably has skeletons in their closet. I intend to treat everyone with respect, and it would be nice if I was judged on my own deeds, and given any respect due." We then started over, introducing ourselves. I went out of my way to regularly visit and speak to this woman. I believe she gained respect for me. I heard this story was spread among other police officers, and did not shy away from confronting the issue.
The first arrest I made while in the city went well until I did my report. I wrote it as neatly as possible as I was trained to do and gave it to the Sergeant. "What is this? Type it", he said, pointing to a typewriter which I am sure was one of the first invented. Most of the letters on the keyboard had worn off. The keys regularly got stuck, and you had to be forceful to move some of the keys. The first report I did took me over an hour to do. The first chance I had, I purchased a typewriter and tried to teach myself to type. Even now I am faster with one finger. Looking back I believe the following were 3 of my main tests when I first started on the beat. When I first started there was some concern raised that our shift seemed to get less arrests than some others. It was then agreed that if I made the arrest some officers would help with the report. It was strange but sometimes my name did not appear as the arresting officer.
Just mucking around.
A group of youths aged 16-22 used to hang around Par-la-Ville Park. I went to school with members of their families. When on patrol they would shout rude remarks, and suggest that I was not tough enough to be a cop. My partners would say, "Leave them, you are better than they are". However I felt that I would have to confront this matter. The day came when I was patrolling the park on my own. Someone ran past me grabbing my helmet, then another ran the other side of me grabbing my truncheon. A group of about 6 gathered around me laughing. "That is it." I shouted. "I am arresting you all for offensive behaviour." "Come on Cosmo. You know we are just mucking around. Ain't the Police supposed to talk to people and be friendly. I understand they teach you that in training?" said the 18 year with my helmet. "Oh you are just mucking around, that is different ", I said. "Since we are just mucking around, I'll show you what I would do if this was real". I grabbed the youth with my helmet and threw him to the lawn, elbowed the person with my truncheon in the guts and threw him on top of his mate. Raising my foot in the air I said, "I would then slam my foot into your faces. Fortunately for you, this is just mucking around and not real". A small crowd had gathered around me. Everyone looked stunned. Putting my helmet on, I held my truncheon out and said, "Ok folks, does anyone else want another demonstration. You can all join the Force and learn to do this". At this time other Police Officers arrived, and asked what was going on. My reply was I was doing Police Public Relations work, demonstrating how we are trained to defend ourselves. "Is that right gentlemen?" They all said "Yes". I got the young folks to introduce themselves. Back at the station I was called in to speak to the Sgt. and Inspector. They asked what happened, and I told them "a little bit of Public Relations work." I was told "You are cutting it close to the legal line. You do not have to take on the world to prove anything." "Sorry Sir, I disagree. I have to do a lot to gain the respect of the whole Force and the community", I replied. After this incident, different stories circulated about it, everything from Police brutality to the youths beating me up. The important thing is these people never tested me again.
The Straight Razor Attack.
I was patrolling Reid Street on my own when I was called in to deal with a disturbance in a club. There was a lot of shouting and I had trouble finding out what was going on. Without any warning I was pushed onto a pool table and this grinning man came at me with a straight razor. I kicked him away and ran out the club followed by my laughing friend. A Police car stopped, and out stepped a person I now know to be Campbell Simmons. Calling the man by name, Campbell told him not to be an idiot, drop the razor and get in the car. After a short time he did. I was later to spend a lot time working with Campbell in the Narcotics Squad. I really felt bad about the way I handled this situation. It is not in character for me to run from a fight. For some time I took every opportunity to visit this club and attend dangerous incidents to prove to myself I was not a coward.
Join the Bloody Mounties
It was a very hot and humid day in August, and I was still only 19. As I was walking the beat I was told about a man holding some fish and telling young ladies what he would like to do to them. I walked towards the area where this was supposed to be happening. Outside the Empire Club on Church Street I saw this big black man holding a large fish. His language was very colourful and insulting to the lady pedestrians. I sized up the situation. This man was taller than me [I am 6 foot]; but more important he was 4 times wider. I approached the man and suggested he take the fish home before it went off due to the heat. "Thanks Constable, I'll do that", was the reply. Then I broke a cardinal rule of self defence; never turn your back on a suspect. Without warning I received hard slap in the face with the fish, sending me to the side-walk. I knew I had no choice but to arrest the man for assault. As trained, I put an arm lock on him. According to the book, if you try to break the hold you will break your arm. This man had not read the book. He raised his arm lifting me 6 – 8 inches off the ground. Dropping the fish, he grabbed me by the shirt and he slammed me into the building. I released my grip, and he used that hand to hold me off the ground. He made a fist with his free hand. It appeared to be bigger than my head. I was prepared to be killed. As he aimed his punch for my face, I moved my head and his fist slammed into the wall. As he dropped me I hit him a number of times in the stomach, but it had no effect on him. He tried to punch me again. I decided to soften him up a bit. Using his arm I slammed him into the pavement. He staggered to his feet and I bounced him into a building wall, and then jumped on him whilst he was on the ground.
I managed to get one handcuff on, but he still managed to break my grip, pushing me away. He charged at me, I side stepped and slammed him into a building again. As he bounced off I slammed him into a parked car doing a lot of damage then bounced him into a wall again. The fight started on Church Street. My intention was to bounce him all the way along Burnaby Street then to the station if I had to. After a bit more softening up, I jumped on him as he lay in the road. I got the second handcuff on him with his hands behind his back, and then forced him to his feet. There was some cheers and clapping from people who enjoyed the afternoon entertainment. Someone slapped me on the back and said well done. Another person gave me my Police helmet. A police car arrived and took the prisoner away. I heard someone shout, "That's my nephew". It was Bifty Hayward who, besides being my uncle, was a sergeant in the Reserve Police. "Why didn't you help me? " I asked. "Because he was big and you had him under control", was the reply. My hero status did not last long. I believe it was Inspector John Mullan who was on duty. "Constable Sousa, what Police Force are you on?" he shouted. "The Bermudian Force Sir", I replied. Then bloody well wear a blue shirt. If you want to wear red then join the Mounties. Now go and get changed. You are a disgrace" he continued. "Take your time son", said a gentle voice. It was the duty sergeant. I looked at the prisoner. He was covered in blood, but refused medical treatment other than basic First Aid. I examined myself. I too was covered in blood from the fish [I can't remember what happen to it], the prisoner [nose and hands] and myself [nose and small cuts to my face from the fish]. I went to Police Barracks, got a shower and change of clothes, then resumed normal duties.
The next morning I looked in the mirror. Other than some swelling to my face I was okay. I then visited the prisoner. He really looked bad. His face and fist were badly swollen. He claimed he had no idea what happened the day before, because he was drunk. He was charged with Offensive Behaviour and Resisting Arrest. On my request he was not charged with assault on a Police Officer. Over the years I dealt with this man a number of times; but after that he always cooperated. Like me, he did not want a rematch.
The Best Christmas Present I ever received
1966 was a very interesting and challenging year. I did a lot of studying and learning on the street. I still had some doubts about if I had made the right decision to join the Force. Some members of my family and friends felt I had sold out to the Police /Government because, although a lot of progress was made, there was still prejudice on the Island. I had hated Christmas from the year my mother died. My first Christmas without her was spent looking after a sick baby brother. Then I had to deal with a culture change in my immediate family. Depression had set in on my first year on the Force. I was due to work the 4pm to midnight shift on Christmas Day. I went to Mass in the morning, and then went to the family's home. I was made to feel uncomfortable and made an excuse to leave after a short time. I could have gone to friends or my aunt and uncle's house for Christmas lunch, but I did not want to spread my gloom with them. I spent the rest of the day on my own in Police Barracks. My Christmas lunch was tinned ham and tinned pudding. I had ½ a glass of scotch to wash it down, which possibly made me feel worse. I went to work at 4pm and tried to avoid speaking to people.
I was on the beat on my own when I was instructed to deal with a domestic dispute at a home near the Rosebank Theatre. I recall being asked if I wanted back up and rudely replying, "I'm a man. If I need back up I'll ask for it", or words to that effect. When I got to the house there was a lot of shouting, screaming, crying, and the sound of breaking glass. The door was open and I saw 3 generations of people. There was and man and woman in their 50's, a couple in their 20's with two small girls about 5 and 6. Everyone was shouting, blaming the others for causing a fight. "Everyone just shut up and listen", I shouted as I walked in. Looking at the table I saw a half bottle of Scotch and half a bottle of rum. "That's the cause of the problem", I said pointing to the liquor. I asked the girls to go to their room while I spoke to the adults. Turning to the women I said, "I want you to sweep up the glass, pour the liquor down the sink, and make black coffee for all of us, and you two, sit your arses down", I said pointing to the men. I told the men what idiots they were for fighting over something so stupid and unimportant, that they could not remember what it was. The women with the coffee arrived and joined us, and I told them the same thing. "What is bloody wrong with you people? You are a family and it is Christmas. Do you know many lonely people there are this Christmas? Yet here you are with two beautiful little girls, fighting and upsetting them. You ought to be whipped. Now, let's drink the coffee and sort this out," I said. There was total silence for about 2 minutes, then everyone starting crying. "You are right," they all said. "Well you have two options. I can lock your arses up, or you can apologize to those little girls for your behaviour", I said. They agreed to apologize. I called the girls and they came out. After each adult apologized, the girls looked at me, jumped in my lap hugged and kissed me." Thank you, thank you so much. You are better than any Santa Claus" the girls said.
I reported back to the station that the matter had been resolved and was instructed to come in. At the station people looked at me strangely. I asked what was wrong. Someone said," You look different". I was different. I had learned the meaning of Policing at Christmas time. It was about keeping the peace, not arresting people. The gift of seeing those little girls happy on Christmas is the best gift I have ever received.
Sergeants and Constables I worked with
During my time on the beat I worked with hundreds of interesting people. I would like to mention a few that for various reasons made an impact on me. Sergeants Joe Colton, Derek Fletcher, Dave Parsons, Andy Maule, "Doc" Hall, and Hilton "Jellybean" Wingood come to mind for various reasons. If you arrested a person in the field, it was nice to get the "Doc" or Andy Maule to drive them to the station. Some criminals would sign anything to get out of a vehicle driven by these two! I served with "Doc" in Riot Squads and we arrested a dangerous criminal with a long tooth rake at Pond Hill. "Doc" was fearless. I worked with Andy Maule in the city and in Parishes. He was a union man who fought hard for his troops. Joe Colton, Derek Fletcher, and Dave Parsons were also excellent officers who sometimes surprised me with their ability. Then there was Sgt Wingood who tried so hard to teach me how to be a Policeman. I will tell a few stories without directly naming some officers for legal reasons.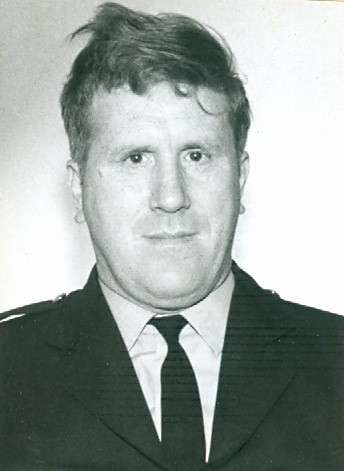 Sergeant Andy Maule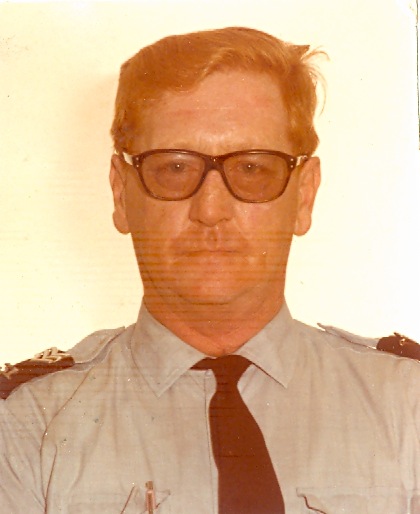 The reason I am a Sergeant and you are a Constable.
At one stage we had the biggest officers on the Force on our shift, yet every time there was trouble the sergeant only took the smallest members of the watch with him to deal with it. One day I questioned the sergeant about this. His reply was "That is the same reason I have stripes and you don't. If you are going to pick a fight, would it be with a little guy or a big one?" "Little guy ", I said. "Well while they are beating up the small cops, I can safely approach them from behind and grab them, and I do not really want you with me, because if you get hurt our arrest rate will go down".
You are early, Sarge.
I am sure that Sgt. Wingood would not mind me telling this story about an Englishman we had on our shift for a year. During that time he never made an arrest. On one night shift we were assigned to patrol the docks, where we knew Weatherbird wanted to be arrested and enjoy the comforts of the cells and a good meal. Sure enough as soon as we arrived Weatherbird approached us swearing and shouting abuse. My partner calmly picked up a piece of rope on the ground and walked over to where there were some concrete blocks. He tied an end of the rope around around a block. "Well", shouted Weatherbird, "Are you going to arrest me?" "No" was the reply, "I'm going to tie the other end of the rope around your neck and drop you in the harbour to shut you up" was the reply. I have never seen a man run so fast. Weatherbird stayed well clear of this officer.
On another occasion I was walking the beat with the Constable on the 4 to midnight shift. We saw 2 pretty young women sitting at a table at a restaurant. My partner pulled up a chair between them, put his arms around the ladies and said, "Which one of you lucky ladies is sleeping with me tonight?" After work both women were waiting for him at the station.
Each shift I could sense Sgt. Wingood's frustration with this Constable. Other Constables tried to convince him to make an arrest for anything to keep the Sgt. happy. His attitude was he could not care less about white officers, let alone a black one.
We were getting complaints about drunks at Joell's Alley and were assigned to clean up the area. My partner and I walked to the area, and saw about 6 men passing a bottle around. We walked up to them and asked what was in the bottle. "Milk", said one man. My partner grabbed the bottle, wiped the neck and took a long drink. "No", said my partner, "It's not milk. It's rum". "Ok," said the men as they lined up ready to walk to the station. "What are you doing?" asked the Englishman. "Taking them to the station", I replied. "We can't do that. They thought they were drinking milk, until I told them it's rum" said my partner. He then slowly poured the remains of the bottle onto the road.
Later I will tell some tales about Government House duties, but my friend also has this one. The English constable was assigned to duty in the guards' post at Government House, between 7pm and midnight. "Sergeant, what time will you be checking on me tonight?" asked the Constable. "About 10pm", was the reply. "That is a good time Sgt. I will get there about 7:30pm, phone my girl friend. She should arrive 8:15. That gives me plenty of time to sweep the building. We can talk for 15 minutes, lights out 8:30 to 9:30 then lights on, talk for 15 minutes. 9:45 I will send her home and air the building out and Sgt. you would not have known what happened." Sgt Wingood asked me to assist at the station; but kept approaching me about the Constable. All I could say was he was a crazy bastard; but the Constable could just be stirring him up. At 9pm Sgt. Wingood could not take the pressure any longer and asked me to go in the vehicle with him. At the long drive-way he turned the vehicle lights off and drove slowly towards the guard house. I "accidentally" turned the blue emergency lights on. We walked towards the dark building; I was making as much noise as possible. The Sgt open the door and switched the lights on. Looking up from the floor, then at his watch, the Constable said," You are early Sarge." He then introduced us to his girlfriend who got dressed. I've never seen a black man as red as Sgt. Wingood that night. Charges were laid, but before they were heard the constable resigned. The story was that he met a rich middle-aged woman who he made happy. She owned hotels in the Bahamas, and needed help managing them. I never met a Police Officer that got away with as much as this constable. The truth was he was on a "holiday" in Bermuda!
My Guardian Angel
For a short time I worked with a Scotsman who, according to locals, could not speak English. But there were times he had a deep authoritarian voice. This officer loved climbing. One late night I took him to a drug users' hangout at the rear of town. There was a large stone embankment there. Even in the dark his eyes shone. In the dark I lost sight of him. About four youths approached me, saying "Man you must be crazy coming here by yourself". "I am not by myself. I have my guardian angel with me ", I said. They started to laugh and were trying to decide whether to attack me. Then came a thundering loud voice from above "Is there a problem lads?" They shined their flashlights in the air and at the embankment but could not see anyone. Again the voice rang out, "I said is there a problem lads?" From the dim light of the flashlights I could see fear in the youths' eyes. "Look man it's all cool. We don't want any trouble. You tell that angel of yours to keep cool", said one of the youths as they vanished into the night. The story of this got out on the street, but I do not believe anyone accepted it... It was put down as an extra strong batch of marijuana! According to my Scottish friend he climbed the walls of Black Watch Pass just before he returned to the UK.
I know why you are stopping me.
One officer I enjoyed working with was English, married to a black local girl. On the midnight to 8 shifts we use to do random vehicle spot checks, just as the clubs were coming out. We had some good arrests for stolen vehicles and property. We also got to know the love life of a lot of people and could have made a fortune, if we went in for blackmail! To some people, we were a bit of a nuisance, but some other people were glad to see Police on the street. If we found minor faults with a vehicle we would give them time to correct the problem provided they cooperated. Of course we would get our 3 favourite types of customers. The first would say, "I know why you are stopping me. You are too frightened to stop those black bastards". The next group would say, "The only reason you are stopping me is because I am black. The whole Police Force is prejudiced". Then there was our favourite group, who would say, "Do you know who I am? Do you want to keep your job?" Every time these people passed a remark of this nature we found something else wrong with their vehicle.
Too English for Bermuda.
There was one officer I simply could not work with. He was 23 but looked 53. He hated everything that was not English. On one night patrol he saw an American tourist go down the steps of the water's edge behind the Flag Pole to relieve himself. The nearest person was at least 100 yards away. Constable Jones [not his real name] charged over to him shouting, "You filthy swine. How dare you do that in the Queen's public place. How would you like it if I pissed on your property, you moron". The man tried to explain that the toilets at the club were full and he just could not hang on much longer. He had earlier seen this isolated spot and made a dash for it. "That's cool. "I said, "Enjoy the rest of the night". By this time a crowd had gathered around us and the tourist was embarrassed. "I am not finished with you", shouted PC Jones. "Yes you are. Let's get a cup of coffee and talk about this" I said. "I am English I only drink tea" he shouted back. He drank his tea and I drank coffee. We discussed how we saw our roles regarding dealing with tourist and locals. It was obvious we were from different planets, so I spent a lot of time trying to express my point of view.
Fortunately I did not have to work with PC Jones until sometime later. We were assigned to work together. Our beat included Court Street. I questioned the wisdom of this, because I could foresee this officer causing problems. I accepted that orders are orders and I walked off towards Court Street. "Chin up, keep in step we are representing the Queen. Why are you looking to the side? Eyes front constable or I will report your behaviour", shouted Constable Jones. As soon as we got among the people I started to acknowledge them calling out their names. "Spook, Moses, Black Jesus, Satan, Sputnik, Whitey, Blackey" etc. "I warned you not to talk to that rubbish. Keep marching with your eyes to the front, you are representing the Queen" shouted PC Jones. I was waiting for the sound of gunshots, or the sight of a knife. One of those on the street was from Pond Hill. "Hey Sousa, my man, what is going on here, let's sort this out" he shouted as he approached. I stopped to talk to him. PC Jones was still shouting orders and being rude to people. "Man, this is our turf and you bring this limey fool here upsetting the brothers and sisters. That ain't cool you know. Now why are you here and why do you call out peoples' names, you make us feel uncomfortable you know. One bullet and your limey mate goes back home in a box." I replied, "You see brother, I don't see things his way or yours. This is all Bermudians' turf, not just yours and definitely not his. Everyone has a right to walk the street. You can argue that the Man has sent us here to provoke trouble, so he can send in the riot squads. You could be right or wrong. I can assure you, if you kill me there will not be any tears at Police Headquarters. I call out names to show my respect for the Brothers, and if any one gets me and I survive, people know who I will be looking for as witnesses," I said. "Brother you are crazy and cool. I respect that. Be careful and cool" he said as we exchanged the black power handshake. I continued my slow walk along the street calling out names. My partner was furious with me and marched off to report my traitorous behaviour to the duty inspector.
When I arrived at Hamilton Police Station I heard a lot of shouting in the Sergeant's office. I was asked for my side of the story. It was simple. I believed my job was to serve Bermuda. PC Jones still believed he was in UK. It was up to the Police Administration to decide which of our two methods of Policing was the best. A short time after this incident I heard the PC Jones had married an elderly English lady and returned to the UK.
Sleeping on the Job
If we are going to be honest, some English Policeman came to Bermuda for a paid holiday. I have no problem with this because some contributed a lot to the community whilst on the Island. What did bug me was that some wanted to sleep when on night duties, so they could enjoy the following day. Strangely, this sometimes ended with some good results. From balconies on the second storey of shops on Front St. you could see a lot at night; and we [me] made some good arrests. Then there were cases of people stealing ferries and buses with Police Officers asleep on them. Of course that was not was in the report. The important thing is that without people trying to get out of work, the offenders would not have been caught.
Naval Ships Visits
It is fair to say visits by the Navy were interesting. This is understandable because of the age of the offenders. The following are a sample of the type of cases we dealt with:-
I just want to get to bed
One night I went to a complaint in Spanish Point. American sailors were beating up a local. I knew the interesting family. On arrival I quickly resolved the matter. The husband had just got home from work, but every time he tried to get into the house the sailors beat him up and told him to wait in line like everyone else. He was not interested in what his wife and her girlfriend were doing, he just wanted to go to bed. Once allowed into his bedroom, peace was restored. The marriage did not last very long, and over the years I had regular dealings with the couple.
Little Aussie Battler
It was late at night. Ships were in port after a NATO exercise. I was on the beat on my own, walking past the Imperial Hotel (at the junction of Burnaby Street and Church Street). A fight broke out between some American sailors and a small Australian sailor with a broken arm. I told them to cool it, and the Aussie back-answered me. I arrested him, mostly for his own safety. We were walking along Burnaby Street towards the Police Station, having a friendly talk. He was off a submarine. I was surprised to learn that the Australians were part of NATO, but was told this was part of an exchange program. A few American sailors walked past, and made a remark about the English, Bermuda and the Queen. The Aussie got away from me and started a fight. I grabbed him pushed him into a shop door way so no one could get us from the rear. It seemed the whole USA Navy appeared. "I started it, mate. I'll help you," shouted the Aussie. I had no option but to agree. It was amazing how tough my little friend with a broken arm was. With my truncheon I kept hitting the Americans who wanted to kill the Australian. After what seemed a long time, help arrived, two Police cars and a US Shore Patrol Vehicle. Driving abreast along the street they pushed the crowd away from us. The two Shore Patrol Officers got out with their long nightsticks and lashed into the sailors. Some sailors were arrested by Police, some by the Shore Patrol. Fortunately, I only received a few bruises. Although Aussie's face was badly swollen, he could not feel it because he was drunk. The Americans were the big losers on the night with a lot of injuries.
The Horse and Buggy
When I think of problem ships I think of HMS Wakefield. When it was in port our cells were going to be full. Their favourite bar was the Horse and Buggy on Queen Street (where the Little Theatre is now located). There was a flight of steps from the club to the road. The British Shore Patrol did not want to get involved because a number of the Wakefield's Officers were involved in the disturbances. In one case, the Sgt decided he wanted the matter resolved without any injuries to the Police. We backed the Police and Shore Patrol vans up to the stairs with rear doors open. Police officers went in whilst others stayed with the vehicles. Talking on public address system the Sergeant asked on behalf of the business management for members of the Wakefield to leave the premises. The response was abuse. The Sgt. then asked people not associated with the Wakefield to step outside for a short time. Some people left and the abuse continued. The Sgt. shouted "now" and the lights went out. A fight started in the dark and the sailors came flying and rolling down the stairs. We put them into the vehicles. After the noise died down the lights went back on, and a few bodies on the floor were also put into the vehicles. A bit of damage was done to the club, and the Navy got the bill. The good news was that no staff member or Police officer was injured.
The French Canadians
Were also known to get drunk and be a nuisance. We had a lot of fights and problems. One night I tried to stop some sailors from stealing bikes outside the 40 Thieves Club on Front Street. I was getting a beating when out of nowhere PC Jeff Payne appeared. I believe he flattened about 4 sailors in seconds. We made 2 arrests but a lot more were injured. It was always good to have Jeff around when sailors were in town.
The Sailor I regretted arresting.
It was in the early hours of the morning when I encountered an English sailor about 17 years old abusing a Taxi Driver. I was told that the sailor refused to pay the fare claiming he had no money. When I spoke to the sailor he punched the roof of the car and took a swing at me. I ducked, grabbed him by the swinging arm, swung him into the taxi and handcuffed him. I got the driver's details and marched the drunken sailor off to the station. I charged him with offensive behaviour, resisting arrest, and asked for payment of the taxi fare. After going to court I did not give a second thought to the matter. A month later it was extremely hot and humid and I was just finishing the 8 to 4 shift. I was drenched in sweat, when this small sailor who could barely walk approached me. After appearing in court, he had been put in the Naval Prison at HMS Malabar. A condition of his release was that he walk from Malabar to Hamilton to apologize to me, and not come back until he did. He was glad to find me because he had no idea what shift I was on. I sat down with him, got him a meal and arranged for him to be transported back to the base. I had no idea about the level of punishment the military handed out to members even though they had already been punished.
From that point I tried to get the Shore Patrols to deal with offending sailors. With agreement from the Sergeant I sometimes went out with the US Shore Patrol which had a base at Barr's Bay Park (now the Marine Police Station) in Hamilton.
College Weeks
This was another interesting time of the year, when American and Canadian students had a chance to let their hair down after their studies. The girls [about 17 to 21] seem to have a fascination with locals and the Police. It was not unusual for girls to be waiting after shifts to go out with Policemen they had met on the beat. There was one PC who had a number of charges pending against him and should have been kicked off the Force. Allegedly he caught a very senior Officer with some young girls. The charges were all dismissed due to lack of evidence and he was transferred to a desk job.
College weeks also resulted in an increase in drug dealings, cases of stealing, assaults and traffic accidents. I have no doubt that some locals, possibly a few policemen, took advantage of the girls when they were under the influence of different substances. I also had to be open minded when investigating assault charges. The girls could so easily say things that it was hard to disprove. I was mindful of this in particular when examining those involved in cycle accidents. How is it that tourists got injuries to parts of their bodies that locals didn't? There were some real temptations.
I must stress that not all the students were permissive. A lot came from very strict families. Of course even the highest morals go out when people are under the influence of drugs and booze.
I'll take it off
There was one college girl that almost caused a riot. I was on foot patrol in the middle of the day on Front Street when I saw what appeared to be a naked young woman riding along the road. I signalled her to stop. She was wearing the tiniest possible bikini. two band-aids and a cork would have covered more. I explained the local dress code to her and my concern that she would not survive very long on Bermuda's roads dressed like that. "Oh, I don't want to break any laws", she said and started to untie the strings to the bikini. I tried to cover her front with my helmet and restrain her hands; at the same time ushering her to the Dock Police Station's office. Needless to say people from the street and dock workers rushed to the office. She encouraged the attention. I covered her with a Police raincoat. One of the officers made an urgent phone call and said he just got the afternoon off, and would happily take the lady to her hotel so she could get some clothes. He went to get his car and stopped outside the station. As I was leading the lady to the car, the bottom half of her bikini fell to the ground. Just as she got into the car she "accidentally" dropped the rain coat, to the delight of the male observers. She waved to everyone as she drove off. Like many other witnesses, I had some wild dreams the following few nights. Her story may well have already appeared in a "Males' Magazine"!
Yankee Doodle
Despite the fact that American College Students were the intended leaders of the world, some were not very bright. One such student was an 18 year old. It was 3 am when I saw this student walking in the middle of Front Street with a Bermudian flag over his shoulders. He admitted stealing it, but said Bermuda was not a real country so it could not have a flag. I handcuffed him and dragged the protesting American to the station. I think Sgt Andy Maule was on duty. The American made some remark about how funny we looked in our uniforms, especially the helmets. I had to calm the Sgt. down. The Yank became extremely loud and abusive, making more comments about Bermuda not being a country and we were not real policemen. I asked the Sgt. to let me deal with the prisoner. I showed him 3 cells; one had a smelly drunk, another had a large male who loved boys. The 3rd cell was vacant. I gave him a choice - his own cell if he shut up or a shared cell. He agreed to cooperate. After processing him and putting him in a cell, I went on the road to deal with more complaints. In the morning, I officially charged the American. I was then told that the day shift was going to be short staffed and asked if I would stay back for 2 or 3 hours. I agreed. Later in the morning I took the American across the road to the court house. I stayed with him. When the prisoner's name was called I brought him to the bench. The magistrate, who knew me, looked at the charge sheet and said words to the effect, "You have had a long and busy night Constable Sousa". He then read out the charges and asked the American how he pleaded. The American started shouting, "It ain't a real flag, just a rag on a pole. Bermuda is not a real country. He ain't a real policeman, you are not a real judge and this ain't a real court. I am an American. I have rights, if anything happens to me, the USA ,the most powerful country in the world, will blow this place up." "Shut up", shouted the magistrate, " Did you take the flag or not? If you did the answer to my question is guilty. If you are not guilty then say so and we will set a time we can hear the case." "Guilty, but..." said the American. "That's all I want to hear. How much money do you have on you?" asked the Magistrate. "$500," was the reply. "I fine you $100, but be warned, if I see again you will go to prison. Take him away Constable Sousa and get some sleep." I took the American to the station, suggesting he be kept in the cells for a while to let the message from the court sink in. I told the Sgt. that I was going to the Spot Restaurant for a late breakfast, but would check with him before going home. Half an hour later I was walking back to the station. Walking towards me was the American carrying a policeman's helmet and rain coat. I did not say a word. I pushed him against a building; handcuffed him and marched him back to the station. I spoke to the Sergant and told him and I would follow up on the matter. I shoved the prisoner into a chair and typed the charge sheet. I then marched him back across the road to the courts, sitting him down at the rear of the court room. The magistrate saw us and I knew he was angry. He requested that the present case be adjoined and everyone to leave the room. Turning to the prosecutor, he said there was no need to remove anything. The new matter would not take long. Signalling to me to come forward with the prisoner, the magistrate said "What has he done this time Mr. Sousa". I handed him the charge sheets. "Yankee Doodle come real close. I want to hear what you have to say", stated the magistrate very calmly. "Well it is not really a police helmet or coat because this place ain't real, but your boy here is pretty good to catch me twice. Do you know how long he has been going without sleep? What are you going to do, you are not a real judge," said the American. "Ok, I take that as a guilty plea. Now how long were you intending on staying in Bermuda?" asked the magistrate. "One week", was the reply. " In that case you will spend the week in prison", said the magistrate. "No way man, no way. I'm not spending time in any funny prison. I would rather kill myself", cried the Yank. The magistrate finally blew his cool and shouted, ''Constable, hand the man that rope", pointing to an exhibit in the other case. I made a noose and gave it to the American. He fainted. "Bloody shame, I was hoping he was going to save the Government some money. Take him away; and Ray, get some sleep. That is an order." said the magistrate. Despite being short staffed the officers at the station were helpful. I was driven to barracks and my bike was also delivered to me.
The Court System.
Old and prejudiced
In training I was surprised how much I enjoyed studying law. The first case I was to give evidence in however, worried me a bit. I was due to give evidence regarding a man we arrested for stealing a motor bike. I was sworn in and gave my full name and police number. "Where do you live" asked the old magistrate. "Sir, he is a police officer, he does not have to answer that question", said the Sgt. "I want to know where he lives," insisted the magistrate. "Glebe Rd., Pond Hill", I said. "9 months take him away," stated the judge. The prosecutor approached the bench, and I could faintly hear the conversation. "But he said Pond Hill', said the magistrate. "Oh, oh, now I see ", I heard him say. " Sorry about that constable, I did not realize who you were. Go ahead with your evidence." After all the evidence was given the defendant changed his plea to guilty. "Where did you say you lived", the magistrate asked the defendant. "Devonshire", came the reply. "Due to your previous convictions, I sentence you to 6 months in prison'', said the judge. The defendant was glad that he was not from Pond Hill. Fortunately, this magistrate went back into retirement shortly after this case.
One magistrate I had a lot of time for was a former Royal Navy Officer. I believe his name was Raymond Bond. On occasions while dealing with naval offenders, he would clear the court and give them a dressing down.
Another magistrate, I believe his name was (Anthony) Sedgwick, changed jobs and became a Crown Prosecutor. I had the good experience on some occasions of doing research, carrying all his law books etc. when he was in Supreme Court. He was brilliant for remembering and quoting previous test cases. Strange as it might seem, this man was accepted in both the black and Police communities. He loved visiting social clubs.
The common mistake made by English Officers was to quote Bermudians speaking Oxford English. On the other hand I tried to write notes and statements as things were spoken. I was commended a number of times for this.
Another area I stuck my neck out was giving evidence about dealing with dangerous offenders, when I was out-numbered and my life was in danger. On two occasions I admitted hitting offenders in the head, rather than aiming for shoulders. In one of the cases the magistrate stated I was the only witness he fully believed and stated he would have done the same if he was ever in my position.
I only remember been given a dressing down by a magistrate once. Two of us were in a Police car that chased another car late at night. A package containing drugs was thrown out. We got both the offender and the drugs. My evidence was the car was white. The other officer swore it was black. The magistrate asked how could he convict on the word of two Police Officers when they couldn't agree on the colour of the car. He dismissed the case. We went outside and sure enough we were both right. Half was painted black, the other half white. To keep our creditability with the magistrate we showed him the car. It was too late to charge his ruling, but accepted that if people approached the car in darkness from different sides, they might not realize the car was two colours.
Surprisingly Weatherbird was good at defending himself in court. He forced me to arrest him at the Flag Pole for being rude to a tourist. His defence was that the swearing I heard was coming from his portable radio, that I was new to the job, wanted to become the Commissioner. After ½ hour on the stand, I started to question my own evidence. Fortunately, the magistrate knew Weatherbird's tricks!
Later when in The Narcotics Squad I use to study lawyers we would come up against. Often they knew their client was guilty so they tried to confuse us when we were in the stand. On one occasion I sailed very close to the wind when giving evidence in the Supreme Court. A QC said "Mr Sousa, look in me eyes and tell the Court what you see". I did, and there was an uproar. Leaning over the witness box with my face close to the lawyer's, I said, "I see a lawyer who is not too bright, who is trying to confuse my lord, the jury and myself." As I stated then, how could I be disrespectful when expressing a requested opinion?
Views on Racial Prejudice in the Force and in the community.
When I joined the Force my views on this matter were simple. If you did not respect people as equals you were evil. When I tried to open my mind I learned that life is
not that simple. One of my educators was a man I will refer to as PC Peter Perfect to protect his identity. When he arrived in Bermuda he was somewhat amazed that the English were able to tame and train Blacks and Portuguese to be Police Officers. He made it clear that he had no intention of taking orders from "Jungle Bunnies or 'Gees". He honestly believed the English were God's chosen people. He tried to teach me to talk like a human. When he kept his mouth shut we worked extremely well together. He was excellent at writing reports, but I had to convince him not to use the terms "the Yellow Plague", "Tree Swingers" "War Bunnies" "Tamed Apes"; which did not go down well with black sergeants and inspectors. I possibly saved his job a number of times. On one occasion, he said" You know Ray, you have really taught me to love and respect animals". I tried to get him to study history books which showed there were civilizations a lot older than the English. In later years when I became a detective he was used in a dangerous raid. I warned him in advance that he was to keep his mouth shut and follow orders. The whole team did an excellent job. When he saw me some time later, and Senior Officers were present, Peter came over to me started petting me on the head and said, "I am really amazed how intelligent this boy is considering he has just come of the jungle." This was Peter; he honestly believed he was superior. The question has to be asked,"who recruited such people into the Force? Surely it was obvious that this type of thinking would harm the image of the Force."
Jimmy Costello was a great Station Officer and person to work with. He never tanned and was always pink. I loved the way he handled prejudiced white people. One night at the station when it was very quiet, an elderly lady tourist came in and had a long talk with Jim. I was in the back room doing reports. Then I heard her say," Are you prejudiced?" "Of course not, I love white people" was Jim's reply. "Oh, I am so sorry, I did not mean to offend you." she said. Jim reassured her that he was not offended and the conversation continued. This woman actually believed she had her first ever real conversation with a black man that night. These two constables made me re-assess how I dealt with people with extremist views. I have since worked with many nationalities and know that some people honestly believe they are superior.
Over the years I worked with community groups in Bermuda, and served on committees with people from all areas and walks of life and gained their respect. In some rich areas, I was first accepted as a policeman, then as a friend. Some people stated they wish they had encouraged a relationship between me and their daughter rather than have her stuck with her no-hoper boy friend. There were a number of "Mrs. Robinsons", who by the way they spoke, behaved, and the clothes they wore might have been trying to seduce me. The temptation drove me crazy, but my morals and knowing their husbands had guns discouraged me from pursuing them.
The Black Princes
I know a lot of people claim this title. I will only touch on 2 such officers without naming them. One had a love of girls of all colours and races aged from about 14 to 80. He suffered badly from a disease he called "Tizicks". When he saw an extremely pretty girl his hand pulled the steering wheel towards his chest. On one patrol for prowlers on a hot night near the Nurses Quarter we saw some women in the nude. The steering wheel of the car was pulled off, and there was bit of panic as he tried to put it back on before the car crashed. This officer had a special attraction for middle aged white women with blonde hair and dressed in black. When he returned from overseas he would receive letters in envelopes from some very conservative, even white extremist groups. He was great to work with because he was always alert looking for crime and women.
One English cop I worked with was a bit racial. For some reason he accepted me as a partner at work, and told me about his high society social life. He intended to marry a rich Bermudian and have an easy life. At this time I was hearing stories from St. Georges about this "Black Prince" who was on the Police Force and sending rich white girls wild. At 6:30 am the English Constable and I had just finished a job in area of Fairylands, when he decided in to have coffee with his girl friend. The front door was opened by a West Indian Policeman, wearing silk pyjamas. The Englishman was complete stunned. He could not talk and hardly walk. I made some excuse to take him home to Police Barracks, arranged for his bike to be brought to him. I am not saying what the West Indian did was right, but women's fantasies were among the things that were breaking down race barriers.
Private Life in 1967
Besides being very busy at work I was very busy in my private life. We took the Scout Troop on a 3 week tour of Canada. This was my first trip out of Bermuda. I arranged to spend another week in Canada in January 1968 to see if I could handle the cold and possibly join a Canadian Police Force.
On one occasion, I had a bad case of "Foot in Mouth Decease" whilst fighting for funds for a youth project. I publicly attacked a number of Government Officials for not supporting Bermuda's youth. I was incorrectly told funds had not been provided for a project, when in fact they had, but not properly managed. I did a lot of apologizing to people I had upset. I was studying long hours with the aim of completing a US High School Diploma.
There were also interesting incidents at Government House, which I will mention later. In short the year had been very demanding, but satisfying.
1968 Riots
I didn't know it at the beginning, but 1968 would an even more demanding year. The April Riots and the Assassination of Martin Luther King played a major part in the Force and Bermuda's History. I finished work at 8 am and only had a few hours sleep before going with friends to the Floral Parade. I got to bed at 7:30pm so I could go back to work at midnight. About 8:30pm the alarms went at Police Barracks. We formed Riot Squads at the Traffic Operation Centre and headed off to Hamilton. I remember been hit by flying stones and Molotov cocktails been thrown at us. The rioters set buildings on fire, but a big mistake was to attack the Fire Brigade. A hose accidently slipped, wetting some offenders and slowing them down. We were taking a beating when PC Pat McBride shouted words of encouragement. We started whistling as we marched off in step, blocking flying objects with our wicker shields. When we faced the crowd on Court St. we waited for the order to use tear gas and advance. It never came. The only time gas was used was when a large crowd was very close to us. If my memory is right we just marched to seal off different streets where buildings were on fire. What I still cannot understand is why rioters burned businesses on their own streets that supported them. A State of Emergency was called and the Bermuda Regiment was called out to support the Police. This was not comforting because there were reports of men throwing bombs at Police whist changing into uniforms. It was a bit more comforting when an Irish Regiment arrived.
The curfew that went into effect saw some interesting reactions. Everyone on the streets was brought to the traffic compound and the garages used to hold prisoners. Some drug addicts and drunks woke up the next day not having an idea what was happening. A raid on Devil's Hole where bombs were being thrown will always be fresh in my memory. So will the road blocks I did with the Army. Officers did not trust their troops. I remember been told that only Officers had loaded rifles. If anything happened, shoot the soldiers first. On one occasion I fell asleep and rolled into a gutter. Rain was flowing over my head when a soldier dragged me out.
When things were slowing down we were given 2 hours to get a meal and relax at the Police Club. I lined up and just as I was given my first real meal for weeks we were ordered to respond to another burning building. It was at that stage that I was completely mentally spent. I am not proud to admit it, but after weeks with very little sleep, the embedded smell of tear gas and smoke; if I was given a machine gun and told to shoot everyone on the street there is a good chance I would have done it. The riots made me appreciate why soldiers in war do horrible things. I might not agree with their actions, but I understand what it is like to be at the breaking point.
As things were improving the Governor visited the Operations Centre and we were told to form up for inspection. Before the Governor arrived, we were inspected by a Sergeant. "What happened to your face Sousa?", I was asked. "Cut it shaving Sir", I replied. "You can be charged with damaging the Queen's property if that occurred. It was flying glass during the riots," I was told. Sure enough the Governor stopped to inspect me. "This is Constable Sousa. He has been very active during the riots Sir"; said the sergeant. "Yes, I know Mr. Sousa", the Governor replied. Eventually life returned to almost normal.
Reward for Services Received.
I was on the beat when I was called to a Jewellery Shop on Front Street opposite the Bank of Bermuda. A young American had tried to buy a ring with an American Express Card. In those days you had to be 25 to get one. This guy did not look 25, so the shopkeeper phoned the States. The card was reported as having been stolen, and the Police were called. This young man. about my age and build, gave me a hard luck story which I believed. To be on the safe side I arrested and cautioned him. There was going to be a considerable delay getting a police car to us. The American agreed to walk to the station. He had an Archie Brown suit box. We turned onto Queen Street, but before we reached Reid Street the American ran off towards Church Steet. The sidewalks were busy. The Yank was knocking pedestrians down and I had to jump and step over them. When we reached Church Street I was about to grab him when he swung the box hitting me in an eye. He crossed the road and ran back down Queen Street. As I was again closing the gap between us, he threw the box hitting me in the other eye, then cut in front of cars as he crossed the road. My vision was blurred. I decided to jump over a moving sports car and landed on the American. Somehow, he got on his back and tried to eat the Express Card; which he managed to get back from me. I was sitting on him choking him with one hand and banging his head on the road with the other hand. Pastor Fubler, a well known black Minister, arrived wearing his three piece suit, bow tie, and cowboy hat. He produced a bible and said, "Love thy neighbour Mr. Sousa". "I am showing my love", I said still banging the Yank's head into the road. He coughed up the card. I handcuffed him, and stood him up, just as a police car arrived. Pedestrians who appreciated the entertainment retrieved my helmet and radio which I lost during the chase.
At the Station CID Officers appeared and said they would take over the investigation. We then received phone calls from the USA. The American Express Card investigators, then the FBI wanted to talk to me. They spoke to DS Lenny Edwards, saying they wanted me involved in the follow up investigation. This gave me chance to work with Lenny for the first time. As soon as Lenny saw the fit American, he warned him not to run, he was not as young or fit as I was. Showing handcuffs to him, he continued, "but I am still a bloody good cricket player. I can knock your head off with these if you are within 100 feet of me." The prisoner agreed to cooperate and give a confession. His story was that in New York City, he provided services to a man he described as a faggot [a homosexual]. He was given the American Express Card and told to use it. If questioned he would say the card was stolen and would not have to pay the accounts for goods purchased. He went on a spending spree in New York, used the card to purchase a trip to Miami, did some more spending, and then got another holiday in Bermuda. As well as the stealing offences, in the USA there is Federal Offence called fleeing a felony, if you cross State boundaries after committing a major crime.
He got 9 months in prison in Bermuda and was then deported to face other charges in the USA. I got a Police Commendation for my work in this case.
Whilst working on this case I was able to get other information for detectives working on other cases. From that point they would regularly request my assistance. The case would in fact give me my ticket into other departments. Before I discuss them, my dealings with the Governor Lord Martonmere and Government House are worth mentioning.
The Governor and Government House
I met the Governor when I was about 18. As the Chief Scout of Bermuda, he attended a swimming competition at a hotel pool, which my troop won. During the trophy presentation, he said that when his new pool was build at Government House he would invite the Scouts to the opening. Turning to me he said," What do you think of that?" Without hesitating, I said, "I will believe it when it happens. We get a lot of promises, but very little action". Looking back my remarks were uncalled for. I was young, hot-headed and often spoke without having all the facts.
Sure enough as soon as the Governor's pool was complete, he invited the Scouts on the Island to a reception for its opening. Lord Martonmere came looking for me and said, "I told you". I replied,"I am glad to see you are a man of your word". He replied, "I am glad that you are a man not afraid to speak your mind". I was to meet the Governor at a number of Scout functions before and after I joined the Force.
Government House Duties
The Police provided 24 hours a day security, every day of the year. There was a guard house at the main driveway where we were stationed during the day and nights the Governor was in residence. If he was off the Island we performed night duties from inside the main house. The work was pretty boring and some interesting entries were made in the log book. During the day shift, I got to meet some interesting people visiting the governor. I recall one day shift when there was a major function, and on my own I helped hundreds of people park their cars without blocking anyone in. Other Officers were supposed to come to assist me, but they got delayed with other duties. Some drivers were so impressed by the way I performed my duties under pressure that they would go out of their way to speak to me whenever they saw me.
At another function I was instructed to make myself visible to the guests at an outdoor function. I believe they were expecting some bad behaviour from a guest. My uncle, Bifty Hayward, was one of the waiters. Bifty is the type of person who can communicate with anyone. As he was putting food on the tray the Governor said jokingly, "I hope you do not plan to poison me". "No bloody way, not with my nephew standing there. He wouldn't hesitate to lock me up", was the reply. I walked away and noted that both men were talking for about 5 minutes. I can imagine what was being said about me.
Ms Marsh.
Some people believed the house was haunted. At night time when performing duties inside the house, I would hear creaking floor boards and what sounded like footsteps. One night things were worse than usual. I kept checking the downstairs rooms and did not see anything. I convinced myself my imagination was just running wild until I looked at the stairs. There was this ghostly form of a woman in a white flowing night gown floating down the stairs. As it passed me it said, "Good evening Constable". I was frozen with fear, until I realized it was Ms Marsh the Governor's secretary going to the kitchen for a snack.
Another Constable got an even worse experience. He was warned that the house was haunted and it was extremely important to keep his helmet on and not leave any gear unattended. He was even given a book of some type about how to deal with ghosts. Sure enough he heard footsteps and went to investigate. After searching the house he returned to his post. Then shock set in. His helmet, hand-cuffs and note book were gone. Half an hour later whilst still searching for his gear, his sergeant paid his nightly visit and asked to see the constable's note book. After 20 minutes of trying to explain where the missing gear was, the Sarge admitted sneaking into the house and removing it.
Golf Balls, Prowlers, and Ghosts.
Whilst most people hated been stuck in the guard house at night with nothing to do other that 15 minute patrols every hour, I found a useful way to spend my time. I was determined to complete a USA High School Correspondence Course within two years. Often this meant studying every spare minute I had. Sometimes I lived on ginger biscuits and coffee, because I did not want to take the time to get a proper meal. Now a ½ night shift at Government House was worth up to 3 hours study time without affecting my foot patrols. The secret was to upset the Sergeant so he could give me this duty as punishment. It is fair to say that sometimes I went too far. So as you can appreciate upsetting the Governor also was not a good idea but I managed to.
One morning at first light whilst doing foot patrol a flying golf ball narrowly missed my head. "What stupid bastard hit that?" I shouted, without thinking. "Sorry Constable", came the sheepish reply from the Governor.
One night there had been a function at the house. About an hour after guests had left and the lights were out, I did foot patrol. In the dark I saw this figure trying to break into the house. I sneaked up behind him with my truncheon above my head. When 10 feet away, I shouted as loud as I could "Freeze, you mother". I caught myself in time. "It's me, the Governor", came the shaky reply. He was just looking for something he misplaced.
Now I do not know if these and other dealings I had with the Governor were reported to the local station or Police HQ. If so, what was said? "That Constable is doing a wonderful job", or "Keep that crazy bastard away from my house."
So along comes a cold, dark windy night. I was patrolling the grounds. I sensed something was following me. I kept stopping and shining my large flashlight. There was nothing there. I kept telling myself that my imagination was playing up but why was the hair on my arms standing up, not to mention the hair on my head. After about 200 yards I felt this extreme pain as something grabbed my ankle. I automatically swung my flashlight at my leg. I looked down and there was a large white cat. I tried to examine it, to see if I hurt it with my glancing blow. The eyes seemed to get extremely large and shine in the dark. It squealed and jumped toward me. I sidestepped and it disappeared into the dark night. My ankle was bleeding and hurt for weeks. When questioned are about the cat, I claimed I knew nothing. With my history at the time, there was no way anyone would have believed my story. I am aware that staff at the house searched the grounds without finding the cat.
So when the Governor said during the Riot Squad inspection in 1968, "Yes, I know Mr. Sousa", I am sure these are things he was thinking about.
I performed a number of other duties over the years at Government House, but nothing stands out more than the visit by Princes Charles. I did plain clothes duties inside the house. One job was to check the building for possible bombs. A new bed arrived for Charlie. We shook it and it rattled. I believe a number of people left the room. Upon turning it upside down we felt a package sewed in-side the lining. I produced my pen knife and we cut the bed and removed the package. It proved to be a spare screw on legs. I recall a senior Officer, demanding to know whose idea it was to cut the bed. Everyone looked at me until he said, "Well done men. Better be safe than sorry". Many years later when I received my Australian Fire Service Medal [AFSM], I told people that finally after 40 years 'Liz' forgave me for damaging her son's bed.
I occasionally saw Lord Martonmere after he retired as the Governor of Bermuda. He always spoke to me. Although we came from completely different social back grounds we developed mutual respect for each other.
CID, Dog Squad and other duties,
After my arrest of the American with the credit card, I seemed to be regularly seconded for short periods of time to other departments. CID seemed interested in me because of my local knowledge. The department had some excellent detectives; Lenny Edwards, Clive Donald, Mike Palmer, Tom Hill, and Dudley Swan. Lenny Edwards and the English detectives were extremely good; but there was something extremely special about Dudley. If there was a theft at a party he would get a list of all those present and study it. After a while he would say, ',,,,,,,,,,,,,, did it. Bring him in'. The suspect would be put in the cells to think about the incident. During the interview without any threats, the suspect would confess. This detective had a very special knowledge of local criminals.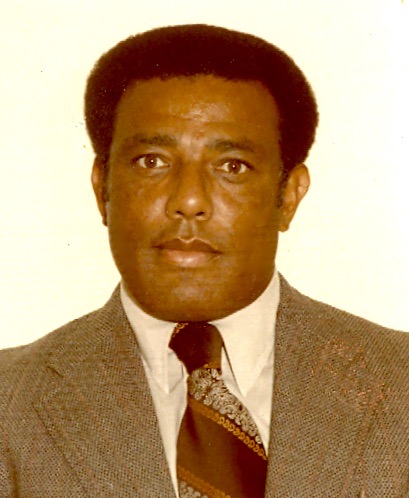 D/Inspector Dudley Swan
During one investigation I went looking for a criminal on my motor bike late one night and had an accident. My helmet was cracked and my face smashed up badly. After regaining consciousness in hospital my room-mate and I became a nuisance to hospital staff [putting scotch in our samples, heating thermometers with cigarette lighters etc] so they kicked us out of hospital as soon as they could. I immediately got myself back to work.
For a short period I worked with the Dog Squad, in particular Gary Perinchief. I believe that Sgt Custerfield "Custy" Crockwell was in charge. I was to work with him later when he got Bermuda's first Drugs Dog. I spent a lot of time doing foot patrols around Cottage Colonies trying to catch prowlers, peeping toms, and people trying to break into buildings. It was at this time that I gained a lot of respect for David Kerr; the human computer. He knew the make and registration number of every criminal's vehicle. If we found the suspect's vehicle it was a case of observing it and waiting for him to collect it.
Sports on the Police Force
In was about 1968, I really started enjoying the sporting culture of the Police Force. I mentioned previously the soccer game I played for my school. I had a few similar games for the Police. I learned to play squash and even won a few matches. I learned to play snooker. Once my studies were complete I would spend hours at the Police Club playing the game. To help improve my game I use to drink a double shot of rum or scotch in a pint mug of ginger beer. Even if I lost, I left the club happy. However tug-of-war became my main sport. I have no idea why I got involved. I remember being amazed how Pat McBride turned pulling a piece of rope into a real science.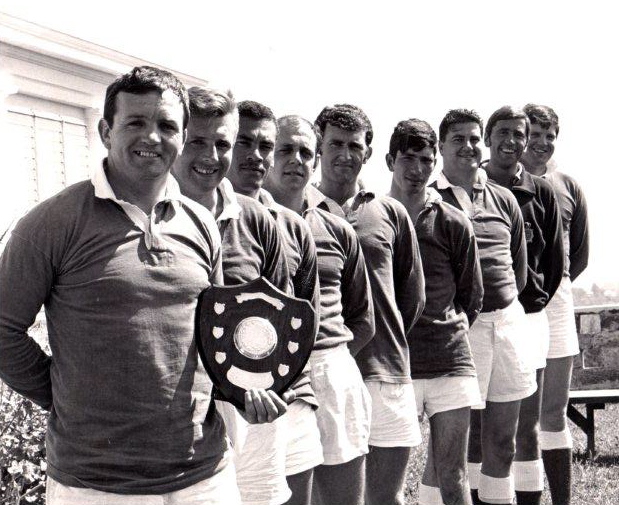 Unbeatable! Our Police Tug o' War Team in 1971.
(l-r) Pat McBride, Davie Kerr, Gary Perinchief, Owen Marsh,
Barrie Mancell, Ray Sousa, Keith Pratt, Mike Caulkett, Mike Parris
We did a lot of long distance running, running up hills carrying BELCO poles, and pulling on a rope against a Land Rover that was trying to drive off. We became pretty fit, but most of all we learned to operate as a team. I remember our first performance at the Agricultural Show. Gary Perinchief and I were told to visit the opposition teams. We were small compared with their members. I am sure that a lot of money was made by the people betting on the Police to win. I believe it was the US Navy Base Fire Brigade that had the biggest team on the day. Pat's instructions were that we were to drop and hold them as long as we could. Even if they won the first pull, we would take them in the other two. He was right but we managed to win that one with two pulls each lasting no more than about 20 seconds. We had some great victories in tug o' war. In fact we never lost. During one pull which might have been against HMS Bacchanti, the first pull was a killer, lasting for about 4 minutes, and after that it was all over. We won that one and the second one in about 30 seconds.
Over the years we took part in a lot of competitions and never lost one. The first date with my wife was to the Sandys Flower Show where we had a competition. The Commodore Cup, a mixed sports day between the Royal Navy and the Police, was a lot of fun. We won all the competitions, but the Navy were good losers and provided us with good food and a lot of booze. They introduced me to black velvet, a mixture of rum and stout. On the way back to Prospect, a call was received for Police assistance at Warwick. The hostile crowd quickly disappeared when 2 kombis of drunken Policemen in shorts gear showed up. I was on the 8 to 4 shift the following day. The day of the competition I had ironed my uniform and polished my shoes. I could not understand why other Officers were laughing at me. The Sarge came up slapped me on the back and said, "Congratulations. Now go home and change your socks. Take your time and have some breakfast before coming back to work." Whilst getting dressed I had accidently put on my tug-of-war socks and white and blue striped socks did not go too well with Police shorts. If we had lost, I am sure I would have been charged with being out of uniform. On another occasion after celebrating our win at the Police Club, I returned to barracks and opened one door too many and found myself in a very small room. I had nightmares that I was stuck in a coffin and could not get out. I was glad when I woke up and realized I was in fact inside my clothes closet. I was a bit more careful with my drinking after that.
I also did some 303 Rifle shooting, but ammo was a bit expensive. I then took up .22 pistol shooting. The range was at the rear of Police Headquarters. The club had people from a number of back-grounds. The President was Ray Latter, and the secretary was his wife Kay; both English school teachers from Spanish Point. There was at least one German and I believe some Swiss waiters. Harry Viera MP paid us visits a number of times. Although I did not agree with everything that Harry said, like other members of the club, I highly respected him. I considered Harry was to Parliament, what I was to the Police Force; people willing to stick their neck out and speak their minds. Like other gun club members I had to surrender our firearms after the Governor was killed. I totally disagreed with the Government's decision in this matter. I never heard of anyone on Court Street handing in their guns, and if guns were going to be taken away from good people, we should have been paid for them.
The Parish Constable.
After the riots it was decided to introduce Unit Beat Officers, whose duties were similar to Parish Constables. We were given Morris Station Wagons as patrol vehicles. My beat was Pembroke Parish. One sergeant later told me that many officers were convinced that I would be killed, or badly beaten up and resign due to my approach to the job. He admitted that I had proven everyone wrong.
A Dog Attack!
I think it was the first job I was sent to - there was a report that a dog had bitten a woman's pussy! I was convinced that I was being set up. I went to the property in a wealthy area off Pitts Bay Road. This middle aged woman came running to my car, grabbed me by the arm saying "Come into my house, I want to show you something." I was a bit concerned about what she planned to show me. I heard the sound of creaking floor boards and looked at the stairs. Coming down was the biggest and blackest cat I ever saw. I looked out of the window and saw a very small yapping dog. "I want that savage dog taken away and shot for biting my pussy," shouted the woman. "Lady you said that dog bit that cat. He is a lot braver than I am", I said. The cat owner became very angry as she tried to find the bite mark on the cat. I told her I would see the dog owner and come back to her. The dog owner became angry at me for even investigating the matter. "That woman's panther came on my property, frightening my tiny dog, and you say that is an attack? What would you call it if the cat ate my dog?" shouted the dog owner. I bit my tongue because I almost said "having a snack". I told both women to cool down and get their husbands to call me. As I was leaving one woman screamed, "That thing belongs in a zoo, not on a property like this". The other woman shouted, "I don't know why people don't like my little black pussy." Both husbands called and spoke to me on the phone. Despite all the laughter, I understood that they agreed to resolve the matter themselves.
Things are going to change at the Point.
Even before joining the Force I used to spend time at Spanish Point. Nick and Ray Tavares used to own a boat moored in the bay. I used to go fishing with them. I also went to school with families from the area, so a lot of people knew me. They were surprised and upset when I joined the Limeys who they thought were always victimizing the poor innocent locals. I questioned that if they were so innocent, how was it that crime levels were so high. Who was committing the crimes? Was it in fact the Police? One of the first things I did in the new job was to visit the park at the Point when I knew a lot of youths would be there. I parked the car, kicked a ball around with them, then discussed crime, Police, and any other issues they wanted to. I made it clear that the "Man" wanted me to fail, to boost the claim that I was like the boys on the Point - useless. I did not believe that anyone was useless; we all need a bit of guidance sometimes. "Yah sure, since when have the Police ever shown any respect for us? Name one thing the Police have ever done except harass us?" Was the general feeling of the youths. "Well I plan to show you respect, but in turn I expect respect. That means no crimes. Stealing and damaging property means that you are not showing respect for others. In that case I will have no option and will not hesitate locking your arses up", I said. Looking at youths doing stunts on their pedal cycles, I said "You dudes are really good. I wonder if you are as good as some other kid I know. How would you feel if the Man put on a bike competition for you? Would you show respect?" It was at this point that an idea of a bike competition run by Police for youth was conceived.
I left the group that day, knowing that I was about to try a completely new approach to dealing with issues at Spanish Point and the wider community. I also suspected that I needed a major event to gain the required respect in the area. I was to be proven right.
Halloween
According to tradition Halloween night is the time all the evil spirits are released to terrorize the world. They were out that night and they all came to Spanish Point! Someone unscrewed a light bulb on a porch, stuck a firework into the socket; and then knocked on the door. The firework exploded when the door opened. Rubbish and big rocks were put on the road; eggs and flour were thrown at cars, people and homes. There was a loud explosion when someone threw a piece of wire with weights on the ends onto power lines. This blacked out the whole district. Some residents were extremely frightened. As the calls came in I requested help from Hamilton Police Station. When I caught up with the officers some distance from the battlefield I requested them to give me about 20 minutes, then I wanted a Police Car with lights and siren to chase the youths into the park. In the meanwhile I went on foot from other properties along the shoreline into the park. As planned the Police car came and the youths ran into the park, hiding along the coast line. One jumped behind some rocks alongside me. He didn't realize that I was there until I grabbed him by his shirt collar from behind, lifting him off the ground, I tapped his shoulder with my truncheon; then cautioned him. It didn't take me long to get the names of other offenders. I believe the other officers also caught an offender. After questioning the youths they were released under the condition that they got a message to their mates. I listed times I wanted different youths to meet me at Hamilton Station. Those that did not come to me, I would go looking for them. Other Police Officers laughed saying this would not work. Much to their credit, all except one youth kept their appointment. I went looking for him at 1 am. He lived with his grandmother who, although upset, was very supportive of my actions. I got confessions for all the reported offences and a number that were not reported. When charging the boys, I suggested that where possible they go out and repair damage done so I could put in a good word for them in court. The general attitude was, "a Police Officer saying something good about us in court; that would never happen", but that is what I did. The magistrate seemed to be very impressed by my handling of the matters and was fair in issuing out punishment. The word spread on the street that I was firm but fair.
Crimes in Spanish Point
There were a number of break-ins and stealing at the Spanish Point Boat Club and homes in the area. I did a lot of night patrols. I believe it was D.S. Mike Palmer of CID who did the investigations. I worked closely with him. Fingerprints were good evidence; but equally important was that I managed to break suspect's alibis. I knew who was on the street at night. I also pressured offenders by asking, "Do you really want your mother to go to prison for lying for you?'
Ladies panty thefts from clotheslines were common and it was well known who the suspects were. I recovered several hundred that had been stolen over a number of years all with holes in them. I suggested to some of the women who were regularly losing panty's that they could add something a little stronger to their washing detergent on a few pairs of underwear they were hanging out to dry - but making sure not to wear those particular garments. Sure enough I noted that certain people developed sores on their lips! I was very helpful in suggesting cures. The best, of course, was to stay at home at night.
What the Hell was that?
I was on patrol near the Point when I heard a noise that sounded like a jet coming from behind me. Some type of bike overtook me. I chased it with flashing lights and siren. On the bend near Admiralty House my vehicle was temporarily on 2 wheels, putting a scratch along my roof before I regained complete control. I gave up the chase, and hid my vehicle near a suspect's house. Sure enough he came roaring home. As soon as the vehicle's motor was off I drove up to the suspect. His mother came out abusing me with a steaming hot pot in her hands. "Cool it mom, it's my friend Cosmo", said the youth, then turning to me continued, "She is bloody fast ain't she? You are going to take me in right? Mind if I have a beer before we go?" I agreed, and he returned with 2 bottles of beer, offering me one. I declined, saying I could not drink when on duty. "I knew you'd say that. I'll drink it for you." After he had finished, I officially arrested and cautioned him. He helped me get the heavy bike back to the station.
The youth admitted constructing the motor using stolen motorcycle, outboard [boat], even some lawnmower parts. I believe that Sgt Wingood was on duty at the station when I arrived. I told the Sarg I wanted to use his office but not let anyone enter the room no matter what he heard. With a lot of reluctance, he agreed. I took the youth [about 18] into the office and told him to sit down. I then threw 2 thick law books onto the desk which made large bangs. "Now have a look at these laws and name one that you have not broken. If I throw the books at you in court you will get life in prison", I said. The youth opened the books and looked at them. I knew he could not read. "Gee Cosmo, life is a pretty long time aint it? What about a months worth of pages?" asked the prisoner." "I will do what I can, but no promises. I want a list of the crimes that you have committed. I will only charge you with 2 or 3 offences. The rest will be TIC [taken into consideration], that means the judge cannot give you any additional punishment for them," I stated. That is what we did. I got a list of my outstanding cases and ticked the ones he agreed to. He said his mates were also involved in some, but he was not prepared to give details. He even admitted crimes that were not reported. By the time I released him on bail I did not have many outstanding offences left on my books. In court the youth pleaded guilty. With the court's approval I spoke on the youth's behalf. I explained that he had been a bad little boy for a long time, but was trying to get his act together. I suggested that a 'short holiday' might help. He was sentenced to one month in prison. "That's cool man. Thanks Cosmo", said my friend as he was led away.
Returning the Favour
The day my friend returned from his short holiday, he celebrated with his friends. I was called to Spanish Point about 11 pm. A man about 18 was high on drugs and trying to kill his mother. When I arrived there was a lot of shouting. The youth, who had just come out of prison, came to the area to see what was going on. Another youth also arrived at the scene at that time. Before I could resolve the matter, the mother collapsed, but the youth was still trying to attack the woman. I handcuffed the youth and told my bike mate to keep him under control. I tried to call for help on the vehicle Police radio but I was in a dead spot. Running back into the house I shouted, "Look folks we have to stay cool and get our act together. If the dude hurts his mother and she dies, this could become a murder case. I need one of you to control your mate, the other to get to a phone and call for an ambulance and Police. Stay on the road to guide them in. I will deal with Mom. Let's do it!" I immediately started to give the woman mouth to mouth resuscitation and chest compressions. It took the ambulance and Police about ½ an hour to arrive. I requested that the problem youth be taken to the station and put in the cells. He was under arrest for causing a breach of the peace. With flashing lights I followed the ambulance to the hospital. I do not know if my helpers jumped in my vehicle. I remember running from the car with the youths behind me, and helping nurses take the woman into the emergency room. We continued working on her until a doctor declared her to be dead. An autopsy later revealed that the woman had a massive heart attack and there was nothing we could have done to save her. I sat in a chair for a few minutes physically and mentally exhausted.
I then felt soft slaps on my back and heard the youths say, "It's cool Cosmo, you did all you could. We respect that". We went to the station and the son was still shouting and screaming. Even his mates agreed that for his own safety, it was better if he stayed in the cells until he calmed down. I later released the youth without charging him. Before leaving the station to go to bed, I did my report. I also requested that my two helpers on the night receive a letter of thanks from the Commissioner of Police for the assistance they gave on the night. I am glad to say this was done immediately. The young men became local heroes as they showed the letters to friends, "Look this Commissioner dude is cool like Cosmo. He respects us, and thinks we're heroes ", they told everyone who would listen. On a sour note, the youth who tried to kill his mother stated that during the incident one of his musical tapes was stolen. He wanted me to charge them. I made it clear that even if they stole all his possessions that night, I would not look into the matter. These two friends had stopped him from killing his mother and receiving a life sentence in prison.
Looking back there were a number of incidents of this nature that if they occurred today counselling would be provided.
Coroner's Inquest into fatal traffic accidents
Although I never served full time in the Traffic Division, I attended a lot of traffic accidents and gave evidence in Coroners' Inquests. As a rule the Traffic Team were extremely professional and highly skilled. I am, therefore, reluctant to criticise them. However there was one case where I possibly stood on their toes and I do not regret it. There was a fatal traffic accident at Spanish Point. I was given the job of taking statements from the girlfriend. A lot of questions were raised in the statement that the family wanted answers to. The victim was about 30. He used to be involved in drugs, but gave them up when he met his girlfriend. He owed money from his old days of using drugs, and was told that if he did not pay up he would be killed. He told his girlfriend that he had a dream of dying in a traffic accident. There was concern that he might have been depressed and possibly committed suicide. The family honestly wanted to know if he had been drinking or taking drugs. I passed the statement onto the investigating officers, but they did not seem interested, so I conducted my own investigations to answer the questions. They revealed:-
*Yes, he used to owe a lot of money, but it had all been paid back. The drug dealer had no reason to harm the man, and had an alibi that checked out. I had the motor bike re-examined and there was no evidence of a collision with any other vehicle.

I learned that he was working long hours at different jobs. He wanted money to marry his girlfriend and start a family. One person told me they had seen him before in the same area, same time of the accident and he appeared to be unsteady on his bike. My investigations showed he had gone about 20 hours without sleep when the accident occurred and was only averaging 4-5 hours sleep days before the incident.

I ruled out drinking and drugs after speaking to his fellow workers. The medical report also confirmed this.

I ruled out suicide because he was working too hard to earn money to get married. He was always talking about this to people at his work place.

I felt that the sharp bend where he lost control of the bike was also a factor in the accident.

My view was that the man was tired due to lack of sleep and did not read the approaching bend on the road correctly. I spoke to the family before giving my evidence to the Coroner. They were happy that I had bothered to look into their concerns. They felt that the English police officers were not interested in their concerns, because they were black. After giving my evidence and listening to the man's family, the Coroner agreed that lack of sleep was the likely main cause of the accident. The Coroner commended me for my investigation into the matter. After the case was closed and we stepped outside the family approached me. The father with tears in his eyes, said; "Thanks for being respectful to our concerns and for looking into them" as he shook my hand. The girlfriend hugged me and said, "I ain't never hugged a white man before but I would like to hug you". The mother shouted with tears in her eyes, "I ain't never hugged or kissed a white man before and I don't care who sees me do this to you".
The nearby English police officers seemed to be upset by what the black people said to me. They felt that I had questioned the traffic officers' investigation. After all, the result was the same, the man had died in a traffic accident. I could not explain why I had done the extra work to satisfy the family that their man was not killed, not on drugs or booze, and not suicidal. The word on how I had handled this matter spread in the black community and people became more cooperative.
The Cycle Squad is another department I worked closely with. I gave them information which led to arrests. I ensured they became the bad guys. On other occasions I would visit homes and tell the youths I suspected of stealing, that the moment I had a witnesses or other evidence, I would return with a search warrant. After some of my visits, victims would contact me to say they must have been wrong to report it stolen; because they had just found their missing gear. I got a list of people in my patch that had outstanding warrants and went looking for them. I also got the word on the street of what I was doing, and suggested that they come into a station to give themselves up. If they gave me a hard time I aimed to arrest them late on Friday, so they spent the weekend in the Police cells. Some people would phone me to arrange for me to collect them on Monday mornings, so they could have time with their families. Provided it was not a serious crime, I would not pursue them on weekends provided they met their end of the agreement.
Concerned mothers, girlfriends and wives would contact me stating that unless their boys were stopped they would become hardened criminals. A good talk was all it took to get through to most people but occasionally arresting a person was needed to prove that I meant business. As much as I hate to admit it I became a "big brother" to a lot of the youth. They would arrange a time to talk to me about anything. Often I just listened to them, and they found their own solution. I was also surprised about the personal things young women said to me. Two were very up front and offered to leave their unhappy marriages if I asked them. I was flattered and tempted, but could not force myself to break up their families.
I went from being a Unit Beat Officer to Parish Constable. There were only a few changes to the job. My car was replaced with a Lambretta Scooter. Checking Firearms licences became one of my jobs. I recommended cancellation of a few licences because really people had no need for them. One such case was a rich white man. He produced a loaded pistol that the ammo had corroded in it. If he fired it, the gun was likely to explode in his hands. The weapon had been in the family for some generations and he stated "it was to shoot n*****s if they ever revolted ". I had visions of police officers, or some innocent visitor to the house being shot. Some of the old firearms were modified so they could not be fired and the owners were allowed to keep them. I sincerely appreciated the cooperation of Inspector Les Waddell who was the Force's specialist in firearms.
Somehow, along with the scooter came a few customers who were affected by the full moon. One lady made the mistake of calling me on a Friday when there was a full moon to complain about jets landing on a school playing field near her house. I attended and the only thing I found was a lonely lady who wanted to talk. Other officers laughed, saying she had done this before. "Then why has no one solved the problem?" I asked. I worked out when she would call next and was ready for her. Within minutes I was there. I raced up and down the field making a lot of noise flashing my lights. I stopped outside her bedroom window and started blowing up brown paper bags and popping them. "What are you doing Constable?" shouted the woman. "Shooting down those bloody jets that have been bothering you". As I popped another bag, I said; "that is the last one. You will not have any problems in the future." I was right, she never complained again.
I believe that in a short time I gained a lot of respect in the whole of my district. I went out of my way to talk to as many people from all walks of life as I could. I still felt that although most people respected me, they did not respect the Force as a whole. Some felt that it was an English occupation force that was not interested in Bermudians. I set about changing that.
The Pedal Cycle Gymkhana
I previously mentioned that the idea of some type of cycle competition for youth came during a visit to Spanish Point. I also saw an interest in bikes in black areas and white areas such as Fairylands. The kids all felt they were better than their black or white counterparts. Although they did not believe it would happen, all seemed interested in taking part in a competition. About this time I was doing a Leadership Course with the Director of the YMCA. We discussed the Police / Youth relationship and a cycle competition run by the Police. He supported the idea, but we agreed that the Police did not have enough public respect to pull it off on their own, however we were confident that the event had a good chance of succeeding if the YMCA supported it. I wrote a report on the proposal and submitted it via my sergeant who I believe was Sgt Wingood. I was assured of his support but warned a lot of officers would be opposed to the idea. Many did not see it as a Police role to put on events for youths. There was a long delay without a response. Then the Minister for Sport and Recreation, Lenny Swan, and the Island's Youth Director, Reggie Ming visited a Scout Camp on an island I was helping to run. They were impressed about how well rich, poor, black and white kids were cooperating. They were equally surprised to see white and West Indian police officers helping. "If this works here, then why is the Police/Youth relationship so poor on the street?" They asked. I then told them about my proposal for a Youth Cycle Competition run by the Police and YMCA. I was assured that I would get approval.
The following day the approval came under the condition that all the work was done in our own time. My next move was to form a committee who had respect within the Force and community. At the time "Mod Squad" a TV show about cool black and white detectives was popular. I approached Gary Perinchief who was happy to be the cool black dude, and Roger Sherratt who was an excellent organizer, agreed to be the white guy. It was Roger who came up with the name Gymkhana.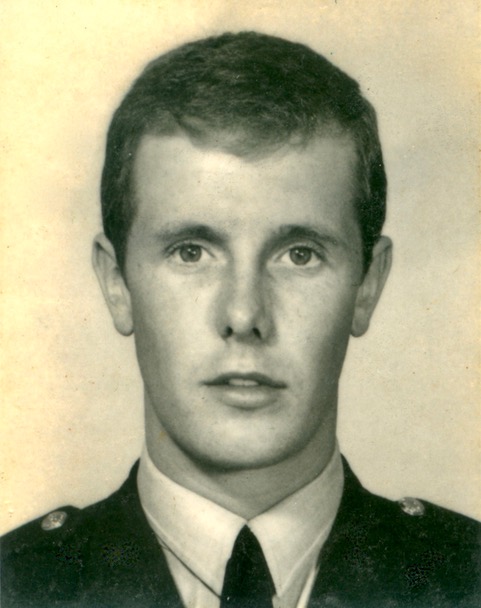 Roger Sherratt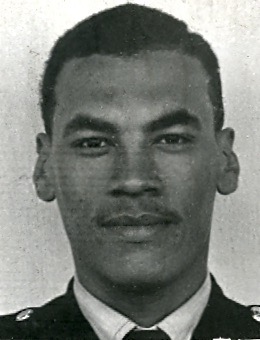 We visited all schools on the Island to tell them about the event. We approached white and black organizations for trophies and prizes. The visit to the Bermuda Industrial Union [BIU] by the 3 of us in Roger's Fiat 600 car was a wise move. The memory of Union Officials allegedly assaulting Police in the BELCO Riots of 1965 was still fresh in people's minds. I felt that if we got the Union support, then we would gain more support from the black community. As we told the management of the BIU, we were not asking for anything for the Police or ourselves, rather something for the youth, black and white in the community. Much to their credit the BIU supplied a trophy made by a member. I must stress that we upset some Police Officers and some sectors of the white community by approaching the Union. We spent many long hours working on this project. We choose Bernard Park because of its central location, and that it was surrounded by black, yellow, white and Catholic schools.
The day before the event we got the word that youths on bikes planned to raid the park to destroy a new Police Caravan and other gear we had for the event. Roger, Gary and I spent the night on site. When we heard the bikes coming we shone a spotlight on them and fired a starting pistol into our public address system. They must have thought that we were firing cannon at them and went away. The next two days over 500 youths and school children attended the cycle events, which included short and long distances, slow races and wheelies [trying to travel long distances on one wheel]. I saw real sportsmanship with competitors shaking hands and examining each other's bikes. Some estimate that the spectators numbered over 5000. There was also an excellent turnout of Police Officers who checked each bike to make sure they were safe to ride and assisted in running the events. Everyone who took part got a certificate. Roger, who had beautiful handwriting, personally put the youths' names on them. Winners got gold, silver and bronze medals plus other trophies. I wish to stress that although I came up with idea for the event, it was only successful due to the help of Roger, Gary, a lot of Policemen on the day, and all the people who supported the event. We gave Peace a Chance, and for two days the Police were heroes.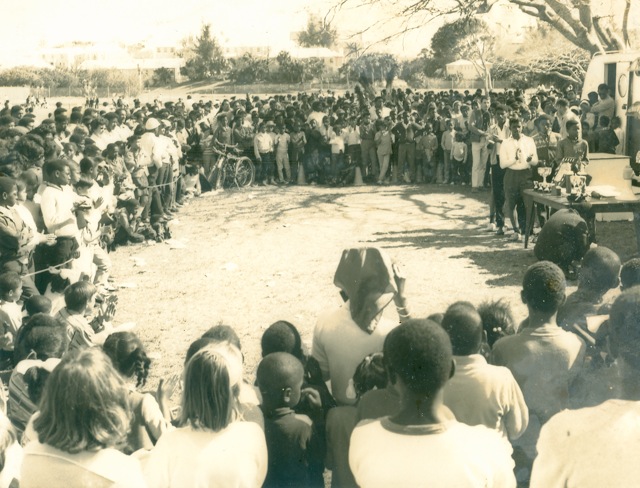 These photos were taken at the prizegiving at the conclusion
of
the first Police - YMCA Pedal Cycle Gymhana held in Bernard Park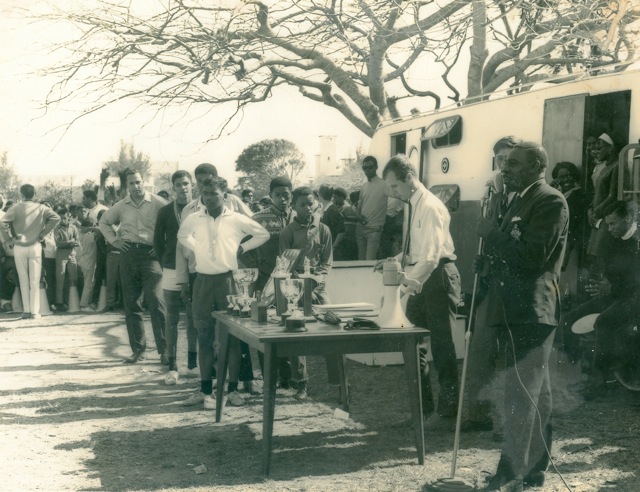 In addition to the prizewinners and spectators this photo includes
(l-r) George Rushe (in light pants), Everett Nance (YMCA Director),
Steven Dean (standing in front of Police caravan), Roger Sherratt,
Ray Sousa (behind the Hon. Lancelot "Lenny" Swan,
Minister of Youth and Sport with microphone,
and Gary Perinchief (seated behind Ray Sousa).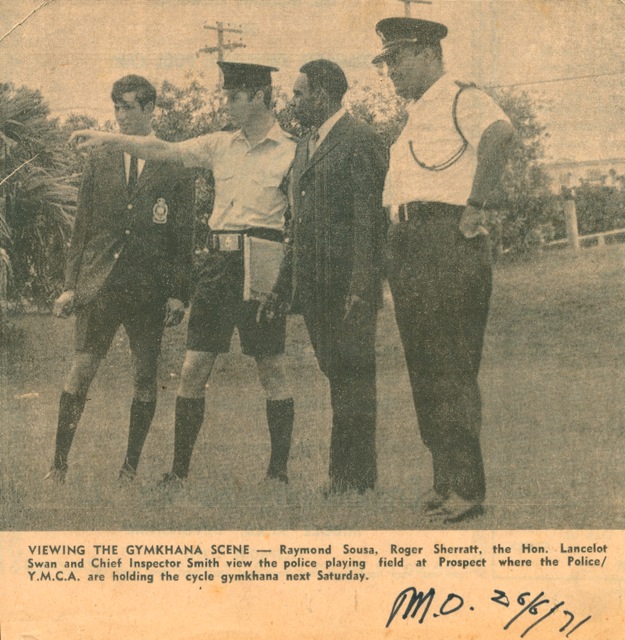 Subsequent Police Pedal Cycle Gymkhana's were held at the Police Sports Field
at Prospect. The Mid Ocean News ran this photo just prior to the 1971 Gymkhana.
Jamaican Jamboree
I did not have any time to recover from the Gymkhana, because I was already working on my next project; taking Scouts to a Jamboree in Jamaica. We started off with 20 Scouts and 3 leaders, but after raising most of the money, 2 leaders and 7 Scouts backed out. This put me into an awkward position, as to whether to cancel the trip, or take the boys on my own. After the parents and Scouts expressed complete faith in me I felt obliged to head south to Jamaica. One of the interesting ways we raised funds was collecting rum bottles. There were a number of bush areas where men met to drink with friends. We spoke to these groups and they agreed to put their empty bottles into hessian bags. I am sure it must have looked strange seeing me visiting these sites with scouts loading the bottles into my old VW Bug and taking them to the Goslings Rum Factory.
I was extremely strict about how we packed our gear and what we carried. We used Army bags to make it hard to conceal anything. My biggest concern was that someone would try to get a Scout to bring marijuana back to Bermuda from Jamaica. This would have been extremely hard for me to explain especially since I was transferred to Narcotics Section just before the trip.
We arrived in Jamaica on a hot day. There was a bit of delay in passing through the airport, but I resolved the problem. The Scouts stood in a line hoping to get a free sample of Captain Morgan's Rum. I was not popular when I stopped the Scouts from getting theirs. We were met at the airport by our Jamaican host and for the first two days stayed with Scout families. One Scout Commissioner who I spent time with was a Chinese Jamaican who owned a security firm. I found it hard to get used to seeing a Scout Leader with a gun. He took some of us to a Chinese Restaurant which had only black staff. He ordered a beef dish then told the waiter we wanted beef, and no other meat. "If you don't give us beef and someone gets sick, I'll come back and shoot you", said the Commissioner calmly. Fortunately for everyone the meal was excellent. We lived with people who, by Bermudian standards were working class families. We were taken for short tours, including Kingston. I found Jamaica to be an extremely pretty country with extremely wealthy and extremely poor people living close to each other. I was warned about the regular knife and gun attacks. I did not sleep much, at all times keeping a close watch on my Scouts.
Our arrival at the camp site which was at Up Par Camp, an Army and Civil Defence Base, was interesting. There were youths offering beer for sale, and almost everything else! When on my own, a small black kid came up to me and said, "Hey Mister Scout Man, you want me sister, what about me mother? I have a little brother? Don't you want to be me daddy, so I don't get in trouble and go to jail?" The first night in camp I learned that we had to guard our gear. In the morning badges were missing from uniform shirts. To my knowledge all were recovered and our host sewed them back on for us. There is a saying that applies to at least some Jamaicans, "They are the kindest people on the earth who would give you the shirt off their back, then go out and steal another one."
One of the most interesting people I met at the camp was the Catholic Archbishop, who was also a Scout Commissioner. I double checked to confirm he had a cross not a gun stuck down his belt. He was open and honest about his country. It was third world, with a lot of problems. Without the UN and Churches the poverty would be far worse. He had issues about what the English did before giving Jamaica independence. A lot of locals without leadership ability were promoted to government positions with English advisors; whilst a lot of talented Jamaicans were being ignored. During my visit I saw evidence that supported this. My first impression was that Bermudians had no idea how lucky they were. The Archbishop also asked me for a favour. Now you know when a Prince of the Church asks a Prince of darkness for a favour, the country is in trouble! Reggae music was Jamaica's most popular music, however the song that Scouts would sing all day was," Bang Bang Lulu, Lulu's gone away". This was about a popular girl who was run out of town. I was requested by the Archbishop to discourage the Scouts from singing the song because it was not appropriate for a Scout camp. Of course, there was no chance of persuading them not to sing their favourite song!
Some Scout functions were well organized, others not organized at all. On one occasion after about 1000 Scouts had waited over an hour at an oval in extreme heat, I was asked why I had not organized something. Our Senior Scouts went on what was supposed to be a 4-5 day hike for their Queen Scout and Duke of Edinburgh Awards. I stayed with the younger boys and among other things, we did bus tours. My favourite location was Port Royal with all its history. The only trouble with the tours was that we regularly had to push start the bus.
One day as we were returning to camp I had a gut feeling that something was not right. On arrival I found our Senior Scouts had returned from their 4 day hike in 3 days. On the way back to camp they had found a nearby international Girl Guide camp. They had invited some girls and a Swedish leader back to their home. The girls were cooking, fanning and serving the scouts. It was possibly a set up, because as soon as she saw me the Swedish leader approached me. We exchanged names and addresses and she suggested I get someone to look after the Scout whilst we went out on a date. She was a tall gorgeous blonde who looked extremely sexy in her uniform short shorts. Some of the girls with the Scouts were about 14-15 of mixed black and Chinese blood who rivalled St. David's Island girls for looks.
Then reality hit me. A large group of Jamaican Scouts formed up facing our camp. Our Scouts formed two lines facing the Jamaicans. In marched over 100 Scouts with long sticks, from the Bahamas and formed up alongside our boys. It looked like we were about to have an old fashioned war. I walked out to face the Jamaicans and tried to defuse the situation. Out of nowhere came the Chinese Commissioner and other Scout Leaders. He stated he would deal with the situation, but I insisted I wanted to talk to the Jamaicans. I noted that two, possibly three 16-17 year old Scouts, had machetes. I asked what the problem was. One replied, "Man we Jamaicans not got much, now the Bermuda Scouts trying to steal our girls. Now we are going to kill them." I saw an opportunity, and without warning knocked a machete out of the hands of a Jamaican, then shouted, "Listen very carefully. I am a Policeman and there is not going to be any fighting. We are all going to act like Scouts and sort this out. If girls are the issue I will stop them coming to the camp." "Man you no Policeman, you got no gun", shouted another boy with a machete. "Ok tough man show me how good you", I said signalling him to try to attack me."Where I come from the Police are trained to fight without guns. I have no intention of shooting you." "But I'll shoot you," shouted the Chinese Commissioner. "No shooting, no fighting," I said as I approached the Jamaicans and gave them the Scout hand shake. Everyone settled down and after some words from their leaders the Jamaicans went back to their site.
When I got back to my boys, I shouted,"No more girls. No woman is worth dying for." That was possibly the biggest lie I have ever told. I would have been happy to die after spending time with girls like that; but I had to remind myself I was a Scout Leader with 13 boys to think of. An uneasy truce was reached in the camp. The Scouts from the Bahamas stayed close to us from that time, and I sincerely appreciated their support. When possible I had Leaders from other countries monitor my boys, whilst I spent time with the Jamaicans. Some called me,"Mr. Bermuda Scout Policeman ." I am confident that by the time I left the camp a lot of the Scouts had learned that issues could be resolved without violence.
We left some good friends in Jamaica, and then we flew to Miami en route to Nassau. Before leaving Jamaica, I searched, and then re-searched again everyone's bags. I let the Scouts search my bag. I knew what to expect in the USA. Sure enough Customs started searching bags and it seemed likely we would miss our flight. I saw a man in plain clothes watching me. He came over and said," You are a Policeman aren't you?" I produced my ID Card. After a few words we got the VIP treatment and caught our plane with time to spare.
Our good fortune continued at Nassau. Waiting for us were a lot of the Scouts we had met at the Jamboree. I was immediately introduced to the 19 year old sister of one of the leaders. We were taken to a monastery where we planned to stay for a few days. Living quarters were excellent, not that the Scouts spent much time there. Host families kept taking the boys out to functions. I was warned that I was to try to forget about the Scouts for one or two days and relax. My 19 year old hostess took me to hire a car and we toured the Island. That night after confirming that the Scouts were still Ok, I went out to dinner with the young lady. She was extremely pretty yellow skinned girl. Her father was a black politician and her mother English. The date was the first time in a very long time I was able to forget about Scouts, Police work and the troubled families, who I now admit I had tried too hard to help, and became too attached to. I had a great time with the lady. Even when a Scout got sick, she helped me get medical attention for him. It was in Nassau, that I had my first good night's sleep in a long time. The only trouble was those wild dreams about the Swedish Guide Leader in those tiny shorts, and my yellow skinned Island Princess. My definition of heaven would be to wake up young with these 2 girls beside me.
I often wonder what happened to the wonderful people we met on this trip. Does anyone remember the "Mr. Bermuda Scout Policeman"?
Parish Constable to Detective
Between 1968 and the beginning of 1969, a lot was happening on the work front as well as my youth activities. I was heavily criticised for not sitting my Sergeant's examination at the first possible opportunity. The truth was that I was doing a lot of other studying and my priority was to complete my high school course. When I did do my sergeant's test, I was ready for it and did reasonably well. As well as a continual flow of arrests and policing there were three incidents that were interesting and upset a few people.
The retaking of Ordinance Island!
In Police Barracks there was an alarm system. When it sounded we would rush to the Operations Centre get our riot gear and be ready to respond. Late at night, after it had been raining the alarm went. I got dressed into uniform, and as I was running along the second storey balcony, I slid on the wet floors down the steps. My backside became full of wooden splinters. I got to the Operations Centre and got my riot gear. We were told that the Black Berets had taken over Ordinance Island in St. Georges. We were loaded into Kombis and sped off to the rescue. To say the least it was an uncomfortable trip, because I could not sit due to the splinters. It was strange but when we arrived in St. Georges I saw a PC on the beat. Our militant friends must have known that we were coming, and left before we arrived. The strange thing was although Central Division was activated, St. Georges Station was not. There was a major function at St Georges Police Club, and they could have got a riot Squad there, but again they were not informed of the incident. The Operations Centre was normally extremely efficient, but they got it wrong that time. After a painful ride home I spent the rest of the night trying to get splinters out of my bum which is not easy to do.
What Bloody Mini?
In early 1969, for some reason HQ decided that everyone whose First Aid Certificates were due to expire in the first half of the year would have to requalify early. Having a current certificate was a condition of service on the Force. Due to my workload the training had to be done in my own time. I was opposed to this timetable due to all the things I had on, but followed orders. I failed the theory by 2 points. I was told that in 2 weeks time a decision would be made on what would happen. This was an uncomfortable position to be in. Just before the end of this period I was on my way back from St.Georges to Prospect when I came across a traffic accident involving two buses at the bottom of a hill in the Crawl area. I immediately assessed the situation. A number of people were there that I knew. I requested they help with traffic control and first aid. With sheets supplied by residents we made bandages, and patched up the wounded. I was feeling in control and confident until someone said, "what about the Mini?" "What bloody Mini, "I said. I learned that what had happened was that a child had run out in front of the first bus that applied brakes. A Morris Mini that was following ran into the bus. Another bus that was following the Mini ran into and wrapped around it and into the first bus. At a glance it appeared that this was a case of one bus tail ending the other. Somehow, the driver got out of the Mini without any injuries. When the Traffic Police came they seemed to be impressed how organized everything was and the amount of cooperation from public. I do not know what they put in their report, but the following day I was called into the Superintendant's office to discuss my First Aid results. He was extremely polite. He stated that he had examined my written test, and although the answers were not by the book, he had no real problems with them. He also questioned me about the times I had used First Aid since joining the Force. He seemed know about a number of the situations including the two times I had applied resuscitation, and the bus incident. "Constable, what the Force needs are people who can think and react, not people who can read books. I am very impressed with your performance in this area. I will get your new certificate to you in a few days. Well done." We shook hands. I saluted and left the office, thinking that just maybe I was doing a reasonable job.
Off Probation
From the day you joined you were on probation for 3 years. During that time you could be kicked off the Force for almost no reason with no right of appeal. It was a miracle that I had survived that time, due to the Officers I had upset, and my approach to the job. You are supposed to have a final interview before coming off probation. They made a mistake and confirmed my appointment before the interview. I was called in to the interview before Deputy Commissioner Frank B. Williams and Chief Inspector Ball. I respected the Officers in particular Mr. Williams. The interview started off Ok. There was a review of my arrest record and work done etc. Then came the racial issue. "Mr. Sousa, as you know we want more Bermudians on the Force. In the next one to two years we will need a Portuguese sergeant. I see no reason why that cannot be you," said one of the Officers. They might not have meant to, but I took offence to the comment. I started all my sentences with, "With respect Sirs". I made it clear that I considered myself a Police Officer first and wanted to be treated as an equal, no better and no worse. I listed what I considered to be bad promotions, and good Officers who were missing out on promotion. The same applied to Police Commendations. It seemed that they were given out freely to some people; yet major achievements of other Officers were not been recognized. I mentioned cases where I had assisted Officers in dealing with Portuguese with my limited knowledge of the language, yet my name was not even mentioned in reports. I suggested that these "Portuguese Englishmen" be promoted if they were so good.
The Officers seemed shocked by my open honesty and had no answers to my questions. They knew that they could not take any action regarding my comments if it upset them, because I had at all times been respectful and I was already officially off probation. From that day on the Deputy Commissioner always called me Ray. To me this was a sign of respect. In the future I was to conduct a number of investigations and report directly back to him.
Gertie Cannonier, who joined the same time as I did, was the next to be interviewed. She indicated that she heard some of what I said, and her interview was quiet and quick. I stand by my decision regarding the way I conducted myself during the interview, but I sort of feel a bit cheated that although I was acting Detective Sergeant for over 3 years, I never officially got my stripes.
The Narcotics Detective
Although I enjoyed being a Parish Constable, I wanted to experience being a Detective. The glamour job at the time was Narcotics. It had a small team of seven when I joined in about April 1969. I believe that Inspector Harold Moniz had just been promoted about this time and was in charge of the department. For a time Narcotics was part of Special Branch. I did some work for Special Branch which I found to be extremely interesting. I have no intention of going into details, but will say they did a lot of work behind the scenes to keep Bermuda safe.
From the very start Harold and the other officers made it very clear that I had to learn a new form of Policing. For starters I had to learn to work as part of a team, and not go off on my own making decisions as I was used to. I learned that, unlike other crimes, when dealing with drug importers we often started before the crime was committed. I was to spend a lot of time studying and recording airport departure cards. Nowadays, I presume this is done by computer. A starting point to an investigation often was why James Smith, an unemployed man, was making regular trips to the States. Further investigations might show that he went from there to Jamaica. Things like such people suddenly having a new car or boat would also be looked at. The next part of the investigations would be who is he associating with? This is where criminal intelligence reports were so important. Whilst in Parishes, I tried not to get directly involved in Narcotics investigations and drug busts. Youths would talk openly about the matters. I would pretend that I was not interested, even try to change the subject. This encouraged people to talk all the more. As soon as I got back to the Office I would submit an intelligence report for the Narcotics team. I was glad when I joined the team to see that information I had supplied had been used. One day a month we would close the office, unless there was something urgent, to eat a barrel of Kentucky Fried Chicken and other food and have free drinks. We put money in the kitty each week towards this. Ranks did not exist on this day and everyone was invited to say anything that was on their mind. We worked long hours when we had a case going down, so it was important to occasionally let our hair down and be open and honest about anything that was annoying us. Out of these sessions came some good ideas on how to better do the job. Occasionally some person would make a remark about a person another Officer was investigating.
Besides intelligence gathering, when we had sufficient evidence that a person was dealing and had drugs at their home, there was preparation for getting a warrant and executing it. Each person had a job, such as Exhibits Officer, Scribe, person in charge of managing the prisoner, the Investigating Officer, who was the only person that would ask questions. We were continually told that there was big money to be made in drugs so we could be expected to be firmly questioned in court. If everyone concentrated on their job, there was less chance of conflicting evidence. The motto of the department was "You only get one bite of the cherry".
Despite all our intelligence work sometimes we picked up people who were not in our system, the person who decided to make that one trip to buy drugs to make a bit of money. Then of course we had people who only carried enough drugs for their use. College Weeks were a good example of this. Here we had an excellent system. When an arrest was made at the airport the details would be phoned to the officer. Here another officer would prepare the charge sheet and other paper work. If we had the officers, one would take the drugs to be tested. The test results, and paper work would be waiting at the Narcotics Offices or Hamilton Police Station for the prisoners. On one occasion I filled up two Police Kombi vans with prisoners at the airport.
One of the common ways local dealers got drugs in was by using Jamaicans to bring drugs in for them. Two cases that come readily to mind were the pregnant woman and the muscle man. There was something about a woman's behaviour that drew our attention to her when she arrived from Jamaica. She looked nervous. Although she was pregnant she asked to use the toilet, because her period had come. We helped her deliver her 9 pound marijuana baby!
It was a cold night when another flight arrived from Jamaica. I noted a man wearing a bright red shirt, black pants about 3 inches above his ankles and red socks. From the distance I felt that something was not right. He cleared Customs then walked past me. I then noted that although he had a big chest and arm muscles his legs were thin. I produced my ID card and said, "Police, stop!" He made a run for it across the carport toward the Swing Bridge. Just when I was about to grab him, the man jumped into the water, vanishing into the darkness. Other Officers quickly parked cars in the area and shone spot lights onto the water. I saw the slightest of movement near some rocks on the shore line. I reached down and pulled up a hand full of hair, with a head attached. "Please not hit me man. I just realize I can't swim and the water is so cold." said the Jamaican. We stripped him of his wet clothes and "muscles", put a Police rain coat on him and arrested him. Like so many other drug mules we dealt with, he would not tell us who he was working for. There is a chance that he honestly did not know. He was to deliver the drugs to a location and get paid. He probably only dealt with a middle man. After going to Jamaica I can understand why people in extreme poverty take the risk. If they got the drugs to the dealer, they earned more money than they could in one or two years, possibly even their lifetime. If they got caught their living conditions in a Bermudian prison was better than they had back home. If they talked and gave us information, their families would be harmed. Despite all this we were obliged to try to trace the importers. Whilst on the Force the cost of marijuana on the street got up to $3000 per pound.
One person we were determined to catch made regular trips to Jamaica but never had any luggage. We did a raid on his house, but did not find anything until we looked in the rubbish bin. There was a pair of sneakers there. A closer examination showed they had been cut open. Our friend had been bringing drugs into Bermuda concealed in the false soles of his shoes.
False bottom suitcases, tins within tins, drugs mixed up with mangoes, drugs flushed down aircraft toilets and later recovered were among the many ways marijuana came into Bermuda. When LSD and heroin became fashionable, the two most common ways of smuggling them in were concealment on the body and in toothpaste.
By far the biggest case I was involved with at the airport was one we had been investigating for a long time. Two brothers who lived in my old neighbourhood had become very rich and were still expanding their empire. They had drugs coming in from Africa, South America, and Jamaica. We had intelligence that suggested that at least one Customs Officer was on the payroll. We were confident that a large crate containing marijuana would arrive and be stored at the Customs shed. It did and we examined it when no one was around. Our intention was to catch people with the drugs in their car. I did special training with Sgt Ernie Moniz the Police driving instructor, to get my Police Truck licence, so I could use a Kombi van to block off the road as the offenders approached. We got an old VW van with vents that allowed us to look out, but no one to look in. This was parked on the edge of the water with other vehicles and rubbish. This gave a clear view of the shed. I believe the stake-out started in the morning with officers in the VW and Police cars and Kombi vans in position covering both areas of exit from the airport. About 1pm we did a crew change in unmarked cars with people checking out the abandoned vehicles. An English officer and I were meant to be in the vehicle until about 5 or 6pm. From mid-afternoon there were suspects in the area. They checked the whole area out. We became cold due to the high wind coming from the water and hungry. To make things worse my partner got a pain in his stomach. We were determined that we were not going to blow our cover. At least we could see what was going on. Other officers had been parked all day on the road near the airport. About 9:30pm there was a lot of action with suspects continually checking out the whole area. They walked around our vehicle on 3 separate occasions between 9:30 and 10pm. They shook our vehicle, tried to open the doors. I switched our Police radio off in case a call came through. I told my partner, who was in pain, to try not to pass wind in case it was heard. The smell in our vehicle was extremely bad and I felt certain it would be a give-away. Finally about 10pm the door to the shed was opened by the Customs Officer and the large wooden box put into a VW station wagon and driven off. As planned it was chased by a Police car and encountered a Police Kombi van blocking the road.
We worked through the rest of the night processing the prisoners. When word got out about our surveillance from the VW Van one of the prisoners approached me and shook my hand saying, "You guys were cool, real cool. We suspected that there was something not right about the van. That is a reason we watched the area for so long. Just tell me how could you stay so quiet for so long?"
After this bust other Police Forces were notified. I believe a suitcase factory producing false bottom suitcases in Jamaica was closed down. Raids were done in Kenya. The head of the gang was arrested at Heathrow Airport although I do not think there was sufficient evidence to charge him for the Bermuda incident.
Bermuda Green
As well as drugs coming in from the airport, drugs came via boat, and some marijuana was grown in Bermuda. We spent a lot of time trying to locate plantations. Some were just one or two plants, others were quite big. Some of the gardeners did an excellent job of keeping the plants watered and fertilized. Sometimes we did not have time to watch the gardens and just pulled the plants up. We had some good arrests. What used to annoy me during surveillance was that I would be losing at cards for a long time. Just as I had a winning hand the suspect showed up. Some of our hideouts were very well hidden, but even the best plans fail. Campbell Simons and I had been monitoring a garden in a bush area for some time. We developed a pretty good idea when the owner would show up. We developed our hiding spot. To get to it we had to travel some distance on foot, then crawl the remaining distance. We were confident of making an arrest. What we did not allow for was school children skipping school and coming to get oranges which were growing wild. We kept extremely quiet, but one kid on a hill shouted, "I see a white man". Another said, "I see a black man". "There is a white and a black man, two queers in the bush", shout a third child. The children then started throwing oranges at us shouting "Queers, Queers, Queers ". Campbell shouted we are Policeman keep quiet. "No you are not, you are two queers", shouted the kids as they continued to throw the oranges at us. We had no option but to pull the crop up after chasing the kids away.
On the boats
Some drugs entered Bermuda by private boats, yachts, and of course cargo ships, in particular the banana boats. I will just touch on these matters. It is fair to say that the Bermuda Police had a good boat section. Besides using Police boats we occasionally used private boats for surveillance. When thinking of the boat team two names spring to mind, PC Eddie Foggo and Dave Garland. PC Foggo was involved in one interesting case that comes to mind. We had information that a yacht off St. Georges had drugs on board. He switched the boat lights off and travelled at high speed and pulled alongside the yacht that also did not have lights. His navigation skills really impressed me.
The Banana Boats by far gave us the most work. They carried bananas and other goods from Jamaica to the UK via Bermuda. When approaching Bermuda, in port, and on the way out, drugs would be dropped in the ocean and collected by dealers. Even in the 60s some packages of drugs had homing devices on them. We would watch the boats from different vantage points on land and on the water. It was not unusual to see that just as we were watching the criminals, they also had people watching us. St. David's Lighthouse was a good example of this. To avoid getting the lighthouse keeper involved, I would lift my pen knife into the air to show anyone watching that I was about to pick the lock. We had cases where we saw private craft hanging around the banana boat. We would search these boats when they landed. We had good arrests from these exercises. On occasions due to our attention, the package drop could not be made until the ship was heading out of Bermuda's waters. There were a number of occasions where both offenders and the Police boat would follow the ship for some distance. It then became a game of chicken, particularly in rough water, as to who would back down. I recall one incident because of the deeds of a saint. It was Good Friday; as usual we had started at 4 am to be in position to watch the banana boat as it entered Bermuda's waters. It was cold, wet and windy and a pretty depressing type of day. Jill, Harold's wife, decided that no Bermudian should miss out on cod fish cakes on Good Friday. They were the best I have ever had and really lifted our spirits. From that day some of us called her St. Jill.
Other duties of the Drug Squad.
Besides the listed duties we did busts on the street. Anyone coming out of Court Street, especially whites, had to be considered as having drugs on them. One trend which I noticed towards the end of my career was the number of people carrying knives. I have no doubt that this trend came from Jamaica, where I saw it on a daily basis during my trip in 1969. I developed a sixth sense so I knew if a person was carrying drugs, a knife or both. I know I upset some people with the way I conducted searches when I was convinced a person had a weapon. I was never proven to be wrong. Some males even carried switch and flick blades on the crease of their backsides.
We also went looking for dangerous criminals. One person comes readily to mind. He was big, black and ugly. When out of prison he sexually assaulted young [3-6] white girls. He would then try to get protection in Court Street. On one occasion we saw him on the street. I believe John Williams was in charge on that day. We raced into the area and whilst some officers grabbed the offender the rest of us defended our officers. One person made a mistake by raising a bull whip to hit us. I lashed out with my pick handle riot stick. We quickly got our man and sped out of the area, as we were pelted with bottles and stones. Even more damage was done to a vehicle at the station. During the struggle the windscreen of a car was kicked out so we took him out that way. I will not give any details about the grips used to restrain this person; but they were very effective. "Doc" Hall and I also had a special encounter with this man, in which he again came out second best. It still amazes me that there were people on Court Street willing to protect this mentally sick man, just because he was black.
The 40 Days of Terror
It was about 1970 that the Black Berets stated that they would inflict 40 days and nights of terror in Bermuda. We worked extra shifts with 2 or 3 to a vehicle. We covered all areas, in particular rich white areas that would likely be attacked. We got a call to this white establishment. My partner stayed with my vehicle, whilst I ran to the front door. Members of the Fire Brigade were right behind me. Flashing my badge to the doorman I stated, "Acting Detective Sergeant Sousa, where is the fire?" "Did you say Sousa? I suggest you use the servants' door", came the reply. "Ray what the f ... did that penguin say to you? Ok fellows let's get hoses out," shouted a Fireman. "It was only a pot fire and we got it out", insisted the doorman. "We'll decide if the fire is out ", came the reply. Although there was a closer entrance to the kitchen and it had been raining, muddy hoses were dragged in over the thick carpet, a few chairs and tables were knocked over in the process. When my partner came up to me and asked what was happening I said it is just a pot fire and the brigade was just making sure it was out. We carried on with our duties. Two or three days later a Senior Officer approached me regarding the incident, and asked if my behaviour was appropriate. I said that for the good of Bermuda, nothing happened, and if he was considering any action against me, I would not hesitate to give the story to the press. I made it very clear that as a whole, Bermudians did not support the Black Berets, but they were also sick of white extremists. Police and Fire Fighters were prepared to risk their lives for the community, but in turn they demanded, and were no longer asking for, respect. We agreed that the matter was closed and that in the future I would not identify the establishment.
Drugs effect on Bermudian Families.
I promised myself that I would not get emotionally involved with drug users and their families. But this was hard. A distant cousin ended up killing his mother when high on drugs. I stopped one guy I went to school with from doing this a number of times. I previously mentioned the Spanish Point incident. One night I was in my own vehicle in Cavendish Heights, when I saw one of my regular customers smoking a joint. I stopped my car, he handed it over and got in. I cautioned him and drove him to the station. He was very calm until we got there. As he got out he started to run away with me chasing him. He threw a packet to the ground. He was starting to get away, so I reached out and grabbed him by his long hair, spun him around and punched him in the face during a struggle. His nose started to bleed. The youth started to laugh uncontrollably saying, "That didn't hurt. Man I'm just so high that nothing can hurt me". Inside the station he admitted the packet contained heroin. I arranged to meet his father later that night so he could be released on bail. I told the father what happened. He started crying, saying, "Ray, you did the right thing. He is a danger to himself and the community as a whole. You know, I have four sons, and doctors are saying that they are all likely to be dead in 5 years because of drugs. I want Harold, you and all the boys to know how much I appreciate the hard work you are doing. I don't want to see other families go through what I am". It was hard not to feel sorry for this man, and I sincerely hoped that I would never be in his position. Fortunately my four children all survived without getting heavily involved with drugs.
There was another case where a youth was importing heroin via the post office. This addiction was draining the family financially. When his older brother came to collect him he lost control and started beating him up. I grabbed him." Ray you know we are a good hardworking family. If he just killed himself that would be one thing; but he has destroyed our parents' lives, causing problems in my own family. Just tell me what to do", he asked me. I did not have an answer.
Another case involved one of my Scouts who was convicted for selling marijuana. The family approached me for a reference. After speaking to him, and with a lot of hesitation, I agreed. My remarks were read out in court and this caused a lot of friction with other officers. Within hours of being released I got word that he was back on the street selling. I got a warrant and with other officers went to his house. His family said he was not there. I gave them a choice - open the door or I would kick it in. I went to his bedroom, opened a ceiling man-hole, reached in, grabbed an arm and pulled him out. I made it clear that I was not interested in anything the family had to say. He was taken away with drugs we found at the house, and charged. A few days later I went to fuel my private car. Without taking much notice I saw the attendant unscrew my fuel top. Looking closer I saw his closed hand moving towards my fuel tank. Without thinking I gave a back handed slap, sending the youth to the ground. On the ground near where he landed was sugar that he had been holding. I grabbed him by his hair, pushing his head into it I said, "Eat it". I did not release him until he did. The youth then spewed his guts up. By then I realized he was the former scout who I had spoken up for in court. I turned to the manager who came out, and other witnesses, and said, "Does anyone have any problem with what you just saw. If you do, feel free to report me". The general consensus was that the youth got what he deserved. To my knowledge there were no complaints.
The following day the youth and his family approached me and requested a meeting. Everyone agreed the youth had a problem and unless he got his act together then drugs, someone on the street, or I were likely to kill him. It was agreed that I could have lost my job regarding the incident at the fuel station but my rough treatment had frightened the hell out him. The taste of gas covered sugar was still in his mouth. The family stated that they had made inquiries and despite the drug convictions he could travel to the States. We discuss his options. It was agreed that he should plead guilty, do the 2 or 3 months he would likely get, then live with the relatives whilst getting treatment in the States. This is what he did. Without a lawyer present he pleaded guilty to the drug offence I arrested him for. He sincerely apologized to the court for abusing his previous warning. He also stated the he wished to apologize to Detective Sousa who he let down by his behaviour. I believe that he got 3 months in prison after considering his first court case. I believe that he was released earlier under the condition that he got medical help in the USA.
I am not saying that my action was right or legal but it sure as hell proved to be effective. I believe that every Bermudian that served in the Force, in particularly Narcotics, had experiences of dealing with relatives or close friends. Being local had its advantages in policing over our overseas counterparts, but it also took a greater emotional toll.
It ain't Marijuana, it's Horse Manure!
There used to be a lot of debate about how dangerous marijuana is. How much of the effect received was in the actual drug, and how much in people's minds. First of all I will not argue that some of the drug is no more harmful that cigarettes but nowadays we know they are both harmful. I have also seen some extremely powerful stuff that really cooked people's brains. Then there was a case where the word was on the street that this dealer had some really good Bermuda Green. We set this guy up by having a detective buy some drug from him, and then arrested him. I took charge of the case. This guy laughed his head off saying I would never get a conviction because it was horse manure. Sure enough that's what it was. After trying to decide what to do I decided to charge him with selling goods by fraud. He got a short holiday for this.
Murder Squads
Whilst on the Force, I was seconded a number of times to work on murder cases, when a special Murder Squad was formed. This included cases where the Flying Squad section of Scotland Yard sent Officers to assist. Like the Narcotics Squad, the English had a good system of cross referencing information. Where Bermudians excelled was local knowledge. An example of this is when a suspect was shown a photo of himself by an English policeman and he (the suspect) claimed he had never seen the man before. I saw him trying to sneak aboard a ship. By the time I got him to the station, there was enough evidence to charge him. A problem that people have is they are used to seeing crimes solved in ½ hour on TV and expect the same result from their Police Force. They have no idea how much work is involved and how much information cannot be released, even in court.
Outstanding Young Man of the Year Award
I was given this award in 1970 in recognition for my work with youth, in particular Scouts and the Pedal Cycle Gymkhana. At the time I was on the National Youth Advisory Committee. Among its projects was the development of the Coney Island Motor Cross Club. Unfortunately, some of my strict rules which I was sure would reduce traffic offences were not agreed to. The award put me in the public eye and resulted in some controversial remarks by me. For the most part they were well received. A few days after I received the award I was requested to report to the Commissioner's Office. Present were TV cameras and the press. Commissioner Duckett gave a speech about how proud the Force was of me and about all the support that the Police gave to officers doing youth and public relations work. This was news to me. I had done the work in my own time and to my knowledge so had all other officers. Photos were taken of the Commissioner with me. To my knowledge these were the last photos taken before he was shot dead. A few days later I was with other officers on the way to the airport, when the Commissioner's wife came flying out of the driveway of her home, her car cutting in front of us. She was on the way to Police HQ to report the murder. The murder was a shock to the Police Force, and we helped in the investigation.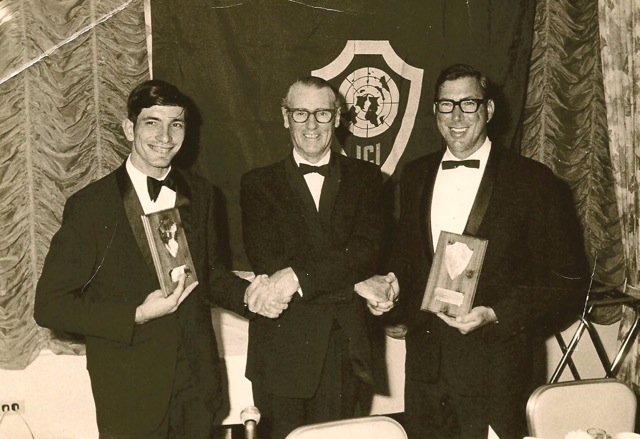 Ray receives the JCI's 1970 Outstanding Young Man of the Year Award
A Momentous Year
1972 was the year I married Pat Smith. Again, even this was not a simple affair. My future father-in-law tried to stop the wedding believing his daughter, who was 19, was too young. There were also racial undertones to his views as well. He did not want a Policeman, particularly a Portuguese in the family. He did not attend the wedding, never spoke to me, and disowned his daughter. Fortunately we resolved our differences with my mother-in-law before she died. The wedding was held at St. Patrick's Church, Smith's Parish with the reception held in the hall under the church. Much to his credit my father organized the catering. The bar and photos were managed by police officers, which I was grateful for because we had very little money. To try to keep my father happy we accepted a trip to the Azores, to experience some of his culture. I found people to be wonderful but our thinking was very different. On the way back to Bermuda we visited American Policemen and their families who we had met when they visited Bermuda.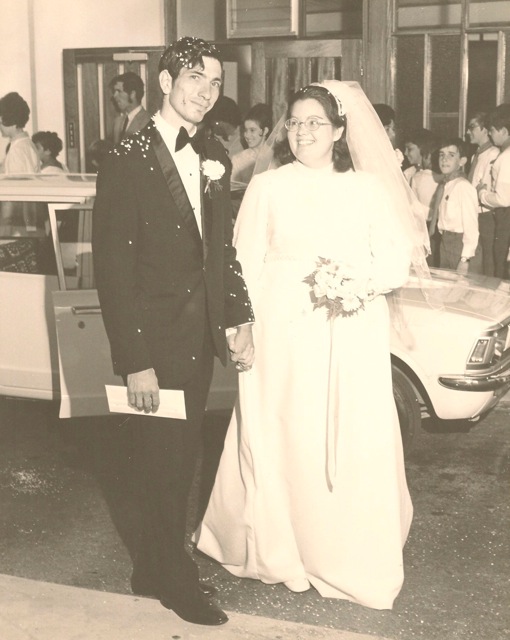 Ray and Pat on their Wedding Day in 1972
We lived in a new housing complex in Prospect. In August I phone my wife at work and told her that if anyone asked we had split up and she had no idea where I was. The truth was that we had arrested two Columbian drug mules en route to the USA. One of the unfortunate men looked similar to me. I replaced him and travelled with the other man. At Boston Airport I thought a man with a bulge in his pocket was about to make contact, but he backed off. I suspect that he sensed something was wrong. It could be that he noted a bit too many floor sweepers who in fact were undercover police officers. I spent about 2 days in Boston and 3 days in New York working with American officers. In New York my Columbian travelling companion was greeted as a long lost friend by prison officials. He had been arrested a number of times before. If nothing else we had established his true identity. Back in Bermuda both men were charged with trafficking cocaine.
January 1973 saw the birth of our first child Andrew. We had an American police officer and his wife fly in to be his godparents. The night of the Police Ball I arranged for my baby son to be babysat with my aunt and uncle, the Hayward's, in Devonshire, whilst we went to the function at Southampton Princess Hotel. We were enjoying ourselves when I noticed whispering. I asked a Senior Officer what was going on and he said that the Governor, his ADC, and their Great Dane dog had been shot dead. No-one knew what it meant. It could have been the start of the revolution that black extremists had been promising. I returned to my seat and told our guests Phil and Trudy plus my wife to smile and finish their drinks - we were leaving. When I mentioned the shooting I appreciated the effect on my wife because a shopkeeper who was tied up and shot dead was a school friend of hers. Before we walked to the car, I said I wanted the girls in the back seat of my Ford Escort Station Wagon. I said we were not stopping for anyone. I told Phil that alongside the passenger seat was a pick handle riot stick. I also had one on my side of the car. If we were forced to stop I planned to take out as many people, before they got me. We sped off towards Devonshire almost taking corners on 2 wheels. We collected Andrew and sped off to our Prospect home. I loaded my .22 pistol which I used at the club and gave it to Phil, saying shoot the first bastard that comes to the door. A main suspect only lived 2 doors away.
I spent the rest of the night and following morning executing search warrants and making inquiries. It should be noted that we were unarmed police officers looking for armed murderers. I got home about 1:15pm which gave us just enough time to make the 1:30pm christening at St. Patrick's Church. Phil confessed that despite serving in the Korean War, and 20 years with the New York Police, he had never seen driving like that before, nor had he ever been so frightened.
Shortly after the murder of the Governor I was at Police Headquarters when two militants came and spoke to me on the balcony and suggested I back off in my investigations. "Man I know where your wife and son live. I know where your father lives. I would hate see their homes go up in flames". Without the slightest hesitation I grabbed both men by the throat pushed them off balance so they were leaning backwards over the railing; then shouted," Listen here you M....... F........s I know where your girl friends live, I know where your mothers live, I know where your wives live. If anything happens to my family the same will happen to your families". "But you're a Policeman you can't do that. What if we don't do it? Someone else might. What you are saying ain't fair", said one of the men. "You are stupid enough to threaten my family here at Police Headquarters and want to talk about being fair? The moment you touch my family it becomes a personal matter and I plan to take as many of you bastards out before you get me", I replied. A senior officer came out and said, "That's enough. Drop them." "With pleasure", I said as I pushed them further off balance. "They are not worth it, release them" the officer pleaded.
This incident showed how extremist some people had become in Bermuda. I continued my work as normal and attended a planned Narcotics Training Course in New Orleans. John Williams was on the course with me. I got 93% in my final examination.
When we first got married, my wife and I had discussed moving to Canada or Australia in a few years. I was approaching 28, and we had to decide if it was worth waiting or moving immediately. We had just spent a lot of money fixing up our home. We agreed that it was one thing to put our lives at risk. In my case I accepted it as part of my job but it was morally wrong to put a child's life on the line. After a lot of soul searching we decided in November 1973 to move to Australia. We left in January 1974. One of the last people I spoke to at the airport was "Super" Lottimore, a former Dog Squad Officer. He expressed his disappointment at me leaving. He stated that he had never seen a fairer cop, but understood why I was leaving. He sincerely gave me his best wishes.
Life after the Force
I tried to get into the National Narcotics team when I arrived in Australia. I got an interview but missed out. The squad was disbanded a year later. I tried to get into the Federal and State Police and was 3 pounds under weight. Such restrictions no longer apply. Then my eyes became a fraction near sighted, and this stopped my attempts completely.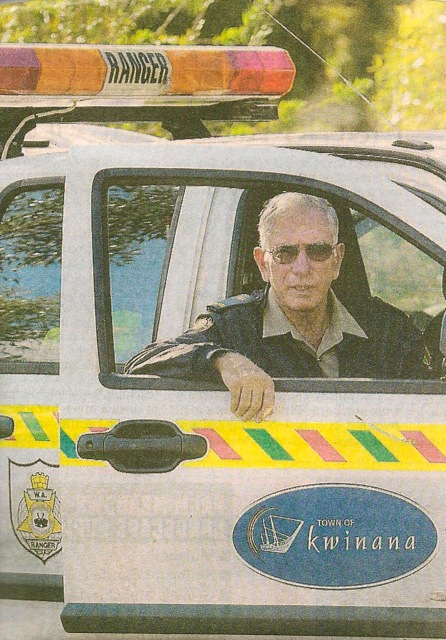 Ray in his Kwinana Ranger and Emergency Service vehicle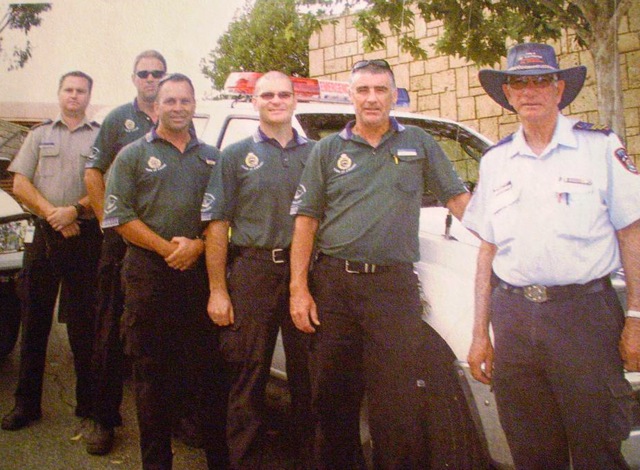 Ray (right) leads his Kwinana Ranger and Emergency Service Team
I became a Local Government Ranger. The job, depending where in the State you work, includes litter management, security, traffic management, livestock, domestic animals, wildlife control. Rangers also enforce Bush Fire Prevention laws, fire fighting and assist during storms and other emergencies. I have worked in four Local Governments. The first was Cottesloe, Perth's best known beach town, followed by Gosnells, Armadale and then Kwinana which is ½ hour south west of Perth, Western Australia's capital, in February 1991. My then title was Ranger and Emergency Services Coordinator. The Ranger side of things was dropped in 2008, when I became The Community Emergency Services Coordinator. This is a joint State and Local Government position. A large percentage of my work was disaster prevention; but when it hits the fan it was my job to coordinate resources in the field. Under my direct control I had two Volunteer Bush Fire Brigades with 125 members before I retired earlier this year. During emergencies, depending on the incident, this number could double or triple.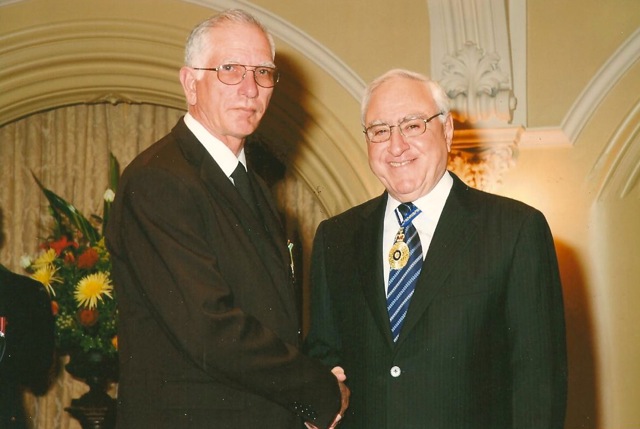 Ray receives the Austraian Fire Service Medal for the Governor of Western Australia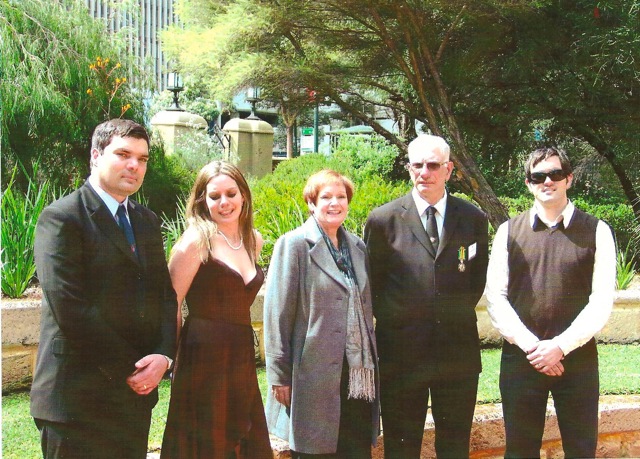 Ray and his family at the Awards Ceremony
(l-r) Chris, Rebel, Pat, Ray and Andrew (daughter Amanda was in Bermuda at the time)
As well as my normal job, I am a foundation and Life Member of the WA Ranger Association. I served 2½ years in the Army Reserve as an Armoured Vehicle Driver. I have been a volunteer Bush Fire Fighter since the mid-70s. I train Rangers and Local Government staff in Emergency Management. I have the Ranger Association 35 year Service Medal, The Australia National Medal with two clasps for 35 years service to the Country. In 2008 I was mentioned in The Queen's Honours List and awarded the Australian Fire Service Medal [AFSM]. In Western Australia we have over 25,000 Volunteer Fire Fighters and a maximum of only five medals can be awarded a year. I spent 21 years as a Scout Leader. I am still married and have 4 adult children, Andrew, Amanda, Christopher and Rebel, and as of November 2010, 7 grandchildren Jada 6, Jasmine 4½, Braydon 4½, Oscar 3, Adison 2½, Joshua 1, and Arye who is just a few months old.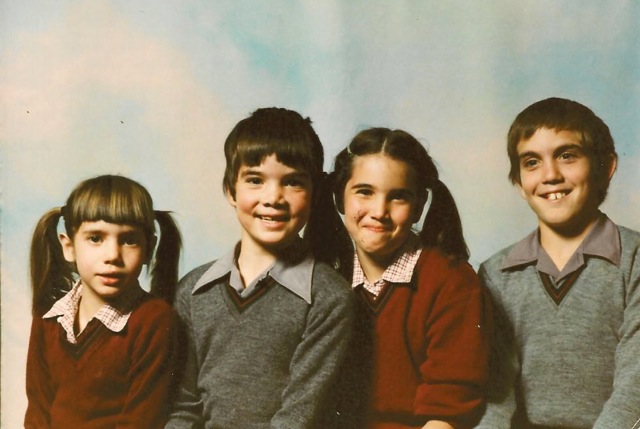 Ray and Pat's children as youngsters
(l-r) Rebel, Chris, Amanda and Andrew
Looking Back
As you approach the end of your life a lot of 'what ifs' arise.
What if I stayed on the Police Force? I believe I would possibly have ended up in prison if some member of my family was harmed in any way. Again, I could have become a Senior Officer. But would such a promotion be based on race or ability? That nasty doubt would always exist.
What if the political situation had been different in Bermuda? I probably would have stayed but look at the adventures in Australia I would have missed out on. In Australia we do not have the same racial issues Bermuda has. We are a people with heritage from all parts of the world working together.
The list of what ifs are as endless, as possible answers. Despite all my many mistakes and challenges, I am proud of my heritage, and my service to both the Bermudian and Australian Communities. I am proud that I was able to have been able to serve with the wonderful members of the Bermuda Police Force.