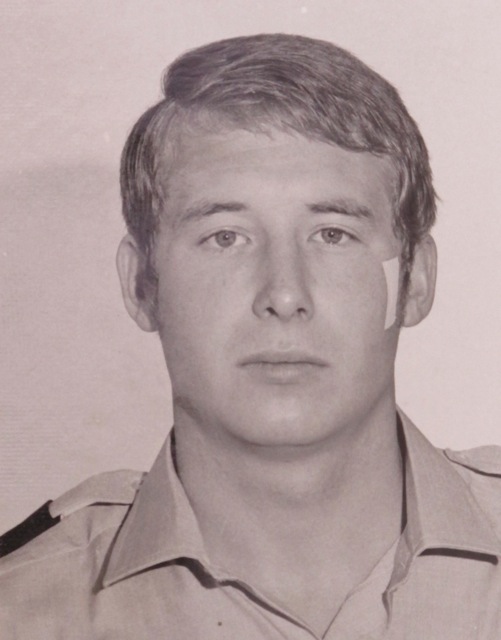 Young P.c. Bill Cree
We recently received this information from Bill Cree after he discovered our website. We are delighted to publish Bill's article.
"I took a serious walk down memory lane this evening and dug out a bunch of old photos, which have not seen the light of day for many a moon!

I have just been on the Ex-Bermuda Police website and rekindled many happy memories of the wonderful guys that it was my honor to serve with.

Great bunch of men who did some amazing things during severe periods of stress and public disturbances. I am very saddened to see just how many of them are now no longer with us.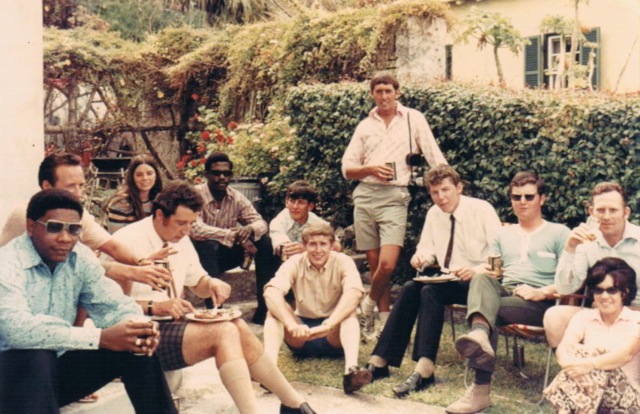 Social Gathering in St. George's 1970
(l-r) Arden Cato, Ronnie Boggan, unknown lady, D.C. (Tony?) Smith, Laurie Phillips,
Unknown, Bill Cree, Frank Smith, Paul Hendrick, Brian Anderson, Jeff and Doreen Sanders
Everybody who served, and I can clearly remember so very many of them, and also the camaraderie that we enjoyed is unforgettable. We were the "Thin Blue Line" especially in the early 1970's when the Black Beret thing was going on and every New Years Eve was a turnout for the riot squad!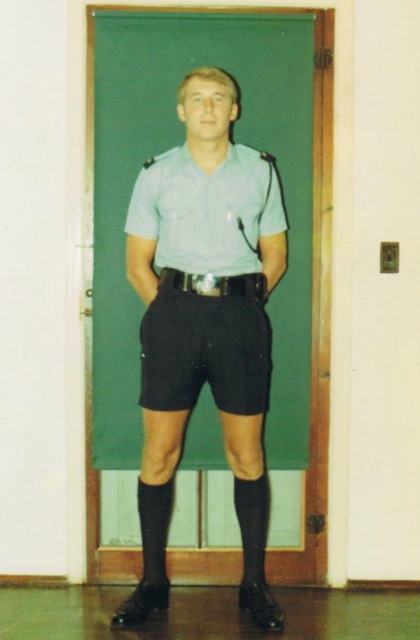 Young P.C. Cree in his first apartment after moving out of
Police Barracks.
Bill shared it with Dave, a tall red-headed
lad, who is believed to have moved to Australia
It somehow seems so very real, even after these years. I can even remember dropping off street barriers to Sgt. Eddie "Boxhead" Foggo at the Par-La-Ville junction with Church street and dropping one on his foot – Ouch !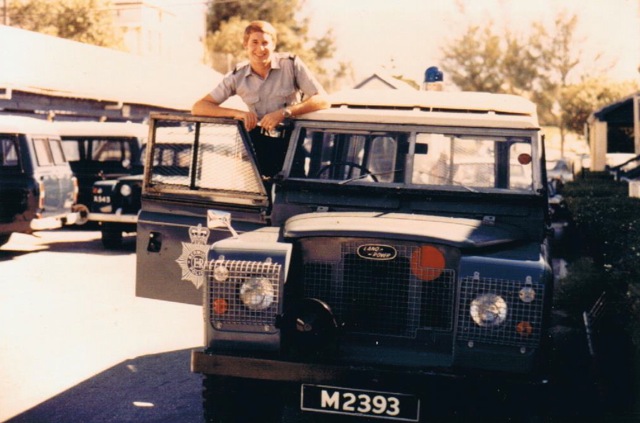 Bill in Operations with one of the Riot Squad Landrovers
I served in the very early 70's having been lucky enough to come from the Hertfordshire Constabulary and was one of only 22 who were selected. I joined with Paul Hendrick and 20 others in June 1970. Initially after the orientation course with those guys, taught by Sgt. Murphy, with Paddy Ackroyd complaining about not getting any female action during our course, I elected to go to St. George's and Sgt Mickey Burke was my watch skipper along with Inspector Peter Stubbs (a great leader) as the Station Chief. Eventually "Wee Eckie" Eric Laing became my Sergeant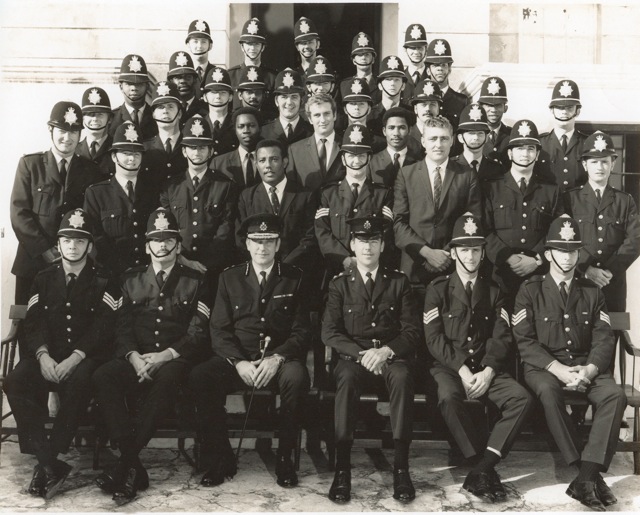 Eastern Divisional Photo - 1970
Bill's recollectiion of names is:-
(l-r) Front row - Sgt. John "Rigor" Morris, Sgt Barrie Meade, COP George Duckett,
St. George's OIC Insp Peter Stubbs,
Sgt Mike Burke, and Sgt Brian Flook,
2nd Row - Alan Kennedy, Brian

Anderson

, Frank Smith, D/Sgt Dudley Swan, Sgt Eric "Wee Eckie" Laing,
D/Sgt Laurie Jackson, Mike Cresswell (deceased) and Neil Cox
3rd Row - Bill Cree, Angus Brown, David Furbert, Malcolm Tart, Patrick Hamlett, Perry Fox, Dave?
4th row - Arden Cato, Laurie Phillips, Paul Hendrick, Mel Gibbons, Robert "Bob" Payne,

John Wilkinson,
Paul Yates

, Dave Purcell,
Winston
Esdaille,
Roger Hind
Top Row -

M. Sample

,

Stephen Bond

,

Ken Bent

, Ronnie Boggan, ?
Editors note - If you can assist in identifying the missing names
please add them to the Comments
Section below. * Those names shown in blue have been kindly supplied to us by Paul Hendrick by email
I guess because Alan Kennedy and I teamed up and were pretty good as a team, especially on traffic issues, I was selected to do the driving course with then Sgt Derek Jenkinson (another super guy). More about him later! I was then transferred to Operations and Sgt. Hall was the watch skipper. Later Roger Sherratt became my leader. I've attached a few photos of my time in the Force – courtesy of PC Bruce Osborne.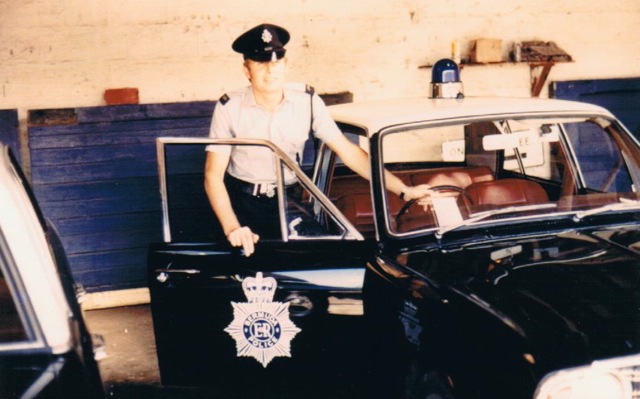 I loved my time on the Force and only got out due to my wife to be – Elizabeth B. Wainwright – of the Pitt's Bay Boat Co family – who did not want to be married to a cop who worked shifts, especially nights. I bought out my contract in late 1972 and went to work for them at their boat yard. I had just a short stint in the Bermuda Police but it was most enjoyable. I really loved driving Tango 8 and working in Operations with some neat guys such as Dave Ashurst, Rex Osborne, Erskine Warner, Jeff Payne, Roger Sherratt, John Baxter, George Rushe etc. etc.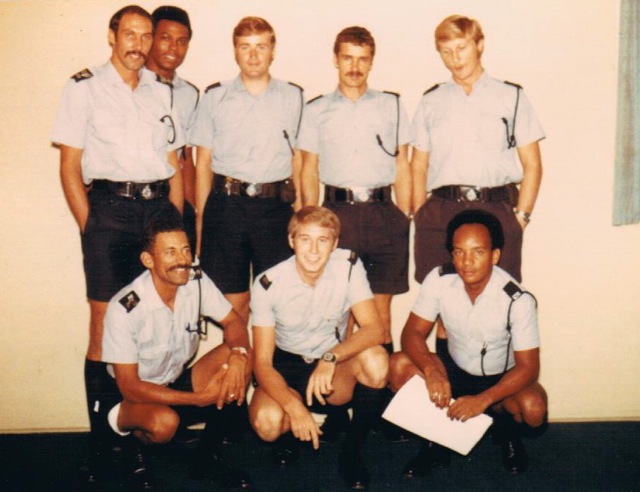 Happy Days in Traffic - 1971
(l-r) Top Row - Sgt Jeff Payne, Steve Dean, John Baxter, Dick Johnson, Rex Osborne
Kneeling - Sgt. Gladwin "Doc" Hall, Eric Clee, and Erskine Warner
So many good guys and fun times with the blue light flashing and two tones blaring. I've tried to remember as many names as possible – but let's face it - I'm going back 40 years! Pheeew. What happened to the time?
Thinking more about the days in Force and beyond, my ex-in laws - the Wainwrights allowed me to "harvest" some Bda cedar from the Paget home of grandpa Wainwright and I donated this lumber to Malky Smith ( who used to live near us ) who was the Force Carpenter, and I believe he built a bar for the Prospect Police club with it.
After I left the force and went into civie street I did stay in touch with many of my former colleagues, especially those who owned a boat. Derek Jenkinson was a frequent customer at Pitt's Bay. Also Harold Moniz who we sold our first house to on Devonshire Heights. I was so impressed with him at my first meeting, he spoke just like a US narcotics cop and was way too cool, especially after seeing the UK police guys trying to be undercover narc's !!

My in-laws, Musson (now deceased) and Beryl Wainwright left Bermuda to retire to the Eastern Shore of Maryland in the late 1970's and "Bunky" and I then bought the business. When they became US citizens Musson and Beryl arranged for us to immigrate to the States. We sold Pitts Bay to P.W's and that's how I came to be where I am now.

Not to dwell on the past too much, I am now an associate real estate broker in St. Michaels, Maryland, and also my lady friend/partner and I own a shop on the main drag – Forever Treasures – we do antiques, collectibles, jewelry and whatever comes through. I have also been actively involved in sailing and recently served as Vice Commodore of the Miles River Yacht Club here in St. Michael's, MD.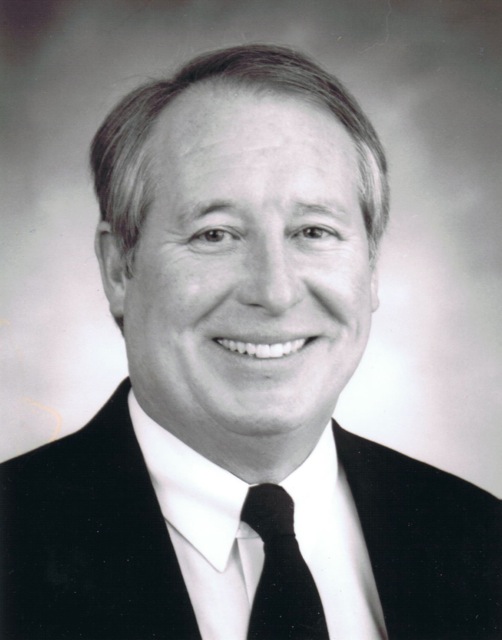 I just want to add that if anyone wants to get in touch with me I would really appreciate a response (Editors note – although we have a policy of not displaying contact details on our website we are always pleased to pass them on via email or a phone call if you contact us).
God bless you all for a truly wonderful time in my young life and I hope you all look back and remember what a great team we all were back them.