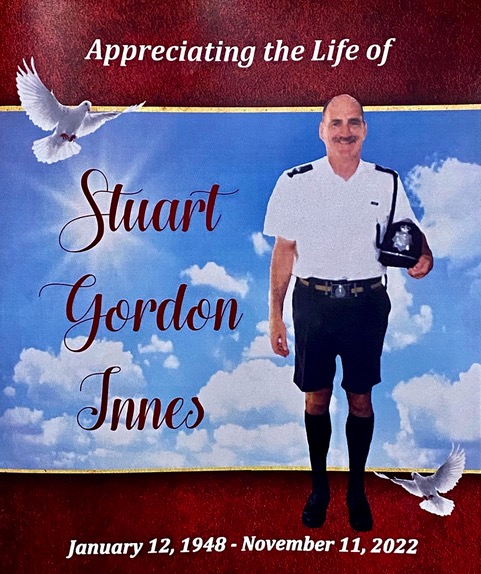 A graveside memorial service was held at the Police Cemetery, Prospect , on Thursday 24th November 2022, for our good friend, retired Inspector Stuart Innes, who will always be fondly remembered by all those who worked with and came into contact with Stuart during his police career and his later career at Gibbons Company Ltd.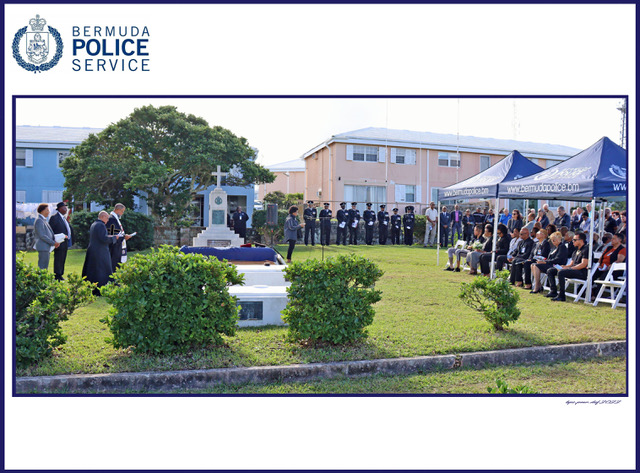 Funeral service for retired Inspector Stuart Innes at Police Cemetery, Prospect.
Born in Edinburgh, Scotland, on 12th January 1948, Stuart was one of three children of his parents, Francis "Frank" and Margaret Rennie Innes (nee Law).
Stuart joined the Bermuda Police in May 1973, after having served from 1969-1973 in the then Wigan Borough Police in Lancashire (later the Greater Manchester Police).
On his arrival in Bermuda Stuart attended a 3 week Localisation Course along with 19 other recruits with previous police experience, and was first posted to Central Division (Hamilton) and later to Operations (Traffic), serving in MCPS for several years, before finding his niche in the BPS when he was transferred to Administration "A" Department where he excelled as a highly efficient and very popular member of the "A" Department team.
CLICK HERE to read more about Stuart and his family and his career as a police officer in our Hall of Fame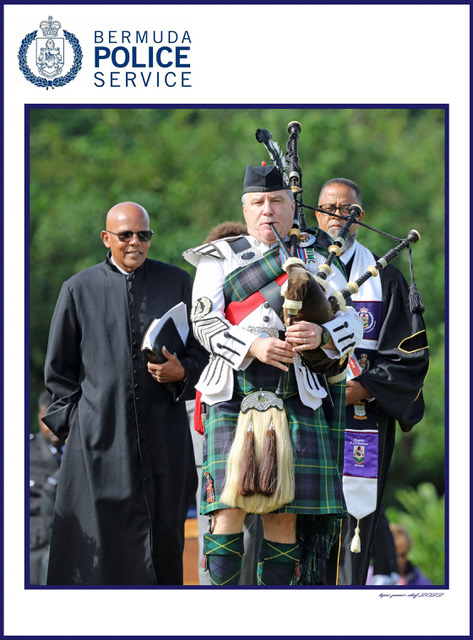 Pipe Major Aiden Stones, together with Pastor Larry Smith (left)
and Police Pastor Kevin Santucci lead funeral party into Police Cemetery
The Service was conducted by Police Chaplain Dr. Kevin JT Santucci, along with Assistant Pastor Larry Smith (retired BPS Superintendent). The funeral party was led into the cemetery by a bagpiper from the Bermuda Island Pipe Band and the official Bearer Party.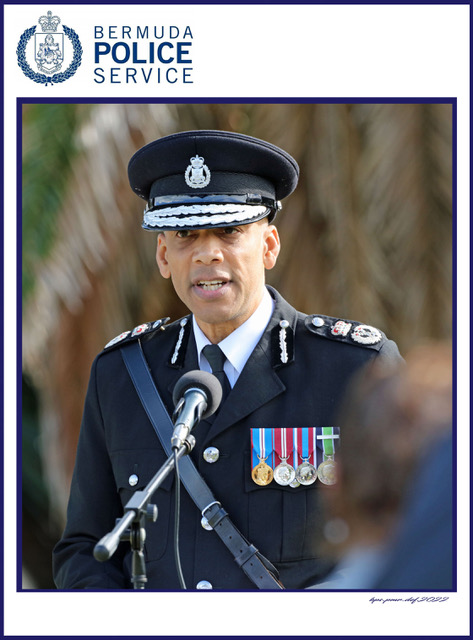 COP Darrin Simons delivering eulogy
Eulogies were given by retired Superintendent, Assistant Pastor Larry Smith, and Commissioner of Police, Darrin Simons. Commissioner Simons remembered retired Inspector Innes as a positive, helpful, professional officer. "It can be said without question that Inspector Innes was always one of the most helpful officers to serve at Headquarters and would always go out of his way to provide assistance and guidance to his colleagues. While I never worked in a unit he led, in all of my interactions with him, Stuart always had a positive attitude, was the consummate professional and personified kindness in all that he did. He will be fondly remembered."
The obituary was read by Kuni Frith, a close friend of the family.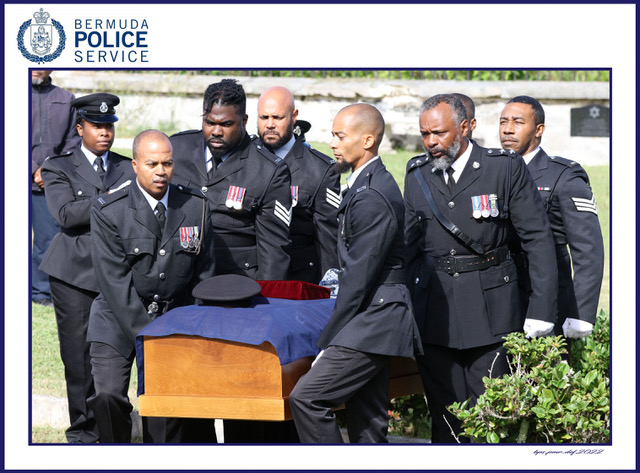 Bearer Party with coffin
(l-r) Hat Bearer P.C. Moya Ogilvie-Milwood, P.C. Derek Simmons, Sgt Caleb Jn Pierre,
Sgt Anthony Smith, P.C. Peter-Paul Taylor, Acting Chief Inspector Kuyn Evans and Sgt Warren Bundy.
Not clear in photo - Hat Bearer P.C. LeRoma Swan, and OIC Bearer Party Inspector Derek Golding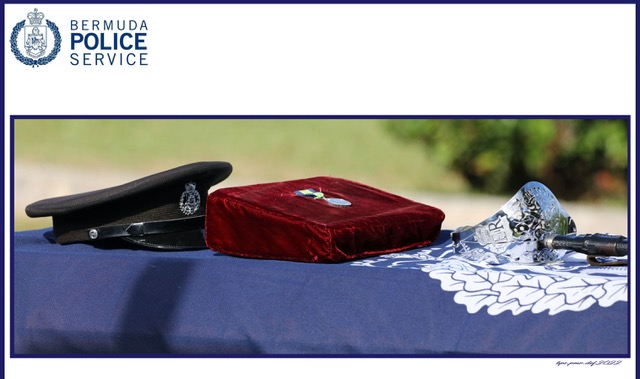 Following the service Stuart was buried at the Police Cemetery with full Police honours, His coffin was draped with the BPS flag together with his cap, Colonial Police Medal and ceremonial sword.
Those in attendance included Stuart's loving wife, Jennifer, daughter Angela Cox (Dean), brother Graham Innes (Susan) from England, sister-in-law Jacqueline (Jackie) Jordon, niece, Heather Rigby (USA) and Tracy Innes (England), nephews Michael Rigby (USA), Scott and Darren Innes (England) grandsons DeUnde Cox and Tyrese Cox, godson LeMelle Paynter, and many friends including past and present staff of Gibbons Company Ltd.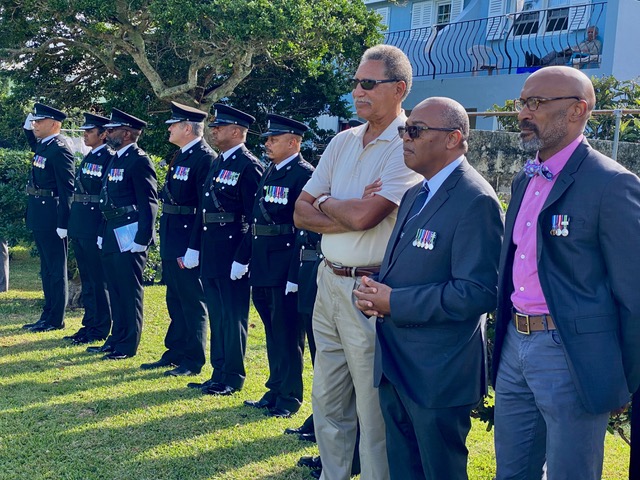 (l-r) COP Simons, A/DCOP Astwood, Supt Howard, Supt Field-Lament,
C/Insp Astwood, C/Insp Laws, Retired ACOP Adams,
ExPo President Calvin Smith, and D/Insp Roberts
The BPS was well represented by a large group of senior officers and other BPS personnel. Our ExPo President, Cal Smith, was one of numerous former and retired police officers in attendance, many of whom had served with Stuart, and these included former Commissioners Clive Donald and Michael DeSilva, Assistant Commissioner Carlton Adams, along with Tracy Adams, Neil Anderson*, George Babb, Reese Bartley, Beverly Basden, Peter Borland, Vendal Bridgeman, Roger Brydon*, Keith Cassidy, Michael Chlebek, Dave Cooper, Howard Cutts*, Dexter Fubler (official photographer) Carolyn Haynes, Roger Kendall, Eunice Lambert, Rosie Pearman, Linda Perry, Alex McDonald, Charlie Mooney, Iain Morrison*, Brian Robinson, George Rose, Pete Shaw, Roger Sherratt, Dave Smith*, Pastor Larry Smith (officiating) Marsh Smith, Phil Taylor, Peter Thompson, and Cheryl and Junior Watts.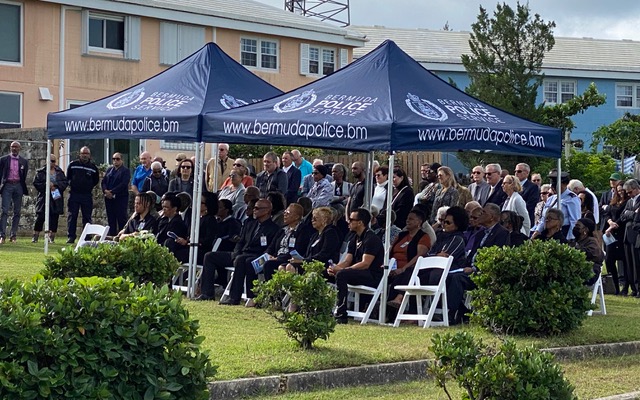 Family and Friends
On behalf of the Bermuda Ex-Police Officers Association we extend our deepest sympathy to Jennifer, Angela, and all of their family, firm in the knowledge that Stuart will by fondly remembered by all who knew him.
28th November 2022
Editors notes -
Many thanks to Dexter "Fudge" Flood for kindly providing the official BPS photos published in this article.
* Denotes those police officers who came out to Bermuda along with Stuart in May 1973.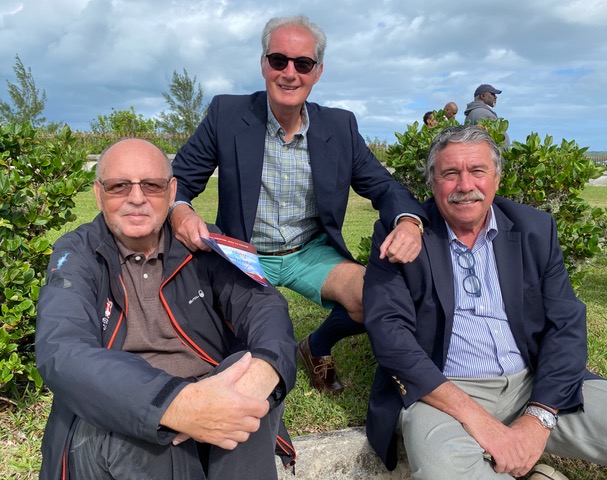 Dave Cooper (left) with Iain Morrison and Roger Brydon
who both joined the BPS in May 1973 along with Stuart