Young P.C. Stuart Innes
We were all deeply saddened at the passing last week of one of our most popular and well-liked police officers ever to serve in the Bermuda Police Service.
Born in Edinburgh, Scotland, Stuart first put on a blue uniform when he joined the Wigan Borough Police in Lancashire (now the Greater Manchester Police) in 1969 at the age of 21. Retired Inspector John Dale who had just joined the Salford City Police (also later to become the Greater Manchester Police) as a young constable remembers meeting Stuart for the first time when they were in the same class while attending the #1 District Police Training School in Warrington, Lancashire. John also recalls that Stuart was their Class Leader.
After graduation, the two young men didn't see each other again until they both attended interviews in London after they had applied to join the Bermuda Police Force. They were interviewed by Superintendent Joe Nixon, and Inspector Syke Smith. Both were accepted, and they were among a group of 20 young recruits who flew to Bermuda on the 1st and 3rd May 1973.
Following a 3 week Localisation Course both Stuart and John were posted to Central Division (Hamilton) on beat duties. John commented on how strange it was for the two lads from Lancashire to be patrolling #1 Beat in Hamilton, Bermuda, together.
The two even shared accommodation in the early years and they were eventually transferred to different departments. Stuart attended a driving course and graduated as a Grade 1 driver after which he was transferred to Operations (Traffic) in 1976, He had a spell as a regular patrol driver, but Stuart was moved to the MCPS which he loved. He was an excellent driver and in February 1987 he received a Safe Driving Award for 10 years of safe driving.
Stuart served for 5 years in Traffic until he found his true niche when he moved to Administration "A" Department. He excelled as a highly efficient member of the "A" Department team. He had direct dealings with literally hundreds of his fellow police officers of all ranks, and there is no question that Stuart was exceptionally popular throughout the ranks. He would always find time to assist his fellow police officers, providing assistance, help and guidance when needed.
Stuart was also very fortunate in 1976 to meet the love of his life when attending a wedding where Miss Jennifer Jackson was a bridesmaid and he was a driver. There's no question that Stuart was completely smitten and he and Jennifer were married two years later on 5th November 1978 (on Guy Fawkes Night!) at St Andrew's Church in Hamilton. The two were happily married for 44 years. Stuart and Jennifer would attend our ExPo functions at the PRC.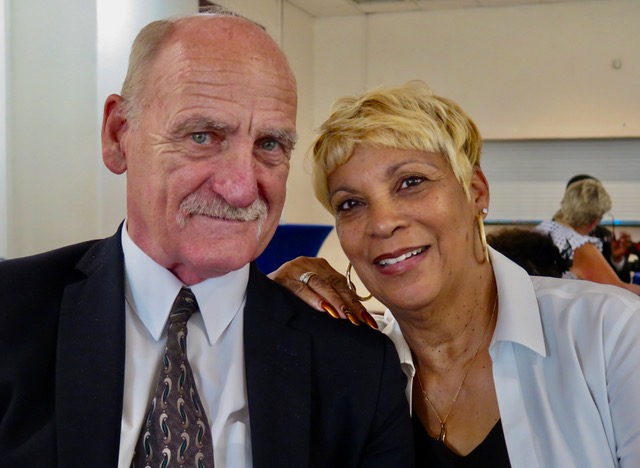 Stuart and Jennifer at one of our ExPo functions
Stuart was an avid football fan and always supported Wigan Athletic Football Club, although he also supported other teams in the English Football Leagues. He had played football in his early years here in Bermuda, and never one to stand still, he also took up running to keep fit, and ran in several marathons both locally and overseas.
Stuart received his Colonial Police Long Service and Good Conduct medal in January 1987. He retired from the BPS in 1999 and went on to join Gibbons Company Ltd, as their maintenance man. He was as popular with their staff as he was with his colleagues in the BPS and quickly established a reputation as the person who could always be counted on to get the job done - and in a timely manner. Stuart was a familiar sight in downtown Hamilton as he moved between the various Gibbons Company businesses, and he remained there until his health deteriorated.
Sadly, in August this year (2022) Stuart was flown overseas where he was diagnosed with a serious cancer. On his return he was admitted to KEMH before being transferred to Agape House where he passed away peacefully on Friday 11thNovember 2022.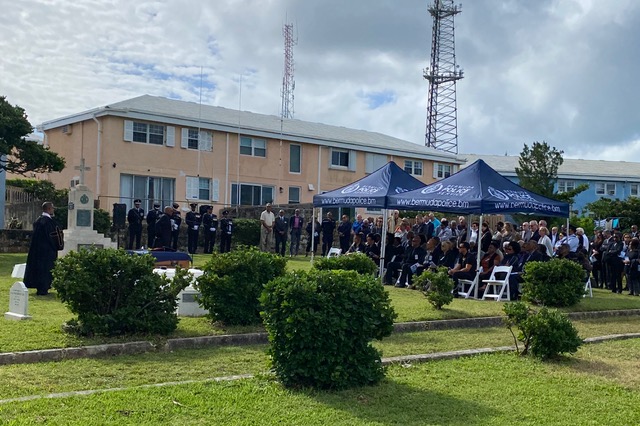 Memorial Service for Retired Inspector Stuart Innes at Prospect Cemetery
Pastor Larry Smith was delivering the Eulogy
A graveside memorial service was held for Stuart at the Police Cemetery, Prospect, at 12 noon Thursday, 24th November 2022, attended by many of his former colleagues from the BPS along with family and friends and staff of Gibbons Company Ltd. Bermuda Police Service (BPS) Chaplain Dr. Kevin Santucci and Assistant Pastor Larry Smith led the ceremony at Garrison Cemetery in Devonshire.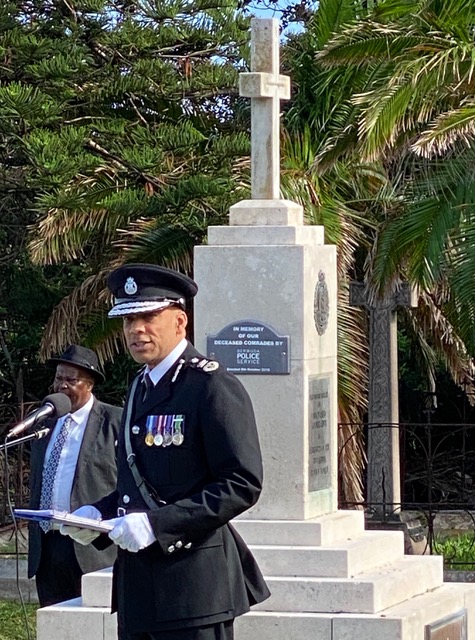 Commissioner of Police Darrin Simons
pays tribute to Stuart Innes
Commissioner of Police Darrin Simons remembered retired Inspector Innes as a positive, helpful, professional officer. "It can be said without question that Inspector Innes was always one of the most helpful officers to serve at Headquarters and would always go out of his way to provide assistance and guidance to his colleagues. While I never worked in a unit he led, in all of my interactions with him, Stuart always had a positive attitude, was the consummate professional and personified kindness in all that he did. He will be fondly remembered."
Commissioner Simons added, "The BPS family's thoughts and prayers are with his loving wife Mrs. Jennifer Innes, his daughter Angela, family, friends, former colleagues and loved ones at this difficult time. May he rest in peace and may perpetual light shine upon him."
Among the attendees were numerous members of our former BPS family including former Commissioners Clive Donald and Michael DeSilva, Assistant Commissioner Carlton Adams, our current ExPo President Cal Smith, along with Tracy Adams, Neil Anderson, George Babb, Reese Bartley, Beverly Basden, Peter Borland, Vendal Bridgeman, Roger Bryden, Keith Cassidy, Michael Chlebek, Dave Cooper, Howard Cutts, Dexter Fubler (official photographer) Carolyn Haynes, Eunice Lambert, Rosie Pearman, Linda Perry, Roger Kendall, Alex McDonald, Charlie Mooney, Iain Morrison, Brian Robinson, George Rose, Pete Shaw, Roger Sherratt, Dave Smith, Pastor Larry Smith (officiating) Marsh Smith, Phil Taylor, Peter Thompson, and Cheryl and Junior Watts.
CLICK HERE for our article on Stuart's funeral held at the Police Cemetery on Thursday 24th November 2022.
28th November 2022