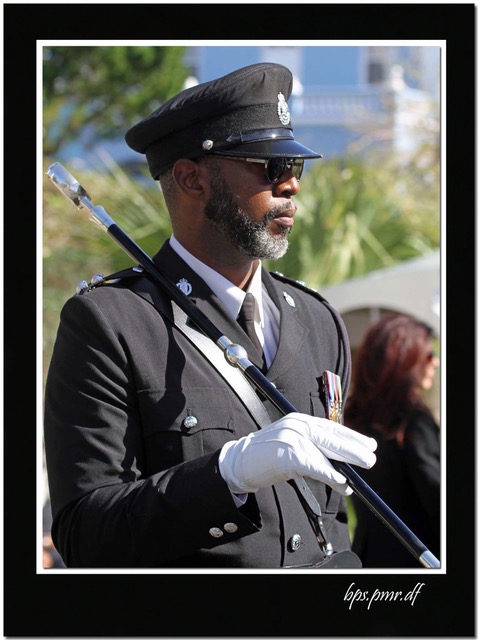 Inspector Troy Glasgow
(Photo courtesy of Dexter Fubler)
Our good friend and former colleague, retired Inspector Troy Glasgow, has just been appointed at the new Director of Security and Emergency Management at the Hamilton Princess & Beach Club.
Troy has served in the Bermuda Police Service for 28 years, from February 1992 until his retirement in May 2020. He began his career in Eastern Uniform and served in a wide variety of departments including the Task Force, Narcotics, Operations Traffic), the Vehicle Crime Unit, both Eastern and Western Community Actions Teams, as Duty Inspector in Central Division, and as Inspector in Special Branch. He received special training in crisis negotiation. Troy has also served as Black Rod at the annual Opening of Parliament.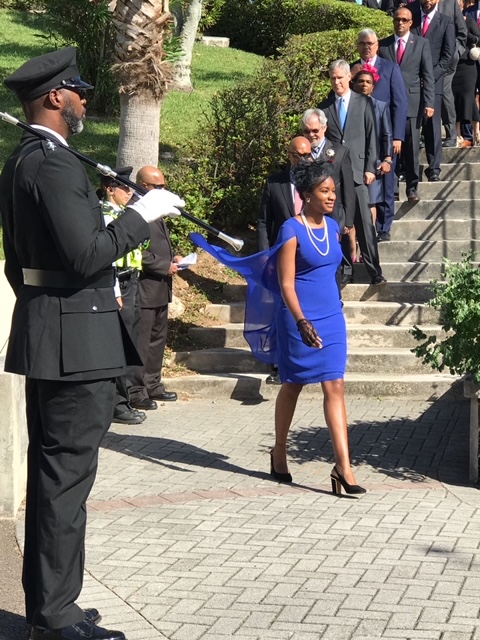 Inspector Troy Glasgow performing duties of
Black Rod at the Opening of Parliament
An imposing 6' 4" in height, Troy excelled at sports and athletics having played rugby and cricket for the BPS and he was an outstanding high jumper who was Southeastern Eastern Conference (SEC) champion) in 1987.
Troy initially planned to serve in the BPS for no more than 7 years but he found the job of being a police officer "so versatile that there were many jobs rolled into one profession and you could never predict the day ahead.
Our ExPo President, retired Inspector Cal Smith, worked closely with Troy and he commented, "Troy always pays great attention to detail; he has a vast local knowledge along with a charismatic smile, and his many years in policing has positioned him well for his new post. We congratulate Troy on this well earned promotion and wish him well in all his future endeavours."
Troy's appointment was officially announced in an article in the Royal Gazette on 9thNovember 2022 as follows:-
Hamilton Princess promotes
former Police Inspector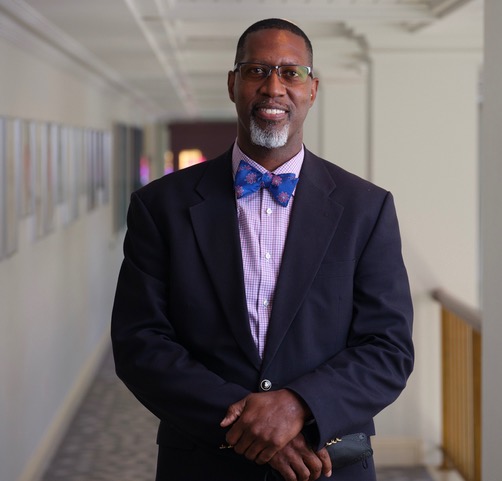 Troy Glasgow
The Hamilton Princess & Beach Club's new director of security and emergency management, Troy Glasgow, is a former police inspector trained in crisis negotiation.
The hotel revealed on Tuesday that Mr Glasgow has been promoted from his previous role as security manager.
"Mr Glasgow has a reputation for building strong teams and adding a sense of calm to tense situations," a spokesman for the hotel said.
Mr Glasgow is now responsible for general hotel security, emergency management which includes weather-related threats, and ensuring occupational health and safety compliance.
Hotel general manager Tim Morrison said: "Troy's promotion is a reflection of his incredible work ethic and to the leadership he demonstrates."
Mr Glasgow came to the hotel after a 30-year career in law enforcement, although he was no stranger to hospitality.
He credits his older sister for introducing him to the industry as a youth.
He spent his college summer breaks working as a houseman at the Fairmont Southampton, as well as in the hotel's nightclub and bar, before he landed in guest services.
Mr Glasgow completed the hotel's management trainee programme, then life had a different plan for him.
"In my youth I was an athlete and I felt emergency services would be a very active career for me," he said. "I applied, and I was lucky enough to be accepted in the programme and graduated fourth in my class of 16."
Moving through various roles within the BPS, Mr Glasgow officially retired from the organisation in 2020, while remaining on-board during a transition period.
Then former police commissioner Michael DeSilva inquired if Mr Glasgow would be interested in joining the security team at Hamilton Princess & Beach Club, making a career pivot back to hospitality.
"Law enforcement and the right opportunity, at the right time, facilitated my return to date, earned me the promotion to my new role as director.",
CLICK HERE to view the Royal Gazette article.