We were initially looking for a photo of this Localisation Course which took place in late October or early November 1970 for a feature article about all the young police recruits who joined that year to be published on their 50th Anniversary since arriving here. CLICK HERE for the article, "50th Anniversary of Joining Bermuda Police" which lists all 83 of the officers who joined that year.
We finally discovered one and then realized that we had previously published it several years ago in our Who, Where and When column CLICK HERE to view that article. Fifty years after their arrival there was a little confusion about several of the names included whether or not the guy on the top row left might by Mike Baker, but Mike was on a Basic Training Course earlier in 1970 and the young man in question turned out to be Keith Bird.
We will attempt to publish a similar article during 2021 listing all of the persons recuited into the Bermuda Police on their 50th Anniversary.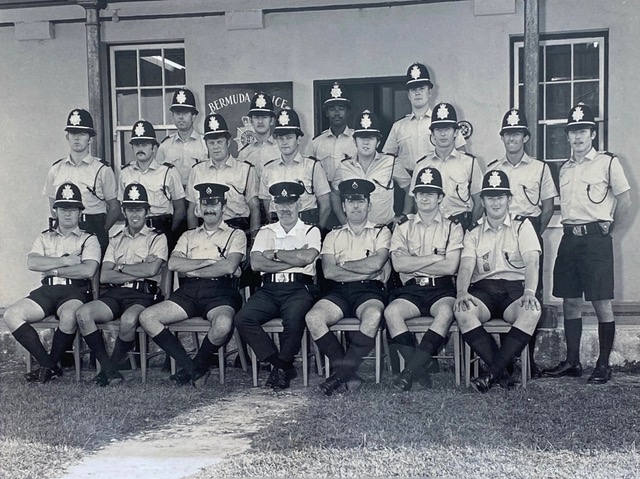 Localisation Course - November 1970
Back Row (l-r) Keith Bird, Robert Lloyd, Raphael Honore, Alistair "Angus" Brown
Middle Row - David Shakeshaft, Keith Pellow, Michael Walker, Gerald Harmer, Alan Bolton,
Raymond Thomas, David "Dai" James, Robert "Bob" Porter,
Front Row - Brian Anderson, Frank Smith, Sgt Barrie Meade, Insp. Dave Parsons,
Sgt Dick Murphy, Henry Parry and Michael Sample