We indicated that the guest of honour at this party is the gentleman wearing a white hat, not the young lad who appears to be quite intimidated by all the ruckus going on around him! What we needed to know is who is in this photo, where and when was it taken, and even more important what were they celebrating on this auspicious occasion at the Police Recreation Club.
We have listed all those present in the caption below the photo after conferring with Sue Garland who remembered it well even though she didn't feature in this particular photo. There is no doubt there was a predominance of rugby players in attendance including many of the Police Team and quite a few members of Teachers Rugby Club. For the avoidance of any doubt, the young lad is Scott Moyer, the young son of then Sgt James "Jimmy" Moir.
In order to strike a reasonable balance we are also publishing two of the official wedding photos including the beautiful bride, Sue (nee McIntyre) and her bridesmaid.
We are delighted to report that Dave and Sue are still happily married after all these years. Dave has recently had a few health issues but he celebrated his 80th birthday in April 2017 surrounded with his loving family including their two children and their lovely grandchildren (See our article, Dave Garland - 80 Not Out! on our website at http://expobermuda.com/index.php/lia/572-dave-garland-80-not-out.
I believe it's fair to say that Dave and Sue have hosted and entertained countless young police officers at their home, especially when they first arrived on Island. In case anyone is wondering, Dave is still absolutely sports mad, especially for his home county of Yorkshire, and never more so than during the 2019 ODI Cricket World Championship, which ended in triumph for the England team after what has to be one of the most absorbing and exciting of all time.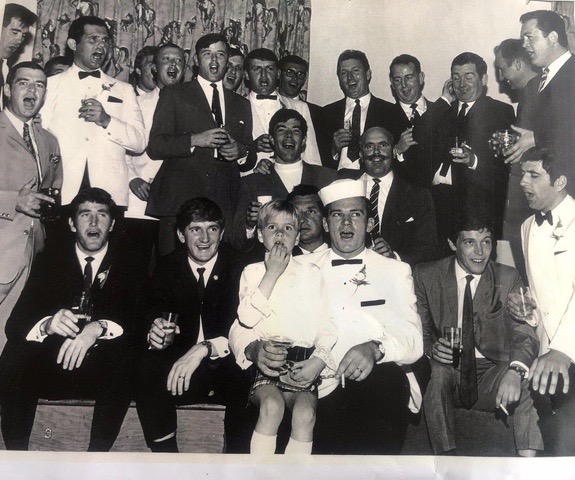 Dave Garland's wedding reception "Boys Brigade!"
Top row (l-r) Bryn Phillips -Teachers Rugby Club (TRC), Jack Rouse, Les Tomlinson, Bill Pritchard, Brian Hanney,
Johnny Williams, Colin Davies (TRC) , Denis Byrne, Bob Fancourt, Frank Sykes, Derek Jenkinson, Tommy Gallagher
Middle Row - John Balsden, Robin Henagulph, Dave Parsons.
Front Row - Kerry Holmes (TRC) Willy McCracken, Scott Moir, Tom Smith,
Dave Garland, Garreth Davies, and Mike Caulkett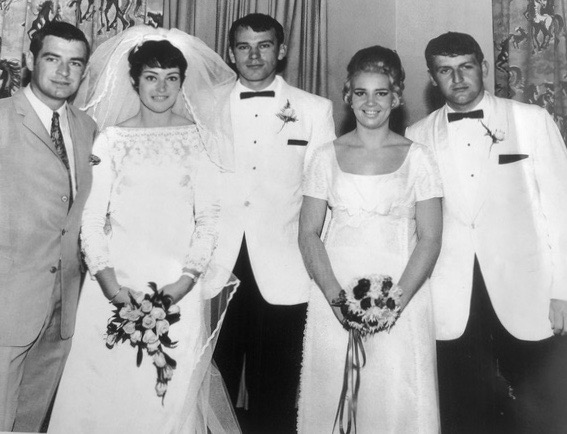 Dave and Sue Garland's wedding party
(l-r) John Balsden, Sue and Dave, Sian Williams (later Cartwright), and Johnny Williams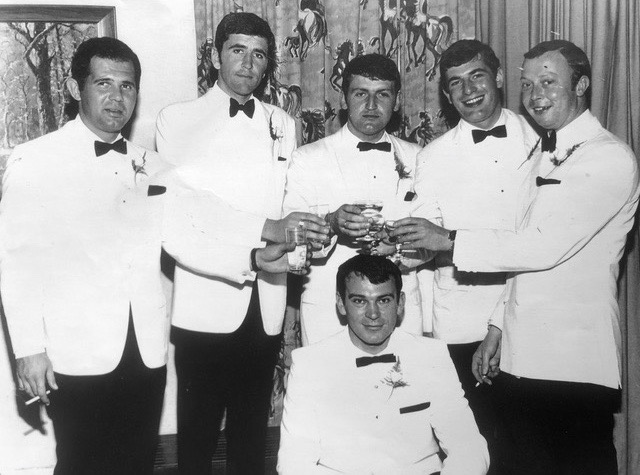 The drinks are on Dave!
(l-r Jack Rouse, Mike Caulkett, Johnny Williams, Ian Mitchell, Les Tomlinson
and Dave Garland