We knew exactly where and when and why this photograph was taken but we wondered if you can name all these men, and tell is what they all have in common in addition to serving or having served in the Bermuda Police? It could also be argued that three of these men could be considered the "odd man" out of the group for three different reasons. Any ideas?
Where and when was easy because it was, of course taken on Saturday 30th January at our annual ExPo Reception which was very well attended and a great success. What they all had in common is that they all served in Marine Section at one time or another. Perhaps the odd ones out could be Commissioner Michael DeSilva was is the only member still in the Service; Canny Roberts who is the only member of the Reserves and has only just retired as Commandant; and the thrid one is Brian Malpas who can rightly claim to have worked as a Marine police officer even bfoire we had police boat and an official Marine Section.
Davie Kerr had no problem identifying everyone in the photo as per the caption below. Many thanks Davie.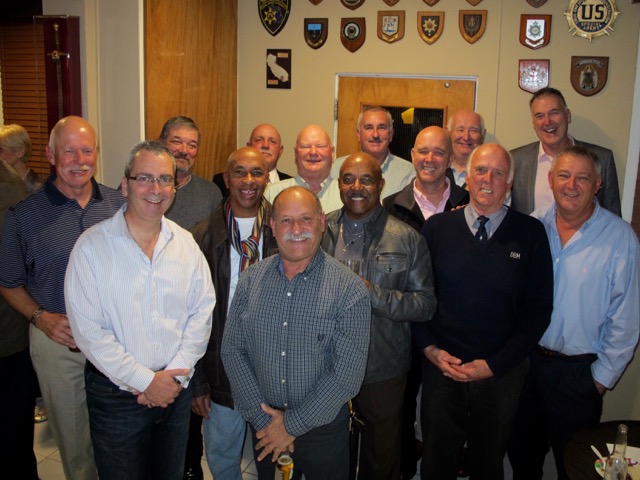 Former members of the Marine Police
(l-r) Mike Shaw, COP Michael DeSilva, Brian Robinson, Jerome Simons, Ralp Lindo, Phil Taylor,
Reese Bartley, Ian McMillan, Mark Bothelo, John Skinner, Brian Malpas, Keith Senior, and Paul Cranage.
(photo taken on 30th January 2016 at Officers Mess, Prospect)