We thought this would be a most appropriate photo to post in this column bearing in mind the new Photo album we have just created of Basic Training Courses held at our Prospect Police Training School. We needed to know who they are, where and when it was taken, and what brought them together.
There was no problem correctly identifying everyone in the photo as listed in the caption. Davie Kerr had no hesitation in doing so. It was also obvious that it was taken at the Police Training School when the rather diverse group on the back row were on a course of some kind. Bernie Pitman came to the rescue in that regard because he remembered attending this Instructional Techniques Course, probably one of the first of its kind held here. We believe that Tinker Taylor and Paul Eurell attended as new driving instructors, Bernie was in charge of Outward Bound and the Road Safety Bus, Lionel and Orson were in Sepcial Branch at that time, and George - well we know that he attended a couple of courses on Explosive Ordinances, and maybe he took the course so he could teach others on the subject! Those on the front row were, of course, all Training School instructors.
I happened to find this photo a few months ago in a box at Police Headquarters, and a caption on the reverse side stated that it was taken at the Police Training School, Prospect, in February 1981. Davie Kerr was not convinced of the year because he thought that George Rushe had already been promoted to Sergeant prior to 1981. However, I checked George's file in the Police Register at Prospect which provides basic information such as dates of joining, transfers, promotions etc. and it recorded the date of his promotion as 1st April 1981 - 2 months after this photo was taken. George often told the story of being called to Nobby Clark's office on 1st April (George referred to it as "All Fool's Day"), which also happened to be Nobby's last day of service, and being told that he was being promoted with immediate effect. On further checking the records, Commissioner L.M. "Nobby" Clark officially retired in October 1981 and he would no doubt have been entitled to about 6 months pre-retirement leave, so I believe the date on the photo caption is correct.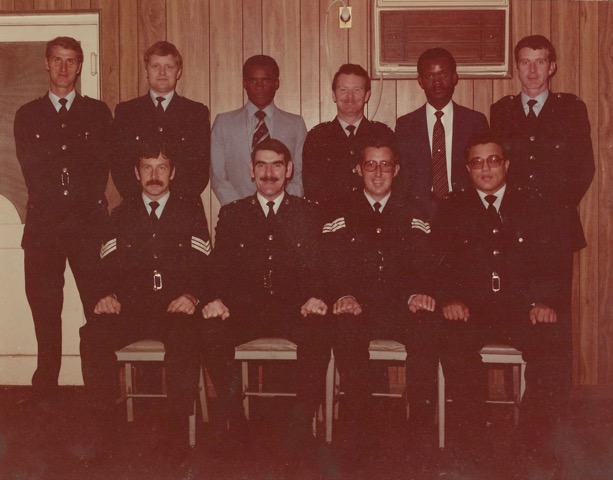 Instructional Techniques Course held at Police Training School - February 1981
Standing (l-r) Anthony "Tinker" Taylor, Paul Eurell, Lionel Haynes,
Bernie Pitman, Orson Daisley and George Rushe
Sgt Alan Barker, Inspector Barrie Meade, Sgt Tony Smith, and Acting Sgt Norman Ingemann