We had recently come into possession of these photos of a special event involving this group of police officers, and asked if you could identify all nine men in the group photo, and tell us what event it was, where and when it took place, and any other details about it. We added two additional photos taken at the same event and wondered if you could assist in identifying both the runners and the spectators and officials.
We certainly had an excellent response and would like to thank Dai Thomas for kindly providing the photos. Dai knew more or less what the photos were about because he participated as one of the runners but he wasn't certain of some of the details we were seeking.
First of all, Phil Taylor had no problem identifying everyone in the group photo, all of whom were serving police officers when this event took place in 1980. We also had no problem identifying the Police runners involved in the baton exchanges, and also quite a few although not all of the spectators and officials in the background. We have included these names in the caption for each photo.
One issue arose regarding the two men on the extreme left of Photo 2. There was no doubt abour one pair of knees belonging to Dave Barber on the left, and the guy to his immediate right is former Sergeant Edward "Jim" Woodward. Dave O'Meara queried whether it would have been Jim Woodward because he noted that Sgt Woodward left the Force in 1967, well before event took place. However, we checked with Jim, who now lives in Florida with his family, and he confirmed that he was still living in Bermuda with his wife Judy and family in 1980. Most of us who who serving in the Police Force at that time will no doubt remember that Jim left us to become General Manager of the Rosebank Theatre for about 10 years and continued to work in Bermuda until he and his family left the Island in 1994.
Jim not only confirms that he was at this event, but he was actually responsible for organizing it! He was a member of Rotary at the time and the President had asked him to organize a fundraising event. Jim liaised closely with Jeff Payne and they came up with the idea of holding a 24 hour marathon event for charity, with changeovers taking place at Saltus Grammar School sports field which is where the photos were taken. We understand that the event had about 6 teams participating, including our Police Team, and the reason for Jeff Payne not being in the team was that he was in a team comprising Bermuda's top runners. The event raised some $17,000 and we understand it was one of the first events organized under the auspices of the Mid Atlantic Athletic Club.
All in all, a very successful event and our thanks go out to all those who assisted in answering who, where and when!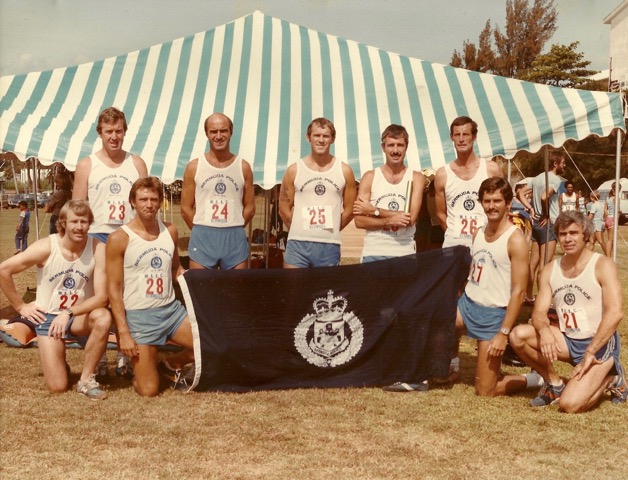 Police Team competing in 24 Hour Marathon - 1980
Standing (l-r) Dai Thomas, Gerry Benson, Phil Holder, Mike "Dagwood" Rickards, Bob "Pudsey" Hay.
Kneeling - Alan Cleave, Ian Coyles, Kevin Reeves, and Mike Jent
(Bob Oliver with beard in in background on right side)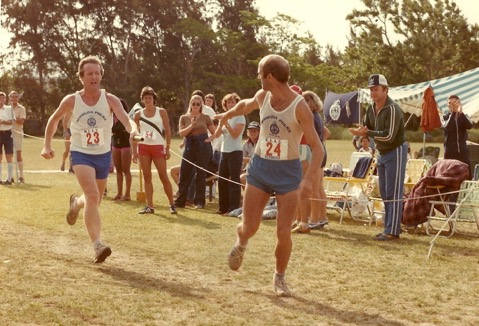 Dai Thomas hand over baton to Gerry Benson
At left of Dai are Dave Barber in dark shorts, and former Sgt Jim Woodward in light shorts
Jim was resposible for organizing the event with the help of Jeff Payne.
Also in the photo are Hazel Clifford in red shorts, Pat O-Riorden with cap and striped track suit,
and Kevin Reeves clapping on the right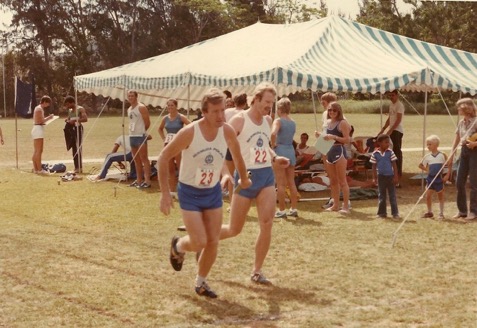 Dai Thomas collects baton from Alan Cleave
Also in photo are Midge Oliver at far left with clipboard, Phil Holder in Police outfit,
Jane Christie in blue shirt, and Margaret Young in navy blue top and shorts