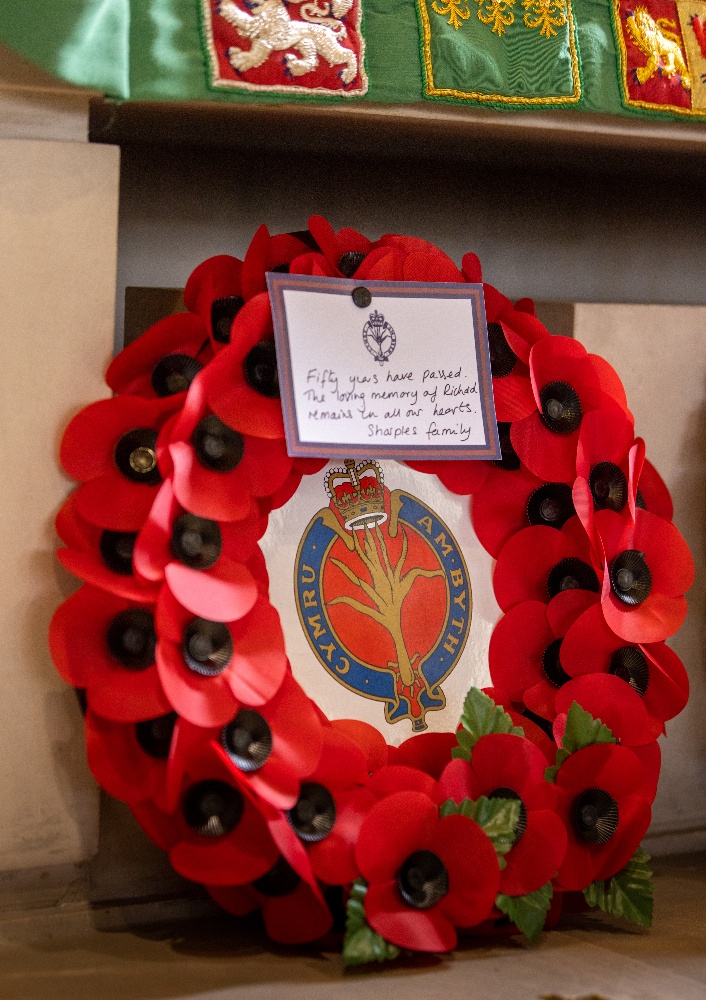 Friday, 10th March 2023, was the 50th Anniversary of the assassination in Bermuda of then Governor, Sir Richard Sharples, and the murder of his ADC, Captain Hugh Sayers, both of whom were shot and killed along with the Governor's dog "Horsa" while strolling through the grounds of Government House late in the evening.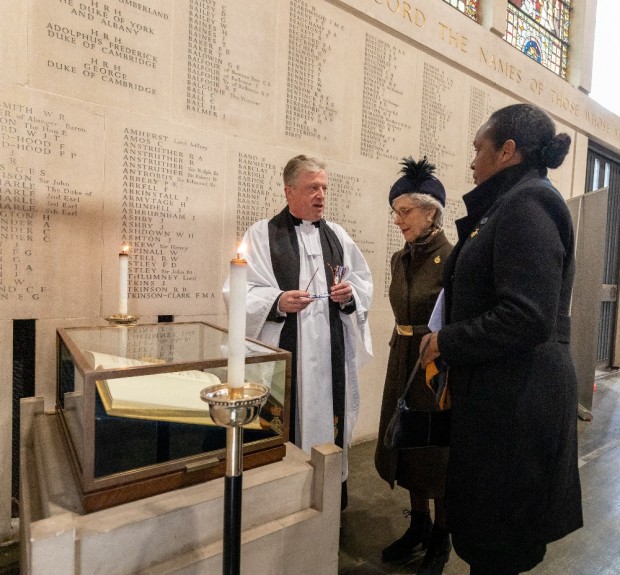 H.E. Governor Rena Lalgie (right) with Lady Sharples
at the memorial service at Royal Military Chapel in London
Our present Governor, H.E. Rena Lalgie attended a memorial service at the Royal Military Chapel in London held in memory of the Late Governor and his ADC, and here in Bermuda a wreath laying service was held at St Peter's Church in St. George's attended by Deputy Governor Tom Oppenhein. CLICK HERE for an article in the Royal Gazette on these two services.
The shootings at Government House were part of a series of murders and armed robberies that occurred in Bermuda in 1972 and 1973 including the shooting and killing of our Commissioner of Police, George Duckett and the shooting of his daughter at their home in Devonshire.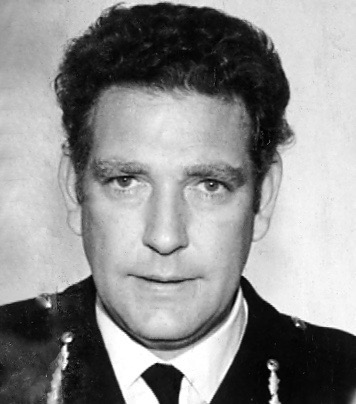 Commissioner of Police George Duckett
Bermuda was experiencing some of the darkest days in its history with these and other violent crimes, and the community was shocked at the ruthless shooting of two staff members at the Shopping Centre on Victoria Street in Hamilton on 6th April 1973 when two staff members - the Manager along with a teenage member of staff - had been tied and bound then shot and killed at close quarters.
Since its creation in 1879 it has been the duty of the Police to investigate all crimes, and this series of some of the most serious crimes in Bermuda's history required all of the resources of the Bermuda Police aided by two detectives from Scotland Yard, Detective Chief Superintendent Bill Wright and Detective Sergeant Basil Haddrell.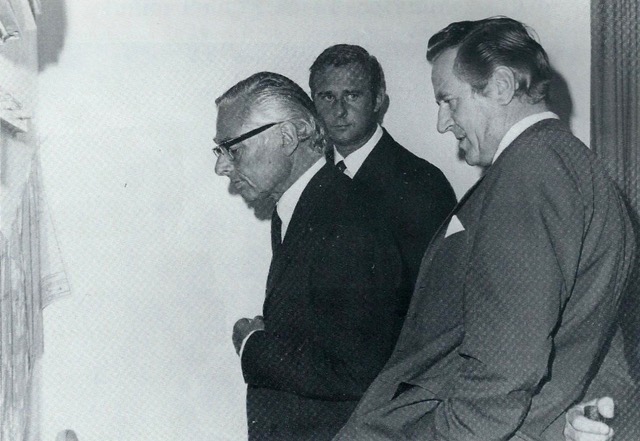 Poignant photograph taken in 1972 of H.E. The Governor, Sir Richard Sharples (left)
with the two Scotland Yard officers, Detective Sergeant Basil Haddrell, and
Detective Chief Superintendent Bill Wright who were to lead the successful
investigation into the subsequent assassination of Sir Richard in March 1973.
This photograph was taken while the two Scotland Yard
officers were in Bermuda leading the investigation into an earlier murder.
This was the most complex and thorough investigation ever carried out in Bermuda and put a tremendous strain on the resources of the Police Force particularly when it became clear that one of the persons considered to be a primary suspect in the killings and armed robberies made it known that he was armed and dangerous and had threatened to kill any police officers who approached him.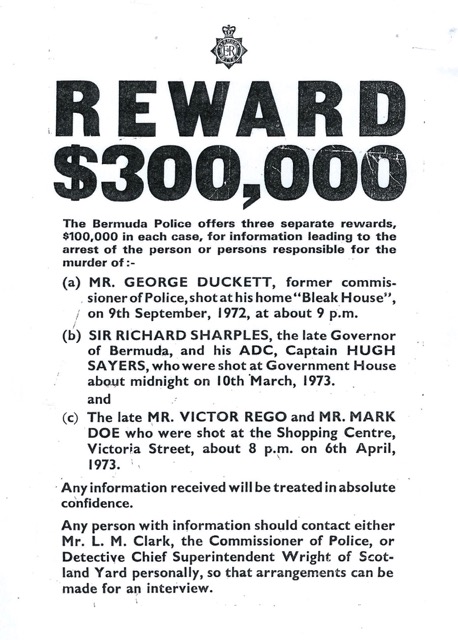 Wanted poster
In June 1973 a reward of $300,000 was offered for information leading to the arrests of the person or persons responsible for the murders of: (1) George Duckett, (2) Sir Richard Sharples and Captain Hugh Sayers, and (3) Victor Rego and Mark Doe.
A sophisticated system of collating all potentially useful information in the investigation was set up in the Murder Room at Prospect. Hundreds of persons were interviewed, and meticulous investigations were made both locally and abroad in the effort to collect sufficient evidence to take the suspects before the courts.
The degree of professionalism displayed by the men and women who carried out these investigations was second to none. A prime example of this professionalism was the capture of one of the prime suspects when, after weeks of keeping observations to track down one of the key suspects, detectives kept observations on a nightly basis in a densely populated area near Hamilton - unbeknown to residents - and finally the suspect was spotted during the early hours of the morning riding an auxiliary cycle.
The police had received information that he was always heavily armed and he had threatened to shoot any police officer who tried to arrest him.
He was tackled by two unarmed detectives, Chief Inspector Clive Donald and Detective Sergeant Larry Smith who were able to snatch him off his motorcycle and capture him with no injury to the suspect or the two detectives. Sure enough he was carrying a fully loaded pistol and a fully loaded sawn-off shotgun at the time of his arrest, and it was necessary to literally cut through the strap holding his shotgun over his shoulder while he struggled violently to free himself.
It is a testament to the bravery and tenacity of the two detectives that he was overpowered, disarmed, and arrested without any injury to himself, or anyone else during this highly dangerous and potentially life threatening confrontation. The two police officers were subsequently awarded the Colonial Police Medal for Gallantry.
Much has been written about this tragic period in Bermuda's history including an in depth book, Island Flames, written by retired Commissioner of Police Jonathan Smith.
Front cover of Island Flames
by Jonathan Smith
The purpose of this article is not to review in depth the investigations, the motives behind these crimes, the social unrest that existed at the time, or the serious rioting that took place after the two men convicted of murder were subsequently executed at Casemates Prison, the last persons to be sentenced to death in Bermuda. Rather it is to make it clear first of all that the Bermuda Police, with the aid of the two Scotland Yard detectives, carried out their extensive and exceptionally difficult investigations with one aim, and that was to seek the truth and to bring those involved in these crimes to justice.
Secondly, police officers were required to carry out their duties under tremendous pressure which had a negative psychological impact on many of those officers that is often overlooked. One such officer was P.C. Franklyn "Frank" Deallie who was on duty at Government House on the night of the assassinations. He was inside the house when he heard shots being fired and immediately raised the alarm before running outside where he came across the Governor barely alive, and the lifeless body of Captain Sayers nearby.
Shortly after the 50th Anniversary of the Assassinations was published in the Royal Gazette on 13th March 2023, we were contacted by Frank's son, retired Sergeant Ian Deallie, who was 8 years old at the time of the assassinations, and Ian has kindly provided us with the following account of his recollections of what happened at the time of the shootings, including his family having to quickly move from their home to another location after the shooting for safety reasons. We are indebted to Ian for providing us with this account of what his father went through as a result of the shootings.
Our police officers will have attended the scenes of all three of the shooting deaths and those memories will no doubt be etched in their minds for ever. If you are one of them, or if you were a serving police officers during those difficult times please feel free to let us have your personal comments about the impact they had on you.
………………………………………….
Reflections on Frank Deallie's memory of the tragic night when Governor Sharples
was assassinated as provided by his son, retired Sergeant Ian Deallie.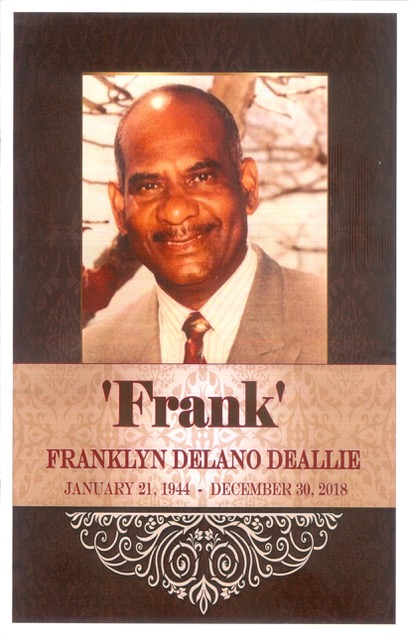 Frank Deallie
"I read an article titled "Services commemorate the 50th anniversary of the assassination of Sir Richard Sharples" in the Royal Gazette on the 12 of March, 2023. It sparked some memories of my childhood and a couple of conversations had between a father and his son. Both of whom became Police Officers in The Bermuda Police Service. My father in 1972 and myself in 1984.
My father was born in Grenada in 1946 and was excited to become a Police officer and looked forward to a new career in policing.
Prior to his decision to embark on that path he was a musician with a popular group in the UK from 1968 to 1971 and they practiced together in a small flat in Stockwell, London where my Grandmother lived . He decided that life in a touring band wasn't for him and he and my mother went to live in Bermuda, her place of birth. After training to be a nurse in London, my mother became a nurse at KEMH and my father an assistant manager at Blucks china store on Front Street.
As a 27 year old police constable my father was 8 months into his career as a uniformed patrol officer stationed in Central Division. He worked nights on that fateful day and had been assigned toGovernment house guard duty alone.
I was eight years old at this time and was a student at Harrington Sound primary school .
My father came home in the early morning hours that day and I remember hearing a commotion and all the lights being turned on. He was in a bedroom with my mother for sometime and I could hear my mother crying.
When he emerged from the bedroom he took a shower. He then called his mother in London and brothers in Boston to tell them what he had been through. My grandparents on my mothers side who lived close by were with us that morning.
My mother later described my father as being very distant and frightened. He had not experienced death up close previously and it became an unfortunate reality sooner than he had expected. He remained distant at home for sometime but in public he put his feelings aside and carried on as normal as we policemen do.
I believe there may have been some contact with the Governor after the shooting as my mother had discarded part of his uniform and he worried about that. DNA was not used by the police in the UK until the mid 80's so I wondered if this is why he had come home in his uniform which I assumed was soiled with the Governor's blood.
He wondered if he was the last person the Governor saw before his death and was he the last person the Governor had spoken to.
He also wondered why he wasn't considered a threat to the killers. Why didn't they come after him while he was on duty on the grounds of Government house. I believe he said he had been there the night before and wondered if the killers had surveilled the grounds before the shooting.
Was it because he was unarmed and posed no threat? He could have easily been a target of the killers and killed first. This stayed on his mind for sometime.
There was no EAP (Employees Assistance Programme) and no policy geared towards assisting officers with their mental state after life altering events in those days. My mother said there was a feeling of fear, being responsible and then guilt for not being able to assist or intervene in some way.
He looked to his family, friends and colleagues for comfort. He only spoke of what he had heard and witnessed to me on two occasions many years ago and it was difficult for him. He made a conscious effort not to relive the ordeal.
Despite all this, he wanted to remain a police officer and serve the public. I can say from my point of view he did this well.
After that night I remember him taking time off and my parents were told to move to another location.
I also remember spending some weeks at my Uncle and Aunts house on Knapton Hill.
We slept using blankets on the floor together at night and were told to keep away from the doors and windows. Also not to answer the door if anyone knocked.
He was told that it was because the suspects might decide he was a witness and go after him.
I often wonder if this historical event in Bermuda and Bermuda Policing was part of the reason why I became a police officer. I remember a fathers calm in adversity and how he carried on after that fateful day.
The highlight of both our careers in policing was an opportunity given to us by now deceased Superintendent Victor Richmond who assigned [my father and me] to an incident room headed by retired Inspector Steve Shaw. We were tasked to investigate an armed robbery where shots were fired at a then branch of the Bank of Butterfield at the Southampton Princess.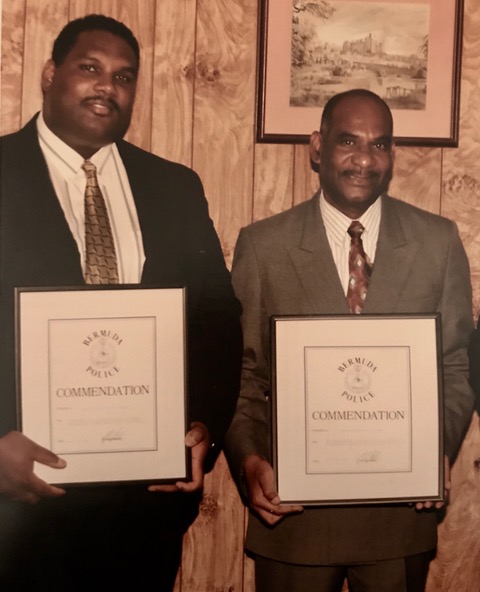 Detectives Ian and Frank DeAllie receive
Commissioners Commendations for their successful
investigation together of an armed robbery
We arrested two suspects, interviewed them and obtained a confession. I was proud to stand next to that police officer who I so admired as a child when we both received commendations from the Commissioner for work well done. I believe we made history together this time by being the only father and son in the history of the Bermuda Police Service to work together and receive a Commendation. Another memory, but this one I will always cherish."
Rest in Peace DC 171 ( MY DAD )
EDITORS NOTES:-
We are indebted to retired Sergeant Ian Deallie for providing the above article to us. His father, Frank, was a much loved and popular member of the Bermuda Police who is featured in an ExPo article in our Hall of Fame CLICK HERE to review the article
Follow the Guns …. We have previously published an excellent article written by retired Superintendent George Rose containing fascinating details of an armed robbery committed at Masters Limited in February 1973 which provided valuable leads into other armed robberies, along with the murders that occurred both before and following this robbery. CLICK HERE to view the article.
Justice Denied - A comprehensive book on the events of 1973/1973, Justice Denied, was written by Mel Ayton which received the following reviews:-
"Mel Ayton has written a superb portrait of an enraged island on the verge of collapse…Ayton's decade of research exposed what he demonstrates clearly is the real story behind the murders, the hangings, and the riots that ensued… It's fortunate that Mel Ayton took on the job of telling the story behind the murders and riots because the media could not.

Ayton's character detail - both victims and accused - deliver outstanding examples of professional journalistic follow-up for which he is well known, having investigated and published investigations of the controversies surrounding the John F. Kennedy assassination and the murders of Senator Robert F. Kennedy and the Rev. Martin Luther King. His reporting of details that only those directly involved would know, along with official secret communications, and trusted correspondence with the murdered governor's widow, all were the products of hard digging and commitment."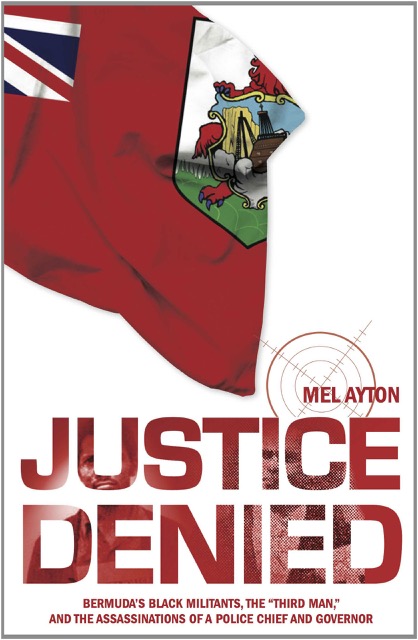 Front cover of Justice Denied
by Mel Ayton

No comments