Whilst doing research in the Royal Gazette archives, our good friend retired Supt George Rose, came across the following article published in the Royal Gazette on December 19, 1969, reporting on the graduation from Police Training School of Course #12.
The graduating class, which included recruits hired from the West Indies, were addressed by the Member for Finance, the Hon J.H. (Jack) Sharpe and his comments included a hint that the Police could soon expect higher salaries. The Royal Gazette article reads as follows:-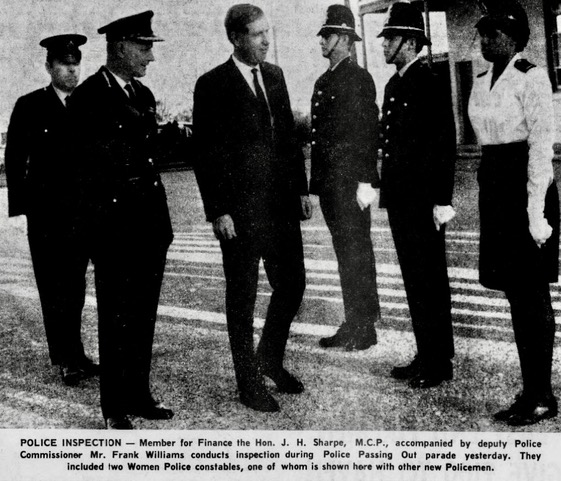 Member for Finance the Hon. J. H. Sharpe, M.C.P., hinted yesterday that the Police could expect higher salaries at the conclusion of current negotiations over pay scales. He was addressing 16 recruits who became regular constables at a brief ceremony at Prospect. "I wish I could say that negotiations concerning your salary were complete but this is not so," said Mr. Sharpe.
"I do feel, though, that it would be safe to assume when the negotiations are concluded that your salary will be better than it was when you signed up for service." Mr. Sharpe noted that it was always difficult for the Government to negotiate with employees because they had to come up with a fair solution for the people they represent as well. Referring to the recruits he said: "You have a very difficult job. At times you must be brave as a warrior and other times as discreet as a diplomat. And this is not easy."
He went on to say that "Police actions can at times have serious reactions. This is not to discourage you, but I say this to point out how much your work is appreciated. I am sure you realised this responsibility when you entered the service." Mr. Sharpe said he was glad "friends from those Islands further south" had come here to assist in a job that had to be done. "I hope for them Bermuda will prove to be a home away from home," he went on.
He drew laughter when he said he had applied for Police duty 27 years ago while serving in the Army but had not been accepted. "I think I was more anxious to get out of the Army rather than join the Police Force," he added. Mr. Sharpe wished all the officers success in their Police careers.
There were many smiles when he wished the Police a Merry Christmas and a "prosperous" New Year. The top graduate was P.c. Gemel Cato, 20, from St. Vincent. He received a cedar baton for his achievement. It was presented by Mr. Sharpe at the beginning of the ceremony. P.C. Cato has a brother who graduated yesterday as well. Asked why he joined the Force P.c. Gemel Cato said, "I feel there are many things you can learn that you could not learn as a civilian. "There is also a degree of adventure and responsibility. I hope I can make this a career," he said. The ceremony was watched by senior officers and friends of recruits.
Those graduating in addition to the top recruit were:
P.c. O. J. Bain, P.c. D. A. Victor, P.c. R.D. Paynter, P.c. A. P. Cato, P.c. N. B.Boyd, P.c.N. Deleon, P.c. J. Dumont, P.c. G. P. Henry, P.c. W. A. Mclean, P.c. W. R. Richards, P.c. T. G. P. Cabral, P.c. D. J. Furbert, W.P.c. M. A. C. Bean. W.P.c. A. A. Ford and P.c. V. P. Fox.
EDITORS NOTE - We have a column here on our ExPo website containing photos of the majority of our Basic Training Courses including this one of Basic Training Course #12. We are in the process of adding the more recent training school photos. Unfortunately, Training School almost never had photos taken of Localisation Courses for recruits who had previous police experience although there are a few exceptions. CLICK HERE to view our portfolio of Training School photos.
Basic Training Course No. 12
September - December 1969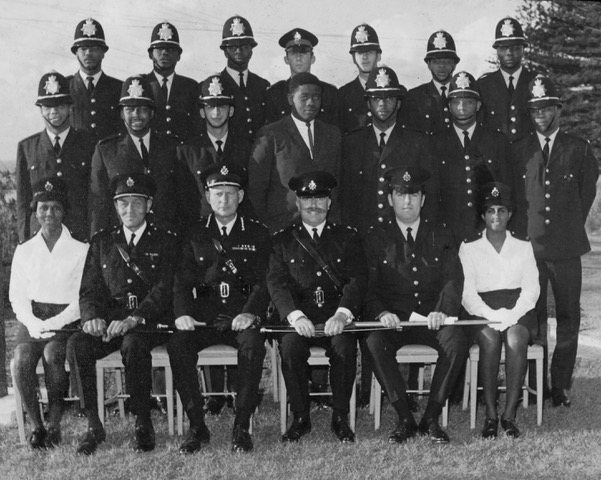 Top Row (l-r) Douglas Victor, Wilbur McLean, David Furbert, Alfred "Perry" Fox,
Territt "Terry" Cabral, Norrell Boyd (Hull) , Wendell Richards
Middle Row - Oliver Bain, Russell Paynter, James "Jimmy" Dumont,
Gemel Cato, Michael DeLeon, Ardon Cato, Gladwyn Henry
Seated - Aideen Forde, Chief Supt Oliver Trott, ACOP Frank Williams,
Insp. David Parsons, A/Sgt "Dick" Murphy, Marilyn Bean