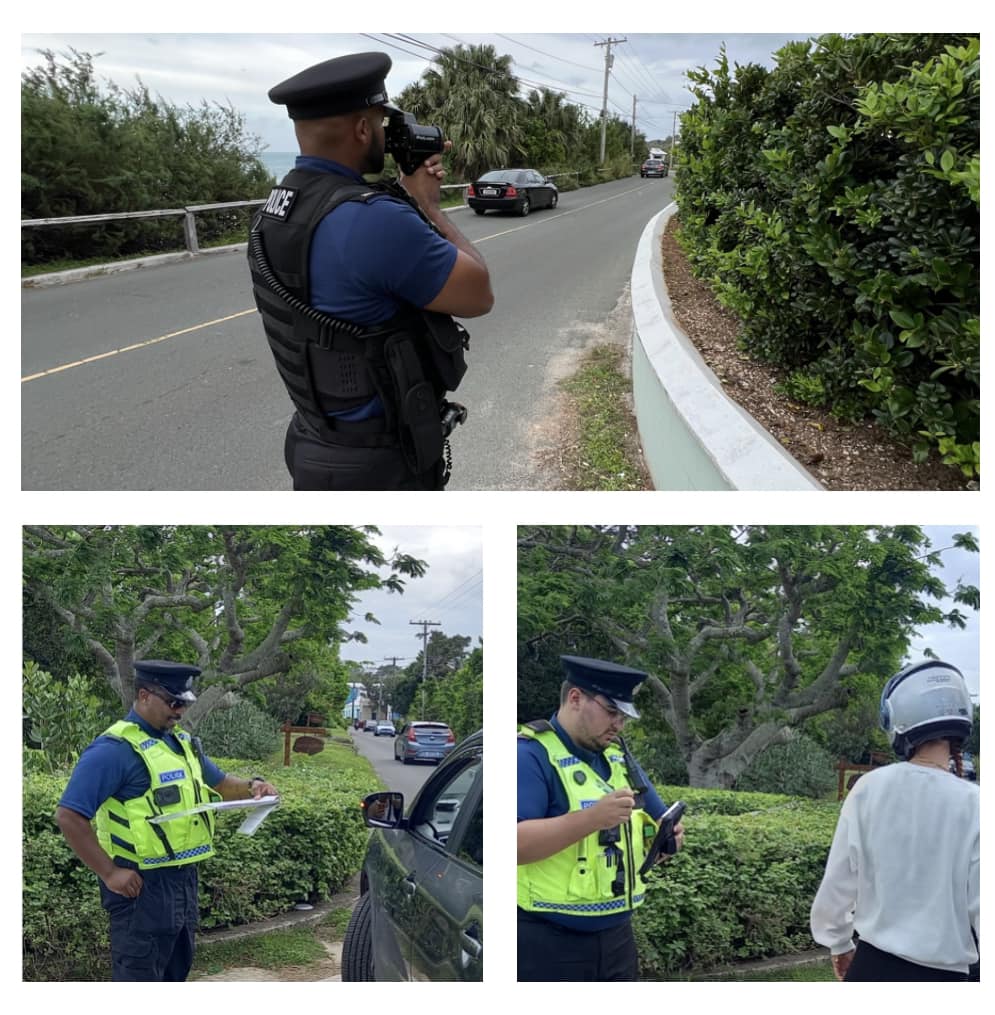 "Hi all, please let's leave the speed to Flora. More than twenty tickets
issued for speeding so far this weekend. Please, slow down."
We have seen all sorts of publicity over the years appealing to the public to slow down on our roads, but this appeal from the BPS takes the cake for originality!
We are certain all of our colleagues here in Bermuda know for sure who "Flora" is, and we wonder wherher our former colleagues who live abroad, whether it's in the UK, the West Indies, Australia, Europe, South America, or wherever on the planet, will have ever heard of our own unique "Flora".
For anyone out there who doesn't know her she is, she is our one and only World Triathlon Champion, now "Dame" Flora Duffy, who just returned home to compete in our second major international Triathlon championship, having won the first one on home soil in 2018. Flora is the current Olympic Triathlon Champion, and is chasing a record 4th World Triathlon Championship Series with just one more event to go after her storming victory here in Bermuda last weekend in front of an ecstatic home crowd.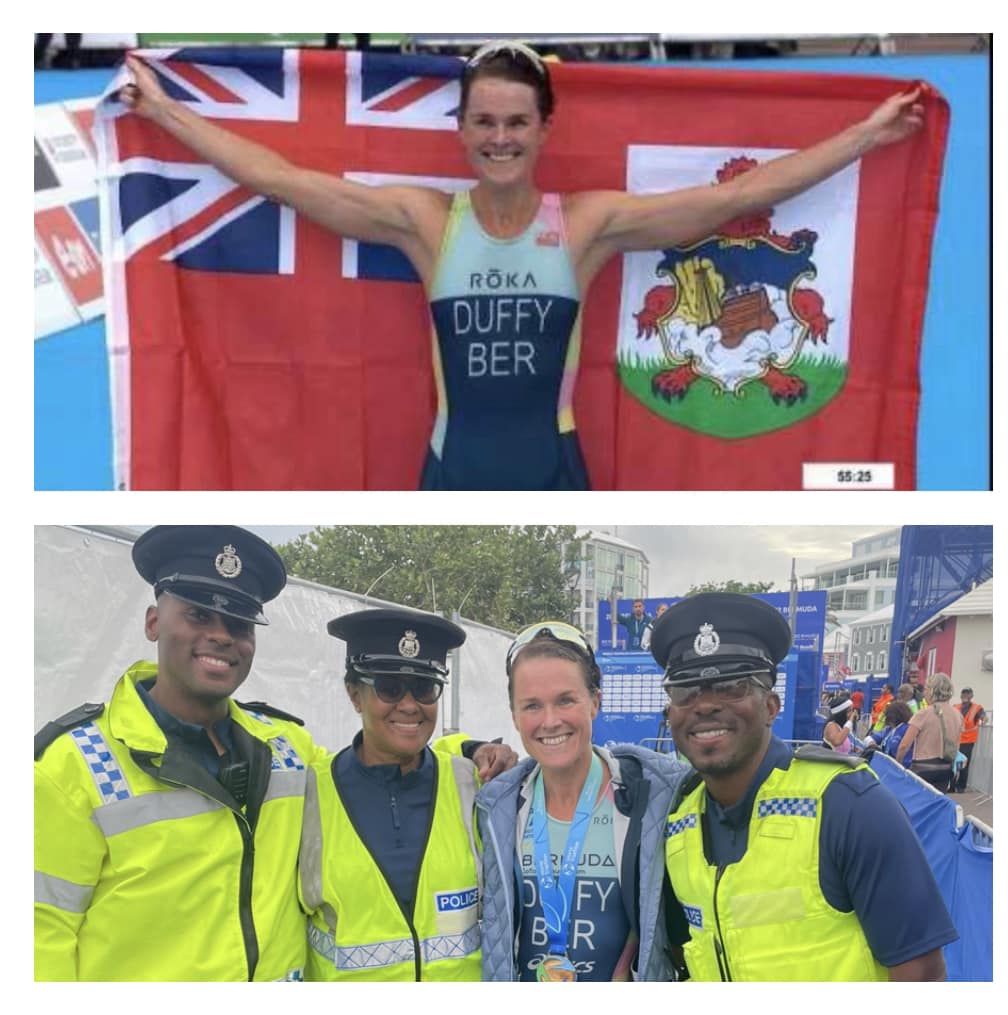 Dame Flora is all smiles as she finishes the 2022 Bermuda Triathlon
to the delight of these three young police officers
Golden girl Dame Flora Duffy delights home
crowd with storming win in WTS Bermuda
The Royal Gazette carried the above headline on Monday 7th November and reported as follows:-
"Dame Flora Duffy maintained her quest for a record fourth World Triathlon Championship Series title with a storming victory back on home soil.
Racing in Bermuda for the first time since her dominant victory back in 2018 and this time as Olympic Champion, the 35-year-old did not disappoint the thousands of expectant fans who had lined the course, sprinting clear of her rivals to win by a comprehensive margin of 1min 39sec over American Taylor Knibb, with Britain's Beth Potter completing the podium.
Having won the penultimate race ahead of the final in Abu Dhabi, Duffy finds herself firmly in contention to retain her title, sitting in second place on 3,856 points, just 69 adrift of leader Georgia Taylor-Brown, who opted out this weekend.
With gold in the United Arab Emirates capital counting for an increased 1,250 points, the incentive for Duffy is clear, with victory in the final race guaranteeing her the crown regardless of where her British rival finishes in the showdown finale on November 25.
"Honestly I think this is a little bit more special than in 2018 because I was under a lot more expectation to have a race like this today," said Duffy.
"In 2018 I managed to pull off that victory without any real major expectation whereas I knew everyone was going to come out and see me back here as Olympic champion so that made it even more special.
"I was hoping for a good day here and the race played out perfectly. The crowd was incredible and it was just such a special day."
CLICK HERE for the full report and photos in the Royal Gazette.
25th November 2022
Dame Flora Duffy rewrites history
books with record fourth world title
This was the headline in the Royal Gazette on 25th November after our own Dame Flora Duffy clinched a record-breaking fourth women's world title, successfully defending her World Triathlon Championship Series crown with a thrilling victory in the grand final in Abu Dhabi.
CLICK HERE to read all about Flora's triumph in breaking the world record when she stormed to victory in the final World Triathlon Championship Series event after being in second place in the standings, 69 points behind Britain's Georgia Taylor-Brown, prior to the last event of the season. What an incredible athlete.