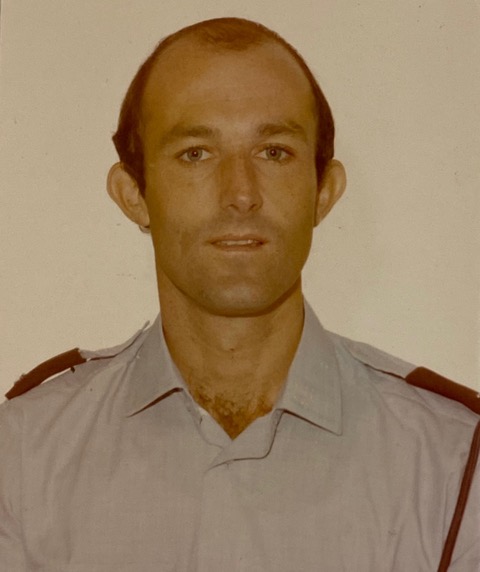 Young P.C. Dai James
This morning's Royal Gazette has a fascinating story in "Lifestyle" written by Jessie Moniz Hardy, (CLICK HERE to view the article) about our good friend and former colleague, Dai James, who hit the headlines a few years ago with a unique and exceptionally popular television commercial for Lindo's in which Dai went the extra mile in the search for "fresh milk" for one of their customers!
Dai joined the Bermuda Police in October 1970 after 4 years as a police officer in Wales. He served in the Bermuda Police for 12 years during which time he served in uniform, CID, Narcotics and in Operations, but he will best be remembered as an excellent Parish Constable in Southampton Parish and in Paget Parish. One of his unforgettable memories from his police days was being one of the first police officers to attend the tragic arson at Southampton Princess Hotel on the night of the execution of Erskine "Buck" Burrows and Larry Tacklyn at Casemates Prison. The men had been convicted of a series of killings, including the 1973 assassination of Governor Sir Richard Sharples and his aide-de-camp, Captain Hugh Sayers. Three people died as a result of the arson attack.
Dai is still working part-time at Lindo Family Foods in Warwick (the former Friendly Store). He also keeps himself busy diving for lobsters, gardening where he grows and donates vegetables to rest homes, and is an active member, and Past President, of the Hamilton Lions Club.
"From Cop to Television Sensation"
Royal Gazette article
published on 9th November 2022
written by Jessie Moniz Hardy
David "Dai" James's first television commercial for Lindo's grocers was meant to be a simple assignment.
The floor manager had to lead a cow across a pasture, go into Dunkley's Dairy and come back with a carton of milk.
But nothing went as planned.
"The cow did not want to come," the 76-year-old said with a laugh. "I was dragging this cow."
Later, as he walked back down the lane in Spittal Pond with his milk carton, he stepped in cow manure.
"So I stopped and wiped my shoe," he said. "When I got to the top [the film-maker] said, 'Perfect, that's it!'"
When the commercial aired in 2006, Mr James instantly became a local celebrity.
Lindo's then sold copies, which raised several thousand dollars for the hospice Agape House.
"They were so successful we had to make more," Mr James said.
In one commercial he had to jump into the North Rock tank at the Bermuda Aquarium, Museum and Zoo in search of a fish for a customer.
"I do a lot of free diving for lobsters," Mr James said. "But this was February and the water was freezing."
He weighed himself down to make sure he sank to the bottom.
"Then I had to swim back to the top, but I had weights in my pockets so it was really hard going," he said.
The producers wanted the shark in the tank to swim by for impact but it was as reluctant as the cow had been and huddled in a corner for the entire shoot.
"I cut my leg on a rock in the tank and was bleeding," Mr James said. "I thought surely he will come now, he'll be attracted by the blood. But he never did."
It has been a decade since Mr James made a commercial for Lindo's but people still remember them.
"Not a day goes by that someone does not stop me on the street and mention them or ask me when I am going to make another," he said.
When he arrived in Bermuda on October 14, 1970, becoming a television star was the last thing on his mind.
"I was working for the police station in Chepstowe, Monmouthshire, Wales," he said. "I felt like I needed a change."
He saw an advertisement for a post with the Bermuda Police inThe Police Reviewand came out on a three-year contract.
Mr James was stationed in Sandys.
"If we heard a siren from an ambulance once a week, that would be it," he said. "On night shift you would hardly ever see a car when you were driving around. It was very quiet."
The only calls were for the odd house break-in, or traffic accident.
"Drugs were just becoming the norm," he said.
Then in 1977, riots broke out over the hanging of Erskine "Buck" Burrows and Larry Tacklyn. The men had been convicted of five killings, including the 1973 assassination of Governor Sir Richard Sharples and his aide-de-camp, Captain Hugh Sayers.
Mr James was based outside Casemates in Dockyard, because there were rumours that people would try to break the two men out of prison.
Then on December 1, at 2am, the phone rang.
"I got a phone call to say go straight to the Southampton Princess, the top floor was on fire," Mr James said.
Three people died - visitors George Gandy and Dorothy Joyce, and Bermudian Gladwin Ingham.
"The visitors who died had gone back into the hotel to look for their children," Mr James said. "They went up in the elevator and when the doors opened a fireball hit them. The children were actually outside and safe. The other person who died was an engineer in the basement. He smelled the smoke through the air conditioning vents. He ran all along the corridor where the fires were burning, banging on the doors to tell people to get out."
Mr Ingham then died, six feet from the exit.
"The first night I was there for 18 hours," Mr James said. "On my way home, going down White Hill, I saw a guy walk ahead of me under the streetlight and shout something as I went by."
He was bombarded by rocks and bottles. He stopped at Hog Bay Level and called for back-up, but the Somerset police were already occupied with several fires that had been lit in the parish.
In the end, Mr James and a colleague retreated back to the Southampton Princess, where they lived for three weeks in burnt out rooms at the hotel.
"We watched Hamilton burning from the roof of the hotel," he said. "There was no electricity on the floor we were on. It had been turned off. So we ran a cord from the floor below up, so that we could have a television. We were stuck there."
In 1984 he transferred to the police fisheries department and became one of the island's first two fisheries wardens.
"Brian Malpas was the first," Mr James said. "I joined him as the second. That was a great job and I loved it."
Part of his job involved examining fish pots. Tired of putting a scuba tank on and off every hundred or so yards, Mr James decided to free dive.
His colleague warned against it.
"He said, 'You won't get down there, it is deep.' So I went down, tagged a pot, grabbed a handful of sand and brought it up to show him I had been to the bottom."
His friend measured - he'd travelled 65 feet.
"I still lobster dive," Mr James said. "I have the oldest lobster licence in Bermuda. I got it whenever they issued it first, when I was on fisheries, probably 1984."
A few years ago, a group called Bosom Buddies auctioned him off to raise funds for Pals. The winner bid $4,600 for Mr James to cook a lobster dinner for ten people.
"I keep saying I'm not going to do it any more," he smiled. "But I have been doing that for the last five years."
In 1987 he left the police and became a store manager at White & Sons in Warwick.
"The pay was so much more than what I was earning with the police, so I went," Mr James said. "I did 13 years there and then I went to Lindo's Family Foods in Warwick. I have been there for about 22 years."
An attempt to retire lasted for exactly three years.
"They asked me to come back part-time," he said. "I now work about 32 hours a week."
In his spare time, Mr James loves to garden and has donated his vegetables to rest homes. He is also director of the Hamilton Lions Club and a past president."