Inspector James Reese Bartley
Served from 1966 - 1991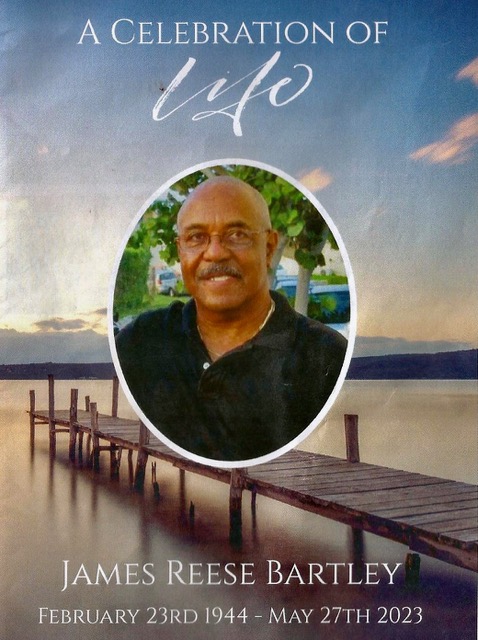 News of the sudden passing of our dear friend and colleague, Reese Bartley on 26th May 2023, was a shock to all of us who knew Reese. He had been an active and outstanding member of our Bermuda Ex-Police Officers Association for many years and his loss will be felt by all of us who knew him, worked with him, and socialized with him. Reese is most deserving of being honored in our Hall of Fame.
James Reese Bartley was born on February 23, 1944 to the Late Lillian Bartley and Rupert Hollis. His family relocated to Upland Street in Devonshire during his childhood where he spent much of his time with his Uncle Hyman and Aunt Ursula, making many long-term neighborhood friends.
After completing Francis Patton Primary School, he attended St. George's Secondary School. Upon finishing school he became an apprentice carpenter at a local wholesaler, hence the nickname "Mr. Fix-it"!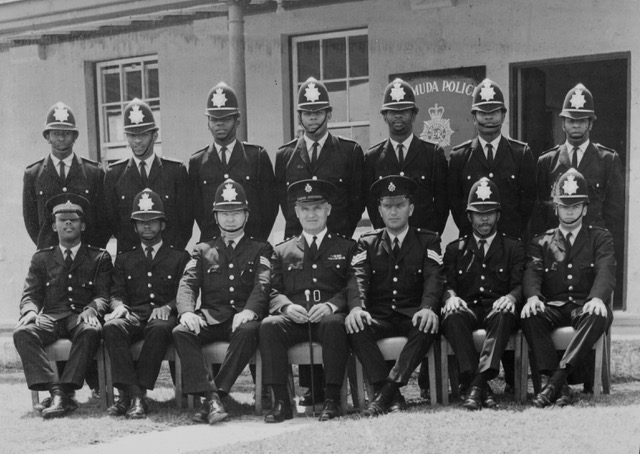 Police Training Course #8 February-May 1966
Top Row (l-r) Hoskins Caddle, Clevie Foggo, Cosbert Cumberbatch,
Bryant Richards, Carl Beckles, Clay Carter, Fred Beach.
Front Row - Larry Smith, Malcolm Hinds, Sgt John Cafferkey,
C/Insp Roy Chandler, Sgt Mike Kelly, Reese Bartley, Stan Hill.
Reese joined the Bermuda Police in July 1966, and spent time at Headquarters and at Traffic Records before attending the Police Training School on Course #8 from February – May 1967. After attending Training School, Reese was posted to Central (Hamiton) for 2 years before being transferred to Narcotics where he remained for the next 5 years. In 1974 Reese transferred to Marine Section were he qualified as a Pilot "C" Class.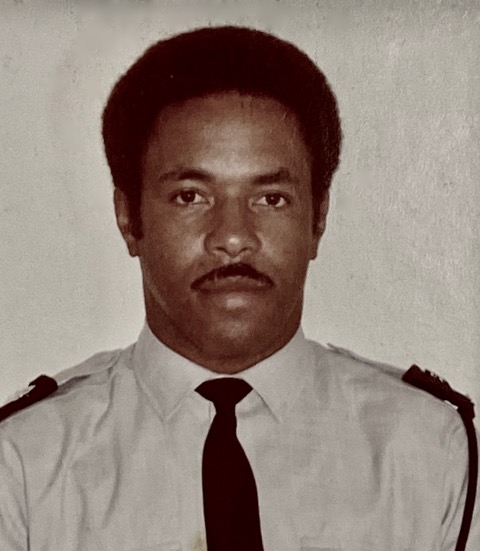 Sergeant Reese Bartley
Reese was promoted to Sergeant in 1975 and transferred to Western Division (Somerset). In late 1977 - early 1978 he attended the Metropolitan PoliceTraining School in London followed by an attachment to the Hertfordshire Constabulary, after which he returned to Bermuda, and had spells in Eastern Division, and Traffic Division (including Radar) and as OIC Cycle Squad before transferring to Central Division where he remained for 7 years, including 2 years as OIC Central Parishes, before returning to Eastern Division.
Reese was promoted to Inspector in 1988 and spent the rest of his Service in Central Division until his retirement in 1991. He was awarded the Colonial Police Long Service medal in July 1984.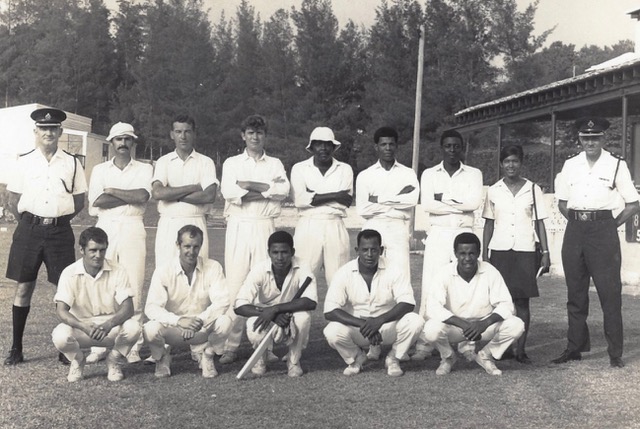 Police Cricket Team - circa 1968
(l-r) L.M. "Nobby" Clark, Steve Petty, Peter Stubbs, Paul Field, Cassin Taylor, Dave Purcell,
David Gibbons, Gertie Barker (scorer), and 'Chief' Oliver Trott (No. 1 fan of our cricket teams)
Kneeling - Dick Johnson, Roger Sherratt, Pat Hamlett, Hubert Swan and Reese Bartley
In his younger days Reese was a member of the Police Cricket Team and he was also an active member of the Police Choir.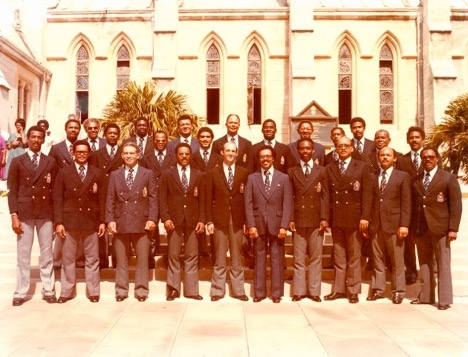 Police Choir
Back rows (l-r) Dennis Ramsay , Lynn Hall, Cal Christopher, Bob Anthony,
Norrell Hull, Allan "Harry" Lister, Wayne Perinchief, Hilton "Jellybean" Wingood,
Leon "Big Toe" Bean, Charles "Bongo" Williams, Howard Dill, Ken McDowall,
Westmore Bean, St. Clair "Brinky" Tucker,
Front row - Adrian King, Sinclair "Sinky" White, Sonny Roberts,
Reese Bartley, Dai James, Cecil Smith (Conductor), Willie Bourne,
Michael Spurgeon Phillips, John Harvey, Lennett "Lennie" Edwards
For many years Reese served on the Police Boxing Committee even after his retirement. Reese provided sterling service as a devoted long term member of our Bermuda Ex-Police Officers Association Committee, including serving as our Vice Chairman. He and his lovely wife Gilda, have always been strong supporters of ExPo and have helped to organize many of our social events.
Gilda and Reese at one of our ExPo functions
Reese's life was an example of life well lived. He had two children, Mark (Fozzy) Bartley and Reanna Stovell, both of whom he talked about with pride. He married his soul mate, Gilda Bartley in 2005. And Reese has never smiled more broadly that in his wedding photos.
He travelled with Gilda to the Philippines to meet his extended family, who doted on him during their visits.
After retirement from the Police Service, Reese again took up the title of "Mr. Fix-it" doing repairs all over the Island. He remained close with lifelong friends and often had get togethers in his yard to talk about the old and the new. If not at home, Reese could easily be found up at the PRC or "the office" as he liked to call it. Reese was known for his integrity, even temper and his total reliability. He was well liked, respected and loved by all who knew him.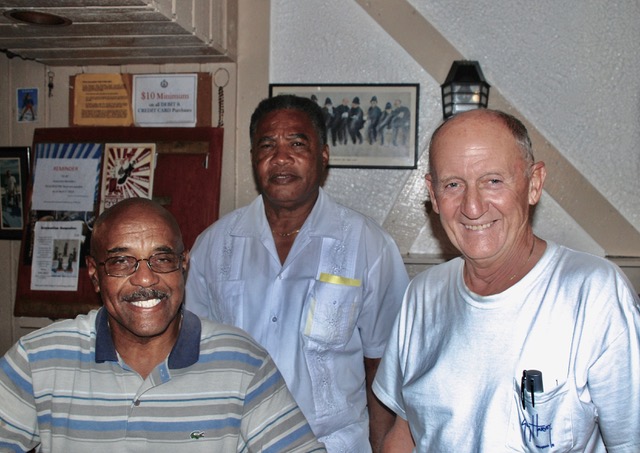 Reese, with long-time close friend Patrick Hamlett, and Dave Cook.
Reese and Dave are our two longest serving ExPo members
Reese leaves to mourn his beloved wife Gilda, his brother Vance Bartley, his children Mark "Fozzy" Bartley and Reanna Stovell. He will also be sorely missed by his extended family, Mrs Ronita (the Late Dr. Leonard) Teye-Bochway and sons Adlai, Addon and Addie, special friends, Albert and Maggie Steede, Patrick Hamlett, Clifford Stevens, Scott Pacheco and his many friends and colleagues who served with him in the Bermuda Police Service.
It seems fitting to conclude this article with the photo below taken at our most recent ExPo Reception held at the PRC in February 2023 and shows Reese and Gilda together with close friend, Scott Pacheco, ExPo Committee members Gail Correira and Beverly Pitt, and Mirela DeSilva, wife of retired Commissioner Michael DeSilva. CLICK HERE for the full photo album of this event.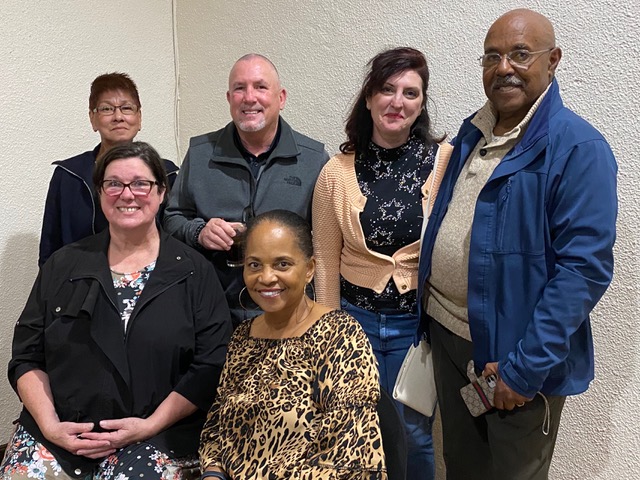 Annual ExPo Reception held at PRC - February 2023
Standing (l-r) Gilda Bartley, Scott Pacheco, Mirela DeSilva, Reese Bartley
Seated - Gail Correia and Beverly Pitt
Reese, you will be sorely missed.