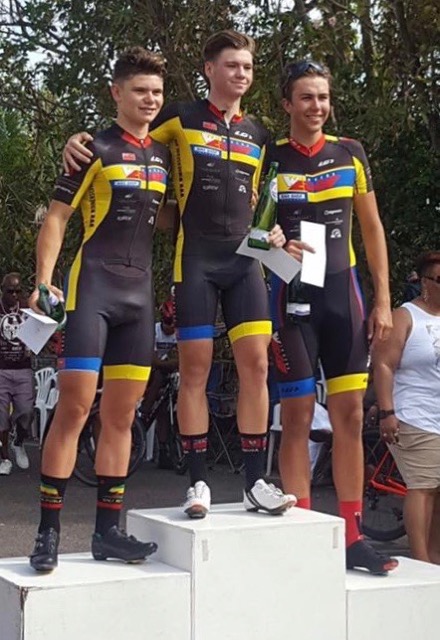 Three of Bermuda's top Junior Cyclists on the podium
as winners of the Sinclair Packwood Race - 2017
(l-r) Matthew Oliviera, Kaden Hopkins, and Conor White
We received a note from Mike Cherry yesterday (4th November 2017) pointing out that three of the outstanding young athletes, pictured above, representing Bermuda in the Junior Caribbean Cycling Championships in Barbados this week, have direct links with the Bermuda Police Service.
Matthew Oliviera is the grandson of retired Chief Inspector Dave Barber who served from 1965-1997, Kaden Hopkins is the son of former P.C. Greg Hopkins, himself an outstanding athlete as a boxer, runner and cyclist, who served from 1982-1993, and Conor White who is the grandson of former Sergeant Mike Cherry who served from 1959-1968 and was an active sportsman during his police days as a rugby and squash player.
The three young men stood on the podium as winners of this year's Sinclair Packwood Race and according to an article in the Royal Gazette on 4th November which you can view at
http://www.royalgazette.com/cycling/article/20171103/high-hopes-for-medal-chasing-cyclists our cyclists have high hopes being in hunt for medals in Barbados. The Bermuda team excelled in the Commonwealth Youth Games in Nassau, Bahamas, in July, with Oliveira wining gold in the boys' time-trial and bronze in the road race.
We wish them all the very best of luck.
10pm Sunday 5th November 2017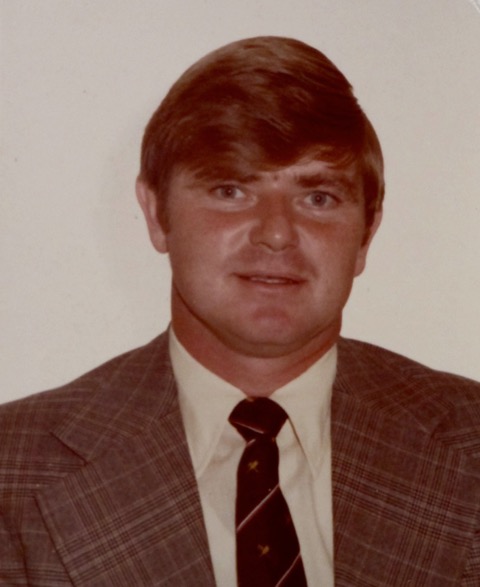 Dave Barber is delighted with his grandson's excellent performance
in the Caribbean Junior Cycling Championships held in Barbados
UPDATE - An extremely proud Dave Barber emailed us this evening to report that his grandson, Matthew Oliviera, won gold in the time-trials yesterday afternoon, and today he won gold for the second time in the distance race. Have checked the Royal Gazette and BERNEWS for official results but will have to wait until tomorrow to provide further details on the success of our Bermuda Team. In the meantime, huge congratulations to Matthew on his double gold.
Before sending his email Dave had just been on the phone with an old friend and former colleague in the Bermuda Police, Jerry Benson, whose son Gordon is an outstanding international triathlete and won gold for the British Team in the 2015 European Games, going on to represent Britain in the Rio Olympic Games as we reported on ExPo website at http://expobermuda.com/index.php/latest-news/490-benson-selected-for-rio-olympics . Many of you may recall that Jerry was a terrific athlete who competed in the Hawaii Ironman Triathlon along with Bermuda legend, Jim Butterfield, and was also an excellent boxer. We are not sure about Dave's running or cycling prowess!
6th November 2017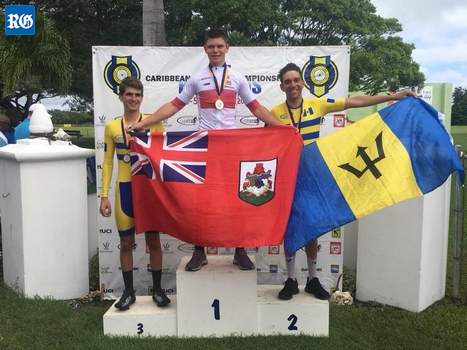 Matthew Oliveira tops the podium and proudly waves the Bermuda flag
(Photo courtesy of the Royal Gazette)
The Royal Gazette published an excellent article this morning on the results of the Caribbean Junior Cycling Championships held in Barbados over the weekend which can be viewed at http://www.royalgazette.com/cycling/article/20171106/golden-displays-from-oliveira-and-rowse
The article mentions all three of our former police officers "descendants" together with Alyssa Rowe of Bermuda who won the girls time trial. It reports that Kaden Hopkins came close to standing on the podium with his 4th place finish in the time trial despite suffering from an illness.
The Royal Gazette stated, "It has certainly been a season to remember for 17-year-old Oliveira. He seized gold in the time-trial and bronze in the road race at the Commonwealth Youth Games in Nassau, Bahamas. He then represented Bermuda at the Road World Championships in Bergen, Norway, before being invited to race for top United States junior development team, Hot Tubes, at the Green Mountain Stage Race in Vermont."
Peter Dunn, President of the Bermuda Bicycle Association perhaps best sums up the performance of the Bermuda team when he says, "there was no secret to Bermuda's success at the junior level this season — just plain old hard work and dedication." Ain't that a fact. Congratulations to our three young lads who have clearly put in lots of hard work and dedication. Apples don't fall from trees!