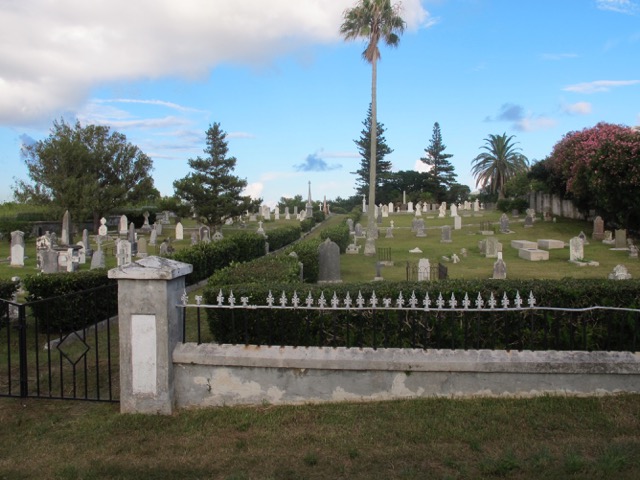 Military/Police Cemetery on a sunny day
The morning of our scheduled annual Memorial Service and ExPo BBQ started ominously with a bleak weather forecast for the afternoon and evening of Sunday 1st October. And did the heavens open! The Military/Police Cemetery had been meticulously cleaned and prepared for the Memorial Service, and we had the visiting Halton Police Pipe Band from Ontario all set to perform during the service, but torrential rain continued through the afternoon and there was no option but to change the venue to the Police Club.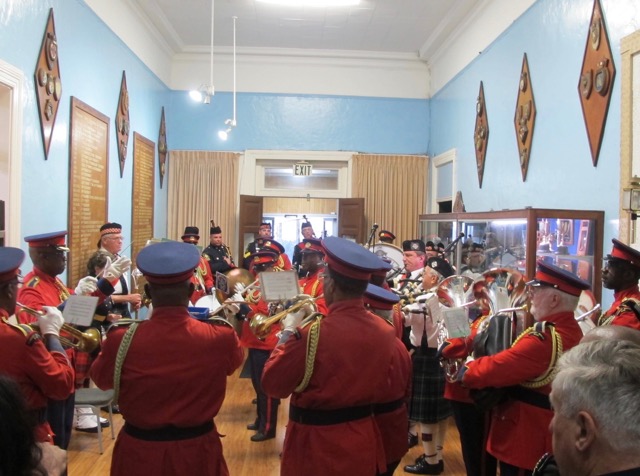 Island Pipe Band performing in P.R.C. Hallway
(Can you spot one of our retired colleages with a white beard?)
All credit to the BPS for working flat out to re-arrange the PRC main hall and revise the programme which went off flawlessly. The hall was packed to capacity as the service got underway with a Police Honour Guard marching in the Colours, Assistant Commissioner Martin Weekes was master of ceremonies, and the service was a sombre and moving experience for all present.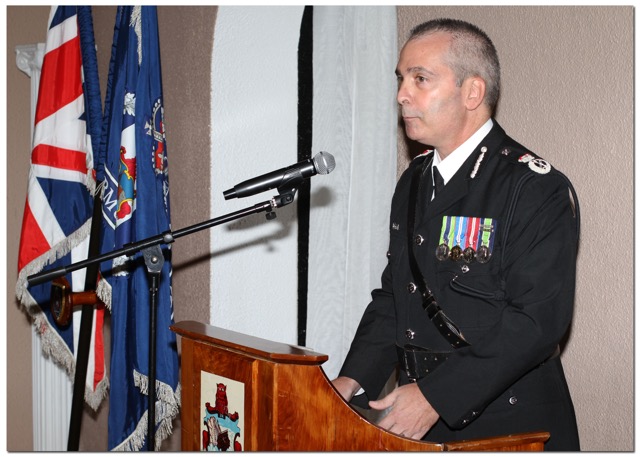 Commissioner Michael DeSilva reads the Honour Roll
(Photo courtesy of Dexter Flood)
After a moment of silence, the Last Post was performed by Bugler Neilson DeGraff of the Somerset Brigade Band. Recently appointed Police Chaplain, Dr. Kevin Santucci offered a Prayer of Reflection, and Commissioner Michael DeSilva read out the Honour Roll of our former colleagues who have died during the past two years. Their names were as follows:-
Honour Roll of former Bermuda Police Officers who have
died during past 2 years (since Police Week in 2015)
Constable Graham Mitchell October 2015
Constable William Connell McBurnie October 2015
Sergeant Peter Morgan December 2015
Constable Charles "Joe" Mercer December 2015
Constable Jasmine Euigene Saltus March 2016
Constable Steven "Terry" DeSilva March 2016
Constable Albert "Keith" Foggo March 2016
Sergeant John Van de Weg March 2016
Constable Andrew Hall March 2016
Sergeant Cyril Plant May 2016
Sergeant Edward James Woodward July 2016
Sergeant Peter Edney July 2016
Constable James Robertson July 2016
Constable Eddie Spencer July 2016
Constable Eric Kent Ingemann August 2016
Constable William "Bill" McCormack September 2016
(Chief of Police, Toronto Metropolitan Ret'd)
Constable Ron Shelley September 2016
Constable Nicholas Dunn October 2016
Constable John Balsdon November 2016
Constable Kevin Hardisty November 2016
Constable Malcolm Edwards December 2016
DCOP Alexander James Forbes December 2016
Sergeant Gregory Grimes December 2016
Constable Brian Callaghan January 2017
Constable Henry "Harry" Leman January 2017
Inspector Alan Kennedy January 2017
Constable Denis Byrne February 2017
Sergeant Ronald Beech February 2017
Constable Vendon Archer May 2017
Constable Alexander Sommerville August 2017
Constable George Linnen August 2017
Constable Ian Ferguson September 2017
Wreaths were then laid in front of the Police Colours by H.E. The Acting Governor, Mrs Ginny Ferson, Minister of National Security, The Hon Wayne Caines, JP, MP, Commissioner of Police, Mr. Michael DeSilva QPM, CPM, Commandant Reserve Police, Ms Sandra Beach, C.O. Bermuda Regiment, Lt. Col. David Curley, and President of the Ex-Police Association, Roger Sherratt.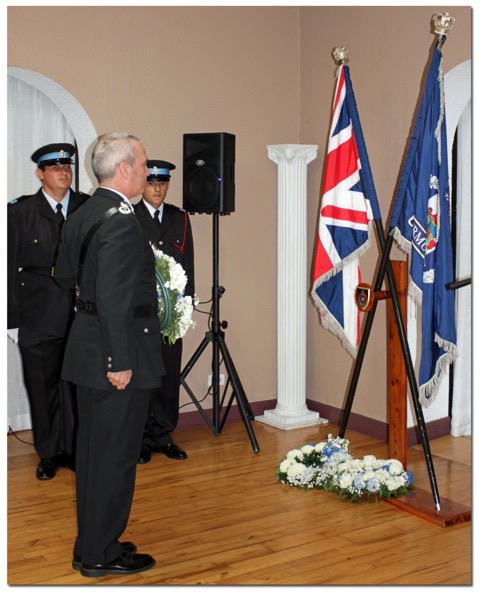 Commissioner Michael DeSilva lays wreath under the Police Colours
(Photo courtesy Dexter Flood)
Family members who had lost loved ones during the past two years and in previous years were also invited to lay wreaths or flowers and did so.
Rev. Santucci offered a final prayer, and the service came to a close with the playing of Reveille by Neilson DeGraffe.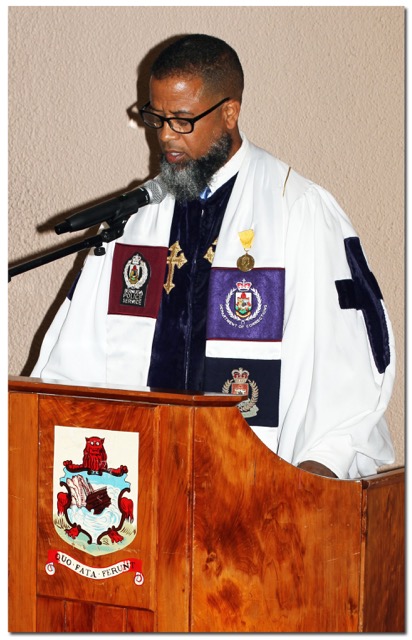 Police Chaplain, Dr. Kevin Santucci
(Photo courtesy Dexter Flood)
Attendees were entertained with performances by the Somerset Brigade Band, the Island Pipe Band and the Halton Regional Police Service Pipes and Drums, while the hall was prepared for a BBQ.
Although quite a few invitees were not able to attend because of the dreadful weather, there was an excellent turnout. Those in attendance included our senior retiree, Gladwin "Doc" Hall who joined the Bermuda Police in October 1950, and Dudley Swan who joined in July 1951. "Doc" and Dudley were accompanied by their beautiful wives, Lillian and Marlene, along with Brenda Wingood, wife of our good friend Hilton "Jellybean" Wingood who is the brother of Lillian and Marlene. Unfortunately, "Jellybean" was not feeling well and was unable to attend.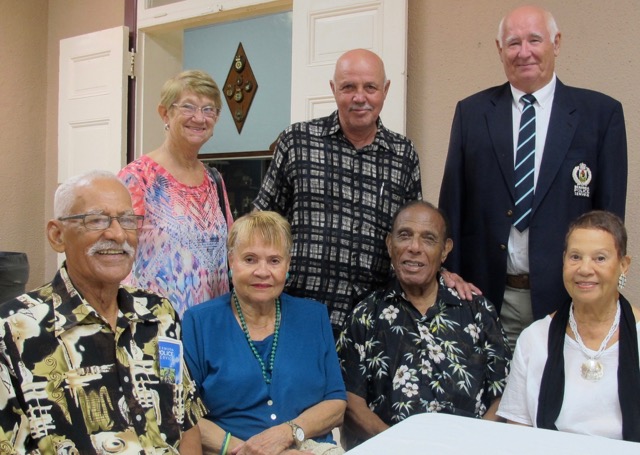 Senior retirees turn out in style
(l-r) Seated - Gladwin "Doc" and Lillian Hall, Dudley and Marlene Swan,
Standing: Ann Mello, Ralph Lindo and John Skinner
Two persons also missing from the event were Retired Sergeant Dudley Proctor, and former Constable Gilmore Simons, both of whom we learned later are in hospital for observation. We will report on their condition as we receive them
In addition to retired and former members of the Police Service we were delighted to see quite a few ladies whose husbands had served with us. These included Lois Simmons (Hubert's wife), Patricia Edwards (Lenny's wife), Claire Rushe (George's wife), Jaunita Young (Gary's wife) Mary Van de Weg and family (John's wife), and Charlotte Beech (Ron's wife). Spouses of our former police officers are Honorary members of the Ex-Police Association.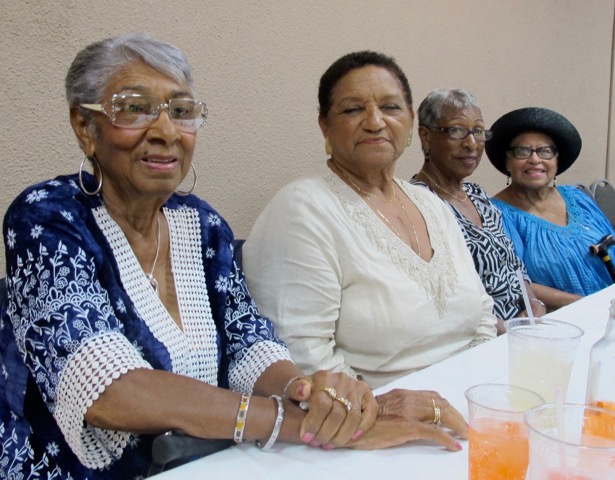 Lois Simmons (wife of Hubert), Brenda Wingood (wife of Hilton who
was not feeling well and was unable to attend),
Patricia Edwards (wife of Lenny) and Edith Durrant (mother of Andrea Durrant).
Also in attendance was Edith Durrant, the mother of Sergeant Andrea Durrant, and the family of Constable Jasmine Eugene Saltus, both of whom died far too young. Jasmine's family included his mother, Rose Saltus, his sister P.C. Jenea Smith, and other family members (see photograph).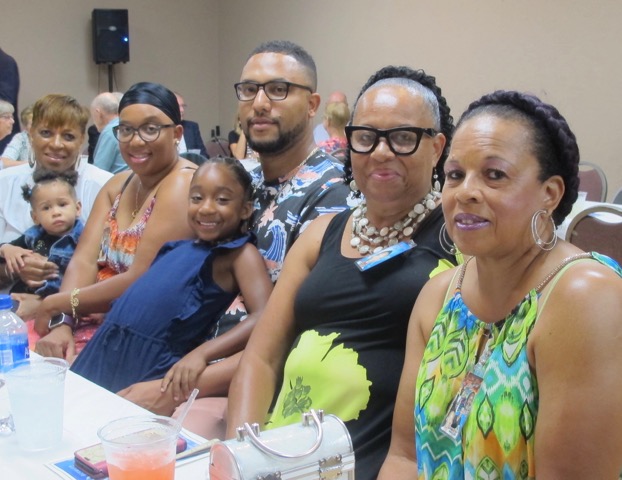 Family of the Late Jasmine Saltus
(l-r) - Aunt Jaunita Young (wife of Gary "Guppy" Young) and her daughter
Rhihuna, sister P.C. Jenea Smith, brother-in-law Jamal Smith with niece
Jayla Smith, mother, Rose Saltus, and aunt Franice Hall
.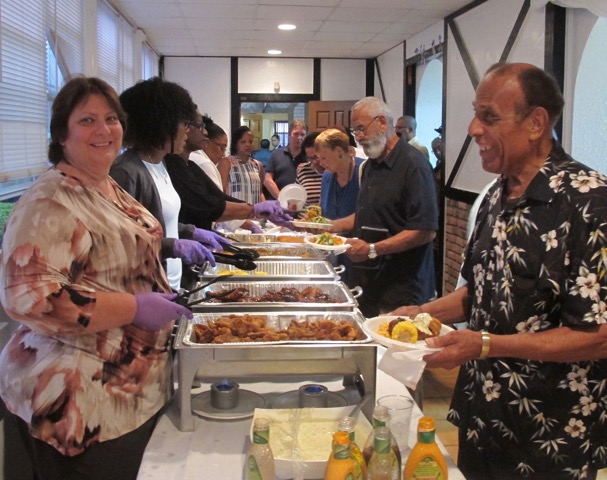 Dinner is served
Commissioner's secretary Pat Flood shows her versatility and willingness
to volunteer as she serves Dudley Swan, with Arthur Bean following suit
During the BBQ we were entertained by the Halton Regional Police Service Pipes and Drums. Making his presence felt was their bass drummer, former RCMP officer, Howard Adams who is a good friend of Jeff Baker in Toronto and who also knew the Late William "Bill" McCormack who served in the Bermuda Police before emigrating to Canada where he became Chief of the Toronto Metropolitan Police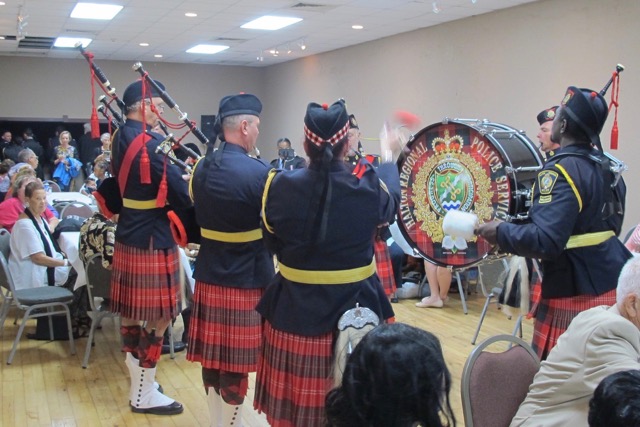 Members of Halton Regional Police Service Pipes and Drums performing in main hall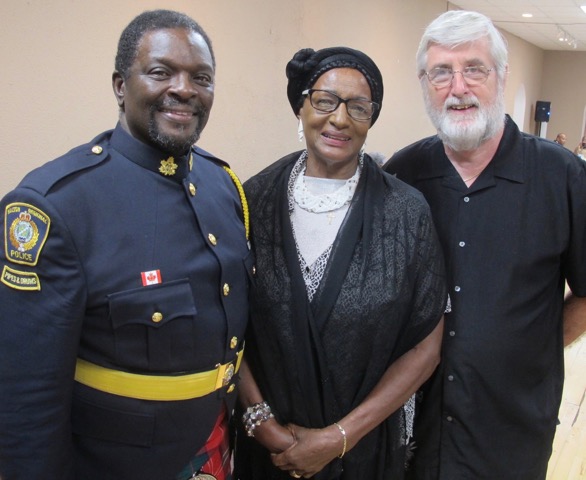 Drummer - ex RCMP Officer Howard Adams meets up with Juanita and Steve Shaw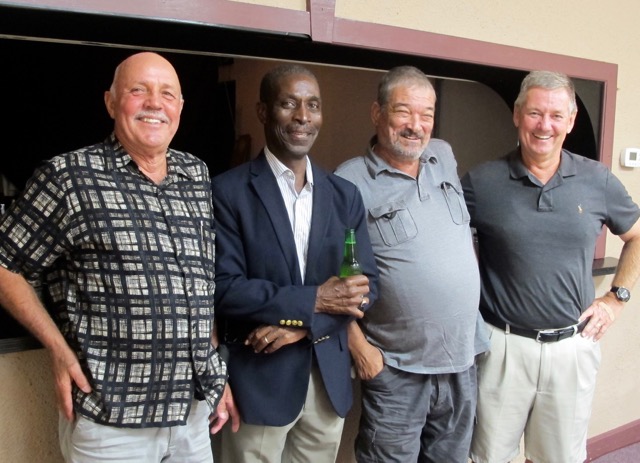 They Shall Not Pass!
(l-r) Ralph Lindo, Vendal Bridgeman, Brian Robinson and Mike Chlebek guard the bar!
Silver Hair Brigade! (with apologies to Mike Chlebek)
(l-r) Arthur Bean, Mike Chlebek, Roger Sherratt & Paul Singh (standing), and Bernie Pitman
Judging by numerous comments made, the whole event was a great success. Kudos to Commissioner DeSilva and the BPS team for pulling off a near miracle.
Many thanks to Dexter "Fudge" Flood for providing us with copies of the ceremony.
The Royal Gazette covered the memorial service and published an album of photo in the Royal Gazette which can be viewed at http://www.royalgazette.com/apps/pbcs.dll/tngallery?Site=RG&Date=20171001&Category=NEWS&ArtNo=100109998&Ref=PH