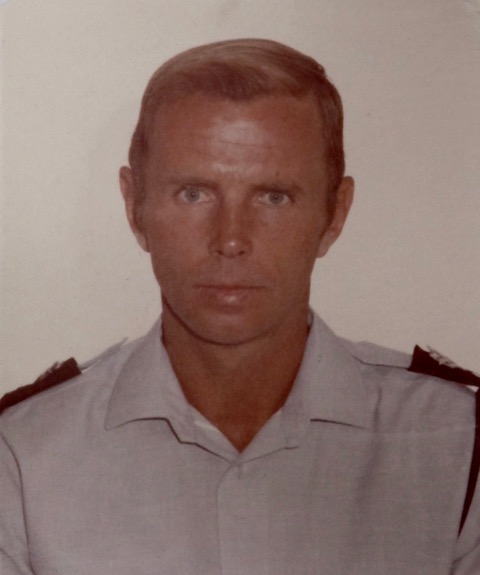 Sergeant Ian Scotland
We have just heard sad news of the death of retired Inspector Ian Scotland here in Bermuda on 21st November at the age of 79.
Ian was born and raised in Newcastle, and had served in the Royal Military Police from 1957 - 1960. He joined the Bermuda Police on 24th September 1963 and attended Basic Training Course #4 along with 9 other new recruits from the UK.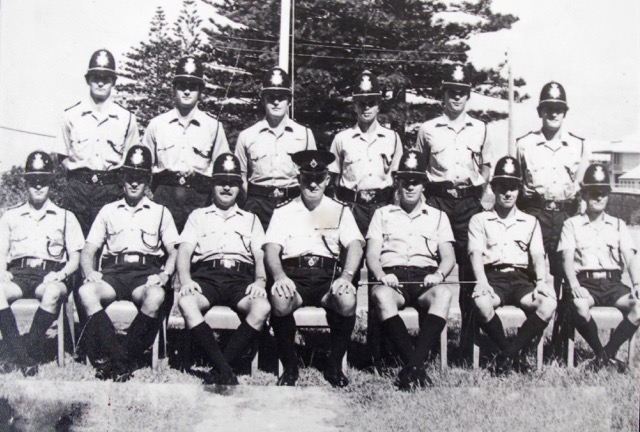 Basic Training Course No. 4 September - December 1963
Back Row (l-r) P.C's Alan Kennedy, Len Mustard, Robert Holdbrook,
Ian Scotland, Malcolm Robishaw, Alex Forbes
Front Row - P.C's Dave Chew and Alan Wilkinson, Sgt John Cafferkey, Chief Inspector
Roy Chandler, P.C. Andrew Heggie (Instructor) and P.C.'s Ian Douris and Terry Lambert
An active sportman Ian, along with many young policemen took up playing squash on the former British Army court built at Prospect in the 1930's. This court served as the home base of the Bermuda Squash Rackets Association until 1968, and the Police players quickly improved their standard of play. Ian, along with Clive Donald, Roger Sherratt, Arthur Rose, and later Eric Sanderson, Ray Banks, and Barrie Mancell, enjoyed playing for the Pollce team against visiting Royal Navy ships and also the Bermuda team at the time of the first Rosebowl tournaments played between Bermuda and the Bahamas. In an effort to maintain maximum fitness Ian would play in a light-weight rubber wet suit and wear a weighted belt!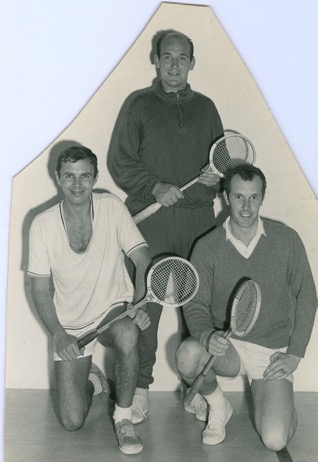 Police Team Players
(l-r) Ian Scotland, Clive Donald and Roger Sherratt
Ian met his wife Cathy here in Bermuda. Cathy was a nurse at King Edward Hospital, and they were married in October 1965.
Ian must surely have worked in more Police departments than anyone else who has ever served in the Force. He started on the beat in Hamilton, and was transferred to Beach Squad where he earned a commendation for keen observations and good work in arresting and convicting four youths for beach thefts. Following his stint on Beach Squad he transferred to Operations (Traffic), then to C.R.O. (Fingerprints) before moving on to Motor Cycle Section. Ian worked for a while in the Murder Room and at Government House, then "F" Department, Training School, followed by time in Central Uniform, C.R.O. for a second spell, the P.R. Office, as Officer in Charge of the Police Cadets, Officer in Charge of Task Force, and as the Supreme Court Officer.
Promoted to Sergeant in April 1970, Ian was promoted to Inspector in January 1979. He was awarded the Colonial Police Long Service and Good Conduct medal in September 1981, and retired from the Police on 2nd October 1988.
Following his retirement Ian worked for several years at Sonesta Beach Hotel, but he led a very quiet life and although he and Kathy remained in Bermuda, we saw very little of him in later years.
An obituary for Ian has been published in the Royal Gazette and can be viewed at http://www.legacy.com/obituaries/theroyalgazette/obituary.aspx?n=ian-andrew-scotland&pid=187312665&fhid=40139 We will publish any details of funeral arrangements as we receive them.
Ian was certainly a character who will be remembered by all those who worked with him.
17th January 2018
UPDATE - We have just received the following from Cathy Scotland who was extremely grateful for all the kind comments made about Ian by so many of his friends and former colleagues, both here on our website and in the article on our ExPo Facebook page which reached some 1200 people (see https://www.facebook.com/BDAExPolice/.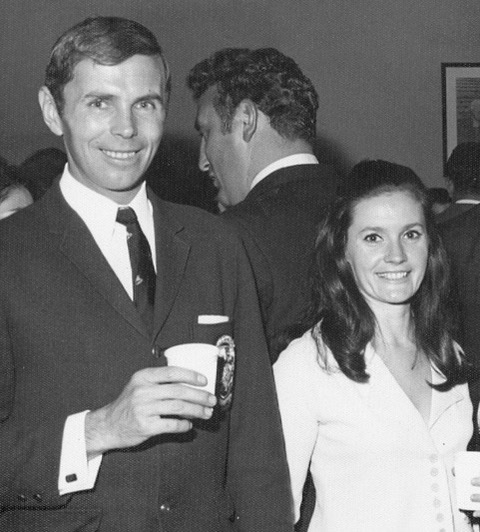 Ian and Cathy Scotland at the Police Club - 1970
Message from Cathy Scotland:
I would like to thank all the ex police colleagues & friends who expressed their condolences on the passing of Ian, also the kind comments to myself. As per Ian's wishes, he was cremated here in Bermuda in full Sunderland supporters outfit. His ashes will be scattered at Roker Park sometime in the future.
Regards
Cathy Scotland