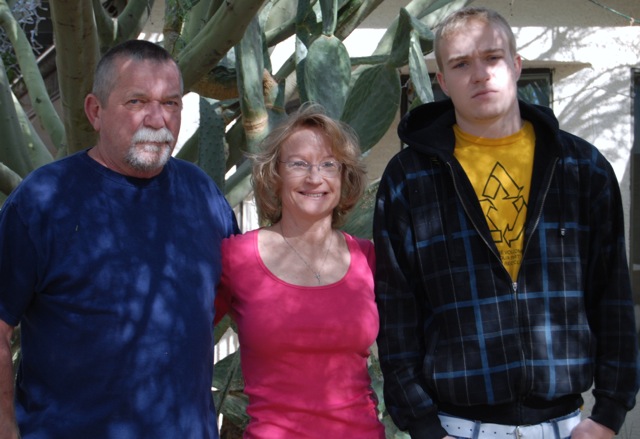 Alex "Sandy" Duncan with his wife Roxanne and their son Jake
Sadly, both "Sandy" and his son Jake have died since this photo was taken
The Royal Gazette (12th January 2023) reports that "The widow of a Bermuda police officer who served for 25 years has been promised the $12,000 she failed to receive from her husband's pension after 18 months of pressing the Government for the money.
But, she said, she was only contacted by the Department of Social Insurance after queries on her behalf this week byThe Royal Gazette.
The department responded yesterday, apologising "unreservedly" and vowing to correct the matter permanently.
Roxanne Duncan, 67, who lives in Arizona, contacted theGazetteafter repeatedly hitting a brick wall with the department and its British associate bank.
"It's been quite difficult with this hole in my modest income," she said. "I clean houses to make up for the lack of income."
Ms Duncan added that it "certainly shouldn't get to the point where the media should have to monitor the right thing to do".
She highlighted an identical hitch reported by theGazettetwo years ago in which a string of frustrated pension recipients overseas reported arrears — with the top complainant again getting her overdue money when the issue was publicised.
Ms Duncan said she had been left in the dark by the department and its agent for overseas payments, Crown Agents Bank in England, since her pension payment ceased abruptly after June 2021.
The Peoria, Arizona resident relied on the pension payments for her late husband, Alexander "Sandy" Duncan, who served as a police officer in Bermuda from 1971 to 1996.
Ms Duncan met her husband while stationed in Bermuda with the US Navy.
The couple married in 1991, moving to Arizona five years later.
She became eligible for monthly payments of just under $630 after her husband's death in 2014.
But after they stopped in 2021, said she had "not had any meaningful contact" from the department or Crown.
"Each of them has referred me to one of these other agencies," Ms Duncan said. "None of them have provided any meaningful help, or resolved the issue."
Ms Duncan's hardship has deepened with the death at age 29 of the couple's only son whose memorial service is being held today.
CLICK HERE to read the full article in the Royal Gazette.
CLICK HERE for the article we wrote about "Sandy" several years ago.