P.C. Alexander "Sandy" Duncan
Served from 1971 - 1996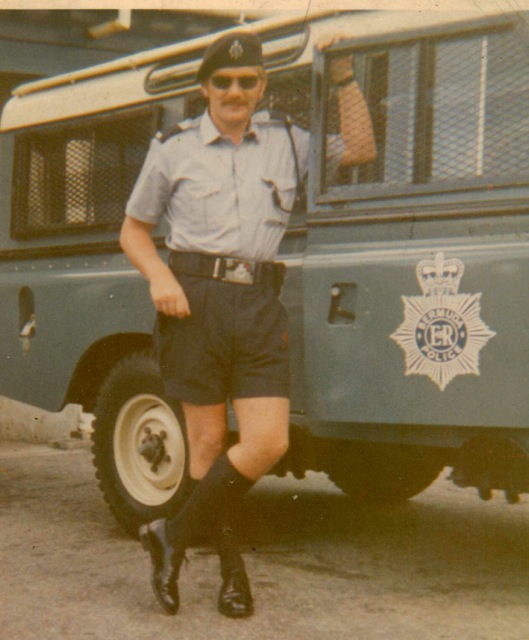 Young P.C. Alex "Sandy" Duncan
We were deeply saddened to hear that Alexander "Sandy" Duncan passed away in Waddell, Arizona, on 17th April 2014, after a lengthy illness. We received the report from his wife, Roxanne, who advised that he had been suffering from severe kidney infection and other serious health issues since he was admitted to hospital in December 2013.
Sandy joined the Bermuda Police in March 1971, spending most of his service in Eastern Division, and retired in August 1996. His first wife was Susan Duncan and they had two daughters, Natalie and Alexandra (better known as Taylor or Tay). After Sandy and Susan were divorced he met and married Roxanne and they had a son named Jake. Following his retirement Sandy and Roxanne settled in Waddell, Arizona, where Sandy joined the Police Department and served from some 20 years before recently retiring.
His funeral was held at Christchurch of the Valley, in Peoria, Arizona at 10am on Monday 5th May, and Sandy was given a full Police funeral with honours.
The following eulogy was read by Tay at Sandy's funeral:-
Alexander ' Sandy' Duncan was born in Scotland December 28, 1947 and passed on from this world April 17th, 2014. He is survived by his Mother, Ann, his wife Roxanne, daughters Natalie and Alexandra better known to all as Taylor, his son Jake and four Grandchildren, Aaliyah, Deandre, Marques and Kaiden.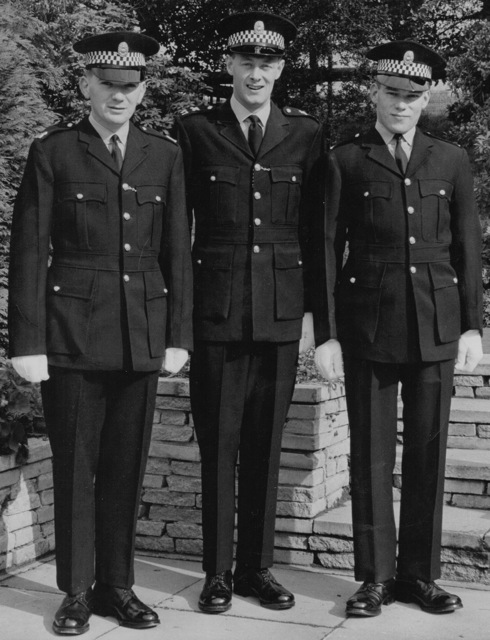 P.C.'s Alexander "Sandy" Duncan (left) and Robert "Bob" Allan probably taken at their
Passing Out Parade at the Scottish Police College, Tulliallen Castle, Kincardineshire,
Central Scotland, in late 1968. The middle PC is probably from the Fife Constabulary.
Both "Sandy and "Bob" eventually served in the Bermuda Police.
After finishing a short stint in a confectionary shop, as a young man, he began his law enforcement career. It began in Scotland in 1969 where he served there for 2 years before migrating to the small Island of Bermuda. There, Alex served as a police officer for the Bermuda Police Service for 25 years between 1971 and 1996.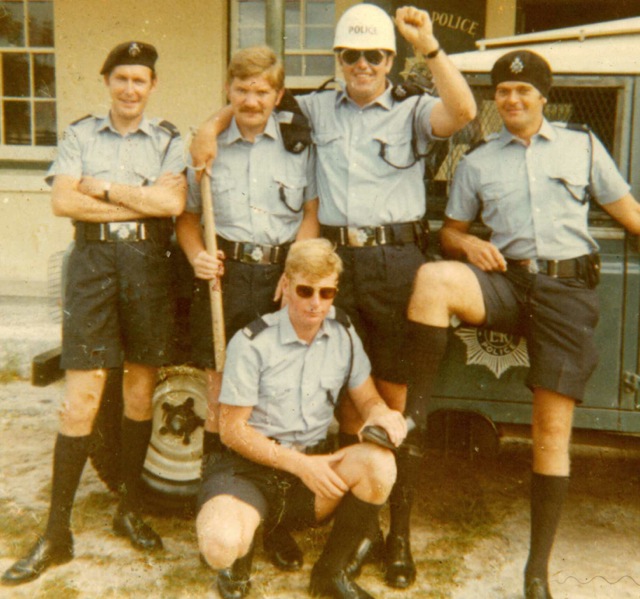 Sandy with fellow members of "F' Troop preparing for CADUC exercise
outside Clock Block (the old Training School) in the early 1970's
(l-r) Roger Kendall, Sandy Duncan, Colin McDonald, Kenny Blow,
During his first marriage, Alex became a father in 1976 to daughter Natalie and shortly after in 1981 to Alexandra (Taylor). It was in Bermuda in 1991 that he met his wife of 23 years, Roxanne, and where their son Jake was born. In 1996 Alex moved to Waddell, Arizona and joined the Peoria Police Department to serve as a Police Services Officer, a job that involved many different assignments. During the next 18 years he helped with booking, transporting, front desk, motors and much more. In fact during an interview I was told Alex did 'just about everything'!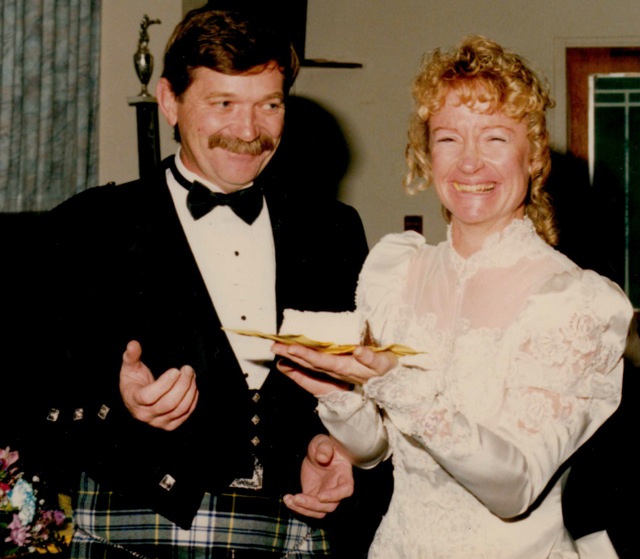 Duncan and Roxanne on their wedding day
Roxanne, Taylor and Sandy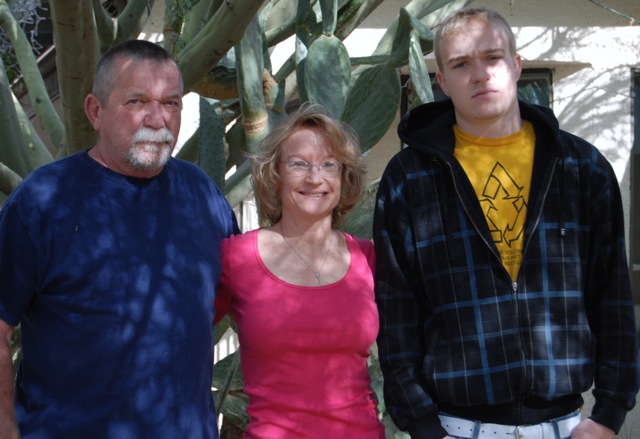 Sandy with Roxanne and Jake
Alex was well liked and respected by his peers. In response to his passing, here are a few of the comments from people that worked with Alex in the
Peoria Police Department: "Alex, you were a very special man, the world has lost a great soul with a great heart." "You will be missed, Brother." "He was a great man." "He was a great example of service to the public, dedicating almost 40 years of service…you will be missed Alex."
When I asked two of his fellow officers how would they best describe him they replied, "strong, powerful, dedicated and stoic, Alex was a man of strong conviction and confident. He usually wouldn't say much but his presence filled the room."
Alex loved his family time, especially watching movies, lots of movies. And over the years he enjoyed tinkering with cars and riding on his Harley.
Alex was no stranger in the kitchen either: he liked to cook. And he loved a good party! But in listening to those that were closest to him, his passion...was his work. He was known for his work ethic, building relationships and treating people with respect: including the bad guys.