This dapper group of extremely smart young men dressed in their tuxedos were actively involved one of the most successful and enduring sports events in the history of the Bermuda Police. We wanted to know what they organised, who they are, and where when the photo was taken.
The event they organised was, of course, our Annual Police Boxing Tournament which was first held in 1969 without the benefit of professional backing or expertise. The driving force behind this popular event was without doubt Pat McBride who was also responsible for organising our highly successful Tug o' War team, and our first Police Road Race from the PRC to Flatts Village and back.
Pat wrote an excellent article (CLICK HERE to read it) about the First Police Boxing tournament which, in Pat's own words, "was based on the evening of boxing held at the National Sporting Club in London, which was basically a Gentleman's Night Out - with strict rules applied during the bouts. Okay, it may be argued that a few of our attendees may not have been "gentlemen" exactly, but we did, however, insist that they dress up in their tuxedos - a dress code that was strictly enforced. We restricted the alcohol to champagne, and smoking to cigars only. I'd like to think that all those who attended our first night of boxing, along with all those dozens of men who have stepped into the ring since that momentous night in 1969, and everyone who has ever attended the annual Police Boxing Tournaments, will be able to look back with pride and fond memories at having been an integral part of the sporting legacy of the Bermuda Police Force."
Pat McBride had left the Island and settled in Canada by the time this photo was taken, but the Police Boxing Tournament was held for over 25 years, eventually moving to the Southampton Princess Hotel where it would regularly attract a full house of police officers and civilian guests.
There was one person we knew we could rely on to name the gentlemen in this group who were all members of our Police Boxing Committee, and that is Davie Kerr, who has a unique record of participating in the Annual Tournament. He fought on that first evening in 1969, and lost his match against John Balsdon, but they won "Fight of the Night". Davie fought in 10 tournaments with his last fight being in 1981 when he won against Dick Parker and also won "Fight of the Night". According to the local press this bout "was worth all the previous ones that night put together!" As Davie says, "We stood toe to toe for 2 3/4 rounds beating the sh*t out of each other, and I managed to win. CLICK HERE to read Davie's excellent article about his fighting career.
Getting back to this photo, we have named all the Committee members in the caption below, and we believe the photo was probably taken at the Southampton Princess Hotel, but we are not at all sure of the date.
If you can assist us in confirming exactly where and when it was taken please add your comments below this article. Although we later added more information about later fights to the article written by Pat McBride about that first evening of boxing, we have never completed the history of our Police Boxing Team. If you have any information or photos you would like to see added to Pat McBride's article please let us know in the comments column below, or send themn to us through our ExPo email at This email address is being protected from spambots. You need JavaScript enabled to view it.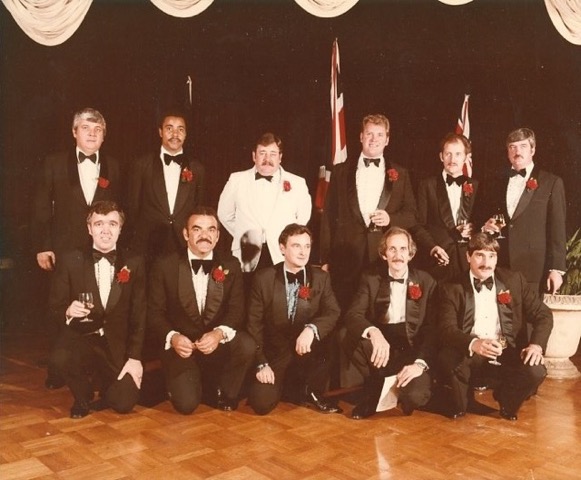 Members of the Police Boxing Organising Committee - circa 1980
Back row (l-r) - Merv Willey*, Richie Basden, Howard "Stumpy" Kirkham*,
Graham Alderson, Dave Cook, Vic Richmond*.
Front row - Cyril Plant*, Eddie Foggo*, Neil Anderson, Ron Robinson*, Ken Lewis.
* indicates those whom we believe are no longer with us: RIP...