Without doubt, one of the most successful sporting events on the Bermuda Police calendar has, for many years, been the Annual Police Boxing Tournament.
Below is an article written by Pat McBride that was published in the Police Magazine in 1969, shortly after the first ever Boxing Tournament held at the PRC, but before that we want to share a few observations made recently by Pat from his home in Vancouver as he fondly recalls his sporting days in the Bermuda Police.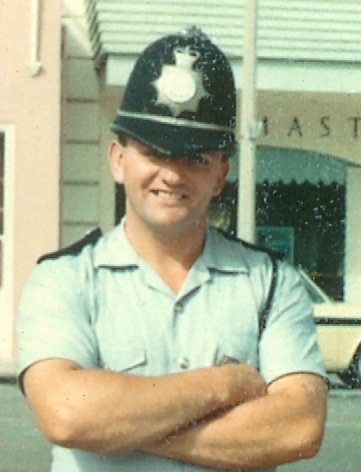 P.C. Pat McBride on Front Street
"When I first came out to Bermuda from the United Kingdom it didn't take me long to realize what a unique body of men I had joined. For although the Police would at times struggle against individual teams, their overall performance covering numerous sports could not be matched. For example, our record against the Royal Navy was second to none!
Very few members of the Force were devoid of physical ability, which ran the full gamut of sports, from darts to full contact rugby union (knock him down; and leave him down!) There was no quarter given or asked for in the four-team Island rugby league.
This was especially true when a group of sporting types from "Out of the Blue" produced and staged what has to be considered one of the very best, if not the finest sporting production ever staged on the Island - without the benefit of professional backing and expertise! This was, of course, the Annual Boxing Tournament.
We based our evening of boxing on the National Sporting Club in London, which was basically a Gentleman's Night Out - with strict rules applied during the bouts. Okay, it may be argued that a few of our attendees may not have been "gentlemen" exactly, but we did, however, insist that they dress up in their tuxedos - a dress code that was strictly enforced. We restricted the alcohol to champagne, and smoking to cigars only. I'd like to think that all those who attended our first night of boxing, along with all those dozens of men who have stepped into the ring since that momentous night in 1969, and everyone who has ever attended the annual Police Boxing Tournaments, will be able to look back with pride and fond memories at having been an integral part of the sporting legacy of the Bermuda Police Force."
Best wishes to one and all
Pat McBride
March 2012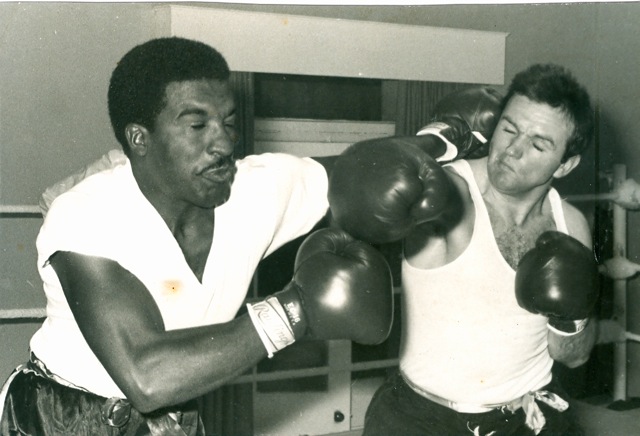 Curtis DeGraffe and Pat McBride in action during the first Annual Boxing Tournament
Here is a first-hand account of the first ever Police Boxing Tournament held at the PRC in 1969, written by the inimitable Pat McBride who was the driving force behind the event. The article was first published in the Police Magazine in 1969.
At the usual gathering of sporting types in the PRC last Christmas (1968) it was casually mentioned that with new sports being introduced to the Police Club, it presented an opportunity to introduce a little boxing. Not that the "Noble Art" had ever really been dead in Police circles, as witnessed by the blood-stained grass on the lawn outside the club!
A few drinks later, plans began to form and a newsletter was circulated to the various Divisions to determine the support that the event would have.
We, as usual, had our supporters and the pessimists - "Can't be done" they said, "nobody will fight". We got our fighters.
"You won't get a ring into the lounge." We got our ring into the lounge.
"Commissioner won't allow it". He did.
So on they went with their ideas for saving us from failure. Luckily we ignored these types and went ahead with an evening, which in every opinion, was the finest nights entertainment ever witnessed in the Police Club. "D" Day was set for the 22nd March (1969).
Training started in Parker Block, with some old gloves we had borrowed, a few skipping ropes, and some old mattresses for punch bags. What the boys didn't have in equipment was made up for with the enthusiastic manner in which they applied themselves to training. The only casualty at this stage was Davie Kerr who walked into a straight right and lost a front tooth.
Behind the scenes, a Boxing Committee was formed to attend to the many things required to stage a boxing show. Ring, seating, refreshments, tickets, programmes, lighting, mikes, guest list. In this department our tireless workers were Dennis Byrne, Willie McCracken and Gerry Swales.
Well, the big night arrived and from the moment one entered the Police Club one could almost smell the success of the venture. Admission was by ticket only and the appropriate evening dress had to be worn. Officers in Mess Dress and the men in tuxedos, black or white. Champagne was the drink of the night. Our main guest was the Hon. Lancelot Swan, M.C.P. The Commissioner and most of the Senior Officers were in attendance, with over two hundred other ranks.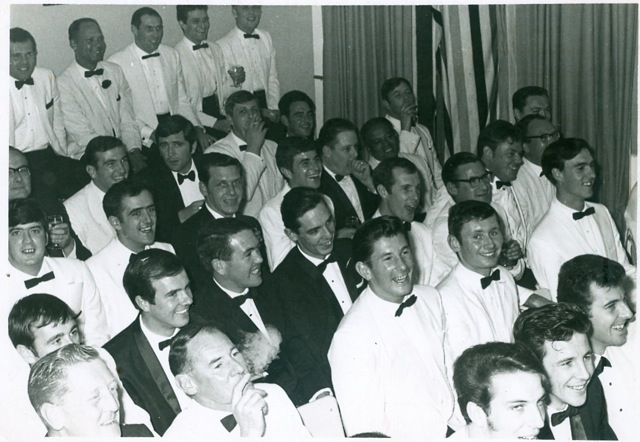 A cheerful but fairly subdued audience - at this point!
How many spectators can you identify?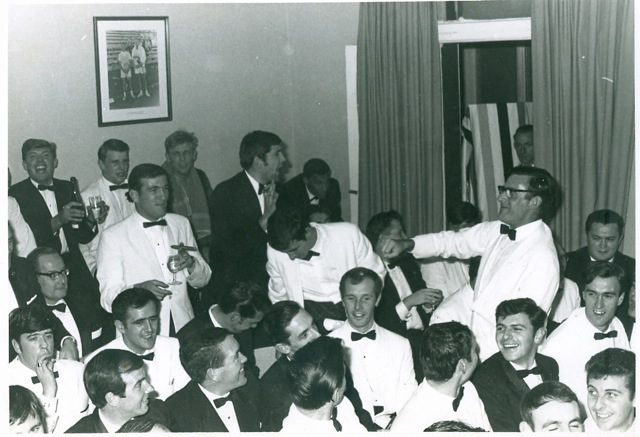 Choirmaster Alastair "Shakey" Johnson whips the crowd into a frenzy!
M.C. Inspector Dave Parsons was in outstanding form, and gave an air of professionalism to the proceedings. Referees were Mr. Arthur Wallington and Detective Sergeant Bryn Jones, both men who had graced the sport in their younger days.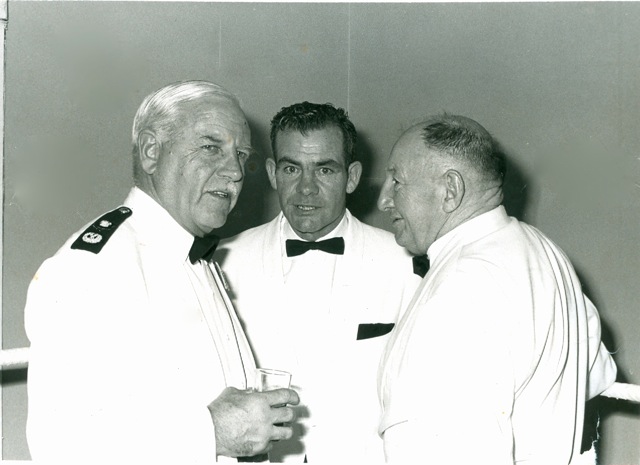 COP George Robins has a word with Sgt Bryn Jones (centre) and Mr. Arthur Wallington (right)
Seconds in the blue corner were Dave Garland and Malcy Smith, and in the red corner Mike Palmer and Les Tomlinson. Chief Whip was Sergeant Jerry James, and the three gentlemen ushers were Barrie Meade, Denis Meehan and Dave Fraser.
Both the press and television cameras were in attendance at ringside.
From the moment Dick Murphy and Dennis Byrne (Timekeeper) rang the first bell it was two hours of solid action which kept everybody hoarse with excitement. In the first bout Dave Cann stopped George Rose in the second round. The referee stopped the fight to prevent George taking any further punishment. In the next, Ian Mitchell (The Rochdale Thunderbolt) set the proceedings alight by knocking out John (Cocoa) Eve in the second.
New boys Bryan Warraker and Syd Gordon continued the good work with the first fight to go the distance, Gordon on points. Alan Keagle and Bob Hay followed this, a real punch up with Bob Hay being knocked out cold with 9 seconds of the first round to go and then being revived in his corner to face punching Alan again. Fight stopped in the second.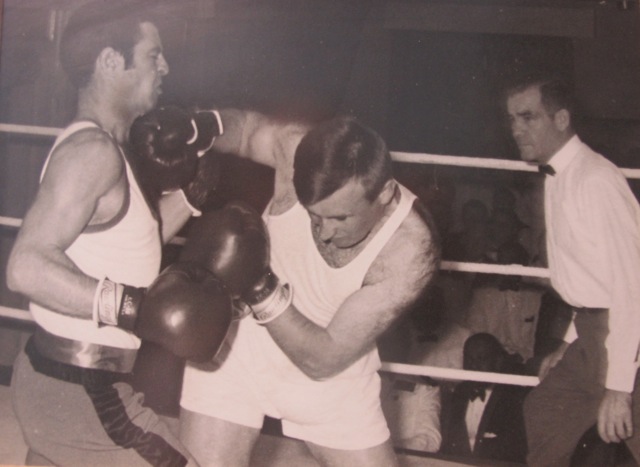 John Balsden (left) takes a blow from Davie Kerr with
referee Bryn Jones looking on.
John went on to win on points.
These two boxers won the "Fight of the Night" Award.
John Balsden and Davie Kerr performed in the "Fight of the Night" award. What a bout! Fighter versus boxer, Kerr hammered for two rounds and then winning the last with sheer guts. Fight to Balsden on points.
Now to the big boys - Paul Wakefield and Paul Field. Two boys giving everything they had, with science winning. Field on points. After that we deserved an interval to let everyone cool down. What was the opinion at this stage - "Magnificent!"
Back to the boxing again with Fred Beach and Spider Mackenzie making good use of the ring! Fred's fight on points.
Now a big surprise – big favourite Tommy Barnes beaten by the fighting Irish Kid Willie McCracken. Great fight!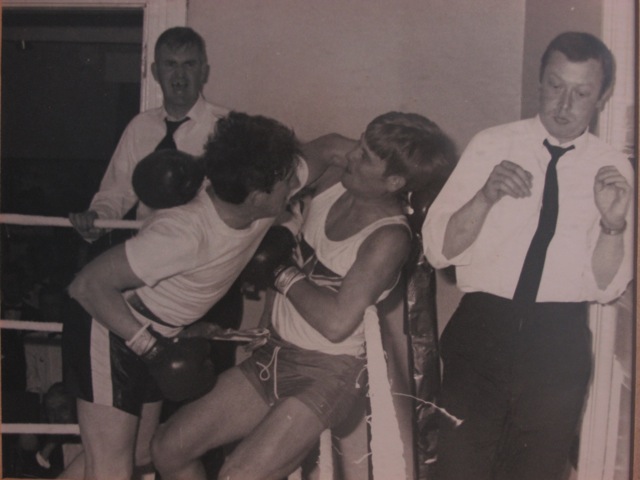 A big surprise of the night! Willie McCracken lays into
Tommy Barnes and wins on points
Seconds, Mike Palmer (left) and Les Tomlinson move out of the way.
Peerless Pat McBride and Curtis DeGraffe next. Curtis, a last minute substitute, fought a very good fight but could not avoid the right hand. McBride on points.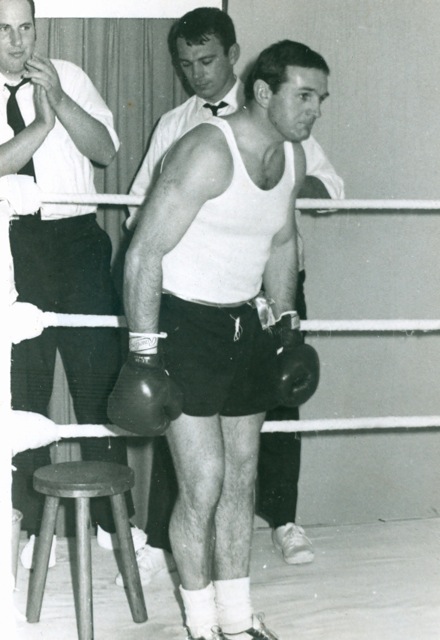 Pat McBride steps into the ring to take on Curtis DeGraffe
His seconds (l-r) are Malcy Smith & Dave Garland
Surprise again, Dave Needham outpointed another substitute, Jeff Payne. Good fight with Dave tiring badly in the last round. We all know you can't tire with Jeff around.
Jack Rouse in the last fight of the night made us all breathe a sigh of relief that we had not fought him as he displayed his big punching ability on a very game John Mulholland who, it must be admitted, was giving away a lot of weight.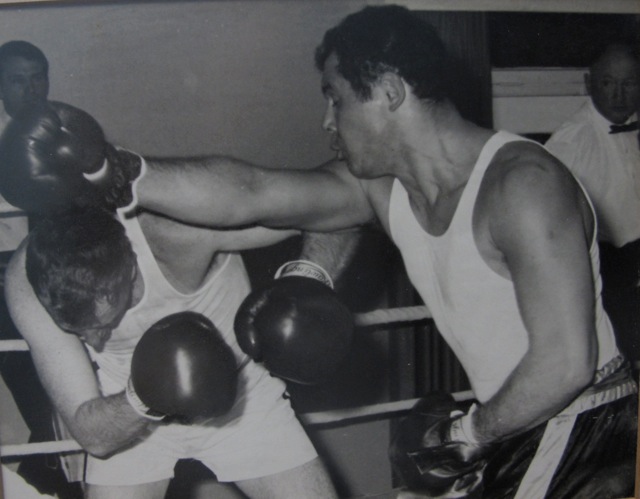 John Mulholland ducks a vicious blow from Jack Rouse
but only postpones the inevitable.
Dave Garland top left and Arthur Wallington is referee
The Commissioner of Police then entered the ring to thunderous applause and gave an amusing and complimentary speech on the proceedings. Medals were then presented and the fans filed through to the bar to relive the fights. Incidentally, over 400 bottles of champagne were consumed during the show. Before I forget - a big vote of thanks to Doctor Whalley, and to everyone who helped to make this night such a night to remember.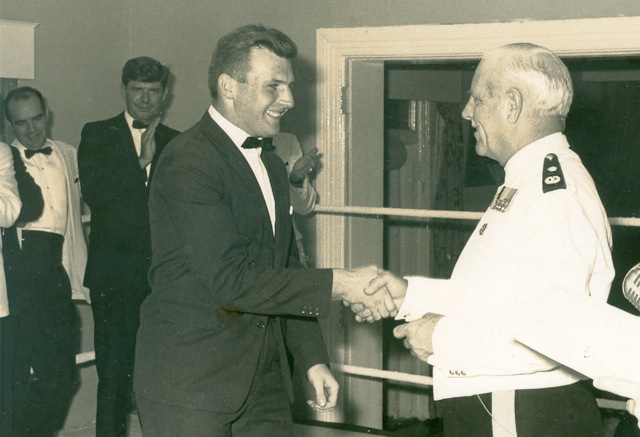 Davie Kerr collects his medal from Commissioner George Robins
with Spider MacKenzie and Paul Field looking on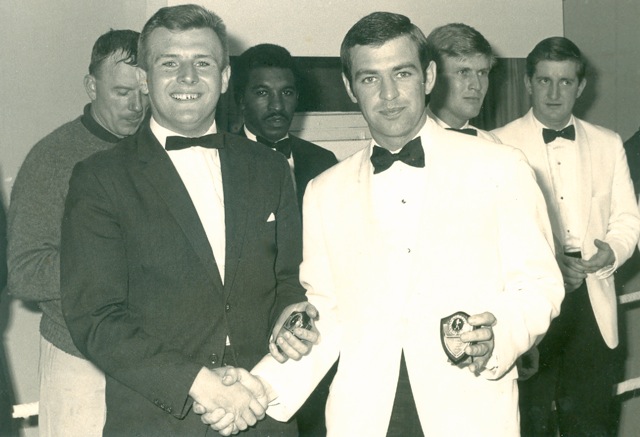 Davie Kerr and John Balsden win "Fight of the Night"
behind (l-r) John Mulholland, Curtis DeGraffe, Tommy Barnes & Willie McCracken
With over 200 spectators attending this Boxing Night we are sure there are numerous people who still have great memories of this event. If you would like to add your comments, or send any additional photos, please contact us at info@expobermuda.com Photos can be sent by email in either JPEG or TIFF format.
Just to jog your collective memories, here is the programme for the 10th Evening of Boxing held on Sunday 7th October 1979. By this time the event was so popular that it was moved to the Empire Room at the Southampton Princess Hotel where it continued to attract a packed auditorium in much more palatial surroundings than the PRC.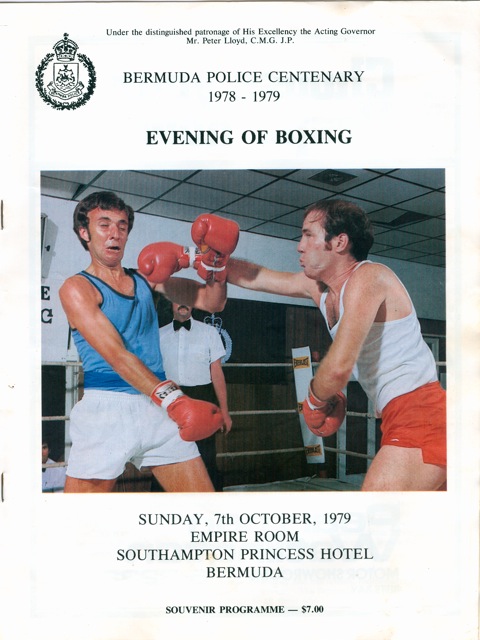 Front Cover of the 1979 Evening of Boxing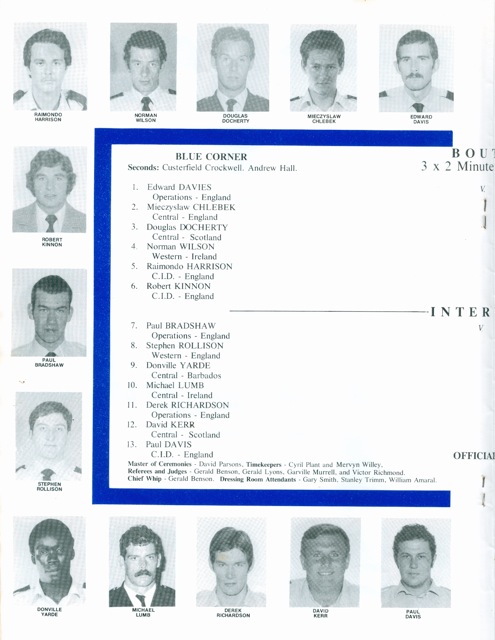 In the blue corner - "Fast" Eddie Davies, Mike Chlebek, Doug Docherty, Norman Wilson, Raimondo Harrison (who is STILL boxing in 2012!), Bob Kinnon, Paul Bradshaw, Steve Rollison, Donville Yarde, Michael Lumb, Derek Richardson, Davie Kerr, and Paul Davies.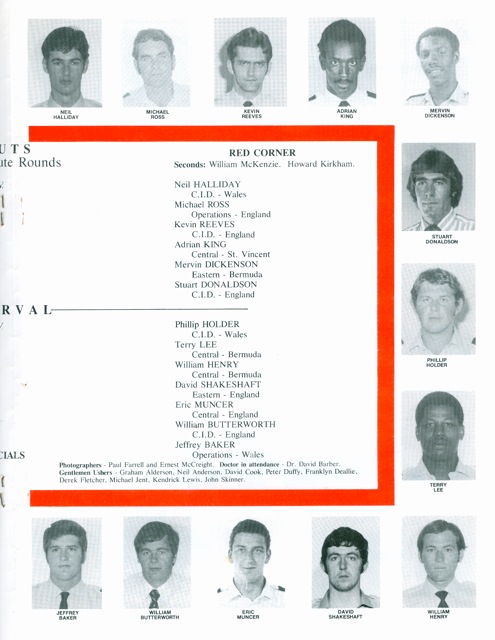 And in the red corner - Neil Halliday, Mick Ross, Kevin Reeves, Adrian King, Merv Dickenson, Stuart Donaldson, Phil Holder, Terry Lee, Bill Henry, Dave Shakeshaft, Eric Muncer, Bill Butterworth, and Jeff Baker.
Also included in this Souvenir Programme were all of the boxers who had stepped into the ring between 1969 and 1979.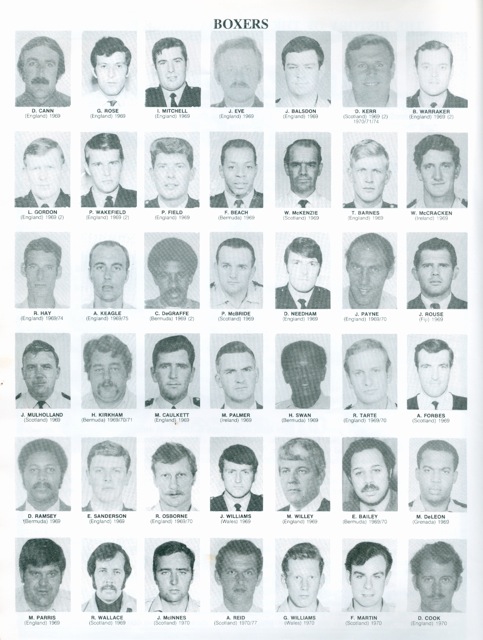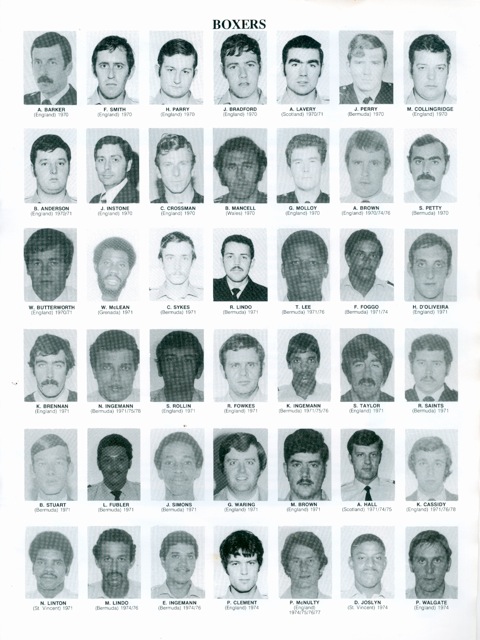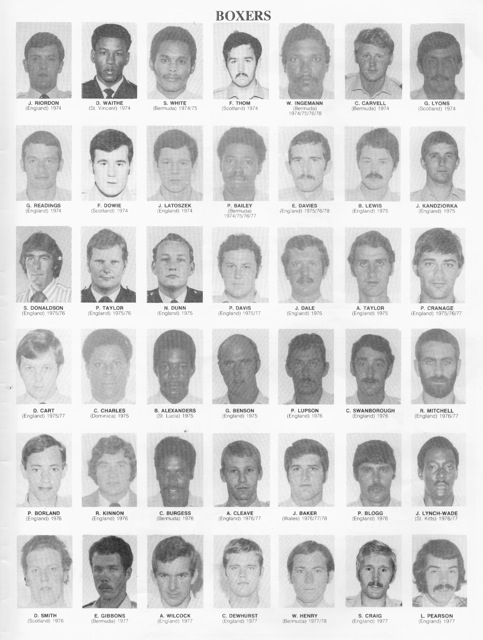 We hope you can recognize some or all of these brave young men.