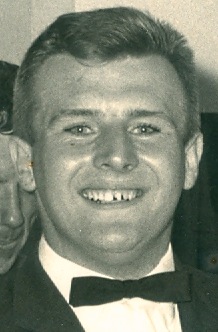 The irrepressible Davie Kerr
While assisting us to identify some of the spectators in several of the Boxing Night photos, Davie Kerr kindly provided us with the following information about his Bermuda boxing career:-
Here's a little trivia about my personal career in the boxing ring:-
I fought in the first five events at the PRC, then retired. I was hauled back by Vic Richmond to fight in the Centennial event held at the Southampton Princess. I fought in that one and the next two, then retired again.
I then had my two epic punch-ups with Massachussetts State Trooper, Paul "Bad Dog" Driscoll, the first at the old Prospect Gym on Gymnasium Road and the second at BAA. We were all set to have a third and deciding bout when I got my skull fractured by Bruce Montgomery Tucker in November 1983 and retired again, this time permanently!
My record was:-
Spring 1969, lost on points to John Balsdon, but we got "Fight of the Night";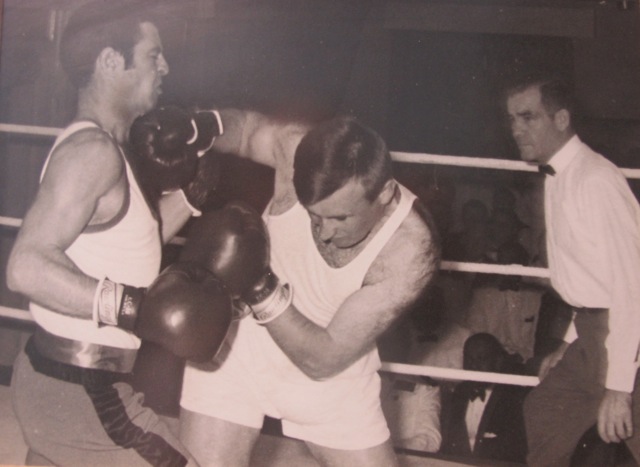 John Balsdon and Davie Kerr battling it out
under the watchful eye of referee Bryn Jones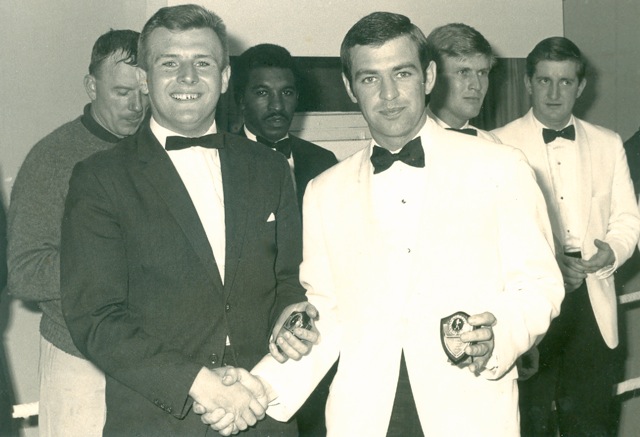 Davie Kerr and John Balsdon win the first ever "Fight of the Night" Award
behind them are John Mulholland, Curtis DeGraffe, Tom Barnes and Willie McCracken
Fall 1969, lost on TKO to Eddie Bailey because I'd come back too soon after breaking my right arm in a 10-57*, and it broke again first time I hit him!
1971 (can't remember the month), beat Eddie Bailey who had allegedly previously claimed that he'd have beaten me anyway! Referee stopped fight in Round 2 and I won the PW trophy for the Fastest Knockout;
1972, beat Steve Taylor on points: the crowd didn't like it, but Arthur Wallington said I was a clear winner. Editors note - Although the crowd didn't agree with this verdict they were delighted when Davie and Steve were awarded "Fight of the Night."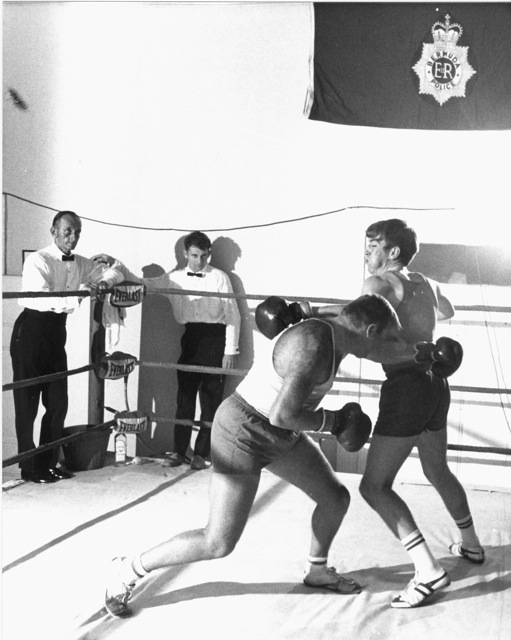 Davie Kerr beats Steve Taylor on points
according to referee Arthur Wallington!
1973, beat Angus Brown by KO at the end of Round 3.
1979, lost to Bill Butterworth whom I fought because nobody else would!. Referee stopped the fight in Round 2 as I kept getting knocked down and getting back up again!
1980, beat Richard Flood by KO: he wore himself out in Round 1 by hitting me on the head (which, as everybody knows, is the LAST place to hit me if you want to cause any damage!), and my trusty left hook got him in Round 2.
1981, beat Dick Parker by KO at the very end of Round 3. According to the local press, our bout was worth all the previous ones that night put together! We stood toe to toe for 2 3/4 rounds beating the sh*t out of each other, and I managed to deck him with about 15 seconds to go. Unanimous choice for Fight of the Night.
September 1982, beat "Bad Dog" on a cut eye decision in Round 2.
October 83, lost on points to "Bad Dog" but we got 'Fight of the Night' in an absolute cracker of a fight. Although I lost fair & square, in my defence I took that fight at 2 weeks' notice, and he'd been training for the previous 6 months!

So, in short, 10 fights, 6 wins, 4 losses, 3 Fight of the Nights and a Fastest Knockout. Not bad for someone who'd never worn boxing gloves until coming to Bermuda. Whatever else my fights were - they were never dull!

* Editor's note - Davie's exploits in the ring were the very essence of the spirit of the Annual Boxing Events. He gave 100% plus every time he stepped into the ring, and none more so than the night he faced Bill Butterworth in 1979. However, we will refrain from mentioning just how many traffic accidents Davie was involved in during his Traffic career!!