We wondered how many of our former colleagues were serving in the Bermuda Police when these senior officers were leading us, and asked if you recgnize them all and also estimate when and why this photo was taken?
As usual, we can always rely on our Memory Man, Davie Kerr, who rightly suggested that the photo was no doubt taken at the retirement reception for Inspector Robert "Bob" Ball who had served in the Bermuda Police from December 1948 - May 1971. Davie estimated that the photo was taken in 1970 and that may well be correct because Inspector Ball probably had a few months pre-retirement leave. If not 1970 it would have been taken early in 1971. Davie also correctly identified everyone in the photo as shown in the caption below. As you can see from his comments, Terry Cabral, pointed out that Bob Ball had a chest full of medals. He had served in the King's Royal Rifles and the Palestine Police prior to joining the Bermuda Police, so he may have had half a chest full of medals before he arrived here, but while in Bermuda he received his LSM medal and also the Colonial Police Medal for bravery following his actions on Serpentine Road during the BELCO riot of February 1965.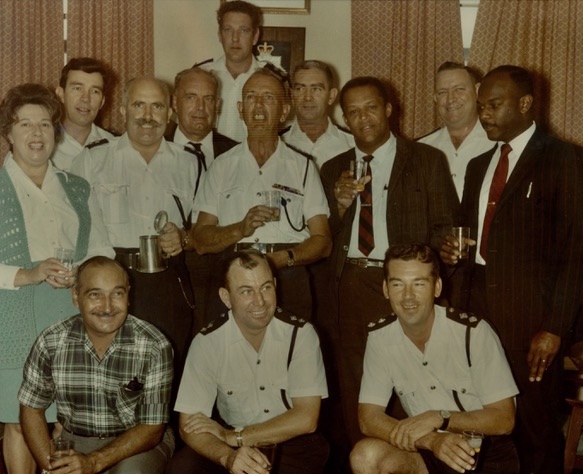 Inspector Robert "Bob" Ball's Retirement Do - circa 1970
(l-r) Standing - Isobel Lee, Jim Han

lon, Dave Parsons, Frank "Gruff" Hammond, George Duckett,
Bob Ball, "Nobby" Clark, Syke Smith, Tommy Doyle, Fred Bean.
Kneeling:- Ernie Moniz, Jim McMaster, Pete Stubbs.