A Princess Visits Bermuda
We published this photograph at the same time we had published our latest "Then and Now" article - and the two were connected!
The photograph was taken during the visit by a Royal Princess, and we had no doubt most of our members would recognize this member of the Royal Family but we also asked you to provide us with the date and location it was taken, the names of all the senior police officers and other dignitaries present, the reason or reasons for this Royal Visit, and the connection between this photo and our "Then and Now" article.
We enlarged the photo to provide two close-ups for easier identification but asked that you name those present in the order in which you view them in the first photograph.
The "Then and Now" article we referred to was about our good friend, St. Clair "Brinky" Tucker (CLICK HERE to view the article). The photograph was taken during the Royal visit of HRH Princess Margaret in 1984 when she visited Police Headquarters to open the new police barracks. With great assistance from Davie Kerr, along with a little help from Moby Pett, we have now been able to correctly ID everyone as listed, including the three Reserve Officers - with thanks to Captain John Moore.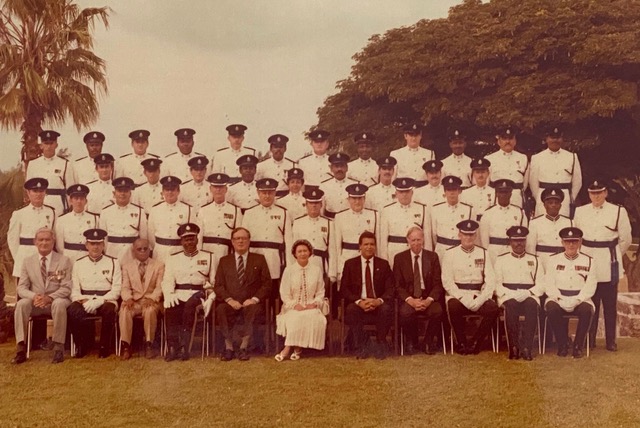 Royal Visit of HRH Princess Margaret in 1984
Top row (l-r) *Brian Flook, *Campbell Simons, *John Williams, *Custerfield "Crock" Crockwell, Alan Bissell, Larry Smith, Dave Barber, Vendal Bridgeman, *Alan Kennedy, Orson Daisley, *Eddie Foggo, Dennis Ramsay.

2nd row:- Derek Jenkinson, *Ian Scotland, George Rose, Cal Christopher, Jean Vickers, Brinky Tucker, *Tom Cassin, Roger Kendall, *Neil Cox.
3rd row:- *Barry Smith, *Jeff Sanders, Hilton Wingood, *Tim Willis, *Gerry Harvey, *John-Joe Sheehy, Andy Bermingham, *Alex Forbes, *George Garrod, Robin Henagulph, *Gerry James, Reserve Deputy Commandant Lawson Fisher,
Reserve Chief Superintendent John Moore.

Front row:- *L.M. Nobby Clarke, Harold Moniz, Mr. McNeil Warner, *Fred Bean, H E Dunrossil, HRH Princess Margaret, John Swan, *Jack Sharpe, Clive Donald, *Lenny Edwards, *Reserve Commandant Ralph Ferguson.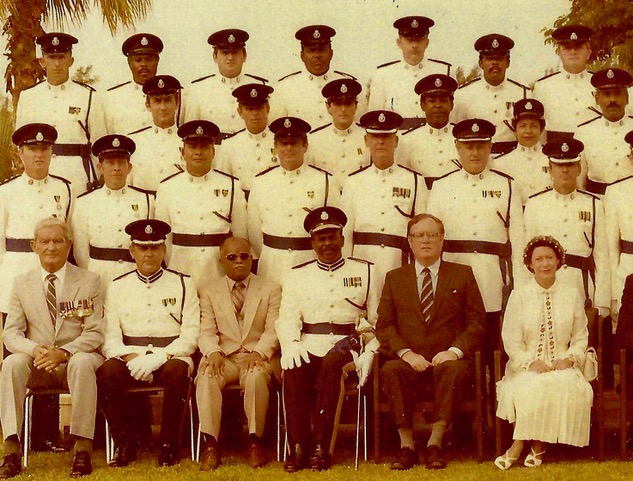 Photo 1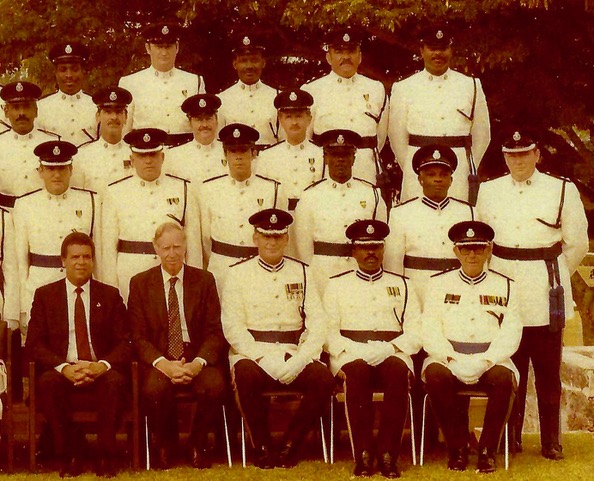 Photo 2