St. Clair "Brinky" Tucker
Served 1961 - 1992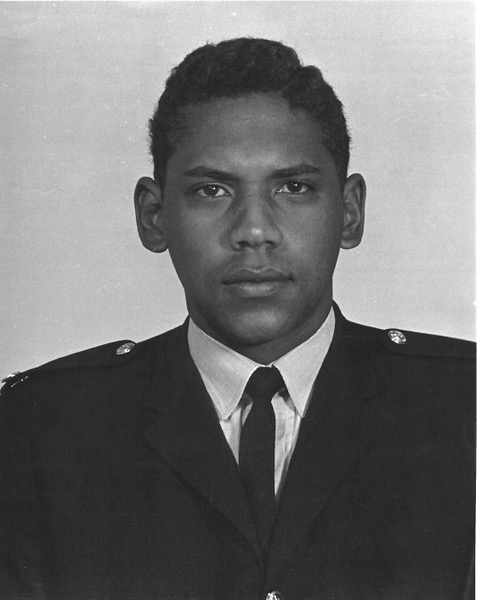 Young P.C. St. Clair "Brinky" Tucker
Introduction - The following "Then and Now" article about our good friend and colleague St. Clair "Brinky" Tucker was written as a result of several interviews with Brinky in 2022. I've added details such as Brinky's commendations and awards, his numerous sporting achievements, and his exceptional service to the community about which he was rather reluctant to include at the risk of appearing to be "blowing his own trumpet"! It was a distinct pleasure interviewing Brinky and confirmed that his story needed to be told.
I was born in Bermuda on 20th May, 1941, the eldest son of Brinkworth and Isabelle (Griffiths) Tucker – my three brothers being Gary, Glen and Cecil. My mother was born on St. David's Island and my father was from Paget. My ancestors can be traced back to St. David's for many generations, as far back as Rebecca Pitcher (Ludlow) who was born in 1782 in St. David's and died in 1885 at the age if 102. Both my grandfather, Charles Griffiths and my great grandfather were pilots from St. David's.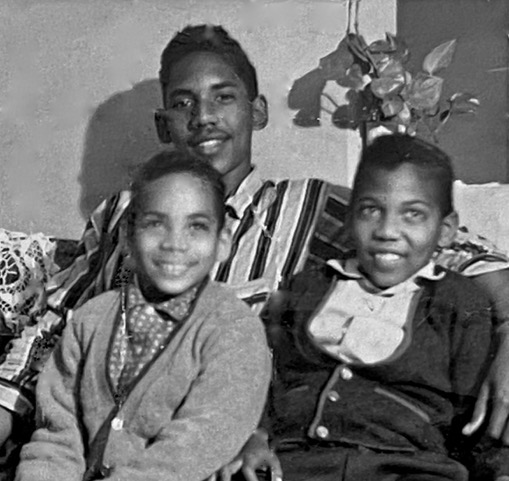 Brinky with two of his younger brothers,
Cecil (left) and Glen (right)
As a young boy we were living out at Spanish Point and my grandparents were living in St. David's I began my primary school education at West Pembroke School in 1946. The roads were unpaved and I can recall seeing British soldiers marching along the North Shore Road to and from Admiralty House where they were stationed. Trains were still running and they passed through Black Watch Pass on the journey to and from Hamilton and St. George's. I remember from about the age of 5 walking down to Blackwatch Pass and catching the train which was known as the "Shake, Rattle and Roll" to St. George's where I later attended East End Primary School. If we were visiting our relatives in St. David's we'd catch the ferry "Daisy" from St. George's to St. David's and walk over to Chapel of Ease.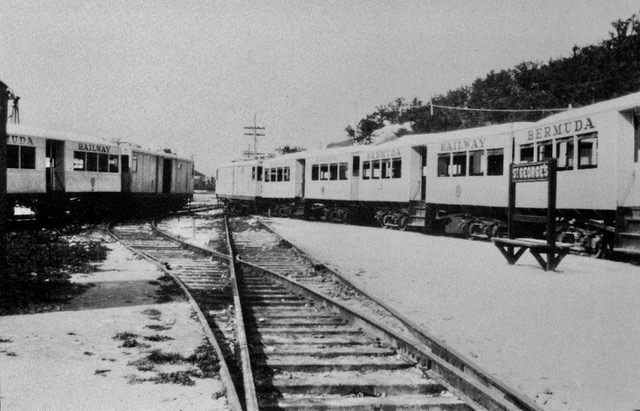 St. George's Railway Station
On leaving primary school, I attended the Berkeley Institute, and after leaving the Berkeley I worked for Adderley Brothers Packing Company for a couple of years. While still a teenager, I worked on the passenger liner the "Queen of Bermuda" and that lasted for about a year until the boat hit a bad storm travelling from Bahamas to New York. I quickly decided the sea was not for me and that came to an end!
During the latter part of 1961, I realized I needed to get a job with a future and I applied to join the Bermuda Police Force. I took the entrance exam and was accepted to attend the first 3 month training course at the Training School which had previously been used as the guard house for the Military Garrison at Prospect (the building with a wind gauge on the roof).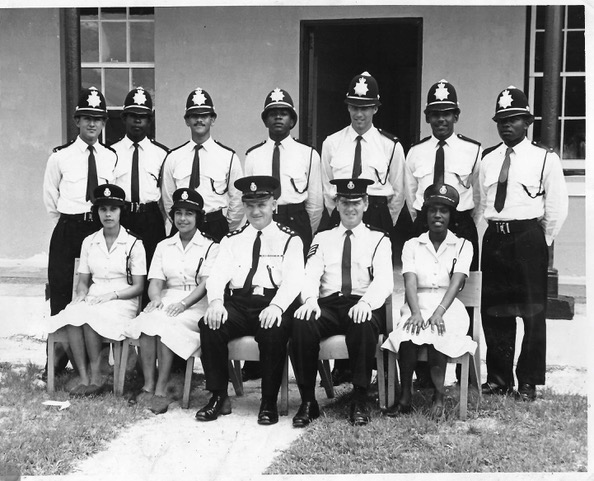 Training Course #1 - 1962
Top Row (l-r) Raymond "Sleepy" DeSilva, Calvin Christopher,
Arthur Bean, Wentworth Christopher, Jeffrey Payne,
St. Clair "Brinky" Tucker, Winslowe "Socks" Dill
Seated - Gwendolyn DeGrilla, Jean Mattis, Chief Insp Roy Chandler,
Sgt James Moir, and Elizabeth "Betty" Osborne
The course was held from March 5th to June 1962. I really enjoyed the course and we had a very good group of instructors, including C/Inspector Robert "Roy" Chandler and Sgt. James "Jimmy" Moir. The course included studying the law, police procedures, marching every day, self defence, and lifesaving at Admiralty House. Also on the course were Arthur Bean, Calvin Christopher, Wentworth Christopher, Winslow "Socks" Dill, Raymond "Sleepy" DeSilva, Gwendolyn DeGrilla, Jean Mattis, Elizabeth "Betty" Osborne, and Jeffrey Payne.
After completing the course, I was detailed to beat duty from Hamilton Police Station when it was located on Parliament Street where the Government Admin building is now, and the main Prison was located directly behind the station. My first Sgt was Arthur Rose, and also Alan Lister. The City was divided into various beats and that included Reid Street East where rummies such as Alfred "Weatherbird" Mills, Jim "Garlic" Hutchinson and "Joe Greasy" would hang out. More often than not the rummies would be drinking "stinky pee" which was left over rum from the barrels at Dismont Robinson's, then located a little way up Reid Street from Dick Richards' Bar.
Duties included directing traffic at the birdcage, guard duty at Government House in the days before we had to carry firearms up there, and we also covered Clarke's bar area on Court Street when Court Street was becoming more active, the back-of-Town area, and the 7 cargo sheds on Hamilton Docks at a time when freight was still stored loose on pallets on the docks before the introduction of containers.
After walking the beat for about a year or so, I was put on Beach Patrol with Raymond "Sleepy" DeSilva. We patrolled from as far west as Church Bay, Southampton, and east as far as Tuckers Town. We worked along with the dog handlers, Winston "Super" Lottimore, Custerfield Crockwell and Tony Nuttall who were in Dog Section, with us in civies and they would be in uniform. We would also work together with the famous duo from Western CID "Mike and Spike", Mike Cann and Earl "Spike" Hazel, from Warwick Camp to the west end when they were on Night CID. We didn't have too many problems while on Beach Patrol, but we would deal with prowlers, some B. and E's (breaking and enterings ) and we'd usually be working no later than 10pm. The busiest time of the season was during College Weeks when U.S. colleges were on Spring break. There could be thousands of "college kids"at Elbow Beach and the nightclubs would be packed.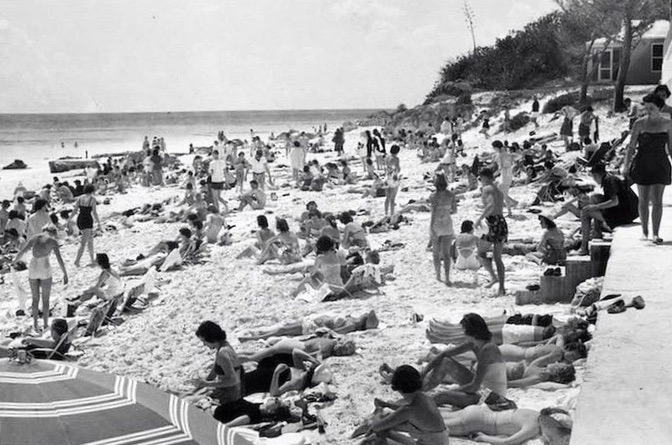 Elbow Beach during College Weeks
Editors note - Brinky received his first Commissioner's Commendation for "alertness and zealous duty" on Beach Patrol in October 1963 resulting in the arrest of a man who had been exposing himself to tourists at Elbow Beach. Brinky kept observations in the area for several weeks before catching him at the scene. The culprit was arrested, prosecuted and was sentenced to 3 years in prison.
In 1964 I was transferred to Cycle Squad at Operations when Sgt Sean Sheehan was in charge. Also working in Cycle Squad during this time were Sgt Andy Heggie, Connell McBurnie, Harry Ramsay, Bill Black, and Ian Scotland. We were riding Triumph 500cc motor cycles then and we were kept busy investigating motor cycle thefts, and chasing speeders? The guys in Cycle Squad were all very good riders. Our office at that time was downstairs in the building on the left side of the driveway leading into the Traffic Department and while I was there I thought Cycle Squad was very effective and we worked well together.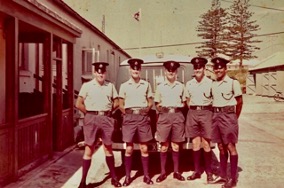 Members of the Cycle Squad
(l-r) Sgt Andy Heggie, Connel McBurnie, Bill Black,
Harry Ramsay and Sinclair "Brinky" Tucker
Editors note - As a result of investigating a group of 6 youths for larceny of auxiliary cycles, Brinky received a Commissioner's Commendation for persistence in the investigation which lead to their conviction for a series of cycle thefts.
I had a further spell in Central Division from 1965 -1967 and it was while serving in Central Division that I married the love of my life, Lyn (nee Steede) on 30th June 1966.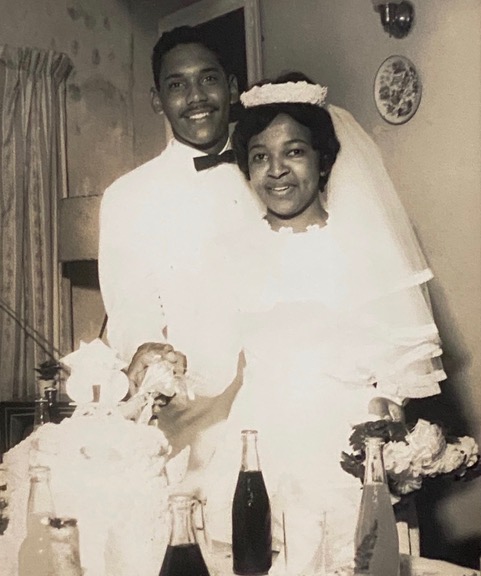 Brinky and Lyn on their Wedding Day - 1966
I moved to Narcotics in June 1967 and our offices were then located upstairs in one of the two-storey former army buildings at Prospect. That was a real eye–opener! Penny Bean was in charge and I worked with Harold Moniz, Neville Darrell, and Arthur Bean, while Supt Ian Morrison was in charge of "E" Department.
This was at a time when the major illegal drug being imported was marijuana and it came in all kinds of ways, with a major one being on the banana boats coming up from Jamaica. The crew would drop bales of marijuana overboard and they would be floating around and someone from shore would go out in a cabin cruiser to pick up the floating bales. We knew most of the importers and would keep observations on them as they went out to pick up the bales. We would wait until they returned to shore then arrest them and seize the drugs wherever possible. I recall one night when we were out there at 4 in the morning in Tim Willis's speed boat and were able to intercept one of the boats picking up bales.
One major cannabis seizure was made when a drug dealer shipped a refrigerator packed with cannabis from Jamaica. We arrested the suspect and he went to court and was convicted of drug importation.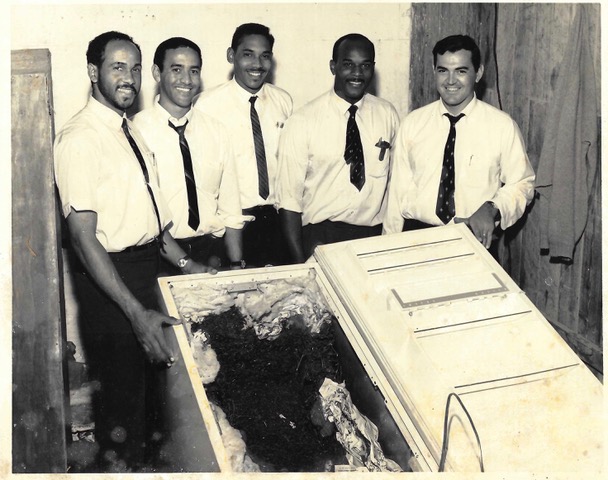 Narcotics Officers with r

efrigerator packed with cannabis
(l-r) Nevile Darrell, Arthur Bean, Brinky Tucker,
Fred Bean, and Harold Moniz
Drugs were also coming in on aircraft flights, and through the docks hidden in goods such as refrigerators and other household appliances. I recall one guy shipped some long, thick, wooden planks from Jamaica which immediately aroused suspicion. Sure enough, drilling a few holes in the planks revealed they were all packed with marijuana.
Marijuana was also being grown locally and I remember an area on Lovers Lane where a guy was growing "weed". Curtis DeGraffe kept observations at the site and we finished up arresting the grower who was prosecuted and convicted. We knew most of the drug dealers and had some good informants but we always needed strong evidence to get convictions because they usually hired the best lawyers to defend them.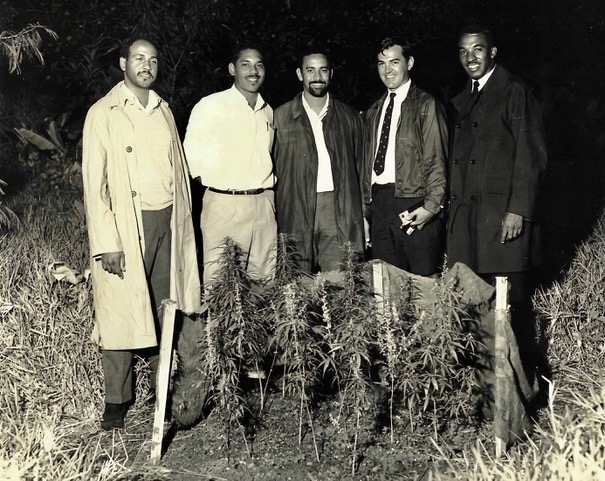 Home grown cannabis found off Lovers Lane
(l-r) Neville Darrell, Brinky Tucker, Arthur Bean,
Harold Moniz and Curtis DeGraffe
We certainly spent a lot of time giving evidence in court, and it almost seemed like the court was our second home!
Although cannabis was the major drug being brought into the Island, we also began to see a few cases of LSD being imported, and in several cases LSD was being put into women's drinks.
Editors note - Brinky received a Commissioner's Commendation for his part in successfully intercepting a shipment of 7.9 kilos of marijuana resulting in the arrest of the suspect who was convicted and sentenced to 3 year imprisonment for drug importation.
While serving in Narcotics our first child, St. Clair Sean was born in July 1968, and 3 years later, in August 1971 we were blessed with our second son, Stephen. Both Sean and Stephen went on to join the Police Cadets, Sean serving from September 1984 – October 1986, and Stephen from August 1988 – August 1990. Sean went on to study law and is a lawyer, and Stephen is an architect,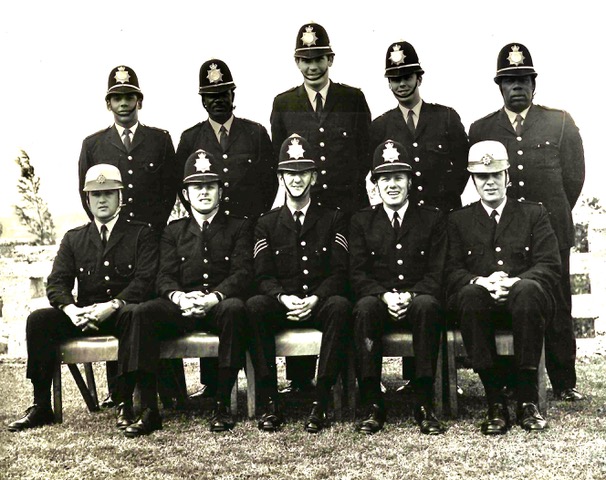 Members of Central Division Parish Constables
Top row – St. Clair "Brinky", Gerald "Gerry" James,
Harvey Fothergill,
?, Aubrey Sinclair "Tom Copper" Johnson
Raymond "Sleepy" DeSilva, Dennis Meehan, Sgt Jim Woodward,
Malcolm "Chalky" White and Colin Jowett
At the beginning of 1970 I returned to Central Division as Parish Constable for Pembroke East in the area of Curving Avenue. This involved being a Process Server, executing warrants, and dealing with a variety of matters as a Parish P.C. I also had the privilege of working with Gerry James and Aubrey "Tom Copper" Johnson who were also Parish Constables in Pembroke. They were both first class Parish P.C.'s and knew everyone in their parish. They both lifted weights, were very strong and not to be argued with, although Gerry always sounded meek and mild. He had the respect of everybody who knew him.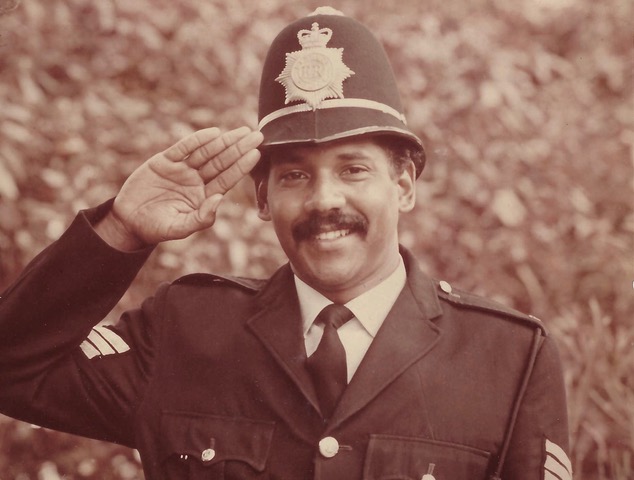 Sgt Brinky Tucker
On 1st December 1971, I was promoted to Sergeant and a few weeks later, in January 1972, I was transferred to Central Division (Hamilton Station) as a Watch Sergeant. On the same day as my promotion to Sergeant, Leon "Big Toe" Bean was promoted to Chief Inspector and he was appointed as OIC Central.
I remember Alan Wilkinson was an excellent Station Constable, and the Station Sergeant at that time was Derek Fletcher. As Watch Sergeant we would be responsible for parading the Watch at the start of each shift, and passing on information from Daily Orders, and the Station Diary, checking the cells to see who was in custody, examining suspected impaired drivers and putting them through the sobriety test, assigning meeting points for the constables on beat duty where we would meet up with them and sign their notebooks, checking on the guys on duty at the Hamilton docks during the day-time, visiting the constable on duty at Government House, and patrolling the City and surrounding area with the duty driver.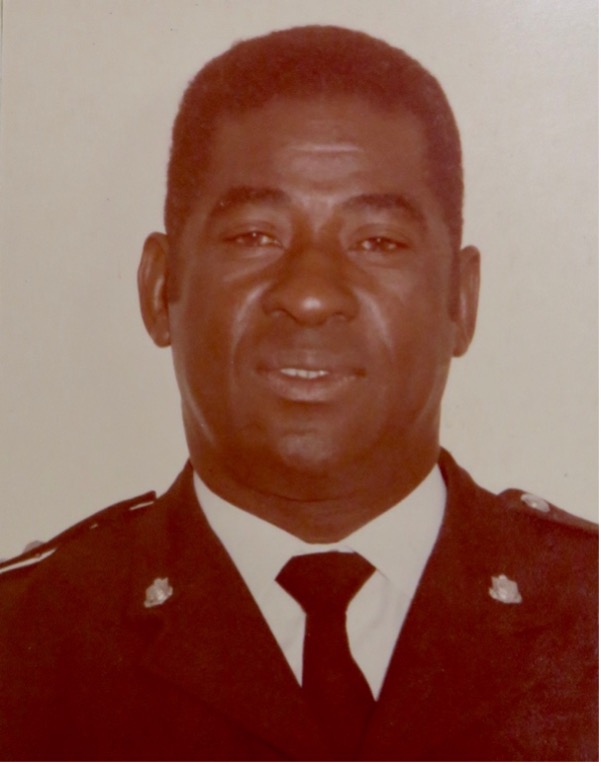 Chief Inspector Leon Bean
I always found Chief Inspector Bean to be very supportive of me as a Sergeant and in May 1973 I was selected to attend a General Police Duties Course at Bishopgarth in Yorkshire, along with Pearl (Perinchief) Dublin. I had been away from the Island on a cricket tour playing for Somerset Cricket Club in a triangular tournament against Barbados and Antigua, and on return I was given 5 days notice that I was chosen to attend a General Police duties course at Bishopgarth Police College in Yorkshire.
Before travelling to the UK Chief Inspector Bean approached me to say he had something in mind for me when I returned and that he wanted me to do well on the course. I really enjoyed my time at Bishopgarth which was an enlightening and excellent course. On weekends I attended several football matches to watch Leeds United playing at Elland Road.
Not long after returning from the U.K. Mr. Bean advised me that I was being transferred to Prosecutions and he wanted me to succeed because two Bermudians had been posted there and neither worked out. He didn't want me to fail.
This was a real challenge but I got positive help and advice from magistrates and lawyers, such as James Rufus Astwood, KC Nadarajah, Lois Browne-Evans. Prior DeSoysa, Michael Mello, Diana Kempe and Geoffrey Bell. I also had good support staff in Prosecutions with Peter Duffy, John van de Weg and Bryn Jones. I had to work very hard, at times till the early hours of morning preparing for cases, and I would often interview witnesses just prior to case and have them read through their statements. I worked in Prosecutions for the next 4 years and I have to say this was one of the most enjoyable times for me during my police career.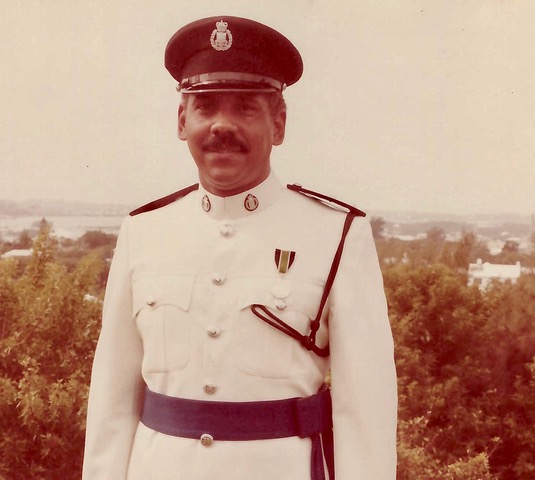 Inspector Brinky Tucker
In July 1978 I received a call from Commissioner "Nobby" Clark with the good news that I was being promoted to Inspector. I asked him if I could stay for an extra year as OIC Prosecutions and he agreed. I was the first Bermudian born policeman to hold the position as officer in charge of Police Prosecutions.
I remained in Prosecutions for the extra year, and then moved to Central (Uniform) for a few months and then OIC Eastern (Airport Security). I attended an Inspectors Initial Course at the Devon and Cornwall Police College in 1979, and studied at the Airport Police College in London, England.
A year later I was sent to Hamilton Police Station as a Supervisory Officer, and while there I was Premier, Sir John Swan's ADC for 7 years, and also performed duties as the Supreme Court Officer and as Black Rod during Openings of Parliament.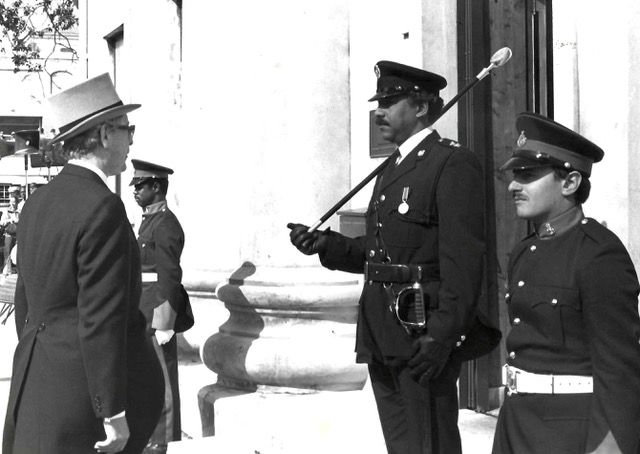 Inspector Brinky Tucker regularly performed duties
of the Black Rod at Openings of
Parliament
Whenever Parliament is convened the Black Rod attends the Cabinet Office, and usually receives instructions from His Excellency, the Governor, to march to the House of Assembly and summon Members to attend the convening ceremony in the Cabinet grounds. The Black Rod marches up to the House of Assembly and knocks on the door to the House three times to summon the Members, and then leads the procession made up of the Sergeant-at-Arms, the Clerk to the Legislature, the Speaker and Deputy Speaker, the Government and Opposite Leaders and all Members of Parliament.
On one memorable occasion, Her Royal Highness, Princess Margaret, came to Bermuda on an official visit, to present the Bermuda Regiment with their colours, and she attended the official opening of Parliament. The Black Rod usually receives instructions from His Excellency the Governor, but on this occasion Princess Margaret gave me the instructions to attend the House. but Princess Margaret didn't want to make any mistakes and she insisted that she address me indoors where she could read the instructions to me after which I marched to the House to carry out my duties.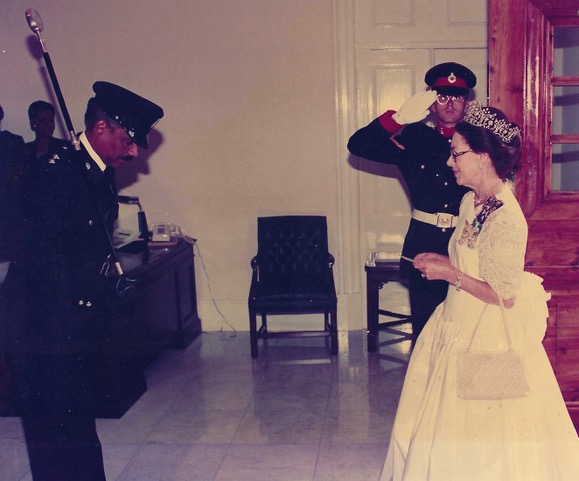 Her Royal Highness, Princess Margaret gives instructions
to Black Rod, Inspector Brinky Tucker to attend the House
and summon the Members to attend the Opening of Parliament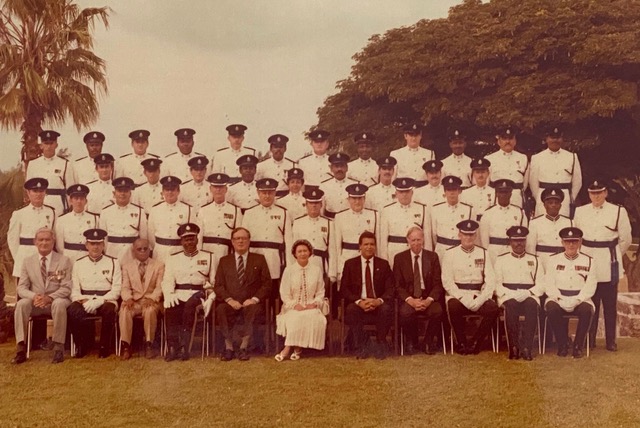 Official photo taken on the occasion of HRH Princes Margaret's
visit to Police Headquarters to open the new police barracks in 1984
Insp Tucker is in the 2nd from top row immediately below
Insp Dave Barber and Insp Vendal Bridgeman
As Sir John's ADC I had the opportunity to meet many heads of State and VIP's. These included President Bush and Prime Minister Margaret Thatcher, Congressman Andrew Young, and I also saw Lady Diana when I was OIC the Airport when she arrived there briefly and she was pregnant at the time. I was always treated very well by Sir John and Lady Swan and had known them for many years as I was at school at Berkeley with Jacquie.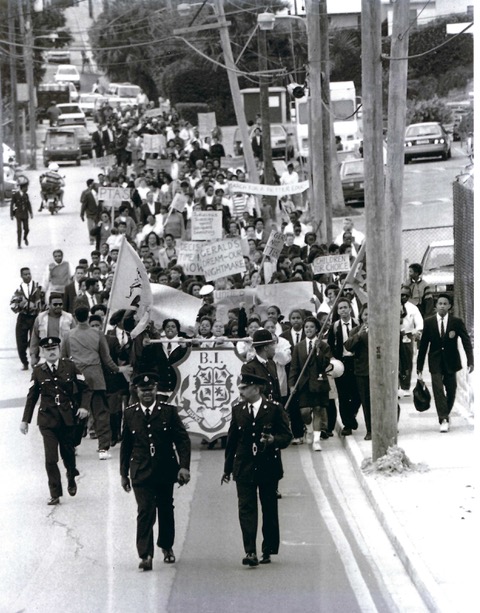 Chief Inspector Brinky Tucker, Inspector Dennis Ramsay,
Sgt Charlie Dorrington, monitor the 500 people marching
peacefully in support of the Berkeley Institute in March 1991
I had a further spell as OIC of Eastern Division, before becoming the Officer in Charge of Hamilton Police Station in 1991. It was while serving as OIC Central Division that I was responsible for supervising a large parade shown in the above photo organized to protest a proposal to put the future of the Berkeley Institute on hold while Government was reviewing a possible plan to move to a single secondary school system. The peaceful protest went off without incident.
I retired from the Bermuda Police Service in 1992 after 30 years as a police officer.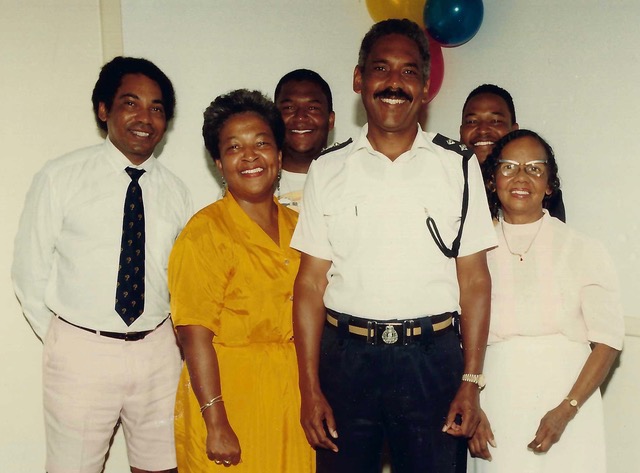 Family group at Brinky's retirement reception at the PRC
(l-r) Cecil, Lyn, Stephen, Brinky, Sean, and his mother Isabella Tucker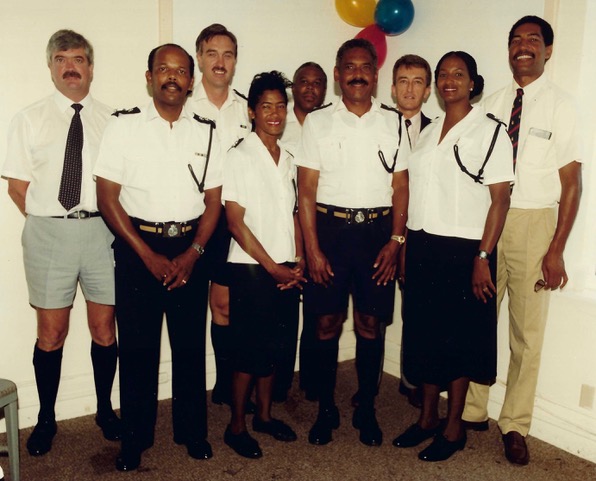 Attendees at Brinky's retirement reception
(l-r) Vic Richmond, Larry Smith, Robert "Bob" Massey,
Gertie Barker, Campbell Simons, Brinky,
Peter Duffy, Juanita Shaw, and Carlton Adams
AWARDS AND COMMENDATIONS
During his 30 years service in the Bermuda Police, Brinky, was awarded three Commissioner's Commendations. In 1980 he was awarded the Colonial Police Long Service & Good Conduct Medal, and CPM Long Service Medal – 25 year clasp – in 1987.
SPORTING ACHIEVEMENTS
Brinky was an outstanding all-round sportsman throughout his Police career. He was Table Tennis Champion for the Police Recreation Club during the 1960s. He was an excellent footballer who played for Pembroke Hamilton Club in the late fifties and early sixties when they were Champions of Bermuda, and he also played for the Police Recreation Club. He is photographed below in an Inter-Divisional Football tournament as a member of the winning team from C.I.D. held in 1969.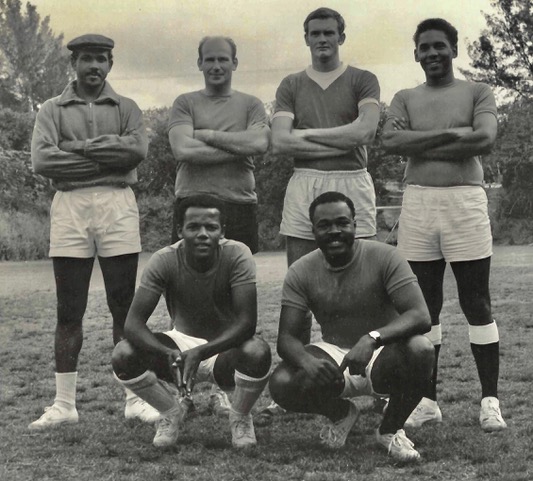 Inter-Divisional Football Team - 1969
Neville Darrell, Clive Donald, David Inwood, Brinky Tucker
Larry Smith and Lennett "Lennie" Edwards
But it was on the cricket field that Brinky really excelled. He began his cricketing career representing Western Stars Sports Club, and also played for the Police Recreation Club, Pembroke Hamilton Club, and for Somerset Cricket Club in the league and in Cup Match, Southampton Rangers Sports Club and also played for the Governor's Cup. Brinky played in the Western Counties for Southampton Rangers and Warwick Workmen Club, Central Counties for Pembroke Hamilton Club and Eastern Counties for St. David's Cricket Club. He has also toured the West Indies and the USA playing cricket.
One of the major highlights of Brinky's cricketing career has to be the tour that took place in the summer of 1985, when he was a key member of the Bermuda Wanderers Cricket Team under the generous sponsorship of Mr. W.F. "Chummy" Hayward. The team comprised some of the best cricketers Bermuda has produced and they travelled to Toronto, Canada, to play cricket in the "Masters Olympics" against teams from Canada, England, West Indies, Australia and England.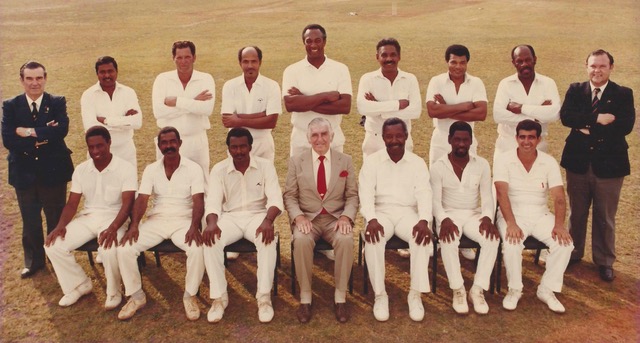 Bermuda Wanderers Cricket Club Team
Masters Games 1985, Ontario, Canada
Back row (l-r) "Joe" Ferreira, M.B.E. (Secretary), Shiraz Ali, Alfred Hall, George Rock, Lloyd James,
St. Clair "Brinky" Tucker, Dennis Wainwright, Joe Bailey, Robert Gaglio, (Manager)
Front row (l-r) Winston "Coe" Trott, Eldon Raynor, Colin Blades, (Captain), W.E.F. "Chummy" Hayward,
O.B.E., J.P., (President & Organizer), Rupert Scotland, (Vice Captain),
Gladstone "Sad" Brown, Ronnie Madeiros
(Missing from photo are Frankie Bento and Clarence "Tuppence" Parfitt)
The powerful Bermuda team got through to the final by beating the England team in the semi-final. Batting first the Bermuda team scored about 150 runs. When England came to the crease Brinky opened the bowling with Frankie Bento. Brinky took two quick wickets, and after Frankie was relieved by Clarence "Tuppence" Parfitt, England were struggling at 50 for 5 wickets when Brinky pulled a muscle in his groin and was clearly in pain, but Captain Colin Blades urged him to continue bowling and Brinky ended up with 5 or 6 wickets despite his injury, resulting in Bermuda winning the final and Brinky being voted "Man of the Match" for which he received an award. As soon as the match was over Brinky, who was badly bruised, had to get physiotherapy treatment and had difficulty walking for the next week! He still has "Man of the Match" award together with a cricket ball in his display cabinet signed by all the Bermuda Team members.
The Bermuda team went on to play Canada in the final match held at Armour Heights in Toronto. The Canadian team batted first and once again, Brinky was in great form taking two key wickets, and Canada was all out for 96. The Bermuda Wanderers soared to victory, scoring the required runs for the loss of 5 wickets.
Not content with just playing cricket, Brinky was also a founding member of the Central Counties Association, and very active member of the Bermuda Testimonial Cricket Committee along with Custerfield Crockwell and others.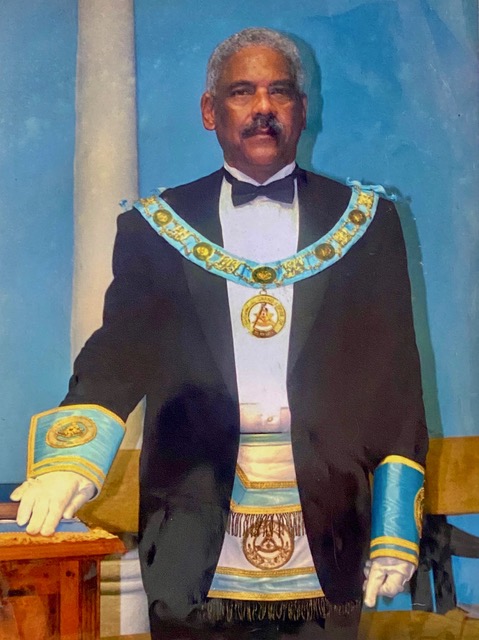 Provincial Grandmaster St. Clair "Brinky" Tucker
COMMUNITY INVOLVEMENT
In 1971 Brinky became a Freemason and joined Hannibal Lodge #224, located on Old Maid's Lane, St. George's. Over the course of time he became a member of 20 Masonic Lodges in Bermuda and around the World. In 2002 he was appointed Deputy Provincial Grand Master and the following year he was promoted to Provincial Grand Master of Bermuda, a position he held for 12 years.
Whilst serving in the Police Brinky was a regular member of the Police Choir for some 20 years.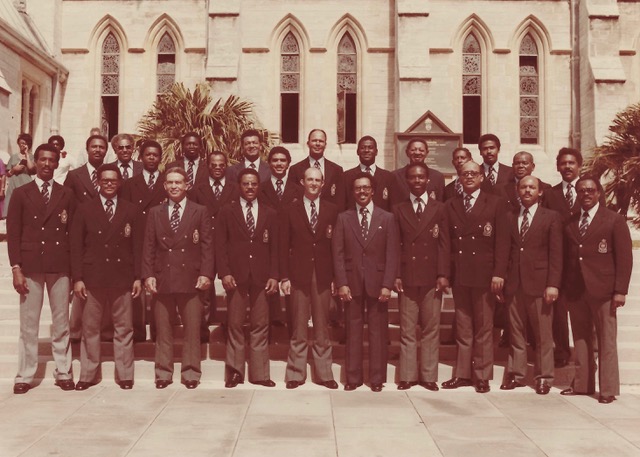 Bermuda Police Choir
Back rows (l-r) Dennis Ramsay, Lynn Hall, Cal Christopher, Bob Anthony,
Norrell Hull, Allan "Harry" Lister, Wayne Perinchief, Hilton "Jellybean" Wingood,
Leon "Big Toe" Bean,Charles "Bongo" Williams, Howard Dill,
Ken McDowall, Westmore Bean, St. Clair "Brinky" Tucker,
Front row - Adrian King, Sinclair "Sinky" White, Sonny Roberts,
Reese Bartley, Dai James, Cecil Smith (Conductor), Willie Bourne,
Michael Spurgeon Phillips, John Harvey, Lennett "Lennie" Edwards
Never one to stand still, Brinky found time to serve on the Human Rights Commission for several years and has served on the Department of Community and Cultural Affairs committee to celebrate Bermuda's Heritage Day.
In 2002, as Chairman, he played a major role in organizing the St. David's Island Reconnection Indian Committee, a cause which is close to his heart, and he is still active as a Trustee.
In September 2007 he was honored by the Department of Community and Cultural Affairs as an Outstanding Tradition Bearer of the Family and Community.
He has been honoured by several Churches in Bermuda for his Police and Community involvement.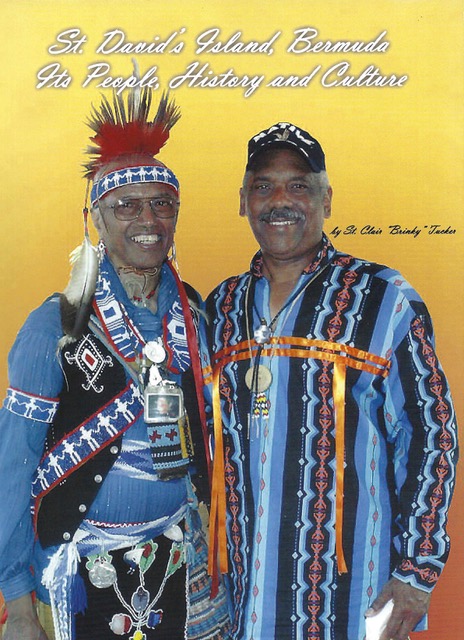 Front cover of "St. David's Island, Bermuda.
It's People History and Culture"
Brinky Tucker with Chief Tall Oak
In 2009 Brinky published a fascinating book "St. David's Island Bermuda – Its People, History and Culture." During his research he learned that Native America captives were brought to Bermuda in the late 1600's and early 1700's to be sold as slaves who would be sold in the square in St. George's. He also discovered that his great grandmother, born in the 1700's was listed as a "free coloured woman" which meant she was Indian or partly Indian in census records of that time.
As Brinky says in his Introduction to the book, he "includes both fact and a bit of folklore", bearing in mind that historical references to Native Americans in Bermuda are scarce and the only way earlier generations could pass down their history would be orally.
I'm sure many of us have often heard the term "Mohawks" used to describe those of Native American heritage in St. David's, but research indicates that those of Native American heritage brought to Bermuda were Pequot and Wampanoag, and up to seven other tribes, none of which were believed to be Mohawks.
In a forward to the book, Rosalyn Howard, Associate Professor of Anthropology at the University of Central Florida, writes, "This collection of biographical and cultural vignettes grants us a superb perspective on the people of colour of St. David's Island. Their significant contributions to Bermudian society have long been unrecorded or obscured in Bermudian history. We are all enriched by St. Clair "Brinky" Tucker's insights into this resilient and self-reliant community that has recently established a reconnection to its Native American roots in New England, USA."
Brinky's 195 page book is full of fascinating information and photos of St. David's Island and it's people, and has clearly taken him years of research to compile. It is available at local bookstores. I should also mention that Brinky has a whole library of Bermuda books at his home from which he drew information.
During the writing of this article Brinky was honoured on 12th May 2022 with the Daniel Award from Atlantic Publishing House held at the Leopard's Club for his book, "St. David's Island Bermuda – Its People, History and Culture."
Brinky was also honoured by being chosen to be a Grand Marshall at the Bermuda Holiday Parade held on 27th May 2022.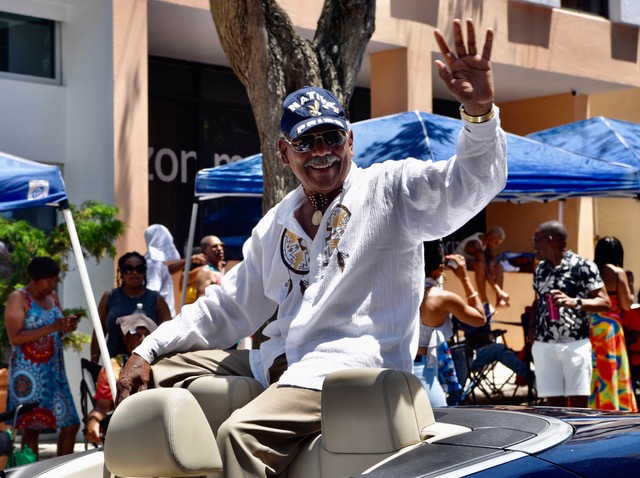 Brinky waving to spectators as a Grand Marshall
for the 2022 Bermuda Holiday Parade
RETIREMENT
Following his retirement from the Bermuda Police Service, Brinky worked for BF&M Insurance Company for 14 ½ years before finally deciding to retire, although the word "retirement" doesn't seem to apply to a man who gives so much of his time and energy to serving his community.
FAMILY
As mentioned earlier, Brinky married Lyn (Steede) the love of his life in June 1966
and as of this writing they have been happily married for 55 years, and have been blessed with 2 sons – Sean and Stephen, and 3 grandchildren, Cainan, Cairo and Saana. Brinky now enjoys spending precious time with his family and friends.
During my visits to Brinky and Lyn's home in St. David's it was clear their grandchildren feel very much at home with their Granny and Papa – with good reason. Both Sean and Stephen and their families live literally next door to each other.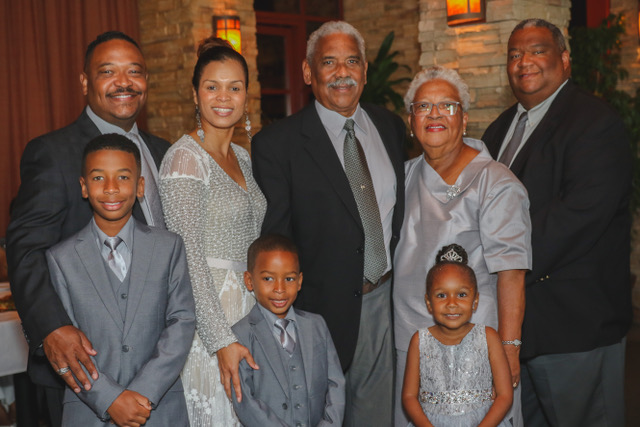 Brinky and Lyn with their family on their Gold
en Wedding Anniversary - 2016
Sean and Charmaine, Brinky and Lyn, and Stephen
Grandson's Cainan and Cairo, and Granddaughter Sanaa
Although neither of his sons followed him onto the cricket field, Brinky's son, Sean, has made a name for himself with his dulcet tones as one of Bermuda's most popular cricket commentators, having worked for many years alongside the Late Jim Woolridge whose voice became synonymous with the Cup Match Classic and who became known as the "Voice of Summer". The mantle of the "Voice of Summer" has been passed on to Sean.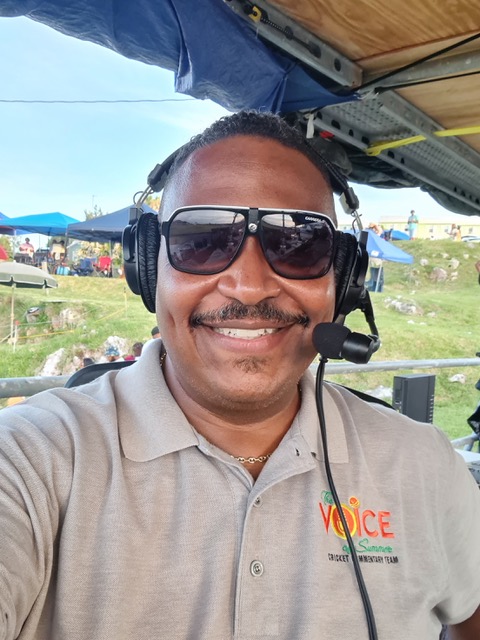 Sean Tucker - The "Voice of Summer" in Bermuda
Editors note - Brinky's book also contains articles about two other well known St. David's Islanders who served with distinction in the Bermuda Police Service - Retired Superintendent Gertrude "Gertie" (nee Cannonier) Barker, who served from 1966-2003, and the Late Inspector Edward "Boxhead" Foggo who served from 1961-1989. We are planning to publish both of these articles on our ExPo website with kind permission from Brinky.