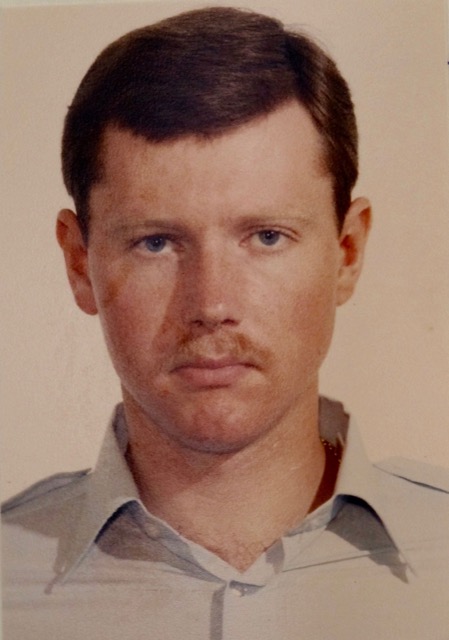 Young P.C. 310 Chris Oldfield - 1985
I joined the Bermuda Police in May 1985, having served 6 years in the Royal Military Police. Two other recruits travelled to Bermuda on the same flight as me, Mark Aspery & Steve Harris. Mark's collar number was 300, Steve's was 305 & mine was 310.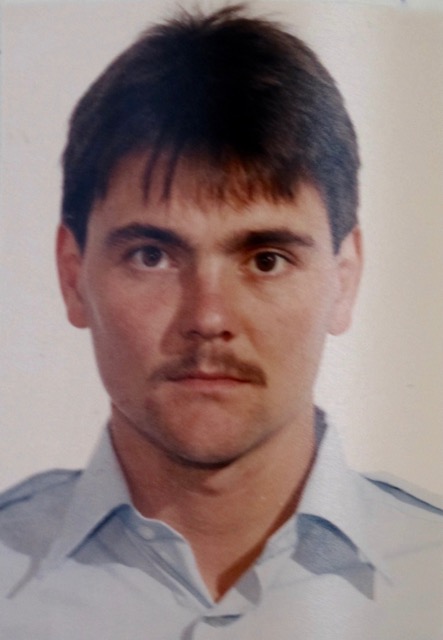 Young P.C. 305 Steve Harris
(Unfortunately we could not locate the photo of Mark Asprey)
We did a 16-week recruits' course at Prospect & graduated in September 1985. Other recruits on our course were Bermudian & West Indian, among them were Sean Field who was a good mate, I believe he's now a senior officer in the BPS - Well done, Sean!
My first operational posting was to 'A' Watch in Central Division, in the old Hamilton Police Station. After about a year I was asked if I would like to join the Warrants Serving section with PC Dave Pascoe, we shared an office with the Parish Constables on the top floor of HPS. Reece Bartley was the Parish Sergeant, & one of the other Parish PCs was Jim Fullerton.
After Warrants I went to 'B' Watch Central, whose Inspector was Ian Scotland & the two Watch Sergeants were Pete Duffy & Mike Phillips. In early 1987 I was posted to 'D' Watch at St.George's, the two Sergeants there were Mike Rickards & Steve Petty. I stayed there until not long after the hurricane of August 1987, when I resigned & returned to the UK to join the Ministry of Defence Police.
Two things which may be of interest: In 1986 I was photographed in uniform wearing all the different orders of dress then worn by the BPS, & the photographs were put up on a notice board at the Prospect Training School to show recruits the correct way to wear their uniforms - I have no idea if they're still there!
Secondly, I had my first interview for the Ministry of Defence (MOD) Police over the phone from a call box outside St.George's Police Station, with a Sergeant from the MDP Recruiting Department. It took place at around 4am whilst I was on a night shift, because of the time difference.
Since March 1988 I've served in the MOD Police, in Wales, Central London, Sevenoaks in Kent & my present posting at DSTL Porton Down in Wiltshire. I've been married twice, my first marriage lasted for 7.5 years & I married my second wife Susan in November 2000 at Walt Disney World in Florida - we have a marriage certificate signed by Mickey Mouse!
Susan & I have been married for 17 years this year, we have no children & live in a small village in North Dorset about 23 miles from the south coast of the UK. This will be our forever home, we love it here. Susan works as a Receptionist for the National Health Service at Salisbury District Hospital. We've travelled extensively in the USA, but haven't been overseas for a few years because we don't want to leave our dog, a gentle-natured Bichon Frise called Millie, in kennels.
My other hobbies & interests include Northern Soul music, building military models & painting figures, & the mighty Sheffield Wednesday FC.
I've enclosed a couple of recent photographs for your site, first one was taken at the DSTL open day at Porton Down in September 2016 & shows me & 2 of my Section colleagues on a Challenger 2 main battle tank of 1st Royal Tank Regiment, which was a static exhibit there.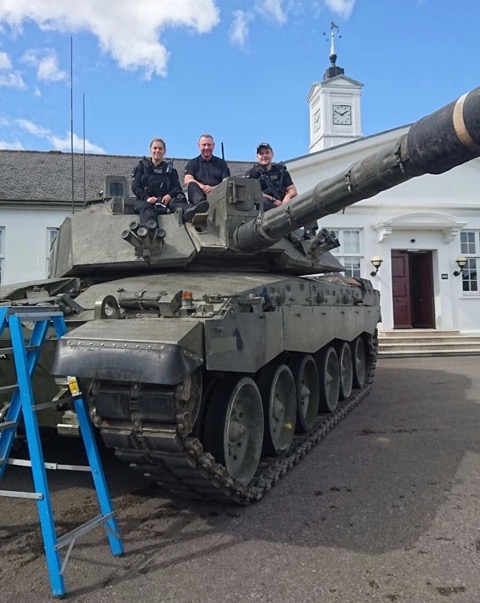 Chris (centre) with colleagues on a Challenger
tank on Open Day at Porton Down
The second photo shows me in our kitchen on Remembrance Sunday 2016 about to attend our local church with the other military veterans of the village, with my dog Millie.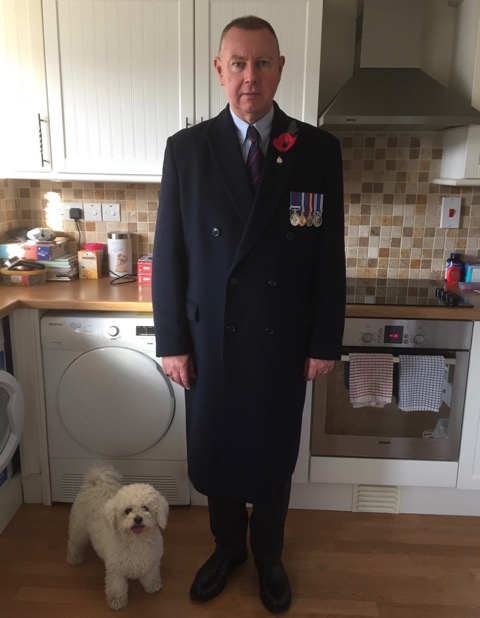 Chris dressed for Remembrance Parade with his dog Millie
Regards to anyone who might remember me on the site, & thanks for including this in your Then & Now section.