Brian and Glynis Nolan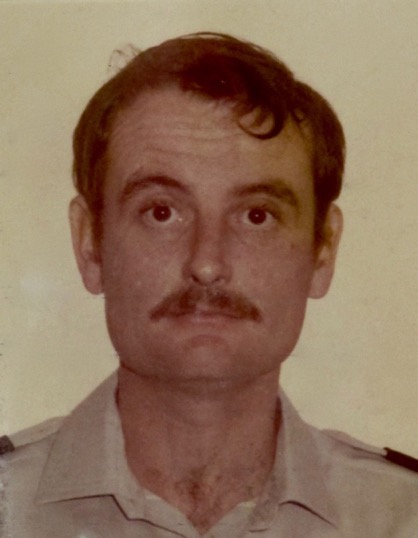 P.C. Brian Nolan
We received the following article for our 'Then and Now' column from Glynis Nolan on April 20th 2017 shortly before Glynis and Brian were both due to return to Bermuda on vacation:-
Brian and I are both from Falkirk, Scotland (home of the Kelpies and the Wheel). I spent my young life in and out of foster care and orphanages, however, I was saved at age 16 by a husband and wife, both of whom were Doctors. They took me to live at their house and as time went on they became my parents.
Over the years I was fortunate enough to see most of Europe on holiday with them. Dad sadly passed away last August, I was with him for two weeks before he passed. Mum is now in a nursing home with Alzheimer's, very sad, and now just two days ago she fell and broke her hip, not sure how that will all end.

Brian and I met each other in Scotland and were married there. I applied for a job for Brian in Bermuda but he had no idea what I had done until a letter arrived for him to travel down to London for an interview! It was for a job at Bermuda Motors, which was just being built at that time. We were both interviewed by Sir David Gibbons, he really was more interested in how I felt and would I settle. I must have said the right things because ten minutes later BRIAN was hired, however it took about a year before the garage was finished. We arrived in Bermuda on November 22 1969.
Editors note - Those who are long in the tooth may remember that Bermuda Motors had been located at the corner of Church Street and King Street for many years, with cars being stored on the top floor, but the building underwent a major renovation in 1968-69.

I worked at the Accountant General's office with Jim Hannan being my boss. I later transferred to a new position at Police Headquarters in 'B' Department in 1972, Bill Bryan being my boss. Brian left Bermuda Motors to join the Bermuda Police in November 1973 where he served mainly in the Police Garage.
In early 1980 we decided to move to Toronto in Canada. We left Bermuda on Feb 1st 1980, and it was oh so very cold in Canada. We had no idea how cold it could be!

Brian was promised a job in Toronto which unfortunately never transpired. I worked at first as a bookkeeper for a private company. However, I was lucky enough to get a job at Police Headquarters on Jarvis Street in Toronto. I worked at first in Forensics then in the Traffic Department, I was so naive in thinking I would get a position in Payroll!! Oh no, I was going on shifts, which I really did not fancy!! Talk about a reality check compared to my nice life at Police Headquarters in Bermuda!, I did meet the Late Chief McCormick (a former P.C. in Bermuda in the 1950's) and he took me to lunch.
Brian had a distant uncle in Elliot Lake, Northern Ontario, so he managed to get a job in security for Rio Algom a mining company with a "guaranteed job to 2016". However, that fell apart in the nighties when Hydro discovered better and cheaper Uranium out west. So he was out of a job at not a good age.

I worked for a while as a bookkeeper in Elliot, then changed careers and became a Phlebotomist assistant lab technician for a private company.
We had two daughters at university, not good timing, however I got a transfer to Bracebridge. Unfortunately after being in the job for three weeks I found out I had cancer, a bit of a blow. I struggled through and I have now been cancer free for 17 years. After ten years we both retired. Brian got a security job with Taboo resort in Muskoka. A girl I knew from Bracebridge Hospital named Chris got a job in the lab at the King Edward Hospital in Bermuda but I don't know if she is still there.

We had one daughter, Clair, in Elliot, and Heather teaching in Ajax, she later worked for Merck Frost, got married and moved to Elliot, so when we retired we moved back there. We now have two granddaughters from Heather and one grandson from Clair. Clair owns an up-market sports and clothing store and does very well!! She is married to a fireman. Heather is now a property manager, doing very well. She was working as a protection worker with children's aid, but it became too much. There were no teaching jobs in Elliot.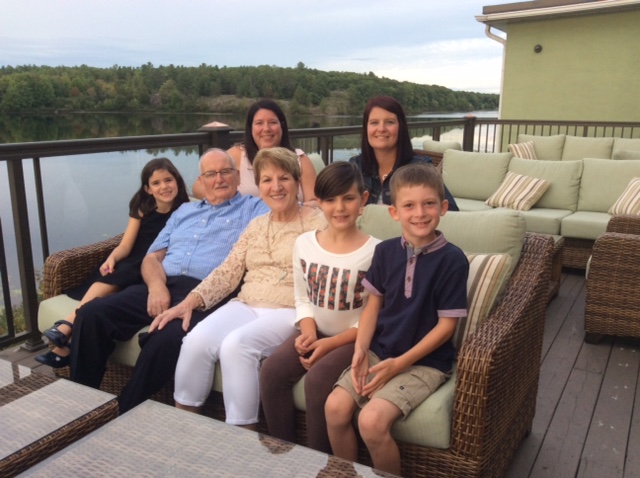 So all and all we are enjoying our retirement,and we enjoy helping out with lots of babysitting and dog walking. Since 2000 I have gone to Scotland each year to keep an eye on my folks.

We met Dave Inwood and his wife last year. We also see Stuart Donaldson from time to time, but we do keep in touch with friends in Bermuda. I also keep in touch with Dave Parsons.

As you can imagine, being in the position I was in at 'B' Department I knew a lot of members. Many of our close friends have passed. While we are visiting Bermuda I'm hoping to see Gertie Barker, also Gerry Lyons, of course Jimmy Costello, Bill Bryan, and Carlton Adams (I saw Carlton the first day I returned to Bermuda three years ago).
Oh yes, I could tell some stories from my 8 years at Headquarters!...

Brian and I are planning to get up to the Police Club to meet up with most of the old crowd on Thursday afternoon 4th May.
19th July 2018
We just received the attached two photos from our old friend Tony Laughton who spotted this article about Brian and Glynis ……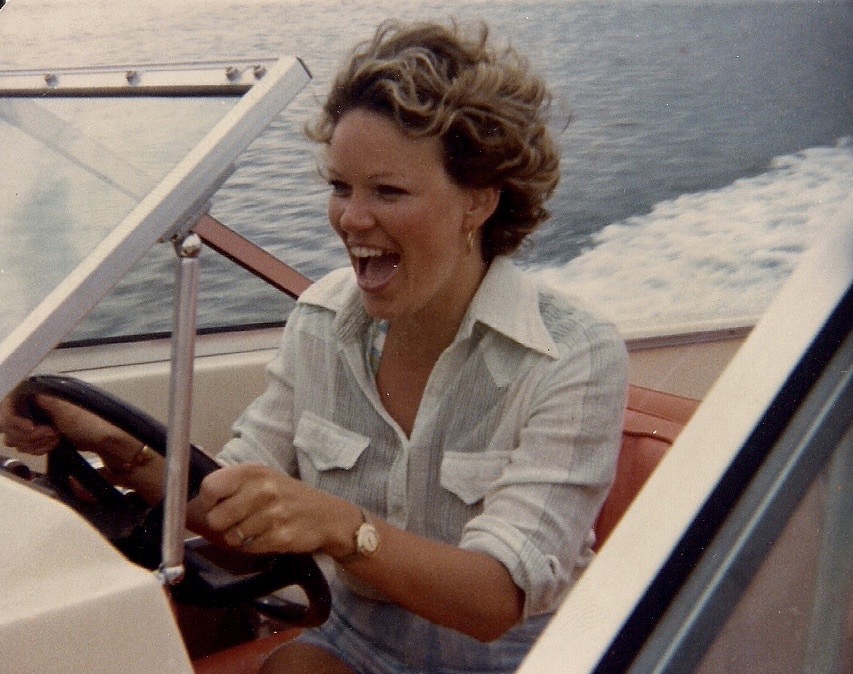 Young Heather Hamilton having a great time in Tony's boat
The young lady is their niece, Heather Hamilton who, in the mid-70's lived in Elliot Lake, Ontario, and visited Bermuda where she met up with Tony. The first photo is of Heather having a great time on Tony's boat, and the other was taken at a house Tony was looking after during her vacation.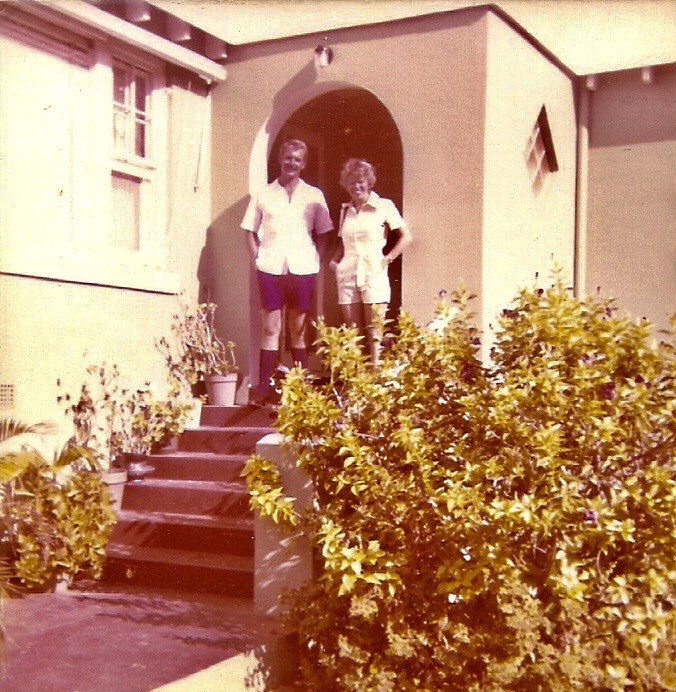 Tony Laughton and Heather Hamilton
Tony sends his best regards to Brian and Glynis who he thought would enjoy a nice surprise to have them see these photos and he wonders if he might receive a message from Heather wherever she is these days.