The Story of John McQuaid
(taken from his article THE SIXTIES)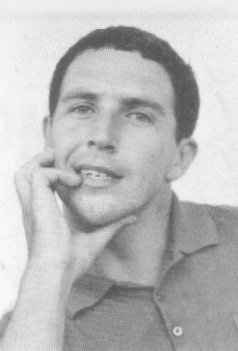 John McQuaid
The winter of 1962-63 was one to remember. Long before Christmas I had been walking my Clapham beat in the most awful temperatures. Week after week went by when the temperature rarely rose above zero and my biggest problem was keeping warm whilst out on the ever frozen streets. No such luxuries as quilted undercoats or the modern insulated clothing that we wear today existed then and I eventually started a trend of wearing pyjamas under my uniform! As my mother used to say to me, 'I hope you don't get involved in an accident and have to go to hospital' It was the practice to go from tea stop to tea stop, get warmed up and then go back out into the cold air, fingers and toes tingling: I began to hallucinate about a better way of life and warmer climes. During our spell of nights we would not see daylight for three weeks, going home at 6 in the morning and laying in bed until about 8.30 in the evening to get ready to start again at 10. I was beginning to rot!
Around Christmas time, the snow started to fall and that year it fell and fell some more and lay on the streets around Clapham, froze solid and then remained for weeks. Almost unknown in London, the snow refused to budge or melt away; no thaw arrived as the temperature remained below freezing point through January, February and into March. I began to think that spring must soon arrive but there was very little sign of it happening.
My relief arrived at some time towards the end of March in 1963. I was travelling home to Leicester in my car when I was aware that the ice was beginning to melt and the roads were very wet for most of the Journey. The sun actually came out for a couple of days. Having survived the winter - which in my opinion has not been surpassed since – we were pleasantly surprised one April morning to wake up and realise that it was not freezing outside. The snow and ice, which had lain about for over three months slowly melted and spring began to take over and as we all thawed out, my thoughts started to meander about what life would be like in a warmer climate. I had never been a winter person and those past few months convinced me that I didn't want to spend another such spell in England.
As a young, single male, I had enjoyed almost 4 years in London as a constable in the Metropolitan Police and no great ambitions for my future career thwarted my forward planning; no young lady was holding me down with any thoughts of matrimony and my parents at this time were both fit and healthy. At the tender age of 23, curious and interested in all things around me, I began to nurture the idea of seeing more of the wider world.
In the summer of 1963, a series of advertisements were appearing in the Police Review and other publications relating to the recruitment of Police Officers from England to serve in the Bermuda Police Force. Previous experience was required and there was a contract of three years to be served. Single men only were to apply, as they were apparently more easily accommodated than men with families and all the baggage that that entailed.
But, Bermuda! Where the heck was Bermuda? I thought then that it was in the West Indies, but I did have a good idea that it was a warm, semi-tropical island and the opportunity to live there seemed too good to be true. It is difficult to portray what an impossible dream it was in 1963, for the 'ordinary' person to move around the world. Winning the pools was the usual dream before the Lottery was born. In 1963, the southern coast of Spain was as far as working people travelled for their holidays and these package resorts which were later to pull in the multi-million peseta tourist trade, were then still sleepy little fishing villages. The only smelly things lying on the beaches were the nets of the fishermen and their rotting catches, whilst sandalled poets and writers and aged lefties, made the pilgrimage in search of literary history and nostalgia for Guernica and the rest of the Spanish Civil War.
Huge wide-bodied, jet-propelled aircraft were not yet on the scene and air travel was still only for the rich or retired jewel thieves. Here was I, a lowly police constable from a council estate in Leicester with perhaps an opportunity to travel over a great distance to a 'semi-tropical island paradise', not just for a holiday but to live there. I applied.
The recruiting process took an age and in the months that ensued I successfully negotiated intelligence tests, background checks and medical examinations. Great savings of wages and lots of overtime worked during the summer months, together with sacrifices made in my social life, helped me to build up my escape fund, purchase some warm weather apparel and to prepare for the adventure. I still hadn't been accepted but the signs were good. My parents were quite excited about my intentions, especially my father who was busy telling anyone who was prepared to listen in my local, that 'John was going to Berrr-muda', with excessive stress on the first syllable almost making it sound like two words. My dear mother would make disparaging remarks occasionally about 'young people today, they don't know how lucky they are'. I don't suppose that she ever dreamt that one day, she herself would have a 'grand holiday' in far-away Cyprus, where my sister lived with her husband John.
The acceptance letter from the Bermuda Police Force arrived to great excitement and I prepared for the big day. My Service with the Metropolitan Police terminated on the 12th September and the following day I was to join the Bermuda Force. I tidied up my affairs in London and two days before my departure I hired a little Austin Mini, said goodbye to my friends at the police section house in Clapham and drove off to Leicester for a couple of days with my parents. (I drove on the newly opened M1 motorway, which at the time went only as far as Crick in Northamptonshire). On the journey, I had time to take in what I was leaving behind. During conversations with fellow officers and friends I had received all sorts of advice about how I was burning my boats or heading into the unknown; that I wouldn't get back into the Met. etc. etc. All of this seemed to smack of small-mindedness and I dismissed such thoughts as I drove along, the excitement and anticipation rising.
I was only home for a couple of days and on the morning of my eventual departure, I wasn't prepared for the trauma that my goodbyes were about to expose. It was only years later, that I began to understand the bond between parents and their children and the pain that sometimes comes with separation. Here I was, full of the joys of spring and about to embark on the trip of a lifetime, yet totally oblivious to the fact that my parents - especially it seems, my father, were of the belief that they were seeing me for the last time. I stood at the kitchen door, suitcase in hand and bid a fond farewell to them both, only to see my father drop a handful of knives and forks into the sink where he had been washing up and burst into tears! Both of them were crying!
This crushed me for a moment as I had never seen my father cry, ever, and only very rarely, my mother. Their lives had been such that their emotions had been mainly hidden from us and especially in relation to my father; men of his generation just did not cry in front of other people, especially their children. It was a situation with which I had not had to cope before and my awkwardness urged me to leave at that moment. I'm sad to recall now, that I walked out of the door and into my car, which I drove off and didn't stop until I arrived in London. In retrospect, this was a passing, emotional moment and I'm sure that my parents were re-composed by the time that I was in Northampton. But I cried too, for mile after mile and remembering the occasion still brings tears to my eyes today. I do believe that Mum and Dad really thought that I was gone forever and that there was a possibility that they might not see me again. That is the way the world was then.
I flew from Heathrow Airport in a Boeing 707, the original jumbo jet, which had only been in service a matter of months. Prior to using this type of aircraft, the Bermuda flight had been covered with propeller driven aircraft, which were not quite able to reach the Islands in one go, thus making an 11 hour dog-leg route via Gander in Newfoundland. As an avid aircraft spotter, I was thrilled to be travelling in this modern aircraft, which would later prove to be the vanguard of the cheap travel that we enjoy today. After about seven hours of flight time, I was aware that the plane was descending and soon somebody pointed out to me a tiny little spot in the endless blue-green sea, just ahead and to the right of us: this was Bermuda. As we descended lower and lower, the Islands became more discernible and I could clearly see the hook shape of land, which I had previously seen in maps and pictures in the brochures. It seemed so tiny, just like a rock sticking up through the sea, sandy on one side and rocky on the other. I wondered where they would find enough room to land a plane! My excitement mounted as the land rushed up to meet us and we eventually bumped down on to the tarmac, my eyes desperately trying to take in the scenery that was rushing by.
That arrival in Bermuda made a lasting impression on me. I had travelled in quite heavy clothing including woollen trousers and a nylon shirt and as I stepped out of the cabin into the open air, I was aware of a great heat, which was different to any atmosphere I had ever experienced. It was perhaps only about 85 degrees but I was to discover that the warm, damp heat was caused by the humidity of the air. I felt a surge of this uncomfortable dampness rushing up my sleeves and trouser legs and within a very short time I was soaking wet all over. With my clothes sticking to me like a wet blanket, I soon realised why almost all men in Bermuda wore shorts, even for business and formal occasions, a tradition that I was soon to follow.
I was met at the airport by a senior officer of the Force, (Deputy Commissioner Frank B Williams I believe) and together with another recruit who had been on the same flight, we drove to the barracks where we were to be housed. This journey, like all first sights of a new and different country, impressed me greatly and I recall passing by occasional glimpses of amazingly beautiful coral pink and cream beaches interspersed with rugged rock formations, oranges and grapefruit growing on trees by the side of the road, something I had never seen before. Dotted haphazardly about and without any sense of uniformity or scale, were houses of all types; large elegant mansions and tiny little cottages all with pure gleaming white roofs, which contrasted vividly with the cloudless blue sky.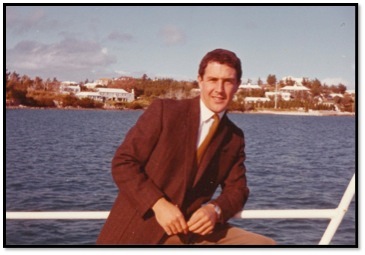 John takes a ferry ride
The roads were very narrow and the speed limit was - and still is - twenty miles per hour. But the most remarkable sight for me was the colour of the sea; all shades of blue and green, broken only by whitecaps of spume. If I had previously seen such colours in a picture, I would have suggested that it was artist's licence. I was to find out later that day that this ocean not only looked good, but it felt even better!
This was the opening episode of a six years adventure that was to change my life forever. During my sojourn in this paradise, I was to metamorphosise from callow, careless youth, into a responsible and hopefully, careful husband and father. But what a six years! My stay in Bermuda left an indelible mark, a love of the island and its way of life, which I have retained ever since.
Lynn and I were married on the rock and we were to return some 40 years later, in 2004. Without my passage of time in Bermuda, it is pretty certain that there would be no Michael or Mimi (my son and daughter) around today, but when I first arrived there my future plans were not geared to the creation of a family. I arrived as a single person as all new recruits did and we were all dumped together in a single man's quarters which were formerly army barracks. Bermuda was and still is, a part of the British Commonwealth and the British influence was still apparent in its administration, though very much marked with the influence of an American style of life, with two U.S. Military bases and an annual influx of visitors from the nearby sub-continent.
As in England and I suppose, many countries in the world, Bermuda had emerged from the war years irreversibly changed from its 1930's idyll of horse-drawn transport on traffic-free roads. The modern-day pressures of motorised transport serving larger and larger hotels and business's being created for the increasing tourist trade had changed things forever. Motor vehicles were banned in Bermuda until as late as 1940 when tarmacadam roads just didn't exist. It was during the war when England granted the U.S.A. two large tracts of land in the Islands for use as an air base and a naval base, that the first military motor vehicles arrived, followed by properly surfaced roads and infrastructure. It was not until after the end of the war that vehicles were gradually introduced, first for the professional and Government employees and eventually for the general public.
To this day, there are strict rules as to the ownership of motor cars and a growing feeling that the island is rapidly being outgrown by them. My arrival in the Islands was, after all, only twenty years after those post-war days and the remains of the Military presence were still very apparent. The Police Headquarters and Training Departments were housed in a converted British Army complex and the Force had a certain Military air about it in those early years. The Americans maintained both Naval and Air Force bases until the nineties. 1965 was probably the most noteworthy year of my life and I can remember most of it in great detail. An important historical event that year was the death of Sir Winston Churchill, but events of far more importance were to happen to me; it was that year that I married Lynn Berry of Melton Mowbray and at Christmas that year, my son Michael was born.
After a few wonderful years living in 'ye olde towne of St Georges' I moved to continue my single life in the barracks at Somerset, swimming, fishing, working and generally enjoying the wonderful climate and way of life that Bermuda offered. There were a lot of parties and we all got together in social events on a regular basis, but being a small population, there was a limited supply of eligible young women about on the Island. I was also a member of the Bermuda Police Dramatic Society with whom I played an active part in theatre production. During the spring of this year we were rehearsing for Arsenic and Old Lace, which was to be performed at the Hamilton City Hall. I had previously appeared in Journey's End, also performed with the Police Drama Group at City Hall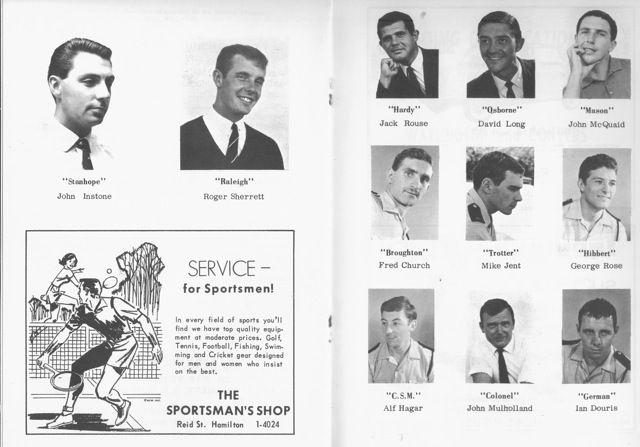 Programme for Journey's End performed at
City Hall Theatre by the Police Drama Group
Yes, life was ticking over nicely and I seemed to be able to find plenty of things to do to occupy my time, including meeting different people who interested me. One of these people was a man called Louis Tapsell who ran his own carpentry business and lived with his wife Mary at 'Springfield' next to the library in Somerset. He taught me a lot about his trade and I later built a small sail boat at his workshop, which gave me many hours of pleasure in the Great Sound. But his life and marriage to Mary were later to be shattered in a strange incident, which involved the death of his wife by drowning when the boat she was in disappeared without apparent reason whilst crossing the 'Bermuda Triangle' to Central America.
It was, however, Louis who was first to guide my hand in fate. He told me one day of a young woman who had moved into the little apartment at the rear of the Springfield Library, a new neighbour. He said that she was from England and was working in the area as a secretary; he offered his opinion that she was 'a pretty girl' and that he had been asked to keep his eye on her by her new employer. He didn't seem too keen to arrange an introduction for me, but knowing of the shortage of eligible females in the area, I felt the need to make a quick move. When Louis told me of a badly injured stray dog, which had been hanging about his house for a couple of days, I worked my strategy out.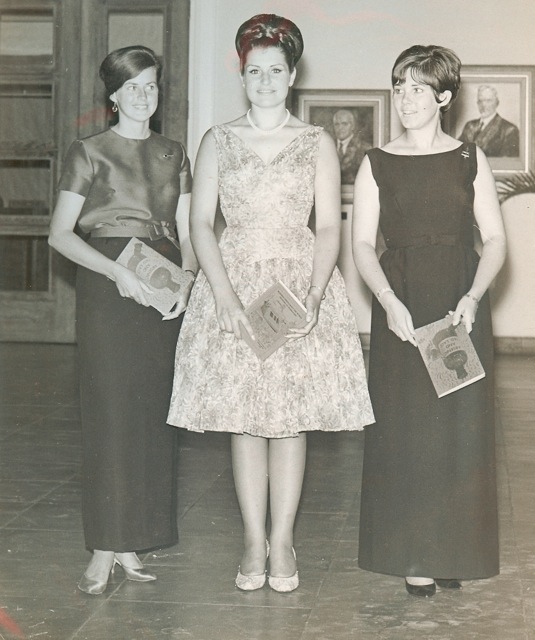 Three gorgeous young ladies are usherettes at City Hall for the
Police Drama Group production of Arsenic and Old Lace
(l-r) Penny Long, Georgina Armstrong and Lynn McQuaid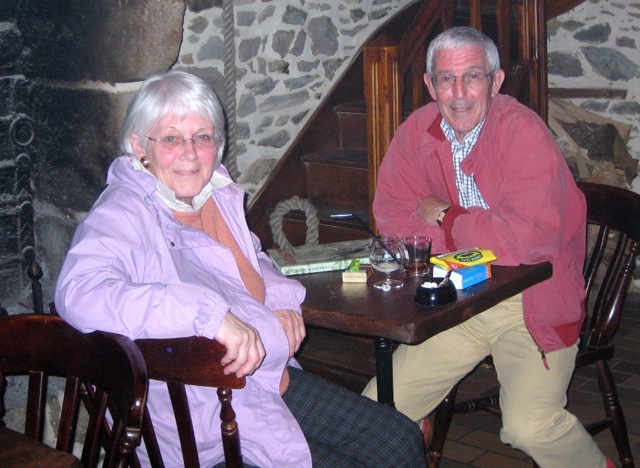 Lynn and John on holiday in Brittany 2007
Lynn and I remain married and look after each other as the days go by.