Sergeant Dave Cann (duCann)
Served from January 1965 – August 1976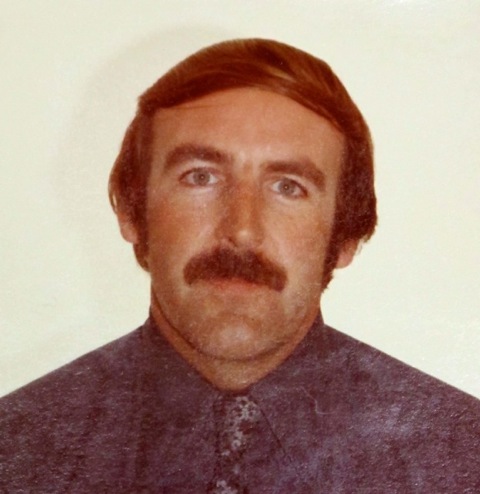 Dave Cann
We recently heard from Dave Cann after we posted of photo of him on our "Who, When and Where" page with the legendary performer, Tom Jones, during a visit to Bermuda. The photo (CLICK HERE to view it) was taken at the airport when Dave was in charge of Travel Control at the Airport.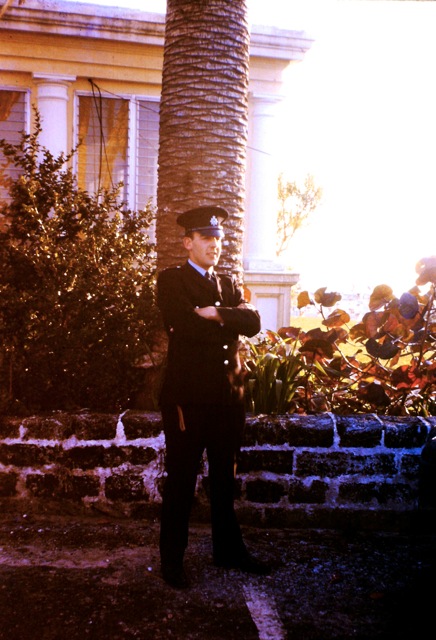 Young P.C. Dave Cann outside the Police Club at Prospect
Dave joined the Bermuda Police in January 1965 and after Training School he was posted to Central Division (Hamilton Police Station). After passing his Basic and Advanced driving courses he was transferred to Traffic where he remained until moving to Special Branch in September 1971.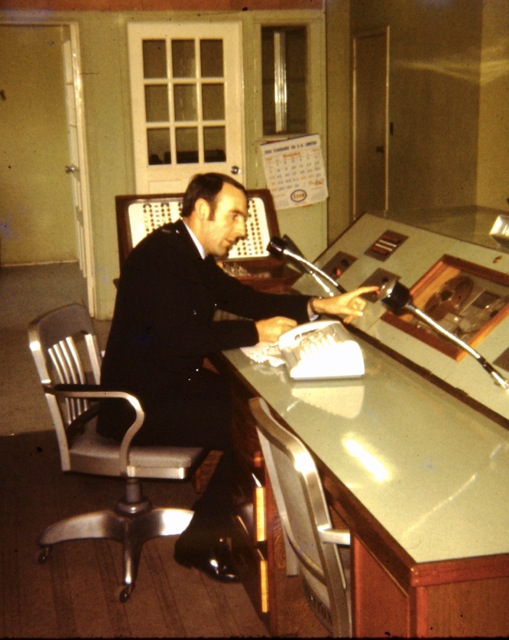 Dave Cann on duty in the Operations Room at Traffic - 1966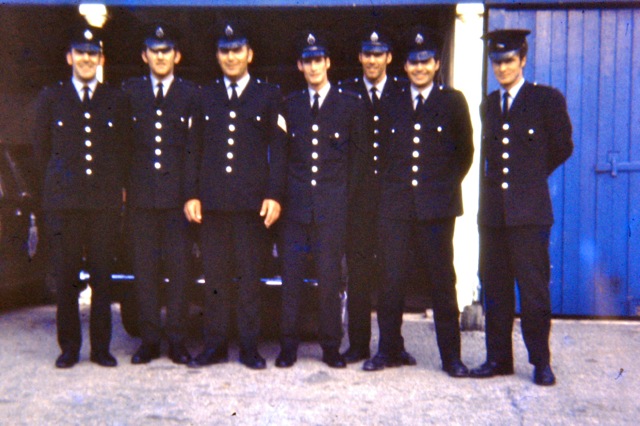 Traffic Watch – October 1966
(l-r) Dave Cann, Barrie Mancell, Sgt Mike Kelly, Bob Hay,
Jeff Payne, John Instone, Dick Johnson
He attended a Travel Control Course following which he was promoted to Sergeant, and was Sergeant in charge of Travel Control from early 1972 before moving back to Special Branch around 1973-1974 until he resigned in August 1976.
Members of the original Travel Control Unit - 1971
(l-r) Alister Reid, Eddie Edwards, Dave Ashurst,Andy Bermingham, and Dave Cann
Dave and his wife Arlene returned to England where he operated a Wine bar in Leicester for 6 years, before he, Arlene and daughter Michelle embarked on a round the world trip and ending up falling in love with New Zealand.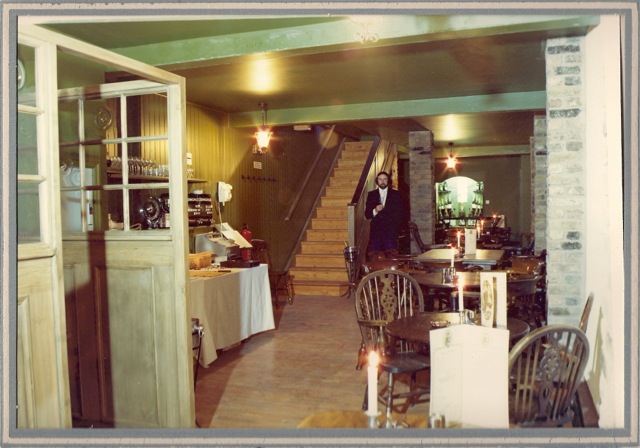 Dave surveys his "empire" - du Cann's Wine Bar in Leicester
During their world tour they were kindly accommodated by George's ex wife Sylvia Rose in Heidelberg, Alex and Philippa Sommerville in Hong Kong, and Malcolm and Maggie Edwards in Perth, WA. Dave returned to the UK to sell their house in England before moving to New Zealand in 1985.
Dave worked as Senior Fraud Investigator in Wellington for the Bank of New Zealand for 18 years before taking early retirement. He says, "My main role then was I/C card fraud investigation. I spent most of the time liaising with the Auckland CIB Fraud Squad, Wellington Fraud Squad and the Serious Fraud Office. Those locations having the majority of white collar crime in the country."
When asked about contacts with other former Bermuda colleagues, Dave explained that in the early days he maintained occasional contact with John Copas who was head of security for Air New Zealand in Auckland. He also visited Clive Crossman and family in Auckland. Clive was serving in the New Zealand Police
"I always kept in touch in Auckland with my mate and best man at my wedding, Alan Keagle who moved here before me. You may remember that he was married to Roy Chandler's daughter Fiona but they divorced a long time ago."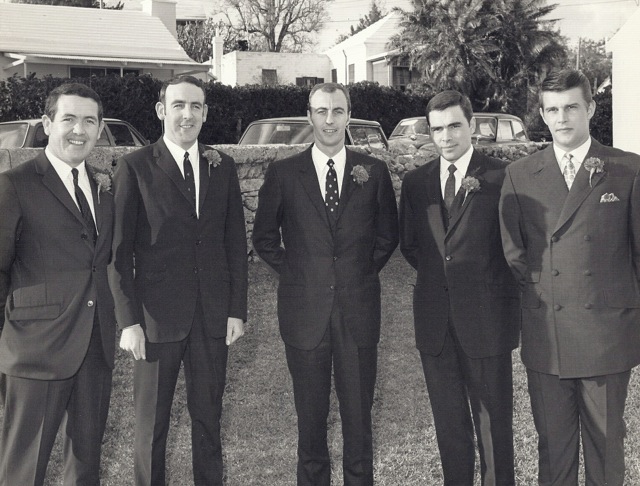 Dave with his groomsmen on wedding day 28th February 1970
(l-r) Paul Farrell, Dave Cann, Alan Keagle, Mike Jent, Paul Wakefield
"Over the years Alan rose to become a very senior officer in the New Zealand Police but, as you may be aware, died in tragic circumstances in March 1999. Arlene and I were at his funeral.
"Talking of Arlene, we have been apart for 11 years and are divorced. I live quietly alone in a small cottage on a 1 hectare property in the Wairarapa just outside Masterton - a small town of 20,000. Our daughter Michelle went back to live in Leicester many years ago, and with her partner of 10 years, has now provided me with a grandson Lucas aged nearly three, whom I have yet to see.
Michelle holds a senior position with British Gas and I have not seen her for 10 years apart from briefly at my brother's funeral in South Africa in 2010. I just do not have any disposable income to travel these days unlike you well off Bermudians!!
However I am in good health and attach a recent photo for you as requested.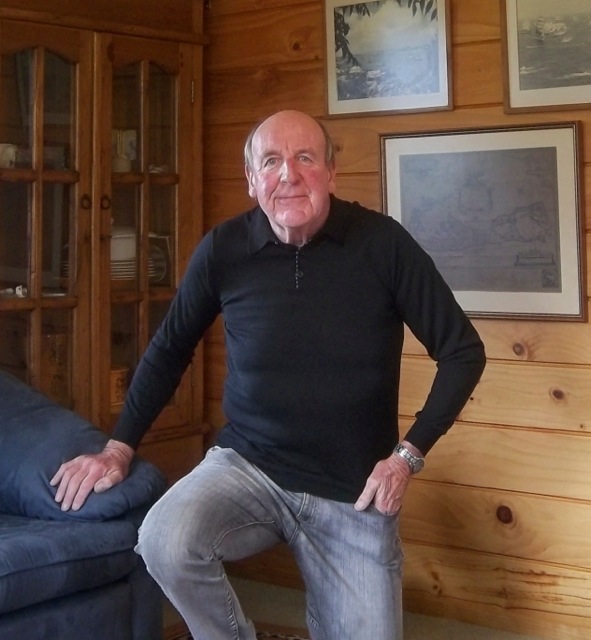 Dave Cann at home in New Zealand
Apart from Alan, another sad occasion was the funeral of Paul Farrell in London many years ago. I was living in Ketton, near Stamford where John McQuaid had visited me, and Roger Kendall very kindly came over and drove us all the way to London for the funeral as I knew I was going to have quite a few drinks. At the funeral (among many others) I met Mike Caulkett, the first time I had seen him in years. I used to see a lot of Dai and Chris Thomas as Dai was running his own wine bar in London then, having done some training with me in his new craft at du Cann's Wine Bar in Leicester.
Dave explained that his family changed their name from Cann to du Cann in 1977.
"Of those ex-cops now living in the UK I have always stayed in touch with Alex and Philippa Sommerville, occasionally Alister Reid, more recently Davie Kerr, and Dave Adam contacted me recently. He and his wife Patti are now retired and living on Vancouver Island. BC.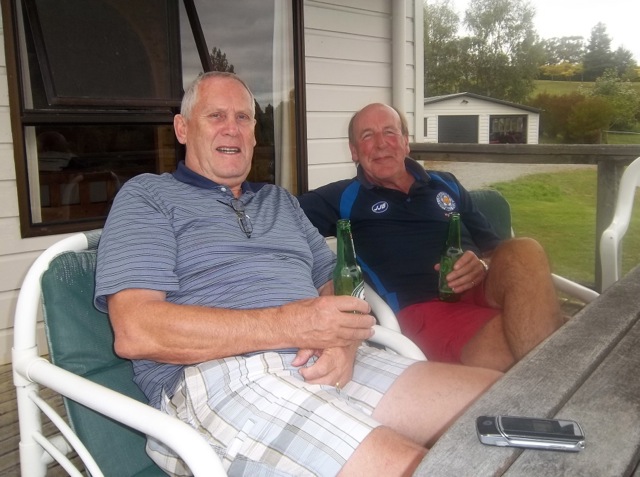 Maurice "Moby" Pett and Dave get together to reminisce
during Moby and Bron's trip to New Zealand in 2011
"Moby and Bron Pett stayed with me during their tour of NZ a couple of years ago, but the Mancell's did not manage to come by during their tour last year. Other than that I think most of the ex Bermuda guys nearest to me live in Australia, as you will be aware."
There is no doubt that Dave enjoyed a great social life while in Bermuda as some of the photos below will attest. It has been mentioned elsewhere on our website but Dave also has the unique distinction of having been one of the first pair of boxers to step into the ring for our first ever Evening of Boxing held at the PRC in 1969. Dave and George Rose were the first "lambs to the slaughter" on that memorable evening although it should be noted that Dave triumphed with a technical knockout in the 2nd round to record the first ever win. Dave is still trying to dig out his photos of this event -his first ever boxing match. The secret to that fight was that, whilst George was larking around in the PRC, Dave was doing boxing-fitness training with (then Sergeant) Gerry James!!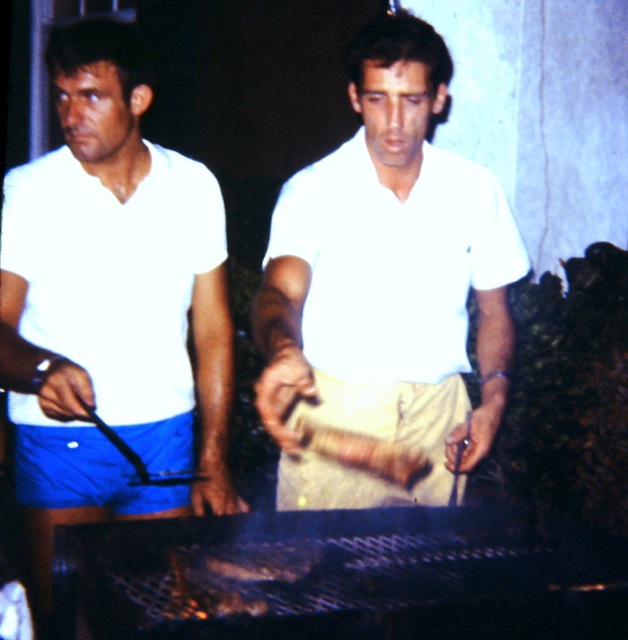 BBQ duty at a party Tony Diggins and Dave Adam
Dave and Arlene relaxing with Carola Farrell and her dalmation, Ringo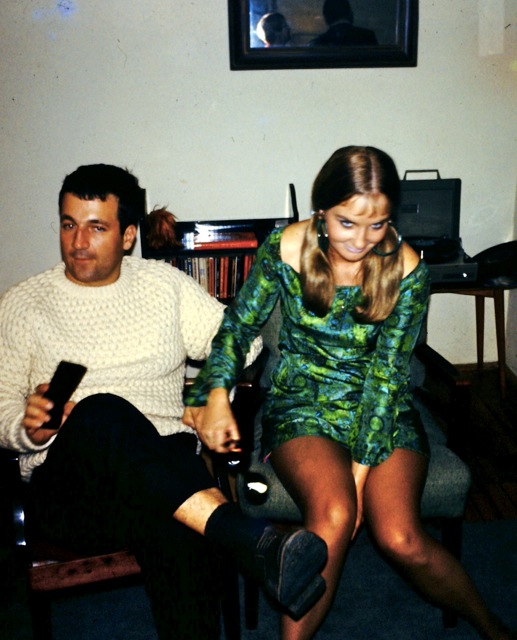 Nick and Viv Hall in a party mood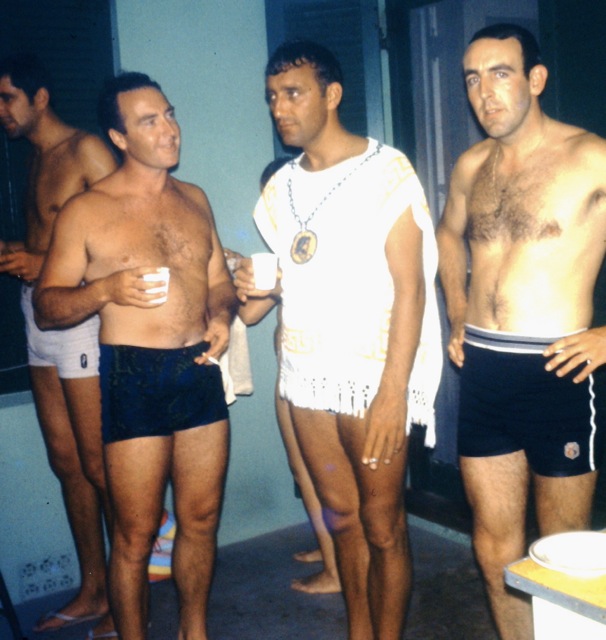 Mike Caulkett, Derek?, Mike Kelly and Dave relaxing at poolside during a party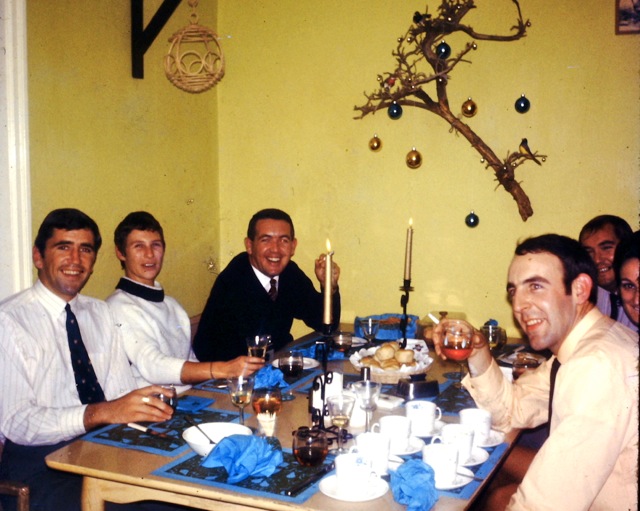 (l-r) Mike Caulkett, Carola and Paul Farrell, John and Glenys Stockdale, and Dave
Dave points out that the photos used in 'Kilting Around' were taken at the cottage he was then renting on Knapton Hill which was located next to his landlord, Noel Hill, whose son Stanley later joined the Police Force. Dave isn't sure whether or not he had any influence over Stan deciding to join the Police!
Dave may be living out in New Zealand but he manages to check our website from time to time from the other side of the globe. It was great to hear from him.